Language helps up convey our thoughts, ideas, opinions, and emotions. When emotions are conveyed through words and sentences the type of language used to achieve that is called emotive language.
This article is your one-stop guide for information related to emotive language. In this article, you find, what emotive language is, where it is used, some of the important emotive words, and what is connotation and how you can improve it, along with examples.
Also Read: Language Analysis Techniques: Strategies to Master Linguistic Analysis
Emotive Language
Emotive Language is the type of language which conveys or evokes an emotion in the mind of the reader. It requires choosing the words carefully which best convey the emotions and phrase them in such a way that it has the most impact on the audience. Emotive language is the best form of language to connect with the audiences, be it through written medium or verbal.
For Example:
Non-Emotive: The government has reduced the gasoline priced
Emotive: The government has slashed the price of gasoline.
Explanation: Notice that just by changing the word "reduced" to "slashed", the emotional value of the sentence has been increased dramatically.
How is Emotive Language Used?
The use of emotional language adds dramatic value to the written articles. You probably may have been using this type of language feature all your life in your daily conversations without even realising it.
If you have ever tried to convince your mom about something or have a conversation with your friends or teachers about a personal topic, chances are the language you used and the words you phrased were examples of emotive language themselves.
Emotive language is quite subject, in the sense that every article is written with a particular purpose and the target audience. The type of vocabulary used in that article to effectively convey the message can be regarding the emotive language for that specific piece of writing.
In literature, the author uses words which are in correlation with the nature and subject of their novel or poems. The subject and the nature of literary writing decide the type of emotive language to be used in it.
Also Read: What Is Teel Structure And How To Best Utilise It?
The theme of the paragraph conveys a particular emotion. As there are multiple paragraphs with different themes, thus the author chooses to use different literary techniques in addition to emotive language to best convey the meaning of the article.
The various emotions which an author may convey with the help of emotive language are:
Happiness, Love, Embarrassment, Anger, Frustration, Disgust, Curiosity, Jealousy, Optimism, Confidence, Sorrow, Sympathy, Worry, Pride, Enthusiasm, Contempt, Envy, Comfort the list is ever-expanding.
The peculiar thing to notice about this is, whenever you try to explain an emotion, let's say love or enthusiasm, you will find yourself at a loss of words. Explaining an emotion in itself is a very difficult task. But when it comes to reading a poem of a novel, the good authors always find a way to convey the feeling of love or sorrow about the characters in a narrative. They do this with the use of emotive language and the appropriate words and sentences with the context to explain the feeling.
Where is Emotive Language used?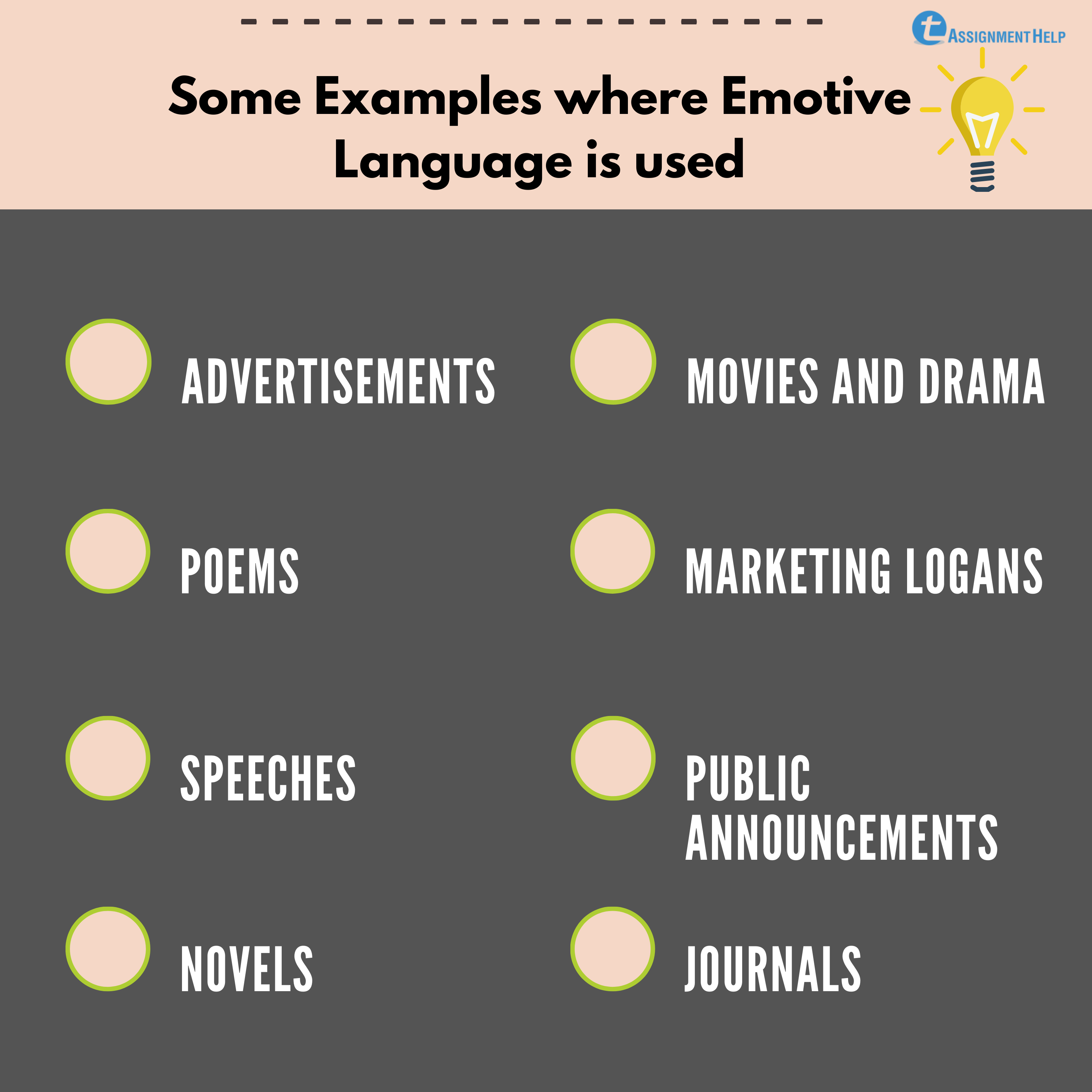 Emotive Language is used in the following ways in your day to day lives:
Advertisements: Advertisements use emotive language, in particular, to arouse certain emotions in the mind of their audience to intrigue their curiosity.
Poems: Almost all of the poems use various literary devices with a united aim of conveying the feelings in their words to the reader.
Speeches: The speeches given by great leaders and orators are all aimed at striking thought in their listener's minds.
Novels: In novels of all genres the main aim to portray the life of a character in a narrative and make the reader feel what the character feels.
Movies and Drama: Art is a depiction of life, and so is depicted in movies and theatre.
Marketing slogans: Marketing slogan are most apt examples of emotive language as in addition to making thought-provoking pitches they do so in a very limited amount of words.
Public Announcements: Public service announcements are usually made for the benefit of the people. These announcements aim to strike the emotions in the audience to bring about a change. That is why PSA is an effective example of emotive language.
Journals: Personal journals or diaries written by various people and children are also a fine example of emotive writing. As a diary is a very personal thing, therefore people tend to share their truest opinions and thoughts in it.
Benefits of Emotive Language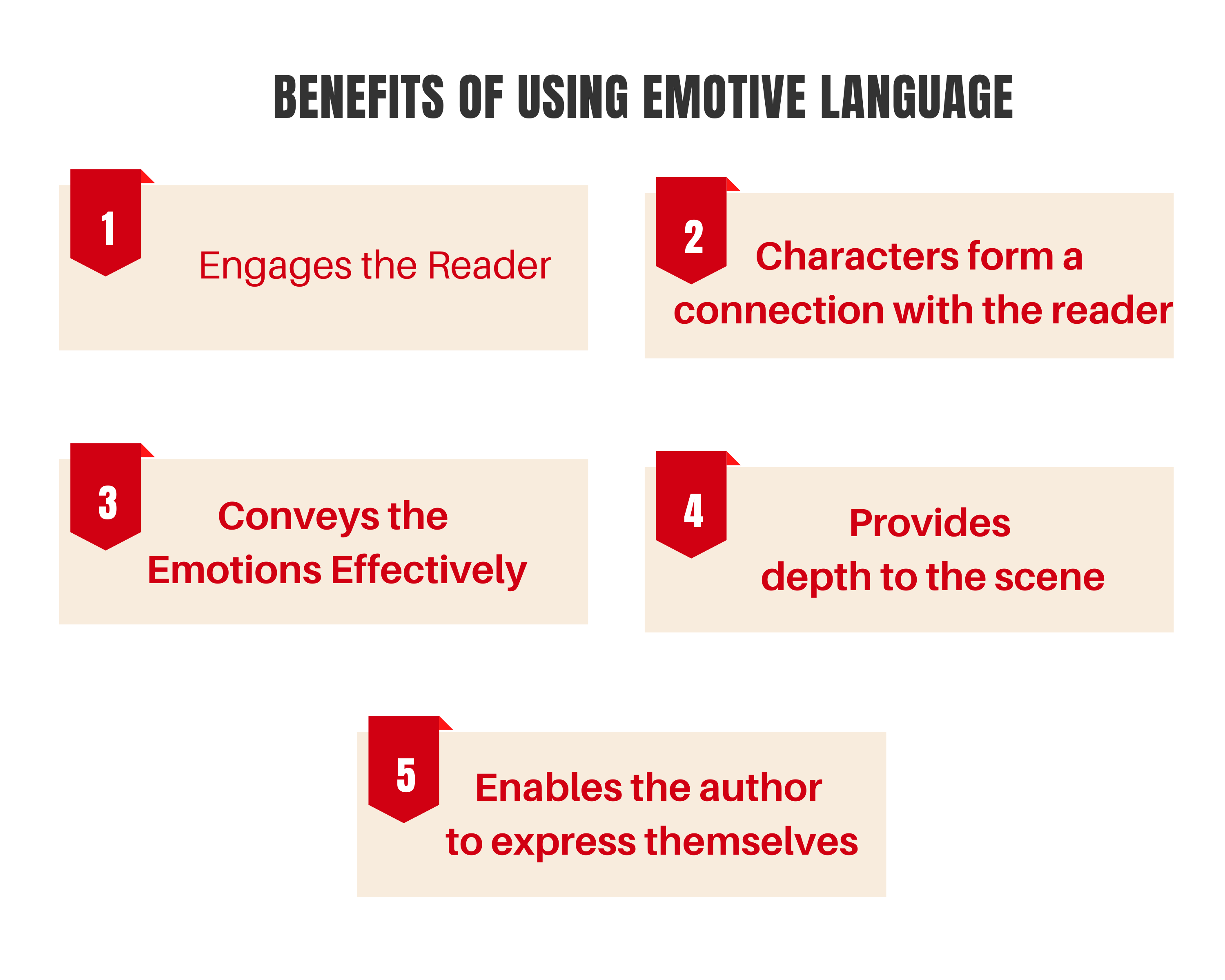 Let us look at the various advantages of using Emotive language as the main writing technique:
It keeps the reader engaged
It allows the reader to connect with the character
It evokes the reader's emotions
Acts as an expressive tool
Better conveys the information for the author
Better responses from the author
Provides a cultural background
How to improve your emotive writing skill?
Now that we have established the importance and advantages of using emotive language. Let us discuss how you can improve your writing abilities for expressing the emotions. It is easier said than, because the most common dilemma faced by writers while coming up with the best way to evoke emotions is, they find themselves with the shortage of the appropriate words. Expanding your emotional vocabulary is the first and most crucial aspect, as only with the help of sufficient words you can express the feelings of a character in a narrative. The best way to do that is by doing research and reading articles which best utilise emotive language.
Also Read: Poetic Devices: A Detailed Guideline To Draft A Poem
While writing it advised to always outline the theme and layout of the paragraph as to how you are planning to express the flow of thoughts so that it is easy for the reader to grasp the inner lying meaning of the writing. Try to use a combination of different literary devices to support your writing, such as metaphors, hyperbole, personification etc, but at the same time using multiple literary techniques in a short spaced span confuses the readers.
Emotive words for different emotions
As there are a lot of emotions which can be expressed through words, it is necessary to have a wide vocabulary of words which cater to specific emotions and feelings. Here's a list of words categories by the emotions they best convey.
Peace and Calm: Words which best convey the feeling of relaxation, comfortable, content, quiet, certain, relaxed, calm, bright, blessed, at ease, balanced, graceful, serene, carefree, forgiving, genuine, authentic, fulfilled, uplifted, unburdened, self-sufficient, sincere, glowing, radiant, reflective, beaming, efficient, smiling, confident, unhurried, open-minded, non-controlling, unassuming, light, trusting, supported, grounded, aware, fluid, healthy, meditative, still, rested, spontaneous, waiting, laughing, aligned, graceful, natural, steady, centred, placid, clear, stoic etc.
Inspirational Words: Capable, focused, empowered, adaptable, privileged, honoured, approving, conscientious, responsive, in the zone, exuberant, productive, cooperative, tenacious, dynamic, unique, sure, reliable, self-sufficient, confident, unburdened, uplifted, sincere, forgiving, authentic, forgiving, authentic, genuine, fulfilled, adequate, carefree, grateful, okay, fine, balanced, clear, assured, upbeat, hopeful, daring, brave, bold, enthusiastic, inspired, earnest, keen, eager, motivated etc.
Happiness conveying words: Glowing, youthful, bountiful, vigorous, vibrant, tickled, blessed, creative, bright, constructive, serene, helpful, content, resourceful, surprised, at-ease, encouraged, comfortable, pleased, delighted, thrilled, charmed, elated, overjoyed, jubilant, over-the-moon, ecstatic, blissful, euphoric, pleasure, heavenly, wonderful, tranquil, spunky, glorious, innocent, gratified, playful, courageous, energetic, frisky, optimistic, liberated, spirited, exhilarated, light-hearted, joyous, gleeful, sunny, jovial, festive, thankful etc.
Satisfaction: Words that convey the feeling of safety and satisfaction
Humility, Clarity, transparency, genuine, absolutely, responsible, bargain, authentic, sure, reliable, secure, solid, trusting, supportive, excellent, stable, truthful, honest, self- sufficient, ecstatic, emphasize, fulfil, introducing, astonishing, guaranteed, assured, relaxed, approving, astounded, adaptable, honoured, privileged, conscientious, investment, first-ever, likely, effective, freedom, easy, definitely, conveniently, confident, delight, bargain, a cut above, always, advantage, instant etc.
Anger conveying words: Vilified, violated, dejected, unjustified, pessimistic, alienated, desperate, self-hating, despicable, powerless, reprimanding, revenge, retaliate, jealous, poisonous, sarcastic, scorn, seething, condemning, contrary, impatient, exasperating, rebelling, quarrelsome, repulsive, antagonistic, agitated, furious, spiteful, sadistic, vindictive, violent, critical, infuriated, malicious, resentful, controlling, aggression, frustrated, offensive, enraged, inconsiderate, harsh, harmful, eliminate, dreadful, disgusted, disastrous, disadvantage, deplorable, damaging, corrupting, atrocious, appalled, agony, aggravated, wicked, unstable, unreliable, tragic, terrible, shocking, shameful, severe, scandal, repulsive, provoke, outrageous, ordeal, rage etc.
Confusion displaying words: Disempowered, helpless, deceived, insecure, cowardly, threatened, panicked, alarmed, anxious, suspicious, terrified, unresponsive, uninterested, uncaring, compulsive, twitching, woozy, jittering, squirming, trapped, incapacitated, incompetent, overwhelmed, doomed, distraught, pathetic, distressed, vulnerable, inferior, fatigue, paralysed, incapable, awkward, frenzy, disoriented, distracted, condescending, authoritative, judgemental, manipulative, disdainful, dishonest, uncomfortable, stressed, tense, unsure, misgiving, distrustful, disillusioned, hesitant, embarrassed, perplexed, indecisive, uncertain, doubtful etc.
Urgency conveying words: Imminently, immediately, skyrocket, instant savings, reduced, jackpot, freebie, fortunate, extra, explode, discount, bargain, seize, limited, deadline, worthwhile, urge, trustworthy, truly, tremendous, superior, superb, strongly, startling, should, sensational, save, safe, revolutionary, results, remarkable, quick, proven, profitable, important, miracle, magnificent, missed, instantly etc.
Words that convey Curiosity: Intel, inside, underground, hidden, covert, unbelievable, confessions, concealed, censored, blacklist, off the record, secretive, banned, forbidden, cover-up, controversial, confidential, inquisitive, snooping, pry, covert, dissident, masked, cloaked, obscure, illicit, barred, denial etc.
Note that the above words are not just synonyms of the said word, but are the connotations of the feelings, thus they can only be effectively applicable under the right context. This is why you will find that certain words convey more than one feelings, it is because of the writers' ability to mould the context and phrase the sentences in such a way that it conveys its meaning the way the author intended.
Example of Emotive Language
The best way to understand something is through studying some actual examples of it. Let us look at some of the examples of texts that best apply emotive language:
"I have a dream that one day on the red hills of Georgia, sons of former slaves and sons of former slave-owners will be able to sit down together at the table of brotherhood. I have a dream that one day even the state of Mississippi, a state sweltering with the heat of injustice, with the heat of oppression, will be trans­formed into an oasis of freedom and justice."- Martin Luther King Jr., 1963
The above excerpt is from the famous speech made by King Luther on freedom and equality for the people of colour. It is the best example of emotive language as it displays his feeling and conveys his "dream" of having a "brotherhood" and a world free of "injustice". The speech combined certain important aspects of persuasion such as metaphors, and connotations.
"Be not afeard; the isle is full of noises, Sounds and sweet airs, that give delight and hurt not. Sometimes a thousand twangling instruments Will hum about mine ears, and sometimes voices That, if I then had waked after a long sleep, Will make me sleep again: and then, in dreaming, The clouds methought would open and show riches Ready to drop upon me that, when I waked, I cried to dream again."- William Shakespeare, The Tempest Act 3.
In this excerpt from the great Shakespeare's writing, we can notice how impressively he has used emotive language to express multiple emotions such as uncertainty, wonder and mystery. The other literary devices used in this are alliteration, rhetoric language, hyperbole and onomatopoeia to express the feelings in the narrative.
Connotations
The connotation is the use of words and phrases in such a way that the actual meaning of the text becomes quite different than the literal meaning. Denotation and connotation are the two meaning a sentence may hold. Denotation implies the literal meaning of the text, whereas connotation is the emotional, associated feelings or implied meaning of the words in the specific context.
The connotation is many times used along with the emotive language as it solidifies the effect of the words and sentences written in the emotive style.
For example: The words 'childish', when used in a sentence such as,
"His behaviourisms are very childish" carries a negative connotation, but the word childish in itself isn't a negative word. Thus the word has a denotative and connotative meaning.
The word 'stench', carries a negative connotation with it, and is mostly associated with bad smells such as,
"The stench of a pig"
Alternatively, the word 'aroma' has a positive connotation and is always used to express good smells such as,
"The aroma of a botanical garden"
By applying the above techniques you can write the most impressive article or speech or any piece of writing which will fill the reader with emotions of joy, happiness, love and many more.
Hope this article helped you to find the best way to express your feelings and emotions through your words.
Now go get expressing!!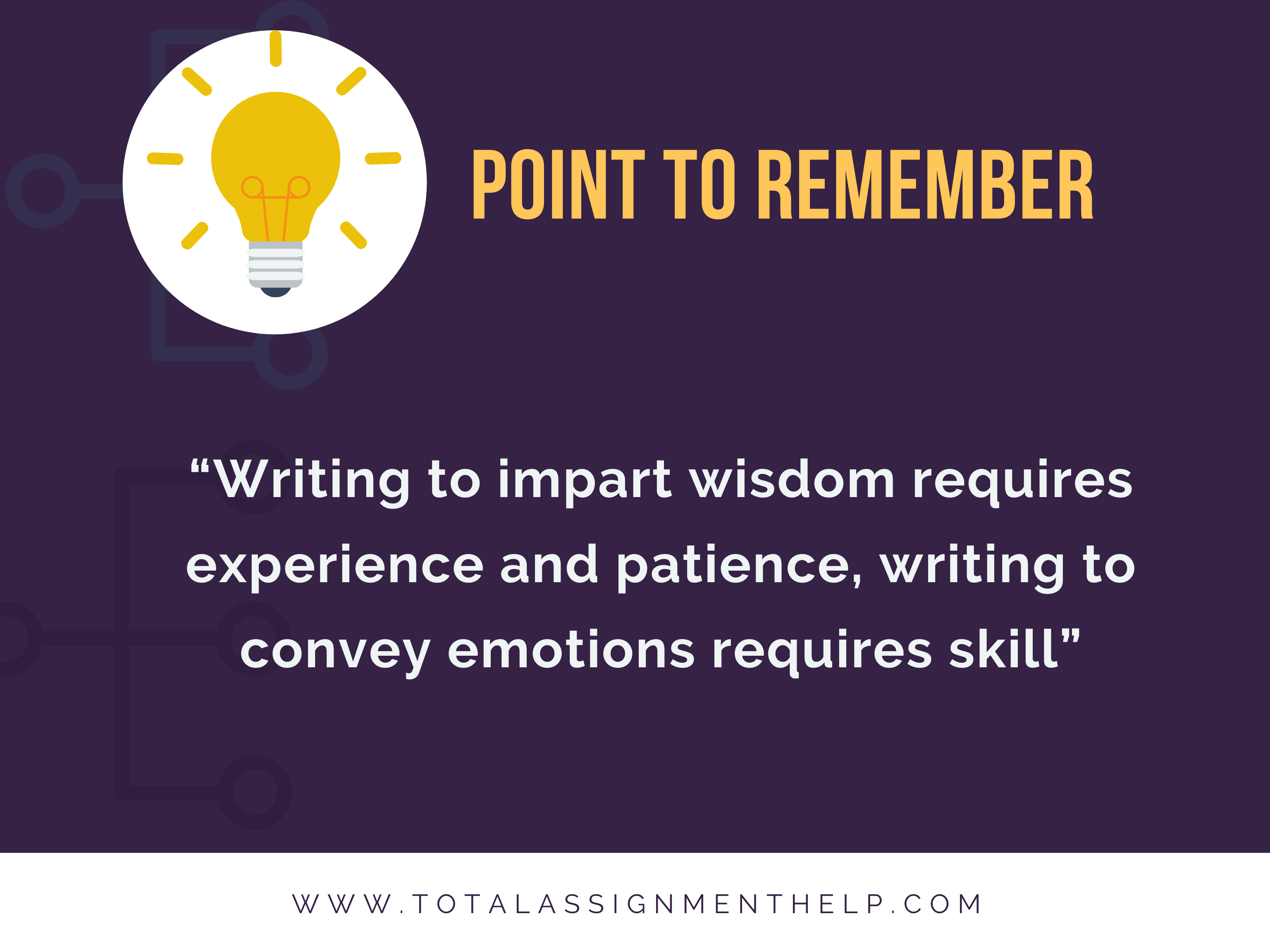 Looking for Assignment Help from Top Experts ?
Get the best Assignment Help from leading experts from the field of academics with assured onetime, 100% plagiarism free and top Quality delivery.