Did your professor assign you an essay writing task? Are you engulfed in the sea of thoughts and needing direction? Indeed, this is how you feel when short of essay planning.
Essay planning provides a direction to write a well-crafted and coherent piece of writing by carefully organizing your ideas, outlining your claims, and structuring your content. The blog post on essay planning will probe into the vital steps and techniques required to make an essay plan, providing you with realistic strategies to enhance your writing process.
Advantages of essay planning
Rigorous essay planning provides several advantages to transform your academic writing experience. By taking out time to prepare and organize the essay, you can achieve the following advantages:
Focus and clarity: Planning your essay lets you clarify your thoughts and build a clear focus when writing. You can explain the key arguments, determine the main points, and establish a logical structure. Clarity ensures that your essay is on track and accurately conveys your message.
Management of time: Your time can be effectively managed if you have a well-structured plan. To avoid eleventh-hour rushes and keep up a regular writing pace, you can use essay planning by outlining the crucial sections and allotting time for each. It allows you to devote enough time to research, drafting, and revising for polished work.
Coherence and flow: You can have a smooth flow of ideas when you make appropriate essay planning. Logically organizing your thoughts ensures that your arguments link seamlessly, creating cohesive and coherent writing.
Improved productivity: You can address one aspect at a time by dividing the essay into reasonable parts. It will make the writing process less daunting and more approachable. It will enhance your motivation and productivity, enabling you to generate higher-quality work without much effort.
Efficient research: Through planning, you can determine the areas of the essay that need research and collect relevant sources in advance. You can streamline your research process by outlining and backing the key points with evidence. It will help you stay away from huge amounts of information.
Steps to make an essay plan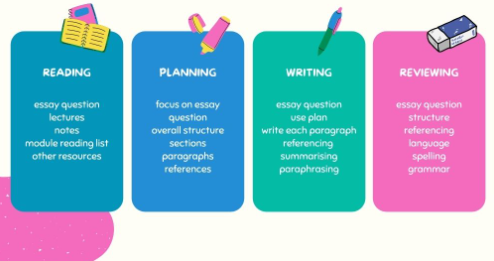 Comprehend the essay prompts: Meticulously study and understand them to comprehend the topic and its specifications. Determine the keywords and phrases that point out the scope of the essay. For instance, if the prompt states to 'evaluate the effect of technology on the society,' you need to concentrate on comprehending the particular aspects of technology and its impact.
Never disregard research: Collect relevant details and sources to back your claims. For instance, if you are writing an essay on global warming, you might research government reports, expert opinions, and scientific studies.
Get main ideas in place: Take a brainstorming session to get concepts and ideas concerning your essay topic. Write down the main points, claims, and examples that cross your mind.
Look at varied perspectives and angles to handle the topic. For example, if the essay topic is related to the significance of education, you might brainstorm concepts like educational reforms, access to education, or the role of technology in education.
Outline: An important aspect of essay planning cannot be skipped. An outline can help give a coherent structure to your arguments and logically organize the ideas and arguments.
Begin with an introduction that provides the essay topic's context and the thesis statement. Afterward, outline the key arguments and accompanying details for each essay paragraph. Ensure that the ideas in the essay have a logical flow and that each paragraph has a connection.
Compose the introduction: Write an intriguing introduction that attracts the reader's attention and gives a clear overview of the main arguments of your essay. Incorporate a thesis statement that mentions your stance or the central argument.
For instance, if you are writing an essay on the advantages of meditation, your introduction might include a fascinating story or an anecdote to attract the reader's attention. You can also add a surprising statistic to capture the reader's interest.
Craft body paragraphs: Building the body paragraphs can assist you in maintaining a valid essay structure throughout the essay. You can expand the main arguments or the points in different body paragraphs.
Begin each paragraph with a precise topic sentence stating its key idea and back each idea with evidence, relevant source, and examples. Ensure the transition between the paragraphs is smooth to keep coherence.
Write a strong conclusion: Sum up all the key arguments and rewrite your thesis statement in this part of the essay. Never copy-paste the thesis; instead, rephrase it. Give a feeling of closure to the readers by making an impact on them through the content of the conclusion.
As per the ruling, do not add any new information to it; instead, stress the importance of your findings or write about future implications. For example, in an essay on the side effects of fossil fuels, your conclusion might pinpoint the requirement for sustainable practices and the probable effect on the environment.
Reread the finished work: Editing and proofreading are vital parts of essay planning. Invest time to review and revise the essay to maintain clarity, cohesiveness, and accurate grammar. It comprises verifying sentence structures, punctuation, and spelling.
The step ensures that your ideas have a seamless flow and that the arguments are endorsed with evidence. Look for any feedback from your instructors or peers to gain different viewpoints and enhance the essay's quality by addressing each feedback.
Hence, by adhering to the steps mentioned above for your essay, you can comprehend the essay topic and write it according to the requirements in an organized manner. An essay written along the lines of essay planning will fetch good grades.
Techniques to incorporate while planning an essay
Different techniques can be used to make effective essay planning. Applying these techniques can help you organize your thoughts, produce ideas, and generate a coherent structure. In this section of the blog, we will discuss three techniques that are widely used by professional essay writers while planning to write an essay.
Freewriting: Freewriting is an effective technique for ideating and generating ideas for essay planning. You can utilize the technique in the following ways:
Select a particular duration for your freewriting session, like 10 or 15 minutes, and fix a time.
Begin writing without pausing or thinking about grammar, sentence structure, or punctuation. Don't rush to write your thoughts on the paper or the screen; let it flow freely. Don't worry if your ideas seem incomplete or disorganized in the first instance.
If you have a particular essay topic or a prompt, you can utilize it as a beginning point for your freewriting. Additionally, pen your usual thoughts and impressions concerning the subject you will be dealing with in your essay.
Avoid the desire to edit your thoughts while using the freewriting process for your essay planning. Give yourself room to write without being self-critical or judgmental. Adopt the 'anything goes' attitude, and note that you can revise and fine-tune your ideas later.
If you feel writer's block or fall short of ideas, never stop and continue writing, even if you write repeated phrases or 'I have no idea.' It can assist in pushing previous resistance and generate fresh ideas.
Never get frightened to explore new ideas or connect with others as you free write. Let your mind drift to find new associations. These connections can sometimes give rise to unpredicted insights and distinctive viewpoints for your essay.
After the freewriting session, take some time to read what you have written. Point out any interesting ideas that make your essay distinctive. The pointed sections will be likely beginning points for creating the content of your essay.
Mind mapping: Mind mapping allows you to visualize the connection between ideas and gives a flexible structure to your essay's organization. Begin by writing the key topic or the essay prompt in the middle of a new page. Then, expand by linking connected sub-topics and ideas. Utilize arrows, lines, and keywords to determine the connection and ranking between different concepts.
Outlining methods: Alternatively, you can also select outlining method which may best suit the purpose of the essay and its content. In the outlining method, there are many approaches to writing an essay planning, and you can use any of them.
Hierarchical outlining: Utilize a hierarchical structure to logically organize your key points and the supporting details. Start using Roman numerals for primary sections, capitalize alphabets for subtopics, and use Arabic numerals for sub-sets. The method provides a clear and organized structure to an essay.
Chronological outlining: Adopt a chronological approach if your essay incorporates a historical progression or discussion about events based on a timeline. Put the points in a sequence to demonstrate the order of their occurrence. You can also arrange your arguments for the topic at your convenience. You can use this approach if you are writing an essay based on a narrative or a historical event.
Thematic outlining: In this approach, the essay can be organized based on categories or themes. Determine the main themes or key aspects of the essay topic and allot different paragraphs to each theme. The approach functions well for essays that investigate different angles of a topic or for comparative essays.
You can experiment with any of the abovementioned techniques and select the one that echoes your ideas and helps you produce a coherent essay structure. Remember that these techniques are not inconsistent; you can merge them per your essay's need.
Mistakes to avoid when making an essay planning
Though essay planning is essential for writing a successful essay, there are a few common mistakes that you should avoid or make a note of. Let us look into these mistakes and how to avoid them.
Procrastination: Delaying the essay planning process can result in rushed and poorly organized writing. Do not leave the planning for the eleventh hour. Allot enough time for all the stages of the process. Beginning early permits detailed research, careful brainstorming, and effective organization.
Less understanding: It is significant to completely understand the topic or the essay prompt to avoid an essay lacking marks. Take your time to completely understand the requirements of the essay, the key concepts involved, and the purpose behind writing it. Ask for clarification from the instructor if required.
Inadequate research: Insufficient research can decrease the basis of your essay. Do not depend only on limited sources or personal opinions. You can carry out extensive research utilizing credible and varied academic sources. Investigate diverse perspectives and collect evidence to back your arguments.
Poor organization: No organization or poor structure can give rise to confusing and disjointed essays. Do not jump between ideas without following a clear transition or fail to follow a logical structure. Utilize outlining techniques to set up a cohesive content flow and ensure the arguments are well-structured.
Leaving revision: Giving on to the revision process can lead to several errors, weak arguments, and inconsistencies. Consistently put aside some time for editing and revising the essay. It can be used to check for grammar, punctuation, and spelling mistakes. Analyze the coherence and clarity of the arguments and make appropriate revisions.
Disregarding word limit: Falling short of or ignoring the word limit assigned by your instructor can influence the overall effectiveness of your essay. Be attentive to the word count assigned to you, and make sure your content is focused and precise. Remove unwanted details and ensure your arguments are clear and concise.
Absence of freshness: It is common to depend on external sources without your insight or analysis. Though research is crucial, you must put forward your distinctive perspective and critical thinking. Maintain uniformity when using citations and references with your analysis and thoughts.
Lack of proofreading: Writing an essay with spelling mistakes, grammatical errors, typos, etc., can defeat the credibility of the essay. On all occasions, proofread your essay before submission. Use spell-checking tools, read aloud, and look to seek feedback from others to notify you about the errors in the essay.
Wrapping up
Taking pains to comprehend the essay prompt, conducting in-depth research, brainstorming ideas, and producing a well-structured outline, pave the way for a successful essay. Staying away from common mistakes like inadequate research, delaying, overlooking revision, and poor organization can further enhance the quality of the essay. Through meticulous planning, you can write a coherent and compelling essay that demonstrates your critical thinking skills and knowledge.
Do not forget that essay planning is not versatile, so experiment with varied techniques to discover what works best for your essay. By including these essay planning strategies in your writing process, you will be fully equipped to confidently write any essay and achieve academic success.  
Total Assignment Help
Incase, you are looking for an opportunity to work from home and earn big money. TotalAssignmenthelp Affiliate program is the best choice for you.
Do visit : https://www.totalassignmenthelp.com/affiliate-program for more details
Total Assignment help is an online assignment help service available in 9 countries. Our local operations span across Australia, US, UK, South east Asia and the Middle East. With extensive experience in academic writing, Total assignment help has a strong track record delivering quality writing at a nominal price that meet the unique needs of students in our local markets.
We have specialized network of highly trained writers, who can provide best possible assignment help solution for all your needs. Next time you are looking for assignment help, make sure to give us a try.