ZARA Case Study Solution
Introduction
Zara is a well-renowned name in the field of clothes and accessories, all across the world. It is a popular fashion designing and manufacturing company, which has been declared as the most efficient market responding enterprise. Just a few fashion brands keep pace with the latest fashion, Zara is one of the bests, as it is always up to date with the latest trends in high quality at affordable prices. Mr. Amancio Ortega, the founder of Inditex, has always received wide appreciation from public, industry people, even from his competitors for his bold and strategic business decisions. Zara is one the most successful and well-known brands of Inditex. After ten years of forming Inditex, Mr. Amancio Ortega started a small store in Spain under the flagship of Inditex called Zorba. Later he changed its name to Zara. Zara began to become popular and slowly it captured the markets of the United States of America, France, and then across the globe.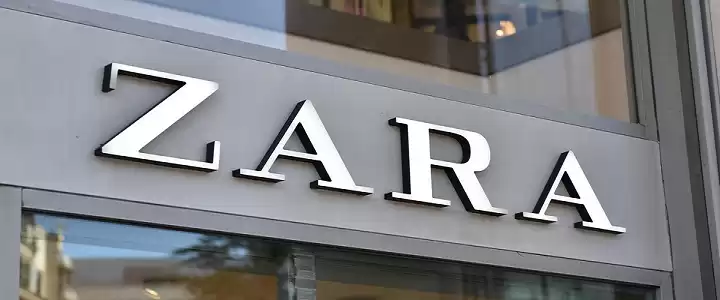 The prominent reason behind Zara's success is that it keeps up the pace with rapidly changing street fashion. The brand keeps a close look at the changing trend of everyday fashion. That is why; it is not only making great profits but also is a most celebrated brand by the buyers in the market (Murphy, 2008). Even within the Inditex group, Zara has occupied the majority of the market and is a major source of its revenues. The contribution of Zara in the organization's profit-making and market capture is estimated to be 80%.
Read More: Zara Operations Management Assignment On Decision Making Models
It is a Spanish company that is operating for more than a decade. It has proven itself since the start and earned the trust of the customers, as it keeps maintaining its commitment to provide the best of its service till the date. The management has taken some daring entrepreneurial decisions that lead to the success and wide acceptance of the brand. Zara continues to beat the competitors by introducing new designs into the stores within a week or two. While it takes a cycle of six months for other fashion brands to penetrate new designs into the market. Many other companies are still not being able to take a decision on this pattern. This is how it continues to be the favorite brand of the customers, do not wish to compromise with the latest trend. Mr. Amancio Ortega became the talk of the industry when he shared his viewpoint on clothes by calling them as a "perishable commodity". He said that people would love to have clothed the way they use bread or yogurt just like 'use and throw'. His clothing range was often called 'freshly baked clothes' that could be used not more than a month or two as per the change in the street fashion. If someone visits, the store just one week late, finds out that the whole collection is new. Such innovative and daring decisions that ensure the success in dynamic time can be a result of a deep thoughtful process that requires an extensive research that involves environmental analysis at both micro and macro level.
Subscribe to our YouTube channel for more related videos
A structured external and internal analysis that can provide data for a rational decision-making process. A process which can formulate feasible objectives and goals. Though Zara has achieved its objectives long back and further moved to next step i.e. expansion (Sull and Turconi, 2008). Zara is also recognized as one of the most eco-friendly companies. Its headquarter is in Spain, which is known for using solar panels and wind turbines. It is also from one of those rare clothing brands, which produces 100% toxic-free clothing.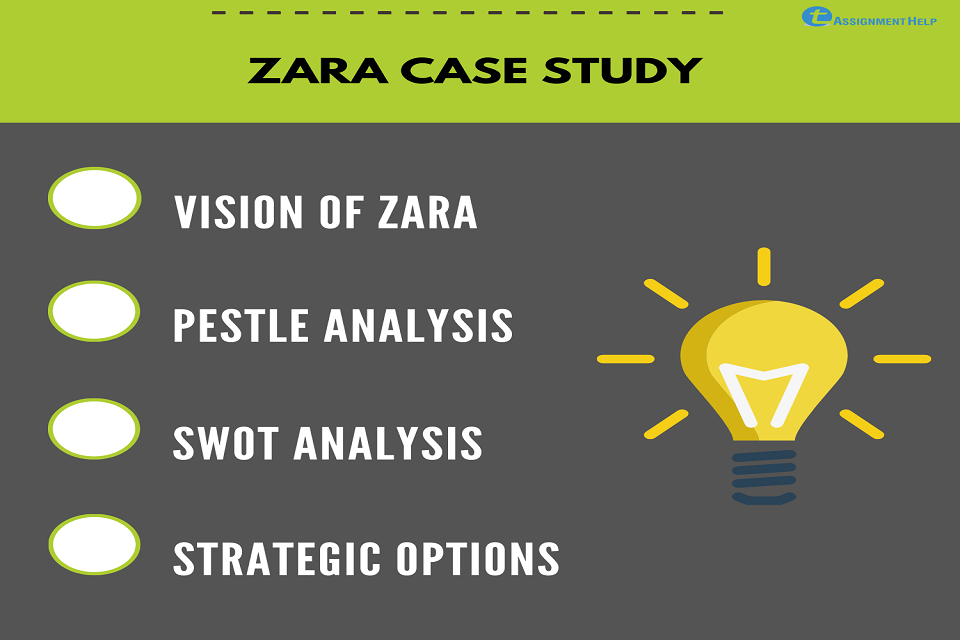 In this study, we aim to analyze the market environment and make some attainable future targets. It is a very crucial and critical process, as it will facilitate in making the decisions that will lay the basis for future decisions and actions. Such critical decisions will determine future of the company in terms of success or failure. From the example of Sainsbury, it is not wrong to say that hastily taken decision can lead to massive losses. In Sainsbury, they took the decision of changing their complete supply chain, resulting in series of problems that flung company years back. Zara has always been using the technology in its manufacturing plants, in the areas where there is a requirement of simplifying the complex processes. Decisions regarding the extent to which the technology must be used can only be taken through concise measurements and analyses. Through this study, the focus is to explore such existing areas where the company can further progress.
2. Mission and Objectives
Inditex group has specific and explicit concepts and plans defined for future. Their mission statement contains clearly mentioned priorities and processes that are carefully chosen for the organization. The founder has selected a precise set of strategies to ensure a sustainable, promising, successful career. The mission statement (under Environmental Policies) for Zara states, "Through Zara's business model, we aim to contribute to the sustainable development of society and that of the environment with which we interact". While at its every store, the mission statement is specified as below,
"
At the store
We save energy.
The eco-friendly shop.
We produce less waste and recycle.
Our commitment extends to all our staff.
An environmentally aware team."
For manufacturing and features, the mission is as below,
"With the product
We use ecological fabrics.
Organic cotton.
We manufacture PVC – free footwear."
For distribution channel (the transportation of finished goods from the point of production to point of sale), it is termed as environmentally friendly,
"in transportation, we use biodiesel fuel."
(http://www.zara.com/webapp/wcs/stores/servlet/category/uk/en/zara-/OurMissionStatement)
The vision statement of Zara is,
ZARA is committed to satisfying the desires of our customers. As a result, we pledge to continuously innovate our business to improve your experience. We promise to provide new designs made from quality materials that are affordable." (zara.com)
Until now, the company has pleasing progress and a good record of achieving its defined goals. As a group, Inditex is recognized as a more eco-friendly company while comparing with its competitors. It has also gained the reputation of more responsible and rational company towards the environment and community welfare concerns. Zara offers its products in 68 countries. All the stores have the complete range that has been launched in a country with the same style of speedy sale and removing the old collection. Zara works with the concept of offering a variety of latest trend of good quality in small quantity for a shorter period of time at lower prices, which instigates the customers to purchase what they like right away, without waiting for any sort of sale. Flope (2000), a market observer called the collection launched by Zara "Banana Republic" and its prices "Old Navy". Its collection is able to satisfy needs of the customers may they are women, men or kids. Direct supply from Zara, Spain manages the demand and supply chain. It has developed a fast shipments system that satisfies the existing needs. Presently Zara is focusing on its environmental friendly program by launching stores, which supports its outlook. Deputy Chairman of the group has mentioned that as environmental issues are crucial to the global strategy of Inditex, they affix a strategic target to be implemented in all of its stores by 2020.
3. Situational Analysis
Zara has been leading the fashion market for two decades with a strong brand image amongst customers. The same pattern of sale that is being set by the company is being followed in all 68 countries. Zara makes sure to have an effective communication with the customers to understand and depict the changes in markets and street fashion that help the designers to come up with new designs matching the expectations of the customers. Mark & Spenser and Sainsbury lacked in managing the demand in this manner. Hence, they could not match the expectations of the customers, which caused many problems for their brands (Gluyas, 2004). As in case of Sainsbury in particular, due to introducing sudden changes in supply, caused resources wastage. A feasible and optimum combination of demand management and supply chain management should be taken into account to handle the market trends and win over competitors (D. Walters, 2006).
Zara has attained the main objective of ensuring timely delivery of products to end-user at affordable prices and complete customer satisfaction. It manages to do so by avoiding the confusion caused by the involvement of third-party by supplying products directly from Spain. Zara has always believed in customer satisfaction and has never done any sort of marketing and relied completely on word of mouth. For a business to be successful, its customer-driven logistics plays a vital role (Waller, 1998). The only marketing tactic ever being used by Zara is, displaying extremely attractive designs on the windows of their stores; otherwise, no other regular marketing strategies are ever opted by Zara.
3.1 Environmental Analysis
Zara is Spain based company and is dominantly working there only. In this section its working conditions, industry surroundings, competitive pressures, and other influencing factors. This section is also examining the available choices in terms of opportunities and potential threats present in the existing environment.
3.1.1 Industrial Analysis

Zara understands the importance of conducting an intense environment assessment before opting for expansion and setting goals or making decisions for future. Hence, PESTLE analysis of Zara is discussed below.

3.1.2 Political Factor

Its government and political parties that form a political scenario of a country. It is a well-known fact that government plays a silent yet important role in the functioning of a business, as while setting policies it may assist an industry. Until now, Zara is in Spain along with a major distribution center in Europe. To consider expansion in other countries, Zara needs to access the political support and working of the countries. However, due to predictable economic conditions, Zara can opt for expanding its business in Europe.

3.1.3 Economical Factor

Since its origin, Zara has made it a point to deal in single currency. Even after several fluctuations in the world economy in last few years, Zara is successfully getting its market share and is unaffected by the recession. It is so because Zara is operating in one of the safest currencies than in dollars. In addition, it always assesses and evaluates the currency rates and economic condition of that particular country before making an entry there. Spain has a steady market and demands.

3.1.4 Social Environmental Factor

Zara faced a social influence of Spain as it is operating solely there, while it was taken care of by the other brands of Inditex. Spain has a rich artistic and designing heritage. It is a preferred destination for tourists as it has the peaceful social environment and many vivid cultural events. Tourism has enabled Zara in attracting customers and retaining them by its policy of satisfying customers through quality. Zara's strategy of frequently changing its collection available at lower prices promotes its sale in the single visit; this is how the tourists become their customers. Fortunately, Zara is free from its country's cultural roots.

3.1.5 Technological Input

Spanish retail companies often update their technology. Competitors of Zara introduce new technology in the market in their manufacturing and sales process. While Zara took the more responsible step of introducing its technology development by opening its eco-friendly stores. At the same, it simplified its manufacturing process by dividing it into small simpler tasks, done by the machines and finally assembled by the workers.

3.1.6 Legal Factor

Spanish government formulates such rules that assist and promote industrial development in the country. To safeguard the business transactions in logistics, these rules provide support.

3.1.7 Environmental Issues

A combination of customers, competitors, and internal company factors together constitute the business environment. Though the business growth of Zara is favorable, it is time for Zara to take new initiations and cross-border.
3.2 Internal Analysis
Let us evaluate the strategic implementations of Zara based on the concept of Porter's Three Generation Strategies. The concept has three sections i.e. segmentation, cost leadership, and differentiation strategy. Zara is a perfect example of implementing an optimum combination of all these. The product line of Zara is divided into three major sections; female, male, and kids. But the extensive characterization of clothes is not being done, like clothes are not characterized differently for young girls and mid-age women, rather the focus is on providing latest fashion trends, with a high turnover of 10,000 new designs in a year. Even though it manufactures products as per market's daily changing trends, it has developed a system by which it has a low manufacturing cost enabling it to provide great latest designs at lower prices to the customers.
4. SWOT Analysis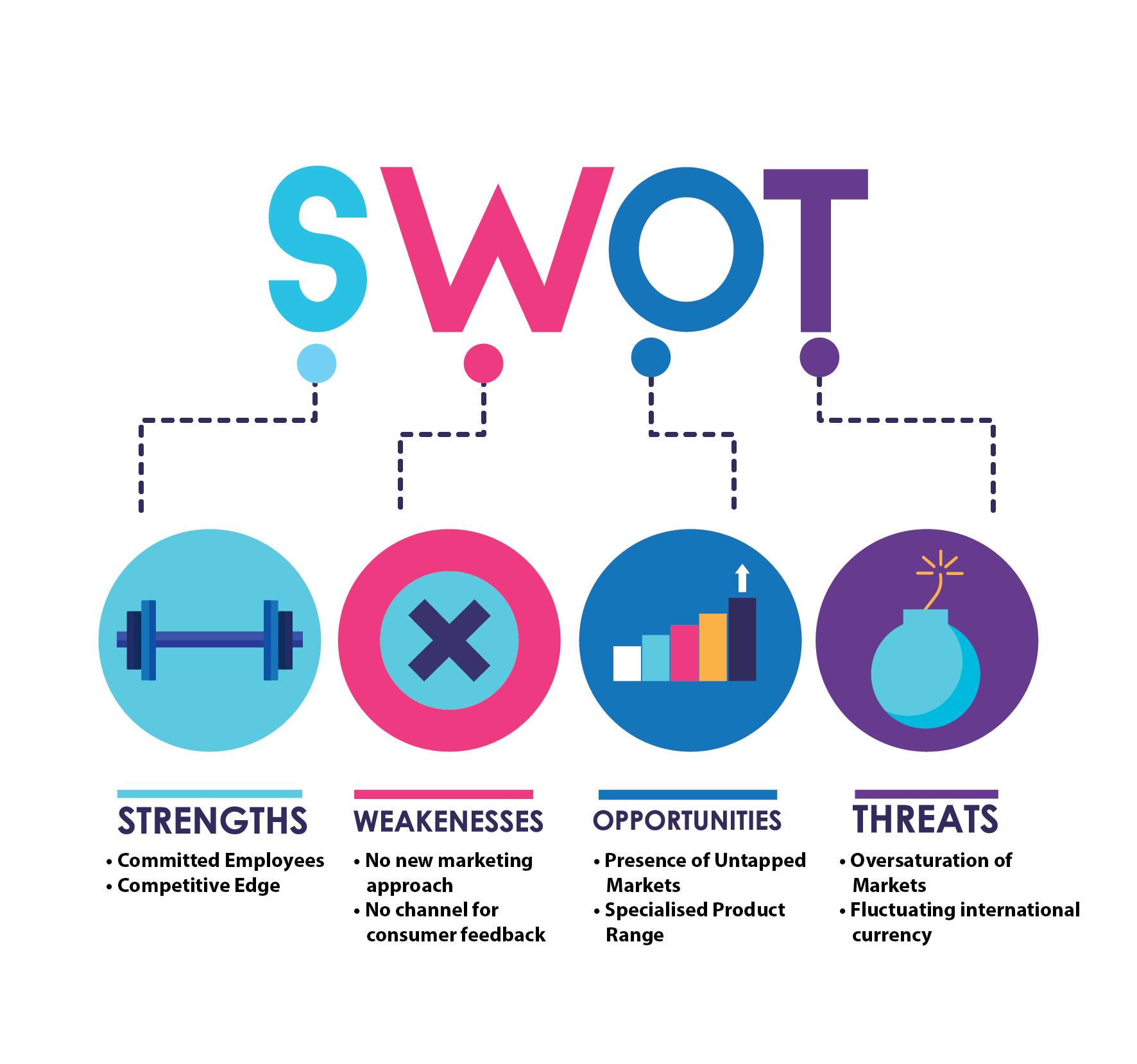 After a SWOT analysis of the organization, the conclusion was driven that Zara has motivated and contended staff that works with the alignment with the organization's goals and objectives. Its major strengths are, attainable objective setting, vertically incorporated structure and, self-motivated and committed human capital. The ability to make rational and practical decisions has made it win over its competitors.
The organization makes no effort in creating or promoting the brand name. Presently, this is one of the major weaknesses of the company. As it causes a communication gap between the customers and company. It is following Euro-centric model approach by not carrying out any promotional activity to attract more customers.
New geographic zones and markets with more customer-focused products and segmenting the whole product line into more segments with specialized range is a great opportunity available with Zara. The organization can also avail the opportunity of getting low paid labor but keeping in mind the requirement of workforce management and company image. The United States of America has a great business potential for Zara, as it already has its communication and customers there. Threats can be classified as current markets are already facing oversaturation of many companies, high and frequent fluctuations in exchange rates, and whole manufacturing can be affected by any natural disaster.
5. Strategic Options
Assembly of different components is done at the headquarters of Zara in Spain; it has outrightly rejected the concept of cheap outsourcing. The company has a dignified name in the field of quality management in the industry, but now it must allow its processes to explore new areas. This should be done with utmost care otherwise company may attract many doubts and queries regarding its quality management and human power management processes. However, through a sound system, it can excel in globalization also.
Another available option, the management is following in past years is to grow as an eco-friendly company and has also developed sales centers in regard to this concept. Eco-efficient and friendly certifications specifically an esteemed one is LEED (Leadership in Energy and Environmental Design) are being awarded to the Inditex group. Inditex has also mentioned this in its mission statement and has won a competitive advantage. While the company is busy in creating new milestones; its competitors are in process to reach the company's set benchmarks. Zara is working on the concept of introducing new and fast fashion that involves penetrating new styles in the markets. It is interesting to know that the salespersons at the stores are facilitated with the PDAs (Personal Digital Assistant) that helps them to maintain an effective communication with the designers in Spain, this is what makes it possible for Zara to give such prompt responses to the market needs. The information and feedback are directly provided to the designers' team that also include 300 stylists from its stores. Afterwards, they analyze and recommend new designs and within less than 10 days customers actually have in physical form what they were thinking about. Where other companies take around six months to introduce their new range, such fast response by Zara has won over the competitive advantage. The basic idea behind such quick and direct communication and fast supply is to stay in touch with the end-user. It facilitates them in understanding the précised needs of the customers and producing as their actual demands. Zara has created its name with the customers by addressing their demands at such short notice and also minimized its operating capital.
However, it is an appropriate time for Zara to come up with long-term and evergreen styles in the market. The company has not tried any of such styles till date, interestingly there are potential customers willing to pay for such domain. There is a common segment of the market which is looking for good quality stylish clothes with such designs that lasts for a longer period of time. To explore new dimensions to expand, the brand can introduce a range of clothing that stays in fashion for a year or six months and is available in stores all through the year.
Zara has become an international brand but it is restricted to open new stores in different countries. The company has already achieved its aim, now it must form new strategies to expand its market, as it has a wide number of skilled people in favorable countries available. All of its operations are carried out at its only plant in Spain. To ensure long sustainability it should not ignore the risks of survival in case of moving with the same strategy. The business should be strategically divided among different complimenting countries. This will open the scope for new ideas on a new style of the product range. Exposure to new people and cultures will provide a wider understanding of trends leading to better ideas and overall development of employees. However, it may cause human resource and other policy-making related issues, but with the help of skilled human resource team, they can be easily taken care of. This will expand the target market and designs get a wider coverage. Different countries have different styles, likings, preferences, hence, one design not being appreciated in one country can be very well received in another.
Read More: Business Research Assignment on Zara
To ensure better market response it is advisable to strengthen the corporate image of the brand in the market. The identity of corporate as per Van Rekom (1997), "the set of meanings by which an object allows itself to be known and through which it allows people to describe, remember and relate to it". A good brand image always helps a company in ensuring its sustainability and survival in the market. The creation of a reliable image of a retailing organization is really supportive in attaining a competitive edge. (Burghausen and Fan, 2002; Kennedy, 1977). A good corporate image in form of well–established and well-connected with customers, generates more loyal customers (Balmer and Gray, 2003). Hence, there should be an emphasis on building strong company image and not ignoring one of the most efficient ways of getting it done i.e. marketing. Zara is going to expand its domain in future hence, must focus on building strong relations with the customer through choosing appropriate marketing strategies. Zara having the edge in the market has umpteen options readily available to it
6. Implementation Issues
Executing above discussed available opportunities is very challenging. Hence, Zara requires a firm management with skilled individuals as its team. It is known to all that the founder of the company has already taken and successfully implemented the most daring and best decisions. Now Zara must enter into new markets with new strategies to attract new potential customers. If it enters into new markets to get products manufactured at low prices then it would also be requiring a skilled and strong team of human resource management.
To present company's perspective in the market to maintain its image, a consistent representation at regular basis is necessary. The company would also need to focus on workforce diversity; as if it is not done properly then it may lead to resource wastage with a bad name to brand. Zara does not have many distribution centers hence, supply management issues may also aggravate if it enters new markets. It would be difficult to maintain the quality of products as well as processes and developing its eco-friendly sale centers may also cause an increase in costs.
7. Conclusion and Suggestions
Zara has beaten the competition and is enjoying its leadership in latest fashions. The founder of Zara is the richest person of Spain. The well-taken strategic decisions have provided a strong and reliable foundation for the organization. Strategic decision-making and introducing change in strategy are extensive activities requiring many efforts, but for Zara, it is need of the hour. In order to maintain the growth rate and excellence of the company, Zara needs to bring new changes in its strategies. A variety of strategies and some changes in the objectives may renew the company growth cycle. Zara in itself is a result of strategic thought. However, it is highly recommended to not implement all the decisions taken in one go. It would be more suitable if Zara introduces some change, afterward wait for some time to analyze the response and then can decide further steps. Exhaustive evaluation of the circumstances should be done prior to implementation of any decision. Zara case study assignments are being prepared by our marketing assignment help experts from top universities which let us to provide you a reliable assignment help online service.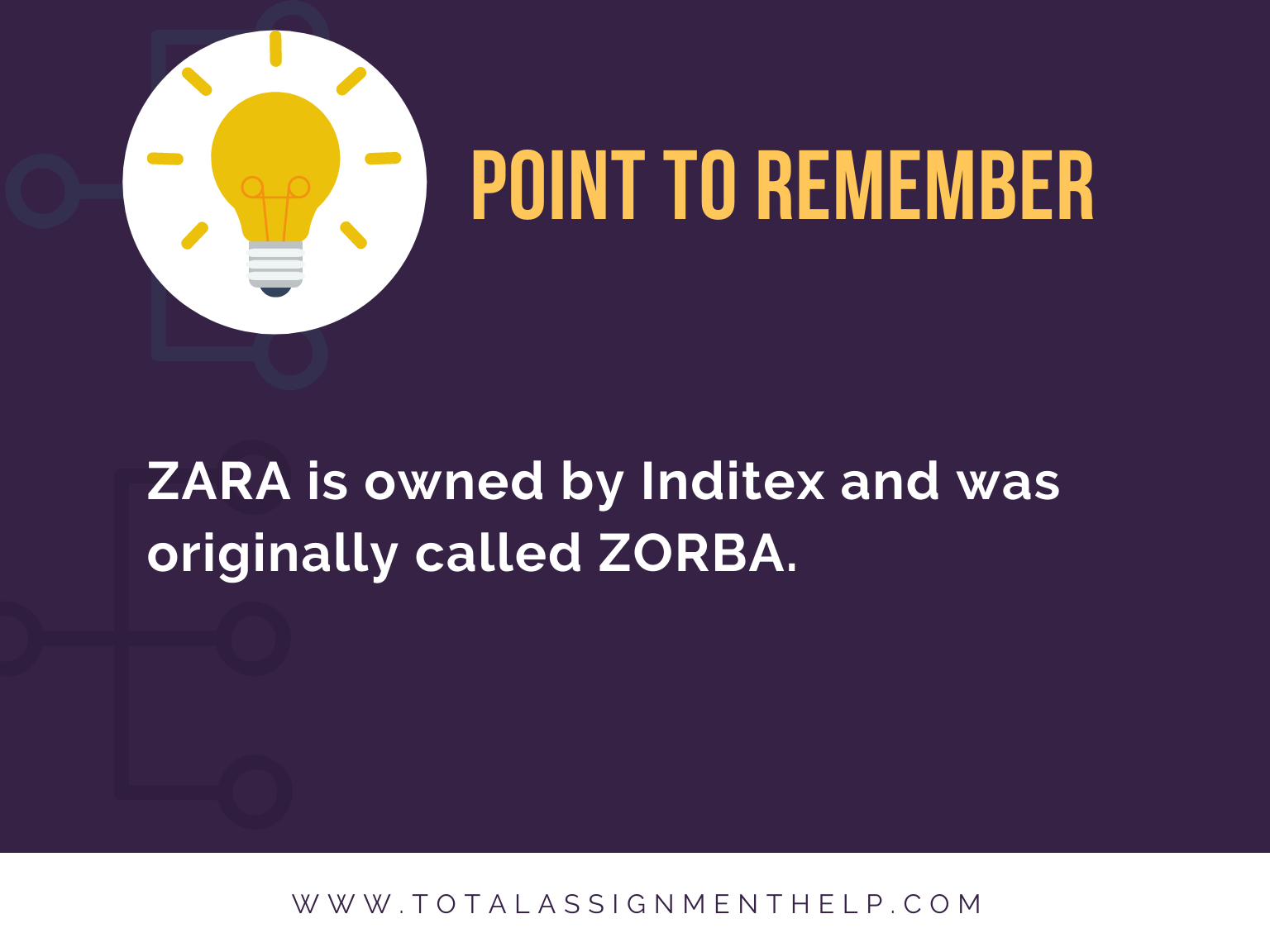 References
Balmer, J.M.T. and Gray, E.R. (2003), "Corporate brands: what are they? What of them?" European Journal of Marketing , Vol. 37 No. 7/8, pp. 972-97.
Burghausen, M. and Fan, Y. (2002), "Corporate branding in the retail sector: a pilot study", Corporate Communications: An International Journal , Vol. 7 No. 2, pp. 92-9.
David Walters, Effectiveness and efficiency: the role of demand chain management, The International Journal of Logistics Management, Vol. 17 No. 1, 2006, pp. 75-94, Emerald Group Publishing Limited.
Folpe, J. (2000),"Zara has a Made-to-Order Plan for Success", Fortune, Sept. 4
Gluyas, R. (2004),The Australian, 15 November
How Zara Fashions its Supply Chain, Strategic Direction, VO L. 21, NO. 10 2005, pp. 28-31, Emerald Group Publishing Limited
Kennedy, S.H. (1977), "Nurturing corporate images – total communication or ego trip", European Journal of Marketing, Vol. 11, pp. 120-64.