The task of academic writing in any field is one of the most significant and widely acknowledged tasks for a college or university student. It requires intense research, quick learning capabilities and thorough analysis. From the first stage of writing a research work, it is quite complex for some students to understand how to write a hypothesis effectively that can encompass the different research objectives.
It is very important to recognise the role which a hypothesis plays in any academic or scholarly article. It allows the research or author, to build upon what is already known and use that information to come up with the most favourable and probable expectation of their research outcome. In this way, by understanding how to write a hypothesis effectively, research can help guide their research and work towards, proving this expectation right, or refuting it. Either way, it will help the researchers to either discover something new or re-establish the present knowledge.
Subscribe to our YouTube channel for more related videos
In this article, we will go over some important bits of information that will help you in understanding the importance and necessity of learning how to write a hypothesis which is suitable for your research.
Table of Contents:
What is a Hypothesis?
Key Characteristics of a Hypothesis
Types of Hypothesis
Steps on How to write a Hypothesis
Let us dive in!
What is a Hypothesis?
In simple terms, a hypothesis is nothing but an assumption of what is going to be the result of an experiment, based on existing research and knowledge present to us. Learning how to write a hypothesis requires deep research and understanding of the research topic. Only if you understand the research topic completely, can you consider the different possibilities of research and experimentation and find the most suitable option.
Since a Hypothesis is well researched and stands on the implications made from existing knowledge, it intrigues the reviewers and the readers, to find out if the hypothesis turned out to be true or false. Thus, a hypothesis serves the purpose of defining the primary aim of the research as well as an interesting way to expand the number of readers and make it more interesting for them.
Only if you have understood how to write a hypothesis effectively, can you move onto the next stage of the paper which is explaining the research method? According to the most common structure of academic writing which is followed universally, after introducing the topic to the readers and providing some background, it is important to present a hypothesis or a thesis statement, which defined the scope of the paper and tells the readers what to expect. Following the introduction, the author needs to describe the process of conducting research in order to persuade the readers by revealing your experimentation methodology. It ensures that the readers recognise the transparency in research acknowledges your efforts.
A hypothesis can be described as an evolved and more focussed version of an educated guess. It is a way to bridge the gap between what is known and what could be, by making assumptions after thorough research and then proving those assumptions right or disproving them.
In any form of an academic article, there is a need for a hypothesis or a thesis statement, in one form or the other. It is usually incorporated in the introduction of the paper so that the readers can identify what to expect from it. Almost every academic task, such an essay, term paper, research project, thesis, dissertation, and many others, require you understand how to write a hypothesis effectively.
An all forms of academic tasks, after writing the introduction which presents a hypothesis, and describing your research methodology, you then have to move on to presenting your arguments along with solid evidence which helps you to support or refute the assumption made in your research hypothesis. Only if you are able to present your arguments effectively with the help of relevant evidence, can you convince the readers and stand by your hypothesis.
Key characteristics of a Hypothesis
Let us have a look at some of the important characteristics which will help you in identifying the key requirements of how to write a hypothesis: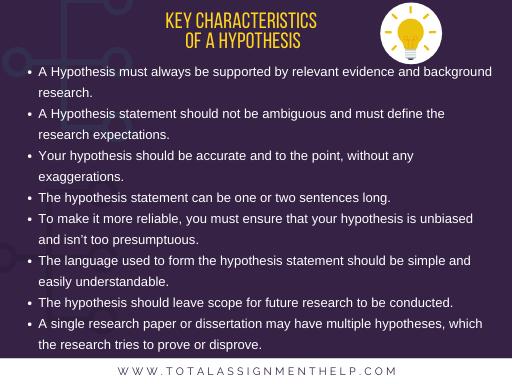 A Hypothesis must always be supported by relevant evidence and background research.
A Hypothesis statement should not be ambiguous and must define the research expectations.
Your hypothesis should be accurate and to the point, without any exaggerations.
The hypothesis statement can be one or two sentences long.
To make it more reliable, you must ensure that your hypothesis is unbiased and isn't too presumptuous.
The language used to form the hypothesis statement should be simple and easily understandable.
The hypothesis should leave scope for future research to be conducted.
A single research paper or dissertation may have multiple hypotheses, which the research tries to prove or disprove.
Types of Hypothesis
In this section of this article on how to write a hypothesis, we will explore 3 different types of hypothesis, which are most commonly used in academic writing. Each of the following types of hypothesis serves a specific purpose and should be used as per the requirement of your research objectives. A hypothesis has two key components which determine its nature, that is, the independent variables of research and the relation between them. Let us understand this better by looking at the following types of hypothesis: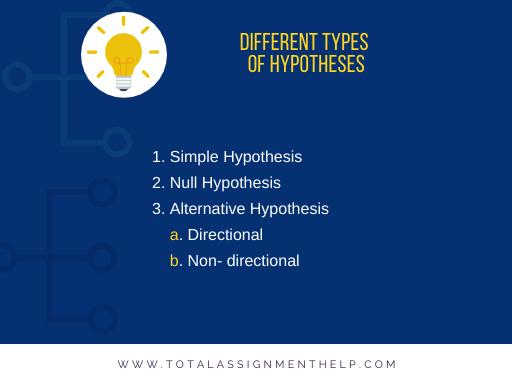 Simple Hypothesis: It is the most basic form of hypothesis; it involves presenting the two variables for the research and describing the correlation between them.

For example: Consuming high amounts of sugar increases the risk of diabetes.

Null Hypothesis: In this type of hypothesis, the author does not correlate the two or more variables of the research; instead, they simply present a statement, with no exact correlation between the variables.

For example: Consuming dark chocolate has no effect on Blood Sugar Levels

Alternative Hypothesis: This is a form of a hypothesis, which involves presenting the expected result of your research. It presents the two or more variables of research and defines the correlation between them. It can be done in two ways:

Directional: In this type of hypothesis, the variables and their correlation have a direct implication of the result of the research. It is primarily used in researches which involve identifying the nature of the relationship between the two variables.

For example, Consuming green vegetables leads to rising in haemoglobin levels in the blood.

Non- directional: In this type of hypothesis, the correlation of variables has no direct implication on the hypothesis, and it can take any shape as the research progresses through relevant evidence and experimentation.

For example: Consuming green vegetables affects blood haemoglobin levels.
Steps on How to write a hypothesis
Since we have established that understanding how to write a hypothesis effectively is a very critical part of any research paper, it is important that you learn the steps involved in writing it. Just like any other section of a research paper, a hypothesis also requires focussed attention.
Step 1: Understanding the Research Objectives
The first step in understanding how to write a hypothesis is to get familiar with the topic and identifying the primary research objectives. It involves describing the dependant and independent variables of the research.
Step 2: Conducting Thorough Research
The next step in writing a hypothesis is to conduct intense research to go through the existing knowledge and enhance your level of understanding on the topic. It will provide you with a chance to get rid of any confusion and understand the research topic much better so that you can establish a correlation between variables.
Step 3: Drafting the Hypothesis
Next, you should conduct a brainstorming session, and find out the different research hypothesis you can come up with. Using this information, you can then, prioritise your research objectives and conduct additional research if necessary and come up with an initial hypothesis statement.
Step 4: Editing and Refining the Hypothesis
As you continue to grow your level of understanding of the topic and progress with your research, you can then move on with refining your hypothesis until it is perfect.
Hope this article on how to write a hypothesis helped you in understanding more about the process of academic research! Check out our other articles on academic writing, and message us if you are in need of any kind of assignment guidance and support! Our experts will be pleased to give you a swift response!
Total Assignment Help
Incase, you are looking for an opportunity to work from home and earn big money. TotalAssignmenthelp Affiliate program is the best choice for you.
Do visit :https://www.totalassignmenthelp.com/affiliate-program for more details
Total Assignment help is an online assignment help service available in 9 countries. Our local operations span across Australia, US, UK, South east Asia and the Middle East. With extensive experience in academic writing, Total assignment help has a strong track record delivering quality writing at a nominal price that meet the unique needs of students in our local markets.
We have specialized network of highly trained writers, who can provide best possible assignment help solution for all your needs. Next time you are looking for assignment help, make sure to give us a try.
Looking for Assignment Help from Top Experts ?
Get the best Assignment Help from leading experts from the field of academics with assured onetime, 100% plagiarism free and top Quality delivery.