The five-tier model of human needs included in the psychology theory known as Maslow's hierarchy of needs is frequently shown as a pyramid. The theory states that meeting the needs of people lower on the hierarchy comes before meeting the demands of people at the top. The following needs apply if we examine the hierarchy pyramid from the bottom up:
Physiological
Safety
Love and belonging
Esteem
Self-actualization
Understanding these fundamentals is just one part of Maslow's hierarchy of requirements, which includes many more. Now that you're curious about every one of them, spend some time reading this educational site for additional information and perceptive understanding.
Uncovering The Five Levels of Maslow's Needs Hierarchy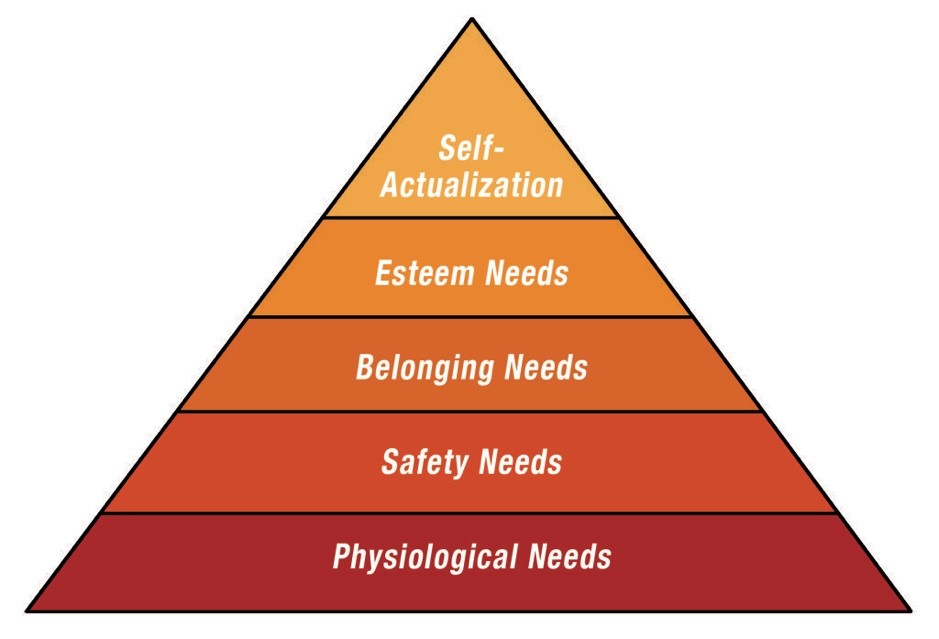 As was already noted, Maslow's hierarchy of requirements includes five important components. Here, we'll examine the five essential stages before delving into the specifics of the individual needs stages.
• Physiological needs: Maslow's hierarchy of human needs is thought to be based on physiological demands. These comprise necessities for survival like the need for food, oxygen, sleep, and reproduction. We all require physiological demands in order to survive as humans. The human body struggles to operate and lead a sustainable life if basic necessities are not supplied.
• Safety needs: According to Maslow's hierarchy of needs, the demands related to security and protection fall under the category of safety needs. When our basic needs—such as food and water—are satisfied, our need for safety and security usually takes precedence. These demands are closely tied to our innate need for predictability in the world, as well as to presumptions about the future and inhibitions around personal safety. In the modern world, the most important things for safety are a secure work, a savings account, potential investments, health and wellbeing, and the ability to keep jewelery and other necessities in a safe place.
• Love and belongingness: We tend to advance towards the third level of the hierarchy, which is love and a sense of belonging, after our basic requirements for safety and physiology are satisfied. It is claimed that behaviour is motivated by the need for interpersonal relationships. To list a few instances of the necessity for love and a sense of belonging, companionship, closeness, trust, and acceptance are highly valued.
• Esteem needs: Maslow divided these requirements into two main groups. These are: (i) self-esteem; and (ii) the drive to build one's reputation and win others' regard. In order to better understand the specific situation, keep in mind that respect for oneself encompasses mastery, independence, and dignity. Prestige and acknowledgment from others are aspects of the desire for respect and a good reputation.
• Needs for self-actualization: These needs are the aspiration to reach one's full potential and become everything that one is capable of becoming. This involves reaching one's full potential, having life's high points, pursuing personal development, and similar activities.
Explained: The Extended Levels of Maslow's Hierarchy of Needs
It should be mentioned that cognitive and aesthetic demands have been added to Maslow's five-stage paradigm. According to others, the addition and development of seven- and eight-stage models between the 1960s and 1970s brought attention to the five-stage model's modifications.
If you're interested in learning more about Maslow's hierarchy of needs' enlarged levels, this is all the information you need to know.
1. Needs that are psychological and biological: these include the need for warmth, food, drink, air, sex, sleep, and so forth.
2. Safety needs: These comprise the requirements for stability, law and order, security, and protection from outside influences, among other things.
3. Needs for love and belonging: This stage of needs entails the need for closeness, companionship, acceptance, trust, and the ability to give and receive affection and love from others. It also involves joining and being a member of a specific community or group, as well as family and friends.
4. Self-esteem and the need for respect or repute from others are the two categories of needs related to esteem. Desires for knowledge, competence, freedom, independence, and similar things may be considered higher esteem demands. But there's also the concept of reduced esteem need. Among them are the desires for status, notoriety, acclaim, and attention in general.
5. Cognitive needs: According to Maslow's hierarchy of needs, cognitive demands are now included in the fifth stage. These include comprehension and knowledge, the need for consistency and purpose, justification, curiosity, and similar feelings.
6. Aesthetic needs: The aesthetic need is about to enter the sixth stage. This covers things like appreciation and the pursuit of beauty, balance and shape, etc.
7. Self-actualization needs: As previously discussed in the blog, these requirements include the need for self-fulfilment, personal growth, and realising one's own potential.
The eighth level of Maslow's hierarchy of requirements describes transcendence needs, which state that a person is driven by principles that go beyond their own self. People might want to partake in mystical or specific encounters with nature, for instance. Aside from that, the eighth level of Maslow's hierarchy of wants also includes the need for sexual experience, artistic experience, service to others, religious faith, and scientific discoveries.
The human brain is thought to be a complicated system with multiple concurrent processes operating simultaneously. As a result, several goals and motives from Maslow's hierarchy of requirements may manifest simultaneously. Maslow claimed that human bodies might be "dominated" by certain desires rather than saying that a person concentrates on the need for a certain need at a particular moment in time.
He also accepted the possibility that a person's drive and desire could fluctuate at any given time in their mental state. His main goal was to pinpoint the fundamental phases of motivation and desire as well as the order in which they would be satisfied.
Now that you are familiar with Maslow's hierarchy of requirements and the phases of desires it explains, let's quickly review the needs before we finish.
• Needs that are biological and psychological.
• Needs for safety.
• Needs for Love and Belonging.
• Sense of self.
• Mental requirements.
• Needs for aesthetics.
• Needs for self-actualization.
• Needs for transcendence. In light of this, prioritize your preferences and decisions in life by taking into account Maslow's hierarchy of needs.
Total Assignment Help
In case, you are looking for an opportunity to work from home and earn big money. TotalAssignmenthelp Affiliate program is the best choice for you. 
Do Visit: https://www.totalassignment.com/affiliate-program for more details
Total Assignment Help is an assignment help Online service available in 9 countries. Our local operations span Australia, the US, the UK, Southeast Asia, and the Middle East. With extensive experience in academic writing, Total Assignment Help has a strong track record of delivering quality writing at a nominal price that meets the unique needs of students in our local markets. We have a specialized network of highly trained writers, who can provide the best possible assignment help solution for all your needs.  Next time you are looking for assignment help, make sure to give us a try.