Business Plan Assignment: Developing Strategy for The café club
Question
Task
Task Summary: For this assessment you will write a business plan.
Business Plan Assignment Description: Write a business plan which includes a description of the business vision, mission, values, objectives, goals, competitors, financial targets, management arrangements, marketing approaches and strategic, business and operational plans.
Instructions: You want to start your own business, but you have very limited finance. The government is offering to award $100,000 each to ten potential SA business owners based on an impressive business plan.
Answer
Summary of plan developed in the business plan assignment
Relevant owner experience: With strong leadership, problem-solving, organization, communication, and customer service I have adequate experience for more than 20 years in a cafe as a manager. I was manager formally but as the owner lives at a distant place thereby the entire responsibility was of me. I successfully have done budget, resource, and time planning with a highlighted unique menu to attract customers. I efficiently single-handedly managed the entire operational culture to confirm my efficiency to run the cafe club successfully.
Products/services
The product line confirms availability for different types of drinks and coffee to satisfy customers with varying choices like healthy breakfast like bacon, egg, ham,omelet, fresh fruit, fresh salad, and sandwiches to attain people with the choice of healthy diet confirming its nutritious value homemade dishes like healthy soup, shepherd's pie, meatloaf, beef stew for more customers.
The Market
Target market:
the USP of the business is its strictness towards health concerns aspect. It perfectly collaborates quality with health concerns with variety through which it can address any type of customer considering their choice for taste quality or health aspect. The cafe is a very new thing for the Cityas the plan as accommodates quality health aspect and taste at the same time there where it would be a unique place for the customers to have anything and everything for which the products would be better considering others. By offering value to the customers to make them feel welcome it would even confirm that the service type is much better to satisfy each customer.
Marketing strategy:
The cafe will ensure that it would offer waste products and services for the customers to not only increase the customers rather make them convinced that the selection of purchasing decision is an act for a long time. In order to have a successful market entry, it is important to understand the market nature for weak analyzing of the current market trends as well demands of the customers will be analyzed by internal and external environment analysis with the help of different frameworks. As per the result of the framework, strategies will be formed to meet the expectation of the customers as well as market trends. Pricing and quality are the two most important considerations their why pricing strategy would be done in a way that it can attract profit without making a hole in the pocket of the customers. Marketing and sales will be e optimized to make the market will be informed about the cafe highlighting its services and product with unique features to confirm engagement of the customers quickly.
The Future
Vision statement:
In long term, the business would provide the people of Adelaide and the tourists unique and fine taste of coffee with a better hangout place. The city is of art and film events which usually take place annually and several people from the world visit the city. Thereby, the tastes of the visitors are completely different from their background. It's the perfect collaboration of taste and quality and health consciousness, it would gain the opportunity to have a wonderful journey for the cafe by the products and the service. The basic or the primary concern of the business is to offer excellence for the locals as well as tourists. Taste quality and health concerns would be there to make a perfect impression on the place. The planning would be done in a way that not only can be addressed the demand of the city justifying the market value sharing profit concern for competitors through effective strategies.
Goals/objectives:
The short-term goals are to have enough idea about recent market trends and demands of the customers for which analysis of external and internal environment will be accomplished. Considering long-term goals strategies will be formed as per the expectation of the customers and market requirements. Pricing strategy when will be e defined in a way that would confirm profit for the venture without making it affordable for everyone. Adoption of effective sales and marketing strategies specifically social media marketing will be optimized highlighting the unique features and best service and product for the cafe club.
The Finances
The financial target of the cafe club is to ensure a profit of 15525 dollars in 1 month and 350000 dollars by 1 year when the five-year plan is to achieve 2750000 dollars. As it is a new startup thereby the first month's profit would be lower as initially, it needs to spend more for sales and market compared to profit. However, with time it will definitely start to have a better profit margin due to its product lining quality excellence and most importantly incorporation of health concerns aspect. Initially, it needs to be supported by $500 per month for facilities at least for 2-3 months for the acquisition of the place where the stuffing for one month will be $300, supplies by the transportation will be $400, and equipment cost like a cost for microwave storage being coffee machine grinder glass door fridge, etc for 15 days $3700 and location strategy would require $550 to confirm success in long venture capital would be used for the business considering its business type. Support will even be available for business incubators to avail themselves of the opportunity of starting the business.
The Business
Business details
Products/services:The product line confirms availability for different types of drinks and coffee to satisfy customers with varying choices like healthy breakfast like bacon, egg, ham,omelet, fresh fruit, fresh salad, and sandwiches to attain people with the choice of healthy diet confirming its nutritious value homemade dishes like healthy soup, shepherd's pie, meatloaf, beef stew for more customers.
Registration details
Business Name:The Cafe Club
Trading name(s): [Registered trading name(s).]
Date registered: [Date business name registered.]
Location(s) registered: the urban areas of Adelaide
Business structure:Sole trader
ABN:[Registered Australian Business Number.]
ACN: [Registered Australian Company Number, if applicable.]
GST: [Are you registered for Goods and Services Tax? Date registered?]
Domain names:[Registered domain names.]
Licenses & permits:code of food standards and food license, code of the standards of food for the production, preparation, andselling of foods.
Business premises
Business location:the location for the business has been chosen in the urban areas of Adelaide City with a space of 2000 square feet in the well-maintained building where 500 square feet outdoor space would be there for easy parking. The location is chosen by considering its scope nature as it is a place of art and apart from the local people different visitors come here for attending the annual art events which at once can be helpful for the business to have different types of customers to confirm their brand image.
Buy/lease:the land in the building would be purchased legally to have a cost-effective operational culture in the cafe.
Organization chart
[Outline your business structure in an organization chart.]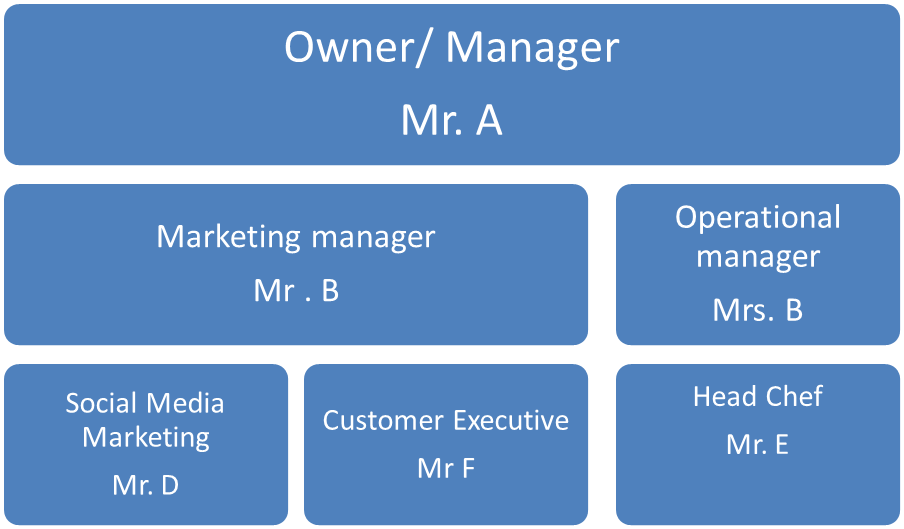 Figure 1: Example Organisation Chart.
Management & ownership
Names of owners: Mr. A
Details of management & ownership:running the business with my skills and experience as a manager in a famous cafe for more than 20 years. It would be a business of sole trader and I would have all the roles responsibilities and right to make and decisions in the favor of the business by discussing with my team and hierarchy.
Experience:the owner has the experience of more than 20 years to running a cafe. The cafe has been recognized by the customers as the best place to enjoy the delicacy. It even got an encouragement certificate from the food safety and regulations due to its use of quality raw materials and consideration of sustainability in the work culture.
Key personnel
Current staff
[List your current staff in the table below.]
| | | | |
| --- | --- | --- | --- |
| Job Title | Name | Expected staff turnover | Skills or strengths |
| Marketing/ Sales Manager] | [Mr. Chris Brantley] | [12-18 months] | At least 6 years experience in marketing. Effective input to make it a brand |
| Operational manager | [Mrs. Brantley] | 24 - 36 months | At least 4years experience in the industry. Appreciated for unique strategies to make the operational culture effective and productive. |
| Customer executive | [Mr. F] | [12-18 months] | At least 3years experience in the industry. Received the best employee of the year 2020 in the previous restaurant by satisfying the customers best. |
| Head chef | [Mr. E] | 5years | At least 15 years of experience in the industry. Received the award of the best cook in the city. |
Required staff
[List your required staff in the table below.]
| | | | |
| --- | --- | --- | --- |
| Job Title | Quantity | Expected staff turnover | Skills necessary |
| Sales representative | [2] | [2-3 years] | Relevant technical experience for social media marketing. At least 2 years experience. |
| Cook | [5] | [5-6 years] | Expert in different cooking styles with a touch of uniqueness |
| Cleaner | [2] | 1-2 years] | Effective in cleaning with traditional and technological ways. |
| Accountant | [1] | [2-3 years] | Relevant qualifications in Office Management. At least 2 years experience. |
Recruitment options
In order to have effective recruitment, both traditional and social media would be obtained where the only e requirement would be efficiency and excellence in the respective field. Local newspaper and online advertising will be obtained to fulfill the recruitment process.
Training programs
The training program will be arranged for everyone irrespective of their job title or roles and responsibilities to make them acknowledged with the work culture and to introduce themselves with each other. The training will specifically confirm the importance of quality where innovation would play a significant role in sustainability and health concerns even would be a priority in the training programs. The training would be facilitated by the owner of the cafe with all his skills and experience to confirm waste output.
Skill retention strategies
KPI will be implemented to monitor and evaluate operational culture
Products/services
Product/Service

Description

Price

VARIETY OF COFFEE AND DRINKS

Different types of drinks and coffee as per the preference of customers

start from $6.4

to $8.00

FRESH SALADS AND

SANDWICHES

Vegetables, legumes, Panini to make it light and nutritious confirming taste.

$5.50 dollars for the fresh vegetable, legumes, $7.95 for Panini.

BREAKFAST

healthy breakfast including omelets, ham, eggs, and bacon

$8.55 to $11.95 as per the food choices.

HOMEMADE DISHES

Meatloaf, beef stew, shepherd's pie, healthy soup

$8.00 for meatloaf, $11.50 for beef stew and shepherd's pie

$7.8 and $5.00 for healthy soup
Market position: the product or service tries to close the gap of collaboration between taste and healthwithin the budget-friendly concern. The plan would be made as per the competitive dynamics to offer better quality service and products compared to the competitors.
Unique selling position: unique selling position for the product would be its perfect collaboration between health and taste confirming quality as such type of initiative are completely new to the market. Offered value for the customers through the service would be USP for the service in the cafe club.
Anticipated demand: The product lining is attractive enough for each and every customer irrespective of their varying choices thereby the individual customer would buy at least $600 from the cafe club.
Pricing strategy: competitive pricing strategy would be adopted where pricing would be as per the product and service. The pricing would be suitable for the company as well as for customers to confirm affordability as well as profit.
Value to customer: the product would be much valued by the customers in both the concerns of luxury and necessity. The healthy aspect of the products would be a necessity for the customer where delicacy and the location excellence would be luxury for some, specifically for the tourist.
Growth potential: the growth of the product would be very high in the future as the trend is being environmentally friendly and health consciousness and both the aspects are being properly addressed and justified by the product lining and service strategy of the cafe club.
Innovation
Research & development (R&D)/innovation activities
Research and development activities will be implemented for the menu as well as marketing as these two are the main attraction for the customers. The marketing strategy will use innovation to attract more customers where innovation in the main you would help to retain the customers for long. Half of the budget would be allocated for research and development where one-third of staff would be allotted for research and development.
Intellectual property strategy
Trademarks will be used to protect innovation for the product lining as well as a service strategy.
Risk management
[List the potential risks (in order of likelihood) that could impact your business.]
| | | | |
| --- | --- | --- | --- |
| Risk | Likelihood | Impact | Strategy |
| Natural calamity | Unlikely | Low | Proper construction |
| Fire caught | Likely, | Medium, | Fire safety |
| Accident by sharp objects | Highly | [High, | Proper training |
Legal considerations
Licensesvary from state to state according to the rules and regulations of the specific area. Code of food standards and food license are important.
Operations
Production process
The hierarchy will be maintained with cooperation and collaboration.
Suppliers
Raw material suppliers will be involved through agency theory.
Plant & equipment
[List your current plant and equipment purchases. These can include vehicles, computer equipment, phones, and fax machines.]
| | |
| --- | --- |
| Equipment | Purchase date |
| Micro oven | 20/03/2022 |
| Coffee machine | 20/03/2022 |
| Personal Computer | 20/03/2022 |
Technology (Software): website, to attract customers with authenticity
Trading hours: 16 hours.The evening is the peak trading time.An annual art event is the best time to make a profit.
Communication channels: telephone (landline/mobile), social media channel, chat service.
Payment types accepted: cash, credit, a cheque for party arrangement.
Credit policy: 1month credit is there for suppliers.
Quality control
KPI will be implemented
Sustainability plan
Environmental/resource impacts
The waste of the operation can affect the environment making air and water polluted.
Community impact & engagement
Affecting their lifestyle
Risks/constraints
Legal risk
Safety risk
Strategies
Research and development will be encouraged to implement innovation better. 3R will be used to reduce waste.
Action plan
[List your key sustainability/environmental milestones below?]
| | | |
| --- | --- | --- |
| Sustainability milestone | Target | Target date |
| Reduce water consumption | [60% reduction] | 6months |
| Reduce waste | [50% reduction] | 3months |
The Market
Market research
Internal and external environment analysis through PORTER and SWOT is accomplished.
Market targets
The monthly target will be there where an individual would be expected to buy for $100 in a month.
Environmental/industry analysis
The area is experiencing population growth with consciousness for health and sustainability.There are a few long-term employers in the area due to the region's stable economy stable. It is more scopeful during the art events. The market is quite potential with the recent lookout for health and environment. The market would acknowledge that healthy items even can be tasty.
Your customers
Customer demographics
Young and tourists with varying ages, classes, or cultures looking for delicacy containing minimum affordability.
Key customers
Health-conscious, looks for unique yet tasty delicacy
Customer management
Customers will be valued through the service. The USP of the cafe club would help the customers to retain confirming the good relationship. In the café club, it would take care of their services and quality of the product to serve the customers better.
S.W.O.T. analysis
[List each of your business's strengths, weaknesses, opportunities, or threats in the table below and then outline how you plan to address each of the weaknesses/threats.]
Strengths

Weaknesses

High traffic location

Collaboration of quality, sustainability, price

Leadership issues

Competitive market
Opportunities

Threats

Health aspect

Sustainability

Location

Cash flow problems
Your competitors
Compared the USP of the competitor's cafe club is completely new for the cafe culture which would be more trendy in future.
Competitor details
[List at least 5 competitors in the table below within this business plan assignment.]
| | | | | | | |
| --- | --- | --- | --- | --- | --- | --- |
| Competitor | Established date | Size | Market share (%) | Value to customers | Strengths | Weaknesses |
| Cafe Troppo, | 2012 | 10 | 25 | seasonal food and occasional music evenings. | Seasonal food | Quite simple |
| UR Café | 2011 | 15 | 30 | eclectic menu including house-made baked goods. | rustic-chic vibe | Not updated with modernization |
| Coffee Branch | 2012 | 12 | 18 | Accessible and affordable | Customer-friendly | Lack of innovation |
| Peter Rabbit | 2015 | 10 | 20 | Charming venue | brunch classics & light fare, with cocktails, coffee & terrace seating | Small place |
| Please Say Please | 2011 | 12 | 15 | convenience, | Curbside pickup | No delivery |
Advertising & sales
Advertising & promotional strategy
[What strategies do you have for promoting and advertising your products/services in the next 12 months?]
| | | |
| --- | --- | --- |
| Planned promotion /advertising type | Expected business improvement | Cost ($) |
| Print media advertising, poster | Can attract those who are not on social media | [$] 1200 |
| online advertising like Facebook, Twitter | Eye-catching for new affluent influential people | [$]2400 |
Sales & marketing objectives
the marketing manager will take care of the sales team. Both traditional and social media marketing will be done by posters and Facebook, Twitter, etc.
Unique selling position
Effective collaboration between quality, sustainability, affordability, and health aspect.
Sales & distribution channels
| | | | | |
| --- | --- | --- | --- | --- |
| Channel type | Products/services | Percentage of sales (%) | Advantages | Disadvantages |
| Shopfront | Breakfast, coffee, Salad, sandwich, healthy homemade dishes, coffee, drinks. | 60 | Excellence with enjoyment due to the location | Cannot serve the potential customers of a distant place. |
The Future
Vision statement
The business is aiming to provide the people of Adelaide and its visitors with, excellent taste of coffee along with a place to hang out.
Mission statement
Plans would be addressed by close analysis of the demands of thecity, the competitors, the market value, to form strategies accordingly.
Goals/objectives
To analyze the current market trend and demands of the customers.
Forming strategies as per evaluation
Appropriate pricing strategy
Best products and services in the city
Appropriate sales and marketing strategy
Action plan
Please note: This table does not include sustainability milestones as they are listed in the sustainability section above.
| | | |
| --- | --- | --- |
| Milestone | Date of expected completion | Person responsible |
| To analyze the market trend | 2months | Marketing manager |
| Strategic development | 6months | Operational manager |
| Resource allocation | 6months | Operational manager |
| Training program | 1 month | Owner |
The Finances
Key objectives &financial review
Financial objectives
Budget-friendly
Profit oriented
Finance required
$20000
Assumptions
The financial tables on the subsequent pages are based on the assumptions listed below:
seasonal adjustments, interest rates
Start-up costs for [YEAR]
[Double-click the table below to enter your details or attach your own start-up costing sheet at the back of this business plan.]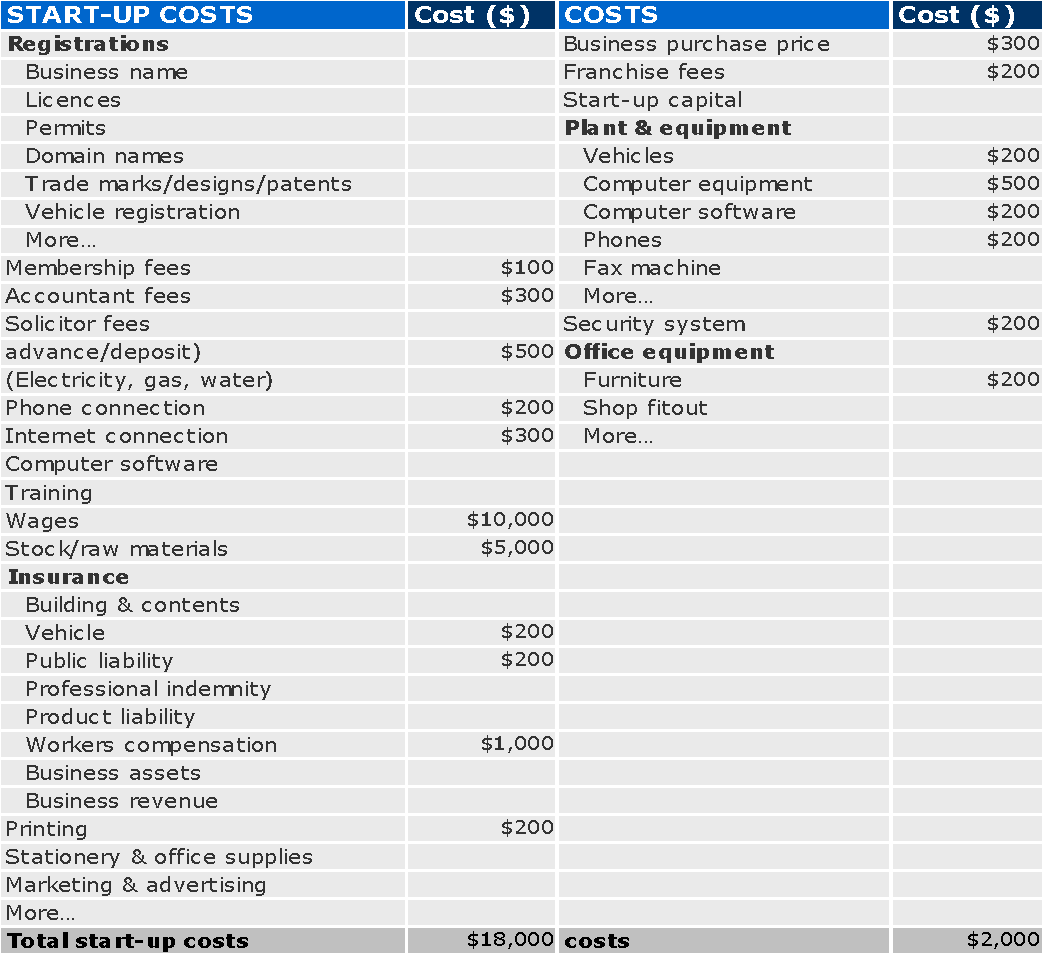 Balance sheet forecast
[Double-click the table below to enter your details or attach your own profit & loss sheet at the back of this business plan]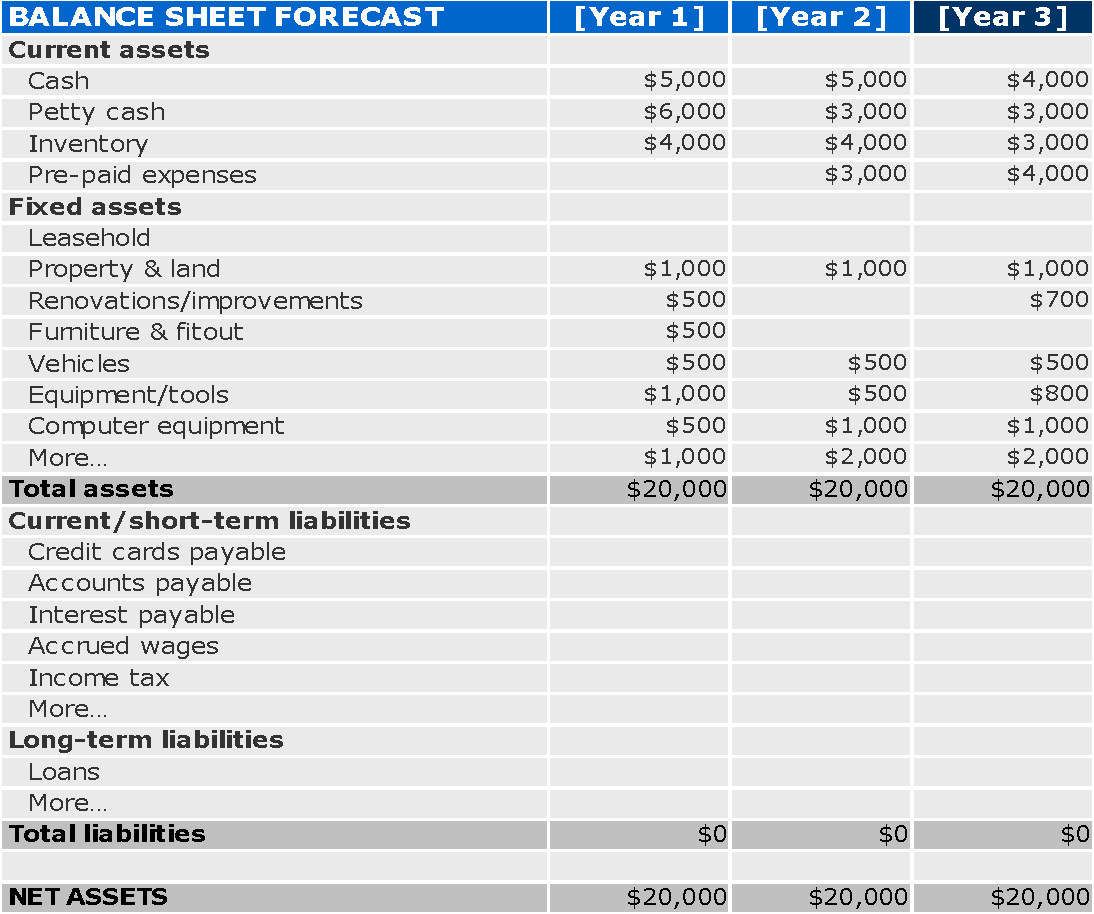 Profit and loss forecast
[Double-click the table below to enter your details or attach your own profit & loss sheet at the back of this business plan]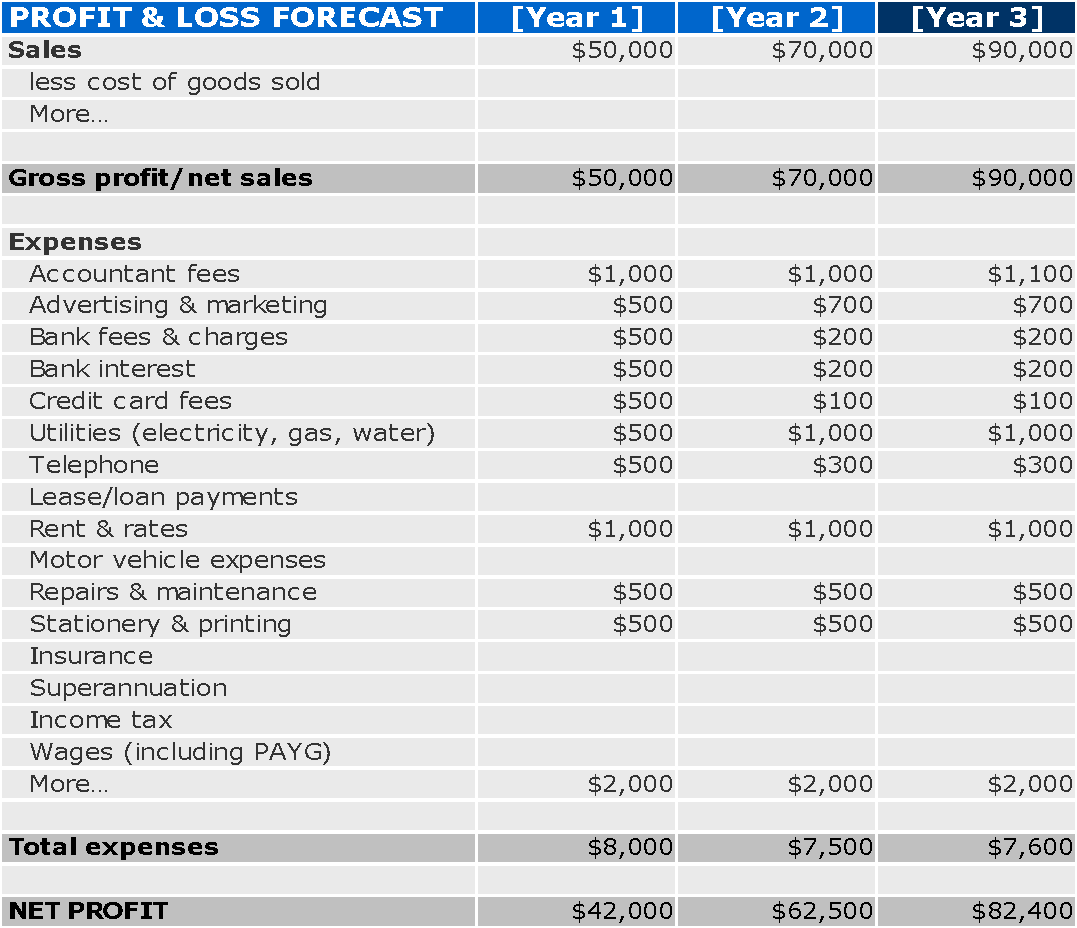 Expected cash flow
[Double-click the table below to enter your details or attach your own profit & loss sheet at the back of this business plan]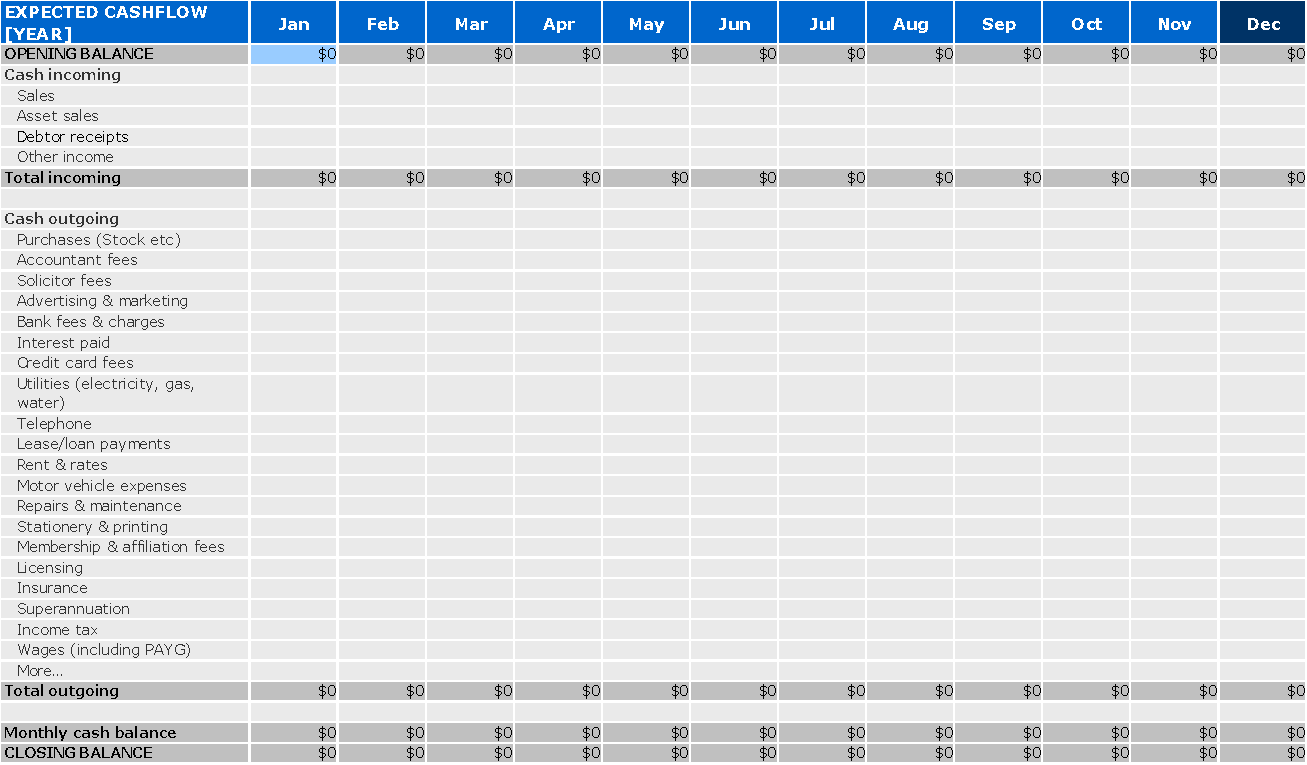 Break-even analysis
[Double-click the table below to enter your details or attach your own table. Refer to the Business Plan guide from www.business.gov.au/businessplanfor the calculations.]