Capstone Assignment: Reflection On Learnings Gained Through MBA Course
Question
Task: Capstone Assignment Task.
Individually, you are required to reflect on the learnings gained from undertaking the capstone subject and assessments by writing a 2000-word reflective essay.
Assessment Description.
The purpose of this assessment is to foster students' ability to coherently reflect on their undertaking of the Capstone: Strategy subject together with a reflection on their entire MBA.
Answer
Introduction
In this reflection report on capstone assignment, I will provide a brief discussion about the different skills and learning's which I have gained all across my MBA course. Along with the capstone subject whom I have been learning during the MBA course. The whole reflection report will be based upon my personal experience and opinion which I have acknowledged all through the course period. The first section of the report will discuss the reflective practices which are necessary to be a manager and leader. I will demonstrate each of the practises which are necessary to learn in order to become a manager and leader. Next, it will highlight my learning's on the capstone subject and the research process which I have done to acquire the knowledge related to the project (MBA Program, 2020). All the skills which I have acquired all through my MBA course will be the next that I will discuss. There are several topics and various skills that a person can pursue from an MBA course. Lastly, I will describe my future goal and the various ways I can develop the skills in order to gain future endeavours.
Reflective practises for managers and leaders
The use of reflective practice tends to permit the people to look at some of the considerations and activities which need to be changed continuously with the change in the organisational behaviour. The effective use of reflective practises mainly tends to help the students to develop their personalities via self-disclosure and mindfulness. With the help of this practice, it will ensure that the students' leaders and managers will need to explore more skills (Schaupp and Vitullo, 2019). The reflective practice is one of the most effective ways through which it allows both leaders and the manager to ascertain the capability and knowledge of the team to think forward. Additionally, the leaders through the reflective practice must be able to explore much of the capabilities effectively. For the future prospects, the reflective practice is a way to improve the flaws which are being faced by the people. Often it has been found in large multinational companies that leaders cannot self-evaluate the practices and thus it has been necessary that the leaders need to access reflective practice.
With the use of reflective practices, the leaders and managers tend to improve their adaptability and increase their basic reasoning sense. In order to become one of the global leaders, it is necessary to get accustomed to the changing scenarios which are only possible with the help of reflective practises. Leaders and managers need to ensure that what they are learning is being applied correctly in different areas so that they can sustain themselves in the role of leaders (Bansal, 2018). Reflective practises are ultimately exploring what has been learnt and extending one's capacity which will help in future development. The use of reflective practises makes sure that humans can effectively adhere to the potentiality among them. By following the below-given process it will ensure that the leaders can learn from their reflective practices.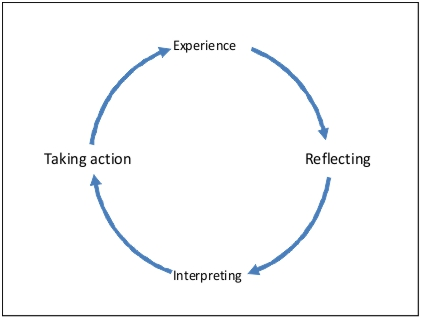 Figure 1: Reflective practice cycle
(Source: Mousa, 2021)
Reflection on learning's
In this section I will discusses about some of the learning which I have learned from my capstone subjects. In week one I have learned about different strategy concepts which are necessary for the future career developments. One of the main learning being the internal sources for the competitive advantage which I have learned in week 2 which have helped me to gain the knowledge about how two firms compete against each other in order to stay in the long run. There are different sources of competitive advantages which I have been able to gain that include cost advantage, resources and capabilities and differentiation advantages. Some of the other topics which I have learned were related to the strategy planning process which are related to the resources of the company effectively. Strategic planning mainly included concepts of financial stability, cash flow and capital management which is necessary for the complete planning of the business.In week 5 I have learned about how to construct the business models which is much easier to construct with the help of business model canvas where it mainly includes different types of activities such as key partners, cost structure, channels and other key resources. Additionally, I have learned that metrics lay a huge role in shaping the objectives of the business. The metrics of the business can be tracked with the help of balance scorecard perspective. The metrics of the business mainly undertake different types of objectives like shareholders, customers, internal process and capability. Also there are various frameworks through which it has been easier for me to understand the different techniques through which these KPI can be measured effectively. Some of the business techniques being, VRIO analysis, Mckinsey 7S, balanced scorecard etc. During week 9 I have learnt about the research design proposal content which has provided an in-depth knowledge about the design thinking model that will help me to understand the different ways through which it is necessary to design each of segments in the business effectively. Lastly, I have learned about how the organisation needs to lead a change by prioritising all the objectives of the organisation. In order to lead the change effectively it is necessary to implement effective strategy which would help the business to gain success.
Reflection upon skills developed over MBA
Being a student of MBA I have gathered a lot of knowledge which will help me to become an entrepreneur in future. The global business world has been changing continuously and thus new trends are evolving in the market. So, understanding these new technologies and skills are necessary to learn which will help me to grow in future (Jordaan, 2019). Along with the different knowledge I have learned about different types of skills where earlier I was not associated. Some of the skills which I have learned through the MBA course are as follows:
Interpersonal skills: At the beginning of the course work I had some knowledge about communication and listening skills but it was not refined. During the MBA course, I have been able to polish my communication skills and listening skills which will help me in future. In MBA I have taken part in many new projects where I have been able to showcase my interpersonal skills. The development set of interpersonal skills has helped me to enhance my personality and to detect the areas where I am lacking.
• Communication skills: One of the integral parts of the MBA is learning communication skills. Being an MBA graduate I have to deal with many new people and should come in contact with people who are from different cultures. In that case, communication skills are very helpful whenever I try to contact new people (Wickam, 2018). Effective communication skill is one of the prominent skills which I have learnt effectively during my course through MBA.
• Leadership: With the help of the MBA it has been very helpful for me to strengthen my leadership skill which has helped me to manage teams in various team projects and lead the team ahead. With the help of the MBA course, I have been able to understand that in order to be a good leader it is necessary to stay updated with new technologies which have helped me to nurture my leadership skill prominently.
• Strategic thinking and planning abilities: For any business venture it is necessary to develop strategic thinking and immaculate effective planning process. Today most of the company seeks strategic thinking skills in an MBA graduate. I have been able to develop this skill due to my course. As for any business idea, it is necessary to have a particular strategy according to which the people need to develop the whole process. Being an MBA graduate I have been able to learn about strategic thinking and different types of planning abilities which have made a high demand in the global platform.
• Entrepreneurial skills: Since my future ambition is to become an entrepreneur, with the help of an MBA I have been able to develop strong entrepreneurial skills. Out mainly includes the knowledge about the outside market, potential risks and opportunities along with the ability to understand the market properly (Shahare, 2019). With the use of these skills in future, I will be able to become a business entrepreneur which will help me to lead my dream career. I have developed all these skills through different subjects that have been taught and the practical projects which I have done.
Assistance in future career
An MBA degree has been a great help that will enhance my career in future. All the skills which I have learnt through my coursework will help me to increase the quality and quality of job opportunities in future. Being an MBA graduate has led to different types of job opportunities that will help me to get through my future planning (Bhatnagar, 2020). My future dream is to become an entrepreneur because I will be requiring interpersonal, leadership and entrepreneurial skills which will help me to develop my career in a proper way. Additionally, with the use of these skills, I can be the managerial head of any multinational company. During my course, I have learned about how to tackle cross-cultural teams so I am sure that in future it will be of great help. Gaining all these skills has helped me to have a greater awareness of the global market which will be much assistance for me in future (Rubens et al., 2018). Additionally, in the future, the communication skills which I have acquired from the MBA courses will be very useful to me and will ensure that I can get vast job opportunities related to my field.
In future, my ability to get a high paid salary will be vast as being an MBA graduate, I have been able to learn many new things. At first in the initial stage of my MBA course, it was difficult for me to learn different skills. I was so strong at leading a team effectively. But with the progress during my MBA course, I have learnt many new things and thus it will be of great help in my future career (Guhr, Lebek and Breitner, 2019). One of the main skills which I have developed here is managing people from different cultures, being a leader in the future or being a manager. One of the most important criteria is to manage people who are from different cultures. Often people from different cultures lead to conflicts and as a leader, at times it becomes difficult to manage such people. Since going through this MBA course I have developed the various skills through which it is easier for me to manage people belonging from different ski backgrounds (Bhaduri, 2019). An MBA degree is more than a high degree as all the skills which I have learned I can use in different aspects of my life. In the future understanding, the market is necessary as consumers' tastes and preferences are changing rapidly so it has become difficult for many future business people to address these areas. Getting hold of the future challenges and opportunities will be easier for me as I have learned different ways through which I can mitigate the challenges which I will face in future.
Conclusion
The above reflective report has discussed how reflective practices are valuable for managers and leaders. I have described various knowledge and skills which I have gained as an MBA graduate. I have stated that reflective practises are necessary which ensure the self-ability or capability to expand the knowledge one's poses. Additionally, I have learned many new things from my capstone subject which will help me in future. There are different types of skills that I have adhered to during my course in MBA. so, from the whole reflective report, it can be evaluated that MBA is one of the most prominent and effective degrees which will help me to develop my career in future by addressing the different challenges and opportunities which I might face in the business world.
References List
Bansal, A., (2018). A Study on employability skills of MBA students: employers and students perspective. GurukulBussiness Review, pp.47-51.https://www.researchgate.net/profile/Ajit-Bansal/publication/339770677_A_Study_on_Employability_Skills_of_MBA_Students_An_Employers_and_ Students_Perspective/links/5e634bcea6fdcc37dd0b6fba/A-Study-on-Employability-Skills-of-MBA- Students-An-Employers-and-Students-Perspective.pdf
Bhaduri, R.M., (2019). Leveraging culture and leadership in crisis management. European Journal of Training and Development.https://www.emerald.com/insight/content/doi/10.1108/EJTD-10-2018-0109/full/html Bhatnagar, N., (2020). Employability and skill gap among MBA graduates in India: a literature review. Industrial and commercial training.https://www.emerald.com/insight/content/doi/10.1108/ICT-10-2019-0098/full/html Guhr, N., Lebek, B. and Breitner, M.H., (2019). The impact of leadership on employees' intended information security behaviour: An examination of the full range leadership theory. Information Systems Journal, 29(2), pp.340-362.https://onlinelibrary.wiley.com/doi/abs/10.1111/isj.12202
Jordaan, J.A., (2019). A strategy for engaged learning in an MBA programme (Doctoral dissertation, North-West University (South Africa). Potchefstroom Campus). https://repository.nwu.ac.za/bitstream/handle/10394/33230/Jordaan%20JA.pdf sequence=1
MBA Program. (2020). Why Get an MBA: Benefits & Advantages | Wharton MBA. [online] Available at: https://mba.wharton.upenn.edu/why-get-an-mba/
Mousa, S., (2021). The impact of MBA study on the development of students' generic skills: students' perceptions and employers' needs. https://www.theseus.fi/bitstream/handle/10024/504123/Mousa_Sadek.pdf sequence=2 Rubens, A., Schoenfeld, G.A., Schaffer, B.S. and Leah, J.S., (2018). Self-awareness and leadership: Developing an individual strategic professional development plan in an MBA leadership course. Capstone assignmentThe International Journal of Management Education, 16(1), pp.1-13.https://www.researchgate.net/profile/Bryan-Schaffer-2/publication/322193806_Self-awareness_and_leadership_Developing_an_individual_strategic_professional_development_ plan_in_an_MBA_leadership_course/links/5b4e4144a6fdcc8dae27a1ef/Self-awareness-and- leadership-Developing-an-individual-strategic-professional-development-plan-in-an-MBA-leadership-course.pdf Schaupp, L.C. and Vitullo, E.A., (2019). Implementing experiential action learning in the MBA: Use of an international consulting experience. International Journal of Educational Management.https://www.emerald.com/insight/content/doi/10.1108/IJEM-04-2019-0154/full/html
Shahare, P., (2019). Extracurricular Activities and Employ-Ability Skills with Reference to MBA Students of RTM Nagpur University, Nagpur. Extracurricular Activities and Employability Skills with reference to MBA Students of RTM Nagpur University, Nagpur, International Journal of Commerce and Management Studies (IJCAMS), ISSN, (2456-3684).https://www.researchgate.net/profile/Padmakar-Shahare/publication/346048997_Extracurricular_Activities_and_Employability_Skills_with_reference_to_ MBA_Students_of_RTM_Nagpur_University_Nagpur/links/5fb8811da6fdcc6cc65571cb/Extracurricular- Activities-and-Employability-Skills-with-reference-to-MBA-Students-of-RTM-Nagpur-University-Nagpur.pdf
Wickam, M.J., (2018). Using service-learning to enhance employability skills in graduate business capstones: A dissertation overview. Journal of Higher Education Outreach and Engagement, 22(1), pp.163-174.https://tme.journals.galib.uga.edu/jheoe/article/download/1377/1374