Change Management Assignment: Issues and Challenges Faced by Coles Australia
Question
Assessment Task : For this assessment, you have to imagine yourself as an external change management consultant in an organisation who has been appointed to take a lead role in the change management process of the organisation as well as the development of strategic goals and associated roles and responsibilities. For this purpose, you can choose the case study provided in Appendix, an imaginary organisation or one where you have worked or are working.
Once you have chosen an organization, you have to carefully analyse and interpret the detailed strategic as well as numeric/financial information and complex ideas related to problems within and external to your chosen business.
Answer
Executive summary: In this change management assignment the researcher highlights the factors, issues and challenges faced by Coles, the retail supermarket in Australia. The researcher also wanted to analysis on the internal and external change management of the company has been done, identifying the changes required by the company and the strategies that need to be adopted to mitigate the problems. There are various change planes which is being dealt in this report by the researcher. There is a SWOT analysis done in this report to show the strength and weakness with which the company is dealing with.
1. Introduction: This change management assignment is developed by focusing on the change management process of Coles, a retail giant in Australia. In order to identify the key changes in the organisation, environmental scanning (both internal and external) has been done in this report. The requirement for the changes needed to adopt the objectives of Cole. Policies and procedures required in change management in Coles. Trends and performances related with the gap of the change management needs to be demonstrated to analyze the change management strategies. In this report, multiple strategies have been adopted, which might play a key role in developing change management procedure of this organisation. The strategies which have been adopted are the Cordless approach, SWOT analysis and Codes on Ethics. This change management assignment explores two changes would be used in order to mitigate the problems and bring in the changes in the company. Other issues concerning with the company like the barriers, training and various other methods to deal with the management change.
2. Findings and analysis
2.1. Identification of change of management Coles
Globalization: There is a great impact of globalization on external change management in Coles Company of Australia. It is being observed that globalization has vast impact on decision making process of the Coles Company in Australia. As stated by Cameron, & Green (2015), the responsibility falls in the hands of the managers for making such complex and interrelated decision. It is influenced that there are multiple process which the manager of the company has to keep in mind that is, decision making capabilities of managers and capabilities of global managers.
Technological: With the rapid growth in Coles Company of Australia, there should be some technological changes which the company has to implement quickly. As stated by Cullen et al. (2014), it is seen that the company should bring new products to the market as the company needs to meet the demand of their customers. It is also said that technology provides success in international markets. change management assignment outlines Technological changes also provide the company with managing changes to operations. It is also observed that technology has focused in cost reduction to the project that is going to provide the company to develop innovative products and will drive revenue.
Ethical: The ethical change can promote organizational management. This initiative in an organization can be developed by appropriate and organized culture. In an organization there is a set of principles, values and beliefs this helps to see how an employee act in an organization. According to Cullen et al. (2015), it states that manager of Coles company can promote ethical changes by establishing ethical behavior. This ethical behavior includes department openness, workplace respect and conformity to policies.
Workforce diversity: Workforce diversity helps in effective diversity management. This helps an organization in creating competitive advantages. The Cole Company embraces workforce diversity this helps in broadening the skills and become more innovative.
2.1.1 Analyzing and interpreting the organization's internal and external environment : While analyzing and interpreting the organization external factors the company identifies external environment, forecasting and anticipating change, it also helps in identifying environmental as well as threats that determine the impact of environmental factor on decision making process. The internal factor analyzing and interpreting the organizations deals with people, finance and services.
2.1.2 Identification of the needs and changes Coles need to adopt based on its objectives: There are various things needs to be changed which is faced in technological Challenges. Coles Company should improve their IT cells so that they can easily manage the data, and they can improve their employee administration. It is also noticed that the emerging technology is also facing challenges. The Coles employees is not very fluent in handling the technologies for this they need training. Budget and cost of the product is also going to be reduced if there is technological advancement.
Ethical issues are the most fundamental issues that are faced by majority of the company. The major problem which is being faced by Coles Company is idea of conducting the business with trust and honesty. It is also said that the company should treat each of its customer with trust and they should also focus on their employees and recruit diverse workforce in the company.
2.1.3 Policies and procedures relating to change management: There are various policies and procedure that the Coles Company of Australia has to keep in mind they are change management policy. In the change management policy the major focus is on fair and transparent principles. According to Hittmár, Varmus & Lendel (2016), it is observed that in this policy the employees are protected and treated fairly.
The change management assignment Restructures procedure in this procedure the major focus is on robust and transparent process this process is used during restructuring. In this it avoids redundancies in which staffing reduction are required.
2.1.4 Trends and performance gap related to change: The gaps seen in the company is there payment system is not properly managed The major problem which is being seen in this company is IT sector is facing problem.
2.2 Change management strategies
Technological change management: This strategy helps in maximizing long term return on investments. This is done with the help of new technologies in the workplace.
Cordless approach: this helps in realizing the benefits which is gained by new technology.
Ethical change: in this the employee is not going to except the change easily because they are asked by their hierarchy. It is observed that people tends to follow their leaders only when they are sharing the same values.
Code of ethics: this helps in managing the mission and values of Coles Company.
2.2.1 A change management plan stating the priorities and timeline for activities: Technological change management plan needs immediate priorities as the company is lacking in their information technology. This will require a minimum time period of six months.
2.2.2 Resource for the change: The resources required for change in the Coles Company are as follows
Technological change
Infrastructural change
Provide effective training
2.2.3 Communication and consultation tools and strategies
Internal communication this ensures that all the employee according to their roles know the risk strategy in the company
Communication and consultation is an important tool because stakeholders make their own judgments about risk based on their perception
2.2.4 Cost benefit analysis
For technological change the company will be requiring AUD$ 7000
For the ethical change the company will be providing training to their employee that is going to cost AUD$ 3000
2.2.5 Risk analysis strategy: In order to mitigate the risks associated with changes in this organisation, a risk analysis strategy of this organisation has been developed below:
Resources for organisational changes

The risk associated with the changes

Technological

Identification of current drawbacks: Coles need to consider the existing loopholes of this organisation that are restraining for gaining effective growth

Selection of proper technologies: Management of this organisation needs to conduct an extensive research on the technologies that the competitors are referencing

To focus on pilot operation: Coles should select a new technology through market research and implement that in a small segment of this organisation. This will help Coles to identify credibility and associated risks of imposed technologies

Infrastructural

Employee involvement is another significant step to mitigate risks linked to the infrastructural changes of this organisation.

Involving employees will provide proper assistance to develop an appropriate IT infrastructure in this organisation

Skill training of employees

It can be said that due to the incomplete learning process of employees, a high risk of employee turnover has been observed. Therefore, providing skill training will help this organisation to overcome issues associated.

The organisation may also consider a proper learning strategy, which will be less expensive at the same time.
Table 1: Risk mitigation strategies
(Source: Created by Author)
From the risk mitigation strategies of this organisation, it can be said that the performance graph of this organisation will be influenced in a significant manner. Henceforth, it can be said that the revenue generation of this organisation will be increased significantly. Therefore, a performance graph of this organisation can be developed. From the 2015 annual report of this organisation, it is observed a 5.3% growth in liquor and food sales. In 2016, 5.1% of growth has been observed. However, a decline in the liquor and food sales of this organisation has been identified in 2017 (2.0% of growth) (Coles.com.au, 2018). Therefore, it can be said that through the implication of the above risk mitigation strategies, Coles will be able to achieve a growth of 4.1% in this financial year.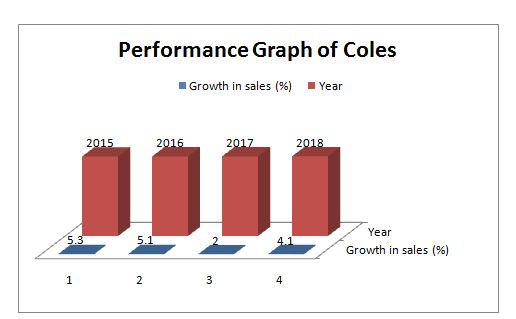 2.2.6 Approvals and timeline: Technological changes in an organization needs approval from head of IT departments, board of directors and managers.
Ethical changes requires approval of human resource managers in a company
The timeline require for this will be 2 days.
2.3. Successful implementation for identified change for developing new and innovative ideas for future
Successful implementation of technological change helps in centralization. This is going to help the company to centralize purchasing and also has advantages in cost saving. According to Dentchev et al. (2017), it also helps in operations assist companies with managing change operations.
2.3.1 Barriers of Change management
Lack of leadership
Lack of money
Infrastructure
All these are the major barriers seen while implementing change management.
2.3.2 Training required for implementing the changes
Survey of the company will be required before implementing the changes.
Face to face instruction should be given by the company.
Technology based training is given to the employee will be more beneficial.
2.3.3 SWOT analysis
| | |
| --- | --- |
| Strength- Strong financial performance – with a strong growth, it has technological experts in the organization  It also has very attractive pricing strategy frequents price cuts and promotional offers are to be seen | Weakness- Debt obligations leading to transfer  of cash flows from investment to debt servicing |
| Opportunities Strategic collaboration in the fields such as co-marketing, target enrichment systems, etc to yield positive results | Threats- Government regulations – international, national, state and product-specific pose threats as compliance to these different standards can increase costs |
Table 2: SWOT analysis
(Source: Created by author)
2.3.4 Implementation strategy: The training of the employee will be required before implementing the strategy. It should also be observed that which employee has the potential to carry the strategy.
2.3.5 Monitoring and evaluating methods: There is a requirement of regular inspections after every 10 days. As stated by Ghavifekr et al. (2016), the audits will also effectively help in the process of analysis of all the requirements of the employees in terms of technological equipments. Hence, it will help in meeting all the needs of change management.
2.3.6 Modification need in the change management plan: Better risk management plan is required for modification of change management plan, which is previously not included.
3. Conclusion and recommendation: It can be concluded by recommending on the findings and analysis of the report which the researcher has undertaken. It is to recommend adopting new strategies in the company, updating the technologies, and dealing accurately with the rationale of the company internal and external. It is also required for the company to use SWOT analysis for internal assessment, check the cost efficiency, the needs of changes, and where change is required and also undertake policies and procedure required for the change management process. Training and performances needs to be given to the employees and also the clients to learn new techniques. change management assignment analyses the risk factors, adopt strategies to mitigate are a part of the company's internal change factor and overcome the barriers with communication, change in resources, monitoring and evaluating the methods of the organisation and cost efficiency
References
Cameron, E., & Green, M. (2015). Making sense of change management: A complete guide to the models, tools and techniques of organizational change. Kogan Page Publishers.
Cullen, K. L., Edwards, B. D., Casper, W. C., & Gue, K. R. (2014). Employees' adaptability and perceptions of change-related uncertainty: Implications for perceived organizational support, job satisfaction, and performance. Journal of Business and Psychology, 29(2), 269-280.
Dentchev, N., Baumgartner, R., Dieleman, H., Jóhannsdóttir, L., Jonker, J., Nyberg, T., ... & van Hoof, B. (2016). Embracing the variety of sustainable business models: social entrepreneurship, corporate intrapreneurship, creativity, innovation, and other approaches to sustainability challenges. Journal of Cleaner Production.
Ghavifekr, S., Afshari, M., Siraj, S., & Razak, A. Z. A. (2017). Managing change in educational organization: a conceptual overview. MOJEM: Malaysian Online Journal of Educational Management, 1(1), 1-13.
Halim, H. A., Ahmad, N. H., Ramayah, T., & Hanifah, H. (2014). The growth of innovative performance among SMEs: Leveraging on organisational culture and innovative human capital. Journal of Small Business and Entrepreneurship Development, 2(1), 107-125.
Hittmár, Š., Varmus, M., & Lendel, V. (2014). Proposal of model for effective implementation of innovation strategy to business. Procedia-Social and Behavioral Sciences, 109, 1194-1198.
Mirvis, P., Herrera, M. E. B., Googins, B., & Albareda, L. (2016). Corporate social innovation: How firms learn to innovate for the greater good. Journal of Business Research, 69(11), 5014-5021.
Mirvis, P., Herrera, M. E. B., Googins, B., & Albareda, L. (2016). Corporate social innovation: How firms learn to innovate for the greater good. Journal of Business Research, 69(11), 5014-5021.
Chowhan, J., Pries, F., & Mann, S. (2017). Persistent innovation and the role of human resource management practices, work organization, and strategy. Journal of Management & Organization, 23(3), 456-471. [online] retrieved on: 27th July 2018 Retrieved from: https://pdfs.semanticscholar.org/f4d0/09f533a74bb717f22254d56e6f502f00f9b9.pdf
Gerbec, M. (2017). Safety change management–A new method for integrated management of organizational and technical changes. Safety Science, 100, 225-234. [online] retrieved on: 27th July 2018 Retrieved from: https://s3.amazonaws.com/academia.edu.documents/49982458/_Elearnica__-Safety_change_management___A_new_method_for_integrated_management_of_organi.pdf?AWSAccessKeyId=AKIAIWOWYYGZ2Y53UL3A&Expires=1532673044&Signature=5FG%2 Fdwv%2FwEjLIiXDMgYV9GFkrGs%3D&response-content-disposition=inline%3B%20filename%3DSafety_change_management_A_new_method_fo.pdf
K. Smith, W., Erez, M., Jarvenpaa, S., Lewis, M. W., & Tracey, P. (2017). Adding complexity to theories of paradox, tensions, and dualities of innovation and change: Introduction to organization studies special issue on paradox, tensions, and dualities of innovation and change. [online] retrieved on: 27th July 2018 Retrieved from: http://openaccess.city.ac.uk/17869/1/Organization%20Studies%20Special%20Issue%20_%20Introduction_final.pdf
Canberra.edu. (2017), UNDERSTANDING CHANGE AND CHANGE MANAGEMENT PROCESSES retrieved on: 27th July 2018 retrieved from: http://www.canberra.edu.au/researchrepository/file/81c02a90-6a15-91ae-c7a2-ff44c96d60b2/1/full_text.pdf
Esc.edu (2017), Toward Improving the Success of Change Management Efforts retrieved on: 27th July 2018 retrieved from: http://www8.esc.edu/ESConline/Across_ESC/forumjournal.nsf/wholeshortlinks2/Change+Management
Coles.com.au (2018), Annual Reports, retrieved from https://www.coles.com.au/about-coles/annual-reports