Concepts Of Leadership In Management Assignment
Question
Assignment Brief and Guidance
Scenario: You are the Human Resource Manager for an organisation an organisation of your choice. Students should be encouraged to use their own place of work, if appropriate] and have been asked by the CEO to investigate the impact of leaders and managers on the operations of this ever-growing company.
You will need to produce a report for the senior leadership team that includes the following:
An introduction to the organisation and management structure
Definition and roles of both managers and leaders, highlighting the differences between management and leadership
The different roles of management and leadership in application to different organisational situations, supported by theories and concepts
How theories such as 'chaos theory' and 'management by objectives' apply to the organisation and how these have supported growth and sustainable performance
5. Conclusions on how managers and leaders have made an impact on the organisation and recommendations for future improvements
Answer
Executive summary: This project report refers to the study of leadership as well as management of an organisation. Roles of leaders and managers have been discussed in the report along with the comparison. Various functions of leaders and managers have been discussed in operation of an organisation. Theories and models have also been provided for leadership and management in the organisation. Debenhams has been selected to study the leadership and management functions in the organisation. Value and importance of operation management in an organisation have also been provided in the report. The factors of business environment that affects the operation management and decision-making process have also been discussed.
1. Introduction and Management structure: In the operational functions of an organisation, both leaders, as well as managers, have important roles to play. Managers of an organisation have the responsibility of designing and managing the work in order to achieve goal of the organisational business. Leaders have the responsibility to influence and empower employees for successful completion of organisational work. In this part of the study, leadership, as well as management concepts are going to be discussed along with their roles in the organisational functions. Debenhams has been chosen to understand functions of leaders and managers in the organisation. Debenhams is a multinational retailer of UK. It offers various products such as fashion shoes, clothing, electrical, cosmetics, accessories and others. The company has around 240 department stores and it is offering its services in 90 countries (Debenhams, 2018).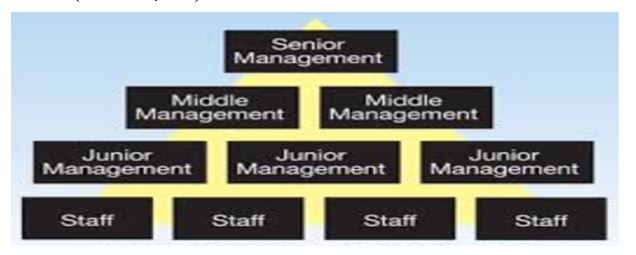 Figure 1: Management structure
(Source: Debenhams, 2018)
2. Definition and comparison of leadership roles and managerial functions: The concept of leadership roles takes account of the responsibilities of guiding their employees or followers so as to have them complete their assignment or task with productive outcome. In Debenhams, the leadership roles confer to have delegation of the task towards their team members including them also. Contrasting to this, the managerial roles are conferred to planning, organising, controlling and coordinating their employers for a productive outcome (Cardy & Leonard, 2014:11). In Debenhams, there is presence of the mentioned functions so as to have proper guiding of the task management so as to have a proper productivity level that would entail positivity or both organisation and that employees.
There are however present a few constraints which are effective to make a comparison within the leadership roles and managerial functions. Firstly, leaderships are known to be skills to lead other through use of practical examples, which is contradicted by Northouse (2017:3), for managerial functions to with more systematic approach for achieving productivity. For example in Debenhams, leaders are present to procure inspiration for their team members in order to have a productive outcome. From viewpoint of Birasnav (2014:1622), however, the managerial functions use that productivity for organizational growth which facilities both leaders and other staffs.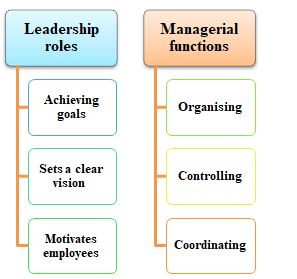 Figure 2: leadership roles vs. managerial functions
(Source created by author)
However, as managerial functions are with lower perspective ranges to deal with employees outcomes, the leadership roles are with better farsightedness to make the best out of the employees. On contrary, the disadvantage of managerial function mentioned is compensated through being more reactive using power of policies and procedures which is lacked from leadership perspectives (Bird & Mendenhall, 2016:115). In Debenhams, through use of guiding principles, leaders encourage their followers to deal with various workflow situations while the managers are effective to use them on actual situation. Through their output, they squeeze out desired profit to have it used for organisational growth.
3. Application of leadership roles and managerial functions in situational contexts: Leaders and managers of an organisation are responsible for various functions such as planning, organising, directing, staffing, coordinating, and communicating and others.
Planning: As stated by Cardy & Leonard (2014:7), it is the responsibility of managers of an organisation to set the goal and objective of organisational business. The vision of Debenhams is to provide its fashionable products to a large number of people around the world and make them feel happy. Leaders of the company have the responsibility of making all the employees understand regarding the business objectives and motivate them to achieve the goal.
Organising: Managers of Debenhams have to organise the resources of the organisation ineffective way so that they can be utilised effectively to achieve the objective of organisational business. Leaders have the responsibility of supervising that the resources have been used by the employees effectively to produce best outcome.
Directing: Managers only direct the task to the employees but it is the responsibility of leaders to make team of employees and divide the task to complete the task on time.
Staffing: In accordance to Northouse (2017:17), managers are responsible for hiring the staffs and assigning the task according to their skills and knowledge. Leaders of Debenhams keep the employees motivated and help them at each and step of work. For instance, it is seen that due to wrong job allocation one of the team members was unable to perform well. After that, the management found this issue and solve it by communicating with the team leader.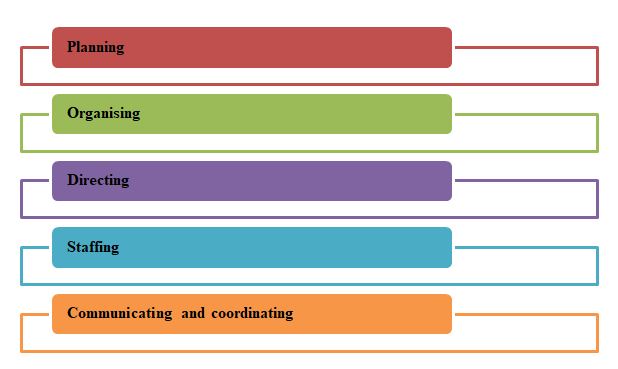 Figure 3: managerial function
(Source created by author)
Communicating and coordinating: As commented by Birasnav (2014:1622-1629), it is mainly the responsibilities of leaders to coordinate with employees by building an effective relationship with them. Leaders of Debenhams communicate with each staff of the organisation and build an effective relationship with them so that they can coordinate with the staffs effectively. For example, it is seen within the organization that due to job role related conflicts two members were not talking to each other. For this reason, teamwork is also hampered. This situation was handled by the team leader efficiently by interacting with them.
Application of situational leadership, system leadership and contingency leadership
Situational Leadership: Situational leadership is the style of leadership that can be applied in the organisation according to situation. Leaders of Debenhams need to know how to react in any situation and manage all types of conflicts within their team.
System Leadership: As stated by Bird & Mendenhall (2016:115-126), system leadership is used in the organisation for creating a system so that each person of the organisation can work productively to meet organisational objective. Leaders of Debenhams state the team objectives in a systematic way so that all of the team members can be able to understand it. It can be effective to improve their level of performance.
Contingency Leadership: Contingency theory of leadership states that a successful leader does not focus to use the leadership style but focus on the situation and apply leadership style to solve that. According to this theory, there should be strong relationship among leaders and members. Leaders of Debenhams apply the leadership style by focusing on the situation. They always try to maintain good relations with all the employees.
Strengths and weaknesses of various situational approaches to work environment: There are advantages as well as disadvantages of various approaches of leaders and managers in the organisation. As commented by Sadeghi & Rad (2018:393-412), in some cases the managers of the organisation create system to work however they are not able to connect with the employees directly. Leaders of Debenhams use to motivate the employees by their personality and communication skills. It has been found that sometimes leaders underestimate the employees by their skills and knowledge. Sometimes, leaders are not able to build effective relationship with employees and employees feel issue to understand the work in the organisation.
4. Differentiation of managerial functions and leadership roles through theoretical concepts: Theoretical comparison can be derived by the use of chaotic theory along with theory of Management by Objectives (MBO). From chaotic theory perspective, leaders are subjective to get higher attention. However, contradicting to such applications there are constraints such as need of consideration for people and the organization and their welfare. As the leaders are only limited to guiding people and individuals, hence chaotic theory fails for leaders however applicants for managers (Sadeghi & Rad, 2018:393). From managerial viewpoint, they are with the expectations having organisational growth that would be compensated from the trainees or employees led by the organizational leaders.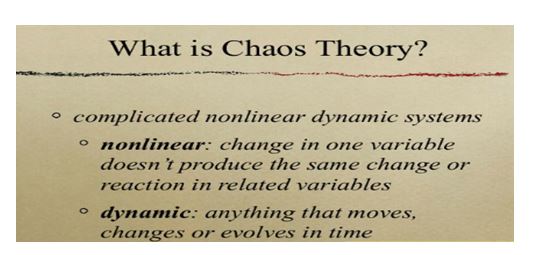 Figure 4: Chaos theory
(Source: Influenced by Sadeghi & Rad, 2018)
A contrasting viewpoint can be drawn favouring the MBO theory (Refer to appendix 1). It would especially be viable for both the managers and that of leaders, where managers would be profited to maximum extent. According to McCleskey (2014:117), compelling to theoretical viewpoint, both employees and managers are to organise and monitor their target and goals for a stipulated time amount. However, from leadership viewpoint, they can also use the strategy for designing for objectives while being limited to only strategic development and not application in practical situation. The application of strategies by virtue of MBO theory can be done by managers for the welfare of Debenhams consulting its growth (Sadeghi & Rad, 2018:151).
5. Critical analysis of various leadership theories and approaches : Situational leadership can be used by the leaders to apply the leadership style in different situation. However, sometimes leaders are not able to solve the conflicts by making essential decisions. System leaders are responsible to create system in the organisation so that employees can work productively. Sometimes, leaders are not able to use the system in effective way to increase the productivity of the organisation. In accordance to McCleskey (2014:117), according to contingency theory of leadership, there should be strong relationship between leaders and members. It has been found in Debenhams that leaders are able to make effective relationship with each employee
6. Conclusion and recommendation:In this study, definition, as well as roles of leaders as well as managers, has been discussed in the organisation. Leaders of the Debenhams are responsible for motivating the employees to complete the work while managers are responsible to direct the work. Various theories as well leadership styles such as situational leadership, system leadership and contingency theory have been discussed in the project. Leaders of the organisation need to build effective relationship with the employees to increase the productivity of the organisation. It is required for the leader of the organisation to communicate with all the employees effectively so that they can be influenced towards their work.
References
Books
Cardy, R., & Leonard, B. (2014) Performance Management: Concepts, Skills and Exercises: Concepts, Skills and Exercises. Abingdon: Routledge.
Northouse, P. G. (2017) Introduction to leadership: Concepts and practice. California: Sage Publications.
Journals
Birasnav, M. (2014) Knowledge management and organizational performance in the service industry: The role of transformational leadership beyond the effects of transactional leadership. Journal of business research, 67(8), 1622-1629.
Bird, A., & Mendenhall, M. E. (2016) From cross-cultural management to global leadership: Evolution and adaptation. Journal of World Business, 51(1), 115-126.
McCleskey, J. A. (2014) Situational, transformational, and transactional leadership and leadership development. Journal of Business Studies Quarterly, 5(4), 117.
Sadeghi, A., & Rad, F. (2018) The role of knowledge-oriented leadership in knowledge management and innovation. Management Science Letters, 8(3), 151-160.
Appendices
Appendix 1: Management by Objectives (MBO) theory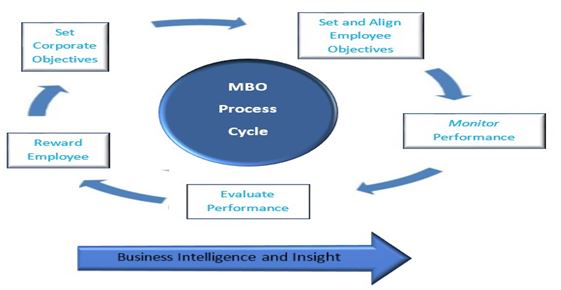 (Source: https://www.agiletestingframework.com/devops-journey/transformation/management-by-objectives/)