Discussion on Emirates Airlines Strategy Analysis
Question
Task: Write a report on Emirates Airlines strategy analysis.
Answer
Introduction
Emirates Airlines strategy analysis shows the strategic direction and processes that an organization adopts to achieve various strategic goals that help them achieve competitiveness in the market (Vellas 2016). The purpose of the report is to analyze the strategic approach of Emirates Airlines in attaining key strategic goals and the strategic direction and practices of the airlines based on models and concepts. Further, the report on Emirates Airlines strategy analysis recommends sensible strategic solutions the organization needs to maintain in future in such as complex business environment. The report has made use of secondary research method to collect data and information on the Emirates Airlines strategy analysisand practices from various secondary sources from the internet.
Company Background
The company chosen for the project is Emirates Airlines, which is one of the largest airlines in the Middle East. Since 2019-20 the airlines has carried around 56 million passengers and served more than 157 destinations (Emirates 2020b). The airlines are seen to serve 172 nationalities and employ 59,519 employees (Emirates 2020). The project will conduct Emirates Airlines strategy analysis that has helped the business to attain strategic goals and become competitive in the market. The company maintains strategic goals and mission statement and implements various strategies to achieve those goals.
Strategic Direction of the Company
The Emirates Airlines strategy analysis is dependent on the strategic goals and objectives the airlines focus at. This is seen from the mission statement, vision statement and strategic goals of the airlines. Based on these the strategies and activities of the airlines are developed. Moreover, the strategic vision and mission of the business is highly impacted by their external business environment that forms the basis of their strategic goals and vision. As per the Emirates Airlines strategy analysis, vision of the company is to become the best airline in the world and achieve best aviation innovation and environment protection. Emirates holds vision of gaining a global network converge with all safety compliance and reliability (Emirates 2020).
Emirates Airlines strategy analysisis seen to hold strong missions that will help them their vision of being the best airlines and form their place in the global aviation. Some of the mission of Emirates Airlines strategy analysisis:
To develop most competitive and best quality service globally.
To deliver highest standard service.
Bring continuous improvement in the pleasure of the clients.
Invest in advanced and safe technology that satisfy customer needs
Continue the strategy of open sky that allows discovering new frontiers.
Maintain high focus on sustainability through eco-efficiency and bio fuel usage (Emirates2020b).
Based on the mission and vision the airlines forms its strategic goals that is targeted towards attaining key values such as customer satisfaction, leadership, emotional attachment, community engagement, responsibility, high quality service and continuous innovation. The strategic goals of Emirates Airlines strategy analysisare:
The airlines are aiming to extend its networks to 5250 additional destinations in future.
To receive 14 more aircrafts and airbus by 2021 and take the total count to 123 aircrafts.
To offer customers high value, choice and flexibility in choosing their service.
To be the world class leader in aviation industry based on innovation.
Visibly investing in people and technology in the next 12 months (Emirates2020a).
Pestle Analysis
The strategies developed by the airlines over the years directly depend on the influence from the external environment. This is because it is depending on the external business environment that the business plans its strategies related to pricing, differentiation, services, sustainability, innovation, safety and others. Emirates Airline is highly influenced by the strategic external environment of UAE.
Political- Emirates faces moderate level of political stability in UAE with 60.95% and highly stable government effectiveness. This shows that the UAE atmosphere is highly suitable for Emirates due to low violence rate and high support from government (Tradingeconomics 2020). This allows the business to take effectiveEmirates Airlines strategy analysis of expansion, acquisition and others.
Economic- the consumer price index of UAE has decreased by 0.9% in 2019 compared to 2018 and reached to 108.48% in 2019 (Tradingeconomics 2020a). GDP per capita in UAE has been reducing from 67045 US dollars in 2016 to 66615 US dollars in 2018 (Tradingeconomics 2020b). Based on thisEmirates Airlines strategy analysis, Emirates has planned their pricing strategy that is economy pricing strategy to support purchasing power and maintain similar profit due to reduced prices of labor. Social- the social conditions of UAE such as huge preferences of the people for traveling has positive impact on the airlines business. USE residents are considered as the biggest holiday spenders and prefer to travel abroad (Abbas 2020). Based on this Emirates plans their innovation strategies such as 3D virtual reality in booking, inflight entertainment system, web application and others fulfill preferences of UAE customers.
Technological- the technology industry is credited as one of the fastest growing industries in UAE and is worth 5.5 billion dollars. UAE is estimated to face a huge increase in IOT where most of the devices will be connected to internet (Mayenkar 2020). To match the growing technology in UAE it is seen that Emirates Airlines has adopted innovative technologies such as virtual and augmented reality and online application.
Legal- any aircraft registered in UAE has to comply by Civil Aviation Law and its laws related to air traffic control, communication, safety and concern and others. Based on thisEmirates Airlines strategy analysis, the business has to implement effective safety and security policies in regards to their aircrafts for its customers and employees. Environmental- UAE is facing huge challenges from rising urbanization and industrialization that has reduced the quality of their air due to huge pollution and climate change. Based on this need it is seen that Emirates Airlines forms its sustainability strategy to be responsible towards the environment.
Execution of Key Strategies
Emirates Airlines is seen to execute number of key strategies and practices over time to meet its strategic goals, mission and vision statement. The Emirates Airlines strategy analysis is dependent on the strategic resources and core capabilities of the organization.
Strengths
Pricing Strategy- Emirates follow a low cost pricing strategy for adding value to its customers and gain competitive advantage over its competitors. The company sells low cost tickets to the customer compared to other airlines and offer direct flights to many destinations. This was due to its high financial capability of the group and revenue of AED 109.3 billion in 2019. This strategy of Emirates will help the airline to attain success over the competitors and become a leader in the aviation industry, which is their long run strategic goal(Emirates 2020b). This strategy helps in adding huge value to the external stakeholders of the airlines that is customers.
Differentiation Strategy- seeking to the differentiation strategy it is seen that Emirates Airlines has been able to implement uniqueness in its services that can make them look different in front of the customers. It is the world's first airline to launch the 3D seat models that uses web based virtual reality technology (Alshubaily 2017). This is possible because of core capabilities of airlines in technology and investment(Emirates2020a).
Innovation Strategy (Core Capability)–As per the Emirates Airlines strategy analysis, innovation is one of the core capabilities of Emirates Airlines as it has innovated on various areas. The innovation strategies of the airlines are supported by its resources capabilities such as 5000 employees, huge network and financial strengths. This has helped the airlines to invest in various innovative strategies and areas. The airlines has invested in new innovation such as new application and built in house known as the Hub Monitor (Redpath et al. 2017). This helps in tracking the flights and reduces the chances of delays. Emirates provide award winning inflight entertainment system called "ice 'that has been their forefront of innovation. All such innovation has been possible for the in-house expertise that the emirates value and extensive vision of being a leader in aviation (Emirates 2020a).
Sustainability Strategy- sustainability is one of the important strategies duringEmirates Airlines strategy analysis, which has been implemented due to their technological strengths. The airlines has made great progress in minimizing waste, cutting single use plastic and reducing consumption of water and energy in different facility areas. This is yet strength of the airlines and offers great value to customers and community (Emirates 2020a). Moreover, the loyalty program run by Emirates further offers value to its loyal customers and act as a sustainable strategy.
Weaknesses
Limited Market Share- Emirates faces weaknesses of low market share due to huge competitive pressure in the airlines industry. There are number of competitors that have entered into the aviation industry and this has limited their scope of capturing market share (Emirates 2020a). Emirates Airlines strategy analysisfurther limits their strategic goals of becoming a market leader and expanding its network.
Over relying on online strategy- Emirates is facing financial risk due to high dependent on online booking and sales, which may affect its future position in the market and act as a barrier to its future strategic goals of being a market leader. This is because over relying on online sates that get impacted by global instabilities.
Opportunities
Expansion Strategy-the airlines faces huge opportunity from its expansion strategy in which it forms partnership in the countries they enter. An emirate is seen to have 119 interline partners in 102 different countries. One example is with "fly Dubai" partnership the airlines have get access to huge network opportunities (Emirates 2020a). This acts a huge opportunity for the airlines to accomplish its goal of offering more choice and flexibility to customers. There are opportunities that Emirates Airlines strategy analysis takes up diversification strategy for future business expansion. Human Resource Strategy- airlines hold huge opportunity in its human resources where it holds high expertise and experience. The engineering team of the airlines launches projects in collaboration with airbus, e-logbooks and safety equipment (Redpath et al. 2017). The human resource is a highly expertise team that holds opportunity of expansion and meet other strategic goals of the airlines. Emirates have the opportunity to obtain skilled labor that can reduce their training costs and improve sales.
Threats
Competitive threat- Emirates faces huge threat from its competitors from both regional and global competitors such as Cathay Pacific, SkyWest, Singapore Airlines and others (Alshubaily 2017). This is because Emirates most serves international routes that increase their competitive threat.
Lack of Cost Leadership- Emirates Airlines strategy analysisfaces weakness from its cost strategy in which it failed to maintain cost leadership. Crude oil price has increased in the first half of the financial year 2018-19 and this has led to an increase in the jet fuel prices by 22%. Even in such situation as mentioned through Emirates Airlines strategy analysis, it is seen that the airlines invested AED 14.6 million in new aircraft that increased their operating costs. Fuel forms almost 32% of the total operating costs of the company (Emirates 2020a). This shows that the airlines has not maintained a cost leadership and has put negative impact on the partners and shareholders. Moreover, this will also restrict their chances of becoming global leader due to financial risks.
Strengths

Pricing Strategy

Innovation strategy

Differentiation strategy

Sustainability strategy

Financial capability

Weaknesses

Over relying on online sales

Limited market share

 

Threats

Threat from rising cost

Competitive threats

Opportunities

Expansion strategy

Diversification opportunities

Human resource strategy
Table- SWOT Analysis
Source- Author's creation
Strategic and Sustainable Solutions for Future Business Challenges
 

Opportunities

Threats

 

Strengths and Opportunity Strategies

Threats and strengths strategies

Strengths

Continuously work on service quality improvement and focus on diversification strategy such as expanding to emirates catering instead of just flight catering it has to expand its market in future.  This can be supported by high financial capabilities of Emirates.

 It is recommended that the airlines should indulge in research and development with its innovation capability and find other solution for using fuel in its aircrafts that are environment friendly and less costly. This will help attain cost leadership.

 

Weaknesses and opportunities strategies

Weaknesses and threats strategies

Weaknesses

It is recommended through this Emirates Airlines strategy analysis to use high amount of skilled labor with its human resource opportunities and improve handling of online sales.

 

It is recommended that Emirates forms partnership with other airports like it has done in Dubai and forms national airlines in few other market areas by using its financial and innovative capabilities. This can also help the airlines to increase its market share and be competitively strong.

 
Table 2- TOWS Analysis
Sources- Author's creation
Key Policies, System and Processes of the Organization
Operational structuring- Emirates has a tall organizational structure being a global organization, which means that the level of management grows as they expand in other placed. This means that Emirates maintain a hierarchical structure in its operational and strategic planning process. (Emirates 2020b).
Operational Control- the airlines maintains internal controls by performing detailed end to end analysis of its finance and operational processes. This helps the business to maintain design effectiveness and help them to identify key changes (Emirates 2020a). The control is executed through its revenue systems and helps know that the airline has operated successfully throughout the year.
Learning and knowledge management- Emirates holds a strong force of learning and talent team that looks at the development of knowledge needed by its employees and drive future directions and new way of working. The team delivers world class training to people including soft skills, technical skills and others (Emirates2020a).
Performance management- performance management in Emirates Airlines takes place in three stage process such as setting expectation for employee performance, maintaining communication between supervisor and employee and measuring actual performance. (Emirates2020). The airlines implements NAJMS Award to reward its employee and appreciate them for their exceptional service and care. This adds to the ethical approach of the company towards its customers.
Business Positioning Strategy
Emirates Airlines has successfully offered a value proposition through its customer focused business in which it aims at offering huge innovative and differentiated service at low cost. Moreover, it has position itself in the market as a high valued and low priced brand that offer customized experiences to their customers. The airlines is also seen to position itself as a highly valuable brand through its sustainability efforts such as environmental friendly efforts, safety at workplace and safe packaging in catering (Emirates 2020). The positioning strategy of Emirates Airlines can be seen from the positioning map that is determined through their value proposition and sustainability strategy.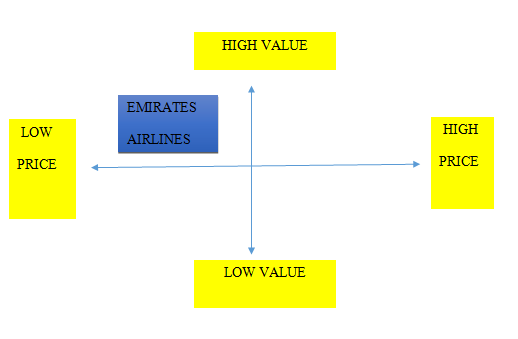 Figure- Positioning Map
Source- Author's creation
Emirates Airlines strategy analysis: VRIO
Emirates Airlines strategy analysis also attains its competitive advantage through their internal resources that are valuable, rare, and imitable and organization.
Valuable
The financial resources of the airlines are valuable that it can invest in various innovative opportunities. The airline catering service of Emirates is valuable as it help the airlines to become highly differentiated. High creative and expertise team of employees form the valuable resources of the airlines that lead to high productive behavior(Emirates 2020b).
Rare
Flight catering service complying with sustainability is considered as a rare because such catering in-flight service is only possessed by few airlines.
The financial capability of Emirates is also considered as rare because such high capability is only held by few big airlines.
Strong network capability with the intension of expanding to more than 500 new network makes a rare resources that Emirates hold.
Innovation as one of the core capability of Emirates further forms a rare internal resources of the airlines because very few airlines aims to be innovative to that extent (Emirates 2020a).
Imitable
The catering service and employees training of Emirates is not costly to imitate by other airlines. Emirates holds patent that cannot be imitated by any other airlines as it is a costly legal process to obtain. The large distribution network of Emirates is very costly to imitate by the competitors because it is developed over years (Emirates 2020a).
Organization
Emirates organize its financial and human resources to create strategic value and opportunities. Emirates holds highly organized distribution network that it uses to reach out its customers. Emirates Airlines strategy analysisof the Industry The Emirates Airlines strategy analysiswill critically analyze various unique factors and forces that help determine the position the airlines has set in the industry with its strategies (Varelas and Georgopoulos 2017).
Bargaining power of suppliers (high)
Supplier in the aviation industry is large such as Airbus and Boeing and this puts these suppliers at a higher end and maintains limited flexibility in the prices they charge. This shows that the bargaining power of suppliers in this industry is high. In case of Emirates it is seen that the suppliers implements their high bargaining power by forming a deal with such big airlines (Man and Justine 2005). Emirates forms collaboration with Boeing and Airbus such as running the maximum version of Boeing 777 and Airbus 380 so that they can equip their planes with technical mechanisms so that they can provide technical and commercial services and influence their suppliers for price reduction.
Bargaining power of buyers (low)
The buyers in the airlines industry cannot exert much pressure of control over the prices charged by different airlines. The customers can choose some other airlines because of low price and exert some pressure, however, quality forms an integral part in airfare (Varelas and Georgopoulos 2017). Airlines like Emirates have been able to establish a strong image in the market with their exceptional and innovative service and this allows them to attract their loyal customers even at the time of seasonal high prices.
Threat from substitute (moderate)
The Emirates Airlines strategy analysis signify that the business faces moderate threat from substitute products in the aviation industry such as other carriers and other modes of transport that offers transportation service to the customers. However, the level of threat is moderate because for international travels the substitute becomes zero and air travel becomes the only choice (Man and Justine 2005). Emirates is able to lower down the threat from substitute further with the strategies such as competitive pricing, highly innovative service quality and wide network that it implements.
Threat from substitute (moderate)
Competitive Rivalry (high)
Competitive rivalry in the industry is huge due to high pressure from other big airlines such as Cathay Pacific, Singapore Airlines, British Airways and others. Even though Emirates holds a huge market in Dubai and forms national airlines, yet the global presence of the competitors increases the competitive rivalry (Alshubaily 2017). This makes it important for Emirates Airlines to strive for maintaining customer loyalty and maintain an increased market share in the global market as well.
Potential new market Entrants (low)
Threat for new entrant in airlines industry is low due to high entry barriers and huge startup cost. In relation to Emirates it is seen that the Airlines entering in the industry in UAE needs to take approval from government and comply by tough aviation laws to fulfill standards. There are a huge airline that operate in this industry from decades and has formed their market share (Man and Justine 2005). In case of Emirates it is seen that the airlines has position itself strongly with its partnership with Dubai International Airport and has estimated to fly 70 million passengers in 2020. Thus, Emirates faces low threat from new entrants or new airlines coming in the market.
Conclusion
Therefore, from the Emirates Airlines strategy analysisit can be stated that Emirates has been highly effective in its strategic implementation and has successfully achieved most of its strategic goals and vision. The airlines have been able to place itself effectively in the market with its innovative and technological capabilities. Moreover, Emirates has also placed itself successfully in the competitive atmosphere of the aviation industry through its strategies and value it offers to its consumers. However, the business faces huge threat and challenges from global competitors, cost increase and hierarchical network that can be addressed with the help of different strategies.
Recommendations
As per the given Emirates Airlines strategy analysis, the company needs to follow certain recommendations that are sustainable and help in future growth:
Implement network organizational structure that help eliminate barriers in communication and develop inclusive decision making.
Adopt diversification strategy such as expanding to emirates catering.
Airlines should indulge in research and development with its innovation capability and find other solution for using renewable fuel in its aircrafts.
Airlines should use high amount of skilled labor for effective management of operations.
Emirates should form partnership with other airports like it has done in Dubai and become national airlines in new markets too. ?
References
Abbas, W., 2020. UAE residents are among biggest holiday spenders. [online]Emirates Airlines strategy analysis khaleejtimes. Available at: [Accessed 19 June 2020].
Alshubaily, A., 2017. Exploring the key success factors for young airlines. A focus on emirates airlines and its regional competitors' strategy for success. Saudi Journal of Business and Management Studies, 2(1), pp.30-37.
Emirates., 2020. Annual reports. [online] emirates. Available at: [Accessed 19 June 2020].
Emirates., 2020. Company Overview. [online] emirates. Available at: [Accessed 19 June 2020].
Emirates., 2020. Emirates growth strategy on track. [online] emirates. Available at: [Accessed 19 June 2020].
Man, M.K. and Justine, J.B., 2005. AirAsia in the Malaysian domestic airline market: empirical analysis of strategy. International Business & Economics Research Journal (IBER), 4(12).
Mayenkar, S., 2020. Technology To Drive UAE'S Economic Growth — Minister. [online] Gulfnews.com.Emirates Airlines strategy analysis Available at: [Accessed 19 June 2020].
Redpath, N., O'Connell, J.F. and Warnock-Smith, D., 2017. The strategic impact of airline group diversification: The cases of Emirates and Lufthansa. Journal of Air Transport Management, 64, pp.121-138.
Tradingeconomics., 2020. United Arab Emirates - Political Stability And Absence Of Violence/Terrorism: Percentile Rank. [online] tradingeconomics. Available at: [Accessed 19 June 2020].
Tradingeconomics., 2020. United Arab Emirates Consumer Price Index (CPI). [online] tradingeconomics. Available at: [Accessed 19 June 2020].
Tradingeconomics., 2020. United Arab Emirates GDP per capita PPP. [online] tradingeconomics. Available at: [Accessed 19 June 2020].
Varelas, S. and Georgopoulos, N., 2017. Porter's competitive forces in the modern globalized hospitality sector–the case of a Greek tourism destination.Emirates Airlines strategy analysis J Tour Res, 18, pp.121-131.
Vellas, F., 2016. The international marketing of travel and tourism: A strategic approach. Macmillan International Higher Education.