Event Management Assignment: Week Cycling Event for Gippsland
Question
Task:
Scenario:
The Gippsland region in South-East Victoria has long been a popular summer escape for the people of Melbourne. However, in recent years, due to the increase in visitors seeking unique and authentic experiences, the region has seen growth in other types of tourism. This has led to the Gippsland Regional Partnership, in conjunction with Destination Gippsland and TRC Tourism to develop 'Towards 2030 Gippsland Destination Management Plan: A Blueprint for Growth' to steer the development of the tourism industry in the region. Groups of savvy Melbournite's who frequent the region have noticed this and see this as a great investment opportunity. You are contracted by this group of investors to provide an assessment and recommendation for a new attraction or event for the Gippsland region. Your task is to write a report on event management assignment that:
?critically appraises the region, its current visitors, current experiential offerings and tourism infrastructure.
?evaluates the recently released destination management plan and its objectives to determine appropriate development opportunities
?proposes a new event or attraction that would be suitable for increasing visitor numbers to the region and is aligned with the destination management plan. You will need to include details of the actual event or attraction such as proposed dates, venue/s and a rough outline of the schedule for events, or an overview of the attraction, what it would be what services it would offer and a proposed location.
?identifies the specific target market/s, which they are, how you selected them and why you think they would be interested in your event/attraction.
?identifies what additional infrastructure, services and expert knowledge would be required to support this new event/attraction and where this will come from (e.g. specific government agencies) and what key relationships/partnerships to the event/attraction would need to be successful.
?specifies how you would measure the success of your event/attraction in achieving the objectives associated with the destination management plan and long term viability of its operations.
Answer
Introduction
Since globalization and technological advancements, tourism has become an integral property of modernized contemporary society and created a comprehensive network of interconnected industries and ancillary services to satisfy diversified travel purposes. As Australian government interventions, natural resources and availability of streamlined tourism industry value chain, combining efforts of the Victorian Government, Destination Gippsland and TRC tourism, Gippsland has become a vibrant and diversified tourism destination. Gippsland offers a wide range of tourism attractions including natural resources, leisure attractions, adventurous sports and diversified hospitality services which attracted 7.1million visitors and generated AUD$1b to the region. However, increasing tourism demands, greater economic infrastructure, natural conversation policies and sustainable tourism requirements have influenced Destination Gippsland to create a standardized and inclusive framework "Towards 2030; a destination management plan" to ensure economic prosperity, sustainability, infrastructure development, advocacy of the regional tourism industry. Gippsland upholds a vast and fast-growing tourism environment that encompasses endless greenery, pristine natural beauty, stunning beaches, wilderness and waterways, lucrative and crafted events and creative industry that allows creating regional employment, business opportunities and maximizing the region's potential. As Gippsland is famous for its public-centric and summer events, the company has decided to hold a cycling event at Lardner Park in Latrobe City while engaging national and international cyclists. The organisation also focused on collaboration, infrastructure development programs and fact-driven decisions, and incorporated key drivers including tourism demands, income growth, leisure amenities and hospitality industry attractiveness to promote sustainable tourism and attract international audiences. This systematic empirical framework provides a comprehensive overview of Gippsland as a prominent tourist destination while considering natural resources, infrastructure, and the tourism value chain. This study also provides a detailed and precise cycling event plan while satisfying DMP objectives, sustainability and collaborative efforts with Destination Gippsland.
Overview of Gippsland as a Tourism Destination
Gippsland as a Region
Gippsland upholds 42000km² land in the eastern part of the Victorian state and encompasses a wide range of geographical locations including 700km spectacular coastline, metropolitan areas, vibrant cities and culturally diverse natives. The Gippsland tourism region (GTR) includes LGAs of mainland part, Baw Baw Shire, South Gippsland Shire, Latrobe City and Wellington Shire, and surrounded by tourism regions including Phillip Island, Yarra Valley and Dandenong ranges. The area upholds a significant range of tourism services including outstanding natural resources, engaging towns, aboriginal and colonial heritage and man-made tourist attractions and sporting events. Tourism is a potential economic driver in Gippsland as it generated 130000 jobs and AUD$1billion revenue which is 11.6% of the regional economy (Feane, 2017). Availability of cultural differences, larger wilderness, pristine beaches and spectacular national parks alongside greater transportation services, availability of different transportation modes, highly versatile cuisines and beverages has facilitated national and international tourists to explore untapped and diversified tourism activities.
Current Visitors
Gippsland serves a set of various types of tourists including sports lovers, nature and food lovers and promotes cultural tourism extensively. Gippsland serves almost 7million tourists mostly domestic visitors between March and September, and 60% of the visitors are day-trippers, 39% of visitors are overnight trippers and international visitors cover 1%. Active families are important visitors in contrast to Gippsland and spend almost $296 AUD per. Visitors are diversified with multigenerational, multicultural and multi-domestic attributes, but the majority of the tourists are aged above 50 years (Pham, 2018). Visitors accompanied by friends and families like to spend holidays in Gippsland and enjoy various distinct activities including social activities, outdoor nature and adventurous sports, cultural heritage and national parks.
Experimental Offerings
Gippsland's outstanding geographical location, availability of tourism services, integrated transportation services, a wide range of adventurous activities and customer-focused accommodations have attracted 7million people in 2019, and are projected to reach 10million by 2030. Nature tourism alongside adventure-centric tourism activities is the key characteristics of Gippsland. It encompasses forest, national parks, wetlands and UNESCO biosphere reserves including Wilsons promontory national park, Baw Baw Shire, Buchan, Strzelecki, and dynamic rivers including Avon, Thomson and Latrobe. Such natural resources provide adequate opportunities to perform activities including walking, hiking, cycling, boating and alpine sports. Moreover, historical societies, museums, availability of various Goldfields and creative art centres including Warragul, Traralgon, Sale, and Gippsland arts networks have extensively showcased the cultural heritage of Gippsland. It also encompasses several touring routes including Great Alpine road, Sydney to Melbourne also provides opportunities to explore hidden bays, natural habitats and lakes. Gippsland also holds various events including music festivals, golf and racing, agricultural and food events and cycling events (Raut, 2020). Latrobe is the major city that upholds international standard sporting infrastructure and hosts 150 events yearly attracting 230000 patrons and 100000 overnight trippers. Moreover, locally crafted antique pieces, increasing cruise tourism in Phillip island also attracted a larger audience.
Tourism Infrastructure
Gippsland has become a major tourist attraction in Australia that encompasses a vast network of interrelated industries including transportation, hospitality services, accommodations and food services, and leisure amenities. Gippsland also provides diversified accommodations including caravans, self-catering apartments, holiday homes to accommodate visitors. DGL engaged regional subsidiaries, government agencies and communities to ensure industry development and economic and environmental benefits to the community. The organisation also invested in R &D pipelines, cutting-edge technologies and cost-effective infrastructure development programs to create amenities, parks, exciting activities and protect natural assets including recycling programs, circular economy and green technologies (Rylance & Spenceley, 2017). Dedicate public infrastructure, cruise tourism services and relationship-driven partnership programs are incorporated to maximize accessible and sustainable tourism in Gippsland.
Evaluation of Gippsland Destination Management Plan
Collaborating the Victorian government, Destination Gippsland has created a precise and empirical framework: "Towards 2030" -the Gippsland Destination Plan for the betterment of visitor economy, and incorporated various distinct visionaries to educate stakeholders, monitor and review sustainable development and standardize practices to ensure economic and environmental prosperity. The DMP framework encompasses seven strategic priorities, and largely focuses on the creation of new and exceptional experiences including the natural sanctuary, coastal paradise, paddocks, adventures and vibrant local communities to create a standardized tourism forum. Various distinct strategies including collaboration between entities, strengthening destination appeals, development of new experiences, investment in regional events, investment in public infrastructure, revitalised tourism services and creation of industry-specific partnerships are incorporated to encourage and inspire inventors, attracting higher-yielding aspirational markets and ensure high-quality visitor experiences (Boon et al. 2016). The fundamental purpose of the DMP is to create hero experiences by investing in firming, events and infrastructure to accelerate visitation. Within its centralized framework, a regional event strategy has taken to invest and encourage social events. Moreover, an investment framework for infrastructure is also confined to support visitors and investors for greater flexibility and certainty. Various prime objectives of the underpinned framework are to create standardised visitor engagement policy, relationship-driven partnership components and tourism leadership on a long-term basis. It also aims to grow the visitor economy to Gippsland by improving visitation, length of stay and spending.
Strategic Priority: Collaborative Relationships
The fundamental purpose is to create a collaborative tourism board to meet stakeholders expectations and regional growth. In contrast, a structured board is created engaging Destination Gippsland, ASIC and LGAs. Availability of structured settlement, a dedicated forum for regional tourism leadership, emergency services, international standards and diversified workforce have created comprehensive opportunities including unity amongst stakeholders, raising funds, creating resource utilisation programs and providing fact-driven recommendations (Roberts & Moosavi, 2018. However, lack of campaigns, consistency in LTO model and inadequate funds have been hindering productivity and efficiency.
Strategic Priority: Strengthen Regional Capabilities
To drive growth and destination appeal, the DMP aims to create a vibrant and consistent brand and marketing strategy that extensively focuses on people, products, services and infrastructure. The organisation extensively invests in potential attractions including food, culture, events to diversify visitors. Its user-defined values including serendipity, grounded and quickness within its services have facilitated to bring prosperity (Stoessel, 2020). Moreover, customer-focused marketing initiatives, awareness and fundraising programs are significant to maintain industry commitment and competencies.
Strategic Priority: Development of Infrastructure
Gippsland is naturally rich and upholds diversified wonders including natural resources to agricultural lands, wetlands to pristine beaches. However, its continuous commitment to diversify offerings, creation of outstanding experiences including Wilsons Promontory, Buchan caves, coastal paradise, George Bass Coastal walks, Baw Baw Shire and Gippsland lake aquatic trails are significant to engage wider audiences.
Strategic Priority: Investment in Events
Various cross-cutting experiences including aboriginal tourism, adrenaline experiences, cultural heritage and extensive creative industries can amplify organisational objectives to obtain structural transformation towards sustainability-conscious development (Robert et al. 2020). As Gippsland is famous for its exciting nature, holiday activities and infrastructure facilities, the organisation has introduced a regional event strategy to create vibrant events to increase utilisation of existing infrastructure and creating new events while focusing on leisure, sports and business events.
Moreover, adequate investment in social and economic infrastructure, destination hubs including Wilsons Promontory, Baw Baw Shire, Gippsland lakes and Latrobe Valley and Wilderness coast will attract higher visitors and can generate higher revenue. Availability of a centralised information system, high-quality visitor engagement policies and extensive focus on shareable moments can produce ample opportunities to embrace sustainability, customer satisfaction and sophistication attributes. Streamlined collaboration with government agencies, global travel companies, aboriginal communities, the education sector and neighbouring regions also allows improving services quality and accountability.
Proposed Event in Gippsland
Event: An attractive and internationally recognised multilayer professional cycling event for both male and female.
Location: Latrobe City, Victoria State, Australia Proposed Date: Two-week tours starting from 25th January 2021 to 7th February 2021.
Venue: Lardner Park, Latrobe City, Australia
Overview
The development of cycle racing as a popular sport has become the popularity of cycling with the improvement of economic infrastructure and the introduction of one-day classic racing events. The Melbourne based company is determined to organise a vibrant cycling event in Lardner Park while using its established cycling tracks and outstanding event infrastructure. As Gippsland upholds a range of upgraded and internationally recognised sporting facilities especially in the Latrobe Valley, the company intends to exaggerate lucrative business opportunities through creating a dynamic and professional racing event. The event will be a 100miles in length comprising numerous laps at Lardner Park in Latrobe city. The event will be conducted by following instructions and international standards provided by the Union Cycliste Internationale (UCI). The company leveraged finance through trade sponsors, bicycle manufacturers, automobile manufacturers and insurance companies to effectively manage expenses, approvals and event management activities including accommodations, staff services and leisure amenities. In-house promotion, social media platforms and proactive marketing strategies including SEO services, social media marketing and advertising campaigns to promote the event. It will be a multilayer event that encompasses amateur races for both men and women in local, regional and national level and professional races for international cyclists. A one-day classic racing event for amateur racers will be organised while for the professional race, it will be a series of classic races run on successive days. The rider with lowest aggregate time for all stages will be the winner. Attractive compensation packages, high-quality safety and service packages and antidoping attributes will be considered to maintain international standards and sustainable practices. DGL engagements, partnership with various hospitality sectors and service providers will be engaged to ensure productivity and efficiency. Visit Victoria, Australia tourism services will be included, and will seek financial support through event sponsorship programs. A dedicated project team with multiple professionals and third-parties is considered to execute premeditated event objectives.
Key Activities
The cycling event will be a significant project for the company to effectively hold the event while considering UCI's action strategies and different measures to diminish occupational threats and safety measures. In contrast to international standards and sustainable measures, the event upholds a series of crucial activities including infrastructure development, branding and marketing, selection of races, event preparation, recruitment of racers and sponsorships initiatives (Vanderbyl, 2017). In order to ensure productivity and efficiency within the event, the company has created a comprehensive and detailed activity checklist to promote, organise and manage such a large-scale event in Gippsland. Firstly, the company will sign an agreement with DGL to receive approvals for the two-week event from the crowded national calendar while considering climate, regions attractions and international events. The event will be proposed to be held between 25th January to 7th February 2021 at the Lardner Park in Latrobe. Partnering with trade associations, LGAs and DHL will be completed to incorporate streamlined cycling infrastructure and dedicated lanes. The company will implement innovative marketing strategies including the new Gippsland brand positioning and imaging initiatives to amplify the number of audiences including internal visitors, event visibility and traffic. Social media platforms including Facebook, YouTube, Instagram and Twitter will be extensively used to promote the event, sale tickets and services. Furthermore, the company will take adequate initiatives to prepare tracks, hire expertise and develop adequate infrastructure to sustain the event (Hedvi?áková & Král, 2019). Adequate accommodation arrangements will be made for visitors and participants. Various performance measurement indicators including ROI, visitor numbers and visitor economy will be considered to measure performance and reliability of the event.
Event Schedule
| | |
| --- | --- |
| Activities | Time |
| Engagement of DGL, sponsors, LGAs and UCI | 25th September 2020 - 15th October 2020 |
| Promotional campaigns and sponsorships initiatives | 15th October to 12th November 2020 |
| Venue and event management planning | 1st November 2020 to 20th November 2020 |
| Selection of cyclists, sponsors, service providers | 20th November to 20th December 2020. |
| Venue preparation and presentation | 21st December 2020 to 15th January 2021 |
| Event accommodations | 17th January 2021 to 23rd January 2021 |
| Organising the event | 25th January 2021 to 7th February 2021 |
Identification of Target Markets
Tourism is the foundation of Gippsland, and it provides extensive opportunities for the company to effectively execute the event. As the new DMP framework provides extensive guidelines, financial support and branding and marketing campaigns, the company needs to evaluate its target audience by using the STP marketing model. In contrast, various types of visitors including active families, millennials, sports lovers and adventure sports lovers are mostly common in Gippsland.
STP Marketing Model
STP model refers to a systematic empirical framework that helps marketers to prioritize propositions, develop marketing strategies and delivery marketing activities to engage greater audiences with digitised and formal communication plans. It encompasses a three-tier framework which includes market segmentation, targeted audience and product positioning approaches to increase brand reputation and visibility while considering commercially appealing segments (Mejía-Trejo, 2018). The company needs to evaluate visitors segments of Gippsland to effectively create vibrant target-audience marketing strategies to engage higher audiences.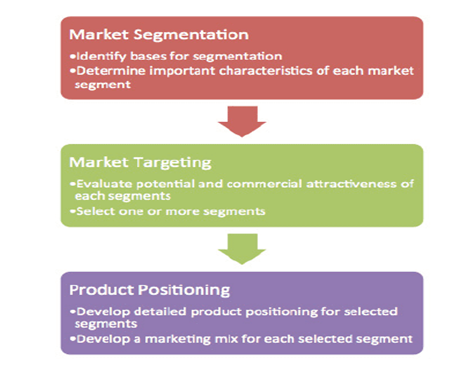 Figure 1: STP Model
(Source: Mejía-Trejo, 2018)
Market Segmentation
The market segment is significantly important for a cycling event to increase awareness and visitors. During the segmentation process, the company needs to consider various characteristics of visitors including demographics, psychographics, behaviours, lifestyle, life stage and benefits to identify visitor needs (Li, 2019). As Gippsland engages a diversified audience with multigenerational, multilingual and multicultural attributes, the company needs to create customised solutions for each section.
Target-audience Marketing Mix
To evaluate potential and commercial attractiveness of each segment, the company needs to consider standardise filtration and evaluation methods including criteria size, difference, money, accessible and different benefits to effectively position services and accommodations (Adiyia & Vanneste, 2018). Dedicated services for each segment will be beneficial to ensure customer satisfaction and loyalty programs while considering VOC, feedback loops and social media platforms.
Event Positioning activities
According to the STP model, for better positioning, the company needs to create dedicated marketing strategies for each segment. For millennials, the company can extensively use social media interfaces to articulate permissible visionaries and event contents while considering in-house outlets of various cycle manufacturers (Mejía-Trejo, 2018). For elderly people, effective seating arrangements and affordable pricing policies can be taken to ensure productivity and profitability.
Additional Event Supplementary Initiatives
Event management is a complex and expensive process and extensively emphasized on cross-functional teams and relationship-driven partnership programs to execute the wholesome event. In contrast to proposed cycling events in Gippsland, the company needs to create a vibrant and dynamic workforce and stakeholder management plan to effectively manage, execute the event while maintaining UCI action strategies and international standards. Moreover, as the Gippsland tourism upholds a significant amount of visitors, the company also needs to collaborate with tourism broad, DGL and regional government agencies for securing venues, mitigating service accommodations and executive two-week long cycling events.
Accommodations for cyclists and other athletes and associated terms is a major responsibility for the company to ensure adequate comforts and hospitality services. Although Gippsland upholds different types of accommodation facilities including caravans, homestay, motels and hotels, it is relatively insufficient for global visitors (Doukoglou et al. 2019). Within its corporate settings, DGL must provide a modernized and streamlined hospitality services including affordable pricing, food and transportation services to provide extraordinary hero experience. Moreover, the company can make peer-to-peer accommodation services, engage dedicated transportation agencies and security teams to achieve greater flexibility and accountability within the event. Celebrity endorsements policies, digital platforms and cutting-edge technologies including artificial intelligence, IoT, robotics and automation can be used to maximize organisational competencies in managing visitor requirements and preferences.
Performance Measurement Indicators of the Event
Key performance indicators refer to a systematic empirical framework that encompasses a set of intuitive and quantifiable measurement units which allows measuring long-term performance and efficiency of business operations and profitability. In contrast to the cycling event in Gippsland, the company considers a wide range of KPIs to evaluate financial, event operations and quality performance of the event while creating predetermined KPIs. During the event planning process, the company needs to align event objectives, UCI standards, regulatory compliances and customers satisfaction and sophistication attributes throughout the predetermined irritative process (Del Vecchio et al. 2018). Various distinct KPIs including ROI, profit-sales ratio, net profit margins and return on equity can be considered to evaluate the financial performance of the event which justifies stakeholders needs and requirements.
To evaluate event success, the company can use various distinct indicators including a number of the targeted audience, total traffic in SEO services and sales of tickets to maintain profitability and revenue streams. Moreover, total estimations of event baselines, minimum workplace injuries, 5-star services for nationwide athletes and cyclists can be incorporated as prominent customer satisfaction and sophistication attribute.
Conclusion
Tourism is booming rapidly as increasing cross border transitions, globalization attributes, techno-capitalism perspectives and popularity of eco-friendly credentials have created comprehensive opportunities. In contrast to the administrative assistant provided by the tourism board of Gippsland for greater flexibility and accountability in tourism attractions, DGL needs to develop a diversified infrastructure development initiative to promote and amplify organisational commitment and competencies towards sustainability-consciousness and economical development of the region. Within its strategic settings, DGL largely focuses on Gippsland regional partnership, strategic settings, "Towards 2030" initiatives, adequate investment to infrastructure, destination appeals and value chain, and provides extensive support and encouragement policies to attract MNCs and multi-generational and multicultural visitors. Moreover, its integrated transportation services, strong communication channels and collaborative efforts by the tourism board have strengthened destination appeal and can assist to improve revenue streams and employment opportunities. In order to ensure productivity and efficiency in the cycling event, the company needs to create a vibrant and dynamic workforce and transformative leadership practices to minimise occupational hazards and interruptions alongside security and safety issues. The company also needs to embrace Gippsland's outstanding geographical areas, streamlined supply chain and transportation services to make adequate profit and branding efforts.
References
Adiyia, B., & Vanneste, D. (2018). Local tourism value chain linkages as pro-poor tools for regional development in western Uganda. Development Southern Africa, 35(2), 210-224.
Aliperti, G., Sandholz, S., Hagenlocher, M., Rizzi, F., Frey, M., & Garschagen, M. (2019). Tourism, crisis, disaster: An interdisciplinary approach. Annals of Tourism Research, 79, 102808.
Boon, P. I., Cook, P., & Woodland, R. (2016). The Gippsland Lakes: management challenges posed by long-term environmental change. Marine and Freshwater Research, 67(6), 721-737.
Del Vecchio, P., Mele, G., Ndou, V., & Secondo, G. (2018). Open innovation and social big data for sustainability: evidence from the tourism industry. Sustainability, 10(9), 3215.
Doukoglou, T., Gezerlis, V., Trichias, K., Kostopoulos, N., Vrakas, N., Bougioukos, M., & Legouable, R. (2019, June). Vertical industries requirements analysis & targeted kpis for advanced 5g trials. In 2019 European Conference on Networks and Communications (EuCNC) (pp. 95-100). IEEE.
Feane, D. (2017). Earth and industry stories from gippsland [Book Review]. Historic Environment, 29(1), 97.
Hedvi?áková, M., & Král, M. (2019). Benefits of KPIs for industry sector evaluation: The case study from the Czech Republic. E+ M. Ekonomie a management, volume 22, issue: 2. Li, Y. (2019, April). Research on Teaching Reform of Application-oriented Curriculum of Marketing Course in the Internet plus Education Era. In 1st International Symposium on Education, Culture and Social Sciences (ECSS 2019) (pp. 478-481). Atlantis Press.
Mejía-Trejo, J. (2018). Designing a digital marketing model innovation to increase competitiveness. First insights in Mexico. Nova scientia, 10(20), 569-591.
Pham, L. D. Q., Driml, S., & Walters, G. (2018). Managing seasonality in rural destinations: A case study of South Gippsland–Australia. Tourism Recreation Research, 43(4), 445-455.
Raut, S. K. 2020 A Fire Hazard Assessment Using Sentinel Imagery; A Case Study Over Gippsland Australia.
Roberts, G. L., Mullett, R., David, B., Fresløv, J., Gunaikurnai Land and Waters Aboriginal Corporation, Mialanes, J., ... & Stoessel, D. (2020). Community research in a public place: Wangangarra 1 rockshelter, Mitchell River National Park, East Gippsland (Australia). Australian Archaeology, 86(2), 176-197.
Roberts, T., & Moosavi, S. (2017). Leveraging the Dredge Cycle at the Gippsland Lakes: Simulating with Autodesk CFD.
Rylance, A., & Spenceley, A. (2017). Reducing economic leakages from tourism: A value chain assessment of the tourism industry in Kasane, Botswana. Development Southern Africa, 34(3), 295-313.
Torre, A., & Scarborough, H. (2017). Reconsidering the estimation of the economic impact of cultural tourism. Tourism Management, 59, 621-629.
Vanderbyl, N. (2017). The happiest time of my life…' Emotive visitor books and early mission tourism to Victoria's Aboriginal reserves. Aboriginal History, 41, 95-120.