Feedback Assignment: Importance of Comments in Student's Life
Question
Task: Feedback on assessment tasks has traditionally been used to help students 'bridge the gap' between lecturer expectations and their work. In your report, discuss the usefulness of feedback and argue the best way for students to receive feedback on their assessment tasks. Develop your arguments using examples from the feedback given from the essay (BUS100 - Assessment Item 2) and evidence found in peer-reviewed journal articles. Include recommendations for various university stakeholders to implement your findings.
You should read the appropriate topics on Interact2 and chapters of your textbook to obtain the information on writing reports.
Answer
Executive summary
The report on feedback assignment aims at providing the information regarding the importance of providing feedback to the student. The feedback assignment encompasses how feedback acts as guidance for the students to learn their weaknesses and strengths. Students can develop strategies on the basis of it which will help to motivate them as well as lead them towards their destined goals.
Introduction
The project examined in feedback assignment aims at providing the information regarding the importance of feedback in student's life. As per as Cook, (2015) feedback means information or result which is provided after the assessment of individual task or any particular product. When any product is purchased, then the shopkeepers always ask for the feedback from their customers so that if negativity arises they can alter the product with new innovative ideas. In the same manner each and every institution should start providing feedback to the students on weekly or monthly basis, so that the students can be aware of their performance and progress. The concept illustrated in the following feedback assignment emphasize that feedback motivates a student. If it is positive it will boost the morale and if a student gets negative feedback, then they can try hard to achieve better for the next time. In totality, it will help to groom up a student properly in their academic field as well as their behaviour. Feedback can motivate a student across all areas. The student can understand well enough of how they are performing and what they must not do so. Without feedback, it can be restricted way of learning as the students will be devoid of information such as their strengths , weakness and the core areas of their improvements.
Findings and Discussion
As per Tang, Long, Chen & Agarwal, (2016) there are four types of feedback that are shown in the diagram below.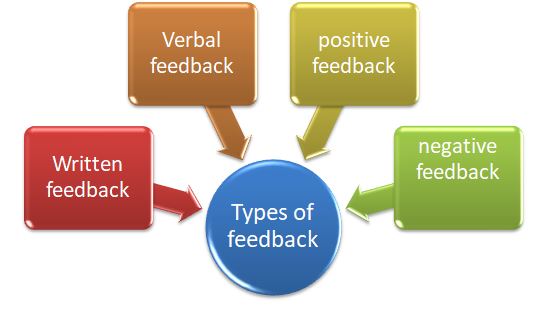 Fig. Types of Feedback (Tang, Long, Chen & Agarwal, 2016)
Written feedback – It indicates the feedback provided by a teacher to the students in a written form by means of any message or using emails.
Positive feedback – It generally means that the student is moving in a right direction towards his career and he must keep up the work and try to improve more in the future. It basically motivates the student to move ahead with confidence. It even acts as a green signal signalling the best performance of the student.
Negative feedback – The study evolved in the feedback assignment illustrates that if a student gets negative comments regarding his academic career such as the marks of any subject, or his conceptual knowledge for any subject; that makes a student tensed but also helps them to design the study pattern which will ultimately lead him to achieve the best.
Verbal feedback – When the feedback is provided verbally - such as orally by the teacher, then it refers to as verbal feedback. It creates a direct conversation between the student and teacher where if any negativity arises, the teacher can directly ask the students about their problems and can discuss on it.
What is the importance of feedback in the context of feedback assignment?
Feedback should be communicated in a very simple and understandable language by the mentor. It must have a genuine factor and should be significant to the needs of every student. According to Kulkarni, Bernstein, & Klemmer, (2015,) with the help of feedback, the teacher can provide suggestive ideas for development and guide the student by recommending the strategies a student should adopt for their improvements.
As per the research conducted in the context of feedback assignment, feedback helps in making teacher and students' relationship stronger and strengthens the bond. Constructive feedback, as suggested by Hoon et al., (2015) provides many positive opportunities for growth and development. The student can understand that their mentors are genuinely concerned for them when providing feedback. It increases the confidence of the student as well provide guidance to the student to plan their study effectively and efficiently.
Feedback helps the student to particularly know the areas where they are lagging behind. It even helps the teacher to access them properly and can take care of the weak students. Feedback always creates a mutual relationship between both the teacher and student. Positive comments provided highlights the strength of the students which helps in building the self-esteem and confidence within a student and motivates them to study in far better manner.
Student can access his performance every week or month which ultimately helps the student to perform well in future exams and career. The students always take admission in any institution keeping a goal in mind set. Hence, feedback helps the student as a guidance following which, the student can easily achieve his goal and objectives. The student will try to improve themselves at every seconds and so that their feedback marks or grades increases with the passage of time leading to provide the best performance.
Ways of providing feedback to students
The report on feedback assignment sheds light on many ways by which a teacher can provide feedback to their students. Feedback should be educative in nature thus, a teacher can provide feedback to the student in a form of report card where every area will be mentioned and gradation or percentage should be provided for every areas. There must be a minimum criteria marks or grade that a student should achieve lowering which proves that the student is too weak in studies and better care must be taken.
The present feedback assignment also elucidates that a teacher can even conduct a classroom session as discussed by Dixson,& Worrell, (2016) where they can have face to face discussion regarding their views for every individual students and can even learn their problems. The students getting negative feedback can share their problems with teacher who can guide them their learning strategies. The students with better feedback can even share their learning process and their pattern so that the other students can refer. This way it helps to improve every student's academic career.
Conclusion
It has been concluded in this feedback assignment from that feedback acts as a guidance book for every student to make improvement in their academic field. The feedback must be educative so that the student learns something from it. A teacher must be very cautious while providing feedback as it should not demoralize or demotivate them. The student can easily judge themselves and can learn their mistakes. They can be aware of the amount of efforts they must put in to achieve their goals. A student is motivated enough when they see their improvements. The student with higher improvements can be provided with rewards which will motivate they as well increase their will to proceed further with confidence. Feedback can create a strong bond between a student and teacher relationship. The teachers too, get a scope to know the student well. They can discriminate between the strong and weak students so that they make suitable arrangements in some special classes and can alter their teaching strategies which can be beneficial for weak students.
Recommendations
Timely feedback – if the feedback is provided just after the proof learning then the student can easily understand their lacking areas and can take action accordingly. However, if it is provided too late, then the students may take time to recognise the faults accurately. The teachers must make a habit of providing feedback on regular or weekly basis for students improvement which will ultimately increase the worth and goodwill of the institution and credibility of the teacher as well.
Sensitive to individual needs – A classroom consists of variety of students. Few students must be praised to reach the higher level effectively. Few students are weak, should be provided with motivation to achieve the best. Feedback provided should not influence student's emotions rather must be provided in such a manner so that the student take it up as encouragement. A balance must be maintained between what a student wants and their sentiments and emotions (Ryan, & Henderson,2018). Provide example of any model or person- Example of any famous personality can be used to motivate the students who are too weak or tensed with their performances. They must be boosted and a sense of feeling should be within them that "Yes we can do it".
4 questions should be answered and asked- According to Corrin & De Barba, (2015) it is noted here in feedback assignment that feedback provided to students should answer the 4 questions such as : how a student can improve ? What they must do ? What they should not do ? How a student can compare with others? Feedback for keeping students focussed on their targets. Students must be provided feedback regularly or on weekly basis so that they can understand where they actually stand in the classroom. The 4 questions must be utilised while providing the feedback to the students.
Concentrate on one ability- Every mentor while providing feedback must focus on one particular skill or ability. The example provided in this context of feedback assignment makes the concept more clear, if the teacher has intended to teach the methodology of providing presentation of any topic to the students, then at that particular time; she must concentrate on knowing the capabilities of students and their knowledge of that particular skill and can provide feedback accordingly.
Maintaining the records of student progress- The mentors should maintain a book where they can record the past performances of the students and comparing those with present, they can clearly draw a graph of their improvements (Nathenson & Henderson, 2018). If any changes are required they can take instant decisions. It will help to improve the efficiency and performance of the student.
Feedback to create self-esteem- Feedback on timely basis acts as a guidance book for a student to gauge his performance. According to the words of Jiao, (2015) it is noted here in feedback assignment student can be motivated and guided in building their self-esteem and self-confidence by the help of teachers feedback.
References
Cook, J. (2015). Negotiation for meaning and feedback among language learners. Feedback assignment Journal of Language Teaching and Research, 6(2), 250-257.
Hoon, A., Oliver, E., Szpakowska, K., & Newton, P. (2015). Use of the 'Stop, Start, Continue'method is associated with the production of constructive qualitative feedback by students in higher education. Assessment & Evaluation in Higher Education, 40(5), 755-767.
Dixson, D. D., & Worrell, F. C. (2016). Formative and summative assessment in the classroom. Theory into practice, 55(2), 153-159.
Jiao, H. (2015). Enhancing students' engagement in learning through a formative e-assessment tool that motivates students to take action on feedback. Australasian Journal of Engineering Education, 20(1), 9-18.
Nathenson, M. B., & Henderson, E. S. (2018). Using student feedback to improve learning materials. Routledge.
Ryan, T., & Henderson, M. (2018). Feeling feedback: students' emotional responses to educator feedback. Assessment & Evaluation in Higher Education, 43(6), 880-892.
Kulkarni, C. E., Bernstein, M. S., & Klemmer, S. R. (2015, March). PeerStudio: rapid peer feedback emphasizes revision and improves performance. In Proceedings of the second (2015) ACM conference on learning@ scale (pp. 75-84). ACM.
Corrin, L., & De Barba, P. (2015, March). How do students interpret feedback delivered via dashboards?. In Proceedings of the fifth international conference on learning analytics and knowledge (pp. 430-431). ACM.
Tang, L., Long, B., Chen, B. C., & Agarwal, D. (2016, August). An empirical study on recommendation with multiple types of feedback. Feedback assignment In Proceedings of the 22nd ACM SIGKDD International Conference on Knowledge Discovery and Data Mining (pp. 283-292). ACM.