Intrapersonal Effectiveness of Organizational Effectiveness and the Critical Incident
Question
Task: Introduce theory/definition of interpersonal effectiveness and include the critical incident, using the Smart framework, clearly identify areas for personal or professional development?
Answer
1.0 Introduction to the Assignment
Interpersonal Effectiveness is vital to attaining organizational goals and success of any organization. It pays a crucial role in striking a balance between the priorities and demands with a sense of self-respect (Ellwardt, Wittek & Wielers, 2012). To possess this skill one needs a blend of proper information and practical experience that can be used to develop and enhance one's interpersonal skills. In this assignment, the emphasis is on understanding the basic concept of Interpersonal Effectiveness, conflict resolution, team development and significance of communication. Along with this, the motive of the study, the significance of conflict management in the workplace, the role of effective communication, the importance of building cohesion in the team, potential goals and strategies, are also discussed in the assignment.
2.0 Interpersonal Effectiveness
2.1 Introduction: Interpersonal skills in simple words are referred to those everyday skills, which we use to communicate with others, may that be at individual or group level. It is often seen that individuals with good interpersonal skills are more popular, successful and liked by most of the people at professional as well as personal front. Social skills, life skills, soft skills or people skills are also referred as interpersonal skill, though they are much broader terms. Sometimes interpersonal skill is confused with communication skill, while interpersonal skill is much more than that. It includes various attributes like the ability to work in a group, ability to understand and manage own and other's emotions, problem-solving, decision-making, emotional intelligence and many more.
2.2 Definition: Interpersonal effectiveness involves dealing with the priorities and demands while balancing the needs and preferences.
Interpersonal effectiveness is all about getting done what is required out of a situation. Strong interpersonal skills facilitate one to ask with self-respect to get the specific things done in a specific way without hurting other person's feelings and causing any negative impact on the relationship. A person's daily interactions can be a constant reason for increasing stress, anxiety causing unhealthy behavior pattern and harming overall relations: in family, society, and work.
2.3 Area of Focus
2.3.1 Workplace Theories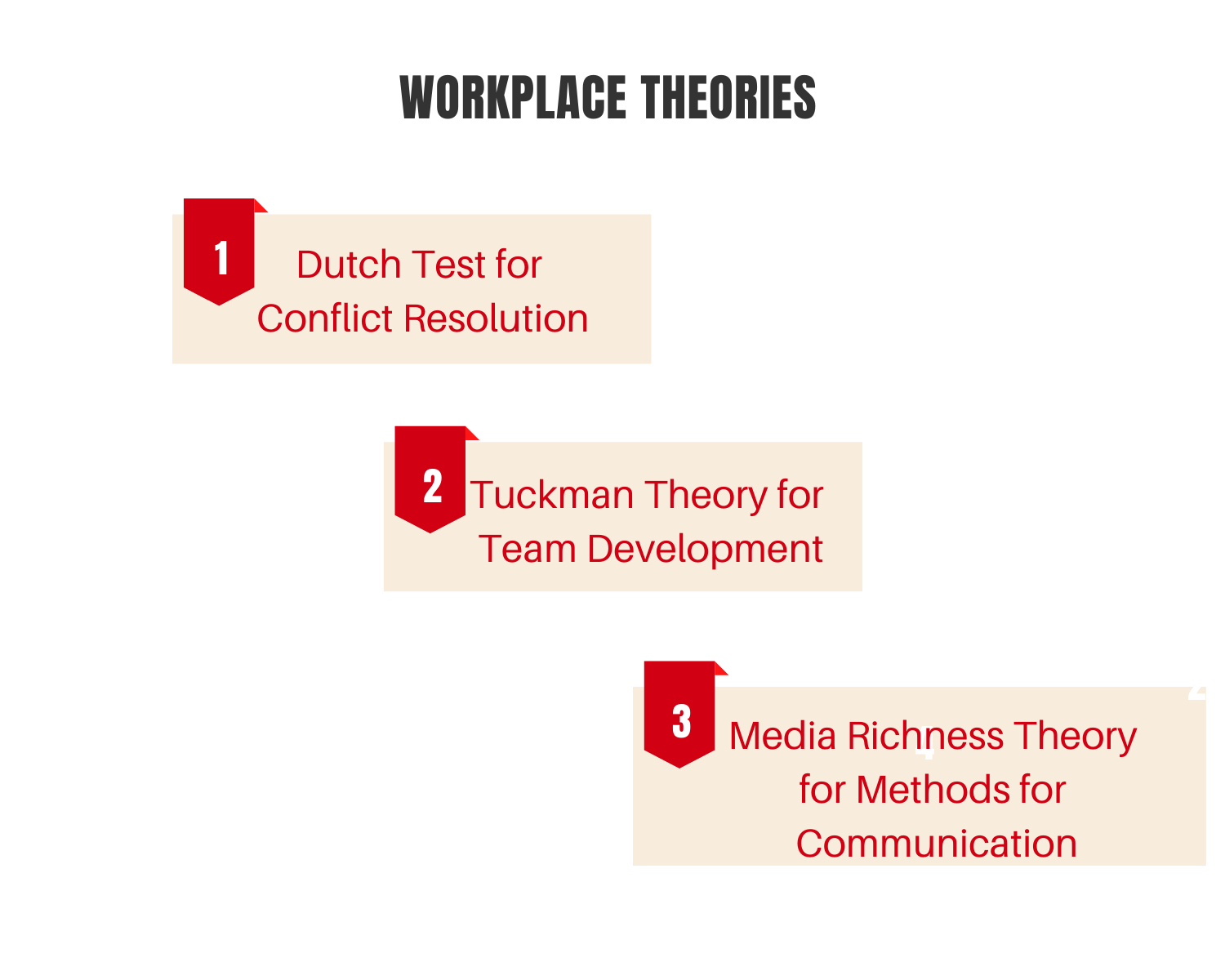 Dutch Test for Conflict Resolution- To measure the conflict in the process of conflict management Dutch Test is being effectively used. The basis for the development of the instruments to assess the strategies of conflict management is provided by this theory (Bond & Haynes, 2014). The problem-solving scale of the theory provides positive and negative integrative conformity during a negotiation in the groups.
Tuckman Theory for Team Development- The theory consists of four steps; Forming, Storming, Norming, and Performing. Forming stage; the team is formed, where the team members are polite and positive, in sort of serious issues or feelings are ignored and people are busy with the daily routine. Storming; initial trust is developed amongst team members, they comfortably challenge and express discontent with each other. Norming; the team members discuss how to fulfill the given goal. Performing; the teams are capable and responsible enough to carry out the given task smoothly.
Media Richness Theory for Methods of Communication- The theory facilitates a better understanding of the optimum methods of communication that are crucial for sharing ideas in a workplace (Shamsudin, Subramaniam & Sri Ramalu, 2014). The theory provides effective tools for language variety, feedback, personal focus and multiple cues for useful interpersonal communication.
2.3.2 Motive of the Study: The motive of the study is to get a proper insight of the various contributors that affect an individual's interpersonal effectiveness. Ways to attain competitive advantages and improving the overall performance potential of own people. Interpersonal techniques to build a mutual relationship which enhances self-esteem while fulfilling the identified needs to achieve desired results together.
2.3.3 Interpersonal Effectiveness – A Relevant Example
During a negotiation between management and trade unions, regarding bonus. The management approved of 150 dollars bonus, stating that they have such instructions from the corporate office. On this, the trade union representative, who was acknowledged for his interpersonal skills, brought up things in a way that he made management admitting the fact that the unit's budget allows them to go up to160 dollars but because of higher instructions they are bound to do so. Firstly, he appreciated the management and asked all the other present employees to join him in giving an applause to their very caring and considerate management. Then he convinced the management of the unit to provide the bonus within the limit set by the management and if they are willing then they can provide a gift of rest of the 10 dollars that their budget allow.
This example depicts the very strong conviction, the presence of mind, calmness, convincing and other interpersonal skills of the trade union representative.
2.4 Essentials of Organizational Effectiveness
2.4.1 Importance of Conflict Management at Workplace
Conflicts in the workplace are inevitable. A conflict takes place when different individuals have varied opinions, thought processes, interests, and are not willing to adjust to each other in the specific situation. Often different personal as well as professional priorities, value systems, status, and personality traits lead to such emotional responses that cause conflicts. Hence, the proactive approach must be opted to address any such underlying issues or taking precautions even before a real conflict takes its place. Conflict at the workplace should never be taken lightly, as its outcome can never be depicted. An effective interpersonal skill can assure a prompt and efficient way of managing the conflicts in order to get optimum efficiency and productivity while maintaining a healthy working environment.
Successful conflict management;
Minimizes interruptions caused due to existing conflicts,
Ensuring a satisfactory resolution that is accepted by all the acting actors,
The person who is skilled in managing the conflicts effectively learns to act in a detached way from all the individuals involved in the conflict. He/she learns to intervene, listen, probe, interview and explicit explanation of the issues of the conflict based on an unbiased self-diagnosis.
It does not only rectify the existing issue but also successfully change the whole tensed situation into a positive one. It facilitates reducing anxiety, negative attitude, low self-esteem, unproductive behavior.
2.4.2 Importance of Effective Communication at Workplace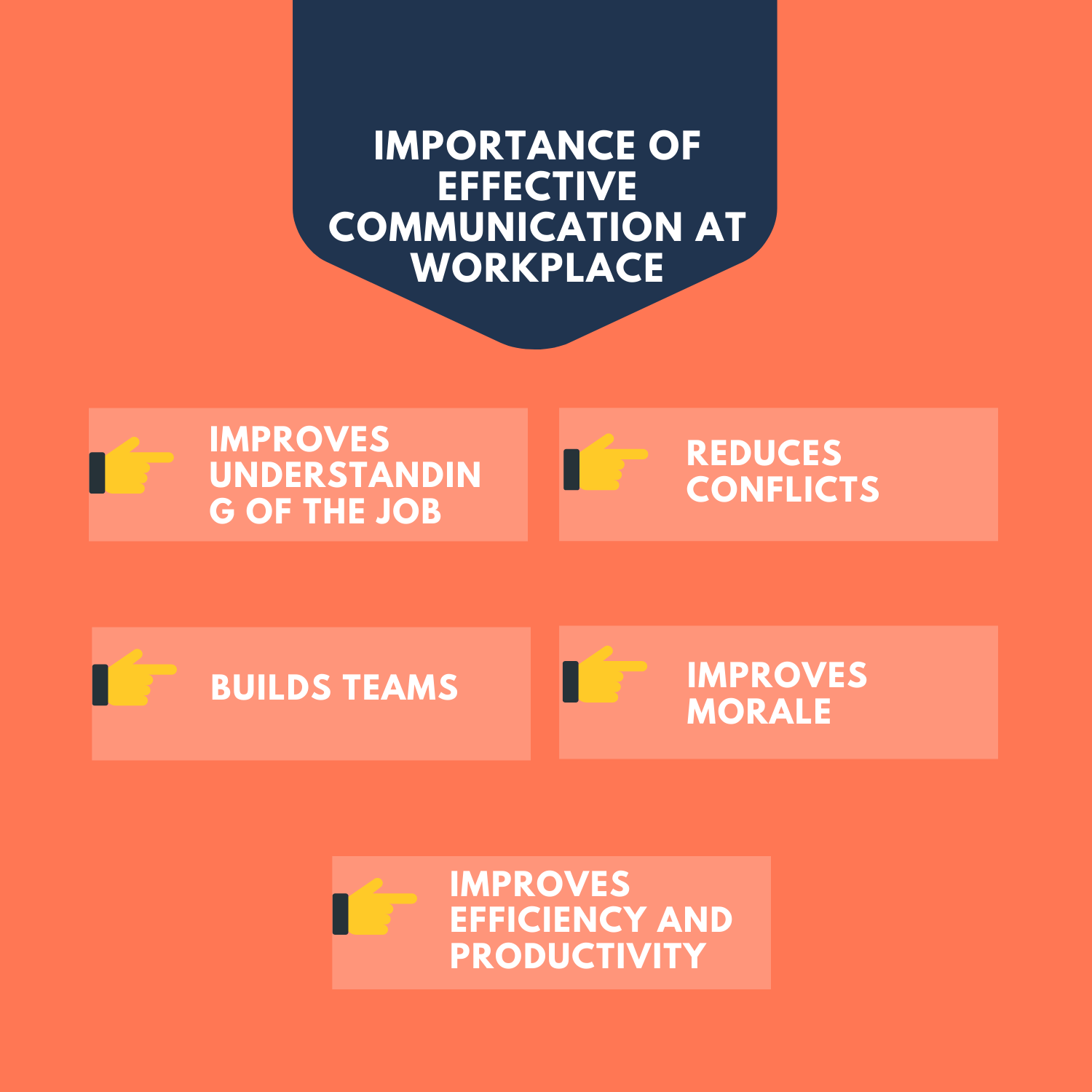 In an organization, effective communication is an imperative tool in achieving optimum productivity and maintaining healthy and, strong working relations at all levels. Companies must understand the importance of strong communication system to avoid misunderstanding arising due to wrong interpretation or miscommunication.
Effective communication fosters a better understanding of the job, reduces conflicts, builds potential teams and improves employees' morale, which helps the companies in improving their efficiency and productivity (Albert & Moskowitz (2013).
2.4.3 Benefits of Building a Cohesive Team
A cohesive team improves the performance and outcome of the task to an unmatched level. When team members, posses a binding bond with the sense of responsibility and understanding of individual's role in the team then it is said to be in cohesion. It is often observed that many companies perform far better even with not having optimum available resources and infrastructure. While some other companies having comparatively better resources and infrastructure are not able to perform that well. This is so because it is the people of the organization and the way they work, as individuals and team. Companies that value its people and understand the importance of cohesive team across the departments ensure to provide every possible guidance, support, and acknowledgment.
When employees work in cohesion, their team spirit ensures they will surely accomplish their common goals in the favor of the company. Cohesion in teams, lead to interdependency amongst the colleagues with greater productivity and they accomplish the work within the stipulated time (DeKay, 2012).
2.5 Effects of Cultural Awareness and Diversity within Organizations
Due to globalization, cultural diversity has become a trend over the past years. To sustain the competition and embark its position in the market, an organization needs to embrace cultural diversity in its work culture. Cultural diversity signifies the presence of different races, languages, ethnicity, religion, and nationality in one community or place.
Impact of cultural diversity can be positive or negative in the workplace. It majorly depends on how the leaders of the organization manage it. Miscommunication, newly created barriers, and dysfunctional behaviors are some of the negative effects of cultural diversity in an organization. However, with proper strategic management more positive effects can be enhanced. As per Dekay (2012) it also promotes understanding of the strengths and weaknesses of the workforce, which can be addressed properly after an open discussion and good interaction.
2.6 Example in Relation to the Crucial Factors of the Workplace
An organization comprises of numerous employees coming from different backgrounds, cultures, value systems, societies, nations etc. Due to which a workplace becomes so diversified and complex that it causes friction amongst the workforce. While through effective interpersonal skills, the issues can be addressed in more appropriate and constructive manner. The diversity in the workplace can be turned into the strength of the organization through effective communication. The issues and conflicts can effectively be addressed through open discussions, regular interactions, efforts to increase sensitivity, training sessions.
3.0 Future Goals and Strategies
3.1 Future Goals: No matter how brilliant a person is in his/her work, if he/she cannot get along well with the other people in the organization, he/she cannot get what he/she actually deserves. Same with the organization, if it cannot treat its people right it can never attain its organizational goal. Fortunately, these are the skills that can be easily worked upon.
Develop an improved and effective communication channel between the employees and management. Giving priority to better interpersonal effectiveness, this will also lead to organizational effectiveness (Shamsudin, Subramaniam & Sri Ramalu, 2014).
Focus on resolving the conflicts and encouraging people to have open discussions in the workplace. As it helps in enhancing the organizational effectiveness through improved interpersonal effectiveness (Ellwardt, Wittek & Wielers, 2012).
3.2 Personal Insight
To attain effective interpersonal effectiveness, I need to
Work on my communication skills with my superiors, peers, and subordinates. This will help me in improving my self-image and relations within the organization.
Ensure that discussions always take place in the planned and structured way within the frame line of the expected outcome.
Work on my negotiating, decision-making skills.
Focus on more on self-awareness, self-management, social awareness, and relationship management.
3.3 SMART framework
Through this framework, the focus can be laid on such target areas through which professional, as well as personal development, can be assured. Three key skills help in achieving interpersonal effectiveness: objective effectiveness, relationship effectiveness, self-respect effectiveness.
4.0 Conclusion
To conclude, interpersonal skills are not confined to an individual rather it impacts the whole organization and its working. To improve the efficiency and break the barriers in the workplace, it is imperative to improve the communication amongst the people. Developing the sense of cooperation, support and working in cohesion is very vital. It is evident that interpersonal skills are the tangible assets, outcome of which can be easily seen in terms of stronger relationships between the people and different departments, improved rapport and credibility, increase in business and productivity. The role of interpersonal skills and how they are in relation to workplace theories and workplace diversity are also discussed at length. This assignment focuses on analyzing the strengths and weaknesses and the ways to improve own ability in terms of an individual and organization. Interpersonal Effectiveness assignments are being prepared by our online management assignment help experts from top universities which let us to provide you a reliable assignment help online service.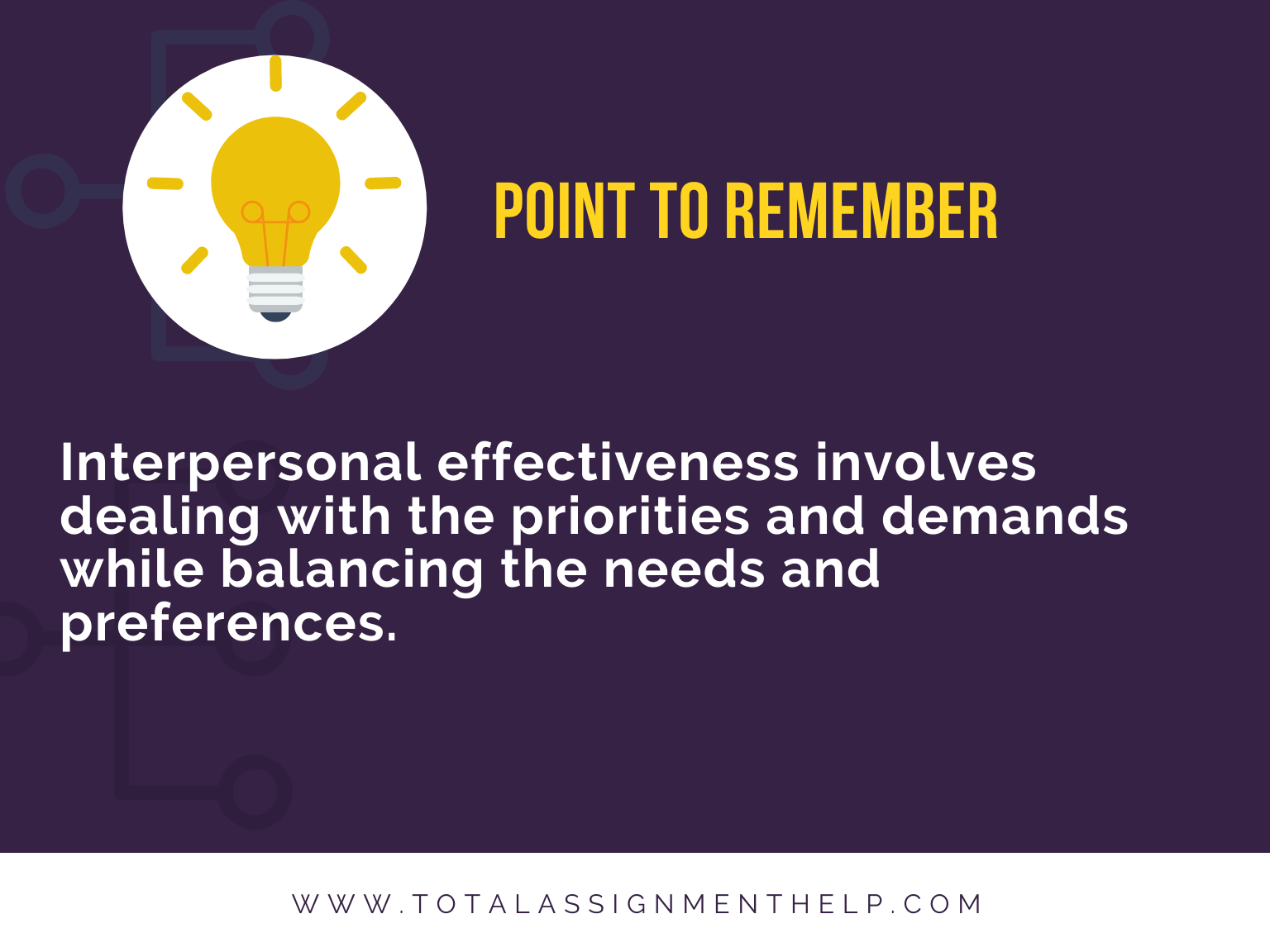 Reference List
DeVito, J. (2009) The interpersonal communication book, Boston, MA: Pearson/Allyn and Bacon
Albert, L. & Moskowitz, D. (2013) "Quarrelsomeness in the workplace: An exploration of the interpersonal construct within the organizational context", Organizational Psychology Review, 4(1), 27-48
DeKay, S. (2012) "Interpersonal Communication in the Workplace: A Largely Unexplored Region", Business Communication Quarterly, 75(4), 449-452
Ellwardt, L., Wittek, R. & Wielers, R. (2012) "Talking About the Boss: Effects of Generalized and Interpersonal Trust on Workplace Gossip", Group & Organization Management, 37(4), 521-549
Shamsudin, F., Subramaniam, C. & Sri Ramalu, S. (2014) "The influence of HR practices and job satisfaction on interpersonal deviance in the workplace", Journal Of Management & Organization, 20(05), 691-709
Bond, M. & Haynes, M. (2014) "Workplace Diversity: A Social-Ecological Framework and Policy Implications", Social Issues And Policy Review, 8(1), 167-201