Management Case Study: The Success of fiid
Question
Task: The 'Never Say Die' Spirit That Sealed This Food Entrepreneur's Success - fiid
Resilience, perseverance and self-belief are the traits that define a true entrepreneur, and Shane Ryan has all these in abundance, which he demonstrated when he overcame two failed attempts to get his vegan food business fiid off the ground. Third time around the 30-year-old Irishman succeeded, and within a year his business was profitable, listed as a supplier with several major supermarkets, and with annual sales of $0.5 million.
Ryan had started his career in the hospitality industry, and it took him all over the world. By the time he was 23 he had worked in seven different countries, and with one of the world's most luxurious hotel companies. As exciting as it was, he realized that a traditional career in hospitality wasn't conducive to the role he really wanted, that of an entrepreneur, with control of his own time and destiny. Shane Ryan says that fiid was born out of a personal pain point - his gruelling work schedule in the hotel industry had taught him the importance of good quality food for his physical and mental wellbeing.
fiid was started as there were people just like Ryan who had a need for healthy, delicious food but these people had no time to prepare it.
Ryan had spotted a gap in a market where healthy and plant-based foods were becoming popular but were not available on the supermarket shelves. Ryan decided to create a range of high-quality, natural plant-based wholefood solutions that were convenient, and represented real value.
His first business attempt (fiid 1.0) failed for a number of reasons, but mainly because it wasn't the right solution for the problem he was trying to solve. Ryan admit that he made an incorrect assumption on how much he could charge for his product "I was just too expensive" he said.
Ryan considered himself to be a good problem solver, so after understanding what caused fiid 1.0 to fail he worked out how to pivot. He formed a partnership with a large food company who could support him. Nine months after closing the kitchen door on fiid 1.0 he launched fiid 2.0 (the second business attempt). Then a few months later disaster struck again, with a second business failure even more heart breaking and frustrating.
"I'd secured three listing with large supermarket chains. This was going to triple the size of the business overnight," says Ryan. "To support this growth, I was moving operations to a larger manufacturer that had also taken a stake in the business, with plans for us to grow it together."
The transition took place over Christmas, but in early January, a week before the launch of the major retail listing, the manufacturer announced that it was pulling out of the arrangement," says Ryan. "I scrambled to find another manufacturing partner but couldn't find the right fit and ended up having to pull out from all our retail listings."
Once again Ryan had to dig deep and pick himself up and pivot again. He resolved to create a much stronger business, fiid3.0, using lessons he had learned along the way.
He says: "The original partnership lacked a contractual agreement. I had been naïve in thinking that our gentleman's agreement held any weight and ultimately paid the price of for it. Ryan worked out that he had gone into partnership with a business that was far too big and didn't really care about the business relationship. "I was too small. That's a mistake I'll never make again."
So, Ryan did his homework and found a smaller manufacturer that was a far better fit for the relationship that he has in place today. Fiidnow sells a range of its products in major supermarket chains.
In the year since its launch the business has achieved sales of $500,000 and is profitable. fiid start-up was entirely bootstrapped. Ryan's is now ready to take the business to the next level of growth. However this is going to require a substantial amount of extra capital.
In addition to running a successful business in terms of sales and profits, Ryan also has a social conscience. When fiid started Ryan decided there were two issues that concerned him; Food waste and Global poverty. He decided to try and make a difference.
Since day one fiid has partnered with Mary's Meals so that every time you buy one of their food bowls, they donate one school meal to a child in the developing world. Mary's Meals now feeds over 1.4 million children in their school every single day.
fiid also tries to be sustainable than normal pre-prepared meal solutions. Their food pouches are better for the environment than traditional plastic pots as the use 70% less plastic and significantly less energy in the production process."
Analyze the above scenario and prepare a management case study report based on the following questions:
Questions:
1. Explain the "Pain point" or problem Shane Ryan identified in this case study? What was the solution that fiidoffered to solve this problem?
2. The case study explains how fiid had to make two pivots before it became successful. Imagine a situation where fiid could not find any supermarkets prepared to stock fiid products. Suggest what pivot Shane Ryan could make to ensure fiid had a winning business model (hint – think distribution channels). Justify your answer.
3. When Fiid was still in the early start-up phase and its products were still unproven explain what validation methods Shane Ryan could have used to test how customers would respond to his products?
4. Explain the Value Proposition that fiidwas based on?
5. Was Shane Ryan an Opportunity-driven or Necessity-driven entrepreneur? Explain your answer.
6. Explain if in your opinion Shane Ryan could be described as a Social Entrepreneur or a Business Entrepreneur? Justify your answer.
Answer
Answer 1
In the case study, Shane Ryan identified the problem associated with a market gap where healthy and plant-based foods, despite becoming popular, were not able to reach the shelves of supermarket chains. With the passage of time, people are becoming more conscious regarding the importance of healthy food, primarily vegan foods that do not include any component abstracted from animals(Marengo, 2020). In addition to that, people are also aspiring for delicious and healthy food without having the time to prepare it. Overall, the problem identified opened the door for an opportunity to capture the untouched market of vegan food reaching supermarket shelves.
Fiid offered a solution based on creating high-quality and natural plant-based wholefood that will be convenient for the targeted audience who aspires for healthy and delicious vegan food that will also represent real value. Shane Ryan, the founder of fid took several steps to ensure that his whole food products reach the shelves of supermarket chains. In addition to that, fiidtried to build partnerships with a manufacturer that would help the company in its cause.
Answer 2
In the context of an entrepreneur, the meaning of pivot is to do something differently or change it (Lecture Slide 6). Now, if a situation would have occurred where fiid was not able to find any supermarket for stocking its products, then Shane Ryan could have ensured a pivot based on distribution channels for achieving a successful business model. Establishing an effective distribution channel would have been cost-efficient for fiid and would have been ensured wider customer reach. In addition to that, distribution channels help inefficient marketing that successfully captures the attention of people(Tarver, 2019). Since the market of plant-based quality foods is not competitive, so it is relatively easy to establish a market share, and without the presence in the supermarket, a distribution channel is the most viable option to ensure success and growth. Fiid being a new company in the market that is trying to establish its name,must ensure customer awareness in its initial stage of business operation. Supermarket shelves are the best way to stock its products, but without finding any supermarket, a distribution channel is the only option to reach the desired customer base.
Answer 3
In the early start-up phase, when fiid's products were still unproven, Shane Ryan could have used the experimental validation method to test the customers' response to fiid products. The experimental validation method would consist of the pitch method, concierge method, A/B testing, pre-ordering.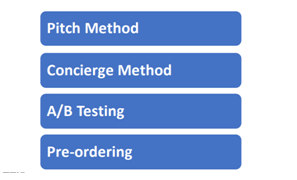 Figure 1: Experimental validation
Source: (lecture slide 6)
In addition to that, the pivot of the business model can help Shane Ryan understand the lacking aspects of its products basedon the negative customer responses. If Ryan felt like avoiding risks, they could have given some free samples to the section of customers that is aspiring for quality vegan foods. The feedback from that section of customers would have played a vital role in terms of deciding whether to go forward with the business operation or not(Info Entrepreneurs, 2019). The appropriate manufacturer could have been easily selected based on the customer's responsibility as well because, in order to remain competitive, there is a need to be customer-centric.
Answer 4
The value proposition of a company indicates how it convinces the potential customers based on the product or services that can add value(Newman, 2018). Fiid was based on the value proposition of the product as the main focus of the company is to create high-quality, delicious, and healthy food for those customers who are looking to be or are already vegans. Fiid, in its initial stage, did not consider price to be a major factor and is solely focused on maintaining the quality of the food and reach the shelves of the supermarket. In the present day scenario, fiid is based on emotional value as well based on its commitment in terms of partnering with Mary's Meals that ensures that for every bowl of food being purchased, one school meal is donated to a child in the developing world. The value proposition of fiid reflects that the company's main sources of value are obtained from cost/price, new market, personalization, and experience (Lecture Slide 3).
Answer 5
Shane Ryan was an Opportunity-driven entrepreneur because he sought to earn money by identifying the market gap that existed in terms of high-quality vegan foods reaching the shelves of the supermarket. This kind of entrepreneur is also known as improvement-driven entrepreneurs(Fu, 2019). Shane Ryan tried to utilize the opportunity that existed in the lack of quality plant-based foods that was becoming popular among people with rising health concerns. The best thing about Shane Ryan was that he did not give up even after two failed attempts in his business and tried to grab all the possible opportunities that existed in securing a significant market share. In addition to that, he saw the opportunity of establishing relationships with manufacturers that can give his business the right amount of push and promotion that is required to achieve success. Overall, Shane Ryan has focused on recognizing opportunity under various circumstances that included his two failed attempts as well.
Answer 6
Entrepreneurship is based on the process of innovating new ways to combine resources as the market value of the combined resources can lead to significant revenue generation. Business entrepreneurs are driven by the motive of making profits by constantly improving the market share, whereas social entrepreneurs are driven by a mission of filling the market gaps left by the market or public sector (Lecture Slide 1). In the given case study, Shane Ryan identified the market gap that existed in terms of the availability of quality plant-based foods on the shelves of the supermarket. He then decided to create high-quality vegan foods that will be the best solution to reach supermarket chains along with it being convenient and offering real value. Therefore, his approach reflects that he is a social entrepreneur who seized the opportunity to earn money by investing in the existing market gaps surrounding plant-based foods. Overall, with the rising awareness among people in terms of the benefits of vegan foods, he created a market portfolio for success.
References
Fu, W. (2019). Spatial mobility and opportunity-driven entrepreneurship: the evidence from China labor-force dynamics survey. The Journal of Technology Transfer, [online] 1(1). Available at: https://link.springer.com/article/10.1007/s10961-019-09746-9#:~:text=Opportunity%2Ddriven%20entrepreneurship%20is%20regarded,2001). [Accessed 30 Jan. 2021]. Info Entrepreneurs (2019).Review your business performance. [online] Infoentrepreneurs.org. Available at: https://www.infoentrepreneurs.org/en/guides/review-your-business-performance/ [Accessed 30 Jan. 2021].
Marengo, K. (2020).Vegan diet: Health benefits, risks, and meal tips. [online] www.medicalnewstoday.com. Available at: https://www.medicalnewstoday.com/articles/149636 [Accessed 30 Jan. 2021].
Tarver, E. (2019). What are some ways to make a distribution channel more efficient? [online] Investopedia. Available at: https://www.investopedia.com/ask/answers/071315/what-are-some-ways-make-distribution-channel-more-efficient.asp [Accessed 30 Jan. 2021].