Marketing Assignment: A Plan For Bentley's Market Expansion In Australia
Question
Task:
This marketing assignment requires students to write a Marketing Plan. It must address the topics related to what was taught in this course on the marketing management within the digitalization of marketing processes. Students must show they understand key concepts, tools and theories, and provide a critical analysis of the brands, competition and expansion by exposing problems and perspectives of marketing management.
Answer
The abstract
This marketing plan build through the current marketing assignment highlights the expansion plan of Bentley in the market of Australia. It has been identified that the market of Australia has the potential for the company towards growth and success due to the increasing demand for luxurious cars and SUVs. The situation analysis has been highly considered for meeting the marketing objectives along with an effective implementation and evaluation plan.
Introduction
The Background 
Bentley Motors Limited is a British marketer and manufacturer of luxury cars and SUVs. In addition, it is a subsidiary of the Volkswagen Group founded in the business year 1919, and headquartered in England. It primarily offers its products and services in the market UK and has accounted for significant profits with its wide product portfolio range. 
The Purpose 
The purpose of this marketing plan is to offer Bentley an effective expansion strategy for its luxury cars and SUVs product range in the market of Australia in order to accomplish growth and competitiveness.
The Scope 
The scope of this marketing plan is to exploit the potential opportunities and comply with the latest market trend in terms of luxury cars and SUVs within the context of Australia for the company Bentley.
The Method of investigation
As put forward by De Pelsmacker et al. (2018), the secondary market research method integrates collecting data or information from secondary sources. Based on such context, the method of investigation undertaken to analyze the potential opportunities and attributes in the market of Australia is secondary market research data by using academic journals, magazines, newspapers, statistical reports, and data indicated by the government portals. 
Situation Analysis
Market Review 
Trends overview
Based on the vehicle sales, it has been well indicated by Statista.com (2021), by the business year 2025, vehicle unit sales share is expected to reach 658.32K vehicles with US$18,579.8 million projected market volume. In addition, Zhou, (2020) also suggested that despite the slump in new car sales in Australia due to the covid-19 pandemic, the luxury brands sector has been thriving. This means that Australia is a potential market for sales of luxury cars and SUVs and is expected to rise in the forthcoming years.
Market segments
Based on the below figure, the present market segment for large SUVs is 50.79 (in thousand vehicles) and for luxury cars 1.17 (in thousand vehicles) in the business year 2021. This means that the luxury car market segments including large SUVs have the potential to grow in the forthcoming years in the market of Australia.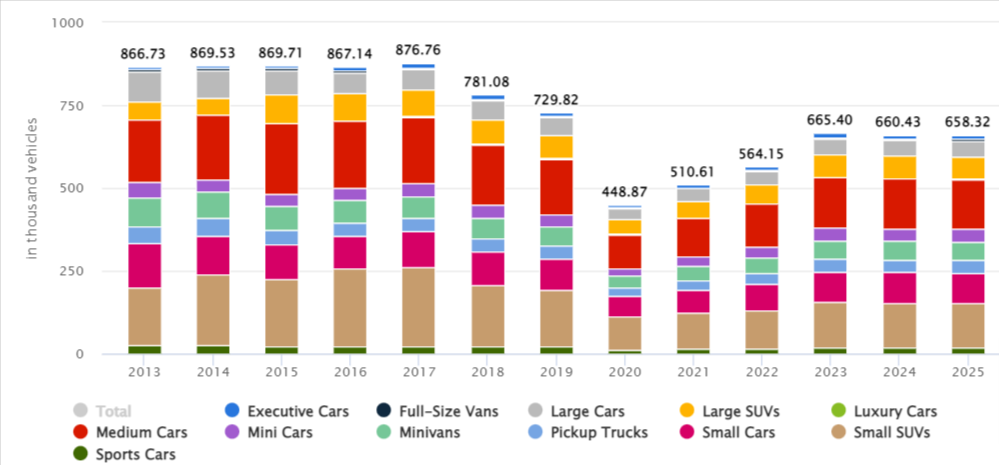 Fig: 1 (Sales of vehicles by segment)
Source: (Statista.com, 2021)
Target market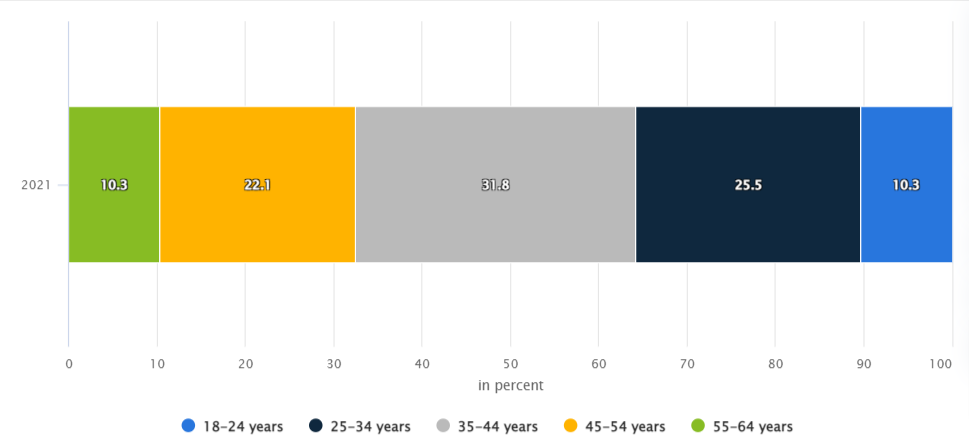 Fig: 2 (Potential new car buyers by age in the market of Australia)
Source: (Statista.com, 2021)
In terms of the above figure, it has been comprehended that the target market for SUVs and luxury car sales are the customers between the ages of 35-44 years followed by 45-54 years. Other than that, Budgetdirect.com.au, (2021) further indicated that the market of SUVs and luxury cars has experienced potential growth in the year 2020 by 45.5%. This means that the potential for companies like Bentley is relatively high to boost sales volume and experience profitability.
| | |
| --- | --- |
| Demographic segmentation | Details |
| Age  | 35-44 years |
| Life stage | Professionals, Bachelors, Married couples, Divorced |
| Gender | Both men and women |
| Income | Middle- and high-level-income group |
| Race & culture | All |
| Generation | Millennials, Gen Z, and X |
Competitive Review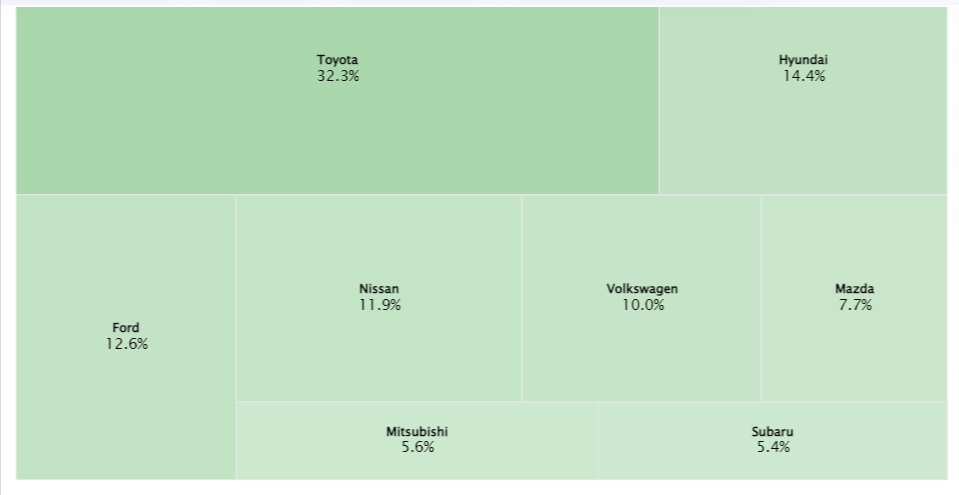 Fig: 3 (Top competitors in Austalias's vehicle market)
Source: (Statista.com, 2021)
With regards to the above figure, it has been comprehended that Toyota, Ford, and Nissan are the major competitors of Bentley in the market of Australia. As Bentley is under the Volkswagen group, it has been analysed that the company has only a 10% market share in Australia, and the potential of the Bentley brand to capitalise on its luxury cars and SUVs in this market is immense and significant. Based on such context, Porter's Five forces have been applied in the luxury cars and SUVs industry in Australia that indicated the following aspects:
The threat of new market players: It is low in Australia as it requires huge investment and efforts to manufacture a luxury product range.
The threat of substitute products: It is medium as brands like Rolls-Royce and Mercedes-Benz possess a potential threat of substitution, (Yun et al. 2020).
Power of customers: It is low as customers are highly inclined towards quality and luxury products at present.
Power of suppliers: It is low as there is a large number of suppliers.
Industry rivalry: It is high due to increasing competitiveness from top brands such as Toyota, Rolls-Royce, and others.
Product or Service Review 
In terms of products range, Bentley offers Flying spur, Mulsanne, Continental GT, and Bentayga luxury cars and SUVs.
Fig: 4 (Bentley's vehicle sales in the year 2020 globally)
Source: (Statista.com, 2021)
It has been analysed that Bentley's vehicle sales have declined by 3% year-on-year basis in 2020 in global terms. This means that the need to successfully launch and market its product range in Australia can offer potential opportunities for the company along with profitability and competitiveness. As the market of Australia has not been offered luxury vehicles by Bentley, it can easily capture the market due to the presence of its parent organisation Volkswagen Group.
SWOT analysis of luxury cars and SUVs industry in Australia
Strengths: 
Strong awareness among the customers as they are looking for advanced and luxurious vehicle models;
Superior product and services quality for increasing market share and customer loyalty;
Successful market track record for launching new products in the market of Australia due to the increased demands from local customers, (Cheah et al. 2020);
The scope for entering into the market is immense but requires significant investment into R&D as customers are highly inclined towards digitization and innovation within products and service ranges.
Weaknesses:
Lack of workforce diversity can affect the potential of success for companies like Bentley in the Australian market;
Customer dissatisfaction and negative reviews on online platforms have the potential to destroy the reputation and brand image of brands, (Mortimore, 2019).
Opportunities:
Development in AI to better predict customer demand, offer better recommendations, and cater to wider market segments;
E-commerce and social-media-oriented business models can assist to enhance suppliers and logistics relations as well as reduce the cost of entering a new market. Additionally, marketing based on the purchase behaviour and data can be capitalised for boosting sales volume, (Mlody and Stepien, 2020).
Threats:
High level of competition in the market of Australia in terms of luxury cars and SUVs;
The increasing bargaining power of buyers is putting downward pressure on prices, (Teese, 2020).
Growth opportunities
PLC analysis
As put forward by Opresnik (2018), marketing needs to be well synced with product life cycle stages. Likewise, the product life cycle stages for Bentley's luxury cars and SUVs are as follows:
Introduction: In this stage, the profits are highly linked with public visibility. The raw materials, recycled materials, and components are entered into the factory and completed cars are driven out or transported to respective owners.
Growth: In this stage, the issues and problems faced in the introduction stage have to be eliminated for increasing the customer base and to experience potential growth.
Maturity: In this stage, the cars can be used for pleasure, work, and business by consuming diesel, petrol, or electricity while offering service and repairing as required. The product reaches market saturation and reflects intense competition.
Decline: This is the last stage when the production line is closed and marketing moves are minimal.
BCG Box
Market Share High
Market Share Low
Market Growth High
STARProfit potential with its wider product range.Requires investment to growIncreasing market share in the luxury cars and SUVs in terms of the Flying Spur, Mulsanne, Continental GT, and Bentayga.
QUESTIONMore SUVs and MPVs
Market Growth Low
CASH COWSSmall carsElectric and hybrid cars
DOGDeclining markets in Australia
Based on the above analysis, it can be stated that the need for investment by Bentley in the product range of luxury cars and SUVs including Flying spur, Mulsanne, Continental GT, and Bentayga has a high growth rate in terms of market and market share in Australia.
Ansoff Matrix
New market
Market developmentBentley with its product range Flying spur, Mulsanne, Continental GT and Bentayga.
Diversification
Current market
Market penetration
Product development
Current products
New products
As per the above table, it can be stated that Bentley can leverage market development strategy to create new markets and channels for its existing products including Flying spur, Mulsanne, Continental GT, and Bentayga. In addition, Fotiadis et al. (2018) indicated that market development strategy can assist the company to attract potential customers in new markets with its current product lines. Likewise, the company can further tie up with complementary companies to drive sales of its existing products and attract potential and target customers in Australia.
Goals and Objectives
Based on the long-term aspect, Bentley's mission, vision, and goal of the company should be the following in order to boost its sales volume and attract wider market share in Australia.
Mission
Bentley will lead the way to the future of mobility by enhancing lives in the global world with the most responsible and safest ways of moving people. 
Vision
Exceed customer's expectations by creating "always better cars".
Goal
By committing to quality, respect for the planet, and constant innovation, Bentley aims to exceed the expectations of people.
Sales objectives
To boost sales unit by 3,000,000 vehicles and US$10,000 by the business year 2025.
Specific time table and expected profit
Year 1
Year 2
Year 3
Year 4
Profit
US$3,000
US$7,000
US$9,000
US$10,000
Marketing objectives
Achieve 55% brand awareness by Q2 of Year 1 of the launch

Achieve 30% trial rate in Year 1 and Year 2

Increase potential customers' buying rate by 35%
Strategies
As suggested by Girton (2018), in order to accomplish strategic growth and marketing objectives, the need to consider the major elements of the marketing mix is imperative at present. Based on such context, Bentley must consider the following elements for accomplishing its marketing objectives in the market of Australia.
Product: Bentley is famous for its exclusive and appealing designs, meets users' mobility requirements, offers fuel efficiency, comfortability as well as offers safety. However, it needs to integrate customizing options with unique car accessories for its luxurious cars.
Pricing: As Bentley sells only luxurious cars and SUVs, it is essential for the company to comprehend the competitive pricing attributes to cater to wider market segments.
Place/Distribution: By embracing digitization and technology, Bentley can offer both online and offline distribution strategies for ease of customers and increase brand awareness.
Promotion: The need to consider both online and offline promotional tactics including advertisements, digital campaigns, BTL branding in public places and malls can assist to increase direct selling and higher customer engagement, (Dimitrescu et al. 2018).
People: By employing local personnel and engaging existing employees of Bentley, the company can eliminate labour shortages or skilled workforce by effective training and development activities to empower them and experience profitability.
Process: The need to focus on efficiency and effectiveness in the manufacturing and operational areas of Bentley is highly required along with a sustainable manufacturing process in order to enhance its reputation and identity.
Physical Evidence/Packaging: Bentley has a remarkable logo and is prominent internationally, (Loxton et al. 2020). This means that the brand has strong and reputed physical evidence in the global market.
Positioning: The focus on luxurious cars and SUVs is essential along with the ability to attract potential customers in order to gain competitiveness and attract wider market share irrespective of price sensitivity.
Action Plan and Implementation
| | | | |
| --- | --- | --- | --- |
| Plans | Timeframe | Projected budget | Accountability |
| Online marketing | 3 years | US$ 30,000 | Marketing manager |
| Offline marketing | 1 year | US$ 10,000 | Marketing manager |
| Tie-up with complementary partners  | 1 year | US$ 10,000 | Project and marketing manager |
Evaluation
It has been well suggested by Kunz et al. (2020), evaluating a marketing plan is essential to comprehend whether it is helping to ensure the success of the company growth plan, financial capabilities and delivering best possible results. Likewise, Bentley must focus on the following aspects for measuring the effectiveness of the marketing plan.
Conclusions
In conclusion, it can be stated that the Australian luxury cars and SUVs have the potential to enhance the growth and financial capabilities of Bentley through effective marketing tactics and expansion irrespective of the aggressive competition and threats.
Bibliography
Budgetdirect.com.au. 2021. Latest Australian car sale statistics from Budget Direct. [online] Available at: [Accessed 29 November 2021].
Carlier, M., 2021. Bentley: annual sales 2020 | Statista. [online] Statista. Available at: [Accessed 29 November 2021].
Cheah, I., Shimul, A.S. and Ming Man, M.H., 2020. Young consumer's attitude toward local versus foreign luxury brands. Journal of Global Fashion Marketing, 11(4), pp.397-412.
De Pelsmacker, P., Van Tilburg, S. and Holthof, C., 2018. Digital marketing strategies, online reviews and hotel performance. International Journal of Hospitality Management, 72, pp.47-55.
Dimitrescu, A., Babis, C., Alecusan, A.M., Chivu, O. and Faier, A.M., 2018. Management of a marketing plan. Fiability & Durability, 1, pp.279-285.
Fotiadis, A., Mombeuil, C. and Valek, N.S., 2018. Designing and implementing a marketing plan. In The Emerald Handbook of Entrepreneurship in Tourism, Travel and Hospitality. Emerald Publishing Limited.
Girton, C., 2018. Creating a marketing plan with a marketing team of one.
Guo, B., Fan, R., Huang, C.W., Ma, F., Li, Z., Liu, Q., Liu, P. and He, W., 2018. The best marketing plan of photographing for money deduced by extensible mind mapping. In ITM web of conferences (Vol. 17, p. 03003). EDP Sciences.
Kunz, J., May, S. and Schmidt, H.J., 2020. Sustainable luxury: current status and perspectives for future research. Marketing assignment Business Research, 13(2), pp.541-601.
Loxton, M., Truskett, R., Scarf, B., Sindone, L., Baldry, G. and Zhao, Y., 2020. Consumer behaviour during crises: preliminary research on how coronavirus has manifested consumer panic buying, herd mentality, changing discretionary spending and the role of the media in influencing behaviour. Journal of risk and financial management, 13(8), p.166.
Mlody, M. and Stepien, B., 2020. Principles of reshoring development in luxury goods sector. International Journal of Management and Economics, 56(2), pp.140-158.
Mortimore, A., 2019, March. A road test of the luxury car tax concession: will it influence demand for low-carbon vehicles?. In Australian Tax Forum (Vol. 34, No. 1, pp. 31-63).
Opresnik, M.O., 2018, July. Effective Social Media Marketing Planning–How to Develop a Digital Marketing Plan. In International Conference on Social Computing and Social Media (pp. 333-341). Springer, Cham.
Statista.com. 2021. Passenger Cars - Australia | Statista Market Forecast. [online] Available at: [Accessed 29 November 2021].
Teese, C., 2020. International affairs: Australia is not safe in the borderless globalised world. News Weekly, (3065), pp.18-19.
Yun, J.J., Zhao, X., Wu, J., Yi, J.C., Park, K. and Jung, W., 2020. Business model, open innovation, and sustainability in car sharing industry—Comparing three economies. Sustainability, 12(5), p.1883.
Zhou, N., 2020. New car sales in Australia slump but luxury brands buck trend during coronavirus pandemic. [online] the Guardian. Available at: [Accessed 29 November 2021].