Microsoft Band Case Study Analysis
Question
Task:
Case Study: You have been asked to analyse a realistic business and through systematic fact finding and documentation identify operational issues within that business.
In this assignment you will be playing the role of a Business Analyst who has been selected by the top management of Microsoft to analyse the now defunct product (www.microsoft.com/microsoftband). Microsoft Band was a mobile device offered by Microsoft that is intended to support people in pursuing a healthy lifestyle and can be combined with the Microsoft Health service. Being aware that Microsoft Band was operating in a highly dynamic environment, with strong competitors such as Fitbit and Samsung Gear, top management have given you the task of preparing a business report to investigate the possible re-introduction of this product. which includes a model of Microsoft Band's previous business system, a strategy analysis and stakeholder analysis, and a SWOT analysis.
In particular, Microsoft Band is interested in identifying possible opportunities and threats for the company and a roadmap for how possible problems can be addressed, particularly in the emerging mobile health sector (also known as mHealth). In essence, Microsoft is interested in why it failed and can it be resurrected. You have already found several interesting websites and articles that will help you with completing this assignment. Here is a list of the material you have found so far:
https://www.microsoft.com/microsoft-health
http://bits.blogs.nytimes.com/2014/11/02/microsofts-new-fitness-tracking-device-is-awelcome-surprise/
https://www.pwc.com/us/en/health-industries/top-health-industry-issues/assets/pwc-hriwearable-devices.pdf
https://www.theverge.com/circuitbreaker/2016/10/3/13152590/microsoft-banddiscontinued
In this activity students will develop the ability to gather and record information, document systems and detail business requirements. They will then convey this clearly in a well presented and articulate manner.
Answer
Executive Summary: Microsoft is a leader when it comes to market share and has a strong market share. However, when it comes to item like fitness band it could not taste success owing to a heavily packed up competitive environment. In this report, the major emphasis is on the Microsoft fitness band and the business model, strategy, stakeholder analysis and SWOT analysis has been undertaken. The same has been done to ascertain the position. At the end the steps to be taken has been clearly defined.
Objectives: Microsoft has a strong stability in the market and has a great market share. The main objective of this report is to shed light on the defunct product that is the Microsoft band. The Microsoft band was introduced so that it can help people in supporting a healthy lifestyle. However, the band operated in an environment that is highly dynamic in nature. Strong competition was observed from the rivals such as Fitbit and Samsung gear. The main objective of the report is to shed light on the business model and elaborate on business system, SWOT analysis.
Also Read: Apple Case Study - SWOT & PESTLE Analysis
System modelling: The modelling system explains a defined set of elements that determine abstract operation of functional nature that are related to the application (band). The report will eventually implemented on more software programs that are being executed. The Microsoft band is scale dependent and the application is invariant in need to the requirement. The application is used for various purposes and activity and has a strong blueprint (Demil & Lecoq, 2010).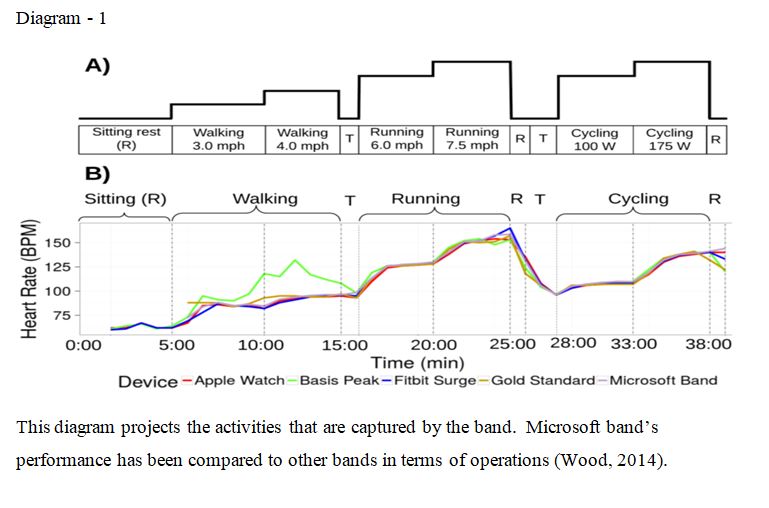 Microsoft band helps in promoting a healthy life by providing actionable looks into the physical activity that is being undertaken. This provides an insight to the operation and benefits the knowledge of overall health. The band helps establish step counts, workouts and activities which can be monitored with ease on the web dashboard (Microsoft, 2018).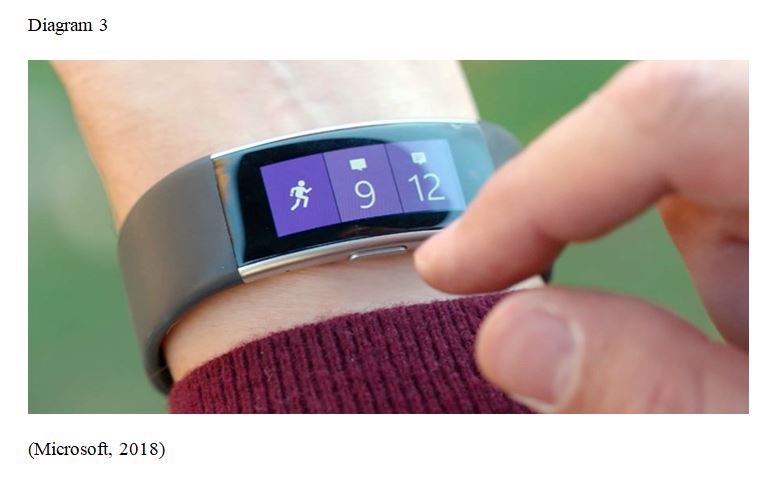 Microsoft band is easy in terms of operations. It provides easy and simple understanding on the graphs, charts and data that are required to know the current, as well as the changing needs in terms of fitness (PWC, 2017).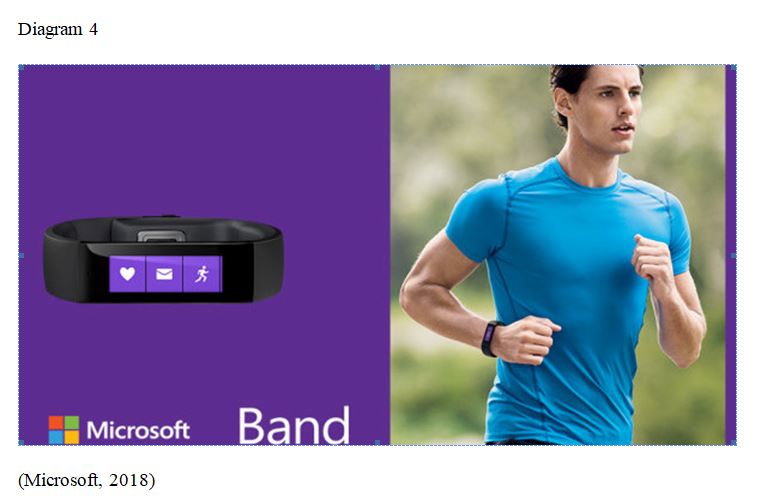 The Microsoft band utilizes the motion tracker of the phone to consider the daily steps and the calories that are burned. It helps to get an insight into the actions and the activity that is being undertaken. It leads to a comparison with other people too (Microsoft, 2018).
Analysis of stakeholders: Microsoft band stakeholders are different interest groups who contribute regarding the project during its life and therefore, deliver various types of details from the project. The project manager must be able to ensure consumer interest is retained (Harrison, 2010).
The four main types of stakeholders are a project manager, customers, managers, and project team members. The customer is the main stakeholder for any project or products undertaking. Customer may contribute overall project data, progress reports, etc (Harrison, 2010). They are the main interim reporters for the project. The project manager depend on data to assist in each stage of the project from resource management, project tracking, planning, and producing results for other stakeholders (Douma & Hein, 2013). Hence, he will be familiar with all in0built project tables for evaluation of data and reports for printed results. Thirdly, the project team member is that stakeholder engaged in completing work on a project. For instance, this can be in undertaking one or more jobs in managing a project budget or pursuing a particular project role like management of variances. Hence, he or she may require information to depict for instance project phases, assigned jobs, variances, and costs. They may also obtain access to read copies of main project file to facilitate access to reports, tables, and views, or may be sent filtered information of Gantt Chart in read-only accessibility (PWC, 2017). Fourthly, other managers may also be engaged in managing or providing project resources that may include external service providers or subcontractors (Doz & Kosonen, 2010). Further, read-only files from the full project may be offered to depict, for instance, the Gantt chart filtered in order to reflect tasks undertaken by a particular resource. Besides, such information can also be exported to Outlook or Microsoft Excel

Strategy evaluation:The band of Microsoft pursues a massive competition in fitness, wearables, and equipment's industry. The technology of wearables is the best as it witnesses enormous growth in the entire market. Further, the reason behind its growth is because of technological innovation, enhancing the consciousness of people about their health, etc. The significance of the industry can be ascertained through the fact that both small and big companies have developed an interest in such wearable technology (Connelley, 2012). Moreover, the private market customer reflects that they are keen on items like fitness, smart glasses, and health trackers. This may also be smart fashion or smart jewellery for the consumers. Nonetheless, the electronic industry of wearable's was enhancing on a very fast speed because of the fact that they were pursuing a net worth of 2.7 billion in the year 2012. Besides, it was expected that the net worth of wearable industry would even surpass the figure of eight billion until the year 2018. Therefore, it can be clearly observed how stiff competition has facilitated in development of more and more products worldwide (Microsoft, 2018). Further, Microsoft band being one such product is giving strict competition to other companies in this scenario.
SWOT Analysis
Strengths
Technologically advanced: Microsoft band can benefit from Microsoft as it considered a catalyst in the technological world because it prioritizes optimization and innovation through development and powerful research.
Reputed brand: Microsoft is one of the luckiest 100 MNC's that operates through regional subsidiaries to reduce cultural differences in more than hundred countries. It is a leader in software and hardware products and services as it concentrates on manufacturing, licensing, supporting and marketing worldwide items. This makes the band to have a leading advantage
Weaknesses
Straggling in innovation: Microsoft's band customers complain that the company upgrades its products but there is nothing innovative in the same. Besides, Samsung is far better in terms of the operating system when it comes to innovation.
Legal issues: The company is a defendant in several unsolved matters like manufacture, product design, and performance liability issues associated with intellectual property rights, employment, or contract. This has impacted the goodwill of the band.
Opportunities
Smartphones demand: Microsoft can easily capitalize the growing demand for smartphones that is the best opportunity in both developed and developing countries. With it, it can penetrate into the band arena fearlessly and capture market.
Alteration to blade and razor model: Instead of providing expensive software, Microsoft can operate on razor and blade model to tackle illegal use of their software like an operating system that is the biggest sources of revenue for it. Further, the presence of band will supplement the growth (David, 2009).
Threats
Rapid changes in technology: The technology world is constantly changing with the changing environment and companies are ending up terminating their own offerings before competition kills it. There is a strong competition from other companies (David, 2009).
Competitive: In relation to software market, the same is highly competitive in nature that can influence the performance of a company. It faces enormous competition in all its sectors and its major competitors in windows live services and software comprise of Yahoo, Google, and Apple. Further, its internet explorer services also encounter massive competition from browsers framed by Mozilla, Opera, Chrome, etc.
Identification of problems: Wearable technologies have not been embraced by customers in huge numbers but they are still interested. Moreover, technology companies seeking to exploit such interest must establish affordable items of greater value for both healthcare partners and users. Further, many consumers do not pay much for wearable devices and instead, they would like to be paid to utilize them, and insurers offering incentives may obtain traction (Goodstein, 2011). Simple social tactics may not work for health wearables but some consumers are keen on sharing health information with family and friends. Therefore, social media tactics for health wearables must be intelligent and engaging in order to succeed.
Next steps: As per the overall discussion and strategy it can be commented that Microsoft band can ensure its place in the market with a strong and flawless motion. It needs to provide strong customer service and speedy redressal of any problem whenever it arises. Moreover, it needs to provide an update at every possible time to provide a fluent service.
Conclusion: Microsoft band is a brand leader in the technology of smart wearables as it has various features that make it attractive and useful for users. For instance, sensors can be connected to any smartphones to utilize the same. It also assists help in fitness by creating an alarm in a digital clock so that people can also access maps and emails too. With such duality attributes and lifestyle parameter, the product is growing very fast in its overall market area. Nonetheless, the band is like an innovative technology that is loved by all people as they are conscious about their fitness and health.
References
Connelley, T 2012, Aspects of leadership, Ethics, law and Spirituality, Marines Corps University Press
Doz, Y.L & Kosonen, M 2010, 'Embedding strategic agility', Long range planning vol. 43, pp. 370-382
Demil, B & Lecoq, X 2010, 'Business model evolution: In the search for dynamic consistency', Long range planning vol. 43, pp. 227-246
David, F.R 2009, Strategic Management: Concept & Cases, NJ: Pearson Prentice Hall
Douma, S & Hein, S 2013, Economic Approaches to Organizations, Oxford university Press.
Goodstein, E 2011, Ethics and Economics, Economics and the Environment, Wiley
Harrison, W & Colle, D 2010, Stakeholder Theory, State of the Art, Cambridge University Press
Microsoft 2018, Microsoft band profile, viewed 26 March 2018 https://www.microsoft.com/en-us/microsoft-health?rtc=1
PWC 2017, Healthy wearable's, viewed 26 March 2018 https://www.pwc.com/us/en/health-industries/top-health-industry-issues/assets/pwc-hri-wearable-devices.pdf
Wood, M 2014, Microsoft band is a welcome surprise in the wearable market, viewed 26 March 2018 https://bits.blogs.nytimes.com/2014/11/02/microsofts-new-fitness-tracking-device-is-a-welcome-surprise/