Risk Analysis Assignment: Investigating The Case Scenario Of Abc Fitness Gym
Question
Task: The assignment involves you producing a comprehensive risk report for ABC Fitness Gym given a particular scenario as below. You will be required to offer professional views based on a well-established research.

Technical Risk Analysis
Consider you have been hired by the ABC Fitness Gym to analyse the technology environment and conduct a technical risk analysis. You are to prepare a management report applying everything you learnt in the subject. The report should include at a minimum:
An Executive Summary at the beginning of the report which provides a clear statement of the technology project that is being assessed, and an overview of your recommendations to management as to the merits of the project based on your risk assessment.
A risk assessment based on assets, threats, vulnerabilities and consequences derived from an IT control framework and any existing industry risk recommendations for the project. Identify and discuss the key threats. What could be done to mitigate the risks and their impact on the organisation?
Provide a brief summary of the protection mechanisms you would employ whether they are people, culture or technology.
Identify any gaps which you believe require further analysis and offer a rationale as to why.
The ABC Fitness Gym 
The ABC Fitness gym was started by its owner in 1997. When the owner opened the gym, the owner had a small premise and only had capacity for less than 20 members. Later the owner acquired new premises and expanded the gym. The owner now employs 50 full?time members of staff and 150 part?time instructors. The owner has also increased customer's membership capacity and can now offer membership deals to organizations. To run and maintain the ABC business, the following detailed system specification was used and created various IT systems. 
Members 
The gym now has two categories of member; those who are employees of organizations that have paid a corporate fee (corporate employee members) and individual members. Members in both categories pay an annual subscription, but corporate employee members get a reduced rate. The subscription rates are revised at the beginning of January each year. The corporate fee payable by employer organizations is also revised every January.
Employees 
Each employee is employed by a particular gym department and the gym needs to know which department the employee has worked for in the past.
Potential new members often ask to see the gym facilities before committing themselves to joining. They are booked into gym tours, each tour being conducted by a gym employee. A tour is limited to a maximum of 6 potential members and lasts approximately one hour. 
Use of gym equipment 
The gym equipment falls into basic categories: 
1) Weights machines, which exercise specific muscle groups by requiring users to do work against weights. This type of exercise is generally anaerobic. Users aim to repeat the exercise fifteen times at a certain weight. 
2) Cardiovascular machines, such as exercise bikes and power joggers. After the first few minutes, these machines give aerobic benefits. The machines are all electronically controlled and allow the user to select different programmes and standards of difficulty.
Equipment Maintenance 
The gym has one or two of each of the most popular types of weights machine. It has a row of ten jogging machines and several exercise bikes and rowing machines.
There are a number of specialist companies who manufacture gym equipment and each company must be registered with its trade association. The gym has bought machines from several of them. A machine type is known by a manufacturer's name and manufacturer's model number. Spare parts also have made and model numbers. Some of the spares can be fitted to several different machine types. 
The owner of the company has provided the following mission statement for the new company. 
"We aim to provide an improved service through our IT Systems for our customers by: 
Being able to process membership renewal in a timely fashion 
Increase member retention 
Being able to process new members in a timely fashion 
Ensuring all health and safety requirements are met when recruiting new members 
Maintaining all equipment to a high standard 
Providing a high level of staffing with the requisite skills
Providing state of the art equipment as it comes on the market 
Competing with other gyms by ironing out weaknesses and offering a more personal and speedy service 
Being well informed of fluctuations in the market 
The clients details must be maintained with private and confidentially
The dietary requirements for various types of clients must be maintained with appropriate progress
Latest hardware and software used to maintain the every data in the organization such as Network, Computers, Machines, Database, Web Servers, OS and so on
Time to time must have back up of the data and etc.
The systems and computer work stations are safe and secure to use
Answer
Executive summary
The study of risk analysis assignment preliminary focuses on the case scenario of ABC Fitness Gym, where it has been determined about the technical risks that have the probabilities to occur. Based on the issues identified, relevant recommendations are also provided like implementing IT control framework, proper dietary plan as per the requirements of the customers, implementation of health and safety measures to ensure about the reduction of fatal injuries at the place. It has also been stated about being active towards complying with the well-informed fluctuations of the market. These strategies provided in this risk analysis assignment might be effective for future benefit of the customers.
Introduction
The concept of risk analysis illustrated in this risk analysis assignment can be stated as the way through which different risk factors can be identified and assessed that has the probabilities to lay a negative impact on business. Technical risk analysis is also effective for helping and guiding management for effective decision making. With the help of risk assessment matrix, the level of risk and its category under likelihood can be used as a simple mechanism through which visibility of the risk can be increased. Additionally, the study would delineate about the risk management analysis apropos to ABC Fitness Gym, where it would be mentioned about assets, vulnerabilities, threats and other consequences. Along with this, it would also be determined about the protection mechanism to mitigate the risks impacting the company. 
Risk assessment matrix
The importance of Information Technology (IT) has caught the attention of companies like ABC Fitness Gym towards establishment and delivery of appropriate services for customer satisfaction. With the help of IT Control Framework, such companies are also able to ensure about the perfection of internal controls for effective operations (Pence et al., 2019). The increasing complexities in the IT setup have resulted in increasing the attention of the companies towards maintaining their IT environment. With IT advancements, different regulations have been emanating to gain momentum in the IT environment in recent years. It can also be referred as a trend where, with the help of advanced IT services and products, the organizations can yield higher efficiencies and outcome making the companies get focuses towards the value proposition and the products and services delivered to the customers from companies like ABC Fitness Gym. From the under laid IT control framework, assets, threats, vulnerabilities and its consequences can be analysed in this risk analysis assignment: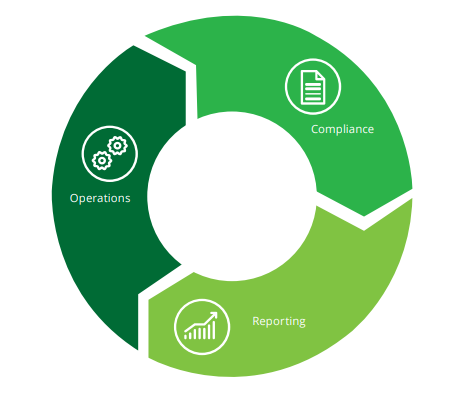 Figure 1: Objectives to be met through the implementation of IT Control Framework
(Source: Bui et al., 2017)
IT control framework:
Through this framework illustrated in this risk analysis assignment, internal controls can be handled to increase the reliability of the services, efficacy and effectiveness of operations and complying with the laws and regulations. Under laid are the factors in relation to ABC Fitness Gym:
Assets
For ABC Fitness Gym, majorly the weights machine and cardiovascular machines are installed for the members. The former machines were useful for exercise for specific muscles and this is done by using weights generally of anaerobic type and this exercise is repeated with a fifteen minute gap with a certain weight. The latter type of exercise involves power joggers and bikes for aerobic benefit where the machines are electronically controlled with different standards and programmes. Latest software and hardware used for maintaining data through computers, database, web servers, machines and OS mentioned in this risk analysis assignment can also be referred as the assets of the company (Bouhal et al., 2018).
Threats
There might be several threats discussed in this risk analysis assignment that would impose a great harm to companies like ABC Fitness Gym. Decline in the housing market, people moving in and internally, the staff members can be a threat to the internal facilities of the company. This might result in high turnover or conflicts within the company. Failure in complying with technological upgradation might also hinder the customers from committing towards joining and this might also reduce the customer base of the company. In addition to the above, failure in competing with the local gyms and inappropriate handling of IT systems, would also reduce the chances of increased sales. Lack of marketing ideas can also be stated as one of the major risks (Pence & Mohaghegh, 2015). The below risk assessment matrix provided in this risk analysis assignment would be effective to understand the consequences of different risks:
Likelihood

High

Moderate

Low

Consequences

Decline in the housing market

 
 
 

High turnover or conflicts

 
 
 

Failure in complying with technological upgradation

 
 
 

Inappropriate handling of IT systems

 
 
 

Lack of marketing ideas

 
 
 
Table 1: Risk Assessment Matrix
(Source: Created by Author)
What are ways to mitigate the identified risk in this risk analysis assignment?
It is mandatory for every organisation to adopt strategies that would be effective for mitigating the identified risk for future betterment. It has been observed that the company caters to deliver value proposition through different strategies (Barba et al., 2016). ABC Fitness Gym has made efforts to increase the retention rate of the member through introducing different facilities, new members who initiated the decision of joining the gym were engaged into a tour where maximum of 6 members were explained the facilities available at the gym and took an hour to explain, as this strategy would be helpful for the customers to get sure about their joining decision. The gym equipments are also maintained with high standards. To review progress of the customers, proper dietary plan was also introduced as per the requirements of the clients considering their requirements. To reduce the risk of decline in the house market, ABC Fitness Gym ensures about being well-informed in the fluctuations in the market (Moore & Buchman, 2017). For appropriate services to the customers, it has also been observed in this risk analysis assignment that the concerned company ensures recruitment of highly skilled employees high level experience to make sure that the customers are provided with appropriate attention to the customers to monitor individual progression. Additionally, technology upgradation is one of the most important strategies that is required to be adopted to ensure that the customers are satisfied with the services that are provided to them. It is also necessary for the management of the company to ensure about security and maintaining the confidentiality of the information related to the customers (Litmanen et al., 2016). This can be done through different database where backup is kept for the information of the customers.
Vulnerabilities and consequences
Several members at the gym are often exposed to majority of issues that are underinsured, that might lead to certain latent risks. Issues like injuries on treadmills, disaster-related loss, data breaching, and liability from trainers mentioned in this risk analysis assignment are certain vulnerabilities that might lay a pessimistic consequence over the company (Boyko et al., 2017). Due to lack of proper insurance coverage, a member might face cataclysmic event. It has been observed that injuries on treadmills have been common these days as gym members are often found to be talking, texting or watching television, this might lead to inattentiveness of the members, leading to fatal injuries. Vulnerability towards cyber-liability risk can be high at fitness centres like the concerned organisation often leading to loss of personal or financial loss of data (Vanhoucke, 2016). In order to mitigate the above, it is necessary to make sure about the physical security of the electronic devices and use encryption software to secure the data. 
Protection mechanism
It has been observed in this risk analysis assignment that ABC Fitness Gym is required to implement certain mechanisms to handle the issues pertinent to its people, technology and culture. This can make the company gain future development. As stated in the above section, it has been observed that in order to address the identified risk, mentioned strategies like maintaining high standard of the equipment, ensuring the health and safety requirements of the customers (Tan et al., 2017). Dietary requirements of the customers have also been among the preliminary concern of the management of the concerned organisation. Such strategies can be stated as the protected mechanism for the company.
Gap identified/rationale
It has been analysed that the company has two different types of members: corporate employee members and individual members. This can be considered as a gap among the members as the corporate employee member gets subscription at a reduced rate. Such gap can result in conflict and issue of discrimination. This might lead to high employee turnover rate directly impacting upon the preference of the customers towards joining the gym. Considering the issues that are pertinent to the company, there are chances for the customers to get exposed to certain accidents and fatal injuries (Zhou & Li, 2017). Additionally, there might be issues where the customers might encounter the issue of loss of data and information (termed as data breach). However, it is necessary for the management of the company o develop strategies accordingly for future betterment. 
Recommendation & suggestion
Based on the above study of risk analysis assignment, it can be recommended that it is necessary for the management of the organisation to develop new marketing ideas and provide offering to the customers so that it would be easier for them to create a strong and potential customer base. They might also take initiatives to help the members provide feedback on the services that are acquired by them as this would be effective for the company to analyse their flaws and accordingly (Zhu et al., 2016). It is also necessary to keep customers up-to-date with new services through which the issues identified can be mitigated,.
Conclusion
From the above study of risk analysis assignment, it can be concluded that it is necessary for every organisation like ABC Fitness Gym to adopt strategies for identifying and understanding the technical risks so that appropriate strategies could be embraced for the mitigation of the identified risk. Additionally, it has also been determined about the assets, threats and other vulnerabilities that has the probability to impact the organisation in a negative way. In addition to this, it has also been stated about the consequences that are faced by ABC Fitness Gym on which appropriate recommendations are made in this risk analysis assignment to make it easier for the company to handle their operations through appropriate IT systems and develop their mission and value proposition for the customers accordingly. 
References
Barba, F. C., Sanchez, G. M. D., Segui, B. S., Darabkhani, H. G., & Anthony, E. J. (2016). A technical evaluation, performance analysis and risk assessment of multiple novel oxy-turbine power cycles with complete CO2 capture. Risk analysis assignment Journal of cleaner production, 133, 971-985.
Bouhal, T., Agrouaz, Y., El Rhafiki, T., Kousksou, T., Zeraouli, Y., & Jamil, A. (2018). Technical assessment, economic viability and investment risk analysis of solar heating/cooling systems in residential buildings in Morocco. Solar Energy, 170, 1043-1062.
Boyko, V., Rudnichenko, N., Kramskoy, S., Hrechukha, Y., & Shibaeva, N. (2017). Concept implementation of decision support software for the risk management of complex technical system. In Advances in Intelligent Systems and Computing (pp. 255-269). Springer, Cham.
Bui, H. H., Pence, J., Mohaghegh, Z., Reihani, S., & Kee, E. (2017). Spatio-temporal socio-technical risk analysis methodology: an application in emergency response. Proc. Int. Topl. Mtg. Probabilistic Safety Assessment and Analysis (PSA 2017), 24-28.
Litmanen, T., Kojo, M., Kari, M., & Vesalainen, J. (2016). Does technical risk dialogue entail socioeconomic evaluation? The case of scientific dispute over copper corrosion in a spent nuclear fuel disposal project. In Socioeconomic Evaluation of Megaprojects (pp. 152-176). Routledge.
Moore, E., & Buchman, A. (2017, April). Social Performance SP in Challenging Times: Lessons Learned Regarding Major Projects, Non-Technical Risk, and SP in the Lean Years. In SPE Health, Safety, Security, Environment, & Social Responsibility Conference-North America. Society of Petroleum Engineers.
Pence, J., & Mohaghegh, Z. (2015, January). Risk analysis assignment On the incorporation of spatio-temporal dimensions into socio-technical risk analysis. In International Topical Meeting on Probabilistic Safety Assessment and Analysis, Sun Valley, ID.
Pence, J., Sakurahara, T., Zhu, X., Mohaghegh, Z., Ertem, M., Ostroff, C., & Kee, E. (2019). Data-theoretic methodology and computational platform to quantify organizational factors in socio-technical risk analysis. Risk analysis assignment Reliability Engineering & System Safety, 185, 240-260.
Tan, L., Liu, B., Li, X., & Yang, S. (2017). Modeling the Software Development Process as a Socio-Technical System Based on FRAM to Facilitate the Risk Analysis and Software Defects Prevention. In 17th AIAA Aviation Technology, Integration, and Operations Conference (p. 3113).
Vanhoucke, M. (2016). Risk analysis assignment Project management knowledge sourcebook: The technical guide to project scheduling, risk and control.
Zhou, K. Q., & Li, J. S. H. (2017). Dynamic longevity hedging in the presence of population basis risk: A feasibility analysis from technical and economic perspectives. Journal of Risk and Insurance, 84(S1), 417-437.
Zhu, N., Wang, B., Yu, Z., & Wu, Y. (2016). Technical efficiency measurement incorporating risk preferences: An empirical analysis of Chinese commercial banks. Emerging Markets Finance and Trade, 52(3), 610-624.