Strategic Change Management For Samsung
Question
Task:
Prepare an assignment on the role of strategic change management in Samsung.
Answer
1 ASSIGNMENT TASK 1A
1.1 INTRODUCTION
Strategic change management of an organisation needs to be initiated analysing the current operational management principles being followed. In the current analysis operations, principles of Samsung Group important for the enterprise are analysed. By understanding its core business, product portfolio, company operations, revenue alignment to the current corporate strategy, defining overview inputs, transformation process with output elements is understood with operations challenges of the company. Analysing the operations strategy, the current and long-term solution for meeting challenges of the company is addressed. Also, supply chain management along with quality management approaches is discussed. Then the application of AI for enhancing the business operations can be enhanced. Affiliate companies of Samsung include electronics, machine and heavy industries, financial services, several service companies. With various sub-companies of Samsung Group, it will be difficult to analyse operations for all the companies, hence the operational analysis of Samsung Electronics has been considered. The figure below depicts the project portfolio mix for the Samsung group.
Figure 1: Project Portfolio of Samsung
Source: (SAMSUNG GSG, 2016a)
1.1.1 Introduction to Samsung
Samsung Group is a South Korean multinational conglomerate with its headquarters in Samsung Town, Seoul. The parent company has several affiliated businesses, founded by Lee Byung-chul in the year 1938 (Samsung, 2020c). It has multiple products and service portfolios as its group diversified in various areas such as textiles, food processing, securities, insurance, and retail. It started operation in the electronic industry in the late 1960s and later in construction and shipbuilding industry in the 1970s. Samsung currently operates in different business groups and increased globalised activities as well as electronics, it is currently considered the 8th highest global brand value. Samsung Electronics is one of the leading companies in the world offering varied electronic products across developing as well as developed countries. Competitiveness and operational leadership of the company entail importance to analyse operational principles along with the effectiveness of the company.
1.1.2 Operations principles
Samsung Group has multiple sub-companies amongst which one of the leading companies is Samsung Electronics. Samsung electronics is seen to contribute towards almost 70% of its group revenues in 2012 alone. The company has an integral role in the corporate governance of the group. The company has assembly plants as well as sales networks across 74 countries, employing around 290,000 people. Samsung Electronics was established in the year 1969 with various products being included in its portfolio. Some of the products manufactured by the company include televisions, smartphones, lithium-ion batteries, image sensors, semiconductors, displays for smartphone clients, printers, speakers, and camera modules. Samsung electronic stores are the present world over in countries with product stores as well as service/ maintenance stores. Its smartphones have considerable market share and compete with some of the major competitor's world over such as Apple iPhone, Xiaomi, LG, Huawei, Oppo and many more. It employs a team of highly qualified personnel in R&D team as a well technical team with the expertise to render competitive advantage to the company. The company's purpose is bent on quality enhancement and customer satisfaction along with competitive leadership in the electronic industry. Its core business is focussed on the manufacturing of electronic products as well as rendering services to their own products. Revenue of the company in 2019 was $ 197.7 billion, operating income is $ 23.8 billion. Net income of the company as of 2019 is $ 18.6 million (Samsung, 2020c).
With increasing competitiveness and rising globalisation of business, Samsung electronics need to undertake complex operations principles. Ensuring quality is integral for the effective performance of the electronic products manufactured at Samsung. To maintain the competitiveness of the products at Samsung maintaining high levels of quality for innovativeness and accuracy is essential. Quality standards at Samsung are monitored in a strict manner by the implementation of total quality management standards and six sigma procedures. Exhaustive compliance with quality standards enables high levels of operational efficiency with effectiveness which leads to customer satisfaction. Samsung electronics is well-known for higher performance at competitive pricing requiring significantly fewer repairs (Samsung, 2020b). This enables higher levels of customer satisfaction as well as loyalty. The company manufactures products at cost-effective and efficient rates ensuring lower manufacturing defects with higher satisfaction rates amongst customers. The company has high levels of operational efficiency along with supply chain effectiveness. Cost-effectiveness is an important factor in determining leadership insensitive market with high levels of competitors.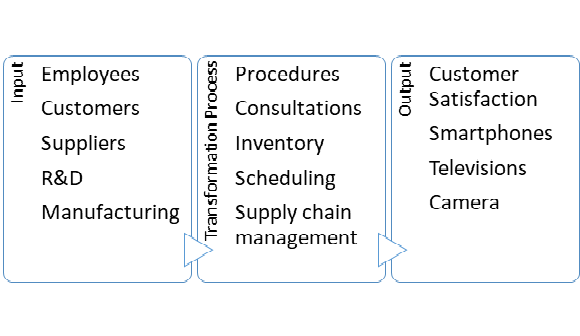 Figure 2: Input, transformation, output process
Source: (Author)
The global market has the presence of a large number of smartphone manufacturers, televisions, camera, and other hardware products manufactured by Samsung electronics. This makes it all the more difficult for the company to enhance operational effectiveness and efficiency at cost-effective rates.
The current operational strategy of the firm is aligned with its values and philosophy with the company aiming to create a better life for the entire world. The company finds their inspiration based on their past and future, hence Samsung through humanity and technology continuously aims at contributing to a better future. Samsung philosophy and goals include devoting talent as well as technology towards the creation of better technologies, in order to attain this, it focuses on high-value standards on people as well as technologies. Operational strategy at Samsung is focussed on leveraging human resources and technologies, creating the best products and services as well as contributing towards society. In order to attain these, its corporate strategy is focussed on its business principles which include performing in a responsible manner for leading in the global arena. Its business principles include complying with laws and ethical standards, maintaining clean organisational culture, respecting customers, shareholders as well as employees, caring for the environment, health and safety also being a socially responsible corporate citizen (Migdadi, 2016). It trains employees such that they are able to operate monitoring systems for fair and transparent corporate management. By focusing on high levels of quality standards in its manufacturing and services levels, the company aligns with the corporate strategy of the organisation.
Samsung electronics in this era of the pandemic was a tremendous plunge in profits in its second-quarter with its key business faltering. The company is also noticing unprecedented challenges ahead as operating profits was a drop in 56% as compared to earlier years. Results were direct consequences of the US-China trade war bearing on major industry slowdown. With Samsung's launch of the new foldable smartphone earlier in the year after reports of broken screens. Defects associated with final (output) device with growing competition from China's Huawei (BBC, 2019). Though Samsung adheres to strictest standards in quality management yet certain errors cropped up leading to defects arising in their products. Operational challenges the company is facing is mainly in the transformation process leading to defective products.
1.2 Overview Of The Operational Strategy
Samsung's operations strategy is focussed on ensuring quality control by their expert certified quality management systems for ensuring quality outcomes. Quality management practices at Samsung had always been focused on enhancing quality management systems such that the best in quality in services and products can be achieved. Quality policy statement at Samsung is focussed on an efficient quality system that has the capability to meet customer expectations as well as requirements. Quality objectives ascertained by the company is both consistent as well as measurable with the quality policies. Hence these quality objectives key performance indicators include processes as well as joint quality improvement projects that are continued with suppliers as well as customers.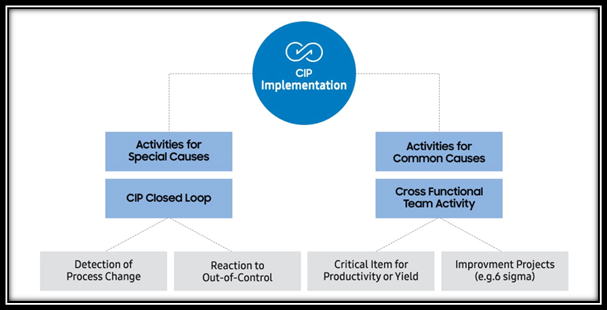 Figure 3: Continuous Improvement Program at Samsung
Source: (SAMSUNG GSG, 2016a)
An operational strategy that is relevant for electronic product (smartphone) manufacturer includes cost-effective products that are efficient with lower lead production times and reduced defects. This implies that companies in the industry need to manufacture smartphones (or other electronic products) at cost-effective rates due to increased prevalence of competition in the industry. They also need to produce in an efficient manner owing to advancements in technology and rapid changes in current technology. The operational strategy needs to have minimum defects such that lean production (minimum wastage) can be adopted. Also with lower lead production times, it will be possible to compete in the globalised competitive space. This operational strategy is mostly applied in Samsung semiconductor but it not across other electronic devices manufactured at Samsung. All products at Samsung has its focus on ISO and certification. They adopt mainly presentive quality management approaches. Adoption of implementation of continuous quality management approaches at the right time will ensure customer satisfaction also reduce defects in the product as diagnosed effectively. Similar to quality management approaches applied for semiconductor, continuous improvement of productivity strategy by controlling variations in different processes in a stable manner can lead to effectiveness in quality management in its electronic division as well (Moon et al., 2013). Also, continuous improvement needs to be applied in a closed-loop methodology comprising of selecting critical parameters, evaluating measurement systems, monitoring of critical parameters (such as defects), process capability improvement, as well as reaction plan. Application of CIP will enable minimising deviation from target.
Another mechanism by which long-term solution can be prepared in addressing challenges in operations strategy is by supplier quality management. The defects in smartphones can mainly be attributed to faulty parts supplied by suppliers. Through CIP implementation strategy the company need to re-select its suppliers and subcontractors. Also, every supplier's performance needs continuous assessment and periodic in-depth audit of the suppliers for their technology selection, quality, delivery, finance and cost. These suppliers need to be notified of the evaluation results and they need to undertake improvement activities. Material specification and qualification are other criteria, where Samsung need to ensure that its materials have stable quality and supply capability by way of adopting appropriate certification procedure. Procedure for validating product conformity, production capability, supply risk assessment by way of supplier self-checklist as well as manufacturing site audit need to be undertaken. Lastly and most importantly, Samsung needs to follow the certification procedure (QMS) on the basis of international standards such as the ISO 9001 and IATF 16949. These standards are continuously evolving for a meeting of customer requirements. The interesting fact that has led to product defects in Samsung smartphone is that manufacturing domestic, as well as overseas sites, is required to have ISO 9001 certification. For avoiding defects and making error-free products, it especially needs to integrate certification for its screens such that they do not break easily (ISO Focus, 2012).
Samsung has a long history of certification, but major certification had been in semiconductor plants across Korea, China, Texas. The company also adopts product regulation certification such that it can easily maintain compliance with standards such as CE markings or CB. Compliance with industry standards enables the company to quickly adapt to changes in the industry. In each country that it operates it follows regulations presented by those countries appropriately, however it need to specifically design CIP strategies for its screens to save the company from further defects as well as losses.
Product defects in Samsung is a real challenge from within the company as well as due to external factors. Internal influences that have led to the requirement for adapting short term, as well as long term solutions, include the drive for continuous improvement in another department of the organisation. Apart from smartphones, Samsung has a large number of varied products and services. Each of its department aligns to the broader corporate strategy and the business principle of the company. As an apart of its global strategy group, Samsung aims at adopting similar principles as well as practices that drive innovation and excellent quality of products as well as services at Samsung. These department aligns its resources and capabilities to drive their need for quality and adopts to continuous improvement to strive for better performance across the global market. Hence in its electronic department manufacturing smartphone, Samsung also needs the implementation of similar strategies such that it is able to maintain leadership as well. The drive of adopting continuous improvement and adopt certifications in varied products as well as services of the company influences the need for adopting the same validation and improvement processes in the smartphone department as well.
External influences requiring the need to drive quality improvement processes at Samsung includes macro-environmental as well as industry factors. Macro-environmental factors include political pressures to manufacture defect-free products, economic pressure to manufacture efficient products at cost-effective rates, rapid changes in technology driving the need for innovation and quality adoption at the company. Legal pressures to comply with given standards and compliance practices to be adhered to by the organisation as well as environmental regulations that require to be abided by. Industry factor influences include tremendous competitive pressures, where competitive pressures are driving the need for innovation and transformation in a rapid manner. Hence Samsung's eagerness to manufacture the innovative foldable cost-effective efficient product at a faster pace might have driven the need for a quick product launch. Moreover, the threat from the bargaining power of buyers, who have large and varied alternatives to purchase products from, bargaining power of suppliers, and threats from new entrants requires Samsung to adopt to new quality practices for maintaining its leadership in the market.
1.3 Business Functions
Supply chain management functionalities have become more complex than ever before given the current market dynamic and socioeconomic conditions that companies need to respond to. With companies factoring in varied new variables which include rising protectionism along with nationalism across the political landscape, business-continuity risks need to be re-examined for the examination of new sourcing strategies. Supply chain management functions is a crucial supporting arm of the operational strategy. The supply chain can render tremendous effectiveness to the entire business, hence supply chain functionality needs to be aligned to business processes for rendering business effectiveness. In the electronic industry, rapid changes in technology require that the supply chain be responsive so as to be able to respond to such changing technology and customer demands. Supply chain integration has to be present such that participants across the supply chain are made available with ready-made data to enhance customer satisfaction. By cost-effective supply chain operating in an efficient manner, lead product times can be considerably reduced also defects can be diagnosed earlier hence, in turn, attaining customer satisfaction (Jung, 2014).
Samsung needs to explore supply chain management strategies that can effectively contribute to a successful and profitable enterprise. The supply chain management strategies need to adopt the short term as well as long term solutions according to internal and external influences. With Samsung having adopted quality improvement practices in all its varied products and services department, one of the most effective strategies is backward integration. By integrating backward integration supply chain strategy, it will allow the business to get control over suppliers as well as enhancing supply chain efficiency. Samsung with its large and diversified corporate enterprise as well as functionalities can merge and acquire suppliers for gaining strategic advantage over competitors and also be able to lower cost (Wu, 2013). This will enable the company to produce screens of the smartphone within lower costs at an efficient and effective rate. Internal influencing driving such decision is high levels of quality management systems with continuous improvement cycle already present within the company. External influence impacting the decision includes rising costs to acquire complaint suppliers manufacturing reliable high-quality screens.
The above supply chain management strategies can be adopted considering the current position of the company easily. First of all, backward integration of the company can easily be adopted given the current scale of operation and capability along with the availability of financial resources of Samsung it is easy to set-up or acquires supplier for manufacturing of screen glasses. Hence the solution proposed is highly feasible for Samsung.
A prominent example of backward integration being adopted by companies is Apple. Apple manufacturing iPhone has manufacturing facilities located at various locations around the world, it has set-up backward integrated supplier at various locations especially in China. This has rendered significant competitiveness and cost advantages to the company.
Another SCM strategy that can be adopted by Samsung is adopting an adaptive and agile supply chain with rapid planning as well as integrated production capability. With the adoption of technology, agile production capability can be built and it can immediately respond to production and immediately stop when a defect is noticed. Agile supply chain strategy will enable aligning planning of the product with manufacturing, driving enhanced operational flexibility with speed (Tarafdar, and Qrunfleh, 2017). An integrated agile solution develop can prevent the company from further losses also provide a great deal of flexibility with real-time execution. Internal influence driving the need for an agile supply chain is increasing costs associated with inventory hence agile supply chain will enable lowering inventory costs in an effective manner. External influence driving agile supply chain decision includes competitors adopting such agile technologies enabling them to bring about greater innovativeness and dynamism in their product strategy.
Secondly, agile supply chain capability for Samsung can be easily adopted given the present state-of-art technology prevalent within the company. Samsung is highly technologically advanced and innovative hence it can adopt agile methodology with great ease.
The agile supply chain is being adopted by almost major companies globally so as to lower their inventory costs and also improve efficiency. Example of companies includes Huawei.
Another emerging technology for effective supply chain strategy includes adopting technologies for reliable and predictable supply. Such emerging technologies enable businesses to deal with unexpected shifts in demand by maintaining optimum levels of inventory. Enhancing demand accuracy coupled with new technology can reduce inventory requirements also speeding up reaction times with a quick and reliable supply network. With emerging global volatility and crisis arising during the pandemic, it is crucial that Samsung is able to make the right decision regarding where to source materials, manufacture products as well as deliver goods for minimising costs while ensuring compliance. Internal influence driving the decision of adopting emerging technologies includes the availability of dynamic technologies at Samsung making available ready-made technologies for adaptation with ease in the company. External influences driving such decisions include competitive pressures, with several companies adopting emerging technologies such as RFID and AI in making dynamic decisions for demand schedule.
Lastly, adoption of emerging technology for the company is also very easy with the availability of technical resources and capability within the company (Fan et al., 2013). Hence Samsung can easily adopt a technically advanced solution for its products as well as services.
Emerging technologies are being adopted by almost all electronics manufacturer globally. Manufacturer of smartphones such as Huawei, Apple, Google is making extensive use of demand forecasting and scheduling for accurate forecasting of demands and maintaining efficiency in their overall production processes.
1.4 Quality Management Approaches
Samsung's products and services adopt engineering for striving the best quality of products aimed at customer satisfaction levels. Its quality management systems are applied across all projects they execute. They have dedicated quality management team who are continuously measuring and improving quality levels by way of preventive quality management activities and campaigns. Samsung adopts ISO 9001:2015 certifications enduring all its employees abides by strictest quality-assurances by engineering principles. For enhancing quality improvement activities, they continuously focus on broadening employees' knowledge of core technologies as well as the promotion of quality improvement activities. This in totality contributes to the quality culture within the organisation. Samsung Engineering also conducts Client Satisfaction Index (CSI) in form of surveys for understanding client complaints as well as understanding areas for improvisation (Samsung Engineering, 2013). The resulting score in varied projects further assists in continuous improvement. With Samsung's repetitive quality problems, they have established preventive measures for checking recurrences. This reduced occurrence of similar type of quality problem by prevention of the problem from arising. Samsung also strives for certification as a regular part of its quality management system for effective as well as a reliable procedure for meeting or exceeding international standards.
Samsung has already adopted certification along with continuous improvement procedure aiming at customer satisfaction, however, still, its products are suffering from defects, due to which the company is suffering from losses. Quality management approaches for electronic manufacturers include being able to deliver customer satisfaction through continuous quality enhancement and reduction of errors. With Samsung adopting all possible approaches in enhancing quality in their final products, it becomes necessary to reduce defects for enhancing its overall operational effectiveness. Hence quality management approaches with the capability to reduce defects need to be applied. Adopting Six Sigma as a quality management approach by the company can assist it to reduce the likelihood of errors. Six sigma is an offline quality-control methodology that can reduce defects by focusing on cycle-time improvement and reducing manufacturing defects to no greater than 3.4 occurrences per million units. Leading smartphone manufacturer around the globe is making use of Six Sigma processes for enhancing their quality and reducing defects in their manufacturing cycle. With the application of Six Sigma offline process through the DMAIC (define, measure, analyse, improve and control) it will be possible to collect data in the manufacturing unit of the company then identify the problem accurately to solve it. This will allow Samsung to adopt lean management approaches combined with it for reduction of wastage and increasing efficient workflows in its operational strategy. The DMAIC model has a standardised operating procedure that will enable diagnosing variation from operating procedures hence analysing the potential defects occurring. This in turn will allow designing of tactics for quality improvisation and then monitoring for any imperfections that might arise. All the smartphones manufactured at different facilities of Samsung will need to be tested for defects in their products such that planned quality improvements can be adopted.
Application of Six Sigma processes has several associated benefits for the organisation by defining objectives of the broader stakeholder group. A team for the purpose of monitoring quality need to be undertaken, who will be regularly monitoring standards as well as evaluate quality standards related to the industry. Post-implementation of Six Sigma processes, the team leader will collect reliable data to compare against future results. Then a detailed map of interrelated business processes for identifying areas of performance enhancement will be identified. The main focus of applying the DMAIC process is to reveal the root cause that is leading to business inefficiencies. Analysis of the data will reveal areas where change can be implemented to yield the most effective results hence areas which can be improved can be understood easily. The primary objective of this approach is to improve areas which have the capability to change. Teams for quality control as well as stakeholders will devise a mechanism for methods of addressing deficiencies processes for the uncovered data analysis process. Finalising the test change will enable mitigating of the ineffective process. Through ongoing feedback analysis and stakeholder participation, the new processes are applied. At the last stage of this methodology, metrics are developed that are adaptive and on-going in nature with adjustments being made to the new changes to be implemented at the first cycle of the process.
Quality control is an online tool that allows a business to maintain or improve its quality. Quality control can be implemented as an approach throughout Samsung such that its management, as well as employees, strive towards ensuring the highest possible levels of quality. Samsung in its various units have already adopted quality controls by the implementation of ISO standards but with a greater number of adoption of ISO standards such as ISO/IEC27001 can enable better conformance to quality standards.
Cause and effect quality strategy can provide an offline approach to quality management by the company. Applying fishbone analysis for arriving at the root cause of the defects arising in the screens of the foldable smartphones can lead to better quality management for Samsung. Analysis of root cause by connecting it to supplier quality or inappropriate specification can enable diagnose the problem in a better manner hence arriving at a suitable solution to the problem.
Effective quality management approach by the adoption of Six Sigma coordinated with Quality Circle can enable appropriate implementation. The offline tools need to be coordinated with the online tools for adequate and sufficient contribution towards a leaner enterprise. Samsung will be able to only reduce defects also considerably reduce wastages by becoming a leaner organisation. A large number of organizations such as Apple and Google are making use Six Sigma methodologies for quality control processes and reducing defects in their operational processes.
1.5 AI Applications
The capability of technology to harness business processes have emerged dynamically in the global environment and marketplace. The human workforce is no longer able to harness the business market in a similar manner that they did a decade earlier. Businesses are currently heavily reliant on digital movements such as technology usage, artificial intelligence (AI), and big data usage. In order to take advantage of the rapid changes taking place in the marketplace currently, Samsung needs to take advantage of AI and Big Data. For the business to remain at the peak of its industry, it needs to evaluate its business processes in a thorough manner. The most common form of AI is machine learning, where vast amounts of data will be processed at an alarming speed for the organisation (Li et al., 2017). This includes varied types of data that can be used in a direct or indirect manner by the organisation. Application of machine learning allows complete transparency in undertaking any type of expert application by the company. The use of AI can enhance business operations in the automation of digital as well as physical tasks. By making use of 'robotic process automation' (RPA) technologies which is less expensive and assessable to implement, AI can easily be adapted across organisations. Electronic manufacturers producing smartphones and other associated products cater to consumers who are looking for personalised experience towards the development of innovative software to build, nurture as well as in maintaining customer relationships. With more competitors developing innovative products as well as software, integrating into AI can enable the company to cater to a wider range of customers.
Organisations that are successfully integrating the use of AI are creating value for radically improving business processes for cost reduction as well as generating more revenues. Firstly, with the use of AI, Samsung will be able to harness data science competence. Meaning it will be able to collect data from the external environment as well as internal environment regarding quality feedback and customer satisfaction for designing new and innovative products. This will enable scaling business growth by being able to estimate customer needs. However, there could be considerable risks faced in business exposure in undertaking such initiatives on the overall operational strategy of the organization. As this could implement tremendous cost overrun in trying out new and innovative products for the company. A workable solution for addressing these challenges is to try out the feasibility of each of the new and innovative idea such that only the best possible solution can be integrated into the operational strategy of the business. Identifying data and probabilities from AI algorithms can enable enhancement of overall business operations. Employing capable data scientists and applying a variety of tools inserted into enterprise application can assist in enhancing overall business operations.
AI can assist in business domain proficiency by analysis of workflows, tasks, as well as the logic of existing business processes and in enhancing operational processes. AI will enable the ability to curate, tag as well as analyse data for establishing a relation between data as well as processes from a business point of view. AI can enable the operational backbone for many companies. AI can enable operational IT within the company such that critical data can provide reliable operation, along with ensuring privacy as well as security. Though there is a considerable amount of risks associated with AI application it can yield significant risks to the business yet as other enterprises such as Apple and Google are capably applying AI, Samsung can do the same for harnessing their business operations.
References
Fan, T., Tao, F., Deng, S. and Li, S., 2015. Impact of RFID technology on supply chain decisions with inventory inaccuracies. International Journal of Production Economics, 159, pp.117-125.
ISO Focus. 2012. Innovation. ISO Focus. Accessed from [https://www.iso.org/files/live/sites/isoorg/files/news/magazine/ISO%20Focus%2B%20(2010-2013)/en/2012/ISO%20Focus%2B%2C%20June%202012.pdf]
Jung, S.C., 2014. The analysis of strategic management of samsung electronics company through the generic value chain model. International Journal of Software Engineering and Its Applications, 8(12), pp.133-142.
Li, B.H., Hou, B.C., Yu, W.T., Lu, X.B. and Yang, C.W., 2017. Applications of artificial intelligence in intelligent manufacturing: a review. Frontiers of Information Technology & Electronic Engineering, 18(1), pp.86-96.
Migdadi, Y.K.A.A., 2016. Identifying the best practices in green operations strategy of leading mobile phone producers. International Journal of Business Excellence, 9(1), pp.92-112.
Moon, H.C., Parc, J., Yim, S.H. and Yin, W., 2013. Enhancing Performability through Domestic and International Clustering: A Case Study of Samsung Electronics Corporation (SEC). International Journal of Performability Engineering, 9(1).
Samsung Engineering. 2013. Quality Management. Samsung Engineering. Accessed from [http://www.samsungengineering.com/sustainability/quality/common/suView]
SAMSUNG GSG. 2016a. Our Work. Samsung Global Strategy Group. Accessed from [https://sgsg.samsung.com/main/newpage.php?f_id=gsg_ourWork]
SAMSUNG GSG. 2016b. Values and Philosophy. Samsung Global Strategy Group. Accessed from [https://sgsg.samsung.com/main/newpage.php?f_id=samsung_value]
Samsung. 2020c. Vision. Company Profile. Accessed from [https://www.samsung.com/us/aboutsamsung/vision/philosophy/philosophy-goals/]
Samsung.com. 2020b. Financial Statements. Samsung Electronics Co., Ltd. Accessed from [https://www.samsung.com/global/ir/financial-information/audited-financial-statements/]
Tarafdar, M. and Qrunfleh, S., 2017. Agile supply chain strategy and supply chain performance: complementary roles of supply chain practices and information systems capability for agility. International Journal of Production Research, 55(4), pp.925-938.
Wu, D.D., 2013. Bargaining in supply chain with price and promotional effort dependent demand. Mathematical and Computer Modelling, 58(9-10), pp.1659-1669.
2 ASSIGNMENT TASK 2
2.1 PURPOSE OF PROJECT PLAN
The purpose of creating this project plan is to enable the project manager to communicate the project steps to relevant stakeholders in the organisation. A detailed project plan will allow the key stakeholders to understand the employees and the sub-contractors or suppliers of the project understand their designated roles in the project, have task goals defined, are able to deliver within deadlines and are aware regarding urgency of the tasks assigned. With assistance of the project plan, the project manager will be able to;
Understand deadlines set for specific tasks
Make certain that the project performs according to the deadlines of each stage
Plan for contingent activities for preventing downtime associated with the project
Be able to adopt operational efficiency
Understand risks associated with the project.
AI has emerged as one of the most innovative technologies which is recently taking mobile technology to the next level. AI technology is enhancing user experience with different features such as voice commands, face recognition, and image labelling. AI is automating specific tasks and assisting varied problem solving. AI with Big Data is making advancement in mobile technology and personalising experience for customers. Electronic manufacturer are empowering search engines are making use of text mode whatever is needed. Search methods are not improving and introducing new way of searching images along with voice, made possible by AI and Machine Learning. Integrating AI and Big Data is interacting with other devices for gathering real-time information as well as processing data.
The existing operations at Samsung needs to function alongside the project hence all downtimes need to be accounted for as it might lead to increased risks and cost on the organisation. The project plan need to adopt any plans for contingencies such that operational efficiency of the project or of the organisation is not hampered. In case of any deviation, it will directly impact customer satisfaction leading to significant loss of revenue.
2.2 BACKGROUND INFORMATION
Artificial Intelligence (AI) has become the fundamental part of everyday technology. With recent advances in technology in the electronics sector especially in smartphone manufacturing, there are various application that is gaining prominence. AI coupled with Big Data can provide customer demand analysis also allow detecting appropriate innovation suitable for meting the needs of the company as well as that of its customers. AI with Big Data will allow prioritising findings of suitable innovation that are feasible when compared against an array of innovations taking place. Implementing AI in electronic manufacturing is consistent with leading electronic manufacturers such that they are able to design suitable and innovative technology suitable to customer usage.
Application of AI in electronic manufacturing is not a new concept and market leaders such as Apple, Google, Huawei are already applying use of such technologies in designing new as well as innovative products for their market. Data analytic tools from Big Data analytics is enabling designing of new products also software. For example, various applications are being developed by application of data analytics by capturing data by way of sentimental analysis. Google Playstore also collects data dynamically from iPhone cloud apps for deigning of new applications and products. There are RFID technologies that are being applied in electronic industry for manufacturing error-less smartphones.
Some of the AI features that are enhancing customer experience when using smartphones and making workflow processes better includes;
Capability to accelerate data analytics findings for arriving at new and innovative products with shorter lead times and better feasibility for reduced risks
Ease of product and services repositioning is undertaken easily with application of AI and Big Data.
Enhanced product manufacturing along with prevention of errors in the product as well as services is increasing.
Customer demands and satisfaction parameters are being understood with ease.
2.3 PROJECT OBJECTIVES
The project objectives for Samsung will include;
Finish off the project by the end of February 2021
Undertake testing during the winter months
Downtimes will need to be scheduled during the hours of operation
Project will need to be completed within budget
Application will need to be undertaken with full features as well as benefits
Users contribution need to be undertaken in the designing state
Compliance to standard operation procedure and ISO need to be undertaken
Training of personnel need to be conducted during after office hours
2.4 ORGANIZATIONS OBJECTIVES
With the adoption of AI and Big Data, Samsung is expected to attain the following objectives;
Increased performance capabilities
Better innovative capabilities with high testing capability
Reduced errors and defects in products as well as services
Better operational capability
Enhanced workflow processes
Better and improvised information technology
Increased competitive advantage
Expanding product and service offerings
Attaining revenue growth
2.5 PROJECT SCOPE
The scope of AI and Big Data project installation at Samsung within the timeframe includes;
Upgrade innovation and feasibility testing at manufacturing as well as service facility at Samsung electronics
Installation of AI workstations in varied factories around the world
Replacing current innovative and feasibility workstations with AI facilities
Upgrading of data storage facilities for Big Data
Upgrading data analytics capability
Upgradation of computer hardware requirements such that they can facilitate functioning of high scale computation
Configuring system according to specifications
Installation of sensors and interfaces
Conduct application training for technologists and other team members
On-site application as well as application for support during testing phase
2.6 PROJECT ASSUMPTIONS
The project will be conducted using the following application as stated;
The implementation of hardware as well as software will be undertaken during the initial timeframe of the project and completed within timeline.
All costs have been accounted for an there are no hidden costs
IT as well as system engineers will be available during the time of project implementation not hampering timeline
Users will need to be available as required
Installation of AI as well as Big Data will be taking place along with regular operations.
While switching over to new system, it will need to be tested along with user capabilities being competent in the new workflow processes.
Downtime for project implementation will be scheduled every Saturday 7 pm till 7 am on Sunday.
Team members of the project will abide by the plan designed for the project
Funds will need to be made available as needed
2.7 PROJECT ROLES AND RESPONSIBILITIES
Implementation of AI and Big Data need to progress encompassing varied project roles and responsibilities that need to be assigned to different stakeholders and completed within specific project deadlines. They need to cater to these roles as well as responsibilities by complying the project plan.
Role

Responsibilities

Participant(s)

Project Sponsor

 

 

 

o   View and approve the varied components of the project

o   Approve total budget of the project

o   Update details of the project to the Board of Directors

o   MD

Steering Committee

 

 

 

o   Ensure appropriate guidance to the project manager such that goals and objectives can be attained

o   Ensure funds availability

o   IT Director

o   Finance Manager

 
Role

Responsibilities

Participant(s)

Project Manager

 

 

 

o   Manage project aspects according to goals and objectives ascertained in the project

o   From a liaison between the project Steering committee, sponsor of the project and project team members

o   Manage project budget and apply cost monitoring strategies for evaluating performance of the project

o   Ensuring compliance with existing operational standards and performance of the system

o   Keep Project Sponsor informed during all the stages

o   Schedule training for relevant personnel

o   Ensuring deadlines are met

o   Supervise all engineers, suppliers and other technicians engaged in the project

o   Undertake risk analysis

o   Develop contingent plans

o   Supervise project team members

o   Project Team members

o   Manager

o   Business unit

Project Team Members

 

 

 

o   Understand defined roles and responsibilities along with deadlines accordingly as per specification of the project

o   Review as well as approve workflows as well as protocols for the work processes

o   Ensure operational efficiencies while adopting compliance

o   Operations Manager

o   Technical Specialists

o   Quality Control Team members
Role

Responsibilities

Participant(s)

Technical Experts

 

 

 

o   Place order for supplies such as hardware and software requirements

o   Undertake installation within specified deadlines

o   Undertake system configuration

o   Train users to work on the systems

o   AI Specialists

o   Engineers
2.8 TIMELINE
The timeline for the project has been determined as per operations and implementation trends prevalent tin the industry. The deadlines for the tasks has been calculated and analysed as per the following factors;
Project completion need to be completed by February 2021 alongside ensuring operational efficiency for attainment of corporate objectives.
Planning of proposal, designing phases of the project need to be completed by end of November for ensuring sufficient time for installing and testing of the project.
A minimum of 1 month for implementing AI and Big Data architecture platform and assigning workstations need to be predetermined such that the initial proposal phase can be adjusted appropriately.
The following Gantt chart prepared for the project timeline will provide a brief overview and guidance as per the tasks along with the deliverables.
Month

December'20

January'21

February'21

Week

1

2

2

3

3

3

4

4

1

1

2

2

3

4

1

2

2

3

4

4

4

 

 

 

 

 

 

 

 

 

 

 

 

 

 

 

 

 

 

 

 

 

 

Task

 

 

 

 

 

 

 

 

 

 

 

 

 

 

 

 

 

 

 

 

 

Obtaining software installation proposal from AI and Big Data vendors as per System Requirement Specifications (SRS) and installation plans

 

 

 

 

 

 

 

 

 

 

 

 

 

 

 

 

 

 

 

 

 

Demonstration of system

 

 

 

 

 

 

 

 

 

 

 

 

 

 

 

 

 

 

 

 

 

SRS analysis

 

 

 

 

 

 

 

 

 

 

 

 

 

 

 

 

 

 

 

 

 

Attain released quotation from several vendors/ consultant and compare them

 

 

 

 

 

 

 

 

 

 

 

 

 

 

 

 

 

 

 

 

 

Undertake feasibility analysis

 

 

 

 

 

 

 

 

 

 

 

 

 

 

 

 

 

 

 

 

 

Submission of the business case

 

 

 

 

 

 

 

 

 

 

 

 

 

 

 

 

 

 

 

 

 

Submitting proposed budget

 

 

 

 

 

 

 

 

 

 

 

 

 

 

 

 

 

 

 

 

 

Planning for the project

 

 

 

 

 

 

 

 

 

 

 

 

 

 

 

 

 

 

 

 

 

Agreeing on objectives for the project

 

 

 

 

 

 

 

 

 

 

 

 

 

 

 

 

 

 

 

 

 

Undertaking planning of resources

 

 

 

 

 

 

 

 

 

 

 

 

 

 

 

 

 

 

 

 

 

Requesting for funds and purchasing orders

 

 

 

 

 

 

 

 

 

 

 

 

 

 

 

 

 

 

 

 

 

Project kick-off meeting

 

 

 

 

 

 

 

 

 

 

 

 

 

 

 

 

 

 

 

 

 

IT infrastructure development

 

 

 

 

 

 

 

 

 

 

 

 

 

 

 

 

 

 

 

 

 

Delivery of Hardware

 

 

 

 

 

 

 

 

 

 

 

 

 

 

 

 

 

 

 

 

 

Installation

 

 

 

 

 

 

 

 

 

 

 

 

 

 

 

 

 

 

 

 

 

Training for the application

 

 

 

 

 

 

 

 

 

 

 

 

 

 

 

 

 

 

 

 

 

Running system parallel to the current system

 

 

 

 

 

 

 

 

 

 

 

 

 

 

 

 

 

 

 

 

 

Quality Analysis and Testing

 

 

 

 

 

 

 

 

 

 

 

 

 

 

 

 

 

 

 

 

 

Transforming to the new system

 

 

 

 

 

 

 

 

 

 

 

 

 

 

 

 

 

 

 

 

 

Project evaluation and monitoring

 

 

 

 

 

 

 

 

 

 

 

 

 

 

 

 

 

 

 

 

 

Project completion and sign off

 

 

 

 

 

 

 

 

 

 

 

 

 

 

 

 

 

 

 

 

 
2.9 RISK MANAGEMENT
Every new project comes with certain associated risks which need to be minimized such that project execution can be completed effectively. The project manager for the project needs to identify the risks associated with the project effectively and also ascertain specific scores such that its treatment can be ascertained also a backup plan for contingencies can be prepared.
| | | | | |
| --- | --- | --- | --- | --- |
| RISK | PROBABILITY | IMPACT | IMPACT | MITIGATION |
| AI and Big Data System Downtime | 2 | 5 | Operational ineffectiveness leading to loss of revenue for the organisation | Project manager need close monitoring of the implementation and follow-up closely such that any associated downtimes can be analysed |
| Operational system crashes during integration with main system | 2 | 5 | Loss of revenues, operational ineffectiveness and Reporting delays | Project manager with technical engineers and other experts need to closely undertake gap analysis for ensuring coordinated implementation of the software and avoiding possible errors. |
| Delay in installation/ delivery of supply | 3 | 5 | Project timeline and completion being affected impacting project budget | Ensuring reliable purchases from suppliers in a timely manner. Ensuring delays are avoided as much as possible. |
| | | | | |
| --- | --- | --- | --- | --- |
| Unavailability of technical specialists/ engineers during implementation  | 2 | 4 | Project timeline might be affected, also the quality with which the project completion was expected to take place | Technical back-up team need to be built and contacted for avoidance of unforeseen incidence. |
| User unavailability | 1 | 2 | Inability to test system implementation | Training of users for ensuring back-users for avoidance of unforeseen circumstances |
| Resistance of employees to new system software  | 2 | 4 | Technical team might feel threatened by AI and Big Data | Training to apply systems adequately. |
2.10 STAKEHOLDER MANAGEMENT WITH POPULATED MATRIX –
The stakeholder of the project need to be identified along with their impacts understood.
Nature of Impact

Category

Particulars

 

 

 

 

 

Internal

 

Shareholders

Chairman

Board of Directors

 

 

 

Management

CEO

Corporate Associate

Director of Finance

IT Director

Business Unit Manager

Employees

Quality management team

Technicians

Engineers

 

 

 

External

Suppliers

AI Suppliers

Big Data Suppliers

IT service provider

Customers

Smartphone customers

Agency

Credit Rating Agency

Government

Ministry of Technology (Korea)
High

Competitors

 

 

Shareholders

Management

Suppliers

Employees

 

Interest

 

 

 

Low

 

 

 

Korean Government

 

 

 

Customers

 

Low

Power

High
Management of stakeholders will include the following strategy;
Category

Particulars

Quadrant

Key Interests

Main Action

Management Activities

 

 

 

 

 

 

 

 

Shareholders

Chairman

Board of Directors

3

Opponents

-Not interested in investing

Return on Investment;

Profitability

 

Manage Closely

Business plan and budget;

Feasibility study,

Reminder of benefits and projected ROI,

Progress Report

 

 

 

 

 

 

 

 

 

 

 

 

Management

CEO

3

Ally

-Project Sponsor

Return of Investment,

Profitability,

Successful implementation

Manage Closely

Timeline; Project Plan,

Progress reports,

Personal briefings,

Project issues & solutions,

Risk assessments,

Obtain required approvals.

Corporate Associate;

Director of IT,

Finance Manager

3

Ally

-Project Steering Committee

Return on Investment,

Profitability,

Successful implementation,

Strategy

Manage Closely

Timeline, Project plan, Risk assessments, Progress reports, Project issues & solutions

Business Unit Manager

3

Project Manager

Operational efficiency;

Profitability;

Tactics;

Successful implementation 

Manage Closely

Timeline, Project plan, Risk assessments, Progress reports, Project issues & solutions; Contingency plan, Team involvement & regular progress meetings, Resistance monitoring, Purchase orders, Obtain required approval, Fund request

 

Operations Management

3

Ally

-          Team leader & Chief Technician

Operational efficiency; Technical protocols,

Systems & technology; Successful application

Manage Closely

Timeline, Project plan, Risk assessments, Project issues & solutions; System training.

 

 

 

 

 

 

 

 

 

 

 

 

 

 

 

 

 

 

 

 

 

 

 

 

 

Employees

Engineers

3

Allies – in favour of improved workflow processes

 

Product safety, feasibility study, quality control, system protocols, technology, reporting

Manage Closely

Team involvement & regular meeting progress for workflow issues, resistance tactics

Technicians

3

Allies – in favour of improved workflow processes

Product quality and safety maintenance

Manage Closely

Involving teams & regular progress meetings for resolving workflow issues;

Systems training;

Workflow processes

Quality Control Staffs

3

Neutral – power user

Reporting; Workflow processes; Result delivery

Manage Closely

Undertaking training as a system administrator, involving team & regular progress meetings for resolving workflow issues & solutions

Product Developer

3

Potential opponent – might feel threatened by introduction of AI; mistrusting AI

Ensuring product safety features; Compliance; System technology reporting and protocols

Manage Closely

Training and development; Involving team & regular progress meetings for workflow related issues & solutions; Resistance tactics

Suppliers

AI System Engineers

3

Allies – Subject matter experts

Attainment of Sales & brand development; Installation & training

Manage Closely

Project plan and timeline; Training; Scope of work required; Downtime risks assessment; Regular meetings & progress reports
Category

Particulars

Quadrant

Key Interests

Main Action

Management Activities

Customer

Smartphone consumers

4

Neutral

Smartphone safety;

Timely appointments & reports

Keep Satisfied

Entail operational efficiency;

Monitor;

Conduct Customer Satisfaction Surveys

Competitors

Other electronic  companies

4

Neutral

Technological advancements;

Service offerings 

Monitor

Monitor for aggressive action for attaining leadership position

Agency

Quality Rating Agency such as ISO

4

Neutral

Compliance; Safety standards

Keep Satisfied

Monitor for any new standard introduction and revision

Korean Government

Electronic and technological Authority Ministry

1

Neutral

Regulatory Compliance;

Quality assurance

Keep Satisfied

Abide by government regulations
2.11 PROJECT FUNDING
The project will be funded by project sponsors with strict measures of cost control implemented within the approved budget.
Capital investment will be requested when the budget will be submitted for approval of the business case.
Investment will be considered as an intangible asset
Depreciation will be over 5 years
Payback period will be within 5 years of investment
Schedule of payments will be negotiated
ROI will need to be monitored in strictest possible manner
2.12 COMMUNICATION PLAN
The project will need to implement an effective plan for communication such that operational efficiency is maintained and potential resistance amongst employees is overcome, which is needed for successful implementation.
Top-down approach for;
Managing resistance
Providing support along with guidance to the project team
Provide sufficient training with development
Drive successful implementation
Bottom-up approach for;
Management of risks and ascertaining solutions for potential issues
Motivating and leading teams for adapting to changes and positively undertake new technologies
Middle-out approach for;
Enhance operational efficiency
Minimize downtime
Provide full support at all the levels
Impact effective communication between the subject matter experts and the project team
2.13 PERT DIAGRAM
The PERT Diagram depicts relationship between the timeframes also the tasks that needs to be completed for optimistic outcomes. There are certain disadvantages associated with the PERT diagram as stated below;
It can cerate confusion in case tasks are not clearly in case not defined on the diagram
It is dependent on the prediction of timeframes
Can be understood with ease when only a single supplier is engaged
Does not include opportunity for unexpected happenings
Challenging to apply when tasks share similar resources
Ways in which the challenges stated above can be overcome are;
By applying Gantt chart along with PERT
Checking estimated timeframes with supplier multiple times
Ensuring predations have been undertaken with shared resources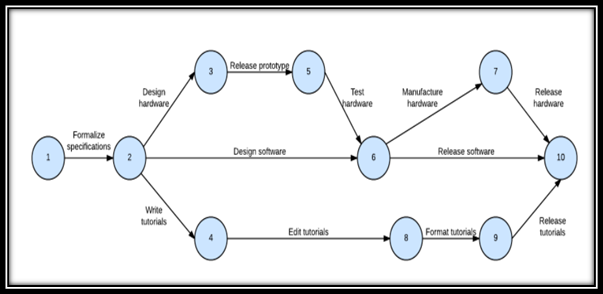 Figure 4: PERT Diagram
Source: Author