Strategic Innovation Assignment: Case Study Of Amazon
Question
Task:
Your case study on strategic innovation assignment should answer the following:
Using Osterwalder's Business Model Canvas, construct the business model used by your chosen company. What role does innovation play in your company's business model? How can innovation be improved in your company?
You may find the following points useful in completing your case study.
Your case study should display the ability to blend the theoretical concepts and frameworks introduced in the course with the 'real world' data and knowledge gained from your chosen company

It should be critical in orientation i.e. can you choose appropriate concepts and frameworks to apply to your company? Have you highlighted the most significant aspects of innovation in your company? Are you able to make recommendations for improvement based on your analysis of the company?
Your case study should provide a holistic picture of your company and its approach to innovation by giving insight into the innovation-based processes/activities of your company:

How does your company create innovation and where does this fit in terms of overall corporate strategy?
How does your company manage innovation internally (and externally)?
How does your company appropriate and exploit innovation?
As an aid to constructing your case study, think about the following:

What are the key innovation processes and how are they managed?
What is the strategy to source, capture and exploit innovation?
How does what you find in your company relate to theoretical concepts/frameworks?
What can your company do better in terms of innovation?
Answer
Introduction to the case of strategic innovation assignment
Amazon's vision is to be the world's most customer-centric company. Its mission is to raise the bar of the customer experience by using the internet and technology to help consumers find, discover and buy anything, and empower businesses and content creators to maximise their success. Amazon's strategy has focused on areas that leverage its strengths, liquidity, and brand name recognition. Amazon has achieved substantial scale with its fulfilment model, the volume of goods it manages enables the company to create infrastructure and processes to cost-effectively pick, pack and ship goods to customers. The company leverages its logistics and distribution network globally, which would certainly be a benefit to any new business it enters.
While the visible aspects of Amazon's business have been featured frequently, this report aims to provide a deeper look into the company's business model and the way it has been able to leverage technology to bring about innovative changes and strategies and how it gives them a competitive advantage. The paper looks at some of the internal and external innovations that help sustain Amazon's success. It also explores some of how these synergies have been leveraged so far and also aims to put forward some concepts for improving them further. Additionally, it talks about the benefits of Amazon adopting this business model and how it provides a good platform to grow from.
"Osterwalder's Business Model"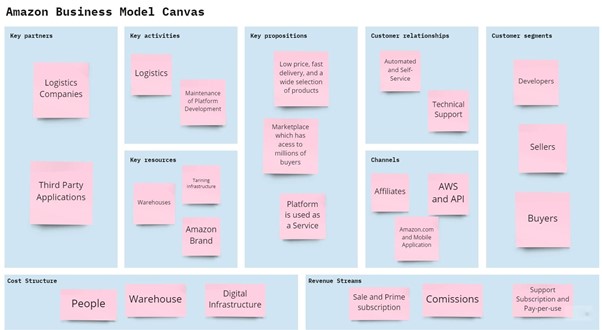 (Source: Self-made)
Discussion
Amazon has seen unprecedented growth in recent years and has cemented itself as a global player in this market. Its success over the years shows that the company has had to evolve from its traditional business model of selling anything today, to a vertically integrated supply chain focused model to provide consumers with everything they need. Amazon's business strategy leverages its strengths (Denning, 2018), which include its advanced technology and global presence, as well as its weaknesses, which include operating in several volatile markets with different regulatory bodies and tax policies.
Along with the benefits of being an Internet company, Amazon gained significant economies of scale by growing the size of its customer base and increasing the number of products sold on its platform. Amazon's business model is built around synergies between internal operations and external drivers such as suppliers and customers, market conditions, local competition, digital technology innovations (Rikap, 2020) market dynamics, regulatory impacts and other factors that affect the operations of businesses in general and online retailers in particular.
Amazon is the shining example of what a successful customer-obsessed organization can look like. Their ability to test, launch, and iterate on an experimental basis is unparalleled in the industry. As organizations across business sectors are looking to become more creative and innovative, leaders should explore the best practices illustrated below that Amazon deploys to build differentiation and drive growth (Hahn et al., 2018). Amazon has built a strong culture of experimentation, innovation and discipline. Their approach is counterintuitive to a lot of people because it involves taking risks by making big bets on unproven products and business models, while everyone else is playing it safe and pursuing incremental innovation.
Amazon corporate strategy and innovation
Using the core offering of the world's largest e-commerce platform, Amazon has been able to successfully diversify its business activities, leveraging its technological capabilities and business strengths. This higher level of diversification means that the company is somewhat removed from its core competencies and markets. Amazon employs a concentric diversification strategy that allows for the expansion of its business into sectors of the economy that are related to its core business operations (Arnett et al., 2018). Essentially, this strategy is based on focusing on technological capability to provide differentiated services to customers. Moreover, employing a cost leadership strategy and expanding into as many market segments as possible allows Amazon to continue attracting a growing number of customers who can trust that they can find what they are looking for at the lowest price through Amazon's portal (Cusumano et al., 2019).
Amazon's generic corporate strategy focuses on providing the maximum value for its customers as its main competitive advantage. This competitive advantage is based on mediating customer interactions between internet-based platforms and the company's supplier network. This competitive advantage allows Amazon to successfully compete in both cost leadership and differentiation. Indeed, Amazon's strategy is designed to leverage the company's technological capabilities for business success.
Amazon is one of the major IT companies in the world at the moment. To enhance the online shopping experiences of consumers, Amazon has created an ingenious data analytics system that is designed to target customers with precision to sell relevant inventory items. Online shoppers encounter a list of recommended products that are picked according to historical behaviour and mapped to likely future purchases. This has meant that Amazon can sense and anticipate what consumers want and tailor its strategies accordingly. Big Data and analytic tools enable Amazon to create an ideal customer experience. It has mapped queries, customer feedback, purchase information, etc., to create specific user profiles. The advanced analytical tools enable rapid mapping of this Big Data. This information is used by the company to target customers in each segment and modify products based on the customer's preferences. This helps Amazon gain more business from existing customers, along with penetrating new markets with clearly targeted products and services (Dolata, 2017).
Management of Internal and External Innovation by Amazon
Amazon's approach to innovation is customer-centred and data-driven. With this in mind, Amazon knows that it is important to have many different types of careers and people working together to be able to have the biggest impact on the customer. Great innovators are well-read across several disciplines. They are constantly learning and thinking about how they can apply ideas from multiple fields to solve problems. Amazon has pioneered new practices in corporate innovation. They have always focused on customer-led innovation externally and data-driven innovation designs internally. This process begins by leveraging large amounts of internal data about customer behaviour, including searches and purchases, combined with an understanding of the product development process (Naiman, 2019). The goal is to identify areas where customers would like to buy new products but aren't finding them. Specialized teams then use that information to identify new opportunities and develop products that they hope will meet those needs well. Amazon's Marketplace drives a very real and immediate feedback loop between customers and sellers. The buyers of an item on Amazon can provide ratings and reviews. Not only does this help the next buyer (and Amazon) understand how well-chosen a particular product is, but it also provides instant feedback to the seller of the product (Osterwalder et al., 2020). The seller knows immediately if they are doing something right or wrong if they need to add more options or take away some choices. And when there are a lot of sellers in one area — as in books — then the competition spurs all sellers to do better, to innovate by making their products more attractive and engaging. All this leads to longer-term innovation based on real customer needs in a way that is difficult for competitors without a similar system (or scale) to match.
Appropriation and Exploitation Innovation of Amazon
Every line of business at Amazon uses extensive metrics to guide and grow their businesses, improve the customer experience, and fulfil the company's mission of being Earth's most customer-centric company. Amazon continues to measure everything so we can understand not just what happened but also why it happened (Amit & Zott, 2020). They use those learnings to improve and iterate, taking advantage of what they know works and abandoning what does not.
Machine learning is one of the top priorities at Amazon and is embedded in every single business unit, team, warehouse and country around the globe. It's used to optimize operations and deliver accurate recommendations. Amazon has granted its entire company access to the same artificial intelligence that drives its Alexa product. Engineers across the business are using data-powered tools to automate processes and create highly personalized experiences based on where and when consumers use their devices (Wright, 2019). And it's working: Amazon's smart speaker sales have nearly tripled since last year.
The basic structure of work at Amazon has been set up to generate continuous innovation. Amazon's overall structure is designed to foster innovation. To support long-term growth, managers establish clear objectives and goals. The company encourages employees to invest in inventions that meet the long-term needs of the business. Managers take the initiative in developing leaders at all levels to focus on a shared vision and creating a culture of high performance and continuous improvement.
Key Innovations of Amazon
Every process and system is designed to promote the creative thinking necessary for innovation while providing the structure needed to ensure a methodical and purposeful approach to the delivery of innovations. This balance is at the core of Amazon's innovation framework because it provides an environment that allows people to be innovative and innovative thinkers but brings those ideas to fruition with a foundational framework that creates value for all stakeholders involved (Vollero et al., 2020).
With Amazon's e-commerce site, they removed the inconvenience of having to drive to the store or deal with unreliable or slow shipping and made getting items from them so convenient that people were willing to forego shopping around and just use them a lot. When Amazon came out with its Amazon Prime service, it wasn't just offering a new subscription service for online shoppers, it was making a big move in the multibillion-dollar business of shipping goods. By creating Prime as a subscription service and making it competitively priced, Amazon has won the hearts of its customers (O'Reilly & Binns, 2019). In addition to providing fast delivery, Amazon also created a sense of exclusivity with Prime in its early years by offering potential members invitations rather than allowing them to simply sign up.
Amazon's Echo has been wildly successful since April 2015. Amazon's Alexa has become a popular solution for consumers seeking a voice-controlled digital assistant. Amazon's strategy with Alexa is much more user-friendly than that of its competitors, who have focused more on forming partnerships to get their technology out there. Amazon's goal is to make sure people always have the information they need for daily tasks. Amazon is working to make its already impressive AI understanding sound better by improving drop-in functionality and calling via Echo devices (Wu & Gereffi, 2018). The goal of this effort is to broaden the range of proactive actions that consumers can take on Amazon products, like doing voice shopping and controlling internet-connected devices.
Amazon and its Way of Source Innovation
Amazon has a series of very specific ways of doing things. These are often summarized in a one-page document that is spread throughout the organization. These concepts are presented as essential to the way Amazon works, and they build upon each other to explain why the company focuses on customer needs above all else. One of their tools is the obsession with customer feedback. The company backs up feedback with detailed data we deliver to customers to measure satisfaction and loyalty (Gatautis, 2017). Another tool is the creation of press releases written as if an innovative product has been released to customers, which helps them develop innovative solutions effectively by describing all product features in a story format.
The Amazon approach to innovation is driven by experimentation and data-based decision-making. The company deploys small, autonomous teams who self-determine the best approach to solving a customer need after first identifying the customer problem and then defining how success would be measured. Continuous testing, iteration, and rapid deployment are foundational to their process (Vadicherla, 2021).
Investing in infrastructure early on is key to building a successful user experience. When Amazon was first starting, Jeff Bezos hired algorithm experts and invested significantly in the engineering talent, even when it was economically challenging. His underlying assumption is that if you want to stay ahead of the technology curve, you need to hire the best people at all costs (Bryar & Carr, 2021). Building a solid foundation will enable your company to iterate and experiment more quickly, resulting in higher conversion rates and reduced customer frustration.
Recommendations
Based on the company's current strategies, in terms of its massive size, resources, and track record for success, it is highly likely that Amazon's operations will continue growing. Growth opportunities include international expansion, especially into high-growth developing economies; expanding into new media markets like e-books and video streaming; and moving further into the grocery retail sector. Amazon should continue expanding its operations and growth rates, which is a critical issue for the company in the long term. The expansion of the business in new segments strengthens Amazon's position in these markets.
Amazon.com Inc. faces various strategic challenges despite growing revenues and market share in the online retail business. The e-commerce giant faces competition from other well-entrenched online retailers like eBay and Wal-Mart and well as offline retailers such as Best Buy. Amazon is also vulnerable to imitation Even though the company enjoys a competitive advantage in technology and logistics, it can lose out if it does not keep pace with rapid technology changes and developments by competitors. Amazon should therefore continue to innovate its products and services to maintain a competitive advantage.
Theoretical Framework
Amazon faces the main threat of aggressive competition and imitation. The development of e-commerce technologies can create opportunities for rivals to utilize similar software to improve their online shopping services and platforms. In addition, Amazon's current competitors or potential newbies may decide to lower their prices which could inhibit Amazon's sales growth and market share. Amazon is also dependent on internet access to operate its business model; thus, it would not be possible for it to operate if its e-commerce websites are inaccessible due to an internet shutdown.
Amazon's major strengths are that it offers low prices, a wide range of products, a solid reputation and strong possibilities for growth. Amazon has its Prime program, offering two-day shipping at a flat rate and one-hour delivery on a subset of items in select areas of the country. Amazon also has original programming, an "e-Book business and Kindle e-readers, music streaming, cloud storage" and others. Currently, Amazon Prime is the second-largest subscription-based program in the United States after Netflix. Amazon should continue to develop new programs to not only diversify its operations but also lock in customers by encouraging the use of additional programs once customers sign up for the initial benefit like Amazon Prime.
Conclusion
Amazon is a company that has seen exponential growth over the past 20 years. There are several reasons for this; the initial vision for the company was to become an online retailer that could sell everything, and the focus on creating a customer-centric experience has helped it achieve this goal. Amazon has fundamentally changed how we shop by giving us more options than ever before in terms of both products (through its marketplace) and services available through its Prime subscription service.
To solidify its market position, Amazon has had to evolve from its traditional business model of selling anything today, to a vertically integrated supply chain focused approach, providing consumers with everything they need. Amazon's firm-specific advantages lie in its use of technology as a source of competitive advantage and the transaction cost advantages it gains due to volume through economies of scale.
References
Amit, R., & Zott, C. (2020). Business model innovation strategy: Transformational concepts and tools for entrepreneurial leaders. John Wiley & Sons.
Arnett, J., Goldfinch, B., & Chinta, R. (2018). Multi-dimensional nature of innovation at Amazon. Strategic innovation assignment International Journal of Business Innovation and Research, 15(1), 1-13.
Bryar, C., & Carr, B. (2021). Working Backwards: Insights, Stories, and Secrets from Inside Amazon. Pan Macmillan.
Cusumano, M. A., Gawer, A., & Yoffie, D. B. (2019). The business of platforms: Strategy in the age of digital competition, innovation, and power (pp. 1-309). New York: Harper Business.
Denning, S. (2018). The role of the C-suite in agile transformation: the case of amazon. Strategy & Leadership.
Dolata, U. (2017). Apple, Amazon, Google, Facebook, Microsoft: Market concentration-competition-innovation strategies (No. 2017-01). SOI Discussion Paper.
Gatautis, R. (2017). The rise of the platforms: Business model innovation perspectives. Engineering Economics, 28(5), 585-591.
Hahn, Y., Kim, D., & Youn, M. K. (2018). A brief analysis of Amazon and distribution strategy. Journal of Distribution Science, 16(4), 17-20.
Naiman, L. (2019). Design thinking as a strategy for innovation. The European Business Review, June, https://www. europeanbusinessreview. com/designthinking-as-a-strategy-for-innovation.
O'Reilly, C., & Binns, A. J. (2019). The three stages of disruptive innovation: Idea generation, incubation, and scaling. California Management Review, 61(3), 49-71.
Osterwalder, A., Pigneur, Y., Smith, A., & Etiemble, F. (2020). The Invincible Company: How to Constantly Reinvent Your Organization with Inspiration From the World's Best Business Models (Vol. 4). John Wiley & Sons.
Rikap, C. (2020). Amazon: A story of accumulation through intellectual rentiership and predation. Competition & Change, 1024529420932418.
Vadicherla, P. (2021). Amazon web services based Migration Strategy for Legacy Systems–Review. International Journal of Advanced Research in Electrical, Electronics and Instrumentation Engineering (IJAREEIE), 10(3), 832-835.
Vollero, A., Siano, A., & Sardanelli, D. (2020). Amazon Effect? an Analysis of User-Generated Content on Consumer Electronics Retailers' Facebook Pages. In Advances in Digital Marketing and eCommerce (pp. 188-193). Springer, Cham.
Wright, L. T., Robin, R., Stone, M., & Aravopoulou, D. E. (2019). Adoption of big data technology for innovation in B2B marketing. Journal of Business-to-Business Marketing, 26(3-4), 281-293.
Wu, X., & Gereffi, G. (2018). Amazon and Alibaba: Internet governance, business models, and internationalization strategies. In International business in the information and digital age. Emerald Publishing Limited