Supply Chain Management Assignment: Business Case Analysis of Huawei's Global Supply Chain
Question
Task: Study the business case of Analysis of Huawei's Global Supply Chain by Yongjun Ni *, and make use of an additional case of student's own choice as a comparison (only for a supportive), write a case study report on supply chain management assignment addressing, but not limited to, the following two components:
1. Study the business case* autonomously, and critically analyse the supply chain model:
a. Develop and articulate a general "conceptual model" for the supply chain, which best represents the case's predominant supply chain strategy, structure, and operations. Student should name and describe the supply chain conceptual model (examples of models are shown below).
b. Rigorously explain or argue with support of literatures, if necessary, why the conceptual model is the supply chain's essential characteristics and the key driver for the supply chain's competitive performances.
2. Discuss the practices or the managerial approaches of the supply chain model:
a. Critically identify any prominent supply chain management approaches or practices that are described or indicated in the case, which operationalise the conceptual model. Student should to describe how to, or how do they set out to achieve it (the way of doing something called "approach").
b. Critically analyse those approaches and practices in terms of their effectiveness, efficiency, as well as their feasibility in achieving the supply chain's strategic objectives. Identifying a conceptual SC "model" from the case answers the questions of "what is it"; on the other hand, describing the "approach" to implement a SC model answers the question of "How to do it". Surely, the two are different
Answer
Introduction to Supply Chain Management Assignment
Huawei is the world's most supplier of ICT solutions, emphasizing the field of ICT. Huawei is putting its worldwide operation strategy into action. The entrepreneur establishes strategic goals by studying each stage present in life cycle of the product. The launch period's primary goal is to attract clients. The main purpose of the expansion is to occupy the market. Building a business brand is a tactical purpose in development, whereas producing new products is tactical during an economic downturn. In this supply chain management assignment, the researcher will be discussing the improvement of the supply chain model for the company name Huawei. The researcher will be using both Agile and Lean supply chain model to improve activities occurring in Huawei Technologies supply chain.
Part 1
A. Development of the conceptual model for supply chain
Lean Supply Chain
The lean supply chain will be the most table model for the organization named Huawei because it will help them omit all the unnecessary supplies from the market and warehouse. Lots of opportunities are being provided for chosen company to maintain Lean Supply chain Management. External problems piled up, putting Huawei's supply chain operations to the test. The inventory cost of company will be well maintained. It will make sure that despite the pressure, it was able to keep the business running. Huawei's Enterprise Solutions SC Team can able to step further by creating corporate supply chain regulations for eliminating. It is done by undertaking value stream mapping to implement tactics including manufacturing synchronization and digitized, smart processes (Diva-portal.org, 2021). Huawei's partners have gained increasingly convinced in the company's capacity to develop digital, proactive supply chains and give B2C expertise in Industry to both customers and partners.
From raw material procurement through production and logistics, consistency is critical across the supply chain. However, establishing supply chains with efficient, end-to-end processes that ensure material availability, production productivity, and the product delivery is getting more difficult. Supply networks are increasingly complicated, with rising uncertainties and a widening supply-demand mismatch (mckinsey.com, 2021). It gets more difficult for businesses to distribute items swiftly over the world when input materials supply chain leads marked increase and companies develop regional clusters.
Huawei's role in the company in the 5G era is to enable suppliers to enhance their manufacturing, operational management, planning, and edge supply chain abilities to help the ICT industry thrive. According to legal and regulatory requirements, the customer service team has always been provided through Huawei's distribution network (Ni, 2018). Huawei has signed contracts for even more than 50 5G projects throughout the world thus far. In the meantime, shipment quantities of flagship goods in the wireless networking, optical transfer, data transmission, and IT sectors have increased significantly. Huawei's BCM system needs to gain long-term, and varied supply plans were used to accomplish this.
Justification of Choosing the model
With the help of Lean Supply chain model, it is seen that brand Huawei maintains consistency by using a variety of technological and multi-region delivery strategies, including inventory systems. The flexibility in business operation will be assured their final service continuity for consumers, Huawei has developed several supply centres and designed global supply networks that connect regional warehousing and logistical routings (Feng et al., 2017). Huawei has established an edge BCM procedure by connecting the BCM system with customers and suppliers will be ensuring that the organization is aware of the process through maintenance of implementation obligations.
Agile Supply chain
With the inclusion of Lean supply chain model, the agile supply chain will provide lots of benefits for supply chain to reach their consumer demands in right way. Huawei's SC strategy is to create digitized, proactive SCs that maintain supply reliability. Simple transaction and systematic framework improve the B2C experience for B2B stakeholders and clients, allowing them to get predictable lead times and speedy product delivery. Huawei uses a modular-based product design paradigm to simplify the integration design system for partners, customers, and suppliers. The whole group will be allowing customers to flexibly build standardized product modules to meet their specific needs (Berning, 2019). Huawei collaborates with partners to harmonize data, procedures, and systems, allowing easier information exchange and end-to-end visualization.
The company need to develop diverse supply chain benefits. Huawei has transformed the conventional one-size-fits-all organizational structure with several industry-specific business models. Huawei places a premium on collaboration with clients and stakeholders to strengthen supplier value chain services. Before signing contracts, parties must consider configuration alignment, budgeting, competency, and resource visualization (Lairson, 2020). Huawei implements a two-layer strategy implementation system to allow for dynamic cooperation and quick resource adjustments. Huawei needs to identify requirements, AI technologies, and algorithm that has been applied.
Huawei provides networks that can cope with external uncertainties that can be immediately set up and removed with the help of an interface called capabilities designs which consist of node capability backup and risk plans. Huawei establishes a no-touch order fulfilment model by developing transaction rules and providing SLAs based on transaction processing, building differentiated order fulfilment channels following order generation (Wu et al., 2021). They will be arranging fulfilment activities focusing on various scenarios, including the company are instantaneously scheduling production while strict adherence to an SLA's supply responsibilities.
Huawei facilitates data connectivity with the help of autonomous equipment and big data platforms to enable automated processes based on the transportation of their physical-based supplies. Supply node operations are streamlined, allowing for a secure, dependable, uninterrupted, and effective edge commodities transportation procedure. To create a digital twin with the actual world, IOCs are a hierarchical set of circumstances. Also, it is dynamically customizable are used. Applications can transmit commands to actual operation places.
|Justification of chosen Agile Supply chain
The utilisation of chosen model is cost-effective where supply chain can potentially accomplish precisely what is required of it and nothing more, but it necessitates accurate demand and supply forecasts and planning. Huawei Technologies will have consistent product standards, extensive lead periods, and few impulsive purchases. Huawei has helped the company succeed in several situations by adjusting the approach like products, consumers, and marketing strategies. The effectiveness of agile supply might also be hampered by a deeply established culture or presence of underinvestment in supporting technology. It calculates the cost of supplies to distribute to partnerships after evaluating their needs at the start of each quarter. Huawei guides order placing periods and order quantities to its partners (Morris, 2021). GLP's complete stock is constructed as a set using PCI design and planned their present inventory models. The conventional make-to-order strategy has been changed into a supply-from stock one dedicated to fulfilling orders by employing automated production management.
HUAWEI is a sophisticated company that values collaboration, challenges, and the right of equal access with its shareholders. They constantly search for partnership opportunities. HUAWEI also pushes its employees to be creative to develop new products and boost customer happiness. However, the business complex is growing because of the rapid growth of enterprises, technological advancements, and globalization, but it has been a widely debated topic in the latest generations. It is still a new phenomenon that businesses must cope with present technologies.
B. Reason conceptual model will be improving the supply chain characteristics of Huawei.
Utilization of Modern System
Huawei needs to construct digital based supply chains that are continuous, efficient, and safe. Huawei applies online autonomous logistics models to maintain their supply network all around the world. The interdependent actions among supply chain members must be coordinated in this unified objective view for obtaining the optimal fit among supply chain participants. It has been proven that inadequate supply chain operation is linked. Huawei collaborates with partners to develop the digital competencies of the supply production chain that helps promote information sharing across the whole corporate supply ecosystem, optimizing engagement with partners that will assist in creating a digital-based supply chain for the brand Huawei (Tang, 2020).
The supply chains of Huawei are more interconnected that helps to maintain their greater risk. The risk will lead to failure in supply chain. Suppliers and manufacturers must be aware of their interdependence present in risks that are associated in present process. Responsiveness, economy, and dependability are the most important factors in supply chain economics. The number of activities, distribution patterns, geographical locations, and economic institutions of different enterprises expands as goods and raw material flows become more complicated, increasing SC vulnerability.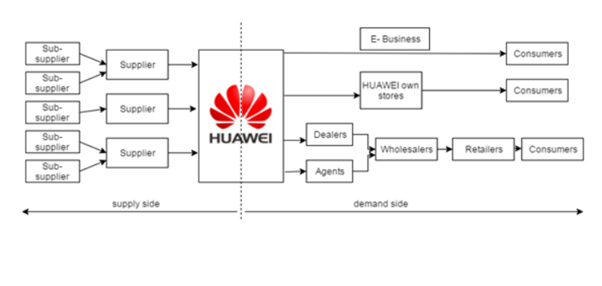 Figure 1: Huawei Lean Supply chain to be followed
(Source: Namingitand Al Haddad, 2020)
The supply chain refers to the flow of resources, goods, and other services from one location to another (Namingit and Al Haddad, 2020). The provenance of the products, materials, and services varies throughout the system. Extended material flows that include total costs going above product price, additional restrictions due to chain complications, and currency volatility raise the risk. During the process, the risk is defined as the unpredictability that deviations from expected outcomes can result in economic implications for the company, including their loss of its Value.
Implementation of Supply Chain 4.0 with chosen SC model
For Huawei the chosen4.0 based technologies will create disruption and encourages companies to rethink their supply chain strategies. There is presence of new advanced technologies that have emerged that are causing traditional working methods to be disrupted. Big developments and customer expectations also alter the playing field, apart from the need to adjust their distribution networks. The SC networks also have the opportunity to improve their operational efficiency. The effectiveness will allow them to benefit from the new digital-based SC business model. The chosen model will be allowing them to transform their company into a freshly formed SC. (Guo et al., 2019). The pressure to cut carbon emissions, including traffic limitations for socioeconomic considerations, had been added to the logistical issues.
However, as the workforce ages, changing demographics result in decreasing labour supply and increased ergonomic demands.
At a similar time, consumer expectations are rising: the recent online trend has resulted in higher service demands and a lot tighter granularization of orders. The SKU portfolio's substantial growth and continual modifications are also driven by a clear trend toward greater personalization and customization. SC competitiveness is fuelled by online-enabled openness and simple access to many options for where to shop and what to buy.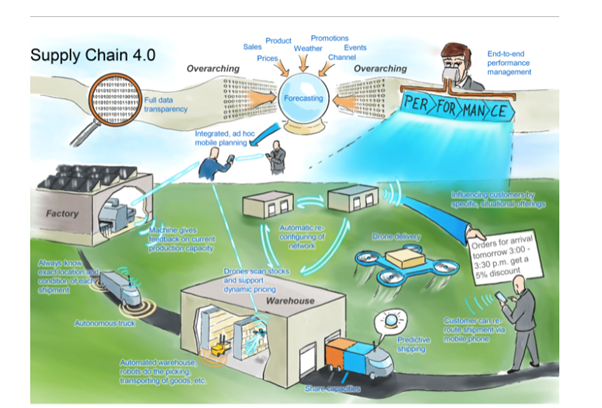 Figure 2: 4.0 Supply chain concept
(Source: Inkster, 2019)
The chosen supply chain model will help to improve their present distribution methods their delivery date has been reduced to a few hours. The company will be using predictive modelling to study both the data that are coming from different sources. As per software technologies used by company Huawei their machine status data to maintain their spare-parts requirements will be creating foundation for these services. The services will be allowing to estimate client demand in present market (Inkster, 2019). Forecasts are not done every month, but weekly and even daily for particularly fast-moving products. Before the consumer places an order, products are dispatched. Sometimes, a customer order is matched with an existing cargo in the logistics system, and the shipment is redirected to the exact client site.
Improvement of Supply Chain in Huawei Technologies
The presence of real-time management will create ad-hoc reports that create changing conditions to maintain demand and supply. With the help of software organization can maintain their planning cycles and frozen times are lowered. The procedure has become a continuously one that can respond flexibly to alter the restrictions. Customers can study their status of their shipments as per their chosen and suitable location once the products have been shipped. For this reason, company can maintain flexibility in delivery operations (Huang, 2019). Instead of having the capabilities and competencies in-house. For this reason, the supply chain can be purchased as a service and compensated for on a per-use basis. Service providers' specialization and focus enable them to benefit from economies of scale and lucrative outsourcing options.
The need for improved personalised things among customers is increasing all the time. For this reason, there will be a strong push for micro-segmentation, and advanced customization for the development of SC. The technology w will eventually be embraced as per the mentioned technology. Consumers will be controlled in precise clusters that encompass a large range of suitable goods. Customers can select from a variety of "logistic support menus" to discover the one which most meets their requirements. True insight across the supply chain is now possible with the help advanced based performance management solutions. The presence of unique based KPIs like general service level to particular scale data processing is included in the data set. Huawei needs to maintain target ambition even in the event of supply chain disruptions, systems automatically alter targets that can no longer be met to a reasonable aspiration level. In a closed-loop learning method, performance management will be learning to automatically detect risks or exceptions and modify supply chain variables to mitigate them (Kjellman et al., 2020). As a result, the automated performance assessment control tower can deal with a wide range of errors without the need for human intervention. The automating of both physical labour and planning improves SC efficiency.
Present systems will never detect this signal, resulting in a lower supplier service level recorded at the end of next month. If the worst happens, the malfunction will disrupt assembly line replenishing and cause operational issues. Many firms have begun implementing integrated strategic planning, but it is still commonly done when not all information is utilized to produce the best potential planning outcome (Madnick et al., 2020). Furthermore, it is regularly noted that planners deliberately overwrite automatically derived planning.
Every above-mentioned method will be allowing the chosen company to gain more development and improvement to maintain their supply chain in accurate manner. The organization will be able to maintain the total errors that will be generally reduced by 31.55 to 52.55%. Furthermore, in terms of forecasting, figures are passed; instead of a single forecast number, these algorithms produce a probability distribution function of projected demand volumes.
Part 2
a. Prominent supply chain management approaches or practices that are described or indicated in the case, which operationalise the conceptual model
The process of managing supply chain model needs innovative and dynamic approaches to be incorporated by prospective business organisations to achieve market excellence. Huawei Technologies Co., Ltd., being an industry leader within the information and communication technology product and service development on an international level, derives prominent approaches to dynamically operate the supply chain network (Wu et al., 2020). For becoming a fast-growing Production company, Huawei Technologies Co., Ltd. requires improved efficiency and accurate management across material handling services. Huawei Technologies Co., Ltd. also has a simultaneous goal of securing low-cost development for which the warehouse operations are also controlled. In order to practically materialize the goals, set by Huawei Technologies Co., Ltd., the global supply chain GSC is tried to be incorporated with the help of following supply chain model approach.
Use of modern IT systems
Among the predominant supply chain management models and approaches that usually render maximum efficiency across the supply chain network, the intelligent utilization of information technology or IT systems He is considered to be one. For fulfilling the business objective of rapid growth with quality production along with low-cost development, the excessive dependence upon human labor capital needs to be reduced down. An effective replacement in the form of IT systems helps Huawei Technologies Co., Ltd. to address the modern requirements of supply chain logistics performance by avoiding manual dependence (Wang et al., 2020). Huawei Technologies Co., Ltd. places much importance to the software dependent IT structure to concretely strengthen the internal supply chain management functions. As a result of which the high bay warehouse capacity with more than 20,000 trees along with 40,000 bins are positioned at distributed production centers of Huawei Technologies Co., Ltd. Each of these production centres are connected through automated information technology network to uplift the overall warehouse productivity and functional efficiency to reduce chances of error. With the use of 13 pallet transfer stackers end convoy are with seven magazine stackers strengthen the global supply chain GSC unit based upon latest IT software in Corporation to make Huawei Technologies Co., Ltd. the industry leader.
The frequent upgrade of functions across the supply chain network help to cover the services across extensive international market including Latin America, Europe, North America, Asia Pacific, North Africa, South Africa, Russia and Middle East zones (Akundi et al., 2018). By leveraging upon the advanced and modern IT system that the global resource management and supply chain logistical functions are effectually deployed by Huawei Technologies Co., Ltd. across multiple borders to achieve international excellence. By the implementation of enterprise resource planning or ERP system Huawei Technologies Co., Ltd. plans to achieve advanced mechanism to mobilize their efforts through internationally equipped Chain of supplies. In order to create the best environment and working conditions to accomplish customer specific requirements, Huawei Technologies Co., Ltd. places maximum Concentration upon advanced planning scheduling or a SP inclined information and communication technology and advanced IT systems. This not only bridges the gap between customer need expectation level and the quality of service output by the supply chain network through latest IT systems at Huawei Technologies Co., Ltd. but also build a sustainable establishment across the industry. This acts as a strengthening factor to empower their internal capacity of supply chain collaborative management structure.
Multi-tier supplier partnership
Huawei Technologies Co., Ltd. prefers to grow their business across international grounds at a rapid pace. By associating with good partners, the supplier as well as carrier business establishment has tried to be enhanced. With the help of multi-tier supplier partnership Huawei Technologies Co., Ltd. is able to implement an effective hierarchical management across suppliers. It is the certified standardization that builds strict certification among suppliers. The multidisciplinary aspect encompassed within the supply chain network helps the collaborative management approach to be effectively implemented (Shamout and Elayan, 2020). This has approached on a multidimensional and multidisciplinary level which includes technology, quality, cost, response, social responsibility, delivery and environmental protection. With the help of multi-tier supplier partnership model approach, Huawei Technologies Co., Ltd. is making an honest attempt to encourage and strengthen the supply chain collaboration system. This not only helps the real-time interaction to take place between the suppliers and the demand creators But also guarantees optimum stability over a large-scale timeline.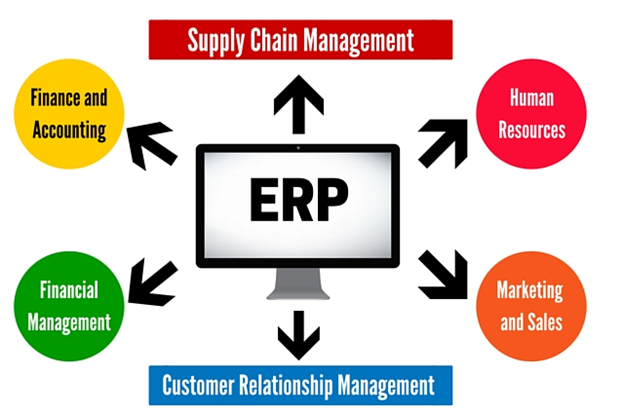 Figure: ERP system within supply chain network
(Source: Logisticsbureau.com. 2021)
Huawei Technologies Co., Ltd. likes to establish their collaborative management structure to fulfil the multi-tier supplier partnership model. This not only helps to facilitate the strategic outcome to incorporate multiple suppliers across international borders but also greatly supports simplification of intricate procedures at Huawei Technologies Co., Ltd. The Complex structure of multi layered supply chain objective enables the procurement process to get improved under information accuracy system with the help of multi-tier supplier partnership (Firdaus, 2020). This creates continued exchange and running in technique so that a win-win relationship is possible to be established across multiple partners that Huawei Technologies Co., Ltd. collaborates with. With the help of application of multi-tier supplier partnership-based model approach, Huawei Technologies Co., Ltd. creates a successful global supply chain network by passing through local LSP authentication program.
Deriving customs clearance on local ground build a significant Point of supply chain network where Huawei Technologies Co., Ltd. makes support service the optimization approach. Creating the closest connection with customers is the prime approach for which more than 500 shipping lines are established across international grounds by Huawei Technologies Co., Ltd (Arcesati et al., 2020). This creates a strategic multi-tier supplier partnership to accomplish an advanced Network of logistics supplies. The logistics partners associated with Huawei Technologies Co., Ltd. accurately dispatch as well as received the products from different parts of the world. With the efficient use of economical rework, pre-work and original rework layers, Huawei Technologies Co., Ltd. is able to achieve optimum finesse across multi-tier supplier partnership. This creates radical dynamism to identify, evaluate, process and manage the risk analysis steps in a controlled mechanism.
With the help of multi-tier supplier partnership, Huawei Technologies Co., Ltd. is able to implement their supply chain network based upon collaborative management effect. The gap identified between the rate of delivery at 50% and the manufacturing of telecom equipment at 94% creates supply chain network discrepancy on an international level (Nakamura, 2020). Taking the inventory turnover rate into consideration, the 3.6 times increment in Hume die on an annual term leads to 9.4 times the international supply chain network operations on per annum basis. It is the gradual increment approach by which the collaborative management is implemented on an external supply chain network basis. This has made Huawei Technologies Co., Ltd. achieve 40% higher scales by using the multi-tier supplier partnership strategy. By incorporating the IT system software structure, Huawei Technologies Co., Ltd. is able to build automation infused supply chain network to address warehouse services on an extensive level. This has helped not only the new warehouse stores to become fully operational but also become equivalent in storage capacity and warehouse functioning (Palanisamy and Wu, 2021).
Critical analysis of the approaches and practices taken up by Huawei Technologies Co., Ltd. Two of the major approaches help to build the conceptual supply chain model in case of Huawei Technologies Co., Ltd. As a core motive of the company is to derive globalised industrial leadership, the continuous need for innovation has dominated the supply chain to maximize their opportunities. With the help of two of the prime supply chain model concepts of use of modern IT systems as well as multi-tier supplier partnership, Huawei Technologies Co., Ltd. is able to get closer to their identified objectives (Rogers et al., 2020). Due to enhanced level of competitive paradigm across the private communications technology operators, Huawei Technologies Co., Ltd. is able to implement the multi-tier supplier partnership strategy.
Critically analysing the usefulness of modern IT system AC conceptual model for Huawei Technologies Co., Ltd. Keeping the focus upon continuous research and development innovation, Huawei Technologies Co., Ltd. has tried to incorporate various advanced technologies to be used for facilitating their outcomes. As one of the biggest and significant inventions designed by Indian scientists and technicians by Huawei Technologies Co., Ltd. China team to operate on international paradigms across American and European experts is the dependence upon software layout (Zhu, 2019). By addressing the global market network, Optimum stability is tried to be achieved by engaging more than 1500 customers within a network. By engaging more than 130 major events or even encompassing natural disaster network across the world, the partnership with Foxconn has helped boost technological research and development for Huawei Technologies Co., Ltd.
For undergoing robust enhancement in the supply chain global reach objective use of ERP or enterprise resource planning is proved to be one of the most advanced IT systems that Huawei Technologies Co., Ltd. has intelligently put to practice. The role of ERP system incorporated within Huawei Technologies Co., Ltd. has enabled the supply chain management strategy to be strengthened and reinforced to achieve globalised industrial benefit. Taking the software-based data storage capacity and increased efficiency into consideration, the operational visibility and transparency is possible to be magnified to reach expectation levels (Alam, 2021). As Huawei Technologies Co., Ltd. approaches for global success and international industry leadership, in the well distributed network and manufacturing efficiency is well capacitated with the help of ERP system. The ultimate goal of undergoing rapid transformation to undergo enhancement in productivity level, growth in the number of business Establishment from Europe to America or Asian countries are responsibly spread out with the benefit of enterprise resource planning. By creating multi-tier supplier partnership conceptual supply chain model, the raw materials procured are possible to undergo definite outcomes to derive the finished goods. The ERP system plays a pivotal role for combating the inefficiency Inc in ensuring the workers efforts by reducing the amount of waste. It is by addressing the unique challenges that company's best interest is possible to be served by fulfilling the role of ERP within a CM process.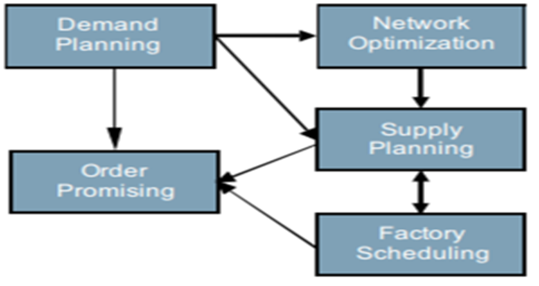 Figure: APS software for Supply Chain Model
(Source: Informer, 2021)
With the help of advanced planning and scheduling APS software model the supply chain conceptual framework is possible to undergo robust transformations (Abu Bakar et al., 2021). Huawei Technologies Co., Ltd. has potentially achieved the demand planning objective to priorities their orders on the basis of customer expectation so that streamlining the channels of distribution and logistics network across the supply chain model is possible to be goal directed. With the help of network optimization, Huawei Technologies Co., Ltd. is possible to fulfil the supply planning objective along with appropriate factory scheduling operation. Considerable amount of technological leap has helped the supply chain network to undergo overall enhancement. This has accelerated the efficiency level across multiple departments and organizations (Liu et al., 2020). The customer service expectation levels are securely reached by Huawei Technologies Co., Ltd. services with real-time transparency and speed tracking method. With the help of advanced software equipment embedded within the distribution centers across global supply chain network, the logistics service is possible to be upgraded. This has positively reinforced the customer retention propaganda where increased chance of business opportunity gets certain. Under the automation process, the workflow is possible to be reduced with operational cost inclusion. The issues related to IT system up gradation and new innovation changes at Huawei Technologies Co., Ltd. are tried to be minimized with the help of bottleneck approach to impede the inefficiency level.
With the help of absorbing modern IT systems in the form of ERP conceptual supply chain model, Huawei Technologies Co., Ltd. is able to enjoy maximum flexibility with closer connectivity with their customers and client chain (Razzaq and Mohammed, 2020). Deriving easy solutions with the help of ERP system into the SC model has enabled Huawei Technologies Co., Ltd. to undergo changes across multiple circumstances to undertake growth oriented future business expansion (Nisar, 2019). The feature rich software upgrade used through ERP application has helped Huawei Technologies Co., Ltd. to derive procurement, purchasing and execution plan for goods, resource and service management. It is the Cross-platform visibility that has helped multiple tire supplier partnership to undergo effective transparency and subsequent monitoring for long-term maintenance. The use of real-time delivery and activity update system, the ERP structure helps Huawei Technologies Co., Ltd. to remain competitive and cost-effective. This allows the assessment and measurement to take place with ERP system in corporation for deriving project goals and targets.
Conclusion
For functioning with a large-scale supply chain network touching global grounds, such a risk mitigation plan drives in favour of continuous productivity for the company. This helps to prevent crisis in the process of productivity continuation as well as formulating exercise plan in case of emergency measures for continuous supply chain network to implement optimum guarantee. Taking a critical note of using the modern IT system based conceptual SC model Into Huawei Technologies Co., Ltd. operated framework the feature rich workplace environment is possible to be optimized. It has helped streamline multiple channels of distribution and supplier connectivity with an advanced link of service improvement. This has not only helped in planning the supply chain with optimum stock and inventory quantity determination and subsequent market promotion Channels optimally exploited but the ERP system also offers maximum flexibility to operate in the supply chain paradigm.
Reference
Abu Bakar, M.R., Mat Razali, N.A., Wook, M., Ismail, M.N. and Tengku Sembok, T.M., 2021, November. The Mediating Role of Cloud Computing and Moderating Influence of Digital Organizational Culture Towards Enhancing SMEs Performance. In International Visual Informatics Conference (pp. 447-458). Springer, Cham.
Akundi, A., Tseng, B., Wu, J., Smith, E., Subbalakshmi, M. and Aguirre, F., 2018. Text mining to understand the influence of social media applications on smartphone supply chain. Procedia Computer Science, 140, pp.87-94.
Alam, S., 2021. Reviewing the Global Smartphone Industry Strategic Implication in Response to COVID-19 Situation. International Journal of Interactive Mobile Technologies (iJIM).
Arcesati, R., Holzmann, A., Shi-Kupfer, K., von Carnap, K. and Wessling, C., 2020. China's digital platform economy: Assessing developments towards Industry 4.0. Abgerufen am, 18.
Berning, S.C., 2019. The Role of Multinational Enterprises in Achieving Sustainable Development-The Case of Huawei. European Journal of Sustainable Development, 8(3), pp.194-194.
Diva-portal.org. 2021. Supply Side Risks Assessment of the Supply Chain. Available at: [Accessed 20 November 2021].
Feng, Z., He, R., Zhu, W. and Amin, F., 2017. Supply Side Risks Assessment of the Supply Chain: A case study of the Supply Side Risks Assessment in HUAWEI's Supply Chain.
Firdaus, M., 2020. How to Reduce Supply Chain Risk: Lessons from Efforts to Block Huawei.
Guo, L., Zhang, M.Y., Dodgson, M., Gann, D. and Cai, H., 2019. Seizing windows of opportunity using technology-building and market-seeking strategies in tandem: Huawei's sustained catch-up in the global market. Asia Pacific Journal of Management, 36(3), pp.849-879. Huang, W., 2019. Huawei's Competition Strategy: A Financial Perspective. In-Built on Value (pp. 31-82). Palgrave Macmillan, Singapore. Informer, E., 2021. Advanced Planning and Scheduling(APS) - 5 Ms & components. [online] ERP Information. Available at: [Accessed 24 November 2021].
Inkster, N., 2019. The Huawei Affair and China's technology ambitions. Survival, 61(1), pp.105-111.
Kjellman, A., Yang, X., Wu, X. and Park, S.Y., 2020. Huawei's Expansion and Nokia's Retreat: What Lessons Can We Learn. In Huawei Goes Global (pp. 195-222). Palgrave Macmillan, Cham.
Lairson, T.D., 2020. The International Political Economy of Huawei's Global and Domestic Environment. In Huawei Goes Global (pp. 13-40). Palgrave Macmillan, Cham.
Liu, Z., Zhang, B. and Zhao, F., 2020, May. Automotive Industry APP Development Strategy in the Prospect of Digitalization. In 2020 3rd International Conference on Electron Device and Mechanical Engineering (ICEDME) (pp. 609-616). IEEE. Logisticsbureau.com. 2021. The Ultimate Supply Chain IT System—Will There Be Only One. [online] Available at: [Accessed 24 November 2021]. Madnick, S., Johnson, S. and Huang, K., 2020. Efforts to Prevent Cyber Attacks Could be the Cause of the Next Global Financial Crisis. mckinsey.com. 2021. Supply Chain 4.0 – the next-generation digital supply chain. [online] Available at: [Accessed 20 November 2021]. Morris, D., 2021. The Huawei Paradox: Future Tech Risks and Unravelling Interdependence. Contemporary Chinese Political Economy and Strategic Relations, 7(2), pp.877-X.
Nakamura, J., 2020. Platform Strategy under Psychological Resistance to Open Source—Toward Software Innovation among SMEs. Journal of Strategic Management Studies, 12(1), pp.27-40.
Namingit, S. and Al Haddad, S., 2020. Huawei's Carrier Business in Southeast Asia. Supply chain management assignment In Huawei Goes Global (pp. 207-230). Palgrave Macmillan, Cham.
Ni, Y., 2018, June. Analysis of Huawei's Global Supply Chain. In 2018 International Conference on Sports, Arts, Education and Management Engineering (SAEME 2018) (pp. 266-269). Atlantis Press.
Nisar, T.M., 2019. Smartphone and App Implementations that Improve Productivity. De Gruyter.
Palanisamy, R. and Wu, Y., 2021. Users' attitude on perceived security of enterprise systems mobility: an empirical study. Information & Computer Security.
Razzaq, A. and Mohammed, A.A., 2020. Cloud ERP in Malaysia: Benefits, challenges, and opportunities. International Journal, 9(5). Rogers, D.S., Leuschner, R. and Choi, T.Y., 2020. Supply chain financing: Funding the supply chain and the organization. World Scientific. Shamout, M.D. and Elayan, M.B., 2020. A Comparative Analysis of Strategic Planning Practices in Gulf Cooperation Council Region: A Case Study of Huawei and Samsung Companies. Journal of Talent Development and Excellence, 12(1), pp.4891-4910. Tang, M., 2020. Huawei Versus the United States The Geopolitics of Exterritorial Internet Infrastructure. International Journal of Communication, 14, p.22.
Wang, Y., Fan, R., Shen, L. and Jin, M., 2020. Decisions and coordination of green e-commerce supply chain considering green manufacturer's fairness concerns. International Journal of Production Research, 58(24), pp.7471-7489.
Wu, S., Fan, D. and Su, Y., 2021. The Co-Evolution of Global Legitimation and Technology Upgrading: The Case of Huawei. American Business Review, 24(2), p.8.
Wu, X., Murmann, J.P., Huang, C. and Guo, B., 2020. The Transformation of Huawei: From Humble Beginnings to Global Leadership. Cambridge University Press.
Zhu, X., 2019. Introduction: From the Industrial Economy to the Digital Economy: A Giant Leap—Research on the "1+ 10" Framework of the Digital Economy. In Emerging Champions in the Digital Economy (pp. 1-65). Springer, Singapore.