Supply Chain Management Assignment: Case Analysis of Coles Supermarket
Question
Task: You are supposed to prepare a business report on supply chain management assignment including the following aspects:
Identify a typical supply chain of an exemplary firm/sector in Australia.
Identify the business units and products and services lines in supply chains.
Identify its business units' revenue and discuss their relative importance.
Analyse the advantages of the firm/sector's supply chain based on its resources and capabilities, and how they can increase the performance of the supply chain.
Discuss its disadvantages compared to other related supply chains and how they can decrease the supply chain's competitive advantage.
Make recommendations for the future strategic directions of the selected supply chains.
Answer
Overview of the topic
Purpose
The primary purpose of this task is to identify an Australian firm that is Coles Supermarket and its SCM process. The role of SCM in leveraging the competitive benefit to this firm is also going to be identified in this task.
Definition
The supply chain refers to the entire process of making and selling goods to consumers. It is a process by which a business organization follows a series of steps to make goods and serve them to consumers (Koberg & Longoni, 2019). It is necessary to state that a supply chain is everything regarding the delivery of material from the sources to the suppliers and then ultimately to users.
Role within the supply chain
Supply chain management is the process of management of the flow of goods and services, including all processes that transfer raw materials into the final products. Supply chains have wide varieties of roles in the management of business operations. As mentioned by Tseng et al. (2019), function in a supply chain includes marketing, sales, development of new products, finance, distribution and customer services. Supply chains handle all types of activities within the business process so that balance between different activities within the supply chain can be maintained.
Art of supply chain
Art of supply chain is not so much easy because it carries out the ingrained logistics functionally-oriented thinking about the way of managing goods and delivering them to end-users. Hence it is necessary to follow the art of management of effective supply processes regarding flexibility so that supply of goods and services can be efficient. For example, it can be said that when consumers identify unique products provided by the business, then it creates a unique identity for the business.
Pros of supply chain
There are certain cons and pros present for the management of the supply chain within the business process. As mentioned by Min et al. (2019), the supply chain helps in creating better collaboration between different stakeholders of the business. In addition to this, supply chains manage the quality of goods and services within the Coles Supermarket. This organization follows digital supply chainwith real time tracking facilities that helps them to constantlyidentify the condition of goods and service while delivering it to stakeholders.
Cons of the supply chain
Cons of the supply chain include the mismanaged activities and improper training of staffwithCole's supermarket. Being large and giant supermarket organization, it was not possible for manage large numbers of supply chain employees efficiently. Cost managing the supply chain are also high for Cole'ssupermarket that negatively affect the performance of supply chain management. Lack of awareness about digital technology and sustainable policies is also another important issue for managing supply chains.
Competitive advantage
Organizations can leverage their skill and efficiencies to gain a competitive advantage for the management of their supply chain process. As opined by Rajeev et al. (2017), the sustainability of the supply chain depends upon the knowledge of the business. Hence, improvement of technique to manage SCM processes would help to increase productivity. High quality can also be achieved with the help of efficient management of SC. In addition to this, high-quality goods can be able to satisfy the needs of customers and provide competitive benefits to the business.
Real-World Case
It has been mentioned earlier that Coles Supermarket has been selected as the real work case for the identification of the role of the supply chain in gaining competitive advantage by the business.
Overview of Coles Supermarket
Coles is an Australian supermarket retail chain that provides high quality and fresh goods and products to its customers. It is often traded as the Coles Supermarkets Australia Pty Ltd that is responsible for the consumer's service chains. The journey of this company began in the year 1914, and since that time, it is providing high quality fresh and branded goods to its consumers (Coles.com.au, 2021). The organization has 807 numbers of stores in different locations, along with 112,269 numbers of employees. Being Australia's largest supermarket chain, the primary vision of this retail chain is to "make life easier for customers''. It has been identified that in the year 2019, 38.17 billion Australian dollar sales revenue was generated by the organization that help them to increase theircompetitive benefit (Statista.com, 2021). The primary ambition of this supermarket chain is to be Australia's most sustainable supermarket and make differences in providing value to customers. The organization is responsible for the delivery of the fresh grocery's fresh food, groceries, liquor, general merchandise, fuel and financial services.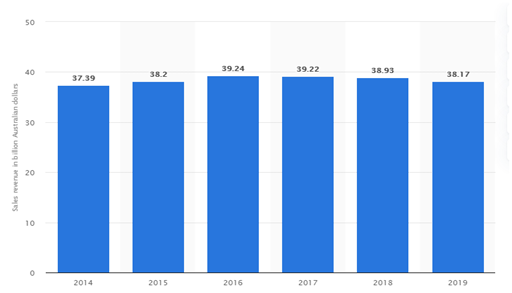 Figure 1: Revenue of Coles Supermarket from 2014 to 2019
(Source: Statista.com, 2021)
Way supply chain function provides a competitive advantage to the firm There is a certain way by which SC of Coles Supermarket leverage competitive advantage, these are as follows:
Investment in supply chain process:
Since the year 2017, the organization has invested large numbers of cash for the achievement of success in the SCM process. It has been identified that effective management of supply chains have helped Coles Supermarket to increase their revenue. In the year 2019, the overall revenue of this firm has risen by 7.1 per cent to $951 million (Mhdsupplychain.com.au, 2021). This rising in revenue has helped the company to leverage a competitive advantage. Revenue generation also helped them to adopt innovative technology like digital logistics for the management of SC.
Advancement in data management:
Coles Supermarket always focuses on providing flexibility to workers and all its suppliers. As mentioned by Jie & Gengatharen (2019), advanced warehouse management systems have been adopted by Coles. In addition to this, they have adopted advanced data analytics to secure large numbers of data regarding business operation. It has been identified that companies have adopted pop-up distribution centres in the year 2016 to 2017 that have helped them to offer a wide range of services to customers (Supplierportal.coles.com.au, 2021). Oracle SCM logistics have also incorporated within the SC process of Coles that helps them in the seamless transportation of goods, distribution of services and identification of supply trends in the global marketing environment.
Automated DC:
Coles have gained vast competitive benefit from the development of automated DC systems. Automated technology helps this organization to manage the supply process of goods on a global level. It is actually a Material Handling Solutions (MHS) that allows Coles to optimize its property portfolio (Mhdsupplychain.com.au, 2021). The firm has also adopted Witron ambient automated and Ocado online centre for management and control of SC processes. This automated system not only helped businesses to save time but also helped to reduce the cost to deliver services to customers and achieve high growth over its competitors.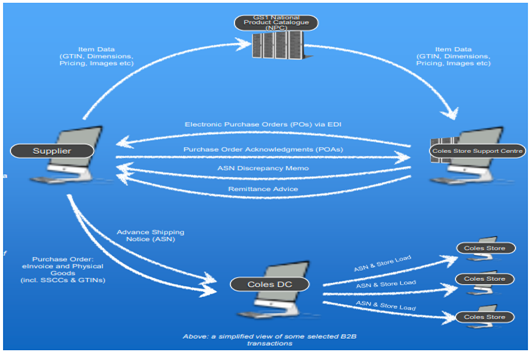 Figure 2: DC of Coles Supermarket
(Source: Supplierportal.coles.com.au, 2021)
Digital SCM process:
The organization uses online portals like websites for the delivery of services to its customers. Social media channels are also used by Coles for the delivery of necessary messages to their suppliers as well as customers. In addition to this, direct store distribution (DSD) helps organizations to attract large customers by minimizing the selling cost (Supplierportal.coles.com.au, 2021). Coles uses social media like Facebook application and Instagram, along with ASN, for the delivery of necessary services to its customers. Hence, it can be said that a direct supply chain helps customers to access services directly from the company, and it, in turn, helps business to achieve competitive benefit by satisfying the needs of customers.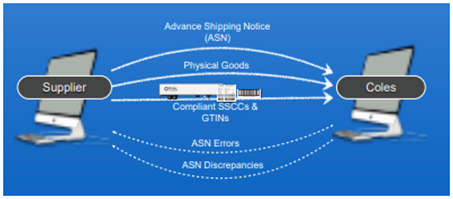 Figure 3: Advanced shipping notice (ASN) within Coles
(Source: Supplierportal.coles.com.au, 2021)
Discussion
It has been identified that SCM processes within Coles are effective enough to gain the competitive advancement of the firm. It has helped to improve the quality of goods as well as the achievement of sustainability of the company. The organization has incorporated automation processes within its supply chain so that it can manage the accuracy of services intended to supply to end-users. In the supply chain of Coles Supermarket, there are several units are strongly associated. The name of these units are sales, marketing, accounting, Wearhouse, customer service department and manufacturing department.
The organization also uses real-time tracking with sensors to identify defects and issues within the supply chain. Comparison of theory with the practice followed by Coles in supply chain function is described in the below section:
Theories

Practices followed by Coles with evidence.

Total Quality Management (TQM) is an organization-wide process for detecting and eliminating errors within the manufacturing process (Green et al., 2019).

Cole's supermarket, being the largest retail chain in Australia, also follows quality management so that large numbers of customers can be attracted (Supplierportal.coles.com.au, 2021).

Transaction Cost Analysis is a model that is usually used by business organizations to determine whether the cost of products is high or low. Based on the prices, organizations decide the type of investment to improve the supply chain (Wang & Lee, 2017).

 

It has been identified that the marketing and sales function of business is strongly related to the SC process. It has been identified that investment in the supply chain process has helped Coles to increase its revenue to 7.1 per cent to $951 million (Mhdsupplychain.com.au, 2021)

It has been identified that the supply chain helps in creating better collaboration between different stakeholders of the business.

In reference to the Coles Supermarket, it has been identified that digital logistics have helped the company to increase the collaboration with its suppliers as well as with customers (Coles.com.au, 2021). With the aid of website portal and social media, organization create collaboration with the service users

The sustainability of the supply chain determines the competitive performance of the business organization (Tseng et al., 2019).

It has been identified that Coles Supermarket also follows the green supply chain process. Management of waste, disposal and recycling process has helped them to achieve sustainability.

It has been identified that the primary art of the supply chain is to provide flexibility.

To support the theoretical argument, it is identified that automated systems are followed within Coles. On-time windows are used by the business to control the service delivery process (Supplierportal.coles.com.au, 2021) [Refer to appendix]. Automated self-check-in and check-out systems have helped customers to pay their bill. In addition to this, automated DC has helped employees to save their energy and time to distribute services from the warehouse of Coles.
Table 1: Theory vs practice followed by Coles
(Source: Developed by author)
Issues identified
Though Coles is the giant supermarket chain in Australia, it has recently faced issues regarding the management of its supply chain. It has been identified that workers exploitation is a big issue that affects the effectiveness of their SCM process. Ethics is another important issue that negatively affects the reputation of this supermarket chain in Australia (Insideretail.com.au, 2021). The high power of suppliers has negatively affected the performance of Coles in the modern decade. The high power of suppliers has increased the overall cost of production but decreased the selling cost. In addition to this, digitalization, that is, the incorporation of automation within the Coles has made a loss of 100 numbers of jobs after all that decreases workforce within the supply chain of Coles.
Issues faced by Coles regarding the supply chain can be mitigated with the help of resources and capabilities that organizations have. As stated by Chen et al. (2019), employee development is the necessary step for the improvement of organizational performance. In this regard, Coles can utilize their skilled employees to improve the operation process. In addition to this, Coles can adopt ethical practices within the supply chain so that employees can retain their job within the organization. Coles needs to retain employees even after the automation process so that they can carry ethical business practices. As the organization has strong cash flow resources, it can use multiple supply chains so that the high power of suppliers can also be mitigated.
Conclusion
From the overall discussion, it can be concluded that the supply chain plays the most vital role in business performance. Coles Supermarket uses a digital supply chain for management of the supply of goods and maintains the efficiency of logistics. In this regard, they use a real-time tracking system so that issues and defects within the supply chain can be identified quickly. On-time windows are used by the business to control the service delivery process. Instead of having certain facilities, the organization have faced issue in the SCM process. It has been claimed that the exploitation of employees and job cuts due to the incorporation of automation have impacted the reputation of the brand. In this regard, the firm is recommended to follow ethical practice for managing the claim. The use of organizational resources and capabilities could also help to mitigate supply chain issues faced by Coles Supermarket.
Reference list
Chen, H., Genchev, S. E., Willis, G., & Griffis, B. 2019. Returns management employee development: antecedents and outcomes. The International Journal of Logistics Management, 30 (4):1016-1038 Coles.com.au, 2021. About Coles. Available at: https://www.coles.com.au/ [Accessed on 23rd February 2021]
Green, K. W., Inman, R. A., Sower, V. E., & Zelbst, P. J. 2019. Impact of JIT, TQM and green supply chain practices on environmental sustainability. Journal of Manufacturing Technology Management, 30:4, 1017-1019 Insideretail.com.au 2021. Major supply chain issues dominate Coles AGM.Available at: https://insideretail.com.au/news/major-supply-chain-issues-dominate-coles-agm-201911 [Accessed on 23rd February 2021]
Jie, F., & Gengatharen, D. 2019. Australian food retail supply chain analysis. Business Process Management Journal, 25 (2): 271-287
Koberg, E., & Longoni, A. 2019. A systematic review of sustainable supply chain management in global supply chains. Journal of cleaner production, 207: 1084-1098.
Mhd Supply ChainCommercial Australia 2021.Coles investment in supply chain boosts company revenue.Accessed online https://mhdsupplychain.com.au/2020/08/17/coles-investment-in-supply-chain-boosts-company-revenue/ Viewed 23rd February 2021
Min, S., Zacharia, Z. G., & Smith, C. D. 2019. Defining supply chain management: in the past, present, and future. Journal of Business Logistics, 40(1): 44-55.
Rajeev, A., Pati, R. K., Padhi, S. S., & Govindan, K. 2017. Evolution of sustainability in supply chain management: A literature review. Journal of Cleaner Production ,162:299-314.
Statista.com, 2021.Coles Group total group sales in Australia FY 2014-2019. Accessed online https://www.statista.com/statistics/1050187/australia-group-sales-revenue-of-coles-group-supermarkets/#:~:text=Coles%20Group%20supermarkets%20recognized%20a,during%20the%202019%20financial%20year Viewed 23rd February 2021
Supplierportal.coles.com.au (Supplierportal Colescommercial Australia). 2021. Section 1: Welcome & Introduction. Accessed online https://www.supplierportal.coles.com.au/wps/wcm/connect/faeb2096-2014-4218-86b6-c021d8b67d67/Coles+Supply+Standards_2019+update+27.05.19.pdfMOD=AJPERES&CACHEID=ROOTWORKSPACE-faeb2096-2014-4218-86b6-c021d8b67d67-n13UiIBViewed 23rd February 2021 Tseng, M. L., Islam, M. S., Karia, N., Fauzi, F. A., & Afrin, S. 2019. A literature review on green supply chain management: Trends and future challenges. Resources, Conservation and Recycling, 41: 145-162.
Wang, Y., & Lee, S. H. 2017. The effect of cross-border e-commerce on China's international trade: An empirical study based on transaction cost analysis. Sustainability, 19 (11): 2028.

Appendix
(Source: Supplierportal.coles.com.au, 2021)