Supply Chain Management Assignment: Evaluating Strategic Approach of Glaxo Smith Kline(GSK)
Question
Task:
Supply Chain Management Assignment:
(i) Individually to prepare a 3000 (+/-10%) words report on an evaluation of a supply chain organisation / supply chain department of an organisation (i.e., part of a Supply Chain in either a Manufacturing; Retail or Service Industry).
- to compare and contrast its supply chain strategy against a comprehensive literature review on appropriate supply chain theories
- the theories include but are not limited to: planning, customer service, JIT/Quick Response, pipeline management, inventory/distribution management, E-supply chain, closed-loop supply chain, lean/agile, 6 sigma;
- to evaluate the organisation and provide improvement suggestions
- Include an Abstract (200 words max not in word count)
- Include an Introduction (100 words) and a Conclusion (200 words both included in the word count)
(ii) Your report should include data on the organisation to analyse the strategic role of the organisation within its supply chain and assessing its operation in terms of its supply chain strategy. This will involve secondary data collection and analysis.
Answer
Introduction
The purpose of this assignment is to enhance an in-depth analysis and a proper evaluation of supply-chain department of GlaxoSmithKline that belongs to the pharmaceutical manufacturing sector. It also focuses on comparing as well as potentially contrasting supply-chain strategy of GSK while aligning adequate literature for supporting the findings. In this aspect, it also includes potential theories and framework for enhancing a detailed evaluation of the supply-chain department of GSK (Gsk.com, 2021). Involving secondary data collection this report analyses the flow of goods along with services while encompasses a proper process of detailing GSK's supply-chain processes in the marketing aspect.
GlaxoSmithKline (GSK) is a pharmaceutical-manufacturing organisation, which is headquartered in London, UK. It comprises of the 10th biggest pharmaceutical-manufacturing organisation within the global context. It is significant to note that this company is chosen for this report, as every business unit in GSK comprises its very own supply-chain while further establishing an agile form of network with proper capacity as well as capabilities of manufacturing pharmaceuticals and supplying it to the consumer-health sectors for enhancing best business efficiency in the market (Gsk.com, 2021). In this context, GSK's manufacturing as well as distribution of products requires careful planning and multi-functional teams while proper inventory solutions, that will help in bringing out the supply-chain detailing aspects of the organisation and can be supported with existing literature for bringing best outcomes. This report will analyse overall supply-chain strategic approach of GSK while focusing on its goals and challenges. It will identify relevant theories then and make proper comparisons of strategies that is inventory-management, e-commerce as well as distribution strategic approaches of GSK. In those sections, it will make potential comparisons of different strategies, challenges, directions as well as decisions of GSK. Finally, it will recommend areas while proposing a new planning for GSK and the last section will conclude the summary of the findings.
Overall Supply Chain Strategy
With revenue of £34.1 billion in FY2020, GSK comprises of a complex form of global supply-chain, which must function in a smooth manner for protecting organisational revenues and assuring consumer-health safety. Alike other big pharmacy-companies, GSK needs to assure that their suppliers are meeting quality standards along with adhering to best healthcare regulators such as "US FDA".
The current strategic level of the "supply-chain resources planning", of GSK, is comprising backup-sites that is properly approved through regulators from multiple countries in which they are operating for assuring best possible requirements for potential transparency as well as data sharing attributes (Garçon et al. 2007). In this concern, since the beginning of the pandemic it is becoming difficult for GSK to monitor that their suppliers are adhering to their company policies and maintaining regulatory standards in terms of supplying them the source or raw materials. Their current supply-chain strategy is to "digital value stream map", for tracking brands as well as sites and their suppliers for assuring a faster form of decision-making criteria for the organisation in present pharmaceutical marketing attributes (Shang et al. 2008).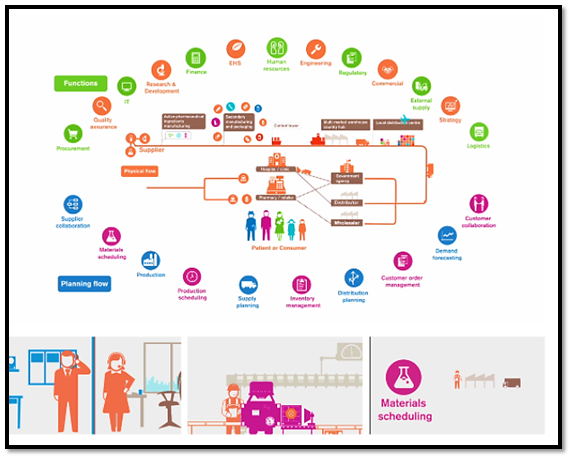 Figure 1: GSK's supply-chain
(Source: Gsk.com, 2021)
In this concern, their current directions and decisions are towards mounting pressure on their supply-chain managerial supervisors for keeping a proper pace regarding their clinical developments. However, for reaching their goals of faster decision-making and supplying more medicines to consumers, they are also subjected to a major possible challenge regarding lack of "end-to-end visibility", of their supply-chain. This can create further issues associated with lack of transparency and violation of corporate-social responsibility towards their internal stakeholders (managers),leading to sustainability issues in workplace.
Strategy-Inventory Management and Recommendations
Inventory Management Strategy
Compare and Contrast
GSK comprises of maintaining a higher form of inventory level. It is done with respect to potential determination of best standards of safety stock of GSK products such as "Nicorette and Aquafresh". In this context, GSK's current management of inventory includes involving of four plants in the UK, with more than 35 contractors along with two co-packing facilities. In GSK, inventory management is done though "Weeks Forward Coverage Strategy (WFC)". In this concern, it is a system through which GSK measures number of total weeks, which their inventory could be covered and is potentially based on six month forecasted form of demand.
GSK, owing to its consumer demands comprises of high-level form of inventory management (Mehralianet al. 2015). It results in higher stocks and it is essential to note that a higher form of inventory level is further unhealthy and subjected to representing a potential investment comprising a very low return. Therefore, low turnover further means excess stock of products in the GSK and results in cash-tie up as well as sluggish form of sales in the market. It presents more challenges such as ineffective form of buying or GSK's supply-chain subjected to vulnerability regarding falling prices.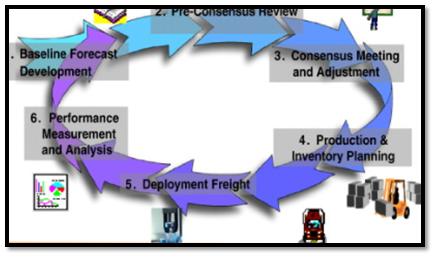 Figure 2: Present inventory management at GSK
(Source: Shang et al. 2008)
As per the "Pipeline of GSK", the organisation invests in both technical as well as scientific excellence for establishing as well as launching pipeline associated with new form of products, which fulfil requirements of their consumers (Gnanakumaran&Babu, 2003). Their development is further classified into three different stages "Phase I, Phase II and Phase III". The contents of their supply and development pipeline further changes with time as new projects tend to progress from research to potential development and eventually market. Theoretically, inventory management models focus on optimising in and out of goods in an organisation on the basis of availability of materials, optimisation of product sales, ocst-effective storage, maintaining sufficient stock, and keeping wastage and losses to minimum. On the other hand, practically, GSK's supply chain with WFC inventory management model is monitored and controlled to reach effective customer service and business planning. Despite of holding excess form of inventory management, the organisation tends to maintain high form of safety stocks for mitigating possibility of inventory-backlog or loss of goods. It is significant to note that there are areas of improvement in the current strategy of inventory management at GSK.
Firstly, the WFC strategy of inventory management at GSK maintains a higher form of inventory level. However, excess stock is challenging in this situation. Although the pipeline of GSK is developed it leads major problems in the planning of GSK's strategic approaches. The inventory problem becomes complex due to encompassing many items and products through unreliable forecasts as well as lead times (Sari, 2008). Areas of improvement lies in terms of integrating seamlessly inventory monitoring while enhancing safety-stock decision for reaching best possible pipeline management and strategic planning.
The advantages of the current strategy include, determination of positive inventory levels and never running out of stock, therefore providing effective customer service. It also includes satisfying consumer needs along with involving forecasts and customer orders into projected form of inventory (Bottazzi&Secchi, 2005). However, disadvantages include holding excess inventory that leads to vulnerability of the organisation to declining prices along with lack of cash flow in the organisation and very low return.
The contribution of the current strategy of GSK assures involving estimation and manual power projected to baseline-forecast development. It also includes never running out of stock in need for providing high lever service to consumers (Trouchaud, 2014). However, the WFC inventory-management strategy of GSK potentially limits the cash flow of the business and makes GSK vulnerable in terms of ineffective buying as well as sluggish sales. It also leads to inventory backlog, which its major limitation within the supply-chain.
The proposed model for mitigating the above-discussed challenges will be "A spread sheet-based decision support system", for managing inventory that will help in outperforming the current model in the following ways.
Recommendations
Followings are the recommendations for GSK to imply the theme of inventory management strategy
• It can be easily modified and implemented to different product-lines of GSK while sharing a comparable form of inventory management as well as marketing patters
• Long-term progressing plans such as increasing potential review frequency as well as progressing cast-accuracy will be acquired (Halim et al. 2019)
• It will increase the cash flow and will provide better estimation and flexibility through involving input variables such as historical demands, month-end inventory as well as production of batch-size e along with lead time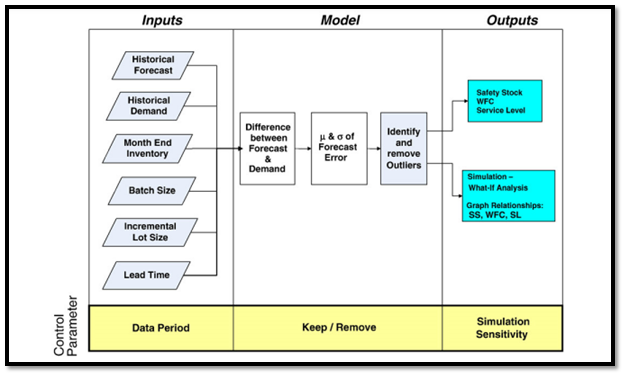 Figure 3: Proposed DSS model for inventory management
(Source: Shang et al. 2008)
In this context, the proposed model will help in mitigating challenges of WFC current model of GSK inventory management while not reducing the safety-stock for GSK to get competitive edge in market.
E-Commerce Strategy
Comparison and Contrast
GSK has implemented e-commerce and is continuing to invest on e-commerce strategies for enhancing online growth and development especially in its "underdeveloped dietary supplements", section in the market. Their e-commerce strategy involves direct communication with consumers via social media and other digital platforms that have helped them to increase their profitability even in FY2020, during the pandemic period at a rate of 7% in the marketing aspect.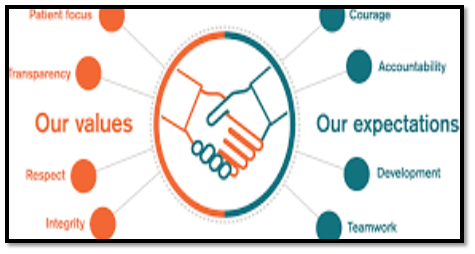 Figure 4: E-commerce focus of GSK
(Source: Gsk.com, 2021)
It is essential to mention that in 2020, GSK's "Consumer Healthcare's e-commerce sales", further increased at a potential rate of 80% in first 9 months in the same year as stated by their CEO "Brian McNamara" (Sodhi & Tang, 2021). GSK that own different product brands such as "Aquafresh, Horlicks and Nicotinell", have been implementing step-change in its potential approach towards incorporating digital marketing through using online platforms for increasing its e-commerce.
Regarding e-commerce strategy, GSK implements its "Application Programming Interface (API)", as a proper approach towards establishing new form of applications for transforming their business digitally. It enhances a "Theory of E-Supply Chain", which involves GSK to build a new-commerce driven "Chatbot Service". In this service, consumers are able to potentially chat regarding their symptoms as well as pick products, which are further directly delivered into their home. With advancement of technologies, GSK has been working with two initiatives, comprising "API First and Platform Thinking", which aims towards developing consumer-healthcare of GSK as a potential platform organisation. For its e-commerce, it marks a digital form of ecosystem, which enhances modern technological architectures, for assuring a repeatable, securable as well as scalable way towards creating new digital form of experiences and assuring commercial scopes in a collaborative and quick manner.
It also assures "Theory of closed-loop supply chain", that involves reduction of waste while lowering production expenses (Sinclair & Monge, 2010). Through assuring API, strategy of e-commerce and creating platform chat-bots the unnecessary cost of traditional marketing is avoided and the reduction of waste is enhanced through assuring completely recyclable packaging of products delivered to customer doorstep. This theory is put to practice in an effective and efficient manner.
Pros of the e-commerce strategy of GSK includes the following
• Improved consumer service
• Acceleration of potential development process for GSK's supply loop
• Reduced risk of manual failure (Thawiwinyu&Laptaned, 2009)
• Optimisation of supply-chain as well as potential development expenses
• Leveraging organisational assets for reaching a wide consumer target
Cons of the strategy includes the following
• Complex symptoms need more diagnosis and risks increases of providing in-effective products
• API strategy for e-commerce contains resources, which is not needed by users and consumers of GSK (Lemmenset al. 2016)
• Lack of cyber-security could lead to challenges in maintaining privacy of users and consumers within the organisational aspect and cause leakage of confidential data and information
The contribution of API-first approach as a potential e-commerce strategy for GSK further include efficiency of the organisation providing effective marketing and supplies (close supply-loop) through directly communicating with consumers over digital and online platforms. It is important to note that it leverages GSK's assets along with enhance automation in the supply chain (Van Wassenhove&Pedraza Martinez, 2012). However, it comprises of potential limitations such as lack of personalisation and increased risks towards providing wrong items for complex symptoms narrated by consumers, which could in turn tend to harm potential brand recognition of GSK in long run within the global context.
Having identified the potential limitations and disadvantages of using the present e-commerce strategic approach of GSK, it certainly comprises potential area of significant improvement. In this context, this report will propose a "Buyer-Vendor Back-end Integration", model that will incorporate strategic source-intelligence along with "Research and Development" procurement for standardizing setting of price, voice, negotiations along with increasing sales while mitigating costs and providing effective service to their customers (Marangoni&Fezzi, 2002). While the current e-commerce strategy can increase risk of wrong diagnosis of consumer symptoms, the proposed model will assure manual interventions along with marking proper understanding of user's symptoms and need for products. It will lead to decreased form of error rates of correct supplies and maintain close bond with the premium and important consumers leading to mitigation of potential operational expenses. The proposed model will not rely on the chat-bots solely for direct-consumer interactions, rather it will incorporate "New Data Analytics", for supporting best possible e-procurement workflows with advanced form of insights as well as dynamic reporting tools for tracking real-time KPIs of GSK (Shang et al. 2009). It will also provide cloud-based infrastructure while hosting potential e-commerce projects that will increase sales channels of GSK as opposed to the casual premise present infrastructures.
Distribution Strategy
Comparison and Contrast
It is significant to note that GSK comprises of a strong form of distribution strategy of enhancing "Retail Distribution Channels", that are further synchronised for acquiring raw and source materials and produce finished products. It further ranges towards distributing products to potential warehouses as well as retailers (Petrucci, 2010). GSK comprises offour "Regional Distribution Centres", for shipping their products to above 400 retail stores and 25,000 different locations (Buccirossi, 2015). It also comprises of many centre distribution centres (CDC). Their distribution channels work in a proper flow. It comprises of four different regional forms of distribution centres (RDC).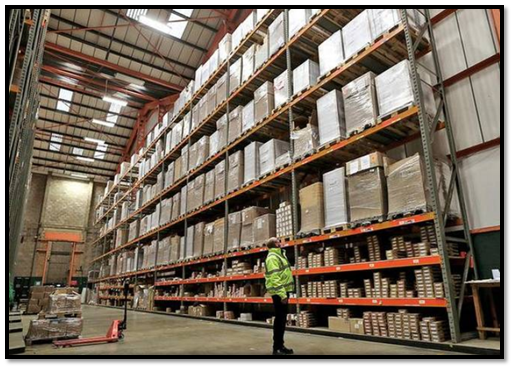 Figure 5: RDC at GSK
(Source: Gsk.com, 2021)
It is essential to note that nearly 20 million cases associated with GSK are shipped on annual terms (Iacobucci& Winter, 2016). This is done as RDC receive inbound shipments from different manufacturing facilities at GSK, it is responsible for sharing inventory as well as managing resources effectively though producing minimal amount of waste. Inter-warehouse shipping is strongly avoided in GSK's organisational attributes. Whenever any RDC receives the products it directly ships the products and items to its nearest CDC. As the product and shipment is received in CDC, consumer further takes potential possession as well as title of goods.
It is significant to note that existing form of distribution strategy in GSK have been incorporated for more than 10 years and is a consequence of different incremental changes of the growth of the organisation (Qin et al. 2014). A major area of improvement has risen due to current leases of RDC's that have been due for potential expiration as well as renewal. The rising cost of fuel along is also a major concern to the present model. The present distribution-strategy at GSK assures reduction of waste and enhances incorporation of "Theory of Agile management", which works towards improving the interaction with internal stakeholders of the organisation (Buettner et al. 2009). It also marks consumer collaboration along with responding to potential change regarding following a chain process of supply.
The present distribution strategy also corresponds to "Six Sigma Theory" that marks a potential series of techniques as well as tools for process improvement (Schmidt et al. 2011). In terms of practice, through existing strategy of distribution in GSK, the shipment is streamlined potential quality control in terms of supply processes (Rayport&Jaworski, 2016). There is very little variance in this aspect. The RDC defines the shipment, measures it and further analyses it to transfer the shipment to CDC for further progress (improvement) (Chang et al. 2003). CDC further controls the supplies and potentially delivers to the consumers for enabling customer satisfaction.
The advantages of the present strategy will include the following
• It enhances an intensive distribution within the organisational supply-chain
• It improves internal stakeholder communication
• Reverse channels are set accordingly (Mohapatra, 2013)
• Very little waste resources
The disadvantages of the strategy are mentioned below
• Current leases of RDCs can be subjected to restricting cash flow and business operations (Sambhanthan& Good, 2016)
• Interwar house shipping is further strongly avoided in this distribution system
• Increasing fuel prices can be subjected to increased operational expenses and costs
• Quicker response is not provided in the distribution process
The primary contribution utilising the above-mentioned distribution-strategy of GSK is enhancing business sustainability and improved brand recognition through minimising wastage of resources and shipping materials (Perrigot&Pénard, 2013). However, the chain process and lack of inter-warehouse shipping limits the existing distribution strategic approach at GSK. The major limitation lies in lack of shorter form of delivery radius as well as time that is presented through the existing delivery system.
Recommendations
For the e-commerce strategies mentioned above, certain recommendations will be provided in this part of the report. For existing cyber-security issues, potential incorporation of anti-virus systems and anti-hacking infrastructures will help GSK to incorporate best possible data security and protection within the present organisational infrastructure. Improvement of conversion rate through testing processes as well as hiring talented technical experts will help in boosting the e-commerce especially within the current pandemic situation without any form of organisational exposure to malwares or data breaches(Mohapatra, 2013). In this context, GSK also needs to incorporate potential data analysis for improving their e-commerce strategy while actively utilise email marketing for keeping their primary stakeholders engaged in their business. Tracking relevant form of KPIs and setting business standards for tracking performances will help in determining resources for making improvements(Dizqahet al. 2016). Furthermore, bridging gap towards social conversation through improving customer-service efforts will resolve consumer inquiries and improve e-commerce while boost business sales.
The above limitations as well as disadvantages of the existing distribution-strategy of GSK open areas for proposing new model of distribution. This part of the report recommends "Selective Distribution Strategy (SDS)" for GSK to avoid the shortcomings in few ways (Al Amin, 2018). Firstly, the SDS will be responsible for utilising lesser intermediaries as well as distributors in high volumes for combating lower operational costs and reaching proper operational efficiency and effectiveness (Lumpkin et al. 2002). It will help in providing potential consumer satisfaction through taking in account of limited outlets and improving communications (Kemunto&Ngugi, 2014). It will decide on outlets or distribution centres, which will provide maximum form of coverage as well as potential profitability in the pharmaceutical market (Dizqahet al. 2016). Furthermore, it will work towards involving distribution channels for garnering positive market coverage that too at a potential form of lower price.
Conclusion
This report marks a comprehensive form of analysis and a proper evaluation of supply-chain department of GlaxoSmithKline that belongs to the pharmaceutical manufacturing sector. GSK's manufacturing as well as distribution of products requires careful planning and multi-functional teams while proper inventory solutions. It also focuses on comparing as well as potentially contrasting supply-chain strategy of GSK while aligning adequate literature for supporting the findings. In this aspect, it also includes potential theories and framework for enhancing a detailed evaluation of the supply-chain department of GSK. It conducts secondary data collection and analysis to bring out suitable outcomes. Furthermore, it provides recommendations to each strategy while suggesting improved model for mitigating the existing challenges.
Reference List
Al Amin, M. (2018). An analysis on the impact of facebook marketing on brand awareness: A case study of glaxosmithklinebangladesh's product,'horlicks'. Journal of Business, 39(2). Retrieved from https://www.researchgate.net/profile/Md-Al-Amin-9/publication/336265143_An_Analysis_on_the_Impact_of_Facebook_Marketing_on_Brand_Awareness_ A_Case_Study_of_GlaxoSmithKline_Bangladesh's_Product_'Horlicks'/links/5da1716692851c6b4bcdaa5e/ An-Analysis-on-the-Impact-of-Facebook-Marketing-on-Brand-Awareness-A-Case-Study-of-GlaxoSmithKline- Bangladeshs-Product-Horlicks.pdf
Bottazzi, G., & Secchi, A. (2005). Growth and diversification patterns of the worldwide pharmaceutical industry. Review of industrial Organization, 26(2), 195-216. Retrieved from https://www.researchgate.net/profile/Giulio-Bottazzi/publication/5157268_Growth_and_Diversification_Patterns_of_the_Worldwide_Pharmaceutical_ Industry/links/09e4150aa1a37a67e8000000/Growth-and-Diversification-Patterns-of-the- Worldwide-Pharmaceutical-Industry.pdf Buccirossi, P. (2015). Vertical restraints on e-commerce and selective distribution. Journal of Competition Law & Economics, 11(3), 747-773. Retrieved from https://academic.oup.com/jcle/article-pdf/11/3/747/2396981/nhv022.pdf casa_token=pj1oUmNBQJUAAAAA:GuCfGxq-utztPJmy12P-xY37GeKw-ydkxQ3d1mh_lK2-p7_zf3Ng3uZzyk1UoQy0wfkPEHtZWC67nw Buettner, T., Coscelli, A., Vergé, T., & Winter, R. A. (2009). An economic analysis of the use of selective distribution by luxury goods suppliers. European Competition Journal, 5(1), 201-226. Retrieved from http://blogs.ubc.ca/rawinter/files/2019/06/Buettner-Verge-Coscelli-Winter-An-Economic-Analysis-of-the-Use-of-Selective-Distribution-by-Luxury-Goods-Suppliers.pdf Chang, K. C., Jackson, J., & Grover, V. (2003). E-commerce and corporate strategy: an executive perspective. Information & Management, 40(7), 663-675. Retrieved from http://elogistics.lhu.edu.tw/may/course/94_1/EC/%E9%80%B2%E5%9B%9B%E7%AE%A1%E4%BA%8Cb/ e93425214/05082920055211099.pdf
Dizqah, A. M., Lenzo, B., Sorniotti, A., Gruber, P., Fallah, S., & De Smet, J. (2016). A fast and parametric torque distribution strategy for four-wheel-drive energy-efficient electric vehicles. IEEE Transactions on Industrial Electronics, 63(7), 4367-4376. Retrieved from https://ieeexplore.ieee.org/iel7/41/4387790/07430272.pdf Garçon, N., Chomez, P., & Van Mechelen, M. (2007). GlaxoSmithKline Adjuvant Systems in vaccines: concepts, achievements and perspectives. Expert review of vaccines, 6(5), 723-739. https://www.tandfonline.com/doi/abs/10.1586/14760584.6.5.723 Gnanakumaran, G., &Babu, K. S. (2003). Technology evaluation: mepolizumab, GlaxoSmithKline. Current opinion in molecular therapeutics, 5(3), 321-325. Retrieved from https://europepmc.org/article/med/12870444 Gsk.com, 2021, Careers and About us, Retrieved on 8th November 2021 from https://www.gsk.com/en-gb/careers/experienced-professionals/manufacturing-and-supply/
Halim, I., Ang, P., &Adhitya, A. (2019). A decision support framework and system for design of sustainable pharmaceutical supply chain network. Clean Technologies and Environmental Policy, 21(2), 431-446. Retrieved from https://link.springer.com/article/10.1007/s10098-018-1646-8
Iacobucci, E., & Winter, R. A. (2016). European Law on Selective Distribution and Internet Sales: An Economic Perspective. Antitrust LJ, 81, 47. Retrieved from http://blogs.ubc.ca/rawinter/files/2019/06/Iacobucci-Winter-Selective-Distribution-ALJ.pdf
Kemunto, D., & Ngugi, K. (2014). Influence Of Strategic Buyer Supplier Alliance On Procurement Performance In Private Manufacturing Organizations A Case Of GlaxoSmithkline. European Journal of Business Management, 2(1), 336-341. Retrieved from http://www.kufh.co.ke/schools/business/images/stories/research/dr_ngugi/influence_strategic_buyer_alliance.pdf
Lemmens, S., Decouttere, C., Vandaele, N., Bernuzzi, M., & Reichman, A. (2016). Performance measurement of a rotavirus vaccine supply chain design by the integration of production capacity into the guaranteed service approach. Available at SSRN 2841176. Retrieved from https://lirias.kuleuven.be/retrieve/402577 Lumpkin, G. T., Droege, S. B., & Dess, G. G. (2002). E-commerce strategies: achieving sustainable competitive advantage and avoiding pitfalls. organizational dynamics, 30(4), 325-340. Retrieved from http://www.utdallas.edu/~gdess/2002_eCommerce%20Strategies.pdf
Marangoni, G., &Fezzi, G. (2002). Input-output for management control: the case of GlaxoSmithKline. Economic Systems Research, 14(3), 245-256. Retrieved from https://www.tandfonline.com/doi/abs/10.1080/0953531022000002495 Mehralian, G., Zarenezhad, F., &Ghatari, A. R. (2015). Developing a model for an agile supply chain in pharmaceutical industry. International Journal of Pharmaceutical and Healthcare Marketing. Retrieved from https://www.academia.edu/download/45847869/Developing_a_model_for_an_agile_supply_c20160522-12048-ir622t.pdf Mohapatra, S. (2013). E-commerce Strategy. In E-Commerce Strategy (pp. 155-171). Springer, Boston, MA. Retrieved from https://link.springer.com/chapter/10.1007/978-1-4614-4142-7_7
Perrigot, R., &Pénard, T. (2013). Determinants of e-commerce strategy in franchising: A resource-based view. International Journal of Electronic Commerce, 17(3), 109-130. Retrieved from https://www.tandfonline.com/doi/abs/10.2753/JEC1086-4415170305
Petrucci, C. (2010). Parallel trade of pharmaceutical products: the ECJ finally speaks—comment on GlaxoSmithKline. European Law Review, (2), 275-286. Retrieved from http://usir.salford.ac.uk/18980/ Qin, Z., Chang, Y., Li, S., & Li, F. (2014). E-commerce strategy. Springer. Retrieved from https://media.hugendubel.de/shop/coverscans/235PDF/23510396_lprob_1.pdf
Rayport, J. F., & Jaworski, B. J. (2016). Introduction to e-commerce. McGraw-Hill Irwin MarketspaceU. Retrieved from https://repository.vnu.edu.vn/handle/VNU_123/82716
Sambhanthan, A., & Good, A. (2016). Strategic advantage in web tourism promotion: an e-commerce strategy for developing countries. Supply chain management assignmentIn International Business: Concepts, Methodologies, Tools, and Applications (pp. 597-618). IGI Global. Retrieved from https://arxiv.org/pdf/1302.5195 Sari, K. (2008). Inventory inaccuracy and performance of collaborative supply chain practices. Industrial Management & Data Systems. Retrieved from https://www.researchgate.net/profile/Kazim-Sari/publication/220672683_Inventory_inaccuracy_and_performance_of_collaborative_ supply_chain_practices/links/5c264717a6fdccfc706e4352/Inventory-inaccuracy-and-performance-of-collaborative-supply-chain-practices.pdf Schmidt, M. C., Kolodinsky, J. M., DeSisto, T. P., & Conte, F. C. (2011). Increasing farm income and local food access: A case study of a collaborative aggregation, marketing, and distribution strategy that links farmers to markets. Journal of Agriculture, Food Systems, and Community Development, 1(4), 157-175. Retrieved from https://www.foodsystemsjournal.org/index.php/fsj/article/download/64/62
hang, J., Tadikamalla, P. R., Kirsch, L. J., & Brown, L. (2008). A decision support system for managing inventory at GlaxoSmithKline. Decision Support Systems, 46(1), 1-13. Retrieved from researchgate.net/profile/Pandu-Tadikamalla/publication/222312139_A_decision_support_system_for_managing_inventory_at _GlaxoSmithKline/links/59e28ce4458515393d57f6e6/A-decision-support-system-for- managing-inventory-at-GlaxoSmithKline.pdf Shang, J., Yildirim, T. P., Tadikamalla, P., Mittal, V., & Brown, L. H. (2009). Distribution network redesign for marketing competitiveness. Journal of Marketing, 73(2), 146-163. Retrieved from https://www.researchgate.net/profile/Jennifer-Shang-2/publication/228312590_Distribution_Network_Redesign_for_Marketing_Competitiveness/ links/546b64390cf20dedafd52e75/Distribution-Network-Redesign-for-Marketing-Competitiveness.pdf Sinclair, A., & Monge, M. (2010). End-to-end deployment of single-use technology in aseptic filling of vaccines at GSK. BioPharm Int., 23(2). Retrieved from https://www.iqpc.com/media/7763/11360.pdf
Sodhi, M. S., & Tang, C. S. (2021). Supply chain management for extreme conditions: Research opportunities. Journal of Supply Chain Management, 57(1), 7-16. Retrieved from https://onlinelibrary.wiley.com/doi/abs/10.1111/jscm.12255
Thawiwinyu, K., &Laptaned, U. (2009). The impact of strategic sourcing and E-procurement on supply chain performance management. China-USA Business Review, 8(8), 8-25. Retrieved from https://www.academia.edu/download/46554079/5207002.pdf Trouchaud, A. (2014). How Does Strategic Planning Help to Mitigate Risks in the Pharmaceutical Supply Chain. Pharmaceutical Engineering. Retrieved from https://www.ispe.gr.jp/ISPE/02_katsudou/pdf/201508_en.pdf
Van Wassenhove, L. N., & Pedraza Martinez, A. J. (2012). Using OR to adapt supply chain management best practices to humanitarian logistics. International Transactions in Operational Research, 19(1-2), 307-322. Retrieved from https://onlinelibrary.wiley.com/doi/abs/10.1111/j.1475-3995.2010.00792.x