Study Exploring The Vege Chip Pestle Analysis
Question
Task: This challenging assessment provides you with real world experience through an applied and innovative task. Firstly, you need to choose one of the following companies that has recently hired you:
1. Vege Chip Company (http://www.vegechips.com)
The CEO of your chosen company has decided to investigate market opportunities for the potential international promotion and sale of their products to one of the following countries:
China
Japan
Singapore
Canada
Secondly, you need to select one of the above countries and write a report evaluating the potential opportunities and threats that may influence market entry into that country. This requires you to conduct a strategic analysis of the environmental factors, including: economic and financial; political and legal; social and cultural; and technological of the chosen country.
Answer
Executive Summary
The study is focused on conducting the in-depth examination of Vege chip pestle analysis. The strategic analysis helps in evaluating the business environment. In this study, Vege Chip Co, a gluten-free snacks brand from Australia has evaluated the potential of a country that it wants to expand. The successful brand wants to expand its operation in Singapore. In order to expand the operation in a new country, there are different aspects such as financial status, political condition, social-cultural value and technological advancement needs to be considered and analysed. In this study, all of these different aspects are analysed for understanding the potential benefits as well as the risk that can be imposed on the organisation. The study has also provided thorough research on the background of the organisation and country.
The research carried on the study of Vege chip pestle analysis has highlighted the positive aspects of Singapore that can help VegeChip Company in spreading its operations across continents. Financially the country has proved to be stronger than any other country in the Asian continent. In terms of ease of doing business, it has also proved to be extremely helpful. Research has suggested a few drawbacks as well. Therefore, in order to expand its operation in Singapore, the organisation has to weigh in the risk factors as well. Similarly, the hybrid ethnic culture of Singapore is also a factor that has to be understood before starting its operations in Singapore. In terms of business etiquette as well as consumer demand, Singapore is completely different from any western country. Therefore, the organisation has to tailor marketing campaigns and product portfolio as per the demand of the consumers of Singapore. Lastly, the study of Vege chip pestle analysis has also discussed the technological factors that contribute to the success of an organisation tremendously. After analysing all these factors, the study has also provided few recommendations in order to establish Vege Chip Co successfully in Singapore.
Introduction
Every successful brand has to conduct thorough market research in order to establish a product on an accurate market. A substantial market analysis of the customers and competitors allows the brand to formulate correct strategies. In addition to this, the brands are also able to understand the potential obstacles that they might face beforehand and if the ultimate result is worth the time and money invested. In this particular Vege chip pestle analysis, the various factors regarding the strategic planning of a new product introduction in a new country will be discussed. The chosen country for Vege Chip Company is Singapore. Certain aspects of political, economic, financial, technological, environmental, social and cultural will be analysed to verify the potential of Singapore's business environment.
What is the background of the company chosen to perform Vege chip pestle analysis?
The Vege Chip Co is an Australian owned plant-based gluten-free snacks company. It has become a widely successful brand in Australia. It has started its journey in the year 1990s from small commercial kitchens and slowly became one of the biggest names in healthy snacks section of Australia. This will lead to increasing variations of products such as chips and dips (Vegechip.com, 2019). The company, after it became a massive success in the Australian market has slowly increased its distribution internationally as well. However, in the Asian market, the brand has noticed a gap of healthy snack option. Therefore, the brand has decided to expand its international business to Singapore next.
Background of the chosen country
As per the government of Singapore, the business-friendly environment includes advanced shipping and logistics operation, highly skilled workforce and an efficient legal system. This is further backed up by the Mercer's Quality of Living survey, which has named Singapore as No 1 in terms of quality of living. Therefore, for a healthy snack company like Vege Chip Co can probably create a demand in this rising economy. It has also been ranked fifth globally in the World Bank's logistics performance Index in 2014 (Fozeret al. 2017). Therefore, this proves that the business-friendly environment of Singapore can benefit Vege Chip Company.
Vege chip pestle analysis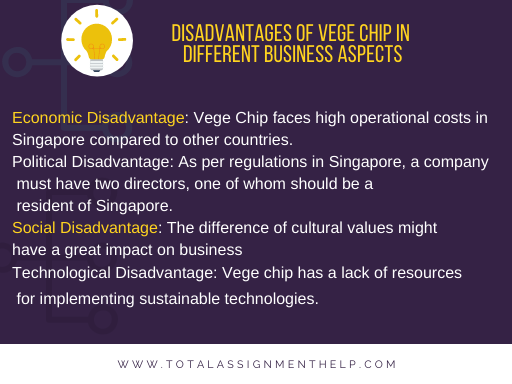 Economical and financial environment Analysis

Advantages
• The economic growth rate of Singapore discussed in this section of Vege chip pestle analysis has been stable and consistent since the downfall of 2018-09 financial crisis.

• In the year 2017, Singapore's GDP grew significantly by 5.2%

• Vege Chip Company can have 100% ownership and complete currency control as well. 

• Stable economic condition

Disadvantages
· One of the biggest issues regarding a highly developed economy like Singapore's is regarding its prices and expenses. For Vege Chip Co., the operation cost in Singapore maybe very expensive as compared to other South East Asian countries.

Political and legal analysis:

Advantages
• Singapore has a very attractive tax system for new businesses as well as foreign investors.

• It is also noted in this context of Vege chip pestle analysis that Singapore has strict regulations that help in avoiding double taxation

• Singapore has been ranked as one of the easiest countries to incorporate and start new businesses

Disadvantages
· One disadvantage however in regards doing business is definitely the fact that regulation wise it mandates having two director; one has to be Singapore resident or the director has to have Singapore employment pass.

Social and cultural analysis

Advantages
• High quality of life and therefore high maintenance charge for businesses

Disadvantages
• The unique blend of cultural fabric can be a sensitive place for starting a business due to the difference in taste and values of life

Technological analysis

Advantages
• Highly competitiveness in digital technology makes it one of the best places to start a business.

Disadvantages
· One of the current disadvantages of Singapore discussed in this segment of Vege chip pestle analysis has to be lack of resources for sustainable technologies.
Table 1: PESTL analysis
(Source: Created by the learner)
Economical and financial environment Analysis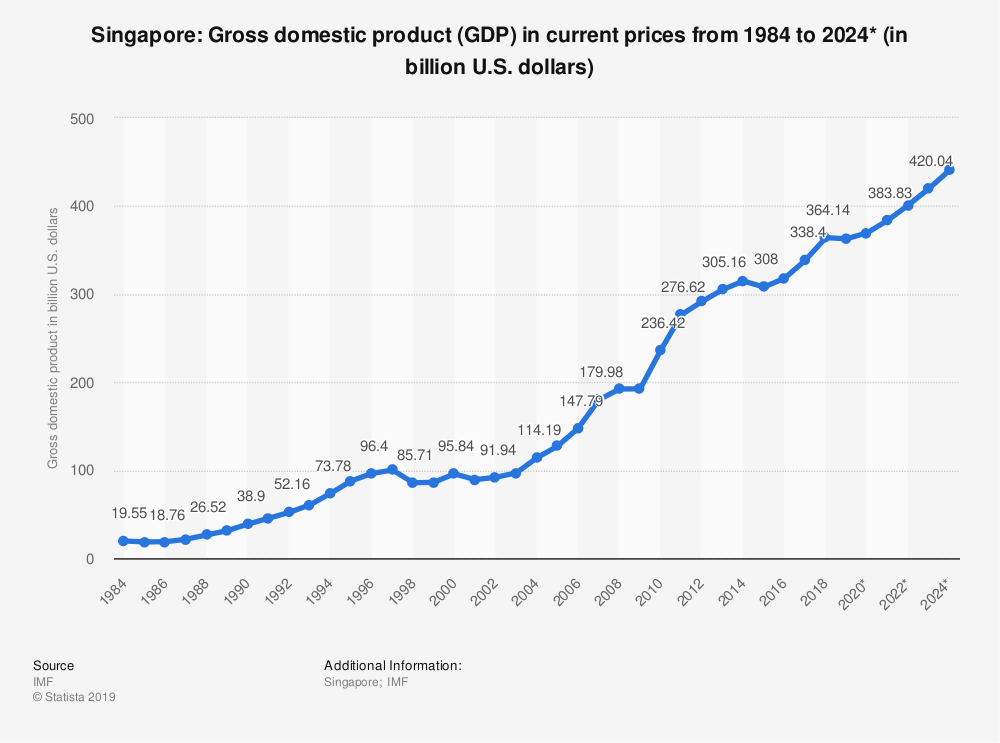 Figure 1: GDP of Singapore
(Source: https://www.statista.com, 2019)
Economic overview: Singapore has one of the best economic environments amongst the Asian countries. It is said to have one of the successful and free-market economies in the world, which includes an open and corruption-free environment. The stable price and per capita GDP rate is in some cases higher than some of the developed countries (Islam &Mamun, 2017).
Growth rate: During the economic crisis of 2007-09, Singapore's economy contracted by 0.6%. It has continued to grow at a steady rate since 2010 (lam &Mamun, 2017). In the year 2017, Singapore's GDP grew by 5.2%, which was one of the fastest pacing economy rates for Singapore. However, in the year 2019, it saw a significant amount of slump in the economy. The growth rate was 0.7% and down from 3.1% in 2018 (Wei &Peng, 2016). The economy is still growing but at a less vigorous state than usual. 
Financial status: as per one of the reports published on Forbes, Singapore is ranked as the third wealthiest country in terms of its per capita GDP. One of the key reasons for establishing new businesses in Singapore can be due to its well-developed capital market and financial system (Hyvärinen, 2019). 
100% foreign ownership and currency control: one of the biggest advantages of VegeChip Company would be regarding the fact that they will be able to own 100% of Singapore incorporated company (Zadek, 2018). Unlike some other countries, it does not require you to collaborate with local companies. In addition to that, there is also no restriction on the amount of money that one can invest to start a business in Singapore. Additionally, there are also no restrictions on the repatriation of profit. No taxes are imposed on the capital gains from the sales therefore; the vegetative company can also control their profitability effortlessly.
Stable economic condition: last three one of the major reasons that can be considered while expanding business in Singapore is a stable economic condition. However, in the last few years economic growth has been somewhat low due to the slow progress of world economic conditions. It still has maintained stability and growth consistently. Therefore, this country has no public debt only increasing current account that would further boost the economy and make it even more suitable for foreign investments (Asher, Bali & Kwan, 2015).
Disadvantage:
The biggest disadvantage in terms of economic advancement has been the price and expenses. Due to the fact, that the quality of living is very high expenses are also higher than in other Asian countries. Therefore, prices of commercial spaces and equipment are higher than in other places in Southeast Asia, which the company has to keep in mind (Almilia, 2015).
Political and legal analysis:
Overview: political and legal environment discussed in this study of Vege chip pestle analysis is a non-market factor that greatly affects the success of a business. The contributing factors such as fiscal policy is monetary policies and taxation models are all imposed by the government, therefore, place a great role in the success of any business. In the case of Vege Chip Company, there are also international laws that need to be considered. In addition to the legal structure, political stability of a country greatly impacts economic conditions and the stock market.
Attractive tax systems: tax system can be highly complicated however; Singapore has one of the simplest taxation systems in the world. This rational tax system Levies no tax on capital gains or dividends received from the business. Therefore, this particular tax system attracts many foreign investors. Additional e for new firms, in particular, the government has imposed tax breaks during the first three years for up to an income of $100, 00. In addition to this benefit for newcomers, the government has also kept the tax rate at 17% (Fan, 2018). Unlike some of the developed Nations businesses in Singapore are not double taxed when there is an involvement diffidence passed to shareholders. Survey of taxation rates has informed that Singapore has one of the most value added tax rates in the world.
Figure 2: Table of treaty Rates
(Source: iras.gov, 2019)
Avoidance of double taxation: An extensive network of Avoidance of Double Taxation Agreement (DTA) has been signed with 50 countries by the government of Singapore. The purpose of this treaty is to ensure that Singapore and the treaty country do not suffer due to double taxation. However, for the countries it does not have DTA, it provided to have UCTs or UNILATERAL TAX CREDITS (Kusnadiet al. 2016). Therefore, all these ensure that Vege Chip Company is less likely to suffer for double taxation if they expand their business in Singapore completely.
Ease of Incorporation and Operation: one of the biggest obstacles for companies to expand in a new company is the process of Incorporation. In this case, Singapore has one of the easiest processes of Incorporation in the world. It supports companies, which are expanding in its territory completely. It has one of the most efficient and bureaucracy free regulatory frameworks in the world (Rastogi&Trivedi, 2016). The annual compliance requirements for incorporating new businesses in Singapore are simple and devoid of any unnecessary paperwork. Singapore has ranked number 1 for nine consecutive years in the survey of the World Bank's ease of doing business (Fozeret al. 2017). Therefore, the readings prepared in this section of Vege chip pestle analysis clearly show that the government and the legal procedures are supportive of foreign companies to incorporate and start operation in Singapore. 
Disadvantage:
The political system in Singapore has been proved to be extremely supportive of business both start-ups and foreign investments. One of the disadvantages of legal structure for opening business in Singapore is that it mandates having two directors in an organisation one of which has to be a Singapore resident or has to have Singapore employment pass.
Social and cultural analysis
Overview: All the business organisations operate within the society and their ultimate purpose is to satisfy the social needs. However, Asian countries strongly identify their social and cultural values. The four different social factors discussed herein Vege chip pestle analysis influence policy practices and other activities regarding businesses. In terms of market demand as well there will be different product variations offered by Vege Chip Company (Aithal, 2016).
Quality of life: Quality of life is a factor that is deeply related to the socio-cultural environment of a country. In the muscles survey of personal safety, Singapore has ranked high. in addition to Singapore has also used a number of ethnic communities from all over Asia. Different multicultural lifestyle is also another aspect that contributes to the fact that Singaporeans value that community tremendously (Aithal& Kumar,2016).
Cultural Harmony: Cultural harmony is another aspect that makes Singapore a unique blend. There are experts that are coming from all over the world as well as an abundance of Malays, Chinese and Indian community. Therefore, in order to develop or distribute products in these communities, one has to be very careful due to the cultural sensitivity. Traditions are also very important for these communities (Lasserre, 2017).
Difference in lifestyle: One of the key differences in Australian and Asian culture is the lifestyle. The reason lifestyle is important because it is based on that companies can develop products suitable for the target market. In this case, the western culture of grab and go may not be as suitable for Southeast Asian ethnic communities. Therefore, one of the biggest hurdles discussed in the study of Vege chip pestle analysis that can be faced by companies like Vege Chip Company is the difference between cultures.
Difference of business etiquette: Other than lifestyle and cultural differences, one of the biggest problems that foreign companies face in Asia is the difference in business etiquette. Organisational culture varies immensely based on the culture that it represents. Singapore, being a combination of different cultures such as Malays, Chinese and Indians makes it highly complicated. One of the common traits of organisational culture is an emphasis on community and relationship building within the organisation as well as with consumers. In order to establish a successful business in Singapore proper business etiquette suitable different ethnic culture needs to adopt in by the organisations (Morschett, Schramm-Klein, &Zentes, 2015).
Disadvantage:
The multicultural facet of Singapore is one of the complicated matters that a company has to keep in mind while launching a product or service. In case of Vege Chip Co, product development will be much more complicated than launching in Western countries.
Technological analysis
Overview: impact of technology is very high on business operations. Regardless of the size of the Enterprise technology can help both tangible and intangible increase profitability and meet customer demands.
Digitally competitive: Technological infrastructure has high importance in businesses. As per the reports published on Swiss business School IMD, Singapore has been ranked as one of the most technologically competitive Nations. It has competitors like Sweden, Switzerland and Hong Kong from this list, therefore, making it one of the most suitable markets for Vege Chip Co. in addition to being scientifically infrastructure Nation Singapore also prove that its economy has a high capacity to learn and understand new technologies. Therefore, proves its workforce to be highly skilled.
Disadvantage:
In terms of energy resources currently, Singapore is highly dependent on non-renewable sources like natural gas. Therefore, in order to increase the sustainability factor discussed in the study of Vege chip pestle analysis, Singapore has to invest in most sustainable technology such as solar power and wind power (David & David, 2019).
Conclusion and Recommendation
Strategic analysis provides an important role for the success of a business abroad. In this study, external forces such as political, financial, technological, social and cultural factors are discussed in order to understand the potential of the country Singapore. The selected company Vege Chip Co. Well-known snack brand from Australia is considering expanding its business operations in Singapore. Therefore, analysis of uncontrollable macro factors of the aforementioned country is required to formulate better strategies. The study of Vege chip pestle analysis has thoroughly discussed both advantages as well as disadvantages that can be imposed on the brand. Singapore is one of the best economically successful countries has a lot of potentials however there are certain drawbacks as well that has been discussed here. Following are some of the recommendations based on the results obtained from the Vege chip pestle analysis that can be suggested to complete better strategies to establish a business in Singapore.
Export opportunity or threats
After discussing all the different aspect of the business environment of Singapore in the study of Vege chip pestle analysis it can be finalised that Singapore presents as a great opportunity for Vege Chip Company. However there are certain issues that is also present such as high cost of operation and development of new product line due different taste in consumer pallets. In addition, other Asian countries have lower cost of operation that can be considered by the Vege Chip Co as place to expend its business. However, other than the expenses Singapore has all the benefits of doing businesses and therefore should be definitely considered by Vege Chip Company instead of other developing nations of Asia.
Recommendations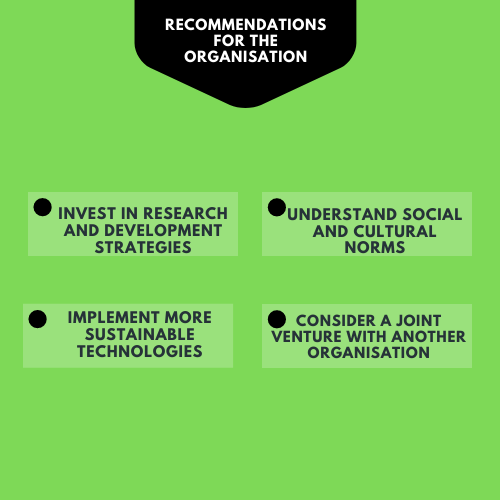 Research and development: Before establishing a business, it is important to conduct thorough research of the market and customer. This helps in developing a product based on customer demands and adopt proper marketing strategies as well.
Understanding social and cultural norms: One of the biggest struggles of foreign companies coming to Asian countries is the difference in social-cultural norms. Community-based Asian culture has a different approach than Western organisational culture. In addition to that, Asian ethnic culture is more sensitive and therefore requires to be handled by paying attention to the cultural norms. Therefore, considering the overall study of Vege chip pestle analysis it can be stated that in order to improve organisational culture and behaviour, social and cultural aspect of ethnic communities needs to be considered by foreign organisations. The work etiquette as well as hierarchical relationship also different, which needs to be understood by the Australian organisation.
Better sustainable technology:  though Singapore is a successful country with high economic development, there are still disadvantages present due to its geographical positioning. One of the key drawbacks of Singapore observed from the Vege chip pestle analysis is definitely lack of resources. They have impressive technological advancements that can help in recovering by investing in more sustainable technology. This will not only help businesses to make ethical choices that also affect positively on the environment aspect.
Considering joint venture: Key recommendations for any foreign organisation starting a business, in the Asian continent, would be to start as a joint venture. This will help the organisation to get access to new markets and distribution centres easily. In addition to that, this also helps in significantly reducing the production cost of a new venture. Setting a joint venture with Singapore on a company, in particular, will help Australian based company know their cost of production and increase their profitability.
Reference list
Aithal, P. S. (2016). Vege chip pestle analysis Study on ABCD analysis technique for business models, business strategies, operating concepts & business systems. International Journal in Management and Social Science, 4(1).Retrieved from
Aithal, P. S., VT, S., & Kumar, P. M. (2016). Analysis of ABC Model of Annual Research Productivity using ABCD Framework. International Journal of Current Research and Modern Education (IJCRME), ISSN (Online), 2455-5428.Retrieved from
Almilia, L. S. (2015). Comparing internet financial reporting practices: Indonesia, Malaysia, Singapore, Japan and Australia. International Journal of Business Information Systems, 20(4), 477-495.Retrieved from
Asher, M. G., Bali, A. S., & Kwan, C. Y. (2015). Public financial management in Singapore: key characteristics and prospects. Vege chip pestle analysis The Singapore Economic Review, 60(03), 1550032.Retrieved from
David, F. R., & David, F. R. (2019). Strategic management: A competitive advantage approach, concepts and cases. Pearson. Retrieved from
Fan, P. S. (2018).Singapore approach to develop and regulate FinTech. In Handbook of Blockchain, Digital Finance, and Inclusion, Volume 1 (pp. 347-357). Academic Press. Retrieved from
Fozer, D., Sziraky, F. Z., Racz, L., Nagy, T., Tarjani, A. J., Toth, A. J., ...&Mizsey, P. (2017). Life cycle, PESTLE and multi-criteria decision analysis of CCS process alternatives. Vege chip pestle analysis Journal of cleaner production, 147, 75-85. Retrieved from
Fozer, D., Sziraky, F. Z., Racz, L., Nagy, T., Tarjani, A. J., Toth, A. J., ...&Mizsey, P. (2017). Life cycle, PESTLE and multi-criteria decision analysis of CCS process alternatives. Journal of cleaner production, 147, 75-85. Vege chip pestle analysis Retrieved from
Hyvärinen, H. (2019). Finnish companies entering Singapore: analysis of business environment and cultural differences: Case: ExoveDesign.Retrieved from
iras.gov.sg, (2019). Tax Rates, Retrieved from
Islam, F. R., &Mamun, K. A. (2017).Possibilities and challenges of implementing renewable energy in the light of PESTLE & SWOT analyses for island countries.In Smart Energy Grid Design for Island Countries (pp. 1-19). Vege chip pestle analysis Springer, Cham.Retrieved from
Kusnadi, Y., Leong, K. S., Suwardy, T., & Wang, J. (2016).Audit committees and financial reporting quality in Singapore. Journal of Business Ethics, 139(1), 197-214.Retrieved from
Lasserre, P. (2017). Global strategic management. Macmillan International Higher Education.Retrieved from
Morschett, D., Schramm-Klein, H., &Zentes, J. (2015).Strategic international management (pp. 978-3658078836).Springer. Vege chip pestle analysis Retrieved from
Rastogi, N. I. T. A. N. K., &Trivedi, M. K. (2016). Vege chip pestle analysis PESTLE technique–a tool to identify external risks in construction projects. International Research Journal of Engineering and Technology (IRJET), 3(1), 384-388.Retrieved from
statista.com (2019). Net GDP of Singapore, Retrieved from
Vegechip.com (2019).Our Story. Retrieved from http://www.vegechips.com/our-story
Wei, W. K., &Peng, S. C. (2016). An Embedded Librarian at the National University of Singapore: Case Study of the Ridge View Residential College. Vege chip pestle analysis Singapore Journal of Library & Information Management, 45. Retrieved from
Wei, W. K., & Tao, M. N. T. The Embedded Librarian (s) at the National University of Singapore: The Journey Continues. Retrieved from
Zadek, S. (2018).Aligning the Financial System with Sustainable Development.FINANCING SUSTAINABLE DEVELOPMENT, 102. Vege chip pestle analysis Retrieved from