Customer Experience Assignment Evaluating Business of Walmart
Question
Task: Conduct a detailed research and prepare a report on customer experience assignment critically analyzing the business of Walmart and its customer's purchasing experience.
Answer
Introduction
In order to gain the sustainable competitive success all companies need to focus on their target customer's purchasing experience. According to the study ofBudurandPoturak, (2021) considered in the present context of customer experience assignment, a better understanding of customer satisfaction is the key to achieve success in this increasing competitive marketplace. Having a headquarter in Bentonville, Walmart is an American multinational retail company, which operates a chain of departmental stores, grocery stores and hypermarkets (Courtemanche, Carden, ZhouandNdirangu, 2019). This study is going to discuss the business of Walmart and its ability to offer purchasing experience to its customers. This report is based on the value proposition model of Walmart and this report would also use the six pillars of the customer's experience model to get a better understanding of the existing business.
The study also emphasis on the digital disruption to the delivery experiences procured by the customers. The report reflects a clear understanding of the customer's engagement with providing relevant recommendation to improve the user's purchasing experience.
The Value Proportion of Walmart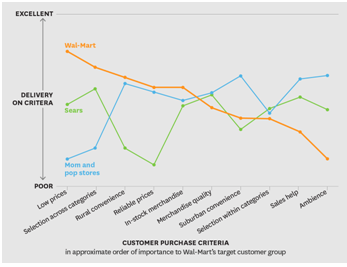 Figure 1: Value Proposition of Walmart
(Source: Harvard Business Review, 2021)
Product and Service
Walmart is a leading e-commerce business with its chain of hypermarkets, grocery stores and discount department stores. Currently Walmart operates in twenty-four countries with its almost 10,500 stores and e-commerce websites. According to Saraswathy, (2019), in the United States and Canada, it operates under the same name. however, it operates as Flipkart Wholesale in India and as Walmart de Mexico in Mexico and Central America.
It also operates in South Africa, Chile and other countries. With the aim to serve customers of all segments, Walmart offers meat and dairy products, fresh foods, packaged food, bakery and beverages, household supplies, furniture, stationary items, electronic gadgets, toiletries, personal care items, health and beauty products and selected over the counter drugs.
Gain Creator
In order to create and maintain better customer involvement and improve the purchasing experience of the customers, there are three factors to build effective gain creator for the business of Walmart.
Seamless and Offline Product Ordering
Walmart allows its users to experience both online shopping and offline shopping without any hassle and complexity. As stated by Jindal, Gauri, Liand Ma, (2021), the search bar of the online portal of Walmart website shows all the similar products that it has to offer through its offline stores. Customers are able to see the price, discounted price, description and expiry dates of every product and can compare one product to another which makes the purchasing experience great.
User Friendly Portal
The online portal of Walmart is very easy to use, therefore customers can use every application of the portal easily, without facing any hassle or confusion. As stated by Robsonand Pitt, (2018), the portal is offering various types of filters regarding categories, pricing range, color, size, discount, popularity of the products and many others to make the shopping easy for the customers. Thus, the customers can find and buy their required products easily.
Variety and Price Range of Product
Both the product range and the price range are impressively great in Walmart stores and Walmart shopping portal. Therefore, customers can get their required products within a moderate price range. Even there is a filter to offer three types of price range, such as low price, moderate price and high price range. Buyers can get everything of their need from Walmart. For instance, it offers foods, beverages, fresh foods, liquors, household items, décor items, furniture, stationary, electronics, cosmetics, healthcare products and many more.
Pain reliever
The value proposition model is used to get a clear understanding of customer's expectations from a business organization. This particular canvas allows the customers to compare and match the products and prices of what the company has to offer. Easy shopping filters, hassle free checkouts, reliable payment gateways, easy delivery and return policy are considered as some of the pain relievers. In order to improve the business activities, Walmart provides the facility to the customers to give feedbacks, which also plays the role of a pain reliever. Hence, the most effective pain reliever is the sales, discount and surprising promo codes as these help customers to purchase their desired products at a reduced price.
Gain
It is important to create a safe and secure marketing process in order to engage the customers. Walmart allows its users to perform a confidential transaction service while purchasing items. Easy return and exchange policy also attracts customers and help to grow the business. Walmart also provides the facility of fast and secure product delivery at the door steps of the customers. All these facilities help to engage the customers to the service provided by Walmart.
Pain
Walmart charges extra delivery amount for every product in the virtual cart, which is an irritating issue for the online customers. Stock out is another common issue; therefore, customers often have to wait for a long time to get their desirable products in hands. Even the exchange policy is not that easy, as customers have to fill many quarries and still it takes a long time.
Customer's Jobs
According toBaldassarre, Calabretta, BockenandJaskiewicz, (2017), Walmart needs to maintain both functional job and emotional job towards its customers as there is an important concept called, "job to be done". By providing huge variety of products and an impressive price range beside offering discount and promo codes, Walmart takes the responsibility to maintain emotional jobs for the customers. It also executes the safety and security of financial transactions. Therefore, the customers can realize that their money and products are being prioritized by Walmart. Beside performing these emotional jobs, Walmart ensures that every need of every customer would be solved in just a single click. Through creating a user-friendly online portal, Walmart is able to solve every issue of the customers seamlessly within a limited period of time.
Customer Experience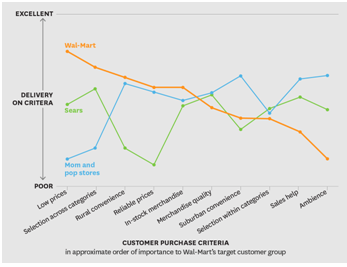 Figure 2: Customer Experience of Walmart
(Source: ACSI MATTERS, 2021)
From the above diagram it is somehow clear that considering all the efforts, Walmart is not able to satisfy all of its customers. However, the customers of Walmart are experiencing a great shopping for the huge variety of products it offers. According to Halan, (2021), even the price range is strategical in order to offer purchasing for all the customers of different background and economic segments. Even introducing filters for various pricing range allows customers to find their required products within a short time. Fast and hassle-free delivery of Walmart attracts the customers. Most importantly, it performs the financial transaction with maintaining confidentiality that creates a reliability among the customers towards Walmart. However, often the time-consuming delivery service to some specific areas and time taking exchange policies have become the reason for customer dissatisfaction towards the e-commerce giant Walmart.
Customer of Walmart
The target marketplace of Walmart is everyday consumers who are in search of essential everyday goods for both personal and household usages. Walmart is not a luxury product selling store; therefore, the customers over here work hard to earn money and they purchase items for their daily need in at a great price.
According toJindal, Gauri, Liand Ma, (2021), around two hundred twenty million customers are visiting an approx. of 10,500 stores of Walmart every week. This huge customer engagement brings the revenue of $559 billion in the fiscal year 2021. The e-commerce giant, Walmart recruits over 2.3 million employees around the world, which also indicates that the number of customers as well as the business is also growing in the company. Walmart sales a wide range of products based on the various demographic locations of the customers and their different choices based on region, religion and culture.
However, Walmart's customers are not only classified by demographic locations, rather they are classified by their age. As stated byPeeroo, (2019), around 20.6% of buyers belongs to the age group of 45 to 54. 20.4% of shoppers are between 65 years or above. Whereas, shoppers who are between 55 to 64, are holding 18.1%.
The Six Pillars of Customer Experience Model
The Six Pillars of customer Experience is also referred as CX which helps to understand the holistic perception of the consumers regarding their experience with a company or a business organization. The Six Pillars of customer Experience model is based on some pivotal factors and these are customer's interaction with customer service personnel, navigating the websites and receiving or using products they bought from the particular company.According toWiltshierand Clarke, (2017), Personalization, Integrity, Expectations, Time and effort, Resolution and Empathy are considered to be the six pillars of the Six Pillars of customer Experience.
Personalization-Offering personalized and tailored items according to the preferences of individual customers based on their demographic differences and age groups creates an emotional connection between the customers and the company. Thus, personalization helps a company to build positive and satisfying purchasing experience for the customers.
Integrity- As stated bySharma, Agrawaland Khandelwal, (2019), the act of reliability and integrity helps a business organization to build consistent organizational behavior which creates a sustainable trustworthiness. As the integrity of business allows to develop a bond between the company and the customers, therefore, it improves the customer's purchasing experiences.
Expectations-As stated by Morgesonetal., (2020), in order to meet customer's experience, an organization first needs to meet the different requirement and expectation of the customers regarding product variety and product price.
Time and effort-It is important to reduce the time and effort of the customers while they are shopping. If organizations would collect information about the customers and they can get filtered items according to their need that would definitely improve the customer's experience. Resolution- In order to boost the business through improving customer's experiences, organizations need to focus on their previous mistakes and resolve those issues and inconvenience by taking effective and strict resolution.
Empathy-Identifying the requirements and expectations of the customers, understanding the business environments and execute according to these findings can bring safety and improvement to the business.
Application of Model in Walmart
The application of the six pillars model of customer expectation in Walmart has been discussed over here. Personalization- Walmart uses filters to help its customers to find personalized items from a wide range of products according to their choice and budget within a minimum time. Integrity-Easy and secured purchasing and payment methods, as well as hassle free return policies of Walmart provides the customers a great shopping experience.
Expectations- Wide product ranges, product availability and variety in price range of the products helps Walmart to meet the expectations of the customers (Mazouni, 2018). Another expectation of the customers is shopping in a click and getting products at their door steps, which are also fulfilled by Walmart.
Resolution- Walmart focuses on the review or comments on every product they are selling and tries to make strategic plans according to these and execute them in order to improve customer's experience.
Time and effort- According to Singhand Rosengren, (2020), Walmart focuses on fast and hassle-free delivery to improve their customer's experience. Therefore, they adopted fast logistic system. Hence, often it takes a long time in case of exchanging products.
Empathy-In every festive season, Walmart cares for its customers of every demographic region and provides sales, special discounted price and surprising promo codes to all the customers. This is considered as an act of empathy which makes customer's experiences great.
Implications of Digital Disruption to The Delivery of The Customer Experience
With the increasing number of internet connectivity, the business has been enhanced and with the aim to gain sustainable competitive success, Walmart uses various digital tools to make a potential advantage over its existing competitors in the market such as Amazon. In some part of the world, Walmart implemented automated robotic technologies as an implication of digital disruption to the delivery of the customer experience. Walmart focuses on upgrading their portal regularly in order to improve their filter options and to make transaction easier. The effective use of digital disruption helps the e-commerce giant, Walmart to improve customer satisfaction. According toLichtenthaler, (2021), Walmart gets better understanding of customer's expectations by collecting virtual data through their location and search history, which finally helps the organization to offer the customers more filtered items and thus Walmart is boosting their economy by fulfilling customer's experience.
Strategic Recommendation to Improve the Customer Experiences The customer satisfaction or experience can be improved by Walmart by following certain strategies:
They need to provide their customers with a logic for their purchase. Mostly shoppers make purchase decisions based on emotions rather than logic. By providing the customers with printed testimonials or social proofs, they can satisfy them further. The shoppers can later review these testimonials to justify their purchase decisions.
Offering discounts and giving free gifts to customers along with their purchases might sound like a cliched strategy. However, this works well for improving customer satisfaction. Adding a second gift after the first can take the customer by surprise. This will further enhance the customer experience.
Walmart can make a better use of its Ask Sam app by upgrading its features to an advanced level. This machine-learning based, voice-enabled mobile technology will help the workers at Walmart to provide better assistance to its shoppers. This will save the time of their shoppers, making their shopping experience better.
The staff at Walmart should take notes of the customer feedback. This will make the customer feel more valued and important.
The staff needs to be trained appropriately to handle complaints and problems raised by the customers. If the issues of the customers are resolved right in the beginning, it gives them a better experience. They also want to associate with companies which value their opinions and resolve their complaints on priority.
Conclusion
To improve the sales and revenue figures along with the profit margins, Walmart has to enhance the experience they ensure for its customers. This will give them a competitive edge over its rivals in the supermarket or retail industry. In this paper, the experience of the customers of Walmart has been analyzed. The six pillars of customer experience model have been implemented in the Walmart's organizational context. The customer experience or satisfaction is one of the most important driving forces in the retail industry. The customers will get back again and again to the same supermarket or store where they have had a good shopping experience. The customer satisfaction or experience is not only dependent on the price of the goods, but also the range of goods, the behavior of the store staff and managers, the way customer's grievances are handled, etc. Thus, to bear the flagship in the global retail industry, Walmart has to direct its marketing and promotional strategies towards enhancement of customer experience.
Reference List
Baldassarre, B., Calabretta, G., Bocken, N.M.P. and Jaskiewicz, T., 2017. Bridging sustainable business model innovation and user-driven innovation: A process for sustainable value proposition design. Journal of cleaner production, 147, pp.175-186.
Budur, T. and Poturak, M., 2021. Employee performance and customer loyalty: Mediation effect of customer satisfaction. Middle East Journal of Management, 8(5), pp.453-474.
Courtemanche, C., Carden, A., Zhou, X. and Ndirangu, M., 2019. Do Walmartsupercenters improve food security?. Applied Economic Perspectives and Policy, 41(2), pp.177-198.
Halan, D., 2021. A critical analyses of Walmart's expansion into three Asian countries. International Journal of Business and Globalisation, 29(1), pp.99-115.
Harvard Business Review, 2021. Wal-Mart's Value Proposition. [online] Harvard Business Review. Available at: [Accessed 28 September 2021].
Harvard Business Review, 2021. Wal-Mart's Value Proposition. [online] Harvard Business Review. Available at: [Accessed 28 September 2021].
Jindal, R.P., Gauri, D.K., Li, W. and Ma, Y., 2021. Omnichannel battle between Amazon and Walmart: Is the focus on delivery the best strategy?. Journal of business research, 122, pp.270-280.
Jindal, R.P., Gauri, D.K., Li, W. and Ma, Y., 2021. Omnichannel battle between Amazon and Walmart: Is the focus on delivery the best strategy?. Customer experience assignmentJournal of business research, 122, pp.270-280.
Lichtenthaler, U., 2021. Digitainability: the combined effects of the megatrends digitalization and sustainability. Journal of Innovation Management, 9(2), pp.64-80.
Mazouni, M., 2018. The Effect of Global Investment Decisions and Financial Risk on Multinational Corporations: Walmart Corporation Case Study. Available at SSRN 3257136.
Morgeson III, F.V., Hult, G.T.M., Mithas, S., Keiningham, T. and Fornell, C., 2020. Turning complaining customers into loyal customers: Moderators of the complaint handling–Customer loyalty relationship. Journal of Marketing, 84(5), pp.79-99.
Peeroo, S., 2019. Customer-initiated conversations on Facebook pages of Tesco and Walmart. In Information Systems Design and Intelligent Applications (pp. 43-51). Springer, Singapore.
Robson, K. and Pitt, L., 2018. People of Walmart: Targeting the World's Largest Retailer and Its Customers. SAGE Publications: SAGE Business Cases Originals. Saraswathy, B., 2019. The Flipkart-Walmart Deal in India: A Look into Competition and Other Related Issues. The Antitrust Bulletin, 64(1), pp.136-147.
Sharma, A., Agrawal, R. and Khandelwal, U., 2019. Developing ethical leadership for business organizations: A conceptual model of its antecedents and consequences. Leadership & Organization Development Journal.
Singh, R. and Rosengren, S., 2020. Why do online grocery shoppers switch? An empirical investigation of drivers of switching in online grocery. Journal of Retailing and Consumer Services, 53, p.101962.
Wiltshier, P. and Clarke, A., 2017. Virtual cultural tourism: Six pillars of VCT using co-creation, value exchange and exchange value. Tourism and Hospitality Research, 17(4), pp.372-383.