Customer Experience Assignment: Value Proposition of Ocado
Question
Task: Write a detailed report on customer experience assignment critically evaluating the value proposition and customer experience of Ocado.
Answer
Introduction
The concept of consumer experience covered in the customer experience assignment is an affective, cognitive, behavioural, and sensory response by the consumers during the process of consumption which includes stages such as before purchase, consumption, and after purchase (Jain et al. 2017). According to Tercia et al. (2020), the experience economy is the level after the products or commodities and services with events as the ending product of the business. The assessment aims to value the proposition of Ocado and its customer experience. The assessment also aims at customers by key demographics and by frequency of use of products and what digital disruptions they faced and strategic recommendations for it.
The value proposition of the organization
The value proposition is the type of positioning statement that defines the provided benefits, the process, and the needed improvement as well. It evaluates the target buyer and the pain points that need to be solved. Ocado is an online supermarket that described itself as the world's largest online grocery retailer located in the UK (Moss 2021). Ocado's value proposition is a part of a greater value system that includes either downstream or upstream companies or both of them. It provides fulfillment solutions in online grocery.
The value proposition of Ocado is a part of a greater management system that conducts the whole system as well. They have set three basic values as unbeatable range, Fair value, and Effortless convenience (Ocado Retail Limited 2021). They only don't offer their customers unrivaled choices but also inspire them with healthy, amazing, and delicious drinks and food as well. They also offer their customers a convenience that is unbeatable by perfect order of unrivaled and fulfilling customer experience. The basic activities are associates such as disseminating, receiving, and storing the inputs and also receiving customer information that helps to serve better to the customer and enhance their experience as well. Also, help to determine customer usage behavior that helps Ocado to understand the advertisement needs that are made on customer data. After-sale maintenance and service for providing a better customer experience and also essential (Ocado Retail Limited 2021). It includes activities like part supply, product forward installation services, software backend alignment, post-sales training, and maintenance.
For providing a better experience to the customer they add several support activities like quality and general management, planning, legal services, accounting, and finance. The above activities are the base of the whole value chain system. The planning and finance at Ocado are defined as per the corporate level while accounting, quality management, and the issues relevant to legal are defined at the level of the business unit. Understanding the basic need of a customer to give them a better customer experience is the purpose of the value proposition. Ocado conducts some activities that collect data from the customers about what they want or need and how they need or want and reunite their working procedure as per the customer needs this helps them to build a better value proposition as well. Ocado is much obliged with the value proposition and tries to develop better on a daily basis (Gonzato 2018). They introduce some innovative features based on consumer feedback like an annual pass that enables features like free delivery for all-day or some days in a week. It benefits the consumers to get their products to deliver to their homes for free of cost as well as it connects the customer to purchase products from Ocado annually that benefits them also.
Evaluation of customer experience
With this spirit of building a much stronger value proposition, Ocado is captivating a huge number of consumers who are willing to be with Ocado. Ocado has successfully created a customer base of over 680,000 people of active consumers and has successfully processed a huge quantity of orders around 320,000 in number by every week. Desiring fair value for a product also enhances the loyalty to the consumers and enhances their willingness to buy more from them (Ocado Retail Limited 2021). The value proposition of Ocado also allowed it to decrease customer effort, enhancing satisfaction and distinguish costs. By their attractive schemes like decreasing rate on retail margin and also the delivery charges that vary from free to 9.24 dollars based on the value of the purchase or distance or time of the delivery(Digital Innovation and Transformation 2021). The introduction to the annual pass also attracts more people as it has a benefit from them. Like a traditional retailer, Ocado also gains from the funding of the supplier for promoting their product. The innovation or additions that they made in order to get feedback from the customers is also expanding the organization closer to their consumers and getting them a better experience as well.
Ocado's customers by frequency of use by key demographics
Ocado is shifting from traditional service channels of customers to a digital approach as the demands of the customers are increasing in the U.K. Their target customers are those who give more focus on fast resolution by applying minimal effort (Larkin and Nankervis 2021). The Orlo platform helped Ocado to combine its live chat, CRM, and social chat into a particular tool of customer service. This is a strategy that allows Ocado to reduce costs, increase the satisfaction of the customers, and reduce the efforts of the customers (Ladd 2021). Ocado has around 580,000 customers and is the world's largest online retailer of groceries. They are building the best experience of shopping in terms of price and services. They believe that they can drive the customers online by giving offers to the customers. The main thing which is most important to Ocado is the trust of the customers from their shopping till the delivery of the products to them to maintain consistency (Verdict-ai.nridigital.com 2021). They are showing their customers to encourage complaints at Customer Thermometer because is their belief that if their customer handling process will not be easy then the customers will leave them and give bad and negative reviews about them to others. Ocado's campaign is also focused on the customers who watch television by giving advertisements in this medium. They focus on their customer base that matches up against TV commercial viewers demographically. They look at the customers especially females, married, having a high income, and live in the South East and London because these are the group of customers who watch televisions the most. Non-customers that is people who are not their customers will shop online during watching television. This will help the customers to think that Ocado has made their lives easier (Yougov.co.uk 2021). The chief executive of Ocado, Tim Steiner said that they have about 800,000 customers who can increase their sales five times more as their demand became high in the light of the Covid-19 pandemic (The Guardian 2021).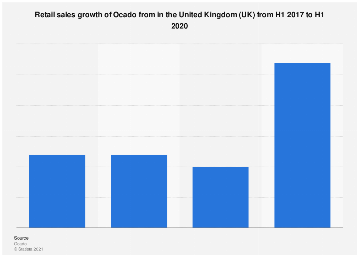 Figure 1: Retail sales growth of Ocado in the U.K 2017-2020
(Source: Statista 2021)
The Six Pillars of the Model of Customer Experience
The six pillars of customer experience are built based on the kind of outcomes that are emotional and help to showcase the business as well (Assets. kpmg 2021). Those help to deliver a better customer experience that is exceptional. The defined six pillars as described below:
1. Personalization: It is described as one of the most crucial components for a customer experience. Understanding the specific customers' circumstances and accordingly reuniting the experience is the main key section of the personalization (Kumar, and Anjaly 2017). A better personalization is creating the feel of the customers more in value, control, and importance after the interaction. Personal Experience can be developed by acknowledging customers' past interactions, preferences or by building individualized attention.
2. Integrity: Organizations that seem trustworthy on a constant basis are the base of integrity. An organization and the staff only can build the strongest trust-building events and moments that also help to enhance integrity (Assets. kpmg 2021). From a customer's vision, the organizations that have the ability to supply in order to their promises are the lead to integrity.
3. Expectation: Each brand has its own standards based on customer expectations. A consumer always expects a higher standard than usual and this is the key to maintaining the expectation.
4. Resolution: To gain a better customer experience recovery is important as well the quantity of the bad impact that does not matter. The best organizations always hold their customers by recovery. There are basically two types of resolution elements present that are considered as successful such as an apology sincerely and taking action immediately to recovery.
5. Time and effort: Customers are always searching for instant gratification as they do not have sufficient time (Kumar, and Anjaly 2017). Reducing obstacles that detail the process of decision-making by the customers and helping them to achieve their targets easily is considered as the key to increasing loyalty.
6. Empathy: By understanding the emotional experience of a customer and developing a strong empathy is the key to gaining a better experience. By establishing a better relationship with the consumers through behaviors that are empathy-creating allows businesses to observe customers how the organization understands the feelings and deal with them to provide a better experience.

Figure 2: six pillars of customer's experience
(Source: KPMG 2021)
Application of the Model
The customer experience of Ocado is based on the six pillar experience which includes personalization, integrity, expectations, resolution, time and effort, and empathy (Batat 2019).
| | |
| --- | --- |
| Personalization | Ocado understands the need of their customers and according to the circumstances, they will adopt it. They have allowed their customers to give reviews and feedback and they also make sure that they can easily give reviews to them about their product experiences. They ensure any customers if they have interacted earlier that makes the customer feel valued and important. They even surprise their customers and also non-customers by giving those discounts (Assets.kpmg 2021). |
| Integrity | Ocado believes in the trust of the customers from shopping till the delivery of orders. This is the thing which they focus on more than their profit. They react very well with their customers during the Covid-19 pandemic and were aware of the demands of the customers. This is behavioural economics that teaches them that they like their customers and their demands. They keep their customers informed via SMS and e-mails about the availability of products and offers (Mason 2019). |
| Expectations | Ocado focuses on the difference between customer expectation and the actual delivery of products. They make sure that they are delivering the right product to the appropriate customer. They set the time of the delivery of products and they accurately maintain the time by delivering the products to the customers before the time but not after, even during the lockdown. They also offer their customers to set their delivery time and date according to their availability at the delivery location (Assets.kpmg 2021). |
| Resolution | Things can go wrong even with the best procedures and processes and so they focus on putting the customers back in position by giving them special offers. They also provide sincere apply to every customer to ensure the trust between them which they believe is one of the elements of the resolution. If a customer has the urgency of product they also fix it by early delivery of the products (Mason 2019).  |
| Time and Effort | Ocado removes any obstacles that come in the way of the customers while online shopping like the fix bugs and other technical issues if persists. They ensure that their customers can achieve the objectives of ordering their necessary products. If a customer asks any query about any product they quickly give necessary information by not wasting the time of the customer (Assets.kpmg 2021). |
| Empathy | Ocado believes in behaviour that creates empathy which is the key to create a strong relationship with customers. They understand their customers very well and also about their demands. They take ownership of any issues that customers face from ordering to the delivery of the products (Qasss.co.uk 2021). |
Involvement of Digital disruption
Digital disruption is compelling organizations and companies to adapt and change their business model concerning the reality of the market (Purc?rea and Purc?rea 2017). Along with the advancement of technology, the available channels for sales are also increasing. Some examples of digital disruption that companies adopt for better customer experiences are the Cloud, Chatbots, Augmented reality, Voice Capabilities, and many more.
Digital disruption that is involved in Ocado is their transformation of online grocery shopping with Artificial Intelligence (AI). The orders of the customers are collected and packed in the automated warehouses using robots. The robots can collaboratively pic a fifty-item product in a minute. Their end-to-end e-commerce, logistics platform, and fulfilment are the part of Ocado Smart Platform (Marketing et al. 2021). This technology helps them to provide the revolutionary solutions, and build and designed in-house. They are building this platform to make it available for the large retailers of grocery all over the globe. Machine learning and the use of AI are permeated by this platform. They have adopted machine learning and AI so that their customers can shop without any barrier and faster with greater delight and less friction. They are also personalizing the affair so that it could fit better with the shopping styles of each customer (Harvard Business Review 2021). With the implementation of AI, they can predict the demand of products by the customers; can detect fraud to keep their consumers safe. AI is helping them to manage the health and control of the robots and is also helping them to optimize the routes of their delivery each day. They receive approximately 260,000 orders per week and with 99% order accuracy they deliver them to their customers. Every item is well packed and is scanned (Markets.ft.com 2021). AI helps them to know that what products are to be put in what package or bags. Boxes with product in it travel around 25km for collection of the appropriate ordered products which is administered by in-house software.
Strategic recommendations
Ocado can do sampling campaigns like they can provide their shoppers to try certain products and then to buy them because sampling of products is very effective to generate reviews and ratings. Many customers are there who are purchasing a particular product for the first time and so they have to rely on reviews of other customers as they are not getting real-time experience of the product. For this reason, Ocado must implement sampling of products in its business strategy. Transparency is the key when it comes to the sampling of products and for that, they must generate genuine and sure reviews of their sampling campaign (Lin et al. 2019). They can also provide some special offers to the products of limited-edition, and then the customers would react positively having a sense of urgency. If it would not be possible for Ocado, then they can provide customers free shipping of products or any other discounts. Providing discounts or free shipping of products will help to hold the market with consistency as this is the period of competition as there are many more online grocery retailers who would give more discounts to their customers and the customers can move their priority to the specific online retailer (Di Fatta et al. 2018). They can also extend their business while giving some free items with a purchase of a certain amount and the gifts must not be grocery items.
Conclusion
Customer experience is very essential for any business especially the business online like Ocado. They are the best in their business and the largest online retailer of groceries. They believe in the trust of customers to them for selling their products. They have also implemented Artificial Intelligence in their business for better results and fast delivery of products which is based on the six pillars of customer experience. They personalized their review and feedback for their customers and also ensure the urgency of customers on products and deliver them in time to maintain a strong relationship with the customers.
Reference list
Assets.kpmg. 2021. [online] Available at: [Accessed 13 September 2021].
Assets.kpmg. 2021. [online] Available at: [Accessed 13 September 2021].
Batat, W., 2019. Experiential marketing: Consumer behavior, customer experience and the 7Es. Routledge. [Available at: https://www.researchgate.net/profile/Wided-Batat/publication/331764441_Experiential_Marketing_Consumer_Behavior_Customer_Experience_and_ The_7Es/links/5e71abff92851c93e0aa4844/Experiential-Marketing-Consumer-Behavior-Customer-Experience-and-The-7Es.pdf]
Di Fatta, D., Patton, D. and Viglia, G., 2018. The determinants of conversion rates in SME e-commerce websites. Journal of Retailing and Consumer Services, 41, pp.161-168. [Available at:
http://eprints.bournemouth.ac.uk/30183/3/Conversion%20Rates.pdf] Digital Innovation and Transformation. 2021. Ocado finally makes online grocery retail work - Digital Innovation and Transformation. [online] Available at: [Accessed 10 September 2021].
Gonzato, A., 2018. Business model innovation reshaping grocery retail. [Available at: http://tesi.cab.unipd.it/59535/1/Gonzato_Alessandro.pdf] Harvard Business Review. 2021. Ocado Is Transforming Online Grocery Shopping with AI, But A Skills Challenge Lies Ahead - SPONSOR CONTENT FROM OCADO. [online] Available at: [Accessed 13 September 2021].
Jain, R., Aagja, J. and Bagdare, S., 2017. Customer experience–a review and research agenda. Journal of Service Theory and Practice. [Available at: https://fardapaper.ir/mohavaha/uploads/2018/10/Fardapaper-Customer-experience-%E2%80%93-a-review-and-research-agenda.pdf] KPMG. 2021. Six Pillar Experience. [online] Available at: [Accessed 13 September 2021].
Kumar, A. and Anjaly, B., 2017. How to measure post-purchase customer experience in online retailing? A scale development study. International Journal of Retail & Distribution Management. [Available at: https://www.emerald.com/insight/content/doi/10.1108/IJRDM-01-2017-0002/full/html]
Ladd, B., 2021. Grocery Retailers Are Embracing Micro-Fulfillment -- But Is That Enough?. [online] Forbes. customer experience assignmentAvailable at: [Accessed 13 September 2021].
Larkin, R. and Nankervis, A., 2021. Retail Sector. In The Fourth Industrial Revolution (pp. 57-71). Springer, Singapore. [Available at: https://link.springer.com/chapter/10.1007/978-981-16-1614-3_4]
Lin, Z., Zhang, Y. and Tan, Y., 2019.
An empirical study of free product sampling and rating bias. Information Systems Research, 30(1), pp.260-275. [Available at: https://pubsonline.informs.org/doi/abs/10.1287/isre.2018.0801]
Marketing, D., Community, M., learningMobileVoice, E., Hospitality, D., us, &. and Mehta, D., 2021. How Ocado puts innovation at the heart of online grocery retail - ClickZ. [online] ClickZ. Available at: [Accessed 13 September 2021].
Markets.ft.com. 2021. Half Yearly Report – Company Announcement - FT.com. [online] Available at: [Accessed 13 September 2021].
Mason, R., 2019. Developing a profitable online grocery logistics business: Exploring innovations in ordering, fulfilment, and distribution at ocado. In Contemporary Operations and Logistics (pp. 365-383). Palgrave Macmillan, Cham. [Available at: https://link.springer.com/chapter/10.1007/978-3-030-14493-7_19]
Moss, A., 2021. How Ocado Technology Automated Covid Test Scheduling. Impact, 2021(1), pp.7-9. [https://www.tandfonline.com/doi/full/10.1080/2058802X.2021.1890966]
Ocado Retail Limited. 2021. Our mission. [online] Available at: [Accessed 10 September 2021].
Purc?rea, T. and Purc?rea, A., 2017. Services marketing in the era of disruption and digital transformation. Romanian Economic and Business Review, 12(4), pp.7-26. [Available at: http://www.rebe.rau.ro/RePEc/rau/journl/WI17/REBE-WI17-A1.pdf]
Qasss.co.uk. 2021. [online] Available at: [Accessed 13 September 2021].
Statista. 2021. Ocado: retail sales growth in the UK 2017-2020 | Statista. [online] Available at: [Accessed 13 September 2021].
Tercia, C., Teichert, T., Sirad, D. and Soehadi, A., 2020. Conveying pre-visit experiences through travel advertisements and their effects on destination decisions. Journal of Destination Marketing & Management, 16, p.100331. [Available at: https://www.sciencedirect.com/science/article/pii/S2212571X18301124]
the Guardian. 2021. Ocado reports 40% increase in sales as orders surge in lockdown. [online] Available at: [Accessed 13 September 2021].
Verdict-ai.nridigital.com. 2021. Inside Ocado: The Automated Warehouses Powering Technology's Dark Horse - Verdict AI | Issue 8 | May 2019. [online] Available at: [Accessed 13 September 2021].
Yougov.co.uk. 2021. Who is Ocado looking to advertise to? | YouGov. [online] Available at: [Accessed 13 September 2021].