Customer Relationship Management Assignment: Implementation Of CRM System In H&M
Question
Task: Task:
Submit a completed Customer Relationship Management System Implementation Plan.
Situation to be analysed in the customer relationship management assignment:
In your future role, you have been given the task of managing the replacement of the CRM System within your organization.
Being responsible for this new implementation you will have to work within the organizational business process framework and collaborate with various stakeholders to see a successful transition.
For this final assignment, you must complete this CRM implementation plan so that it corresponds to all the requirements, including the matching of the management´s focus that must be in line with the strategic direction of the company, as well as the action plan that you propose since you must sell your CRM implementation plan to the company's board of directors.
Approach:
1. First select an organization. This can be a real organization that you have worked for, or an organization that you are familiar with for any other reason. Describe it, including business name, sector, and company size as a minimum and justify your selection. The product or service you select must be realistic, and the company you select must have English-language websites or documentation. This means, your chosen company must already exist. You must also be able to find what this company stands for, what its vision/mission is or what its stated purpose is (in English).
2. Next, describe your (hypothetical) role in the selected company (your business unit, which level as a manager or individual contributor).
3. Then, argue why a new CRM system will be beneficial for the business, given the current business environment.
4. Explain how and where the company can use the new CRM system. Then analyze (take apart and examine in depth) at least one CRM business process that will be impacted, and how the process will be improved.
5. Describe the impact of the new CRM Technology on the Organization and Management dimensions of the IS.
6. Recommend which stakeholders should be included in the implementation process.
7. Explore possible reasons for failure that could threaten the potential success of the new CRM system.
Answer
Introduction
It is well-known that H&M is a worldwide apparel and retail firm that designs and manufactures exceptional fashion aspects, including clothes and style essence for men and women, and children. It also sells a variety of home and décor products (Hm.com, 2022). Currently, it has spread out its fashion strategies throughout the world, with operating industrial growth and aspects in nearly 74 countries, which collectively contain more or less five thousand fashion stores and outlets offering a diverse range of products and items from international brands and labels. In terms of size, it has been found that H&M is one of the biggest fashion companies in the world with above 171000 employees globally. The company operates more than 50000 stores globally. The main reason for selecting H&M is that the selection of most valuable apparel brand in the globe will ensure generalisation of the findings. The mission of H&M is to drive long-term change and develop living conditions by investing in communities, people, and innovative ideas. The purpose of the business is stated below.
Purpose: The main purpose of H&M is to run in a way that is environmentally, socially, and economically sustainable. By sustainable, they mean that the needs of both present and future generations must be fulfilled. Scope:The main scope of the CRM strategy will help to gather customer data for better marketing, sales, and effective growth in the overall business of H&M.
Methods of investigation: Investigation is performed through reviewing various existing literature from Google Scholar, ProQuest, etc., and the company's official website.
Goals and objectives
As a CRM project manager in the company, I am responsible for handling relationship marketing for H&M's website. My marketing department team is likely to significantly contribute to the implementation of CRM in H&M. H&M has aimed several goals for a future sustainable fashion. The vision statement of H&M is to lead the change towards renewable and circular fashion while being an equal and fair company. The mission of H&M is to drive long-term change and develop living conditions by investing in communities, people, and innovative ideas.
Sales objectives:The vision reflects the circular fashion sector and will utilise only sustainably or recycled sourced materials within their collections to increase sales within comparable units.
Marketing objectives: By 2025, they will decrease the intensity of electrical (kWh/sqm per opening hour) by 25%. Source electricity will be 100% renewable for a target to increase stores number by 10 to 15% per year. Customer loyalty objectives: H&M's will provide their client's fashion with the best quality and price to earning customer loyalty.
Strategies
Marketing mix
Products: High-quality products with reasonable prices, inspired by the latest trends to offer pleasure to customers in daily life. Price: Fast fashion chain helps to lower price rate, which provides a competitive advantage over its competitors like Zara, Uniqlo, Gap, etc.
Place: Prime location of the store with open wide space, important channels for communication along with the strong brand image. Promotion: Effective e-marketing techniques, utilisation of video advertisements.
Body of analysis
Customer Relationship Management (CRM) system refers to a technology for controlling and managing a firm's interactions and relationships with both the existing and possible customers. As per the current business environment of H&M, it has been found that the company is facing with customer retention challenges. One of the leading issues is that current offers of H&M lack the personalisation. There are several similar competitors that can offer apparels at similar quality, like Zara and Nike. Another challenge is that the customers in this company do not feel appreciated. Thus, the corporate management of H&M should pay more attention to what the customers are expecting from the business. Based on the above issues, the implementation of a new CRM system is required at this company.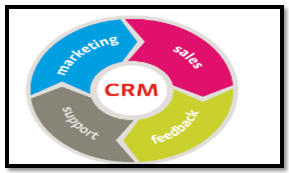 Figure 1: CRM
Source: (Yadavet al. 2016)
According to Yadavet al. (2016), CRM is a broadly established model to manage an organisation's interactions with clients, customers, and sales prospects. It includes technology to design, organise, automate, and synchronise the business process, especially sales activities; however, also those for customer service, marketing, and technical support. Thus, the overall objective for implementing CRM in H&M is to identify, attract, and win new customers and decrease the costs of customer and marketing service. As stated by Dalili and Beheshtifar (2018), a CRM system involves all the opportunities for controlling and managing customer relationships, managing customer interactions, managing contracts, and finally, managing completed and possible transactions. Adopting CRM helps in bringing knowledge to maintain long-term customer relationships, ensure customers' relationships, remove complaints, decrease trust, etc (Ahmed, 2016). Therefore, the new CRM system will bring several benefits to H&M, such as improved informational organisation, improved communication, increased customer service, automation of everyday tasks, improved efficiency for different teams, and improved analytical data and reporting.
In order to be efficient, large organisations should align technology and communication. In this context, H&M can use a new CRM system to keep all the services in sync. The company can use the new CRM system to capture the customer data in one place that is then utilised to formulate strategies depending on customers' wants and needs. One specific business process of H&M that will be improved by the CRM system is its customer retention process.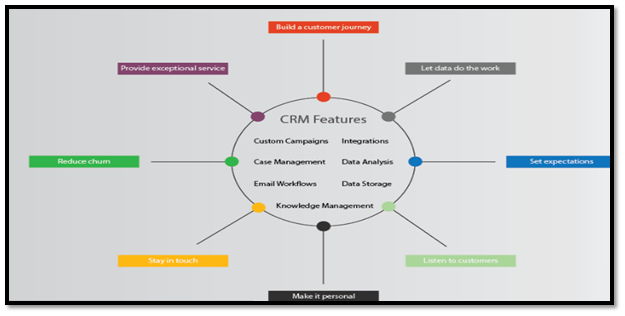 Figure 2: CRM and Customer Retention
Source: (Alamet al. 2021)
According to Hoqueet al. (2018), there are several ways by which the CRM system can help in customer retention, such as keeping data organised and personalised content. Therefore, the new CRM will enable H&M to improve its data management, helping the company to know everything about its customers. That information can be utilised by the company to identify what the customers expect from a business. In addition to that, H&M can use the new CRM tools to track the customers' preferences, behaviour, and challenges. With the helpful and usable data available at fingerprints, the company can effectively and easily personalise its engagement with customers (Jamshidi,2019).
It is likely to have a positive and significant impact of CRM technology on the organisation and management dimensions of IS. For example, Rasliet al. (2018) demonstrated that CRM technology ensures better organisation and management of customer service, efficiency, and communication. Implementation of the new CRM tool will help H&M manage all of its contacts and collect significant customer data, such as purchase records, demographics, and previous messages across all the channels. Another leading reason for this positive impact is that CRM technology uses marketing automation technology that frees up the employees' time to focus on work on tasks that can be only handled by humans. Thus, it would ensure increased productivity and efficiency of H&M. Current performance:The sales revenue for 2021 is observed to be 23.18 billion U.S dollars. The basis of forecast assumptions for H&M Hennes&Mauritz LP intention for investing in developing technologies namely AI, Machine Learning, Blockchain, IoT, Autonomous Database, or within cloud-based CRM, ERP, HCM, E (Appsruntheworld.com, 2022).
Competitive review: Competitive companies such as Zara, Uniqlo, Gap, etc. are considered the leading brands with similar attributes. The profit of Zara was enhanced by 45.55 in FY20 whereas GAP observed 13.8 billion U.S dollars in their sales.
Strength: H&M have a high market share and has been considered as the world's largest fashion retailer. In addition, it has been analysing H&M Hennes&Mauritz LP revenues, which have increased to $500.0 million in 2019. Affordable price with a high-quality product for better customer retention capacity is the firm's strength.
Weakness: Mass production, product recall, and fewer online market options.
Opportunities: CSR conscious society, international marketing strategies, new technology, online apps for shopping.
Threats: competitive markets such as Zara, Uniqlo, Gap, etc., the minimum wage for salary hike. Risk of foreign currency Evaluation
An innovative approach to the development of digital technology may be identified as a significant factor in consumer happiness (Sathiyamoorthiet al. 2021). Based on this, H&M can evaluate their level of improvement. Via CRM, H&M can focus on customer feedback, data comparison, customer retention, employee productivity, etc.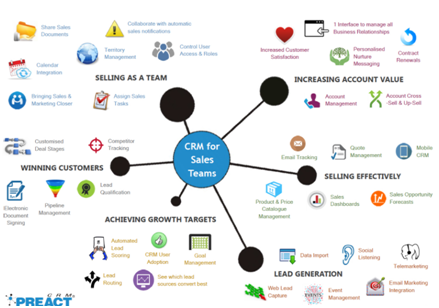 Figure 3: Benefit of CRM activity
(Source: Sathiyamoorthi et al., 2021)
Steps of the evaluation process
| | | |
| --- | --- | --- |
| Activities | Significance | Timeline |
| Step 1: customer feedback | Gathering information from surveys, campaigns, online forums can be ways H&M can conduct external evaluation assessments of their success plan. | 2 months |
| Step 2: employee productivity | CRM can improve employee productivity by smooth workflow, which will fulfil the desire of the regular customer. | 2 months |
| Step 3: data comparison | H&M can practice data comparison from sales of their products from a period in the past to recently available data. | 4 months |
| Step 4: customer retention | CRM aids in enhancing customer retention as well as loyalty. | 3 months |
Recommending which stakeholders can be included in the implementation process
| | |
| --- | --- |
| Stakeholder | Roles |
| Project Managers | Project managersare responsible for looking over the team, scheduling tasks, managing expectations of clients, creating a project plan, delegating assignments, and managingthe delivery of the outcomes. |
| Marketing Team | Marketing teams comprise the core success of a business. They are responsible for everything from creating awareness of the brand, promoting goods or services, along with offering customer engagement and service within public forums |
| Customers | Customers are the end-users who utilise personal resources to address the needs of the products. They consume the end products and utilises the company's service, which decides their success rate in a competitive business market. |
Possible Reasons for Failure
One of the possible reasons of failures in CRM implementation at H&M can be the poor user adoption. It may happen if the employees of H&M resist learning essentials of the CRM system. On the other hand, if the CRM system is not well integrated with the existing processes and workflows of the company, it can threaten the success of implementation. Another reason can be poor planning. Implementation of CRM system in H&M is a multi-stage process. Thus, a proper outline should be there for employee training and workflow. In addition to that, lack of funding and poor top management support can be other reasons for failure.
Conclusion
Sponsorship, customer relationship management, and charitable giving are just a few of the CSR activities that were considered as moderators in this research. CRM can offer several benefits to H&M, such as improved customer service, improved productivity, and improved informational organisation. H&M can specifically use CRM in its customer retention process by tracking what the customers expect from the company. However, the possible reasons for failure in implementing CRM can include ineffective leadership and lack of support from top management. The stakeholders, such as the project managers, the marketing team members, and customers must be included in this implementation process.
Reference list
Ahmed, A.A.H., 2016. A proposed Application of Business Intelligence in Microfinance Sector in Sudan (Doctoral dissertation, Sudan University of Science and Technology).
Alam, M.W., Azeem, M.A. and Rahman, M.A., 2021. e-CRM in Retail Organisation: A Robust Infrastructure for Technological Development. Journal of Applied Computing, 6(1), pp.10-15.
Hoque, N., Rahman, A.R.A., Molla, R.I., Noman, A.H.M. and Bhuiyan, M.Z.H., 2018. Is corporate social responsibility pursuing pristine business goals for sustainable development.Corporate Social Responsibility and Environmental Management, 25(6), pp.1130-1142. Jamshidi, M., 2019. Keeping Relationship in Physical Store in a Digital Era: a Study in H&M and Åhlens (Doctoral dissertation, Luleå University of Technology).
Rasli, S., Khairi, N., Ayathuray, H. and Sudirman, M.S., 2018.The effect of e-business website quality on customer satisfaction.Selangor Business Review, pp.37-45.
Sathiyamoorthi, V., Ravishankar, T.N., Ilavarasi, A.K., Udayakumar, S., Harimoorthy, K., Jayapandian, N. and Saravanan, V., 2021.Usage Data for Predicting User Trends and Behavioral Analysis in E-Commerce Applications.Customer relationship management assignmentInternational Journal of Information Systems in the Service Sector (IJISSS), 13(4), pp.40-61.
Appsruntheworld.com, 2022, H&M Hennes&Mauritz LP Software Purchases and Digital Transformation Initiatives, viewed on 04/03/2022, viewed from: https://www.appsruntheworld.com/customers-database/customers/view/hm-hennes-mauritz-lp-united-states Hm.com., 2022. About H&M, viewed on 04/03/2022, viewed from: https://www.hm.com/
Yadav, S.K.S., 2016. Customer Relationship Management is the need of today. BEST: International Journal of Humanities, Arts, Medicine and Science (BEST: IJHAMS), ISSN (P), 2348, p.521.
Dalili, A. and Beheshtifar, M., 2018.Exploring the Benefits of Customer Relationship Management.Specialty Journal of Knowledge Management, 3(3), pp.10-16.