Information System Assignment Analysing Customer Relationship Management System Of Apple
Question
Task: Task: CASE STUDY
You must write a report on information system assignmenton the application of an information system in a specific business. You should choose a company or organization and investigate a particular information system used by it – the system could be an ERP, a transaction processing system, a CRM system, a POS system etc. The work must include business name, sector it operates in and system used (therefore custom-built proprietary systems are not allowed). At the very least, the report must include the problem faced by the company, the software system chosen as a solution and how the system helped resolve the problem. The report could also include information on costs (if these can be easily identified), implementation schedule, implementation process or difficulties encountered, possible staff issues faced (e.g. training, redundancy, ethical), post-implementation performance etc. The approach is that of a short case study.
Answer
Introduction
Apple Inc. is known as the largest multinational information technology company, with it'sheadquartersin Cupertino, California. This concerned company is a manufacturer, developer and distributor of consumer electronics and online services (Apple.com, 2022). Apple Inc. produces a variety of products including iPad tablets, apple smartwatches, computers, iPhones, etc. Different business organisations use Information System (IS) to manage operations, engage with customers and suppliers, as well as compete with the current marketplace. Electronic markets and inter-organisational supply chains are run using IS. This report focuses on evaluating the lower user adoption issue of Apple and the ways they are solving it through an effective CRM system.
Purpose of Information System
IS means integrated set of elements that help collect, store, process, and provide knowledge, information, and digital products. Companies should contain a strong competitive strategy within the market in order to meet customer needs, in this context, an information system is considered as the powerful tool that employs customer relationship management (CRM) procedure. E-CRM strategy within a company can help to expand marketing, increase sales, as well as improve services for their customers (Malfona, 2018). Additionally, With the help of sophisticated information system that help in searching relevant data, information can be easily stored and recorded in database. Business information system (BIS) ensures adequate decision making and delivery of important data. The utilisation of IS within a CRM system is crucial so that it can expand its sales globally and maintain positive relationships with customers in order for the concerned company to give more efficient and effective services. Apple Inc. delighted to partner with "Salesforce", where the industry-leading CRM had embraced their native iOS in order to bring exclusive innovative capabilities on iPads and iPhones (Apple.com, 2022). The CRM of this concerned company manages overall customer relationships as well as interacts with them for providing better services. Apple Inc uses its CRM by knowing its clients base, anticipating the desire of customers, and the experience of the customer is mainly focused on stores.
Identification of the Issues
CRM is an important aspect for any company, and it is common to find some issues in those companies. Apple is no different from that. There are a few issues in Apple regarding customers that the company is trying to solve using an effective information system as discussed below.
Low User Adoption - It has been noticed that the Apple Company is unable to adapt with the expectations of users. It has been making a negative impact on the customer experience while dealing with Apple products and services. When there is not enough support from the company regarding the issues a customer faces with a product from Apple, it is certain that the customer would be dissatisfied with the services provided by that company (Kevin and Ana, 2019, p.1). In case of Apple, low user adoption is leading to customer dissatisfaction.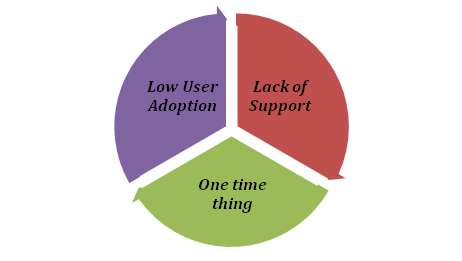 Figure 1: Issues faced by Apple
(Created by developer)
Lack of Support - There is not enough support for the customers from the Apple store. Customers need to wait a long time before getting any appointment with technicians. It has been often seen that customers are complaining about not being given enough value or support from the Apple stores. This leads to dissatisfaction among customers and makes them complain about this whole situation. There needs to be proper support from the company to its customers, otherwise it would only make way for bad customer relations.
One Time Thing - CRM strategies are usually treated as a onetime thing by most companies, and Apple is no different from that. The CRM strategies of Apple do not work on updating its strategies according to the change in customer behaviour, change in employees, change in structure of the company among other things (Business2community.com, 2022). The strategies must adapt along with the changing situations in order to provide proper support for the customers and keep the relationship good with them. Without adapting as the changes come, it is impossible for the company to keep a stable relationship with customers. It is because the needs of customers change as technology advances. Thus, these strategies need to evolve as well.
Evaluation of the Solutions
CRM strategies are a great way to evaluate the problems and provide proper solutions to those issues. Issues in Apple are evaluated in the same way and solutions have been provided through the use of a CRM system.
Adopting Knowledge about Customers - Knowledge of the customers and their needs can be a very effective way to maintain a good relationship with customers. With the help of a CRM system, Apple has been able to gather knowledge from its customers in order to provide them what they need even before they realise it (Expertmarket.co.uk, 2022). This way customer can stay updated and happy with the services provided by Apple. It is a great way to attain customer loyalty. It is reported that the iOS systems, Apple's operating system, attained 89% loyalty from its customers.
Supporting Customers for a Better Store Experience - It had been previously noted that experience of customers in store had not always been pleasurable. On contrary, it has been a bad experience in many cases. However, with help of a CRM system it is now possible to focus on customers' needs and provide them with whatever support they require. Store personnel are focused on customers to provide any necessary support, as early as possible (Cruz-Jesus et al., 2019, p.1). This way, customers get to save their precious time, which in turn, makes them satisfied. Evolving the CRM System - It is not enough to implement a CRM system that helps in keeping customer relation at its best. Eventually customer behaviour would change and then this existing CRM system would not be suitable to deal with their needs. Therefore, it is necessary to keep changing and upgrading the CRM system in order to be more efficient in providing customers with best possible support.
The CRM Value chain has a huge effect on the customer relations. CRM strategies are designed to provide value to customers, and it makes customers feel important (Ayyagari, 2019, p.5). This way, maintaining a good relationship with customers requires a proper value chain model that is applied by Apple in order to retain its customers. Without a value chain model, it is not possible for CRM strategies to effectively satisfy its customers.
Assessment of implementation
The process of establishing an effective CRM software allows this concerned company to manage and track its communication with potential and current customers. Apple has been using CRM suggestions within its customer support departments for over a decade, which includes keeping in touch with customers who have utilised their gadgets in-save via emails in order to measure their experience while speaking with apple workers (Hassan and Hassan, 2021). CRM within Apple's retail stores helps to build long term relationships with clients. Rather than just selling their high-end goods, their strategy focuses on teaching and educating customers about the advantages of having them. Customers are drawn to Apple products by their characteristics, which encourage them to buy one. Apple has strengthened the client interaction and made it into a memorable experience.
Apple has unrivalled insight into its customer base. Many other companies strive to copy Apple's CRM success, rather they do not have the same success. When a new product or technology is released, customers want to buy it both from an online and offline source as it connects with their desire (Zhang et al., 2018). In this scenario, Apple CRM is solely focused upon customers. Apple has spent an amount of $18.5 billion upon development and research in 2020, with the goal of predicting and comprehending clients' wants. In 1998, the iMac was released by Apple followed by iPod, iPhones, iTunes, etc. In 2014, apple released smartwatches and Apple is valued at $2 trillion in 2020 (Crmside.com, 2022). Furthermore, in 2021, Apple has teamed up with product Red (RED) in order to fight against HIV/AIDS as well as protect from COVID within vulnerable communities. Apple has developed cloud-based CRM solutions that are used by both companies and clients. Business benefits from Apple CRM data collection, which Apple can also take advantage of creating a pyramid effect.
A great example of Apple's CRM implementation is that Apple has chosen to educate their customers regarding their products and services, rather than directly asking them to buy. Their CRM system has been implemented in such a way that it automatically sends messages to its customers asking for their experience of using products. In this way, CRM information system has been solving issues and becoming a consumer-centric company.
Conclusion
CRM is software that allows keeping track of changing clients' profiles, using that knowledge into products for product design, as well as giving value to customers. Information technology of Apple's CRM strategy helps the company in a variety of ways to bring prosperity to the overall portfolio. Although there exist certain issues such as lack of support, lack of centralised CRM, etc. which impact the company. Hence, a possible recommendation is drawn to build an effective CRM portfolio within Apple Inc.
Reference List
Journals
Ayyagari, M.R., 2019. A framework for analytical CRM assessments challenges and recommendations. International Journal of Business and Social Science, 10(5), pp.5-13.
Cruz-Jesus, F., Pinheiro, A. and Oliveira, T., 2019.Understanding CRM adoption stages: empirical analysis building on the TOE framework. Computers in Industry, 109, pp.1-13.
Hassan, M. and Hassan, S., 2021.Customer Relationship Management of Different Companies. Recent Trends in Production Engineering, 4(2), pp.1-6.
Kevin, M. and Ana, F.I., 2019.Case study-customer relation management, smart information systems and ethics. The ORBIT Journal, 2(2), pp.1-24.
Malfona, L., 2018. The Apple Case.Architecture, Global Market, and Information Technology in the Digital Age. Ardeth.A magazine on the power of the project, (3), 52-72.
Zhang, J.Z., Watson IV, G.F. and Palmatier, R.W., 2018. Customer relationships evolve-so must your CRM strategy.Information system assignment MIT Sloan Management Review, 59(3), pp.1-7.
Websites
Apple.com, 2022, Apple and salesforce, viewed on 10/03/2022, viewed from: https://www.apple.com/newsroom/2018/09/apple-and-salesforce-partner-to-help-redefine-customer-experiences-on-ios/
Apple.com, 2022, Apple Inc., viewed on 10/03/2022, viewed from: https://www.apple.com/choose-country-region/ Business2community.com, 2022, Customer Experience, viewed on: 12/03/2022, viewed from: https://www.business2community.com/customer-experience/4-common-crm-issues-0784409
Crmside.com, 2022, Apple CRM Case Study., viewed on 10/03/2022, viewed from: https://crmside.com/apple-crm-case-study/ Expertmarket.co.uk, 2022, Apple CRM Case Study, viewed on: 12/03/2022, viewed from: https://www.expertmarket.co.uk/crm-systems/apple-crm-case-study