Digital Marketing Assignment Evaluating Social & Digital Media Of Puma
Question
Task: This digital marketing assignmentaddresses the following subject learning outcomes: Critically analyse the key Information systems concepts and technologies in the context of contemporary businesses and organisations.
Context:
The assessment suite in this subject is built on top of skills you are building in your learning activities. Although the learning activities do not carry any assessable weight by themselves, completing them and seeking input from your peers and the learning facilitator is essential for you to achieving a positive result in the subject. While researching and writing this assessment, be sure to work through content and the learning activities in modules one and two.
Question
-Sneakers have revolutionized fashion, lifestyle and the environment.
-Sneakers and streetwear have revolutionised fashion, lifestyle and the environment.
Global Footwear Market Report 2021, reports that the Sneaker Market is Projected to Reach $403.2 Billion USD by 2025 - Driven by New Design Trends and Rising Discretionary Spending Among an Expanding Middle Class Population. From Nike, Toms, Puma, Adidas to Converse, Veja, Yeezy to Gucci, Louis Vuitton and Chanel everyone is wearing sneakers. Kanye West, Mark Zuckerberg, Taylor Swift, Virat Kohli, Beyonce and people from all walks of life both young and old are wearing sneakers. The sneaker industry like all industries has had to pivot itself to environmentally friendly and sustainable sneakers. Spain, Italy and many countries in South America are leading the way in producing sneakers made of recyclable materials including food. In this assignment you will audit, analyze and evaluate the social and digital media of a Puma environmentally and sustainable sneaker brand.
Answer
Introduction
In the financial year of 2020, PUMA had to face the consequences of Covid-19 pandemic. In this regard, it is stated herein digital marketing assignment that the pandemic has negatively impacted the revenue development because of closure of retail stores all over the world. As a result of the uncertainties regarding future development the guidance for the financial year was forced to withdraw in March 2020. However, as a result of the development of various strategies and action plans by the management board, this negative impact has been mitigated. In the year 2020, the company has launched the 10FOR25 sustainability targets for the purpose of paving the way for sustainable actions till 2025. During such pandemic situation, the net sales of PUM was increased by 13.3% to € 1,583 million- highest revenue ever made by the company(Home: Puma ar, 2020).The report aims to emphasize upon the history of sustainable development of the selected brand PUMA. In this regard, the report intends to provide in depth explanation the revenue profits and utilization of social media in enhancing marketing and sales. Finally, the report is commissioned to examine some recommendations by sing the Porter's Value Chain.
Discussion
The protection of the environment with an establishment of environmental and social standards has become a vital task for every industry. Therefore, as a significant part of the United Nations Global Compact, PUMA has contributed itself in setting an example on the reduction of the impact of production upon the environment (Home: Puma ar, 2020). This has been made possible from their own entities, within their supply chain management and the usage of products. Therefore, PUMA from time to time has requested worldwide vendors in establishing environmental and social standards (Home: Puma ar, 2020). It is worth mentioning that, PUMA has emphasized much upon the development of cruelty free and sustainable sneakers even during the wave of pandemic. In regard to the "Faster Forever" transformation the global sustainable strategy of Puma has been refined for the purpose of balancing the three important dimensions namely Economic Social and Environment ("Puma.Com | Forever Faster", 2021). This is depicted in Figure 1 below. This has been formulated for the purpose of achieving sustainable business development. The new strategy of PUMA helped in driving mainstream sustainability and ensuring the alignment of industry(Home: Puma ar, 2020).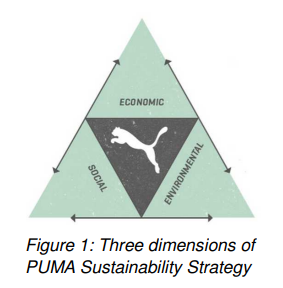 Figure 1: Three dimensions of PUMA Strategy
Source:("Statista - The Statistics Portal", 2021)
PUMA has targeted to make considerable reduction in the environmental impact by adapting best sustainable practices (Hartwig, Kågström& Fagerström, 2019, p 160).
Audit and Analysis:
At PUMA, the investments are done for the purpose of paving the way for new changes and opportunities. In this regard a variety of programs has been formulated for the purpose of making differences in the lives of the individuals the company works with and the local community. Therefore, PUMA has developed ways for engaging with the audiences. In this regard an arise of live videos has been created on social media in the name of #StrongerTogether. Mention can be made regarding the fact that other than supporting the social media channels of PUMA, these videos have created significant coverage in traditional media bases as well (Herzogenaurach, 2021). The use of social media platforms has paved the way for targeting specific groups of people for recruitment measures. PUMA has been founded on the principle that it will pave the way for sustainable development with the production of cruelty free products. PUMA has made a cause the center of its activities even though such cause has contributed immensely towards its revenue development and profitability. This cause has been utilized in social media for marketing purposes. PUMA has been offering more than a pair of comfortable sneakers (Zavodna& Trejtnarova, 2021, p.30). The sneakers are ecofriendly and cruelty free. In this regard, the company utilized the social and digital media for the purpose of conveying their story of sustainability. In this regard, the company took help from Twitter and Facebook. Nowadays people no longer listen to the radio or watch television. They depend on social media sites for reading advertisements, creating blogs and surfing channels. The sustainability targets of PUMA have been depicted in Figure 2 below. In regard to Figure 2 it can be stated that undertaking the life cycle approach that starts from product design, PUMA has developed a strong focus on sourcing volumes of sustainable raw materials.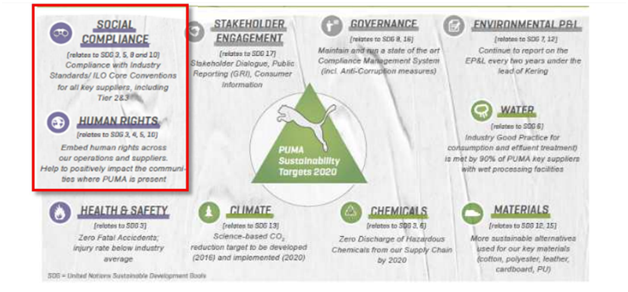 Figure 2: PUMA 10for20 Sustainable Targets.
Source: ("Statista - The Statistics Portal", 2021)
In the year 2020, the community engagement played significant role towards the contribution of corporate social responsibility. The local communities were engaged with the new projects all around the world by way of social media platforms. The activity "Big Smile" was a huge success as a result of it(Home: Puma ar, 2020). OUMA in Ukraine donated various school items to orphanage. The other projects were carried out in cooperation with non-profit organization.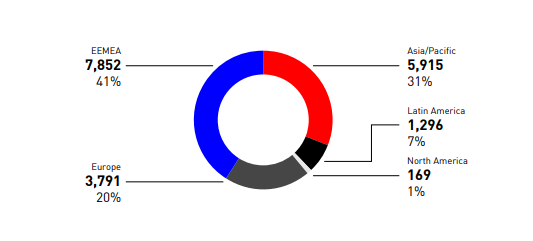 Figure 3: Community Engagement 2020.
Source:(Home: Puma ar, 2020).
Recommendations using Porter's Value Chain model:
The Porter's Value Chain Model comprises of the primary activities and the support activities. The primary activities are concerned with the processes that are directly involved with production and delivery of a product and service. The primary activities comprise of – inbound activities dealing with the receiving of inputs, their storage and distribution to the production process(Financial report, JANUARY June 2021).Operations that include the transformation of inputs into a product and service. Outbound logistics that is concerned with the collection, storage and distribution of products. Marketing and sales that is concerned with the activities of providing information to the customer about the product. Service is concerned with the processes and activities supporting the ongoing value of the product after being purchased (Zhan, Li& Chen, 2018, p. 415). In regard to the primary activities explained above the business primary activities of PUMA can be identified. PUMA has been sourcing strategic planning, supply services, warehousing and logistics. PUMA has been outsourcing the production and procurement of raw materials as a result of labor-intensive production in Germany (Reefke, 2019, p. 390).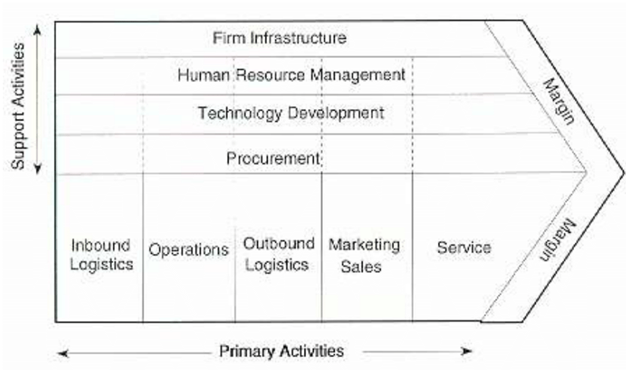 Figure 4: Porter's Value Chain Model
Source: ("Statista - The Statistics Portal", 2021)
The Porter's Model can prove to be beneficial for sneaker retailers and sneaker companies in maximization of marketing tactics by increasing sales. In this regard the three recommendations can be categorized as- Firstly, PUMA should implement strict policies in choosing its partners because this may result in losing the advantages of having a long term relationship with the stakeholders (Lzroiu et al., 2020). This will allow PUMA in maintaining high quality products for the purpose of ensuring continuous growth. Secondly, PUMA should adopt strategy for outsourcing raw materials. This will allow the company in reducing its working capital. Thirdly,the company should emphasis much upon advertisement on social media platforms for the purpose of enhancing sales.
Conclusion
In the conclusion it can be stated that, in the footwear retailing sector, all the major players are complementing their physical stores and offerings of e-commerce. This can be enhanced with the help of innovative applications and social media platforms in mounting an Omni-channel presence. In this regard, it is important on the part of the companies in adopting a granular perspective. In this context, the company must evaluate the taste and preferences of the customers. In this way the company will able to understand which channels it can serve and the products and services it offers to whom and where. In order to enhance sales and increasing customer base the company must depend upon social media platforms like Facebook and Instagram. The nature of these social media platforms is such that these are widely used by individuals all over the world. It is noteworthy to mention here that many of the brand ambassadors and consumers are confined at home. These social media platforms should be used for advertisements of products and services in such a way that it reaches the worldwide customers.
Recommendations
The company can maximize the value offered to its customers with the promotion of ethical sneakers by adopting sustainable development. In this regard, three recommendations can be summarized-
• The Sneakers retailing companies must develop strong social media profile for the purpose of delivering message to individuals all around the world. The nature of the message must be such that it helps them in making a creative leader in the Sports industry.
• The sneaker retailing company must engage in fair and honest practices for the purpose of making positive changes and contributing towards the development of a better world.
• It is important for the sneakers retailing companies to ensure that the high-quality products are manufactured in places where human rights are respected and the health and safety concerns of the workers are protected (Pumaet al.,2018, p. 381).
References
Financial report JANUARY June 2021 - Udg-about-puma-prod ... (2021, June). Retrieved on: September 28, 2021, https://udg-about-puma-prod-endpoint.azureedge.net/-/media/files/pdf/investor-relations/financial-reports/quarterly-statement-2021/q2_2021-interim-report.pdfrev=6148850ed82647d089798b9c7153b301&hash=2DC2474A80CBEFCB0ECD28E989C93FB9. Hartwig, F., Kågström, J., & Fagerström, A. (2019). Sustainability accounting for externalities. Sustainability: The Journal of Record, 12(3), 158-162. Retrieved on: 27/9/2021. https://doi.org/10.1089/sus.2019.0009.
Herzogenaurach, 2021. PUMA reports strong growth in the second quarter due to CONTINUED brand momentum and operational flexibility. PUMA SE. Available at: https://about.puma.com/en/newsroom/corporate-news/2021/07-29-2021-q2-results [Accessed September 28, 2021].
Home: Puma ar 2020. Home | PUMA AR 2020. (n.d.). Retrieved September 28, 2021, from https://annual-report.puma.com/2020/en/index.html.
Lzroiu, G., Ionescu, L., Andronie, M., & Dijmrescu, I. (2020). Sustainability Management and Performance in the Urban Corporate Economy: A Systematic Literature Review. Sustainability, 12(18), 7705. Retrieved on: 27/9/2021. https://doi.org/10.3390/su12187705.
Puma CEO sees sales doubling to more than $11 billion-report. Capitalists Today. (2021, September 27). Retrieved September 28, 2021, https://capitaliststoday.com/2021/09/27/puma-ceo-sees-sales-doubling-to-more-than-11-billion-report/. Puma, M. J., Chon, S. Y., Kakinuma, K., Kummu, M., Muttarak, R., Seager, R., & Wada, Y. (2018). A developing food crisis and potential refugee movements. Digital marketing assignment Nature Sustainability, 1(8), 380-382. Retrieved on: 27/9/2021. from:https://doi.org/10.1038/s41893-018-0123-z
Puma.Com | Forever Faster. (2021). Retrieved 27 September 2021, from https://in.puma.com/. Reefke, H. (2019). PUMA Sportlifestyle: Journey towards sustainable supply chain management. In Operations Management for Business Excellence (pp. 393-397). Routledge. Retrieved on: 27/9/2021. https://www.taylorfrancis.com/chapters/edit/10.4324/9780367135997-16/puma-sportlifestyle-hendrik-reefke.
Statista - The Statistics Portal. (2021). Retrieved 27 September 2021, from https://www.statista.com/ Zavodna, L. S., & Trejtnarova, L. (2021). Sustainable packaging in footwear industry: Case study of PUMA. Economics, Management and Sustainability, 6(1), 27-33. Retrieved on:27/89/2021. https://doi.org/10.14254/jems.2021.6-1.2. Zhan, J., Li, S., & Chen, X. (2018). The impact of financing mechanism on supply chain sustainability and efficiency. Journal of Cleaner Production, 205, 407-418. Retrieved on: 27/9/2021. https://doi.org/10.1016/j.jclepro.2018.08.347.