Digital Marketing Strategy For NPW Gifts
Question
Task: Write a report analysing the social media activities and initiating appropriate digital marketing strategy for NPW Gifts.
Answer
Introduction
Initiating social media and digital marketing strategy has been the new marketing initiatives of the brands with the change in the behaviour of the consumers. This is making the marketers to improve their digital marketing engagement over time (Chaffey et al. 2013). However, for developing exceptional digital marketing strategies the marketers need to focus on the relationship based interactions with the customers. Tiago, and Veríssimo (2014) has further stated that the digital marketing behaviour of the business has modified the human activities, habits and interactions with the brands. It has led to the development of real world social relationships between the customers and the companies. Moreover, digital initiatives also helps in gaining number of benefits such as efficiency, convenience and better participative information.
The company chosen for the analysis of social media activities and planning digital marketing strategy is NPW Gifts. NPW is one of the hub of marvellous ideas where the customers get the chance to set the surprise and delight their loved ones. The company is known for offering exceptional opportunities to the customers by giving them the chance of choosing them from wide range of party & drinking, beauty & fashion, games and gadgets and others (Npwgifts 2020). However, it is important for the company to analyse, plan and develop for the digital marketing strategy of the company for making their service known to the customers.
The report conducts an audit of digital marketing activities of NPW Gifts and its competitors. Further, the report develops a digital marketing strategy for the organization and a digital marketing plan for the development of its future marketing activities.
Digital Marketing Audit of NPW Gifts
| | | | | |
| --- | --- | --- | --- | --- |
| Area | How does the organisation work? | Comments | Strengths | Weaknesses |
| Reach | Use of multiple social media channels such as Instagram, Facebook and Twitter to reach the customers | NSW has its reaches in multiple channels. | Wide scope of reach and not limited to only own website. | Lack presence in other widely used social media platform such as YouTube. |
| Act | NPW posts pictures in social media pages about its gifts and offers and answers to the comments and queries of the customers | The company acts actively in social media. | Immediate response to every comment to customers. | Inability to increase followers in social media sites since its launch. |
| Convert | NPW shares links of the sale platform with customers as comments on social media such as link of their own website and Amazon page. | Social media has helped in gaining new customers. | Every comment gives a scope for new sale to the comment. | Still less number of comments and interest by customers on social media. |
| Engage | NPW has created customer service processes in their website to develop long term relationship. | Social media has enabled engagement. | Engage for number of issues such as delivery, order details, help and advice. | Customer service becomes less responsive sometimes on email. |
Table- RACE Model
Source: Npwgifts, 2020
SWOT Analysis
Strengths
NPW make use of more than one social media platforms such as Instagram and Twitter.
The company posts pictures of its products that the customers can easily view and be attracted by the company.

Weaknesses
Lack of followers and comments in the social media pages of NPW such as 1405 followers in Twitter and 3153 followers in Facebook.
Only 2979 people like their Facebook page showing their limitation in increasing their awareness.
Lacks their presence to other known social media platforms such as YouTube and others.

Threats
Increased presences of various small and medium gift stores in social media such as Things Remembered, Personal Creations, Spoonflowers and others.
Lack of likes on pictures posted by NPW Gifts that will reduce their social media presence with time.

Opportunities
Increased chances to enter wide range of newly launched social media site.

Conduct direct contacting with potential customers or user based on comments through messenger and engage in conversation.

Make use of different social media marketing strategies such as video marketing to increase their recognition they are lacking today.
Table- SWOT Analysis
Source- Brooks et al. 2014
Competitors
The two competitors of NPW Gifts that is using digital marketing strategy and has gift stores in social media platforms are Things Remembered Personal and Spoonflower. These two are the small and medium size gift selling organisation and acts like a direct competitors of NPW. The social media activities of Things Remembered include Facebook page, Instagram profile, LinkedIn, Pinterest, Twitter and YouTube. They conduct content management and other social media interaction activities in these platforms. Similarly, SpoonFlower is yet another competitor of NPW that has their presence in social media such as Facebook, Instagram and other wide range of social media platforms (Knoji 2020). Both the competitors of NPW Gifts have more presence in social media compared to them and act as a threat to the company. 
Key Customer Groups and Development of Persona
NSP is known for selling gifts to the customers that ranges from various kinds of brands such as SUGU, Sunday Rain, SOKO, Drinking Buddies and others. The gifts ranges from beauty products such as tissues, wipes, hair products and others to stationary products. Moreover, they are also known to sell adult games, sound machines, desktop games, family games and others. There is a separate trending collection for the customers such as Unicorn, and Mermazing (Npwgifts 2020). Based on these product ranges the two key customer groups of NPW are divided into psychographic and behavioural groups.
| | | |
| --- | --- | --- |
| Customer Groups | Description | Persona |
| Psychographic customers | Customers that has the psychology of using highly creative products that are different from others in the market and surprising their loved ones. | Classy and highly choosy |
| Behavioural based customers | Customers that prefer shopping online for purchasing a gifting products for themselves or for their loved ones. | Online active. |
Table- Customer of NPW Gifts
Source- Camilleri 2018
Customer Journey
From the flowchart below that shows the journey of the customers in NPW website where it is seen that the customers can open the website of the company and then decide to open an account to purchase the product (Richardson 2010). In this case of digital marketing strategy, the customer has the option of either an yes or a no. if the decision is no then the customer can just view the product or gift categories the company is offering and then decide whether to purchase the product or not. Here as well customers can either choose to purchase or not to purchase. If the customer choose to purchase in this stage or in previous stage then they have to open their personal account and then purchase the product online. However, in case they still do not have the intension to purchase any product then they can move out of the website
Digital Marketing Strategy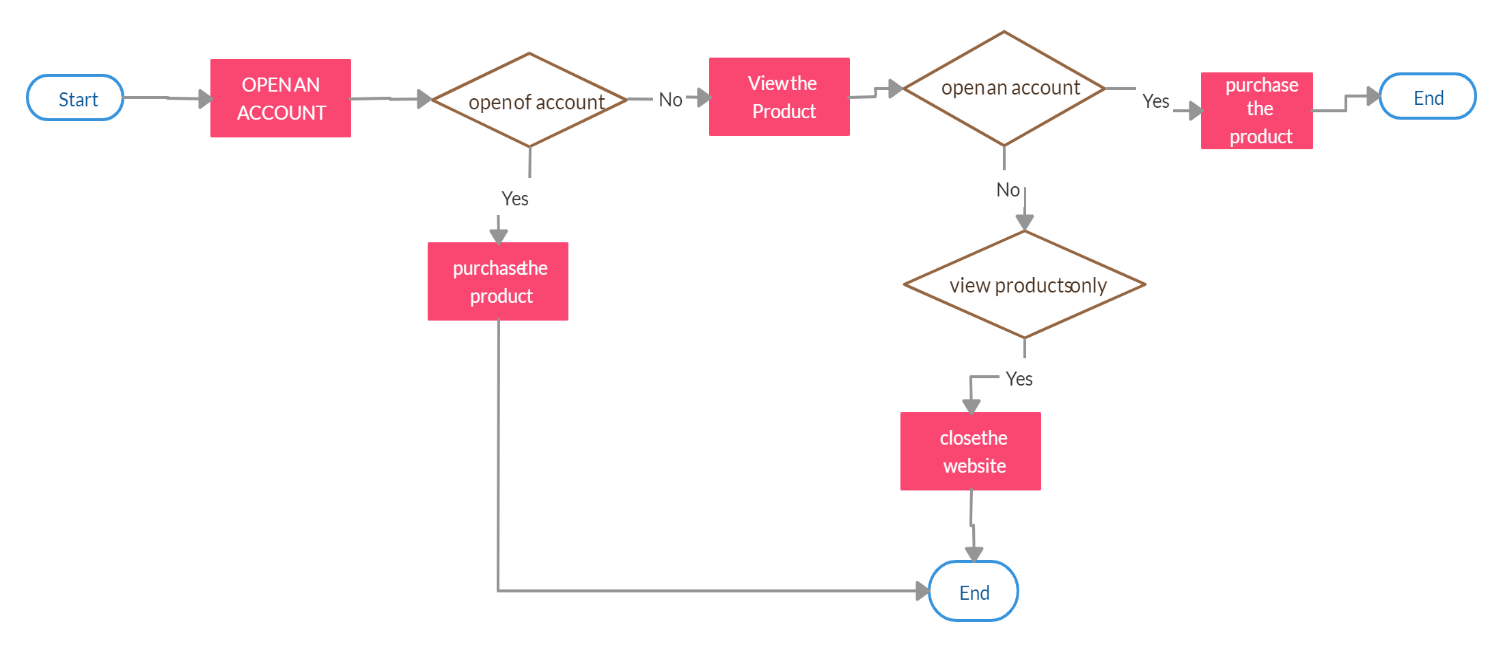 TOWS Matrix
Strengths

Weaknesses

Opportunities

(SO)

Create direct contact on messenger using followers in their existing social media platform.

Use the social media for the new video marketing.

(WO)

Direct conversation with the customers through messenger or video marketing will help NPW Gifts to increase their followers in their social media platform.

Threats

(ST)

Existence in multiple social media platform will help NPW to expand their presence in other platforms and overcome their threat of losing their business to competitors.

(WT)

Increasing followers in social media cites will help in avoiding competitive threat from similar gift companies.
Table- TWOS Matrix
Source- Kannan 2017
From the analysis of the strengths, weaknesses, threats and opportunities faced by NPW Gifts in its current usage of social media it can be seen that the company lacks in several social media usage area that can help them grow their presence further. This means that the company can make use of its strengths such as its presence in multiple social media channels and the pictures it posts in their social media to overcome its competitive threat and its weakness of low followers and comments in its social media pages. Thus, from the analysis it can be stated it will be beneficial for the company to adopt number of strategies to increase their social media presence such as use of video marketing and direct conversation (Natter et al. 2008). This is because only through this digital marketing strategy NPW will be able to increase their social media presence and become a better digital company in future. The analysis of TWOS matrix has been efficient in finding the ways in which NPW Gifts can be competitively strong through digital mediums.
What is the recommended Digital Marketing Strategy?
| | |
| --- | --- |
| Strategy | Making use of new announcement video marketing campaign for their gaming production. |
| Objective 1 | To build strong brand awareness among the target audience by 30%. |
| Campaign objective A | To turn social media users to potential customers. |
| Campaign objective B | To increase market penetration. |
| Objective 2 | Increase the sale of gaming gift products of the company by 40%. |
| Campaign objective C | To increase new leads for trending gaming collection in coming months. |
| Campaign objective D | Make target audience aware of the new gaming products |
Table- Recommended Objectives
Source- Author's Creation
Looking at the above digital marketing strategy chosen for NPW Gifts it is seen that it will help in meeting the overall objective of the company that is to be competitively strong in the market. Video marketing gives a chance to the company to create better appeal to the current customer behaviours and to attract trust of new customers. Moreover, creating a streamlined digital marketing strategy by focusing on only gaming product will help the company to increase their recognition in a new way (Chaffey et al. 2013). The effectiveness of the company to use new video marketing in their digital platform can be mapped through the SAP framework of suitability, acceptability and feasibility. This can be seen from the table below.
SAF framework element

Key considerations

Your score

Suitability

Will the digital marketing strategy meet the organisation's objectives?

Yes

Does it exploit the strategic capabilities of the organisation?

Yes

Is it sustainable over the long term?

May be

Acceptability

Will the digital marketing strategy be acceptable to key stakeholders?

Yes

Are the expected performance outcomes (e.g. Return on investment) acceptable?

Yes

Are associated/potential risks containable?

No

Feasibility

Can we afford it?

Yes

Can the digital marketing strategy be made to work in practice?

Yes

Do we have resources and competencies to make it happen?

Yes

Do we have appropriate experience/success in delivering similar strategies in the past?

No

Total score

Yes
Table- SAP Framework
Source- Author's Creation
Creative offer and messaging
NPW Gifts is suggested to make use of the below mentioned texts and sub-heads for the development of it new video marketing campaign. The headline text shows the main message that the new video marketing campaign will make use of and the sub-headline and the body copy message will be headline of the video post that the company will post in all kinds of social media platform (Npwgifts 2020). The video will reveal their new trending products that the customers never expected to get in such low prices.
| | |
| --- | --- |
| Headline Text | GET HOLD OF OUR TRENDING GAMING PRODUCTS AT LOWEST PRICE THAN EVEN BEFORE. |
| Sub-headline | A BURST OF NEWNESS IN THE EXISTING GAMES THIS MONTH |
| Body copy | The newness that you never expected in your games since years and it is now time to explore the most unexpected at exceptional offer. |
Table- Digital Messaging
Source- Author's Creation
Digital application of the 7ps
| | | |
| --- | --- | --- |
| 7Ps | Digital tactics | Objective to which this relates |
| Product | To create a video formation of all their gaming products | Objective 1 |
| Price | To reduce online pricing for gaming products by 5% by end of 2020. | Objective 2 |
| Place | To create a direct link for gaming products of NPW Gifts within 6 months | Objective 2 |
| Promotion | To launch social media pages in more platforms such as YouTube, Pinterest and LinkedIn. | Objective 1 |
| Processes | To come up with live video with demo of trending games by 6 months. | Objective 1 and 2 |
| Physical Evidence | To help user purchase from the website only by verifying their phone number. | Objective 2 |
| People | To empower IT staff base for better video creation by adding four more developers. | Objective 1 |
Table- Digital Marketing 7Ps
Source- Brooks et al. 2014
Smart Objectives
The two objectives determined for NPW Gifts digital marketing strategy will be measured against SMART criteria to make it reliable and easy to achieve.
Objective 1: To build strong brand awareness among the target audience by 30%.
Specific- to increase the awareness of the brand.
Measurable- to increase awareness by 30%
Achievable- introducing social media video marketing campaign
Realistic- Company already runs digital content marketing.
Time- in next one year.
Objective 2: Increase the sale of gaming gift products of the company by 40%.
Specific- increase sales of all game related products.
Measurable- measurable by 40% increase of present total sale of the company.
Achievable- increasing discounts on gaming products online.
Realistic- trending game products will be less costly to attract demand.
Time- in next one year.
Digital Marketing Plan
Metrics Required
With the planned digital marketing strategy of NPW and the planned SMART objectives the digital marketing plan of the company will focus on the development of metrics that will help in analysing the success of the digital marketing strategy (Tiago and Veríssimo 2014). The digital metrics are the activities that will help in collecting the data from different social media pages of NPW Gifts that has changed after the implementation of their new video marketing digital strategy.
| | |
| --- | --- |
| Activity | What this means |
| Impressions | How many people saw the post in all social media pages? |
| Total engagements | How many times people interacted with the post such as through comments or messenger? |
| Profile clicks | Number of clicks to all social media profiles. |
| Media engagements | Number of clicks on videos being posted. |
| Likes | How many likes are there in the videos posted in different social media pages. |
| Detail expands | Number of times people viewed the newly posted videos. |
| Commented | Number of times people commented. |
| Link clicks | Number of times people clicked on the link given on the video heading. |
| Replies | Number of people that replied to the videos or reacted to the videos. |
| Positive reaction | Number of positive reactions given on the videos. |
Table- Metrics Required
Source- Author's Creation
Resources Required
Along with the digital metrics it is also important to determine the resources, staffs required and budget. This is because only through effective use of resources, staffs and budget the company will be able to implement effectively. The below table shows the plan of all resources required for the implementation of planning digital marketing strategy. Some of the resources that the digital marketing strategy needs such as manpower, money, materials, management, minutes, measurement, methods, machines and mother nature. Together these resources will help in the total achievement of the marketing plan. The table below shows the requirement of the current plan that is to implement new video marketing strategy and the possible options that the company has for using it in the success of the plan.
| | | |
| --- | --- | --- |
| Resource | Requirements for your plan | Possible options |
| Manpower | The digital marketing plan requires a good expertise of website developer and digital marketers. | The company already has IT expertise such as website developer. |
| Money | The budget for the plan is estimated to be $20,000. | The company can make use of its past revenue. |
| Materials | Internet and digital marketing tools. | There is strong internet connection in the company. |
| Management | Effective time management and staff management is needed for the implementation of videos. | Make use of existing organisational structure. |
| Minutes | Meeting minutes for the planning and implementation of digital marketing strategy. | Make use of past meeting minutes design. |
| Measurement | Measure the success based on metrics. | Make use of existing social media platform knowledge. |
| Mother nature | Be sustainable in implementing the plan. | Make use of soft copies for all written planning. |
Table- Resources Required
Source- Author's Creation
Budget
The below table shows the detailed distribution of the budget that the company will have to invest for implementing the plan digital marketing strategy. The budget will be used to measure the cost required and measure the extent of profit the company is able to gain after six months of digital video marketing strategy.
| | |
| --- | --- |
| Criteria | Cost |
| Internet | $500 |
| Paid social media pages | $5000 |
| Website developer | $7250 |
| Digital marketer | $7250 |
| Total | $20,000 |
Table- Budget
Source- Author's Creation
Tactical Plan
The tactical plan shows the strategic activities the company can take as a part of their marketing plan to increase their awareness. Moreover, there are also activities in regards to the considerations to be made, decisions, post purchase decision and repeat sales. All these strategies have different reach potential and can be used for the success of the digital marketing initiative of the company. there are a total of more than 30 activities that can be implemented by NPW Gifts in their environment and be competitively stronger.
Tactics Matrix

Strategic Activities

Reach

Awareness

Email

High

Website upgrade

High

Sales Pitch

Low

SEO Content

Medium

Content Marketing

Medium

Publishing

High

Online PR

High

Blogs

Low

Social Media Advertisement

High

Site Design

Medium

Video Marketing Automation

High

Influencer Video

High

Revisiting Landing Page

High

Consideration

Design

High

Colour

Medium

Use of Known People in Video

High

Time

Low

Frequency of Posting

Medium

Choice of Trending Games

Medium

Decision

Paid Advertisement

Low

Extent of Communication

High

Design

High

Colour Usage

Medium

Website Expertise

High

Special Offers

High

Added Value

High

Post Purchase Relationship

Online Follow-up

High

Online feedback Form

Low

Social Media

Medium

Repeat Sale

Repeat purchase discount

High

Direct Emailing

High
Conclusion
From the above analysis it can be concluded that NPW Gifts will be able to attain success and reduce its weakness of low recognition and awareness among its customers through the implementation of the video marketing strategy as their new initiative. The company already holds its presence in the market by posting pictures, answering to the queries and comments of the customers and creating a link with them. However, it is seen that NPW Gifts still lacks in various areas of its digital marketing initiative, as there are limited followers and comment in all its existing social media platform. The company has been using only image content publishing in social media and will change its motive to make use of video marketing. This digital marketing strategy is both achievable and feasible due to the available resources and capability of the firm in handling digital platform from so long. However, the ability of the firm to reap long term benefit depends on the extent and frequency to which they develop new video and post it in new media. Overall the digital marketing plan will help NPW to gain recognition and become more competitive compared to its customers.
References
Brooks, G., Heffner, A. and Henderson, D., 2014. A SWOT analysis of competitive knowledge from social media for a small start-up business. Digital marketing strategy Review of Business Information Systems (RBIS), 18(1), pp.23-34.
Camilleri, M.A., 2018. Market segmentation, targeting and positioning. In Travel marketing, tourism economics and the airline product (pp. 69-83). Springer, Cham.
Chaffey, D., Smith, P.R. and Smith, P.R., 2013. eMarketing eXcellence: Planning and optimizing your digital marketing. Routledge.
Kannan, P.K., 2017. Digital marketing: A framework, review and research agenda. International Journal of Research in Marketing, 34(1), pp.22-45.
Knoji, 2020. List of NPW's social media pages. [online] knoji. Available at: < https://npw.knoji.com/questions/npw-social-media-pages//> [Accessed 13 May 2020].
Natter, M., Mild, A., Wagner, U. and Taudes, A., 2008. Practice prize report—Planning new tariffs at tele. Ring: The application and impact of an integrated segmentation, targeting, and positioning tool. Marketing Science, 27(4), pp.600-609.
Npwgifts, 2020. NPW – The Home Of Design Led Impulse Gifting!. [online] Npwgifts.com. Available at: [Accessed 13 May 2020].
Richardson, A., 2010. Using customer journey maps to improve customer experience. Harvard business review, 15(1), pp.2-5.
Tiago, M.T.P.M.B. and Veríssimo, J.M.C., 2014. Digital marketing and social media: Why bother?. Digital marketing strategy Business horizons, 57(6), pp.703-708.