Ethical Leadership Assignment: Supply Chain Management Of Jewellery Business
Question
Task: What is the ethical leadership impact in the supply chain on the value of a jewellery business?Blood Diamonds and Gold scrap
Answer
Chapter 1: Introduction
1.1 Overview of Research
Employees are considered as one of the most significant resource in the retail business sector. It is analysed in the present ethical leadership assignment that the concept of employee behaviour, performance management and supply chain performance has gained a huge importance within workplace. According to many studies it has been noted that leadership style of an organisation pays a vital role in influence employee behaviour, performance and operational management. Leaders have an essential role of motivating positive workplace environment so that outcome of the company is enhanced. Adopting suitable leadership style as per the need of the business and the employee is significant so that success can be achieved in the market. The primary aim of this research on ethical leadership assignment is to evaluate the importance of ethical leadership style within the supply chain management of jewellery business dealing in blood diamond and scrap gold. It is evident in the ethical leadership assignment that in jewellery business the employees as well as the leaders might experience a number ethical dilemma while managing distribution, manufacturing and production process. Especially in the business of blood diamond and scrap gold ethical practices are primary challenge. There are a number of challenges associated with scrap gold such as unclean gold scrap from weak investment moulds; crucibles, gas porosity and shrinkage can cause quality issues. Ethical behaviour is important so that honesty can be maintained it is vital for the business, managers as well as the consumers as it will help in maintaining quality which is essential for building a strong brand image.
1.2 Significance of Research
This research on ethical leadership assignment is important as it helps in understanding the way leadership influences overall employee behaviour and performance. It is evident that ethical dilemma is common among managers and employees therefore; in order to maintain an ethical performance it is essential that leaders must adopt ethical leadership and encourage ethical behaviour so that productivity of the business can be enhanced. Values and culture of business is important for its growth and development therefore the role of leaders in promoting a positive work culture is important for the development of employees. In this study the jewellery business of UK has been considered and the influence of the leaders in maintaining supply chain will be focused. The present ethical leadership assignment will explore the impact of scrap gold and the challenges associated with trading blood diamonds. Issues in supply chain management is common unethical practices within valuable jewellery industry can be impactful for the business organisation and also affect the trust of the consumers therefore, those study will help in understanding the ethical problems and the way leaders can help in avoiding and reducing the issues.
1.3 Research Aim, objectives and hypothesis
Aim
The primary focus of this research on ethical leadership assignment is to investigate the role that ethical leadership plays in the supply chain management of a business dealing in jewellery.
Objectives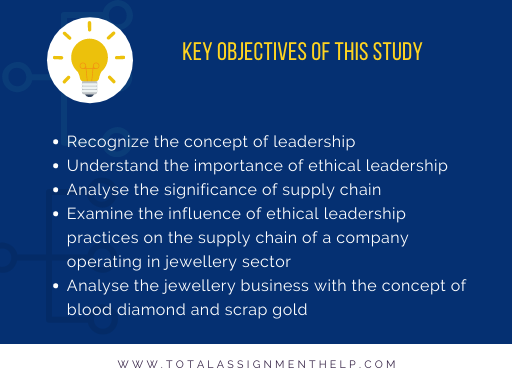 To recognize the concept of leadership
To understand the importance of ethical leadership
To analyse the significance of supply chain
To examine the influence of ethical leadership practices on the supply chain of a company operating in jewellery sector
To analyse the jewellery business with the concept of blood diamond and scrap gold
Research Hypothesis
H1: Leadership style plays a significant role in influencing positive employee behaviour that is essential for business success
H2: leadership style does not influence employee performance
H3: Ethical leadership helps in increasing business value
H4: Leadership style does not impact the value of a business
Chapter 2: Literature Review
2.0 Introduction
In this chapter of ethical leadership assignment the information from various textbooks, journals, past studies and internet sources regarding the research topic will be explored in a detailed manner. This review will help in understanding the viewpoints of different author regarding the concept of leadership and ethical leadership in supply chain management. The opinions collected will help in generating the conclusion for the study and will improve the quality of the research.
2.1 Leadership
The ethical leadership assignment illustrates the study of Subramony et al. (2018) that leaders of an organisation have responsibility of ensuring that the employee performance is appropriate so that operational activities of the business are completed with the help of a limited resource so that competitive edge can be gained. Leadership is an essential part of a business as it helps in setting a clear vision for the employees and helps in guiding the employees. Vision helps employees on understanding the direction of the organisation and helps them in realising their roles and responsibilities. Usman & Hameed, (2017), argues that absence of effectual leadership can hamper the performance of the workers and the organisation. There are many different types or practice of leadership namely Democratic leadership, strategic leadership, autocratic leadership, transformational leadership and more. It is necessary that based on the business environment and the organisational culture business firms must implement suitable leadership style is that appropriate support is provided to the employees. Implementing suitable leadership style is important as leaders are responsible for influencing positive employee behaviour which helps in operational activities of the firm. good leaders are able to generate the desired results from the employees and are able to attain the goals of the organisation, in addition, leaders often establish a personal relationship with the employees in order to improve their communication so that the employees are able to share their needs and problems which can be fulfilled to motivate them to improve their performance. As stated by Tidd & Bessant (2018), it is clear in this context of ethical leadership assignment that with the advent in technology changes in business are essential ad leaders helps in introducing new and required changes and ensure that employees support the change so that change implementation is successful and opposition can be avoided. A leader helps in resolving conflicts which occurs at workplace so that employees can work in a stress free and a positive environment. It is evident herein ethical leadership assignment that a positive workplace environment is one for the major responsibility of a leader therefore; adopting the leadership style as per the needs of the employee is beneficial in motivating the employees so that they perform better. Satisfied employees will contribute highly towards the growth and development of an organisation, therefore, it can be said that suitable leadership style is necessary for positive growth of an organisation and business (Varma, Patil & Ulle, 2018). The needs of the employees, their training and development necessities are all fulfilled by the leaders and therefore, leadership is the basic necessity of a business.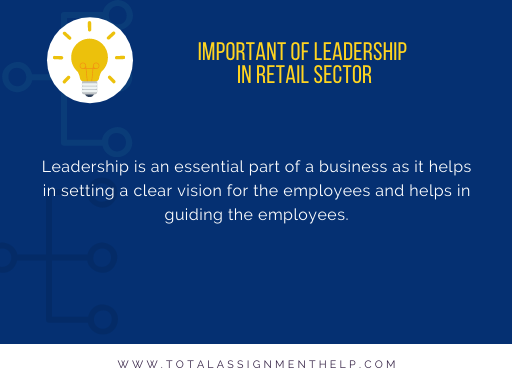 2.2 Ethical leadership
Many researchers argue that the essence of an effective leadership is in ethical behaviour. Ethical behaviour is considered as primary component in many leadership theories such as transformational leadership, authentic leadership, and spiritual leadership (Kaptein, 2019). It is analysed that transformational leadership focuses on ethical role modelling, authentic leadership focuses on decision making and the spiritual leadership is dedicated towards ethical treatment of others. Therefore, these theories assist in highlighting the significance of ethics for an effective leadership within this ethical leadership assignment. As stated by Joo, Lim & Kim (2016), leadership plays a vital role in enhancing employee engagement among employees. Work engagement is said to be present when any worker is completely committed to their work with full energy and focus with a positive mind frame. Ethical leadership is necessary for building enhanced work engagement because when workers are handled in a respectful and fair manner by their supervisors their association with the leaders in context of social exchange becomes positive as compared to economic exchange. In addition to the analysis developed in the ethical leadership assignment, the workforce is encouraged to put in additional effort in their work with an enhanced job dedication and is more engaged in their job. Ethical leaders follow open communication and consider the opinion and ideas of the workforce which helps in increasing knowledge flow and also contributes towards development of firm (Engelbrecht, Kemp & Mahembe, 2018). Employees also feel valued and are active towards major decision making process which helps in better functioning and operation of business. As per the study of Engelbrecht, Heine & Mahembe, (2017), it was observed that ethical leadership practices had a positive and more collaborative relationship with workforce engagement. It was analysed in the context of ethical leadership assignment that employees were more engaged in their work and participate more actively in their job roles when leaders behaved in an ethical and fair manner providing the employees with equal opportunities of development and growth.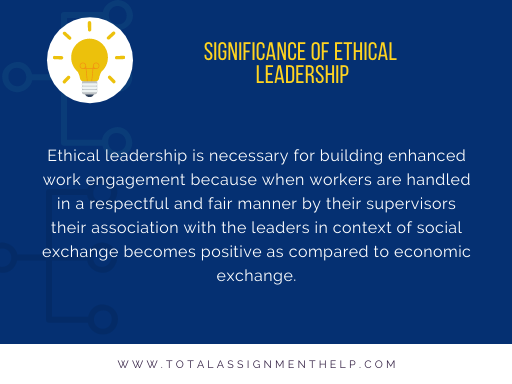 According to Hair Jr, Page & Brunsveld, (2019), employees are primary part of a business as all the activities of the business are dependent on the employees of the business so it is essential that leadership should be adopted so that employee's behaviour is well maintained which helps in increasing the productivity of the firm in a positive manner. In addition, adoption of ethical leadership has proven to be beneficial for improving the work culture of business organisation. It is analysed that ethical leaders encourage and motivate their employees towards maintaining ethical behaviour and deicide themselves to ethical decision making. It is evident in this section of ethical leadership assignment that with fast changing business environment many employees are tempted towards making unethical decision for short term benefits which can prove to be harmful for the brand image of the firm. Therefore, ethical leader help in promoting ethical decision making which helps employees in remaining transparent and are towards the betterment of the business and the society. Ethical leaders also takes initiative of rewarding positive behaviour which helps in lifting up the workplace environment and motivates other employees to work in the most ethical manner (Dust et al., 2018).
2.3 Supply chain management
The ethical leadership assignment examines the readings of Hugos (2018) that supply chain encompasses the business and the companies activities needed to design, manufacture, deliver or use a service or a product. Business organisations are highly dependent upon their supply chain to provide them with the resources that they need in order to thrive and survive. with the uncertainly in business environment and the changes regarding how a particular market will evolve has encouraged business firms to remain aware regarding the supply chain that they participate in. Companies associated with strong supply chain management are considered to have competitive edge in the market. As mentioned by Chowdhury et al. (2019), supply chain is considered as a system that facilities in attaining raw materials. Alteration of these materials into finished merchandise and then distributes the finished merchandise in respected market to the customers. As the role of supply chain is vital and prominent for the growth of a company it is evident that companies should have a well-managed supply chain that can helps in their operational activities. The argument raised on the ethical leadership assignment illustrates that if the supply chain management of the company is efficient it is analyse that the company will be able to reach its sales growth and will be able to generate higher profit revenue.
Krippendorff (2019) mentions that jewellery business has been traditionally slow towards embracing innovation and changes. However, with the advent in technology and changing consumer's trend this business sector is motivated to adopt digital management in its supply chain. Previously the human to human supply chain of jewellery industry was efficient, now is considered ill-equipped in order to deal with consumers that want products on an immediate basis. Consumers desire to explore a variety of options before making any purchasing decision. They want to be satisfied that they are receiving the best possible value for their money and the products they purchase have been ethically sourced with a full traceability. As opined by Turban et al. (2018), previously transactions of the supply chain of jewellery business was done in an offline manner in which transactions were slow and mistakes were common. It is analysed in this segment of ethical leadership assignment that as the industry adopts more digitisation the risk associated with digital transactions and management also increases. In those area leaders are expected to play an active role. Maintaining ethical supply chain is essential so that company can succeed in its business. Leaders are required to implement the most suitable and secure technology for their business. The leaders must ensure that mistakes are avoided and data are correctly recorded so that financial mistakes can be avoided. In order to ensure sustainable supply chain employees must be trained and provided adequate knowledge which is one of the primary responsibilities of leader (Mukherjee, 2020).
2.4 importance of ethical leadership in supply chain management of Jewellery business
Appropriate leadership style and strong leaders are considered as a vital component of a supply chain management. According to the study of Sen (2018), it is demonstrated in the ethical leadership assignment that organisations are expected to experience the challenges and risks if their leadership is not appropriate implemented at the stage of strategic decision-making. Leaders of a supply chain are generally identified by their comprehension of trade franchise, economic power, customer patronage and size of their inter-firm relationship. Many authors have argued that an effective leadership in a supply chain network needs the managers to demonstrate certain behavioural complexity so that the employees can be managed and outcome is enhanced. Leaders are responsible to provide employees with a supply chain vision and ensure that their tasks are completed in a timely manner so that operational activities are well maintained (Ojha, Acharya & Cooper, 2018). The information provided in this aspect of ethical leadership assignment means that the workforce stability and outcome is the responsibility of a leader and therefore leaders can alter the behaviour and work place engagement of employees which affects supply chain management. as mentioned by Ameer & Halinen, (2019), ethical leaders focus on ethical behaviour and decision-making and try to increase performance, productivity and drive improvement as well as change by bringing changes in different areas of a supply chain such as designing, innovation, overcome the weakness, increasing team collaboration, efficient use of resources which can help in the growth of the business. As per Saunders (2017), blood diamonds are the diamonds which are mined within a war zone and are traded for arranging funds within the war torn areas. These diamonds are often considered illegal and are concern towards human rights as they are unethically mined and sold. It is analysed herein ethical leadership assignment that when consumers purchase jewellery they want to convey commitment and love to their dear ones. However, if the jewellery has diamond n it traded from Marange diamond field of Zimbabwe it could have a heartbreaking pas signifying abuse and mistreatment. 
There are a number of issues discussed in the ethical leadership assignment associated in jewellery business such as plagiarism, piracy, under-invoicing, advertising ethics; a dishonest representation of the technical products such as jewellery is a challenge for the sector. In addition to these ethical concerns there are other indirect concerns of this sector. It is observed that in many developing area child labours and forced labours are used for the mining of gems and diamonds, this is a violation of human rights and is a primary unethical practice of this sector. Coetzee (2018), states that making use of ethical leadership it is expected that the issues of under-invoicing, duplication and quality of the products can be maintained. In addition if leaders are ethical and fair the issues of child labour as well as forced labours can also be reduced and leaders will focus on newer practices of acquiring l ethical leadership assignment abours in a fair and ethical manner. Ethical leaders are inclined towards making use of fair practices and also motivate employees to be ethical in their decision making and work performance which can assist this industry in overcoming their issues of unethical practices (Ugaddan & Park, 2019). Proper protocols and policies are followed by ethical leaders and they ensure that employees working with them are also following responsibilities in an efficient manner. Therefore, the practice of ethical leadership is essential for jewellery industry as the issues of supply chain is increasing. In order to improve supply chain management innovation is essential and making use of digital supply chain is necessary so that market demand can e fulfilled in a timely manner. In order to change the system of supply chain management employee support is required which can be obtained if leaders motivate and encourage employees. Kim et al. (2018), argues that scrap gold is a term used for any gold which no longer holds any value in its initial market form. These concepts illustrated in the ethical leadership assignment are gaining increased recognition in the jewellery industry however, there are number of ethical concern associated with the use and trade of such jewelleries. During change environment leaders need to be supportive and pen to communication as in ethical leadership practice so that best interest of the employee is maintained.
Chapter 3: Methodology
3.0 Introduction
In this chapter of ethical leadership assignment the different approaches and philosophies implemented by the researcher in order to collect information for the study will be highlighted. The type of research undertaken by the researcher and the way data was gathered for the study will be discussed in a detailed manner. Research design and the limitations of this research will be discussed so that the way research was carried out can be analysed.
3.1 Research Philosophy
Research philosophy basically evaluates regarding the nature, foundation and development of information. It is a conviction regarding the way in which information and data regarding an observable fact should be gathered, analysed and utilised (Dougherty et al., 2019). Commonly four research philosophies are adopted in studies namely realism, pragmatism, positivism and interpretivism research philosophy. Different philosophies have different influence on the data collection method as they deal with different process and aspects. For instance realism philosophy focuses on real time data while interpretivist encourages researchers to construe the elements of a research and helps in integrating human concentration in the ethical leadership assignment. Out of the mentioned research philosophies for this ethical leadership assignment the positivism philosophy was implemented as this philosophy is based on the view that specifically the factual knowledge that is gained with the help of observation, including different measurement is trustworthy. The researcher collects and interprets the data in a more object way so that findings of the study are quantifiable and observable.
3.2 Research approach
There are three common research approaches used for collecting data namely inductive approach, abductive approach and deductive approach. For this ethical leadership assignment deductive approach was implemented as this approach helps in developing a hypothesis for the study explored in the ethical leadership assignment based on some significant theories and then a research strategy is designed with the aim of testing the developed hypothesis (Awuzie & McDermott, 2017). This testing the hypothesis helps in gaining in-depth information regarding the topic which is beneficial for enhancing the outcome as well as the quality of the study prepared within the ethical leadership assignment. Therefore conclusion is deducted from the propositions or the premises.
3.3 Research design
Research design is the choice of specific method that is implemented for the compilation of data and its examination. Research design helps in providing structure to the research and is basically divided into two groups: conclusive and exploratory research. Exploratory research design is aimed at exploring certain aspects of a research area and is not focused on providing a final conclusion to the research questions (Del Prato, 2020). Furthermore, conclusive research design is further categorized under descriptive ad casual research designs. For this research on ethical leadership assignment conclusive research design was selected and descriptive design was used for collecting the data. Descriptive design helps in describing certain elements or phenomenon's of the research area.
3.4 Data collection method
It is evident that collecting and gathering data is the most significant aspect of a study as most of the findings of the research will be generated through analysing the collected data. In order to gather information for this research a mixed approach was adopted by the researcher. As per this approach secondary data was gathered with the help of books, journals, articles and other records (Johnston, 2017). Secondary data is easy to gather and helps in saving time and also provides the researcher with numerous viewpoints of other authors. In addition, primary data was also gathered for the ethical leadership assignment by conducting interview with the mangers of a jewellery business in UK. The response of the managers were recorded which helped in developing the conclusion of the ethical leadership assignment.
3.5 Data Analysis
Data is analysed with the help of qualitative as well as quantitative approaches. Qualitative data is the non-numeric information such as notes, interview transcriptions, audio and video recording, text and image documents (Bernard, Wutich & Ryan, 2016). As compared to qualitative in quantitative data analysis researchers turn raw numbers into understandable data though the applying a more critical or rational method of thinking. Mostly calculations of variables and other frequencies are involved on quantitative data collection. For this research on ethical leadership assignment data was analysed with the help of qualitative data analysis method.
3.6 Sample size
Interview with the managers of Jewellery business in UK was conducted with the aim of gathering primary data for this research. For conducting the interview around two managers of the business will be selected that will help in understanding regarding the way ethical leadership is influencing the supply chain management of the business. In addition, in order to complete the secondary research two journal articles regarding the research topic will be selected and the viewpoints of the authors will be compared in order to develop an appropriate conclusion for the ethical leadership assignment.
3.7 Ethical consideration
Maintaining ethical consideration is vital for the ethical leadership assignment and in order to maintain ethics the researcher ensured that proper permissions regarding the interview was taken from the respected authority. Anonymity of the participants was well maintained the researcher will not make use of names and other characters that can affect the identity of the respondents. The respondents were not forced to answer any question and had the freedom to skip or quit the interview any time they want. All the data protection initiatives were taken by the researcher and the data collected for the study developed in the ethical leadership assignment will not be used for any commercial purpose.
3.8 Research limitations
It is evident that this research was conducted by a student therefore; the most common limitation of the study examined in the ethical leadership assignment was funds due to which the study could be conducted in the most desired manner. In addition a mixed approach for collecting the data was adopted so adequate focused on in-depth data analysis could not be given. Furthermore, due to a short deadline detailed analysis was not conducted which would have helped in ensuring that the outcome of the ethical leadership assignment is enhanced.
Chapter 4: Finding and Discussion
4.1 Secondary research
Relationship between employee behaviour and ethical organisational climate
The finding of Kuenzi, Mayer & Greenbaum, (2019) supports the readings of ethical leadership assignment and suggest that ethical organisational climate is related to the unit unethical behaviour. In their research the author made use of two different theories of social information processing and SLT in order to understand the relationship. It was analysed that as per social information theory the social environment of an individual provides them with cues that are used to characterise their workplace environment. Secondly the social or workplace environment provides knowledge to the individual as how are able to measure the significance of what they are observing in their workplace ambience. Finally, the actions of other individual regarding what behaviour are essential. Therefore, as per this theory explored in the ethical leadership assignment, the concept of ethical leadership can play an influential role and motivate employees to think and behave in an ethical manner at their workplace which can help the supply chain of jewellery sector to be more transparent and avoid issue of unethical practices. Especially in the blood diamond and scrap gold business the unethical practices are higher as blood diamond is illegal and often mined in unethical manner so leaders need to be careful in order to deal with these problems.
As per the second SLT theory the author revealed that when a role model is present at a workplace environment then individuals try to seek way to emulate the role model. Leaders often act as role models; however, some employees in a unit can also be a role model. Generally leaders try to serve as a role model for ethical behaviour and conduct and also provide rewards as well as punishments as per behavioural chances and performance. Employees in team observe sanctions to other individuals for inappropriate behaviour and rewards for a positive behaviour. This helps in understanding the strategies that leaders often adopt in improving ethical behaviour among employees.
According to the research of Javed et al., (2018), it is noted herein ethical leadership assignment that ethical leadership is considered to be positively related to an ethical organisational climate which assists in improving ethical supply chain management. Leaders influence the workplace environment and building a strong ethical climate and culture can help in avoiding unethical practices. As stated by Blanchard (2018), a leader's functioning of various organisational states that are associated with ethical behaviour and practices leads to a mutual perception if an ethical organisational climate. it is analysed that ethical organisational climate helps employees to understand ethically accepted behaviour as they are motivated to maintain an elevated ethical principles, resists the pressure of compromised ethical practices and gain enhanced awareness regarding how they can handle different ethical situations. Therefore, ethical climate is vital for promoting overall ethical behaviour and decision making that includes ethical maintenance of supply chain. Therefore, the findings of the study obtained in this ethical leadership assignment helps in understanding the ways practices of a leader can build ethical environment and help in reducing unethical practices. as more modern supply chain practice are adopted in the jewellery business chances of piracy, errors in invoice and more risks of supply chain can increase as a result of unethical practices and thinking. Therefore, if leaders are encouraged to practices ethical leadership they can help in changing the workplace environment which will help in improving the operational activities and boost ethical decision making among employees.
4.2 Primary research for ethical leadership assignment
In order to gather primary data to prepare this ethical leadership assignment interview with the managers of Jewellery Company situated within the Jewellery Quarter of UK was conducted.
How long have been associated with the Jewellery industry?
Manager 1: I am working in this sector for more than five years.
Manager 2: I have an experience of nearly three years in this jewellery business sector
What is your present job responsibility in your company?
Manager 1: I am responsible for performing inventory of the entire store which includes checking and counting stocks, reconciling the cash with sales receipts, keeping records of transactions and ordering merchandise and socks when required.
Manager 2: I am responsible for managing daily operations, marinating the inventory, managing employees, dealing with customer service issues, preventing theft and handling our marketing initiatives.
Why is ethical leadership so important for maintaining the supply chain of a jewellery business?
Manager 1: with the changing trends and demand for customers of digital transactions and information this sector is adopting latest technology which can result in a number of potential trade risks and increase the chances of piracy, under-invoice, and issues in quality which can degrade the value of a business. As the demand of jewellery increases in market trade of blood diamond is also gaining importance which is both unethical and illegal. Therefore, in order to avoid these unethical practices ethical leadership is necessary so that business operations are ethical in nature.
Manager 2: ethical leaders promote ethical behaviour among employees and they ensure that the entire workplace environment is ethical and transparent which is beneficial for the growth of the company and plays a vital role in gaining trust of the consumers as everything is traceable which is necessary in jewellery business in order to maintaining quality.
What are the risks or challenges associated with ethical supply chain?
Manager 1: Maintaining an ethical supply chain is a challenging task as there are numerous risk and challenges associated in a supply chain. For instance, in jewellery sector we encounter issues of human rights, child labours, environmental concerns and other issues that cause ethical dilemma and concern. In order to fulfil increasing market demands companies are actively trading blood diamond and scrap gold which are serious matter of ethical concern and trading of blood diamond is often illegal. Innocent people men, women and children are forced to implement primitive back breaking methods like gravel along the river banks with their bare hands, or digging into mud for extracting the diamonds. Therefore trading these diamonds are contributing towards violence.
Manager 2: In our business we experience many different challenges in maintaining an ethical supply chain. The most common challenge towards ethical behaviour arises from developing nation where labours are forced to work in mines and the issues of health and safety is also an area of concern. In addition mining activities can also generate some serious environmental damage which is another significant issue. In addition, often it is analysed that customers are unaware about the quality and uniqueness of a product which they are selling as scrap and often they receive a relative lower value. Therefore ethical initiatives can help in protecting unaware customers and assist them in gaining correct values for their product.
What are the challenges of ethical leadership style outlined in the context of ethical leadership assignment?
Manager 1: As per me maintaining consistency is challenging as the business grows leaders lose focus regarding the ethical standard and are more inclined towards profit generation. Following ethical standards and serving as an inspiration to the employees is necessary core value or else this leadership style loses its meaning. In addition, formulating polices and documenting them in an easy manner so that employees are able to understand it ad adhere to it is challenging yet a vital aspect.
Manager 2: Maintaining an open communication can be challenging aspect of an ethical leadership as this often interrupts the decision making process and allows down the process. However, maintaining open communicating is vital so that employees who notice any serious ethical issues are not afraid to speak due to fear of termination.
Analysis
As per the secondary research conducted in this ethical leadership assignment it can be analysed that ethical leadership helps in improving the workplace environment of a business. Leaders influence positive workplace behaviour among employees and encourage them to adopt ethical thinking and decision making. Positive employee behaviour helps in improving the productivity of the business and is also necessary for ensuring that supply chain risks and issues can be minimized. As per the interview conducted with the manger and the data collected through journal articles in order to create this ethical leadership assignment it is clear that there are certain issues in the supply chain of jewellery busies which can be avoided or eliminated by improving the work culture and employee behaviour of an organisation. In order to improve employee behaviour ethical leadership has proven to be beneficial as it helps in increasing ethical workplace culture that promotes ethical thinking and decision making. Ethical decision making is vital as workers are being exploited for blood diamonds and often consumers also do not receive adequate value due to scrap gold therefore, ethical thinking and decision making can help in reducing these trading issues and improve quality of services. Ethical practices can also protect consumer rights and serve them with better services.
Chapter 5: Conclusion
This ethical leadership assignment helps in understanding the concept of ethical leadership practices. As per the literature review conducted it can be analysed that leaders play a vital role in maintaining the operational activities of an organisation. Leaders have the primary responsibility of ensuring threat employee relation is maintained and that a positive workplace culture is established so that organisational goals are achieved. In context of ethical leadership it was observed that ethical leaders focus on a fair treatment of employee which helps in motivating the employees to perform better and the productivity of the firm is increased. In addition, ethical leaders encourage employees to adopt ethical thinking and decision making which help in improving the overall workplace culture and operational activities. This research has highlighted the significance of ethical leadership on the supply chain management of jewellery industry especially the concept of blood diamond and scrap gold was focused.
It was analysed herein ethical leadership assignment that the risks and challenges of unethical practices such as child labour, forced labours, issues of incorrect invoicing, quality issues in jeweller was increasing which affected the brand image. In addition, in order to fulfil market demand companies were readily trading blood diamonds and scrap gold which are often illegal and unethically attained. Therefore, ethical leadership helped in eliminating these issues as leaders were more focused on moral values and consumer values as compared to profit generation. In order to collect data for this study positivism philosophy along with deductive approach was implemented. Both secondary as well as primary data was gathered which was analysed with the help of qualitative data analysis method. Journals compared in the secondary research helped in understanding the way ethical leaders change the workplace environment and employee's behaviour. The data gathered from interview conducted with the mangers of jewellery sector helped in analysing that ethical leadership is essential for jewellery business. However, the manger also revealed that there are many challenges associated with ethical leadership which must be maintained for efficient long-term benefit.
Reference list
Ameer, I., & Halinen, A. (2019). Moving beyond ethical decision-making: A practice-based view to study unethical sales behavior. Journal of Personal Selling & Sales Management, 39(2), 103-122.
Awuzie, B., & McDermott, P. (2017). An abductive approach to qualitative built environment research. Ethical leadership assignment Qualitative Research Journal.
Bernard, H. R., Wutich, A., & Ryan, G. W. (2016). Analyzing qualitative data: Systematic approaches. SAGE publications.
Blanchard, K. (2018). Leading at a higher level: Blanchard on leadership and creating high performing organizations. FT Press.
Chowdhury, S., Shahvari, O., Marufuzzaman, M., Francis, J., & Bian, L. (2019). Sustainable design of on-demand supply chain network for additive manufacturing. IISE Transactions, 51(7), 744-765.
Coetzee, J. J. (2018). The role of the private sector in tackling corruption.
Del Prato, S. (2020). How conclusive is the CONCLUDE trial?. Diabetologia, 1-6.
Dougherty, M. R., Slevc, L. R., & Grand, J. A. (2019). Making research evaluation more transparent: Aligning research philosophy, institutional values, and reporting. Perspectives on Psychological Science, 14(3), 361-375.
Dust, S. B., Resick, C. J., Margolis, J. A., Mawritz, M. B., & Greenbaum, R. L. (2018). Ethical leadership and employee success: Examining the roles of psychological empowerment and emotional exhaustion. Ethical leadership assignment The Leadership Quarterly, 29(5), 570-583.
Engelbrecht, A. S., Heine, G., & Mahembe, B. (2017). Integrity, ethical leadership, trust and work engagement.
Engelbrecht, A. S., Kemp, J., & Mahembe, B. (2018). The effect of altruism and integrity on ethical leadership and organisational justice. Management Dynamics: Journal of the Southern African Institute for Management Scientists, 27(4), 2-11.
Hair Jr, J. F., Page, M., & Brunsveld, N. (2019). Essentials of business research methods. Routledge.
Hugos, M. H. (2018). Essentials of supply chain management. John Wiley & Sons.
Javed, B., Rawwas, M. Y., Khandai, S., Shahid, K., & Tayyeb, H. H. (2018). Ethical leadership, trust in leader and creativity: The mediated mechanism and an interacting effect. Journal of Management & Organization, 24(3), 388-405.
Johnston, M. P. (2017). Secondary data analysis: A method of which the time has come. Qualitative and quantitative methods in libraries, 3(3), 619-626.
Joo, B. K., Lim, D. H., & Kim, S. (2016). Enhancing work engagement. Ethical leadership assignment Leadership & Organization Development Journal.
Kaptein, M. (2019). The moral entrepreneur: A new component of ethical leadership. Journal of Business Ethics, 156(4), 1135-1150.
Kim, B. C., Chae, S., Kim, J., & Yoo, K. (2018). Oversea production status of gold, silver, platinum and palladium from scrap. Journal of the Korean Institute of Resources Recycling, 27(6), 76-83.
Krippendorff, K. (2019). Driving Innovation from Within: A Guide for Internal Entrepreneurs. Columbia University Press.
Kuenzi, M., Mayer, D. M., & Greenbaum, R. L. (2019). Creating an ethical organizational environment: The relationship between ethical leadership, ethical organizational climate, and unethical behavior. Personnel Psychology.
Mukherjee, A. S. (2020). The Leader in a Digital World: From Productivity and Process to Creativity and Collaboration. Management on the Cutting Edge.
Ojha, D., Acharya, C., & Cooper, D. (2018). Transformational leadership and supply chain ambidexterity: Mediating role of supply chain organizational learning and moderating role of uncertainty. Ethical leadership assignment International Journal of Production Economics, 197, 215-231.
Saunders, R. (2017). Geologies of power: blood diamonds, security politics and Zimbabwe's troubled transition. Post-colonial struggles for a democratic Southern Africa: Legacies of Liberation, 98.
Sen, S. (2018). Strategic governance and risk-management of the outsourcing ecosystem: developing dynamic capabilities and addressing implementation challenges (Doctoral dissertation, Aston University).
Subramony, M., Segers, J., Chadwick, C., & Shyamsunder, A. (2018). Leadership development practice bundles and organizational performance: The mediating role of human capital and social capital. Journal of business research, 83, 120-129.
Tidd, J., & Bessant, J. R. (2018). Managing innovation: integrating technological, market and organizational change. John Wiley & Sons.
Turban, E., Outland, J., King, D., Lee, J. K., Liang, T. P., & Turban, D. C. (2018). Order Fulfillment Along the Supply Chain in e-Commerce. In Electronic Commerce 2018 (pp. 501-534). Springer, Cham.
Ugaddan, R. G., & Park, S. M. (2019). Do trustful leadership, organizational justice, and motivation influence whistle-blowing intention? Evidence from federal employees. Ethical leadership assignment Public Personnel Management, 48(1), 56-81.
Usman, M., & Hameed, A. A. (2017). The effect of ethical leadership on organizational learning: evidence from a petroleum company. Business & Economic Review, 9(4), 1-22.
Varma, A. J., Patil, K., & Ulle, R. S. (2018). An Empirical Study on Job Satisfaction and Employee Loyalty.