Global Marketing Assignment: Taking Gourmet Express to Asia
Question
Task: Taking Gourmet Express To Asia: Can Food Advertising Travel?
Gourmet Express is a small Melbourne food company which manufactures premium-priced, pre-packaged frozen meals in single-serve packs. The meals include Chinese-style meals, Thai-style meals and Japanese-style meals with all meals having a rice base.
The company serves the domestic Australian and New Zealand markets, and has met with a measure of success in both these markets against larger competitors such as Nestlé, Unilever and Kraft. Some of these companies have very large marketing budgets.
From its origins as a small catering business in the Melbourne suburbs serving the local business and residential market Gourmet Express has grown to become a company with a $20 million turnover and 22 employees.
The owner of the business, Beverley Wong, has an interest in Asian styles of cooking, and has observed the growth in popularity of Thai food in particular in Australia as food tastes have evolved in recent years. She sees Chinese food as having a fairly universal appeal, while Japanese food is somewhat less popular. There are a total of four meals in the Chinese and Thai ranges and two in the Japanese range. Beverley is happy with a total of 10 frozen meals in the product portfolio. Sales in the Australian and New Zealand markets are fairly evenly spread across the range, with the Chinese meals marginally the most popular. Almost from the establishment of the company in 1992, Beverley realised that she would need to keep expanding the business to ensure its long-term viability, and to make it an attractive proposition for eventual sale to another company. Hence after some three years of operations, when an opportunity arose to distribute the products through the Victorian supermarkets of a national supermarket retailer, Beverley took out a bank loan and installed production line facilities, including some packaging machinery. Successful supermarket sales for the products in the portfolio led to a gradual national rollout through the supermarket chain, and in 2001 the opportunity to expand into the New Zealand market through a national chain there. Prior to entering the latter market, however, Beverley held a series of meeting with representatives of the New Zealand chain to ensure that her portfolio of Chinese, Thai and Japanese meals with a rice base would appeal to New Zealand consumers with the same target market profile as the current Australian customers.
The profile is 18–34 year olds, white-collar clerical or managerial, middle to upper income, with a skew to urban females. Such individuals are typically time poor with busy professional and social lives. They see themselves as being interested in food and concerned with nutrition and health. Beverley Wong was relieved to know that such a demographic and psychographic also exists in the New Zealand market, and that there are sufficient numbers of these consumers to form a viable market for Gourmet Express.
The company's first communications campaign using mass media went to air in the late 1990s. It was expensive in terms of both production and media costs, but had been largely demanded by the national supermarket chain as part of the deal to offer Gourmet Express national distribution. Its centrepiece was a 30-second television commercial and two print media ads. Both were intended to introduce the brand to the marketplace, to create a brand image and a distinctive positioning and to stress the availability of the product range through the supermarket chain.
The creative execution for the television commercial featured an active young career woman returning home in the evening after visiting the gym. In the first shot she is dressed in her aerobics gear and carrying a sports bag with her office clothing. She enters her apartment where she is greeted by her small fluffy cat. Clearly she can afford to live alone, and the apartment is furnished in a modern and minimalist style. She is hungry and goes straight to the refrigerator. The next shot is of the freezer compartment, which contains four packs of Gourmet Express.
The young career woman reaches for one of the Thai products, and in the next shot there is a close-up shot of the steaming Thai fish cakes sitting on a bed of fragrant wild Thai rice. The young woman is clearly enjoying her nutritious meal.
In the last shot of the woman she is getting ready to go out for the evening, either on a date or to meet friends, and she leaves the house saying good night to her small fluffy cat. She is dressed in a sexy short skirt and a quite expensive blouse, and is looking very attractive. A voiceover then comes on, along with a pack shot of several of the Chinese, Thai and Japanese products in the range, and the brand name Gourmet Express at the top of the screen. The voiceover tagline says 'Gourmet Express— gourmet food for those on the go!'. Beverley Wong was very happy with the ads and the rationale given by the advertising agency for this creative execution. The ad was designed to convey the upmarket nature of the products, their convenience, their gourmet taste and the fact that they allow people with busy on-the-go lifestyles to enjoy interesting flavoursome meals.
The single girl living alone in her apartment was meant to represent the type of people who purchase and consume Gourmet Express. They are active, love life, have busy professional and social lives, yet at the same time are concerned about nutrition and enjoy good food. They generally don't have time to cook at home.
As part of the discussions with the representatives from the New Zealand supermarket chain Beverley discussed the promotional support that the company could offer the supermarket chain in return for them stocking the Gourmet Express range. It was agreed that airtime would be bought in New Zealand and the TV commercial would air there. Since the target market is essentially the same as it is in Australia, and the New Zealand supermarket representatives were confident that Gourmet Express would appeal to this demographic and psychographic, few, if any, problems were expected.
This proved to be the case, and the ad went to air (supported by limited print media ads) in late 2001 in the New Zealand market. The general feeling was that the campaign worked well in informing the target market about the brand, and in encouraging them to trial it. Beverley Wong felt that a start had been made on building and positioning a distinct brand image in the New Zealand market.
By mid-2004 sales in both the Australian and New Zealand markets were healthy and the two supermarket chains in both countries appeared happy with the revenue being generated. There was a good relationship with them. It was at this point that Beverley Wong decided to look further afield in her quest to build a strong and viable company that would be an attractive asset for one of the multinational food companies like Nestlé, Kraft or Unilever to acquire in the future.
Through an export consultancy, which Beverley used to set up the exporting venture to New Zealand (and the relationship with the supermarket chain there), an opportunity for exporting the full product range to South Korea, Taiwan, Hong Kong and Macau was identified. This would involve the exporting consultancy making contact with potential distributors in these markets (either wholesalers or retailers) and ascertaining their interest in the range of Chinese, Thai and Japanese rice-based frozen meals. Ideally, a relationship with a large supermarket chain in each of these markets could be developed.
Both Beverley and the export consultancy felt that Gourmet Express products might find a ready market in NorthEast Asia. Younger people working in white-collar jobs in these countries have busy lives, a disposable income typically unimpeded by large-scale financial commitments and a desire to eat tasty meals. Furthermore, market demand for preprepared and frozen meals is substantial, with only a limited number of premium-priced brands competing at the gourmet end of the market. The fact that there is a choice of Chinese, Thai and Japanese meals (as opposed to just local dishes) was seen as adding to the appeal.
In a single business trip Beverley Wong flew to Seoul, Taipei and Hong Kong and met representatives of a leading supermarket chain in each of these markets. The Hong Kong-based chain also has supermarkets in Macau. The meetings were arranged by the export consultancy back in Melbourne, who had used their contacts in these markets to set up the meetings. Beverley had taken with her sample packs of all 10 products in the range, and the Australian-made television commercial. This was to indicate the promotional support she was willing to offer the supermarket chain in each market. Reactions to the products from the supermarket representatives were generally positive, with a feeling expressed that there was sufficient scope in the range for the target market consumers to eat food which was either familiar to them or slightly more exotic. No comments were forthcoming about the single-serve packs. As part of her presentation Beverley provided a breakdown of the typical target market consumer in the Australian and New Zealand markets, and then showed the representatives the television commercial, which had helped build sales through the two supermarket chains in Australasia. Her intention was to offer the supermarkets this communications support as part of the deal. The television ad could inform the target market about the brand, encourage trial and help establish a position and a distinct brand image. It had worked well in Australia and New Zealand in accomplishing these communication tasks. However, in the meetings in Seoul, Taipei and Hong Kong reactions to the television commercial were generally negative. The representatives from the South Korean supermarket chain were the most negative telling Beverley that the television ad would simply not work in the South Korean market and that it might in fact damage the brand. The Hong Kong supermarket chain representatives pointed out that people in Hong Kong and Macau do not live in the way the ad depicts. The Taiwanese supermarket chain representatives pointed out that Taiwan is a conservative society. The outcome of the meetings in all three markets was an interest in stocking Gourmet Express and a willingness to have further discussions with Beverley and the export consultancy with a view to establishing a formal supply relationship. In other words, all three chains were interested in stocking Gourmet Express. The one caveat was a desire for a supporting communications campaign targeting local consumers. There was no interest in using the campaign that had been successful in helping drive supermarket sales in Australia and New Zealand. Instead a request was made for a new television commercial to be shot. The South Koreans requested that the ad be specific to the South Korean market, while the Taiwanese and Hong Kong representatives suggested that an ad that could be used in all three markets to promote Gourmet Express would be sufficient.
All of this left Beverley Wong in a quandary. The budget did not really exist for producing an entirely new campaign (or campaigns). The communication resources that did exist were for purchasing television airtime in all four markets.
Shooting new ads would reduce the amount of airtime that could be purchased. She felt that she would need to work harder in convincing the potential new distributors to accept the current television commercial. After all, it was a proven product, just like the Gourmet Express range itself. Consider the above case and prepare a global marketing assignmentaddressing the following questions:
1. Why are the Gourmet Express portfolio of Chinese, Thai and Japanese rice-based dishes apparently selling well in Australia and New Zealand? In addressing this question consider how food tastes have changed in recent years.
2. Food traditionally has been considered an expression of local culture and a way of defining local culture. In what ways is culture from other countries or global culture impacting on this?
3. The same television commercial promoting Gourmet Express was used in Australia and New Zealand. There were no objections from the New Zealand supermarket chain. What does this say about culture in both markets?
4. Why do the representatives of the South Korean, Taiwanese and Hong Kong supermarket chains seem opposed to the current television commercial being used as support for them if they decide to stock Gourmet Express?
5. Undertake some secondary research on cultures in these North-East Asian markets and identify reasons why the current Gourmet Express television commercial may not work, and why it may even damage the brand.
Answer
Global Marketing AssignmentAnswer 1:
Everyone is influenced how effectively they digest their foods and everyone decides what to eat and what not to based on their taste, which is a sense that is stimulatedwhen edible chemical compounds and nutrients activate on cells in the oral cavity. As stated by Sunetal., 2020, food taste and food habits have been changed over years as a majority of people have become busy with their work life and social life and as a result, they do not get time to cook, yet they gradually become more conscious about their health and the nutritious value of their foods.
According to Beverley Wong, the owner of the Gourmet Express, the food tastes among the current generation have ben evolved in recent years. Though it was noticed before that Chinese food has a universal appeal, while Japanese food was less popular among Australian people. Even there is a noticeable growth in the popularity of Thai foods.Previously the target market of the Gourmet Express in Australia were the white-collar managerial or clerical urban people who have middle to upper income and who belongs to the age group of 18-34. These people are health conscious, yet do not have much time to cook as they are always busy with their work and social life. In 2001, the brand has expanded into New Zealand with the same target market (Lai, Khoo-Lattimoreand Wang,2018). The brand's Asian style cooking of rice-based dishes are premium-priced and pre-packaged frozen meals which take minimum time to be ready to serve and also contains nutritious value. Therefore, the Gourmet Express is selling well in both Australian and New Zealand, as people over there are interested in tasty foods and are concerned about time, health and nutrition.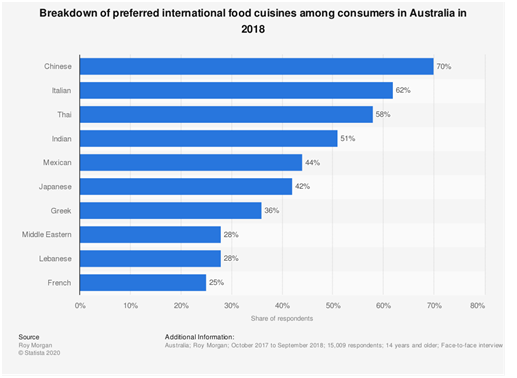 Figure 1:Popular cuisine among Australian people
Source: (statista, 2021)
Answer 2:
According to Zhang, Chenand Hu, (2019), food is considered to be an expression of local culture; therefore, food culture is not only about what people eat, rather it is about how they prepare the food and how they eat it. Food culture can be globalized by creating hybrid cultures through interacting a dish with other food tradition. For instance, Chinese dishes have a worldwide popularity, but the Gourmet Express infuses the Thai and Japanese dishes in Australia and New Zealand market and now all the three cuisines are getting popularity through the brand. Though, in terms of marketing the brand needs to be cautious regarding the demographic and psychographic situation of various countries. The television commercial of the brand in Australia and New Zealand shows a young careerist as well as health-conscious woman living alone with her busy work and social schedule. After returning from her office, she is enjoying her steamed Thai fish cakes with wild Thai rice, which is considered as a tasty nutritious meal. The whole success story of the Gourmet Express shows that the Chines, Thai and Japanese rice-based foods are getting popularity even in the people of Australia and New Zealand as those foods are less time consuming, tasty and nutritious. Though it takes more time or a major change in the commercial advertisement to expand the business in countries like South Korea, Taiwan, Macau and Hong Kong as their social culture is far conservative and different from Australia or New Zealand.
Answer 3:
There are very similar culture including social structure, food habit, music and television both in Australia and New Zealand. As stated by Rahman, Khatun, Liuand Barkla, (2018), both the countries have brought a major change in their food habit around the year 1950. Besides having similarities in their food cultures, the socio-economic culture is also same. There are a good percentage of young population, who live alone and are having tough work and social life schedule. These people are generally in search of nutritious food which consumes less time to be prepared. The commercial television advertisement of the Gourmet Express shows a young dependent woman lives alone on her own terms and having an impressive career, a health-consciousmind and aon go social life. In order to avoid the cooking time and get tasty yet nutritious food at the same time, she prefers to use Gourmet food products. This advertise shows the type of urban people who buy and consume Gourmet Express products. Moreover, single girl living in her apartment on her own, is a common culture in both the countries. This advertisement previously was aired in Australia, but as the target market is same, the promotional team of New Zealand has agreed to aired the same advertisement in their country, in order to stoke Gourmet Express products and encourage the customers to purchase these. As a result of successful marketing, an impressive revenue has been generated in the two supermarket chains.
Answer 4:
As stated by Krumbein (2021), after achieving huge success in both Australia and New Zealand, the Gourmet Express has tried to expand their business in South Korea, Macau, Hong Kong with their ten products. Beverley Wong met the representatives of the leading supermarkets of Seoul, Taipei and Hong Kong in her business trip and showed them the previously aired commercial television advertisement. For having different demographic and psychographic culture, that meeting ends with negative responses. According to the representative of the South Korean supermarket chain, this advertisement can destroy the brand image if it would be aired in South Korea. Even the Hong Kong and Macau people do not live in the way that was depicted in the advertisement. On the other hand, the representatives from Taiwan pointed out that people over there are very conservative. Therefore, in order to stoke their food products in the supermarkets of South Korea, Macau, Hong Kong, the company needs to create another creative advertisement for such conservative countries which have different cultures.
Answer 5:
According to the study conducted by Huang, Lee and Hayes, (2012), the north-east Asian people are known for their family-oriented values.People who resides in North-East Asian region believe in togetherness and empathy and they are also family-oriented. Moreover, people who belong to this region tend to focus on the background of an advertisement than the original context. Therefore, a single and independent woman who is enjoying her food alone cannot be associated with the mind-set of North-east Asian people who are highly family-oriented and prefer living with their family.
In addition to this, North-east Asian people will be more focused on the lifestyle of the independent woman rather than the quality of food. Thus, this advertisement may not work in this region and can also spoil the goodwill of the firm.
Reference list
Huang, S., Lee, S.K. and Hayes, M., 2012.The politics, subjectivities and connectivities of transnational migration in East Asia. Asian and Pacific Migration Journal, 21(2), pp.135-147.
Krumbein, F., 2021. Who will be Asia's Next Unicorn? Comparing Marriage Equality in Taiwan with Hong Kong, Japan and South Korea. Global marketing assignment Asian Studies Review, pp.1-19.
Lai, M.Y., Khoo-Lattimore, C. and Wang, Y., 2018. A perception gap investigation into food and cuisine image attributes for destination branding from the host perspective: The case of Australia. Tourism Management, 69, pp.579-595.
Rahman, M., Khatun, A., Liu, L. and Barkla, B.J., 2018.Brassicaceae mustards: Traditional and agronomic uses in Australia and New Zealand. Molecules, 23(1), p.231.
statista, 2021. Australia - preferred international food cuisines 2018 | Statista. [online] Statista. Available at: [Accessed 11 October 2021].
Sun, L.B., Zhang, Z.Y., Xin, G., Sun, B.X., Bao, X.J., Wei, Y.Y., Zhao, X.M. and Xu, H.R., 2020. Advances in umami taste and aroma of edible mushrooms. Trends in food science & technology, 96, pp.176-187.
Zhang, T., Chen, J. and Hu, B., 2019. Authenticity, quality, and loyalty: Local food and sustainable tourism experience. Sustainability, 11(12), p.3437. Word Count: 1271