Implementation Of Chef Travel Digital Marketing Strategy
Question
Task: The major project for this unit entails developing an Internet Strategy Report for a business entity - ideally a small and
medium-sized enterprise (SME). You will be asked to form a group of up to four people to complete the project.
The group will be required to evaluate the online marketing needs and objectives of a selected company/organisation
and provide a detailed report analysing and recommending appropriate digital marketing strategies. Please review the
following points.
1. Your report should include the following:
- A brief description of the company and the market in which it operates;
- A detailed description of the company's current marketing strategies and its competitive environment;
- An assessment of the micro and macro environment of the company (such as online marketplace analysis,
customers, competitors, suppliers, intermediaries, social and cultural factors, economic factors,
legal and ethical issues, governance etc.)
- An assessment and analysis of the opportunities for the company in the digital environment aligning with
relevant frameworks and models discussed in the textbook.
- An e-marketing strategy for the company based on the framework outlined in Chapter 4 of the textbook -
including appropriate recommendations for the organisation.
2. Important aspects for the report to cover include: integration of the marketing mix with customer relationship
management; leveraging consumer information through the Internet; the delivery of the online consumer
experience; digital media marketing strategies; the integration of online and offline marketing communications;
along with budget, timelines and the evaluation of the Internet marketing programs.
3. As outlined above, the report should be designed with the SOSTAC model in mind (refer page 147 of the 7th edition
of the textbook). You should thoroughly review the textbook for SOSTAC methods, approaches and examples.
Another useful resource is Chaffey's internet companion website (http://www.smartinsights.com). The website
provides further information about the SOSTAC marketing planning guide, Internet marketing planning template
and Internet based SWOT analysis guidelines. Aim to incorporate any additional information that will enhance the
overall quality of the report.
4. You should be in close communication with the decision maker(s) of your selected company to collect relevant
information about the organisation and its marketing activities and goals. The Marketing Plan Approval form (refer
below) should be discussed and approved by Dr Leanne White before you begin the report.
5. Groups (maximum of four people) should ideally be formed by Seminar 5 (7 April). Groups will then need to finalise
the selected company and complete the Marketing Plan Approval document by Seminar 6 (21 April). However,
once the approval document has been submitted and approved, you are free to begin working on the report. As
such, the earlier this is submitted to Leanne, the better.
6. Marketing Plan Approval Form
- By Seminar 6, your group should submit the 'Marketing Plan Approval' form for review and endorsement by
your unit convenor – Dr Leanne White. The document is attached at the end of this guide and covers the
following information:
o The company / product / service selected.
o The rationale for the Internet Strategy marketing plan/report.
o Names and signatures of all group members.
- Groups cannot progress with their report until the 'Marketing Plan Approval' document has been approved by
the unit coordinator. The hard copy (paper version) of the document should be submitted to Leanne when it is
ready (but no later than Seminar 6 – Tuesday 21 April, 2020).
7. The report is about delivering Internet strategy marketing recommendations to your client. You should attempt to
integrate relevant industry and best practice examples to enhance the quality of your analysis. The word limit is
3,500 words. Consider using appendices for additional analysis, exhibits, advertisements and other relevant
material.
8. The report should ideally be a balanced mix of theory and practical solutions. Refer to credible and reliable online
business news and information sources, company reports and websites, industry papers, refereed or peerreviewed academic journals and suggested additional readings as evidence to substantiate your thoughts and
arguments.
9. The report should include a minimum of 5 (five) references from peer-reviewed academic journals and an additional
minimum of 10 (ten) relevant references from business magazines, newspapers, credible websites, marketing
textbooks and similar sources to confirm the strength and quality of your work.
Answer
Executive Summary
1. Company Background: his report sheds light on the concept of implementation of Chef Travel digital marketing strategy in a detailed manner. Chef Travel will be a sustainable digital tourism company offering culinary trips to different beautiful natural destinations in Colombia. It will be operated by Juan Manuel Arango a well-travelled chef and tourism professional with plenty of experience in restaurants and catering. He is also deeply in love with his country, its people, its nature and landscapes this is why after travelling around the world, he realized that Colombia was an undiscovered jewel for tourism.
The main location where the company will operate is a country side farm Hotel called "La Sonora" and it is located near Manizales in the "Eje Cafetero", region that has already received World Cultural Heritage recognition from UNESCO, and has become one of Colombia's most popular tourist destinations. The Eje Cafetero tourist region is often perceived as exemplifying a sustainable economy based on existing natural resources and cultural heritage in the landscape of Colombia's Western Andes (ABNT, 2018).
2. Statement of the Problem
As a newborn company the objective is to gain new customers and create awareness of the brand. Being a digital company, the navigation and the contents must be really clear to avoid unnecessary phone calls or physical presence. The web page will be the main way to communicate with customers. The aim is to create a solid Chef Travel digital marketing strategy with an easy to navigate and transactional webpage.
In general, the tourism sector is facing a difficult situation due to COVID-19, and this might push the strategy redirecting it from foreigner-based customers to local customers but it needs a strong Chef Travel digital marketing strategy to stand out from the competition and be more visible to customers. The primary idea of this report is to support Chef.Travel to achieve its success through a solid internet Chef Travel digital marketing strategy.
3. Situation Analysis
Business Environment
3.a Macro-economic: Colombia's tourism industry has long been underdeveloped despite its immense potential because of the country's armed conflict. After several peace processes, the country is much safer and this has helped boost international interest in the country. The tourism authority (ProColombia) has tried to project a new image to counter the drug and violence related image that the country has hold for decades. And the results are visible, having improved dramatically the number of international visitors. In the last decade Colombian tourism has had a growth more than 300% , the country had 1,41 million in non-resident visitors in 2010 and increased to 4,5 million non-resident visitors in 2019. (Oxford Business group,2019).
The government firmly believes that tourism will replace oil in the future so it has a commitment to make the sector more competitive in the future by investing in local infrastructure and regional development. Last year the hotel occupancy reached 57.8%, and the tourism business in Colombia grew above the 3.3% increase in GDP, the highest growth for a Latin American nation. From the total of international visitors Colombia had las year 79% visited for holidays, 13% for business, 2% for medical purposes and 6% for other reasons.(MINCIT, 2020)
Analysing the tourism markets for Colombia, studies have shown that of 4.5 million tourist, 22% were coming from the USA, 55% from Latin America, 20% from Europe and 3% from the rest of the world(MINCIT,2020).
The preferred destinations for international visitors are Bogota, Cartagena, Medellin, Cali and Armenia that is part of the "Eje Cafetero".
The country´s economy is the fastest growing economy in the South American region growing 3.3% last year (MINCIT,2020). In the last decades Colombia has increased the size of its medium class creating an attractive market for local tourism which is an advantage with the restrictions for international travel caused by COVID-19 that will probably affect the arrival of international visitors.
In terms of politics Colombia is a stable country, President Ivan Duque has 2 more years to finish his period and there are no significance threats to the normal development of democracy and businesses.
3.b Micro-economic situation Chef.Travel
In order to better understand a little essence of the company I will share the mission and the vision. The mission is to "Provide excellent sustainable adventure travel and food experiences to customers while visiting the natural beauties of Colombia". The Vision is to "Create strong ties with all the communities visited and become the preferred gourmet adventure travel agency for foreigners in Colombia
3.c The 5 C´s Marketing
Customer: The customer is a nature lover and a foodie, international visitor or Colombian with high income. A person that loves gourmet food end experiencing new flavours and travelling.
Context: Colombia´s situation is stable, tourism is growing. The company has not operated so there is (?)
Competition: The competition is mostly small companies that take people to the natural destinations and food is secondary. Big companies like Aviatur are also offering similar products matching the destination but not the gourmet services.
Company: The main location Hotel La Sonora, is located in a region with multiple options for eco-tourism. The Chef operator has experience in restaurants, and has earned a positive name culinary-wise already in Colombia through a chain of restaurants he owned called Conosur. The destinations are varied and all of them offer a unique experience for the interaction with the nature.
Climate: The COVID-19 will affect the flow of international tourist in the future but there is a strong local market as well.
3.d SWOT Analysis
Strenghts
The chef and guide of the company have plenty of cooking experience and speaks 3 languages.
He is in love with Colombia and has a passion for cooking and to show customers the beauties of the country
The main destination "Hotel La Sonora" is in a perfect spot for adventure activities and it´s a birdwatching spot.
He is recognized in Colombia for his former restaurant chain (Conosur) and his travelling has permitted him to know the preferences of multiple cultures.
Innovation because it is a unique proposal because the competition offers to visit the same or similar destinations but not with gourmet food.
Weaknesses
It is a new company and people might be afraid to book online.
Not having an online presence or social media.
Not having a physical office could be a problem for Colombian public.(why? Reasons please)
Depending in only on one person as the main edge of the company is a risk.
Limited financial resources.
The main destination is in a farm 5 km from the main road so the transportation of the customers should be arranged.
Opportunities
Colombia is the world´s second-most biodiverse country with 10% of the entire planet diversity which demonstrates the
Potential for ecotourism and adventure tourism (MINTIC,2020).
Colombia has 2,8160 specie's of birds being the first country in the world in species (MINTIC,2020)
The Colombian tourism is growing, and the gourmet market is also growing there.
There is a new market to explore in eco and adventure gourmet tourism.
We are in the digital era and with a strong Chef Travel digital marketing strategy we can be successful.
Threats
The COVID-19 pandemic is a threat for the tourism industry and it is uncertain how international tourism will be in the future.
The possibility of violence affecting the country again because there are is still one guerrilla operating.
4. Objectives
Chef Travel digital marketing strategy will explore the two areas of tourism, including natural destinations and dining experiment precisely. The company is loyal to its original goal, which is to build the service image as well as raise brand awareness. In terms of personal branding, business focuses on maximizing the development of the social network and official online website based on the 5S model ( Chaffey et al. 2016). Relying on this formula helps the new business as Chef.Travel be better to orient themselves in terms of managing and optimizing communication and analyzing consumers' wishes when using travel services with an ideal dining experience. 5S was used in this report as a simple structure to examine and define specific objective as below:
Sell: We conduct digital marketing to attract the attention of customers towards the brand. Chef Travel digital marketing strategy creates an easy to navigate web page with online shopping to approach consumers and raise awareness of the brand. In 2020, our marketing campaign is multi-channel, including web page, email, social media channels. Reach 10% of online shopping, increasing online revenue sales over 25% via web page each year, rising 20% new followers for new channels including Facebook and Instagram.
Speak: Chef Travel digital marketing strategy engages in connections and conversations at any time. The website is accessible 24/7 to ensure that the company are always available to serve and connect with no matter who they are and where they are from. Chef.Travel will actively post on Chef. Travel's official website and respond to every audience comment. Increase feedback in each audience comment. A 50% increase in the number of emails opened from an existing customer database and online survey of 2000 customers per month — 5 % increase in visitors to each site.
Serve: Chef.Travel gives customers what they need, including the most critical content and information so they can easily access it either via media or via social networks to ensure speed with the highest efficiency. Increase different content interaction on the main website — 30 % increase in the number of customers interacting with online services. Chef Travel digital marketing strategy will set up a fan page on Facebook to interact with users quickly and conveniently to help collect customer reviews about the quality of service efficiency as well as answer questions conveniently. To improve communication efficiency, the company that owns the Instagram account posts images related to the brand, services, products and attach related keywords through the hashtag tool to increase the number of people interested.
Save: As a new business, Chef.Travel currently only support online services to reduce personnel. The company will add auto-answer questions to basic questions in order to minimize direct connection via hotline and save time. The company concentrate on reducing all other online media channels to focus on enriching content for main channels.
Sizzle: We will increase customer awareness by expanding the company's information coverage through online shopping. Provide customers with reasonable offers or similar services while they are considering related services. It is about building a productive, positive, engaging experience of a brand online that increases satisfaction, advocacy and recommendation from customers.
5. Strategies
5.1 Targeting and Segmentation: The targeting and segmentation strategy of the company will help in streamlining the customer base and help target the most potential customers. The customers will be segmented into three parts based on geographical, behavioural and demographic (Camilleri 2018). This will allow the business to be able to target and attract potential customers easily.
Geographical segmentation- this type of segmentation helps in segmenting the market geographically or regionally where the company will target its customers from. Chef Travel digital marketing strategy is determined to segment its market both internationally and domestically that is in Columbia. It will offer culinary trips to both customers coming from international countries as well as local residents that would love to enjoy such trips.
Behavioural segmentation- this segmentation helps in targeting the customers based on the nature or behaviour of their purchase, brand loyalty and usage level (Widjaya 2017). Based on this segmentation Chef Travel will target customers that have behaviour of tasting different foods wherever they go and an enthusiastic traveller to natural places. This will help Chef Travel digital marketing strategy to make their culinary trip a successful one with loyal customers and easy attraction.
Demographic segmentation- Chef Travel that offers culinary trips to unexplored places of Columbia at high prices will segment its customers based on income. This means their major target customers will be high income people that can afford their service and trip cost.
5.2 Brand Positioning and Value Proposition
Brand positioning refers to the process that helps in analysing the way the company will position itself in the market or be recognised by its customers. Chef Travel digital marketing strategy will position itself as a high end digital tourism brand offering differentiated service to unexplored places of Columbia that has not yet been explored effectively (Widjaya 2017). This means the brand positioning of Chef Travel will be high quality brand with high price. It will be seen by customers as a luxury travel brand where they can get a luxury and exclusive food experience of local tastes of Columbia along with traveling. The customers will be attracted by the differentiated service offered by the brand over time. This means the company will lie in the fourth quadrant of the brand positioning map.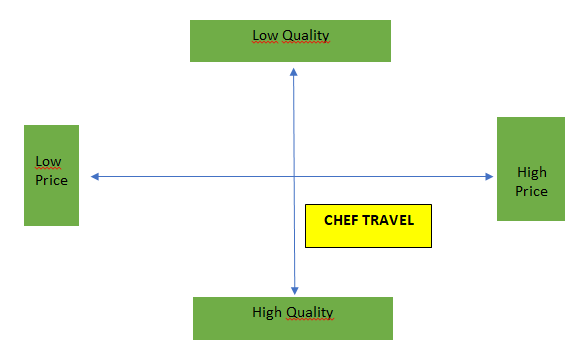 Figure- BRAND POSITIONING
Source- Author's Creation
Value proposition refers to the way the brand will convince the customers about their product or service. It helps in adding value to the company compared to the similar offerings given by other competitors. Value proposition of Chef Travel digital marketing strategy will be:
Offer personnel online service with 24/7 accessibility and connection for all kinds of queries and questions.
Explore the unexplored places and foods of Columbia.
Explore natural destination and dining experiment together
Transparency of information from the website of the company to explore.
Get a chance to experience some of the great adventures and natural views of the world like birdwatching and others.
Stay amidst the beauty of nature like never before.
Be a part of Juan Manuel Arango travel diaries and enjoy his food experiences.
5.3 Content and Customer engagement and conversion
Content and Conversion: The content of the website will be attractive and innovative consisting of all kinds of pictures from adventurous area the travel company will take the visitors. Moreover, there will also be video content for the travellers to view the places they will travel and the kind of nature they would experience. Both image and video content in the website will be the major Chef Travel digital marketing strategy to attract customers and keep them engage. Moreover, there will be timely update of information content about discounts and offers on the website and social media that Chef Travel is offering over time to keep the customers updated attract tourists. Content strategy is a consistent plan that will help in offering customer experience and will meet the informational needs of the target audiences (Lei et al. 2017).
Customer engagement and Conversion
The customer engagement strategy is the key of Chef Travel digital marketing strategy in which the brand engages with the customers over digital medium. Chef Travel will cultivate engagement with its customers over its own website as well as social media pages that it will create (Rowley 2008). The number of customer engagement strategy of Chef Travel over digital platform will include:
24/7 customer service accessibility in company's website via emails and calls with less than 24hours response rate.
Travel will maintain continuous social media engagement with responding to the comments of customers and their queries on time.
Sending emails to the loyal customers from time to time for maintain a positive relationship with them and valuing their connection.
Implement a follow up email after every trip for customer feedback.
The above strategies for engagement and content generation of Chef Travel digital marketing strategy will be an effective medium for implementing conversion marketing and generating high conversion from digital marketing. It will encourage customers to take action and converting their website browsing into a purchase experience for the service of Chef Travel.
5.4 Integrated Communications Strategy
Integrated communication strategy is a collaborative and promotional marketing in which the targeted audience receives a consistent and persuasive branding message in an integrated manner to help buyers make purchase decision. Chef Travel digital marketing strategy will implement integrated way of communication through marketing with its customers and turn its potential customers into the real one (Arfidi et al. 2017). The integrated marketing tool of the company will include direct marketing, social media marketing, website marketing and advertisement.
Chef Travel will take up television marketing in which it will target its audience towards its website and social media pages such as "visit our website for more information and discounts".
Direct marketing will allow Chef Travel to communicate with the potential customers through emails and text messages in which it will direct its target audience towards its website for booking and enquiry.
Similarly, through Chef Travel digital marketing strategy, the company will create link in every post it makes on their social media pages that will directly take the customers to their company website.
These are the ways the brand will effectively implement its integrated communication strategy where it will communicate with its target audience through integrated channels (Einwiller and Boenigk 2012). This is because promotional tools will be effective when they are put together and direct towards one single platform to generate traffic in the website and conversion rates.
6. What are the tactics used in Chef Travel digital marketing strategy?
RACE Model (Reach-Act-Convert-Engage) was developed to help simplify the performance reviewing process of online marketing and at the same time, to aid in formulating tactics to make the digital marketing strategies effective (Chaffey and Chadwick,2019).
Reach: The main goal of reach is to attract potential customers by providing engaging experience that will make them buy the product (Kavoura, Kefallonitis & Giovanis, 2018). In the launching phase, mixed marketing such as tv or radio ads should be in place to attract local tourists. Participating in tourism expos and exhibition locally and internationally; and partnering with bigger websites such as the Colombia Tourism Board's website will be beneficial to attract foreign tourists as well.
Act: At this stage, customers will be drawn to visit the Chef.Travel's website or social media business pages. This is called lead generation. Chef Travel digital marketing strategy should ensure that its website is easy to use and navigate so the customer will continue using and interacting with the company. Social media should increase user-experience and enhance talks about Colombia.
Convert: At this stage, a customer will have to take action. It can either be buying, adding products into the cart or signing-up as member (Kavoura, Kefallonitis & Giovanis, 2018). Chef.Travel should measure and optimize conversion rates as well by introducing "first-time" customer discounts or other promotions.
Engage: Once conversion has occurred, Chef Travel digital marketing strategy should ensure customer satisfaction so that the customer will keep on interacting with the company possibly through emails, social media interactions, sharing the website, commenting on it or putting a review. These interactions should be encouraged and rewarded. This after-sale activity aims to build more awareness, better trust to the company which can possibly lead to attract more customers in the future.
In addition, the 7Ps is a conceptual framework which emphasizes on main decisions managers have to make to manipulate their offerings to the needs of the customer (Goi, 1970). This can be used to develop both long-term strategies and short-term tactics (Palmer, 2004).Table 1 discusses the proposed 7Ps combination for Chef Travel digital marketing strategy.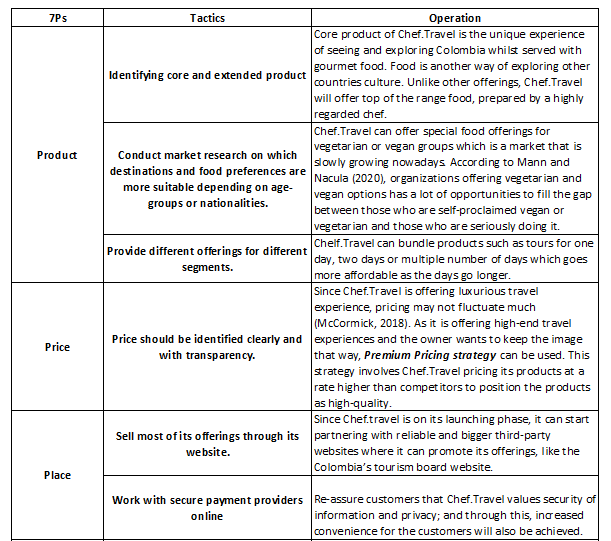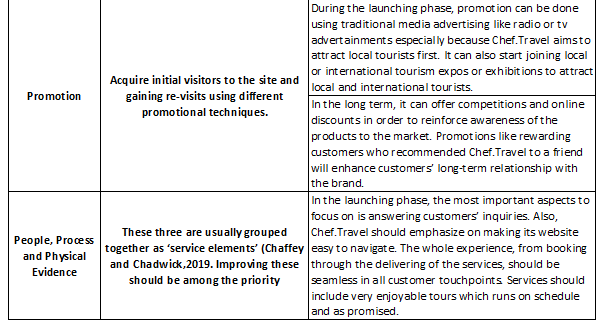 Table 1 Proposed 7P combination for Chef.Travel
7. Action
Proposed timeline for the website development is shown on Chart 1. While the website is being developed, Chef Travel digital marketing strategy should have started preparing the physical products already, like the hotel, planned menus for different groups. Food quality and services should have already been researched, used and piloted to smaller groups of possibly family and friends.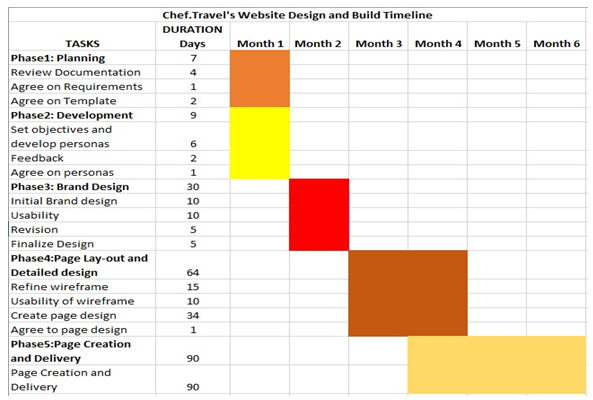 Chart 1: Website development timeline
Once the website is developed, marketing can commence. Chart 2 indicates the proposed marketing schedule as per the objectives lined up using the 5S model.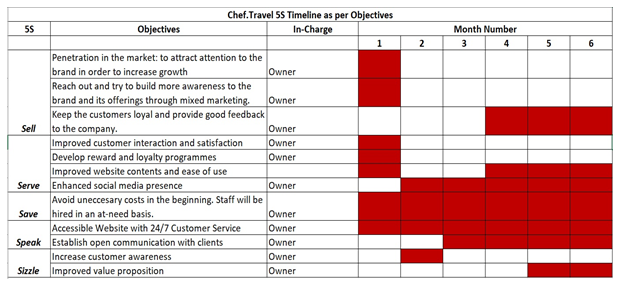 Chart 2: Timeline of accomplishing Chef. Travel's 5S Objectives
Therefore, to achieve these objectives in the practice of Digital Marketing (DM), Key Performance Indicators (KPIs) and Web Analytics (WA) can and should play an important role in action plan as a formulation of Chef Travel digital marketing strategy.
 7.1 KPIs
Each company can identify the KPIs that it considers most relevant to its business activities, if selecting too many KPIs, the information will have trouble reaching customers while only a few supply information of interest (Saura et al. 2017). KPIs are implemented in Chef Travel's marketing strategy to track and measure success against the original goal including
Conversion rate:
Chef Travel determines that is the percentage of customers who click on the travel information link and related service packages provided on the website. Besides, other actions that Chef Travel digital marketing strategy wants from customers who converted in the campaign through activities such as filling out forms, buying service packs, consulting services by phone and evaluating after each communication or transaction. Chef.Travel sees this action as the primary goal to help boost growth and sales in the form of online.
Traffic:
Chef.Travel boosts traffic to the official website, in addition to two other media channels, Facebook and Instagram, so the company will focus on designing images and content for the appealing campaign. In order to determine the amount of traffic, Chef Travel digital marketing strategy will analyse the data provided by Google Analytics and compare it with pre-campaign data to evaluate the effectiveness of the three communication channels being used by the company. Since then, there are other necessary actions to promptly change the form of marketing through the channels used by Chef.Travel.
Approach and awareness:
Chef.Travel tracks the data displayed on posts from websites, Facebook, Instagram. After that, the company identified positions that had a high amount of engagement and received a lot of attention for social media analysis, engagement and audience growth.
7.2 Web Analystics
Web Analytics is the analysis of both quantitative and quantitative statistics from the website (Saura et al., 2017).Website analytics helps the company determine why customers like to go to Chef.Travel's "home", what they do in our own home, what they want to see, etc. The company should treat customers in the most appropriate way to achieve goals. With the limited size and investment capital at the moment, this will reflect the extent to which Chef Travel digital marketing strategy approaches and what type of communication tool is working well.
8. Conclusion
From the above analysis and suggestions for Chef Travel digital marketing strategy it can be concluded that the new venture will be successful effectively if they make a strong engagement with customers and overcome all kinds of gaps that stays in digital communication. Through their tactics and actions the company will be able to overcome all kinds of weaknesses it might face from being a digital company and in the absence of a physical office space. Chef Travel will be a successful company with the kind of value proposition and differentiation it is offering to the customers that make them a unique tour service company compared to other similar competitors. Moreover, the personal experience of the chef associated with the company will further add to the success rate and customer attraction. Overall the Chef Travel digital marketing strategy mixed with integrated marketing will help the brand be a recognised name in Columbia as well as in international market.
Moreover, it is seen that integrated communication method is the most advanced communication method being used by business and Chef Travel will use integrated ways for communicating with its customer. This will further increase the ability of attracting potential customers. In addition to this, a streamlined customer targeting strategy is yet another way that will help Chef Travel to target potential customers that has the chance of being their loyal or actual customers in future. Moreover, the decision of setting up a timeline based process will help Chef Travel to get their website development ready within a designated time and commence their marketing process in an effective way. Therefore, it is seen a planned and organised behaviour is always better than unplanned behaviour. Moreover, using KPIs strategy are that is being implemented in Chef Travel's marketing strategy will help to track and measure success against the original goal. It will allow for number of gains such as conversion rate, traffic, awareness and others. This shows the effectiveness that Chef Travel digital marketing strategy holds adopted by a new venture while entering a market. Chef Travel will be able to gain adequate traffic and get market share in a limited time in the new market with their service.
References:
Anderson, DW 2012, Strategic marketing planning for the small to medium-sized business. [electronic resource] : writing a marketing plan, 1st ed., Chef Travel digital marketing strategy Marketing strategy collection, Business Expert Press, viewed 20 May 2020, .
Saura Lacárcel, J. R.; Palos Sánchez, P. R. y Cerdá Suárez, L. M. (2017). Understanding the digital marketing environment with KPIs and web analytics. Future internet, 9, 4, 76. ISSN 1999-5903, viewed 20 May 2020, < https://www.mdpi.com/1999-5903/9/4/76/htm>.
Chaffey, D and Chadwick,E 2019, Digital Marketing, Pearson Education Limited 2019. ProQuest Ebook Central, http://ebookcentral.proquest.com/lib/vu/detail.action?docID=5672728.
Mann, S andNecula, R 2020,'Are vegetarianism and veganism just half the story? Empirical insights from Switzerland', British Food Journal, Volume 122 Issue 4.
McCormick, M 2018,' Pricing Strategies For Tour Operators And Online Travel Agents', Black Curve Blog, viewed on 17 May, 2020 at < https://blog.blackcurve.com/pricing-strategies-for-tour-operators-and-online-travel-agents>.
Palmer, A 2004, Introduction to Marketing: Theory and Practice, Oxford University Press.
Goi,CL, 1970,' Marketing Mix: A Review of 'P',Journal of Internet Banking and Commerce.
https://books.google.com.au/books?id=Hj2gDwAAQBAJ&pg=PA1321&dq=reach-act-convert-engage+%22tourism%22&hl=en&sa=X&ved=0ahUKEwja2tSE677pAhUN4jgGHbiMCL8Q6AEIJzAA#v=onepage&q=reach-act-convert-engage%20%22tourism%22&f=false
https://www.tourism.australia.com/content/dam/assets/document/1/6/x/6/a/2002546.pdf
Camilleri, M.A., 2018. Market segmentation, targeting and positioning. In Travel marketing, tourism economics and the airline product (pp. 69-83). Chef Travel digital marketing strategy Springer, Cham.
Widjaya, P.G., 2017. Analisis Segmenting, Targeting, Positioning dan Marketing Mix Pada PT. Murni Jaya. Agora, 5(1).
Arfidi, B.A., Purworini, D. and MM, S.S., 2017. An Integrated Marketing Communication Analysis (A Descriptive Qualitative Study On Tiny Library Café) (Doctoral dissertation, Universitas Muhammadiyah Surakarta).
Einwiller, S.A. and Boenigk, M., 2012. Examining the link between integrated communication management and communication effectiveness in medium-sized enterprises. Journal of Marketing Communications, 18(5), pp.335-361.
Lei, S.S.I., Pratt, S. and Wang, D., 2017. Factors influencing customer engagement with branded content in the social network sites of integrated resorts. Asia Pacific Journal of Tourism Research, 22(3), pp.316-328.
Rowley, J., 2008. Understanding digital content marketing. Chef Travel digital marketing strategy Journal of marketing management, 24(5-6), pp.517-540.