Discussion On The Importance Of Coles Consumer Behaviour
Question
Task: Pitch the importance of understanding consumer behaviour to an organisation of your choosing.
Imagine that you are a consumer behaviour researcher. You work for a research organisation that collects all the information about consumer behaviour that we have covered in this subject. The areas covered across chapters 3 to 7 are relevant to this assessment. Your role is to pitch your product (consumer behaviour insights) to a potential client and demonstrate the value of the information you have collected. 
You will do this through a Report explaining the merits of understanding consumer behaviour and identifying a problem or opportunity within the organisation that can be solved using consumer behaviour insights.  And a Presentation where you present a campaign to address the issue / opportunity you identify in the report (the presentation comprises Assessment 3).
Report (2000 Words)  
Prepare a report outlining three things:
1) Define and describe consumer behaviour? (Use academic sources to support your claims).
2) Explain why an understanding of consumer behaviour is important for organisations (using examples from academic research and industry to support your claims).
3) Identifying an organisation of interest (this may be an organisation you admire and / or would like to work for).
    Create a consumer profile for the primary and secondary markets they target (based on information gathered from credible sources e.g. ABS).
    Identify an issue they could solve using insights into consumer behaviour (justify your choice).
Answer
Introduction
The present study is focused on discussing about the importance of Coles consumer behaviour. The importance of understanding consumer behaviour is important for its various products. Consumer behaviour or buyer behaviour include behaviour shown by an individual while they are buying, consuming or disposing a particular product. Studying and understanding consumer behaviour is complex as each consumer has different type of mind and attitude towards making a purchase, consumption and in disposing the product. The current scope of analysis includes pitching a product 'sausage' manufactured by Coles along with the Coles consumer behaviour insight to a potential client to demonstrate the value of information collected.
Research theory and marketing practice
Consumer behaviour is the behaviour depicted by an individual while they are purchasing, consuming or disposing particular product (Hawkins, Mothersbaugh & Best, 2010). The behaviour of consumers is affected by a number of factors. It also include search for a product, evaluating a product where consumers evaluate different aspects, features, makes purchase and finally consumes a product. An organisation needs to analyse way in which consumer will respond to a particular product, in case the organisation fails to realise then it will face loss. Consumer behaviour is the study of ways in which individuals make decision regarding their purchase, need, want or act in regards to a particular product (Williams, 2014). It is essential for organisation to understand way in which potential target consumers will respond to product of certain type. It enables identify opportunities which are not currently met. Marketers need to have in-depth understanding of consumer behaviour such that they can devise their marketing strategies and suggests appropriate product designs accordingly.
There are three factors which affects Coles consumer behaviour towards a certain product. It includes psychological, personal and social factors. Psychological factor includes the many issues that are unique to a consumer's though process (Mullen & Johnson, 2013). This factor includes the perception of particular need or situation, where the individual's capability to understand or learn an information. A marketer generally takes into consideration these psychological factors, while creating campaigns which will influence their target customer group.
Personal factors include those features that are not similar to any other people in the same group. These characteristics include way in which a person makes decision, their unique interests, opinions and habits. This factor is mainly influenced by the individual's gender, age, culture, background and other personal issues (Reed II, Forehand, Puntoni & Warlop, 2012). For example, a male might perceive a product need differently compared to a female consumer. Similarly, a young person might exhibit different characteristics in comparison to an aged person.
Social factor is another crucial factor that impacts Coles consumer behaviour. Social influences is diverse in nature and encompasses an individual's family, colleagues, social interaction or any group of people an individual is affiliated with. It encompasses the social class an individual is connected with, including income, educational level and living conditions. Marketers take into consideration these diverse social factors while developing marketing plans.
What is the importance of understanding Coles consumer behaviour?
A consumer goes through a number of steps while making purchase decisions and these steps are crucial in understanding ways in which a buying decision is made. Understanding ways in which a consumer behaves in regards to a particular product and it also reveals information regarding when, why and how the consumption of the product is made (Sheth, 2011). It enables understanding the reason behind purchasing products by consumers and ways in which it satisfies the consumers. The primary purpose of a marketing activity includes depicting ways in which a certain product has capability to satisfy demand and wants of consumers. It is important for organisations to know consumers as being individuals or groups, who undertakes purchase, consumption or disposal of products and way in which they share their experience for the satisfaction of needs and wants. This lets positioning of the products to specific targeted individuals or groups. The basic effort in marketing involves selling of goods and services to people for the purpose of realising more profits. This purpose can be successfully accomplished only when consumers make purchase of the goods and services (Dahl, 2013). The increasing awareness of consumers today has made it difficult to attract consumers towards certain kind of product. In order to convince consumers of the usage and purpose of the product, organizations need to undergo proper research of the product.
 In the current analysis on Coles consumer behaviour, Coles Pty Ltd has been taken for the purpose of understanding consumer behaviour related to sausages manufactured by the company. Coles Supermarkets Australia Pty Ltd is an Australian supermarket, consumer service and retail chain present throughout Australia. The company is founded in 1914 and is present across 807 locations. Coles offers its products online as well as through its physical stores. The current product evaluated for the purpose of report is "sausage" manufactured by Coles. At every Coles store, there are varied type of sausages being offered from varying brand names. This implies that there is present tremendous competition amongst in the product category and Coles need to have some sort of information to position their product in comparison to similar products in the category. Understanding ways in which consumer reacts to this product can help Coles devise strategy that can be useful in positioning and selling its product.
Primary target consumer audiences for the product by collecting data from ABS are male and female gender, age from 3 years to 62 years of age low, middle- and upper-income group. With population in Australia being 25,554,581 and consumer price index being 1.7% and average weekly earnings at $1,633.80, most people comprise of targeted audience for the company (ABS, 2019). The targeted consumer profile individuals who have liking for Coles products and prefer freshly made sausages by the Company. The secondary target market based on data and information collected consists of customers are off similar age, gender and income profile. These consumers generally make purchase of products of Coles from other retailers selling the product or other stores. There are many cafeterias and shops also which sells sausages made by Coles and they are of similar profiles as that of primary consumers.
The issue that the organisation can resolve through use of Coles consumer behaviour information is quality of the product (sausage). Search of consumer behaviour information can reveal which type, quality or flavour of sausage appeals to customers. Evaluating the internal and external influences on the consumers, this issue or opportunity can be resolved by the organization.
Which particular need of customers is met by the sausages sold by Coles? Examining the social influences under which customers make purchase of the product can also reveal the exact quality of the product that is demanded by customers. Some of the consumer related information which needs to be evaluated is;
Household types: For the current product category, most retail households will be making purchase. Thus, the household type for this product comprises of middle income and upper income family type households. Thus, the product needs to be of very high quality with good balance of taste, which can appeal to the consumer classes. Generally, households with kids and working parents will prefer this type of product. 
Culture: Individuals belonging to westernised culture prefer consuming sausages. Australia consists of a society with mixed cultural background and most people in the population currently prefer consuming sausages. Hence the sausage manufactured needs to retain traditional taste which can appeal to consumers making purchase of such sausages.
Lifestyle: The lifestyle of consumer who would consume such product is fast in nature, who likes readymade food product. Thus, the product packaging has to be such that it can easily be consumer instantaneously. Moreover, the quality of the product should be such prepared so that it can directly be consumed.
Social Status: The social status of individuals consuming this product is middle social status. Generally, people from this social status will prefer high quality product with premium taste priced moderately.
Demographics: The product appeals to people from both genders and of ages between 3 to 60 years old. People living mostly in cities and suburban areas prefer this type of product. The stores of Coles needs to keep the products available in these stores at these places and keep a variety of the product such that consumer find the product appealing.
Generational differences: Sausages is a product liked by people from across all generations but has a special appeal amongst kids. Kids generally prefer variety of sausages with different flavours. Thus, Coles needs to typically manufacturing its sausage to cater to this segment of customers and keep another variety for older customers.
Roy Morgan Segmentation: According to Roy Morgan segmentation, it allows to target consumers with an innovative system beyond demographics and psychographics for exploring mindset, values and attitude to find factors that motivates consumers. This consumer segmentation can reveal whether the consumers is attracted towards traditional products, new ideas, cautious about new things or progressive in nature. The consumer of this product are from traditional family and also young optimists. Traditional family type consumers spend time with grandchildren and enjoy healthy and happy retirement. They tend to make sensible consumer choice and are not comfortable with the idea of change. They generally prefer for familiarity and trustworthiness when spending their valuable money. Coles having an age-old brand-name, is a favourite amongst consumers and they prefer purchasing from the company.
Figure 1: Roy Morgan Value Segment
Young Optimists are young but they think long-term. These consumers might be still at university level but planning to go overseas for their career. They value new experiences and personal fulfilment being essential to them. They like to work hard, they generally prefer products made by Coles, as they are fresh and provide fulfilment of their expectations by matching quality standards. 
VALS: As per the research on the study of Coles consumer behaviour, the VALS framework was developed using consumer's resources with innovativeness in mind. There are 9 types of consumers as per VALS framework, they comprise of innovators, thinkers, believers, achievers, strivers, experiencers, makers and survivors. For this current product category, consumers are makers. These consumers generally want self-expressions but have limited number of resources. They are focused towards building a better family as compared to going out and spending higher amounts of money. These consumers make good individuals and families' forms a part of their self-expression.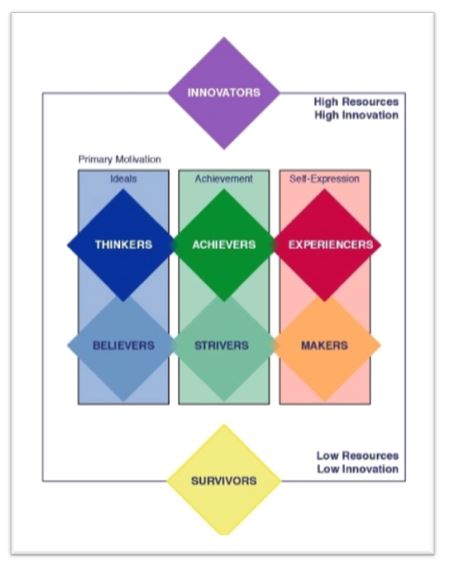 Figure 2: VALS Framework
Believers also consist of consumer for this category of market. Believers are social in nature and also believe other consumers. They have less access to resources and accepts innovations easily, these consumers consists of word of mouth consumers. These consumers generally believe that Coles' products is the most superior in the market.
Conclusion and Recommendations
In conclusion, consumer behaviour is integral to understand for organizations. For ever product, if the organisation can gain suitable consumer behaviour analysis, then it can easily plan its product offering and marketing in an appropriate manner. It can also time its product to market and predict sales. This can provide the organisation with higher capabilities to make greater profits in comparison to other products. It can be used as a tool with which target marketing can be conducted in an effective manner. Coles consumer behaviour analysis performed in this study is an important and crucial tool for most marketers and consumer segmentation can reveal various details and consumer insights beneficial to resolve product issue or identify opportunities.
The company can follow some of the below mentioned recommendations to be able to understand Coles consumer behaviour in a better manner;
In order to devise appropriate marketing plans, it is best for organisations to analyse consumer behaviour towards particular product. This will enable them to devise appropriate marketing efforts.
It is best for organisations to categorise and group their consumers according to specific to specific product. Greater the in-depth categorization of consumer profiles, better will be the organisations design their marketing strategy.
While categorization of consumers is essential, it is important that the internal and external influence on consumers is understood.
References
ABS. (2019). Consumer Profile. Coles consumer behaviour Accessed from
Dahl, D. (2013). Social influence and consumer behavior. Journal of Consumer Research, 40(2), iii-v. DOI: 10.1086/670170
Hawkins, D. I., Mothersbaugh, D. L., & Best, R. J. (2010). Consumer behavior. NY: McGraw-Hill. Accessed from
Mullen, B., & Johnson, C. (2013). Coles consumer behaviour The psychology of consumer behavior. Psychology Press.
Reed II, A., Forehand, M. R., Puntoni, S., & Warlop, L. (2012). Identity-based consumer behavior. International Journal of Research in Marketing, 29(4), 310-321. Doi: 10.1016/j.ijresmar.2012.08.002
Sheth, J. N. (Ed.). (2011). Models of buyer behavior: conceptual, quantitative, and empirical. Marketing Classics Press.
Williams, P. (2014). Emotions and consumer behavior. Journal of Consumer Research, 40(5), viii-xi. Coles consumer behaviour DOI: 10.1086/674429