Develop A Report On Levi Strauss Marketing Plan.
Question
Task: Founded in San Francisco in 1858, Levi Strauss and fought off competitors like, Wrangler and Lee, however, the growth of activewear may pose a new treat to this iconic brand. A recent study by Synchrony Financial found 69% of people reported to wearing athleisure, as opposed to jeans, at least once a week. As a Marketing Manager for Levi's, how would you grow this brand?
Read: https://www.pymnts.com/news/retail/2016/denim-sales-decline/
Kangaroo Island lies off the mainland of South Australia, southwest of Adelaide. Over a third of the island is protected in nature reserves. It was estimated tourists would spend $168 million in 2020 on the island. However, in January 2020, the island was decimated by bushfires. As a Marketing Manager for the South Australian Tourism Commission, how would you encourage tourists to visit, post the bushfire disaster?
Read: https://www.abc.net.au/news/2020-01-08/kangaroo-island-tourism-impacted-by-deadly-bushfire/11850712
Founded in 1877, with vineyards in the Riverina, Hunter Valley, Coonawarra and Margaret River, McWilliams has become a household name. However, after 141 years, in January 2020, the business was placed into Voluntary Administration. As a marketing consultant, what would you advise the administrators to do to save the brand and grow the business?
Read: https://www.abc.net.au/news/2020-01-09/mcwilliams-wines-goes-into-administration/11855426

Answer
Situational Analysis
The study developed in the present report sheds light on the Levi Strauss marketing plan. Levi Strauss is one of the most popular denim brands. This American Clothing Company was found in 1853, based out of California has a worldwide market serving around 2800 locations. The company has revenue earning of around 6 billion dollars. It is also quite a popular clothing brand in Australia too. In this Levi Strauss marketing plan, a SWOT analysis of the company has been done and enclosed in the appendix for evaluating the market potential of the brand.
Social Trends: Clothing Industry has grown phenomenally in Australia in past decade and the main target group who are essentially into denims range from 15 years to 50 years of age. However, there is acute competition with several local as well as international clothing brands wanting to occupy market share (Thomas, 2017). The Australian population is educated and there is high level of awareness among them regarding environment, hence they have a fascination towards brands that are eco-friendly and sustainable (Saltmarsh, 2017). Moreover, they also have a preference for high quality products. Levis is a brand that is deep rooted in culture and strong values which makes them constantly innovate products and make them sustainably which is as important to them as the fabric and design (Company - Levi Strauss & Co, 2020). They are very particular about their quality and their clothing is associated with immense amount of comfort. Therefore, it is stated in the Levi Strauss marketing plan that the company can focus on these aspects to market in Australia and garner a good market share.
Technological trends: With technological advancements, there has been a huge transformation in marketing, especially for the younger age group as digital platforms has gained immense popularity. Moreover, these have a better reach, cost efficient and they can successfully build strong long term relationships. As per last year figures Australia has around 4.40 billion people using the internet (Biondi & Bracci, 2018). More than 18 million people have active social media accounts and the age group between 25 to 35 years makes the largest proportion of social media users. As this is also the core target age group of Levis they can use the social media platforms efficiently to market their products and creating awareness about their quality and sustainability efforts (Barsen et al., 2018). They already have a facebook page, which they can use to run the campaign. Apart from this, instagram, and twitter are also popular social media platforms to run the campaign. The Australian people are very sports oriented hence Levis can associate with an eminent sports personality which will help them attract young buyers.
Marketing goals
The Levi's Strauss company essentially has jeans, khakis, shirts, t-shirts and also inner wear among the products that it sells. Thus, the company can launch a theme which speaks of quality and sustainability and start a campaign of their entire range of clothing for 6 months till before Christmas time. Thus, this way they can target a market share of 5% which is their global market share too. This will surely help in improving their sales figures in the coming fiscal.
Strategies of marketing
The market segmentation is one of the most important components for Levi Strauss marketing plan. The target consumers are formulated by the help of the market segmentation
Target consumers
There are basically four components by which the market division and target market is set for Levi Strauss in Australia.
Geographic segmentation: It has been seen that in Australia the company has strong presence for almost 40 years. Levi Strauss is very famous in the city locations and is present in the suburban areas as well. It has collaborations with retail chains in selling its product throughout the country. It has strong market presence in almost 31.8% of the retail chains ( Schuessler et al.,2019)
Demographic segmentation: The demographic segmentation is very important aspect of Levi Strauss marketing plan. Mainly the teenagers and millennials of age 18 – 40 are the major target consumers. Levi Strauss mainly focuses on fast fashion and flexible causal clothing's for the young generations. Middle- and high-income group of Australia are the major target consumers. Income analysis is an important factor in demographic segmentation
Psychographic segmentation: In case of fashion industry the Psychographic segmentation that is based on buying pattern and lifestyle of the consumers are very important. Fast fashion in one of the global trends and it is increasing in Australia by almost 15 % (Kalantari, & Johnson, 2018). In Case of Australia the fast fashion is increasing and young generations are more tilted towards trending clothes with affordable price and quality
Behavioral segmentation: Behavioral segmentation is important as it includes the brand recognition and brand loyalty in this competitive market. It has been seen that almost 40 % of the target consumers in Australia are loyal to their brand depending on the service and quality of products. Levi Strauss emphasize on brand loyalty in the target consumer segments for enhancement of the sales by at least 10 %.
Value proposition
The value proposition of the products is one of the most important aspects. It is based on the consumer's value perception of the product. In case of Levi Strauss the value proposition in Australia is high. According to statistics 31 % of the target market thinks Levi Strauss as one of the premium brands the products those are present are also diverse (Craik, 2017). It is seen in this Levi Strauss marketing plan that from the classical clothes to the newest fast fashions clothes everything is present in the brand compared to its rival brands the longevity of the products is high that adds to the value proposition of the product. Moreover, in Australia Levi Strauss has focused on the digital marketing platform and developing collaborations with retail chains so that value proposition in the market for the product is enhanced in an efficient way. The price range of the products is also kept in mediocre range. Authenticity of the product is one of the most important aspects that add value for the product and enhances sales
 The brand perception Map:  According to the brand perception map prepared in the study of Levi Strauss marketing plan, the products are aligned within range of medium to high price. The product ranges from the old classic to new trending fashion wears. The marketing is done in social, physical and print media. The Brand is positioned in between fast fashion and old classics in the Australian market. Eco friendly product is being promoted to enhance consumer value perception in the Australian market. It is included in the fast fashion.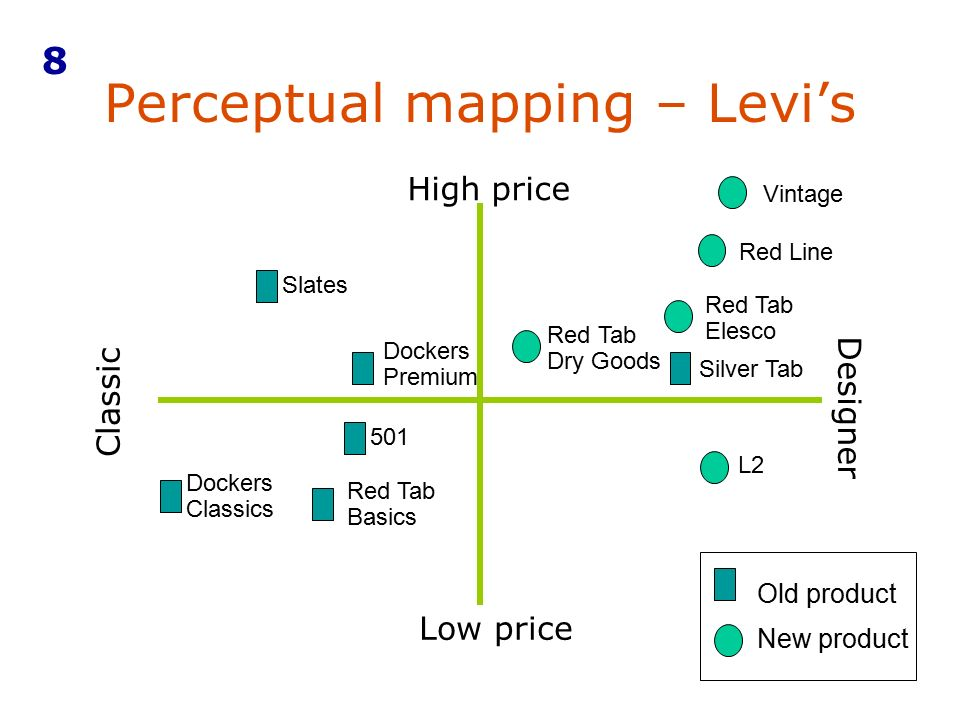 Figure 1: Brand perception map
(Source: Taylor, & Taylor, 2017)
Marketing Tactics
Product
The product is the most essential components for the marketing tactics. It can be seen that Levis has huge diversified product range that is very much useful for the target consumers. They have denim jeans range from medium to high prices. Different type's trouser and clothes for men and women are being developed. Classic wears and formal wears have also been introduced as useful products in Australia.
Pricing
 It is one of the most important tactics mentioned in this Levi Strauss marketing plan to attain marketing goals in accordance with developed strategies. The mass marketing in the face of available active wears by other clothing brands requires Levi's Strauss to adopt and consider from:
Cost based pricing
Competitor based pricing
Value based pricing (Sheth, Sinha & Shah, 2016) 
The following table provided in this Levi Strauss marketing plan incorporates the 5C's to determine the pricing tactic that should be adopted by the company:
Table 1: 5C's of Pricing
Company Objectives

· Delivering growth which is not only sustainable but also profitable, stipulating the Levi Strauss marketing plan for a long-term objective of Levi's to globally establish their market.

· To provide high quality garments in the competitive market of Australia and elsewhere.

Customers

· Target customers between ages 10-30

· Special and innovative style pertaining to trends among teenagers

· Consumers with average to high income – to suit growing finances

Costs

· Costs fixed as wages for the staff

· Machinery- electric operating in industry has its cost

· Promotional costs – have to be taken into account.

Competition

· Wrangler

· Lee

· Bare Denims

These are growing competitors for Levi's Strauss

Channel Members

· Sources to produce the fabric

· Particular suppliers

· Delivery in e-commerce through portals for online shopping merchandise. 
To maintain the brand equity and name that Levi's Strauss has had since 1968 in Australia and 1869 globally, they must use value based pricing for target customers and high quality of products (Kang & Kim, 2017).
Distribution -
The channel through which products are to be delivered to consumers that is the supply chain is very essential for a seamless marketing. Product turnover owes its profit to an intense method of distribution. Australian market observes a wholesale distribution of merchandise and clothes to different sections of society and specialising specifically in women, children and infant's clothing. The readings provided in the Levi Strauss marketing plan signifies that the industry revolves around Apparel and Textile products and has an online portal of its own to allow online distribution and delivery of clothes. The key to growth of markets globally is to carry out a seamless and widespread distribution. Annually their sales have grown as economy and trends permit the consumers to purchase branded goods. They use a caption "Growing with Purpose" suffices their intention to reach out worldwide. The distribution has evolved from malls, multi-brand outlets, and brand outlets to e-commerce industry. It is almost as if they are creating a different experience which is fitting to next-generation sales. Justjeans, theiconic, levis.com, myer, amazon.com are all online distributors in Australia (Weinstein & McFarlane, 2017)
Promotion –
This Levi Strauss marketing plan depicts that in keeping with the idea that AUD $100,000 could be used for the promotion of Levi's Strauss "Objective-and-Task" method and other tools have been explicated to carry out realistic and suggestive promotions to achieve a value based sale and profit and similar marketing strategies.
Table 2: Objective-and-Task method
Objective

IMC Tool

Budget

Justification

To reach out to the target customers – mostly teenagers and adults within 40 years of age; to re-innovate the 'cool' quotient of the jeans and increase brand value across the globe.

Instagram promotions, YouTube ad promotions, Facebook Page.

$50,000

To reach the youth of the world they require a partnership with the social media for widespread market among the young people.

Product Launch

$32,000

The product launch parties that are to be organised redeems the 'uncool' quotient of jeans and reaches out to fit into the trend and boost brand equity and reputation (Mitterfellner, 2019)

Generation of message and evaluation

$12,000

Paid promotions, videos and innovative ideas behind the audio-visual ad could correspond with the online portals developing connections between the company and their online selling of merchandise as distribution of sales (Clow, 2016)

Total Budget =

$100,000
References
Barsen, S., Filipic, K., Hunt, D., Lodewyk, N., Minderhoud, L., & Wood, M. (2018). Levi Strauss marketing plan From Dependency to Sustainability.
Biondi, L., & Bracci, E. (2018). Sustainability, popular and integrated reporting in the public sector: a fad and fashion perspective. Sustainability, 10(9), 3112.
Clow, K. E. (2016). Integrated advertising, promotion, and marketing communications. Pearson Education India.
Craik, J. (2017). Fashioning Australian: Recent reflections on the Australian style in contemporary fashion. Journal of Asia-Pacific Pop Culture, 2(1), 30-52.
Kalantari, H. D., & Johnson, L. (2018). Australian customer willingness to pay and wait for mass-customised products. Asia Pacific Journal of Marketing and Logistics.
Kang, J. Y. M., & Kim, J. (2017). Online customer relationship marketing tactics through social media and perceived customer retention orientation of the green retailer. Journal of fashion marketing and management: an international journal.
Levi Strauss & Co. 2020. Company - Levi Strauss & Co. [online] Levi Strauss marketing plan Available at: [Accessed 14 May 2020].
Mitterfellner, O. (2019). Fashion Marketing and Communication: Theory and Practice Across the Fashion Industry. Routledge.
Saltmarsh, H. (2017). Fashion communication and ageist sentiment in the Australian fashion industry.
Schuessler, E., Frenkel, S. J., & Wright, C. F. (2019). Governance of labor standards in Australian and German garment supply chains: The impact of Rana Plaza. ILR Review, 72(3), 552-579.
Sheth, J. N., Sinha, M., & Shah, R. (2016). Breakout strategies for emerging markets: Business and marketing tactics for achieving growth. FT Press.
Taylor, S., & Taylor, M. (2017). The Aroma of Opportunity: The Potential of Wine Geographical Indications in the Australia-India Comprehensive Economic Cooperation Agreement. In The Importance of Place: Geographical Indications as a Tool for Local and Regional Development (pp. 81-107). Springer, Cham.
Thomas, S. (2017). Fashion ethics. Levi Strauss marketing plan Routledge.
Weinstein, A. T., & McFarlane, D. A. (2017). Using a Marketing Faculty Blog as an Image Differentiator and Learning Resource to Enhance MBA Student Engagement and Loyalty. Journal of Marketing and Consumer Research, 34(4), 50.
Appendix
SWOT Analysis for Levi Strauss marketing plan
Strengths
It is a global brand
Brand image and capital is present
Weaknesses
Some of the products are very expensive
Less diversity in classic wear
Opportunities
Trend of fast and eco-friendly sustainable fashion is increasing in Australia
Supply chain becoming strong
Threats
Increase in competition in the global market