Marketing Assignment: Impact of Macro-Environmental Changes on Tesco
Question
Task: You are required to undertake an individual written paper related to a particular organisation of your choice. The overall aim of this marketing assignment is to evaluate ways in which changes within this organisation's MACRO environment might impact upon its marketing strategies and activities.
Answer
Introduction
As per the investigation on marketing assignment, it is stated that the effective adoption and deployment of change in the company drives change management. It enables the employees to comprehend and engage successfully in the transition. The transitions of companies may be both time and resources demanding and costly if appropriate management of organizational change is not implemented (Malik, 2018). Tax changes, trade obstacles, new legislation, demographic changes and government policies are all macro-change instances, and political changes are also examples. Early discovery of possibilities allows a company to catch them first, rather than losing them to competitors.
The following study analyses the particular shift in the Tesco organization's context and analyses how the unique macro-environmental change affects the organization's possible marketing strategies. Tesco is a well-known British grocery business that operates in 11 various countries and is one of the largest retailers globally (Volkov, 2020).It is the world's third largest retailer in gross sales and the world's ninth largest with sales measured. It is the dominant player for food in Britain and has outlets in five countries across Europe (where it generally has a market share of around 28.4 percent).In fact, the study also assesses how the organization's potential for development may be used to achieve marketing success. Therefore, the study also presents recommendations that the company can attain for effective management of organizational change for gaining competitive advantage as well as long-term business sustainability.
1. Brief summary statement of the change in any of the MACRO environment forces of the selected organization There are 6 distinct forces in the macro environment. The following are the: demographic, political, economic, environmental, social and cultural forces (Jelassi&Martínez-López, 2020). Regarding technology, due to the sudden emergence of the pandemic the company has lately shifted its whole procedure online. The trends have changed rapidly and it is important for an enterprise to keep up with new technologies to be competitive at present. Tesco has experimented with many aspects of the retail sector and gained some success in a variety of projects. Online purchasing, marketing of social media, etc. all affect the client by offering various technical advantages. With 43% of shoppers now buying on the website and receiving their items delivered home, it has succeeded in shifting trends to online shopping (Alexander, 2020). Tesco has announced recently that Tesco is creating new ways to reduce cashier billing in conjunction with Amazon Go, an update to revolutionize the way retail shopping is conducted. This helps consumers to avoid a long lineup and saves them time with trouble-free payment.
Tesco, the big supermarket, saw revenues grow over 50% as consumers purchased more food and doubled online purchases throughout the period of the pandemic. For 26 weeks to 29 August, pre-tax profit amounted to £551m, up by 28.7% from 2019. Tesco has much more than twice the delivery capacity to 1.5 million Slots each week for the first half of the year, with more customers looking for online shopping comprising 674,000 vulnerable clients (Rosnizamet al., 2020). While food demand rose, clothes fell less well, and sales declined 17.2%. With most of its rivals, Tesco was compelled, during the corona virus shutdown, to modify its strategy both online and in-shop. Thus, Tesco has recently changed its strategy owing to the pandemic and has started delivering plastic bags in its on-line shopping, which decreases the complexity needed to deliver an item and thereby reduces the danger of infection.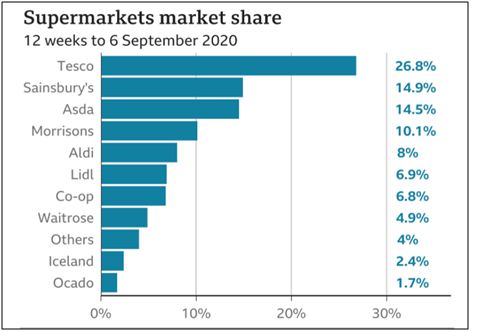 Figure 1: Market Share of Supermarkets
(Source: Alexander, 2020)
2. Potential impact on marketing strategies
2.1 Competitive Advantage
Even the best brands sometimes endure rough waters. In the incorrect way, or more likely, a host of bad movements can lead to a decline in the competition. If this happens, the value of the company is not just at jeopardy, but also its bottom line. The cornerstone to the competitive advantage achieved by Tesco is the development of high quality, cheap retail pricing, and experienced customer service. Due to massive technology adoption rates and regions of high population density, the UK was a prime location in the early 2000s for online food shopping and home delivery. In 2000, Tesco responded immediately to the occasion and adapted its business strategy to a "Tesco Direct" online food channel (Exhibit 1). By 2006, online sales grew quickly (CAGR of 23%), and Tesco increased its operating model by building in "grocery dotcom" warehouses exclusively fitted with innovative "goods for people" selecting technology for online order fulfillmentreasons (Cannon, 2017).
In 2011, Tesco prompted the competitive package by providing a "click and collect"Omni-channel technology that lets users to select order online and collect bagged foods at a point of choice to offer customers additional convenience and enhance business model profitability by reducing cost of home delivery (Bober, 2018). Despite upside profits, there were obstacles to Tesco's business model: heavy investment in online platform development, investment in the 'grocery dotcom centers' (approximately £1.5-3.5 M per warehouse), private supply labor investment, and supply chain orders difficulties because of inaccuracies in on-line grocers and food supply.
The strong online performance of Tesco PLC in its third quarter of financial year exemplifies how the intense and prolonged rivalry between large UK groceries is now progressively occurring on digital platforms, predicting that significant processes in other markets, such as the USA, will be accelerating. On January 14, the largest UK retailer showed an increase of 6.7% in sales of the same kind in 13 weeks of November 28, but the key feature was the 80% spring in online sales, that resulted in incremental revenue of £1 trillion for this time (Rosnizamet al., 2020). As a result of lock-outs, residence permits or social distance regulations, a growing proportion of UK users have turned to online purchases of food even before the COVId-19 epidemic occurred. For example, Tesco thinks that approximately 30% of their sales from physical stores were "cannibalized" by the home supplier.
Tesco claimed it expanded its delivery service effectively by changing the way orders are processed, how foodstuffs are picked up, and how the trucks are routed in order to satisfy the increasing online demand. The firm has shipped over than 7 million orders over the Christmas time with more than 400 million products. Every week, through its shops and online, Tesco offers millions of clients (Zhao, 2021). Well, with its additional income from wholesale deals, it has a potential edge over competitors. The negotiating power of purchasers in the United Kingdom is poor because they are not organized and is unlikely to be better off when they switch to rivals like Asda and Sainsbury's. Tesco uses its Tesco Digital technologies with its offices in an effective way. 13.50 EST Feb 2020 Tesco Business Strategy Customer Service has brought about profitable expansion of the M-commerce sector. The company has been successful by using infrastructure only in order to reduce the quality of its products and to maximize client satisfaction. Thus, Sainsbury has designed a brand name that makes it distinctive and identifiable unlike Tesco, who still has not gained a clear and easily distinguishable competitive advantage (Van Berten, 2020). Sainsbury therefore offers for Tesco a rather serious opponent.
2.2 Segmentation, Targeting and Positioning (STP)
There are a number of environmental macro and micro elements that directly and indirectly marketing communication decisions of Tesco marketing management. Tesco as well as other businesses cannot offer products and services that are equally desirable to all people, because of the disparity between needs and desires amongst people. This leads to the division of the market and targeting practices of companies.
Segmentation into geographical, demographic, psychographic and behavioral basis may be divided. In the context of the Tesco brand and its particular items, segmentation, targeting and positioning may be taken out. Teenagers and families are the two distinct groups for Tesco (Van Berten, 2020). To measure the size, buying power and characteristics of each Tesco Club Card section, allow cardholder discounts in return for their name, location, personal data, and additional family size inquiries. The study indicated that these customers did not buy TESCO wine, cheese and fruit from the market segmentation based on the usage rate. As a consequence, Tesco has produced "Tesco Finest" range featuring duck dumbbells and cash sweaters, and send them every three months discount coupons for certain products (Samdani, 2020).
Tesco segmented clients from all regions for its demographic segmentation. Tesco mainly targets consumers with little children who get middle incomes. However, it decides to maintain other sectors such as these, who may be more concerned in quality. Tesco is therefore targeted at those who also desire a fair price (Tang, 2018). Its major target consumers are young people and families who frequently work in social media for its online shopping platform. Thus, Tesco is targeted at those who also desire a quality and fair price product.
The online platform of Tesco uses the strategy of Mass Marketing. The Mass Marketing Approach is the strategy for disregarding market variances and targeting the whole market with one bid and is focused not on what is distinct but on what is common in customer requirements (Van Berten, 2020). It indicates that Tesco did not differentiate between the sorts of client to be served and that it serves as many clients as possible. Most clients travel to Tesco to meet a common demand, which is a lower price product, which means that Tesco is a discounted shop and aims to serve more consumers than differentiate them.
In order to focus its customers for its items, Tesco uses experience positioning. Multi-segment placement is an alternative type of positioning used with multiple items, to target several segments concurrently. Tesco uses its internet platform extensively for its multi-sector positioning.
2.3 Branding
Overall, Tesco's brand image is good and greatly contributes to their marketing. To communicate its message to customers, the firm employs TV, publications and other media agencies. Tesco employs many marketing techniques, in addition to advertising. It agrees to buy a free deal for various items on a routine basis. They offer a network of loyalty cards (Morris, Beresford &Hirst, 2018).Every time they buy Tesco Clubcard owners earn points; they may spend for discounts. Tesco's marketing strategy now seeks to regain the confidence of the brand's stakeholders.
In order to strengthen its historic core competitive advantage on the market, the firm is directed to "Every Little Helps."It is also regarded as the largest exporter of traditional ads in the British retail food market, as stated in Briggs 2020 by Nielsen AdIntel. In 2019, it paid more than EUR 80.8 million, which was significantly higher than in 2018. Tesco employs various types of promotion in addition to advertising (Rosnizamet al., 2020). It often allows buyers to obtain a free offer for some of its items. Therefore, Tesco's spending on its online platform has enabled the brand to increase its brand reputation as well as gain competitive advantage against its competitors. Tesco's greatest benefit is its low cost. It differs from other chains of the supermarket. Tesco provides its users several unique deals year-round. It is extremely easy for any wandering customer, such as 'half price,' to discover these food businesses.
3. Growth Opportunities
3.1 SWOT analysis
The SWOT analysis is conducted below helps understand the strengths and weaknesses that Tesco faces while executing its business.
Strengths

Weaknesses

·         Tesco is indeed the UK's major food and retail No. 1 retailer. In contrast to other British grocery chains, it has larger sales and revenues.

·         Tesco has launched several shop formats. Tesco Homeplus, Tesco Extra, Tesco Metro, and Tesco Express are different shop divisions (Van Berten, 2020).

·         Tesco employs the best possible technologies to improve its customers' shopping experience. A novel bar code system for the automated counting of items has been developed for RFID.

·         Tesco's share prices dropped by more than 9 per cent as operating earnings decreased in October 2018.

·         In January 2018, without prior notice to its consumers, Tesco moved to its Clubcard program (wherein points may be doubled or quadrupled)(Rosnizamet al., 2020).

Opportunities

Threats

·         In areas where Tesco stores operate inadequately there is an opportunity for collaborative partnerships (Volkov, 2020). Business owners can give in-depth market information to enhance performance in certain places.

·         By increasing and enhancing its online shopping company and home delivery services Tesco can make use of the opportunity.

·         As Britain is no longer within the Eu, Tesco has been threatened by trade agreements and cost issues.

·         Tesco's market position might also be jeopardized with growing expansion and efficiency from WalMart,Aldi, and Carrefour.
3.2 Two specific growth opportunities in the company's macro environments –
For the first half of 2019, the firm managed to maintain minor growth figures. However, by February 2020, sales were once again declining in a streak for many months. And during 12 weeks since 19 April 2020, the pandemic outbreak caused the value of sales to rise by 7.2% (Statista, 2018). This sales growth continued in 2020, and in July 2020, sales for Tesco peaked. Tesco's sales grew by 8.5% compared to the time of 2012 by 12 weeks ended March 21, 2021.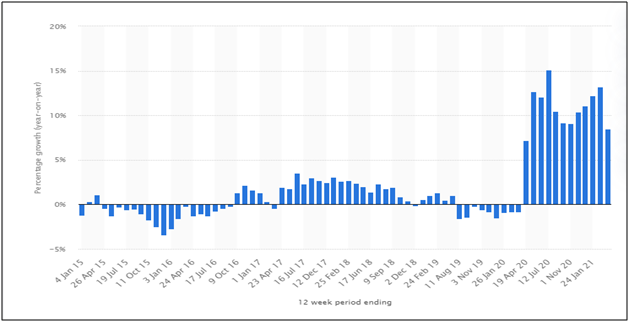 Figure 2: Percentage change in sales at Tesco
(Source: Statista, 2018)
Tesco claims 90% growth in online sales indicates that around 10,000 extra people are employed to choose client orders and 3,000 more delivery trucks. The firm also employs in its distribution centers a variety of other positions. In March, the number of online customers has risen to over 1.5 million from approximately 600,000 in the beginning of the pandemic, claims Tesco, and the company already has recruited four thousand permanent positions (Statista, 2018). Because of the outbreak, consumer preferences have typically been dramatically moved to online buying. The acceptance and investment by Tesco in online shopping allows the company to make profit from the pandemic and to execute its activities in the pandemic smoothly.
In comparison to the year before, the supermarket shared a significant sales rise of 8.1%, with online sales up 80% in the run-up to Christmas. The retailer handled during the course of the holidays upwards of 7 million online orders, equivalent to revenues of about £1 billion (Volkov, 2020). Online growth was caused by an increase in average size, as customers look forward more to ordering as much as possible without traveling to a real store. Clubcard members have also seen a significant rise, with an extra couple million active users and a reward system used in around 80% of the transactions. Thus, amid the pandemic Tesco has received huge sales which are a huge opportunity for the brand to gain a significant consumer base (Aiello et al., 2020). As well as the switch to online platform enabled the brand to lower its operation cost, which in turn provided the opportunity for the brand to gain competitive advantage over other competitors. Therefore, the shift to online platform also enabled the brand to increase its brand reputation that in turn will help the brand to sustain in the long-run.
3.2 Recommendations for the company to take advantage from it
In future, Tesco must use smartphone technology to reinvent the customer experience in its store digitally by providing consumers with knowledge and personalization (Volkov, 2020). The existing Tesco app, for example, may be improved to give the feature that helps consumers locate certain things in supermarkets and replace handheld scans with digital wallet goods for a smooth Digital Experience. This might create an opportunity for an operational model by further reducing the personnel and costs of the shop (Alam&Raut-Roy, 2019). Finally, Tesco was capable of overcoming issues by using revolutionary Toshiba technology that no long requires bar codes to read bar codes in self-checking machines.
By launching an urban development hub (UFC) in West Bromwich Extra, the retailer's e-commerce business was boosted. This allows Tesco to give consumers with an increased pick-up rate for more delivery slots, thereby increasing productivity in meeting on-line demand. In May 2020, a second UFC site will start in Lakeside Extra and in the next 12 months, four more sites are to launch (Martin-Neuninger& Ruby, 2020). This provides the brand with more opportunity to make more profit and the brand can make use of this platform to acquire competitive advancement. As a consequence of Covid-19, all retailers need to be even more remarkable in their stores for visitors. They must provide individuals a very convincing reason to attend, justify their exposure to health hazards and combat the inertia of behavior during closure.
Conclusion
To conclude, it can be stated that the change of Tesco's strategy in its technology owing to the pandemic have created several opportunities for the brand to gain competitive advantage. The expansion of the company's online platform has in turn enabled the company to beat its competitors as well as enhance its customer base for generating profit amid the pandemic. The company profit margin compared to its rivals was significantly high that in turn enhanced the brand visibility of the retail giant. Thus, the adoption of online shopping has been a boon for the brand that in turn creates several opportunities for the brand to attain long-term success.
References
Aiello, L. M., Quercia, D., Schifanella, R., & Del Prete, L. (2020). Tesco Grocery 1.0, a large-scale dataset of grocery purchases in London. Scientific data, 7(1), 1-11.
Alam, S., &Raut-Roy, U. (2019).Evaluating the Effectiveness of Reward Strategy at Tesco: Evidence from Selected Stores in UK. Indian Journal of Industrial Relations, 55(1).
Alexander, I. N. (2020). The influence of technological innovations on organization's competitive advantage: Case study on Irish food retail company (Tesco) (Doctoral dissertation, Dublin, National College of Ireland).
Bober, T. (2018). Virtual Business, Feasible Competitive Advantage-The Retail Sector Case Studies. ToKnowPress. Cannon, F. (2017). The Agility Mindset: How reframing flexible working delivers competitive advantage. Springer.
Jelassi, T., &Martínez-López, F. J. (2020). External Analysis: The Impact of the Internet on the Macro-environment and on the Industry Structure of e-Business Companies. In Strategies for e-Business (pp. 49-95).Springer, Cham.
Malik, A. (2018). Managing Change and HRM. In Strategic Human Resource Management and Employment Relations (pp. 119-131). Springer, Singapore.
Martin-Neuninger, R., & Ruby, M. B. (2020). What does food retail research tell us about the implications of Coronavirus (COVID-19) for grocery purchasing habits?. Frontiers in Psychology, 11, 1448.
Morris, C., Beresford, P., &Hirst, C. (2018).Impact of food retailer branding on expectation generation and liking. Marketing assignmentJournal of Sensory Studies, 33(2), e12322.
Rosnizam, M. R. A. B., Kee, D. M. H., Akhir, M. E. H. B. M., Shahqira, M., Yusoff, M. A. H. B. M., Budiman, R. S., &Alajmi, A. M. (2020). Market Opportunities and Challenges: A Case Study of Tesco. Journal of the Community Development in Asia (JCDA), 3(2), 18-27.
Samdani, T. (2020). Impact of Tesco's Private Label brands on buying behaviour of Millennials in terms of brand preference in Irish market (Doctoral dissertation, Dublin, National College of Ireland).
Statista.(2018). Tesco sales growth Great Britain 2018 | UK statistic. [online] Available at: https://www.statista.com/statistics/386598/tesco-sales-percentage-change-great-britain-uk/. [Accessed on: 8/7/2021]
Tang, X. (2018). A Multimodal Critical Analysis in Business Discourse: the Case of the Corporate Annual Report of Tesco.Advances in Social Science, Education and Humanities Research, volume 289.
Van Berten, P. (2020). A SYSTEMIC MODEL OF THE LATEST TACTICS IN MARKETING. National Association of Business, Economics and Technology, 271.
Volkov, V. (2020). The Meaning and the Impact of the Tesco-Vodafone CJEU Cases in Respect of the Digital Service Tax. [online] . Available at: https://lup.lub.lu.se/luur/download?func=downloadFile&recordOId=9024287&fileOId=9024291. [Accessed on: 8/7/2021]
Zhao, C. (2021). Research on Cost Management of E-commerce Enterprises Based on Value Chain--Taking Suning Tesco as an Example. [online] Available at: https://webofproceedings.org/proceedings_series/ECOM/IEMB%202021/Y0321.pdf [Accessed 9 Jul. 2021].