Marketing Plan Assignment: Kodak And Unilever Marketing Campaign Strategies
Question
To help you get started on this piece of work, here are some points for further consideration:
Your aim in this assessment is to analyse 2 separate marketing articles in around 600 words for each analysis. You need to write in a professional manner even for short pieces of work. However, there will be little (if any) need for tables, etc., and there is no need to write an executive summary for your article analysis.
Answer
Article 1: From skate to streetwear: Kodak's plans to bring back its consumer brand in a 'big way'
1.0 Introduction
The current article stated about Kodak's new marketing plan and its impact on their consumers. It has been found that the organisation has always looked for bringing about something different; hence, their new venture would look for holding on nostalgia thereby meeting the demand of current market trend.
2.0 Marketing issues
Kodak in their 90's, generated 85% of camera sales and 90% of film in US thereby leading the market world. In fact, in 1996 their marketing sales reached the peak of business where they generated a profit of $16bn (Rogers, 2018). However, by 2013 their sales growth declined with decrease of demand of cameras that were replaced with smart phones. At that point, they had to suffer huge financial crisis and was bound to close down 13 manufacturing plants. Thus, it can be said that their products turn out to be their major marketing issues [Refer to Appendix 1].
3.0 Stakeholders, benefits or challenges
Stakeholders are the main determinants of success for an organisation that not only help an organization to foster but also provide aid to various other aspects. As commented by Charter (2017), stakeholders not only comprise of investors or suppliers but it also signifies customers, managers, executive and others. The main stakeholders of this article are chief executive officer, customers [Refer to Appendix 3].
4.0 Recommendations
Kodak has successfully turned around in their business thereby focusing on bringing about new brand relevant categories into their business. In the current year, they have successfully generated $48m in revenue giving others tight competition (as influenced by Rogers, 2018).
However, in order to get back into market zone, more innovation and new strategies are to be focused on. Hence, as main strategy Kodak is about to recreate "Kodak Moment" with "New Nostalgia" keeping the passion of Gen X in mind (as influenced by Mortimer & Laurie, 2017). The executive is of view that this would help to increase the demand for instant print thereby meeting the demand of their customers.
Article 2: Keith Weed's legacy and what Unilever needs to do next
1.0 Introduction: The following article has aimed to focus on the future scope of Unilever thereby following the new legacy of Keith Weed. In addition, it has also discussed in details about the future of marketing within Unilever after Weed is retired. To date, Weed had successfully always come up with varied situation when Unilever has faced issues in marketing.
2.0 Marketing issues
To date, Unilever has suffered various issues in their meeting process among which growing threat of new entrants is major one. In the words of Vizard & Flemming (2018), Unilever has also faced issues related to their marketing model thereby creating issues in promoting marketing sales. Direct-to direct consumers discussed in their marketing model have several loopholes as well. On the contrary, Parsons, Maclaran & Chatzidakis (2017) argued that marketing issues gives rise to various other issues thereby stunting the growth of an organisation. However, Keith Weed, the CEO of Unilever added that with the implementation of new legacy it would be possible to overcome issues largely thereby creating negative impact on consumer behaviour (Vizard & Flemming, 2018) [Refer to Appendix 2].
3.0 Stakeholders, benefits or challenges
As observed by Feng, Morgan & Rego (2017), stakeholders are the one responsible for successfully carrying out a project thereby bringing about success for the organisation. On the contrary, Gregory-Smith et al. (2017), stakeholders can be stood responsible for bringing about negative impact on an organisation as well. Besides customers, CEO, CMO are the key stakeholders mentioned in this article [Refer to Appendix 4].
4.0 Recommendations
In order to a high scope of marketing in future, as organisation needs to infuse new ideas and technologies to meet current market need (as influenced by Jones, Hillier & Comfort, 2017). Thus, it is necessary for Unilever to bring about changes within their models of marketing in order to increase productivity. It has been noticed that organization has urged to focus on diversity through promotions but they should also encourage internal hires.
Reference list
Books
Charter, M. (2017). Greener marketing: A responsible approach to business. Abingon: Routledge.
Parsons, E., Maclaran, P., & Chatzidakis, A. (2017). Contemporary issues in marketing and consumer behaviour. Abingon: Routledge.
Journals
Feng, H., Morgan, N. A., & Rego, L. L. (2017). Firm capabilities and growth: the moderating role of market conditions. Journal of the Academy of Marketing Science, 45(1), 76-92.
Gregory-Smith, D., Wells, V. K., Manika, D., & McElroy, D. J. (2017). An environmental social marketing intervention in cultural heritage tourism: a realist evaluation. Journal of Sustainable Tourism, 25(7), 1042-1059.
Jones, P., Hillier, D., & Comfort, D. (2017). The two market leaders in ocean cruising and corporate sustainability. International Journal of Contemporary Hospitality Management, 29(1), 288-306.
Mortimer, K., & Laurie, S. (2017). The internal and external challenges facing clients in implementing IMC. European Journal of Marketing, 51(3), 511-527.
Newspaper articles
Rogers, C. (2018). From skate to streetwear: Kodak's plans to bring back its consumer brand in a 'big way'. Marketing Week. [Online] 19th December Retrieved on 20th December 2018 from https://www.marketingweek.com/2018/12/19/kodak-bring-back-consumer-brand/
Vizard, S., & Flemming M. (2018). Keith Weed's legacy and what Unilever needs to do next. Marketing Week. [Online] 19th December Retrieved on 20th December 2018 from https://www.marketingweek.com/2018/12/06/unilever-keith-weed-legacy-do-next/
Appendices
Appendix 1: From skate to streetwear: Kodak's plans to bring back its consumer brand in a 'big way'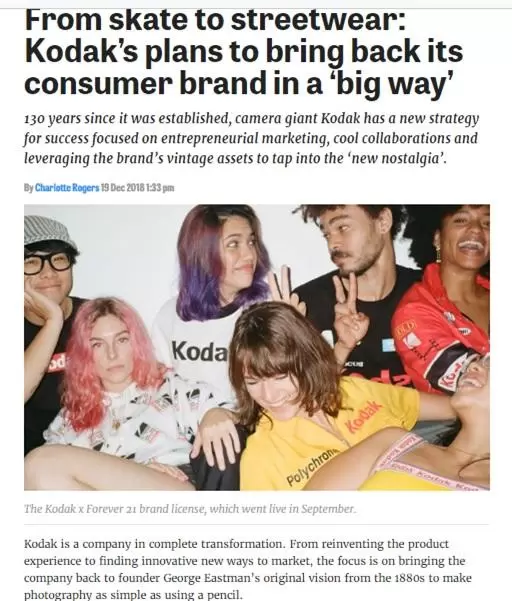 (Source: https://www.marketingweek.com/2018/12/19/kodak-bring-back-consumer-brand/)
Appendix 2: Keith Weed's legacy and what Unilever needs to do next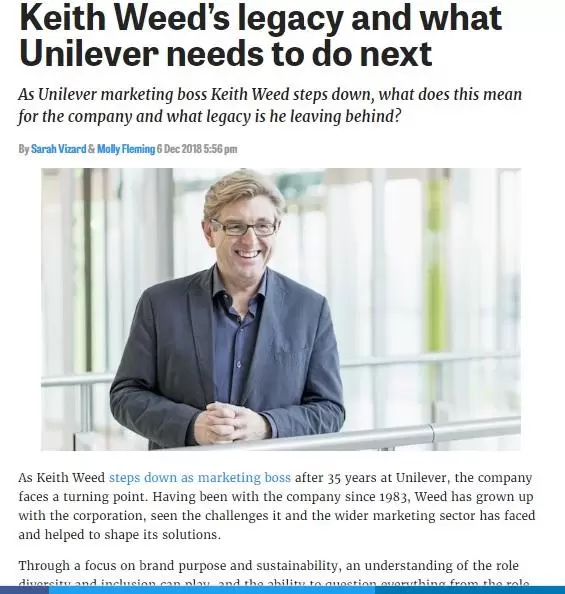 (Source: https://www.marketingweek.com/2018/12/06/unilever-keith-weed-legacy-do-next/)
Appendix 3: table discussing Kodak's stakeholders impact
Stakeholder

Stake

Positive Impacts

Negative Impacts

chief executive officer

 

executive officer

Impact on organisation's growth

If recommendations not implemented properly might face issues

Customers

Buyers

Impact on organisation's growth

Lack of focus by organisation might affect customer's buying behaviour
Appendix 4: Table discussing Uniliver's stakeholders impact
| | | | |
| --- | --- | --- | --- |
| Stakeholder | Stake | Positive Impacts | Negative Impacts |
| Customers | Buyer | Impact on organisations' growth | Buying behaviour |
| CEO | Executive Officer | Focus on customer satisfaction | Insufficiency might impact might lead to organisation's loss |
| CMO | Managing officer | Focus on bringing about modification in products | Lack of organisational skill might impact on financial loss |