Marketing Planning Assignment: Launch of Google OTT Platform for Canada
Question
Task: Scenario for marketing planning assignment: You can choose any organisation that you have sufficient first-hand knowledge of, preferably where you are working currently or have worked in the past, or an example organization that you have chosen for the purposes of this assignment. This may be a family business, a multi-national organisation, a college or university, or any other organization that lends itself to discussion and analysis. You are expected to prepare a MARKETING PLAN that includes your organization's launch of new products/services as part of the international expansion plan.
Answer
Executive Summary
The marketing planning assignment have worked upon Google LLC which is a technology based multinational company which is popular for its worldwide famous strong search engine and for its video streaming and uploading platform, YouTube.From the year 2015, Google LLC is wholly owned subsidiary by Alphabet Inc. Google LLC found Anvato, a California based technology firm, which is considered as the online video industry. Anvato enables on-demand live video streaming of online programs through cable set up boxes. It does not contain video contents such as movies, originals and series. However, if Google LLC wants to spread its market into Canada, via OTT platforms, then it needs to beat existing leading OTT platforms such as Netflix, Disney+ and Amazon prime, which have worldwide popularity. In order to influence the market of Canada, Google OTT platform has another regional rival, Crave TV which is a Canada based OTT platform.
SWOT and PESTEL analysis have conducted here, in order to identify and understand all the opportunities, strengths, weakness and challenges regarding social, political, economic, legal and technological factors. This report has also discussed how, Google OTT can gain advantages from these factors. It discusses the international market entry strategies and focuses on Acquisition and Three C methods as both methods will be potential for Google OTT platform. The report has identified Crave TV of Canada as the possible merger for Google OTT for some valid reasons. It also describes how Canada's changing business environment can influence marketing functions. Finally, this report provides relevant recommendations for Google LLC to establish its OTT platform over Canada and to gain sustainable competitive success over leading rivals like Netflix and Amazon Prime.
Introduction
A marketing plan refers to the plan which is formulated for the entire business. The solid marketing strategies lay the foundation for the marketing plan. The marketing plan must be well-written considering the organizational goals (Fotiadis, Mombeuil and Valek, 2018). The marketing plan for Google will be presented in this paper. The marketing plan will comprise the set of actions, which will be backed by a strategic, sound foundation. This marketing plan will help the business to plan its expansion strategically and also introduce the new product.
Google LLC is a renowned American technology-based multinational company. In the year 2015, Google LLC went through a reorganization to become a wholly-owned Alphabet Inc.'s subsidiary. It is the largest subsidiary of Alphabet. Google LLC is a holding company in Internet properties and interests for Alphabet. The company is well-knownfor its search engine, software, cloud computing, hardware, online advertising technologies and other internet-based products and services (Vergne, 2020). Google LLC is a huge organization, which is among the five biggest technologies companies of America. The other four companies include Apple, Microsoft, Facebook (Meta) and Amazon. Google has a huge workforce which includes 139,995 employees as per the data of 2021. The most widely used service of Google is its search engine, Google Chrome. The global users cannot imagine their life without this search engine. Google is a multinational company and so it has different approach towards marketing in different markets. The marketing strategy of Google is accelerating the innovation for strengthening the brand loyalty. The company believes in bringing about transformational changes which would create a source for open environment. The company makes strategic plans at the national as well as international levels. This paper will include a situational analysis for Google, focusing on Google OTT platform for Canada. This situational analysis will be based on SWOT and PESTEL analysis. The results of these analyses will enable better planning. The entry criteria strategies could be developed by utilizing the output of the situational analysis. The entry strategies will be included in the marketing plan. In this most significant segment of the paper, the two entry strategies for the international market will be discussed. The benefits of each of these methods will be reflected upon. The paper further highlights how the market conditions are changing due to the ever-changing global business environment. The marketing priorities which Google has to consider and the marketing management functions need to be focused upon. In the marketing plan of Google OTT, the three strengths and weaknesses of the new product development process will be discussed. This will be followed by Ansoff Matrix which will enable formulating international marketing strategy. The marketing plan should include the budget analysis, timescales and audit mechanism for planning the course of actions. The brand management will be focused upon in this paper. The Keller's brand equity model will be referred to in the paper and applied to the context of Google. The brand management comprises analysis of sociological and psychological factors which impact the consumer decisions (Huang, 2019). Finally, the paper ends with a conclusion and a recommendation section where the findings of the entire paper are summarized and certain recommendations are suggested for Google which will facilitate the expansion of its business.
Situational Analysis
SWOT
The situational analysis will be based on SWOT and PESTEL analysis of Google. The SWOT analysis is a significant strategic management and planning technique which is used by an organization for identification of its strengths, weaknesses, opportunities and threats. The output from the SWOT analysis will help Google to plan its entry strategies into the international market.
Few of the Strengths of Google have been listed below:
Google is the flagbearer in the online search engine segment. In the year 2020, as per the reports of Statista Google had a market share of global desktop searches accounting for 86.86 percent (MawaddahAzman, Hamizan and Husain, 2021).
There is no close competitor of Google in search engine, because it has created an unbeatable record and market position.
Along with the highest revenue earning segment of search engine, the company also holds good market share in online advertising as well as software.
Google's strength is that it is a very valuable brand with high brand valuation. After Apple, Google is the most valued global brand. In the Forbes brand list, the company's brand value in 2019 was 207 billion dollars.
The forte of Google's search engine is its effectiveness. It processes 40000 searches per second.
The other strength of the company is its high revenue earnings, which gives it market stability.
Google has been adapting to the changing technology environment. It has adapted Android and mobile technologies and runs in the race with iPhone from Apple.
Google's rapid growth is its strength. Over the years, it has a steady growth trend.
The weaknesses of Google are:
Breaching of the online privacy rules have been a drawback of Google.
As Google Chrome is the highest used search engine, it sometimes indulges in unfair practices (Singh, 2018)
Google has also become overdependent on the advertisements, which is a weakness
Privacy policies of Google are criticized as the company hides information regarding its algorithms
High subscription charges for YouTube TV, makes its pricing strategy poor
Facebook and Twitter have taken over the social media revolution, which led to failure of Google
Google has several new opportunities to explore in the existing and emerging markets. These include:
Google can strengthen its footing in the wearable technology market, competing closely with Samsung and Apple
It can innovate and develop the Android OS
The cloud services could be improved to capture larger market share
Covid-19 pandemic has increased the demand for remote working. Thus, Google can venture into this field and compete with Zoom and Microsoft (Singh and Awasthi, 2020).
The company should also work on non-ad business model development. Thus, diversification strategy facilitates exploiting new opportunities.
The business of Google is threatened by various factors which include:
The market share of Google is reducing due to close competition from the new entrants as well as the existing tech-giants in the industry
The company does not seem to be gender neutral. On social grounds, this could be threatening for the company. There is sufficient gender bias seen within the company in terms of sharing opinions or right to free speech.
Google has been accused of altering information. The company has been criticized for Dragonfly, a collaboration with China. The alleged partnership with China is over
a search engine project that is censored.
The business is also threatened by antitrust
controversies. These EU and US lawmakers have imposed fines of Google for such antitrust controversies (Fox, 2019).
Google is further being threatened by the censorship policies. Its own censorship policies are like a backlash, due to which much information is being leaked.
The company is threatened by the economic uncertainty caused by the pandemic
PESTEL
Political Factors
According toJun, Yooand Choi, (2018), Google LLC operates in over 219 countries which are having stable political climates. (opportunity)
Major operating countries have free trade agreement with Google LLC, which facilitates the export of Google products like Pixel smartphones. (opportunity)
Existing state-sponsored online companies and OTT platforms such as Crave TV in Canada; Jio Cinema, ZEE5 in India; Britbox and BBC iPlayer in UK creates competitive threat for Google OTT (Shahetal., 2021)(Threat)
Economic Factors
Rapid financial growth in the developing countries opens a wide door for Google LLC along with its OTT platform such as Anvato Inc. (Opportunity)
Economic stability in most of the major countries where Google LLC operates. (Opportunity)
Users can get access to OTT platforms that contain huge content within their economic capability. According to Araujo, (2018),Google's Anvato only offers live video and on-request video to its broadcast subscribers with a high subscription charge. (Threat)
Social Factors
Increasing demand of OTT platforms. (Opportunity)
Criticism against Google LLC for the breach of users' personal data. (Threat)
Technological Factors
Growing demand of cloud services, which is fulfilled by Google OTT platform, Anvato as it deals with Google Cloud platform infrastructure. (Opportunity)
Rapid adoption of smartphones with internet accessibility. (Opportunity)
Environmental Factors
Growing demand of sustainable products and services among customers and suppliers. (Opportunity
Legal Factors
Increasing regulations on online privacy of the users. (Opportunity)
Strict regulations of intellectual property rights. (Opportunity)
Entry Strategies
Google LLC is currently operating in major developed and developing countries with its leading and unbeatable search engine. World population cannot think their lives without Google search engine. However, if Google LLC wants to expand their OTT platform into the market of Canada, it needs to follow the international market entry strategies to get sustainable competitive achievements. Acquisition or cross-border acquisitions have risen dramatically. Acquisition is considered to be the best type of entry for Google LLC along with its OTT platform. Though, according toFuadand Gaur, (2019), in this type of entry, either the particular farm exchanges its stock or often purchase the stock of another firm to gain the total control over it. Though this transaction is costly, however, Google LLC has enough financial capacity to gain control of another firm. As there are already impressive presence of popular OTT platforms such as Netflix, Amazon Prime and Crave TV in Canada, therefore it is important for Google to introduce its OTT platform without investing much time. Acquisition entry method offers established and quick access to a new market. Here, Google LLC already has great brand value, reliability and huge market share. Therefore, it indicates that Acquisition is the best entry strategy for Google LLC to spread its OOT platform over Canada.Another opportunity of this entry method for Google OTT platform, is having a possible merger such as Crave TV as it has decreased its market share by 1% in the current year 2021. It would be potential for Google OTT platform to purchase all the stock of Crave TV in order to gain its existing users and to compete with Prime Video and Disney + which are already having the highest market share in Canada.
Google LLC can apply Three C's expansion strategy as this strategy is developed mainly for OTT platforms. For instance, Netflix has already adopted this strategic entry process to gain the attention of worldwide users. The Three C's strategy is about content, cost and competition. Content is the most important factor for any OTT platform. Currently, Google LLC has Anvato, which is a provider of online video editing, publishing, monetization and it deals with Google cloud platform infrastructure. Anvato cannot be considered as a proper OTT platform as it only allows it users to watch live video on request, instead of offering to watch movies or series online or by downloading.
Therefore, with the aim to capture the OTT market of Canada, Google needs to bulk up its contents. There is a growing demand of global contents with subtitles and dubbing facilities. English, French, Mandarin, Cantonese and Punjabi are the most used languages in Canada. Therefore, Google needs to add subtitles with these languages to its foreign contents of movies, originals and series. Content must be determined according to the demand of Canadian audience. As stated byCrosby, (2019),among the target market of Canada, there is a demand of 42.2% for drama series, 17.4% for comedy genre and 16.2% for adventure and action. Cost is another important factor for OTT platforms, as users sometimes find the subscription charges of the popular OTT platforms, like Netflix are expensive. Google has already a positive brand value and potentiality to provide quality contents within a competitive cost. If Canadian audiences get qualitative and quantitative content from Google OTT platform within their purchasing capacity, then there is possibility for Google to achieve competitive success. Major competition comes from the local OTT platforms like Crave TV as it is developed only for the Canadian audiences and it is less expensive. However, Disney+, Netflix and Amazon are more ahead of Crave TV as they are having huge global content with subtitles(Mirrlees, 2019). Therefore, Google only can beat these leading OTT platforms by reducing subscription charge.
Changing business environment due to sudden economic change, technological transformation or for the presence ofcompetitors can influence marketing functions. Canada's gradual economic growth impacts on the marketing management. Google can invest a major part for promoting its OTT platform in Canada, as there is huge possibility to establish Google OTT platform successfully. As Google LLC is a technology-based company, therefore, it can apply every possible technology-based marketing such as email marketing, e-advertising and social media. Though, there are presence of leading competitors, Google OTT can apply lucrative subscription charges as its marketing strategy, in order to beat existing OTT platforms.
New Product Development
Strengths and Weaknesses
New product development refers to the process by which Google will be launching the new product of an OTT platform in the marketplace(Gürbüz, 2018). The brand needs to engage in this process for catering to the changing consumer preferences towards online videos, web series and movies; increasing competition from Amazon, Netflix and others, growing advances in technology and for capitalizing this new opportunity increasing rapidly in the recent years. OTT platform indicates television and film content that can be watched using the internet connection instead of satellite or cable connection. This is one of the products or services that have never been sold by Google before but have undertaken to the market by others like YouTube, Prime Videos, MX Player, Netflix and others(Somani, 2021). The different stages that Google goes through in general for the new product development process are generation of idea, idea screening, concept development and testing, business analysis and market strategy, product development, market testing and commercialization (Jreissat, et al., 2017). The process has various strengths that enable the company in successful launching and implementing of the product or service. One of the significant strengths of NPD process that it helps the brand in eliminating or alleviating risks from the business by testing the probability of product or service's success in comparison with the current market conditions. This testing of product or service effectiveness helps in adapting them based on market demands and consumer needs. Furthermore, the NPD process also enables Google in recognizing the effective marketing strategy that it can develop for communicating the product with the target market. This is beneficial because it helps in identifying target market and ways of connecting with them, determining price, distribution method and marketing budget and projecting sales and profit margins (Ahmad, Mallick and Schroeder, 2013). Besides, this process also enables Google in determining the suitability of the new product by analysing its business attractiveness. This consists of cost projections, profit predictions and meeting of overall objectives of the company.
One of the most common weaknesses of NPD process that Google can undertake is the extra costs related to market development strategy, business analysis and market research. These procedures include considerable expenses for researching about market trends, consumer tastes and preferences and viability of the product (Kim, Park and Sawng, 2016). Furthermore, with rapid rise in competition of OTT platforms, this process might fail to provide some unique product to the Google customers by introducing new features and differentiating itself from the competitors. This is because such competitor brands are also continuously modifying their services over the platforms for catering to the changing customer tastes and preferences. Besides, the product testing stage can also result in a failed idea in the NPD process. Google needs to put considerable, time, money, efforts and resources for testing the product in the market after it has been completely developed. However, since the success of the product depends in its acceptability, failure leads to huge losses for the company. Thus, the new product development process consists of both strengths and weaknesses that Google can face while launching the OTT platform.
International Marketing Strategy: Ansoff Matrix
Ansoff matrix is a strategic toll that Google can use for analysing and planning its strategies for growth and expansion. It is a product/expansion grid matrix consisting of four strategies, namely, product development, market penetration, market development and diversification (Hussain, et al., 2013). These strategies are helpful for firm's growth and further evaluating the risks associated with each of these strategies.
Market penetration strategy emphasizes on enhancing sales by using products in the existing market (Hussain, et al., 2013). Google already consists of various products and services being offered to the current markets. These markets have become saturated with technological products and digital platforms for videos. Besides, Google always focus on developing these technological and innovative products for the customers. Thus, this strategy will not be able to provide the desired growth to the company. Furthermore, market development focuses on venturing into new markets with the existing products. Google already consists of different types of products being offered to various customers across the world. This provides it with insignificant opportunity of growth in the new markets with existing products. Moreover, such markets also consist of various technological products from other brands (Hussain, et al., 2013). Another strategy that Google can undertake in diversification strategy for entering into new markets with new products. However, this is a risky strategy as those customers in the foreign markets might not accept either the brand or the new product being offered. In addition, the strategy is challenging because Google has no experience with the product or operating in the new markets.
Google can undertake product development strategy that focuses on launching new products in the existing markets. In this regard, the company can introduce its own OTT platform in the Canadian market. It does not possess any video streaming services and thus, such new product can be introduced in the market. This is beneficial as the brand consists of sufficient resources, brand popularity and digital experience for introducing such services in the market (Haron, 2015). Video streaming platforms have become attractive to the customers with the ongoing competition from brands like Netflix, Prime Videos, YouTube and others. Besides, the outbreak of the pandemic has forced individuals to stay at homes including college students, professionals, office goers and freelancers. This has provided them with ample time, thereby shifting their interest towards these video streaming services. Google can exploit this opportunity of rising preference towards online video streaming for introducing its own OTT platform for the Canadian customers. In this regard, the company needs to undertake extensive research and development for innovating the already available service to differentiate itself from the competitors (Haron, 2015). Here, it might face tough competition from the renowned brands as they possess strong and loyal customer base in this sector. This makes it essential for Google to gain detailed insights about the unmet customer needs and their changing preferences that the existing players are failing to satisfy. Thus, it can be said that Google needs to adopt its marketing strategy for reaching the target customers in the Canadian market.
Timescales
The following table will provide the different tasks to be performed for launching the OTT platform of Google in the Canadian market.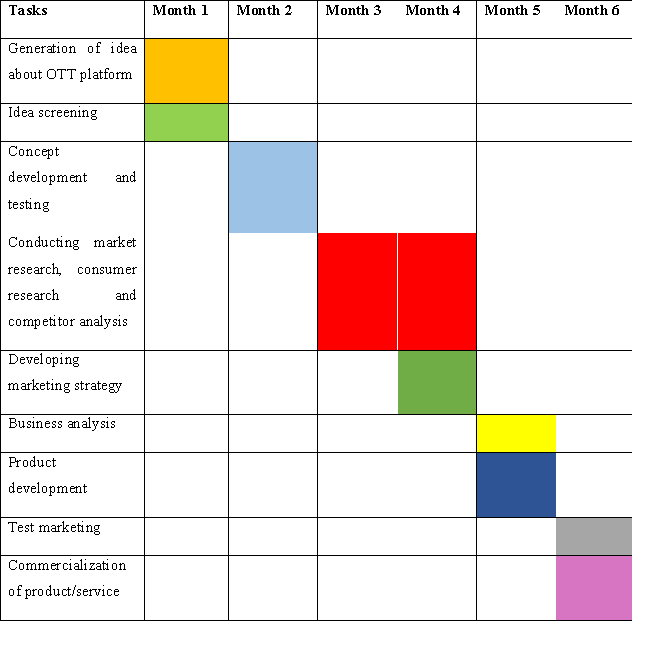 Budget Analysis
Cost Estimation for the New product
| | |
| --- | --- |
| Items | $ |
| Ideation process | 4000 |
| Industrial design | 7500 |
| Prototyping/iteration | 6500 |
| Electronic engineering | 15,000 |
| Certifications and testing | 5000 |
| Website designing | 4500 |
| Advertising expenses | 3500 |
| Development of app | 7500 |
| Total | 53,500 |
The above table represents various items and their associated costs that might be incurred for introducing and launching Google's own OTT platform in the market. These include ideation process, industrial design, prototyping or iteration, electronic engineering, certifications and testing, website designing, advertising expenses and development of app. Along with this total budget estimated at $ 53,500, it is essential for Google to come up with a pricing model for generating revenues and profits from the OTT platform. This pricing model will be based on subscription offered to the customers of the target market.
Audit Mechanisms
Audit mechanisms are essential for enhancing the NPD process in Google. These include risk assessment, quality control and managing team performance. Internal audit can be conducted for examining, monitoring and analysing various organizational activities for reviewing whether the firm is effectively focusing on launching the new product by carrying out different functions (Wittayapoom, 2014). These functions include assessing health and profitability of the firm, identifying any potential threats and identifying ways of reducing any possible risks associated with the launching of the new product. The tasks involved in an internal audit of the firm will be audit planning, audit executing and audit reporting by emphasizing on accounting information. In audit planning, the company needs to collect preliminary information, identify and evaluate different risks and review sufficient and appropriate internal controls. Furthermore, the mechanism of audit execution will consist of checking for appropriate audit evidence, choosing an appropriate audit sampling technique, collecting information for analysis, selecting various audit techniques for application and documentation of the audit (Wittayapoom, 2014). Besides, in audit report, Google needs to undertake both communication and dissemination of information about the new product alongside the entire new development process with its due diligence. This will help the NPD team of Google in being aware about financial aspects related to the NPD process and consequently apply their knowledge in the different stages. It is further essential for identifying key market opportunities and evaluating those based on cost and benefits factors. The NPD members also have various roles to play in the internal audit mechanisms (Wittayapoom, 2014). The internal control environment needs to be documented by gathering relevant information and feedback from the members. They further should evaluate potential risks by defining performance outcomes for analysing the NPD process success and lastly, conduct an internal control for all the stages of this process.
Brand Management
Keller's brand equity model
According to Keller's brand equity model, brand equity is considered as the differences between customer responses and marketing activities. The fundamental concept behind this is to understand how customers think and feel about the products or services being offered to them based on their positive experience (Sin?i??ori? and Jeli?, 2015). This model is beneficial as it helps in recognizing various elements like brand salience, brand feelings, brand relationships, brand performances, brand imagery and brand judgment. The model is useful in analysing each of these elements that can enable Google in offering more meanings to the customers while serving their functional, psychological, emotional and utilitarian needs. Furthermore, this model provides that brand equity can be built through four steps, thereby making it easier for brands like Google to enhance the brand loyalty and awareness of the target customers (Farjam and Hongyi, 2015). These four stages include identity, meaning, response and relationships. In the first stage, Google can focus on building its brand identity with the new product in front of the target customers. It already has a strong brand name in the global market; thus, it will be easier for the company to use such existing perceptions for building the base for the product or OTT platform. In the next stage of meaning, the company emphasizes on making the target customers understand and grasp the meaning of the brand. In this regard, both performance and imagery are both essential for building the connection with the customers. It should ensure that all features are being provided in the platform alongside its serviceability, effectiveness, browsing style and design and subscription price. In the third stage of response, Google focuses on identifying the types of responses that it wants to evoke from customers (Makasi, Govender and Rukweza, 2014). Here, it emphasizes on judgments and feelings of the target customers associated with the existing and new products or services being offered to them. Lastly, the brand emphasizes on understanding the relationship with its customers. In this regard, how target customers identify and associate themselves with Google becomes essential for building long-lasting relationships with them. Thus, the model stresses on different important factors for building brand equity. It takes into account the feelings, emotions, judgements, product salience, imagery and other factors. However, the model has not considered the price factor in this regard that strongly determines the purchase intention of the customers. In addition, the model has ignored the presence of competitors that often influence brand perceptions and brand performance in the market.
Psychological and Sociological Factors
There are various psychological and sociological factors that Google can use for enhancing its brand equity for launching the new product in the market. Perception about the brand is one of the most important factors that can contribute towards the success or failure of a new product (Auh and Menguc, 2013). Google has strong brand popularity across the globe and customers use its products or services extensively. This shows that the company already comprises of positive brand perception in the customers' minds because of its existing products, services and performance. Thus, this perception can be further used for launching the new OTT platform for gaining the customers' trust and loyalty. Attitudes and beliefs of the existing customers are also psychological factors that are beneficial for Google to launch its new products. Since, the customers have positive experiences, their attitudes and beliefs about the brand's products and services are also favourable that will help in introducing the new product. In addition, Google also uses sociological factors like buying habits and reference group for persuading customers to buy products (Auh and Menguc, 2013). While buying habits like subscription in other OTT platforms can be used for understanding their tastes and preferences, reference groups are beneficial as they influence consumer purchasing decisions to enhance social identity.
Branding Strategy
The branding strategy of Google for launching its OTT platform will aim to achieve the following objectives:
• Gaining positive responses about the product launch from 25% of target market customers,
• Achieving a conversion rate of 35% from the prospective customers,
• Capturing around 15% market share in Canada OTT platform market within the first six months,
• Enhancing brand awareness by 25% in the coming six months of the product launch
For achieving these objectives, Google needs to focus on communicating about the new product launch across various platforms. In this regard, integrated marketing communications (IMC) strategy can be undertaken for providing a seamless and consistent brand experience to customers in the target market (Keller, 2016). Thus, this will enable the brand to communicate a consistent advertising message about the OTT platform.
Recommendations & Conclusion
Google LLC is now trying to diversify their market segment by establishing their OTT platform in Canada. Though, Google LLC has already gained brand value and reliability from the worldwide customers, yet in the sector of OTT platform it still does not have such impressive footprint. However, there are noticeable presence of giant leading OTT platforms like Netflix, Disney+, Amazon prime, BBC, Britbox, Crave TV and many more. Canada's robust economic growth and the increasing demand for OTT platforms with qualitative and quantitative global content can be proved to be potential for Google LLC's OTT platform. Google LLC already has high earned revenue value, great market position, reliability and worldwide customer acceptance. However, there are some major issues that can decrease the potentiality of Google OTT platform and therefore, these challenges must be mitigated soon.Through the situational SWOT analysis, it is clear that Google LLC has the drawback of security breaching of its users. Another issue of Google LLC is that it charges huge subscription for its YouTube TV, which is already considered by the experts as a failed pricing strategy.according to the presence of all these positive and negative factors which are identified through SWOT and PESTEL analysis, Acquisition and Three C are the appropriate entry methods for Google OTT platform.
It is suggested for Google LLC to bulk up on global licensing deals in order to maximize the number of global contents. Google OTT platform must concentrate on quality dubbing and subtitling in the languages such as English, French and Cantonese in order to attract Canada's audiences. Google OTT platform should bring drama, comedy and action-adventure contents as they are in high demand in Canada. For digital originals, Canadians prefer Sci-fi drama, super hero series, crime drama, comedy and thriller. Google OTT platform must introduce them with comparatively less subscription charge as existing rivals are charging too high. Google OTT must identify possible mergers like Crave TV of Canada in order to get complete control over that firm's market share. Google needs to overcome the controversies related anti-trust and censorship policies. Though, there is worldwide economic uncertainty due to Covid-19 pandemic, yet there is positive economic growth forecast in Canada and therefore, choosing Canada as the target market can be proved to be potential. Being the leading technology based multinational company, Google LLC should adopt every possible technological support for providing greatest visual experience to its target audiences and to perform their marketing activities such as performing e-advertising and social media advertising. However, providing global content with comparatively less subscription charges is the pivotal advice for Google OTT platform.
Reference list
Ahmad, S., Mallick, D.N. and Schroeder, R.G., 2013. New product development: impact of project characteristics and development practices on performance. Journal of Product Innovation Management, 30(2), pp.331-348.
Araujo, A.V.F., 2018. Digital marketing strategies for next-generation film distribution. International Journal Of Film And Media Arts, 3(2).
Auh, S. and Menguc, B., 2013. Knowledge sharing behaviors of industrial salespeople: An integration of economic, social psychological, and sociological perspectives. European Journal of Marketing, 47(8), pp. 1333-1355.
Crosby, P., 2019. Don't judge a book by its cover: examining digital disruption in the book industry using a stated preference approach. Journal of cultural economics, 43(4), pp.607-637.
Farjam, S. and Hongyi, X., 2015. Reviewing the concept of brand equity and evaluating consumer-based brand equity (CBBE) models. International Journal of Management Science and Business Administration, 1(8), pp.14-29. Fotiadis, A., Mombeuil, C. and Valek, N.S., 2018. Designing and implementing a marketing plan. In The Emerald Handbook of Entrepreneurship in Tourism, Travel and Hospitality. Emerald Publishing Limited.
Fox, E.M., 2019. Platforms, Power, and the Antitrust Challenge: A Modest Proposal to Narrow the US-Europe Divide. Neb. L. Rev., 98, p.297. Fuad, M. and Gaur, A.S., 2019. Merger waves, entry-timing, and cross-border acquisition completion: A frictional lens perspective. Journal of World Business, 54(2), pp.107-118.
Gürbüz, E., 2018. Theory of new product development and its applications. Marketing, pp.57-75.
Haron, A.J., 2015. Tools to use in the analysis of potential new market expansion. Journal Entrepreneurship and Organization Management, 4(1), p.126. Huang, C.C.J., 2019, October. Privacy Implication and Technical Requirements Toward GDPR Compliance. In Proceedings of the Future Technologies Conference (pp. 353-367). Springer, Cham.
Hussain, S., Khattak, J., Rizwan, A. and Latif, M.A., 2013. ANSOFF matrix, environment, and growth-an interactive triangle. Management and Administrative Sciences Review, 2(2), pp.196-206.
Jreissat, M., Isaev, S., Moreno, M. and Makatsoris, C., 2017. Consumer driven new product development in future re-distributed models of sustainable production and consumption. Procedia CIRP, 63, pp.698-703. Jun, S.P., Yoo, H.S. and Choi, S., 2018. Ten years of research change using Google Trends: From the perspective of big data utilizations and applications.Marketing planning assignment Technological forecasting and social change, 130, pp.69-87. Keller, K.L., 2016. Unlocking the power of integrated marketing communications: How integrated is your IMC program?.Journal of Advertising, 45(3), pp.286-301. Kim, Y.H., Park, S.W. and Sawng, Y.W., 2016. Improving new product development (NPD) process by analyzing failure cases. Asia Pacific Journal of Innovation and Entrepreneurship, 10(1), pp.134-150.
Makasi, A., Govender, K. and Rukweza, C., 2014. Building brand equity through advertising. Mediterranean Journal of Social Sciences, 5(20), pp.2613-2613.
MawaddahAzman, M., Hamizan, A.K.W. and Husain, S., 2021. A proposed model for postgraduate entrance evaluation amidst the COVID-19 pandemic. Med J Malaysia, 76, p.49.
Mirrlees, T., 2019. Canadian TV Goes Global: Within and Beyond Cultural Imperialism. In World Entertainment Media (pp. 11-18). Routledge.
Shah, A., Rathod, A., Jain, A., Chopra, A. and Jadhav, A., 2021. The recommender system: operations research in OTT-platforms. Asian Journal of Multidimensional Research, 10(9), pp.677-684. Sin?i??ori?, D. and Jeli?, D., 2015. Applicability of Keller's brand equity model in the B2B chemical market. Economic research-Ekonomskaistraživanja, 28(1), pp.1006-1017. Singh, M., 2018. Google's 'Search Bias' in India: What the Debate Is and How the CCI Got It Wrong. Available at SSRN 3289118.
Singh, R. and Awasthi, S., 2020. Updated Comparative Analysis on Video Conferencing Platforms-Zoom, Google Meet, Microsoft Teams, WebEx Teams and GoToMeetings. EasyChair: The World for Scientists, pp.1-9. Somani, D., 2021. OTT Platform: What is its full form, meaning, popular OTT platforms, and more. [online] Available at: (Accessed 14 December 2021) Vergne, J.P., 2020. Decentralized vs. distributed organization: Blockchain, machine learning and the future of the digital platform. Organization Theory, 1(4), p.2631787720977052.
Wittayapoom, K., 2014. New Product Development, Accounting Information, and Internal Audits: A Proposed Integrative Framework. Procedia-Social and Behavioral Sciences, 148, pp.307-314.