Marketing Research Assignment on Shell Company
Question
Task: Choose one (1) company that you would like to work for and choose one (1) type of product or service that they offer in your chosen field of expertise. Using the research skills you garnered in your undergraduate study, collect, organise, interpret & analyse the following customer service information from your chosen company into a professional report. You may wish to interview someone who is working in this company as a part of your research. Please reference all valid sources of your information (both on-line and non-electronic). Answer the following questions in a professional business report style format and upload in Moodle.
What is the name of the company, their vision & mission, their location & the customer services and/or products that they provide?
Who are their customers & what are their customer segments? Describe how you researched this online using specific words and phrases (Boolean operators) to ensure you got valid & reliable information.
How does this company determine what their customer's needs are? (Use specific evidence based research examples and explain how this helps identify the customer needs).
Explain the role of promotional strategies in targeting customer's needs using a specific promotional strategy used by this company for this product or service.
What procedures does the company have in place to ensure that their promotional strategies are up to date and relevant to the customer's needs? Please include numerical data such as sales figures etc
What products or services are offered by the company to each segment & why? (Identify where the company meets the specific needs of the customer in the service or the product and how they match the product or service to these needs). Support this answer with evidence & analysis from your research.
What are some areas of the customer's need that may not be met by this product or service? (Include any difficulties that you can envisage with the way the product or service is marketed? Support this answer with evidence & analysis from your research.
What alternative products or services are there in the same market? List three (3) and briefly describe their advantages & disadvantages.
If you were working for this company describe how would you assist your customer in determining what they needed from this product or service? What alternatives could you offer them in the product range? How would you prioritise what the customer's needs were?
What rights do the customers have with regards to faulty products or unsatisfactory services? (Quote relevant legislation, ethical obligations, Codes of Practice, Policies & Procedures, Terms and Conditions, Product Disclosure Statements & identify how & when they are applied and what each one means for the consumer).
What procedures would you put in place if you were working in this company to ensure that all referrals for the product or service are relevant and matching to the needs of the customer?
What events and networks would you need to attend and/or maintain to ensure that you had an ongoing pipeline of referrals? Give two (2) examples one internal and one external and why you consider these two be the most important.
Imagine you are the owner, manager or team member of the company you have picked. Your task is to research current best practice in maintaining customer records and customer interaction history and then describe / suggest what your company will do to achieve best practice in these areas. You are required to document the process including how your company manages customer satisfaction, customer confidentiality and customer security? How do your recommendations compare with what currently exists in the company
Finally, who would you distribute this report to if you were working in this company and why? Who would you seek feedback from to ensure that your findings were suitable & sufficient for organisational requirements?
Answer
Introduction : This marketing research assignment focuses on the organization, collection, interpretation and analysis of the customer service information for a company. For the discussion in this marketing research assignment, famous oil and petroleum company Shell Company is selected. The information of the company is taken from the company's website and other online sources.
Company background: Shell is global group of petrochemicals and energy companies. It provides oil change service, convenience stores, petrol and gas. Mission of the company is to meet energy needs of society which are socially and environmentally viable now and in future. Vision of the company is to maintain the position as the leader in gas and oil sector and help in meeting the global energy demand. Headquarter of the company is in Netherlands (Shell, 2018).
Customer segment : Shell Company has divided the market into three segments i.e. demographic, geographic and psychographic segmentation. Consumer segmentation of Shell Company is as follows:
Determine consumer's need: There are many ways by which the needs of the consumers can be understood. Those ways include customer focus, empowerment and reviews. The company puts its customers in to center so that their needs can be fulfilled. Customers are empowered by the option of feedback provided by the company. They can also give reviews to the product so that they can make the company understand about their choices (PWC, 2013).
Ensuring Promotional strategies:For ensuring the effectiveness of promotional strategies, some processes can be adopted and used in the company. In this manner, pre-testing, concurrent testing and post-testing procedure can be adopted. In addition to this, records of previous strategies would also be helpful to analyze the effectiveness of the promotional strategies (Sheth, Parvatiyar & Sinha, 2015).
Products: Product line of the Shell for the consumers is given below: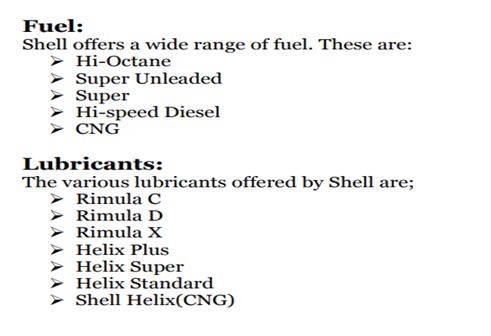 Needs not met : Although Shell has provided quality products and services to the customers but competitors are offering similar products at the cheaper rates. In this area, the needs of consumers in terms of prices are not met and they switch to other companies. The area of disclose of confidential data creates mistrust among the customers for the company.
Alternative products: For the energy and oil products, alternative products are bio-alcohol, biodiesel, natural gas, non-fossil methane, propane, and hydrogen and biomass sources.
Assisting customers : For assisting the customers, it is important to identify the needs of the customers. It is crucial to understand why the products of the company are required by the consumers. To assist the customers, representatives of the company needs to be available all the time for the customers so that their queries can be resolved on time. Analyzing the customer's needs is only the way to assist the customers and resolve their issues (Gopaldas, 2015).
Rights to faulty products : Consumers have right against the unsatisfactory services and faulty products. If the consumers are getting faulty products then they have right to apply new products or ask for taking the product back. In addition to this, there is Consumer Guarantee Act that provides the right to the customers to contact the service providers, retailers or manufacturers for the wrong or faulty products.
Procedure for ensuring referrals : For ensuring that the products and services of Shell Company are suitable and meeting the customers' need, communication process can be adopted for this manner. In this way, various communication platforms and channels can be used. Email marketing, social media channels, traditional channels i.e. hoardings and television and feedback system can be used to understand the needs of the customers (Chaffey, Smith & Smith, 2012).
Events and Networks for pipeline of referrals: In order to target more and more customers, referral marketing is very crucial and necessary. In case of Shell Company, there are two events which are used for referral. Those events are referral programs and word of mouth. These events are helpful to make the customers ready for more referrals (Bruce & Solomon, 2013).
Current best practices : The information and data related to the consumers can be collected by various processes i.e. customer satisfaction surveys, enquiries, order forms, website and feedback cards. For keeping the customers satisfied by the products and services, Shell has adopted innovative marketing strategies without compromising with its traditional values (Armstrong, Adam, Denize & Kotler, 2014). Moreover, the company has adopted price skimming strategy for its products and maintains effective relationships with the loyal consumers. Company does not disclose the confidential information of the partners and consumers which develops trust among the customers for the company.
Distributing report : After gathering proper data related to the satisfaction and consumer policy of the company, it is necessary to effective feedback. This will ensure that the research and findings are suitable for the organizational requirements. In case of Shell Company in this marketing research assignment, the feedback will be taken from the marketing department. The reason is that marketing department is responsible for confidentiality and satisfaction of the potential customers when they are availing the services and products from Shell Company.
Conclusion
Based on the above marketing research assignment, it is observed that the Company puts its customers in to center so that their needs can be fulfilled. Customers are empowered by the option of feedback provided by the company. To assist the customers, representatives of the company needs to be available all the time for the customers so that their queries can be resolved on time. In this marketing research assignment it is observed that to assist the customers, Email marketing, social media channels, traditional channels i.e. hoardings and television and feedback system can be used. Marketing research assignments are being prepared by our Marketing research assignment help experts from top universities which let us to provide you a reliable assignment help in australia service
References
Armstrong, G., Adam, S., Denize, S. and Kotler, P., (2014). Principles of marketing. Pearson Australia.
Bruce, M. and Solomon, M.R. (2013). Managing for media anarchy: a corporate marketing perspective. Journal of Marketing Theory and Practice, 21(3), pp.307-318.
Chaffey, D., Smith, P.R. and Smith, P.R. (2012). eMarketing eXcellence: Planning and optimizing your digital marketing. Routledge.
Gopaldas, A. (2015). Creating firm, customer, and societal value: Toward a theory of positive marketing. Journal of Business Research, 68(12), pp.2446-2451.
PWC, (2013). Gateway to growth: innovation in the oil and gas industry, Retrieved from https://www.pwc.com/gx/en/oil-gas-energy/publications/pdfs/pwc-gateway-to-growth-innovation-in-the-oil-and-gas-industry.pdf
Shell, (2018). WHO WE ARE, Retrieved from http://www.shell.com/about-us/who-we-are.html
Sheth, J.N., Parvatiyar, A. and Sinha, M. (2015). The conceptual foundations of relationship marketing: Review and synthesis. Journal of Economic Sociology, 16(2), pp.119-149.