Marketing Plan Assignment On Motiv Ring
Question
Task Description: Assessment 2 requires students to work individually on their selected new product or service (from assessment 1) to create a comprehensive strategic marketing plan. This is an individual assessment with a maximum word limit of 2500. Your assessment should be an application of relevant marketing concepts learnt in the unit. There is no need to go into details about explaining marketing concepts, rather it should be an applied discussion. Please upload the assessment through the appropriate Moodle link by week 10. Each assessment must be uploaded as a .doc or .docx file (word file).
Answer
Executive summary
The marketing plan assignment has focused on the market strategy plan for the Motiv ring in order to hold their position in the market. The product like Motiv ring has been launched in the country of Australia and the way of gaining profit has been demonstrated throughout the study in an appropriate manner (mymotiv.com, 2018).
The assessment has provided entire background information related to the product along with situational analysis. In this marketing plan assignment, investigation procedure, opportunities of products and system of organisational development has been derived in a lucrative manner as Motiv ring can secure its position in the Australian merchandise market.
At the end of the marketing plan assignment, marketing strategies like BCG matrix and model of product lifecycle have been developed for getting fruitful outcome. It also analyses the necessity of introducing the product in Australian market. Financial budget based on strategy implementation has been developed related to the event of launching Motiv ring in Australia (mymotiv.com, 2018).
1.0. Introduction
1.1. Product background: The concept of motive ring in this marketing plan assignment is one of the derivatives consulting gadgets of the smart rings usually produced for managing the health aspects. The ring is generally taken in form of a wearable ornament with advance components of mobile applications. The product is effective to measure as well as keep a record of the motional activities an individual does within its daily routine. Apart from such, the contexts of the smart ring are also used for the making payments online or mitigating access controls. On this context of the marketing plan assignment, the following content is relevant to the marketing plan for motive ring with suitable budget plan and promotional contexts.
2.0 Segmentation targeting and positioning approach discussion
2.1. Problem statement: The problem statement in this marketing plan assignment would be dealing with management of marketing plan for the product of smart ring that is the Motive ring with various analytical methods. For such the internal analysis would be contributed through SWOT analysis along with BCG matrix as marketing strategy formation (Kireev et al. 2016).
2.2. Market segment: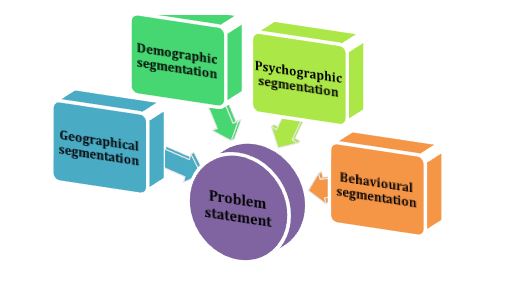 Figure 1: Market segmentation
(Source: Created by author)
Geographical segmentation: The products of Smart ring sustaining to that of Motive rings are subjective to be launched within the province of Melbourne with the Australian context. For such, the product would mainly be focused over the electronics market segment, especially concerning the Queen Victoria market segment (Gonzalez-Valiente & Pacheco-Mendoza, 2017).
Demographic segmentation: The product of smart motive ring is mainly to be focused over the general population with sportsperson and athletes in primary choice. The province of Melbourne is with the population of 4.9 million with average income state. Further there are presences of employee ratio of 49% male with 56% female employees; hence the product launch would not be affected much (invest.vic.gov.au, 2018).
Psychographic segmentation: Melbourne is having its richness over multicultural society with well educated backgrounds. For evidence of such, the consideration goes with 58% of the Melbourne society population with overseas connection. Apart from such, presence of multilingual aspects are also effective to provide the product launch, a success scale consulting to that of Smart motive ring (invest.vic.gov.au, 2018).
Behavioural segmentation: As evident from above, Melbourne is with sufficient positive cultural practises along with satisfactory employment rate. Through cultural aspects, there is also presence of demands for the growth of new technologies within Melbourne that would be proven positive for the launch of new product of Motive ring (invest.vic.gov.au, 2018).
2.3. Target market and positioning
Target marketing: For the concern of target market, differentiated strategy is to be selected to procure focus over more than one market segments:
Differentiated target market

Product

Is efficient for patients with heart issues along with for the concern of sleep deprived patients

Distribution

The stores are channelized through premium along with non-premium roles. The premium stores with sufficient higher rates are to be placed at airports and central locations while non-premium stores are to be located within suburbs of Melbourne

Price

For the rings with water resistance and dust resistance, the price is kept higher than that of the non-water/dust resistant rings

Promotion

The promotion is to be vitiated through dual video promotions; one for teenager uses and one for medical uses.
Table 1: Differentiated target market
(Source: created by author)
Positioning analysis: For the product of Smart Motive ring the USP health analysis factor that would be considered to give the marketing aspects a steeper hike. Considering the product, the factor differentiating from the other similar products in the market is its ability to cater both for entertainment along with managing the health factors (Alyousef, 2016). The device is eligible to be used by teenagers and athletes for their fitness measurement along with or patients through measurement of heart rates and sleep rates (David et al. 2017). Apart from such, the company is with intentions for the product to produce appreciable valuation within their users that would be effective positively over the profit margins.
2.4. Situational analysis
2.4.1. SWOT analysis
Strength

Durable through having titanium encases
Waterproof
Dust proof
Sleek design

Weaknesses

Data accuracy issues
Poor charging features
Low battery life

Threats

Competition existing through competitors such as Jakcom R3 NFC or Neyya FR15NRTL

Opportunities

Market acquisition
Introduction of compact storage technology
Table 2: SWOT analysis of Motive Ring
(Source: created by author)
From above table it is evident that there are existent both strengths and weaknesses for the company of Motive rings. Through increasing the internal technological developments, the company can diminish demand of charging facilities. Apart from such, it can also mitigate the issue through sing the opportunity of new storage technology (Gâd?u, 2017). Through enacting over the weakness by virtue of strengths, threat of competitive field can be diminished to a certain level. Further the company can also entail to the market acquisition with overseas brands such as Fitbits or that of Jackom or Neyya. Through such aspects, the company would be able to mitigate the threat trough use of the opportunities. For such, the competition aspect for the company can be mitigated through a higher level along with profit margins can also be taken into consideration, and also the procurement of competitive advantage (Kosan, 2014).
3.0. Marketing and financial objectives
3.1. Marketing objectives with linked goals (3 objectives)
| | | | | | |
| --- | --- | --- | --- | --- | --- |
| Objectives | Specific | Measurable | Achievable | Realistic | Timely    |
| Service improvisation | Sales increment by 4% within 4 years | Through use of sales chart and profit margins | Through capital investment | Is relevant to other smart watches | 4 years |
| Inclusion of gesture senses | Procure customer increment through 3% by 2 years | Customer apprehend rates | Through use of marketing campaign | Advancement of motional technology | 2 years |
| Inclusion of parental control | Procure customer increment through 2% by 2 years | Customer apprehend rates | Through use of technological advances | Security aspects | 2 years |
Table 3: Marketing objectives
(Source: created by author)
3.2. Financial objectives with linked goals (3 objectives)
Objectives

Mitigating strategies

Lager cash flow amount

Through producing fair or better              performances over the better forecasting aspects

Through terms evaluation

Through enforcing payment discipline

Customer segmentations with suppliers and inventory management

Higher returns over the invested capital

Through managing the tax, interest payments , dividends, operating and non-operating expenses      

Sustainable increment within the   market value

Improvement of brand image with capital competitive advantage

Choosing a favourable cost amount for the products along with  manage the increment of productivity

Managing the shareholder aspects
Table 4: Financial objectives
(Source: created by author)
4.0. Marketing mix strategy
4.1. Application of marketing mix: As the marketing mix strategy is to be implied over the product of smart Motive ring, hence the marketing strategy of 4P is to be followed;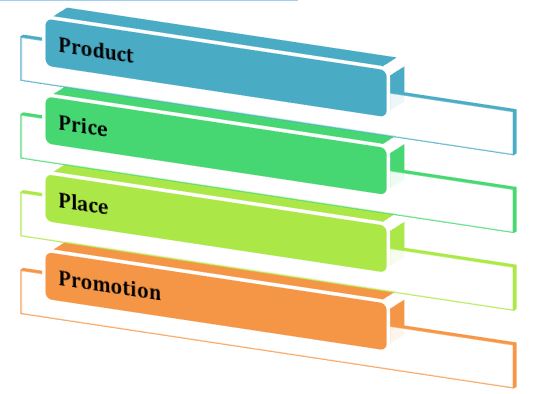 Figure 2: 4P marketing strategy for product differentiation
(Source: created by author)
Product : Here the chosen product is Smart Motive ring. The product is to be used as a wearable device. For such, it would be efficient for undertaking measurements for heart rates along with sleeping times. Apart from such, the device would be effective to produce the content for blood circulation rate along with pulse rates especially for athletes and sports persons. Further the product would be available in colours of wine red along with black matte finish for the customers.
Price: The pricing strategy would be selective toward the neutral strategy for the company of Motive rings. Through such, the product would be priced at $56 USD at the initial stage for the non-premium one while $67 USD for the premium model. The price rates for the non-premium rings are to be decreased on occasional events for brand endorsement as well as product enhancement. The premium price rate is to be kept unchanged favouring its extra features of resistibility toward dust or water.
Place: For the location aspects, the distribution factor would be followed through usage of selective methodology. For such a choice the reason sustains to be the promotion of premium and that of non-premium rings through their perspective and wants. For the premium one, premium places such as airports or malls are to be selected while for the non-premium one, suburban areas are to be selected.
Promotion: The main promotion strategy would be selected in form of newspaper advertisement with online advertisements. For such choice, the reason sustains the usability of gadgets in an increased level. Through newspaper also, a wide audience can be reached through a minimal of cost management.
4.2. Proposed implications of marketing strategy:
Product life cycle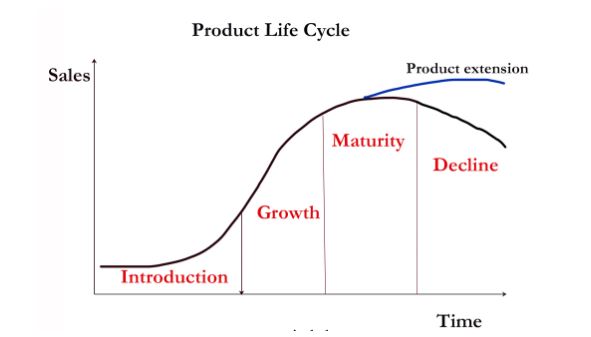 Figure 3: Product life cycle
(Source: economicshelp.org, 2018)
Introduction: Here the product is taken in form of Motive smart rings. The introductory stage would focus over the introduction of the non-premium models first and then the premium model introductions. For example; introducing the digital screens to provide micro visuals can create favourable outcome (Chahal Dangwal & Raina, 2014).
Growth: Once gained market position, the company can focus over their growth through introducing other amenities and prospects through technological matters. For example, the company can procure development over bio-generative metres for producing accurate health rates (Scarborough, 2016).
Maturity: Once the company has gained exponential growth, it can further procure over the modification over their existing products rather than implementing new products. For example, the company can consider the implementation of dust/water resistant technology within their non-premium model at a sustainable rate.
Declination: In this stage the company would be leaning towards deleting or removing their older products in order to prioritize their new implementations regarding new versions of smart rings. For example, the very first introductory model can be removed and promoting the present models instead.
Through such, it can be taken into consideration regarding the use of developmental strategy in order to maintain sustainability over the market. Apart from such, the use of customer surveys along with other consulting other consumer groups can entail better specification and demanding aspects for the implementation of new product of Motive rings (Mahmood et al. 2015).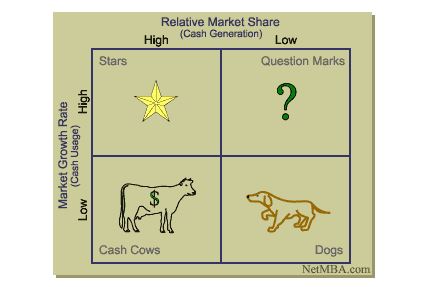 (Source: netmba.com, 2018)
Consulting to that of BCG matrix mentioned above, the favoured room for the product of smart motive ring is Star position. The company of Motive has their rings priced at sufficient higher rate so as to comply with the competitive fields. Apart from such, the product quality also sustains to be positive in expense of lowered weakness for the products of Motive rings. Favouring such aspects, the company sustains sufficient increment within their profit rates. Apart from such, the competitive advantage also stays higher form the company regarding their differentiated product (Macarthy, 2018).
Favouring the aspects, there are certain negative amenities for the company to afford. Against such higher prices, a selectivity of the classes on the customers arises that hinders the productivity (Tsygankova & Ponomarenko, 2016). For such, the company aspires to switch to cash cow position where there are more profits than that of production cost. For such, the company can focus over producing attractive discounts over the ring models without cutting the performance level. Apart from such, the aspect can also be taken into consideration regarding better product differentiation and that of customer satisfaction module. Ones gained competitive advantages; the company can shift towards the cash cow position, hence procuring positive outcomes (VARGAS-HERNANDEZ, 2015).
5.0. Budget allocation
5.1. Budget allocation and media for elements of promotional mix:For the media approach for promotional mix, there are considered the use of newspapers along with television commercials. Apart from such, hoardings are also to be entertained;
Budget for promotion

Year 1 to 5

Television commercials

1.      The Telegraph (1 full page)

2.      The Sydney Morning herald (1 full page)

$256,700 (20 ads)

$256,700 (20 ads)

 

 

 

hoardings (10-15 hoardings)

$1123 (per hoarding)

Flyers

(5000-12000 flyers/A5 size)

$1732

Quantity: 5000 A5 flyers
Table 5: Mediated budget
(Source: created by author)
As Melbourne is considered to be a culture rich province with several mediated technological advancement, hence the chosen mediated approaches are newspapers along with television commercials along with hoardings. Among the newspapers, the telegraphs along with The Sydney morning Herald are the common read newspapers. Hence for such, they are the chosen ones to promote the product of the Smart ring (Whalen & Boush, 2014). Apart from such, a wider audience can be entertained through use of commonly read newspapers. The considerations of hoardings are to be established aside the highways along with more focussing over the areas with major attractions such as airport terminals, railway stations or shopping malls. For extra brand endorsement, flyers are also taken into consideration (Yurasova & Ivashko, 2014). Through such, more product deviation can be achieved by the company with more customer attraction.
5.2. Digital communication strategies: The strategy over establishment of digital communication can be taken in form of creating online hubs for promoting product information along with creation of online forums regarding the product of Smart ring from motive. For such, four strategic approaches can be considered (Chernev, 2015). The first one can be considered in form of business goal identification. Further the stage involves situation understanding regarding key competitors along with establishing communication aspects. Further aspects can be procured by gaining target audience insights (Yusof et al. 2016). The final stage would be to manage the data collection along with development of the strategy required.
6.0. Conclusion
From the above content in this marketing plan assignment, various conclusions are to be derived. The market segmentation produces the conclusion for the provinces of Melbourne to be well culture along with have suitable demographics for launching the product of Smart Ring. Through such, the product is subjected to have sufficient market valuation rate through enhanced customer demands. From the SWOT analysis in this marketing plan assignment it is evident that the company is with major strengths and minor weaknesses or threats that could be compensated through the present opportunities. Through such, competitive advantage can be captured with ease. From the use of 4P marketing mix strategy, it can be seen evident to chalk out the desired requirement for the company in order to procure expansion over the Melbourne province. Marketing plan assignment assignments are being prepared by our marketing strategic assignment help experts from top universities which let us to provide you a reliable assignment help melbourne service.
Reference list
Chernev, A. (2015). The marketing plan handbook. Cerebellum Press. Retrieved from: https://bit.ly/2xl8w3k
Macarthy, A. (2018). 500 Social Media Marketing Tips: Essential Advice, Hints and Strategy for Business Facebook, Twitter, Pinterest, Google+, YouTube, Instagram, LinkedIn, and More!. CreateSpace Independent Publishing Platform. Retrieved from: https://bit.ly/2NgjGkK
Scarborough, N. M. (2016). Essentials of entrepreneurship and small business management. Pearson. Retrieved from: http://lib.hpu.edu.vn/handle/123456789/23886
Alyousef, H. S. (2016). A multimodal discourse analysis of the textual and logical relations in marketing texts written by international undergraduate students. Functional Linguistics, 3(1), 1-29. doi:http://dx.doi.org/10.1186/s40554-016-0025-1
Chahal, H., Dangwal, R., & Raina, S. (2014). Antecedents and consequences of strategic green marketing orientation. Journal of Global Responsibility, 5(2), 338-362. Retrieved from https://search.proquest.com/docview/1660760595?accountid=188056
David, F. R., David, M. E., & David, F. R. (2017). The integration of marketing concepts in strategic-management courses: An empirical analysis. S.A.M.Advanced Management Journal, 82(1), 26-35,47. Retrieved from https://search.proquest.com/docview/1926546999?accountid=188056
Gâd?u, L. (2017). Marketing audit and its importance in achievement of marketing objectives of a company. Journal of Advanced Research in Management, 8(1), 38-43. doi:http://dx.doi.org/10.14505/jarm.v8.1(15).04
Gonzalez-Valiente, C., & Pacheco-Mendoza, J. (2017). Rethinking the information dimension of marketing. Biblios, (66), 20-35. doi:http://dx.doi.org/10.5195/biblios.2017.287
Kireev, V. S., Nekrasova, M. L., Shevchenko, E. V., Alpatskaya, I. E., Makushkin, S. A., & Povorina, E. V. (2016). Marketing management as the realization process of research, production and sale activity of the enterprise. International Review of Management and Marketing, 6(6) Retrieved from https://search.proquest.com/docview/1836589095?accountid=188056
Kosan, L. (2014). Accounting for marketing: Marketing performance through financial results. International Review of Management and Marketing, 4(4), 276-283. Retrieved from https://search.proquest.com/docview/1619884166?accountid=188056
Mahmood, U., Zubair, S. S., & Salam, A. (2015). Synergic relationship between total quality management and marketing management in creating customer's value. Journal of Business Strategies, 9(2), 99-114. Retrieved from https://search.proquest.com/docview/1777257145?accountid=188056
Tsygankova, T., & Ponomarenko, R. (2016). Key determinants of managing the marketing asset of global companies. International Economic Policy, (25), 75-97. Retrieved from https://search.proquest.com/docview/1894933069?accountid=188056
VARGAS-HERNANDEZ, J., & Rebeca, A. J. (2015). Personal marketing plan and its influence on employability. Turkish Economic Review, 2(2), 104-110. doi:http://dx.doi.org/10.1453/ter.v2i2.265
Whalen, P. S., & Boush, D. M. (2014). Why, how and to what effect do firms deviate from their intended marketing plans? European Journal of Marketing, 48(3), 453-476. doi:http://dx.doi.org/10.1108/EJM-09-2011-0466
Yurasova, O. A., C., & Ivashko, L. M., C. (2014). DEVELOPMENT OF AN INTERNET MARKETING PLAN BY VAT "ROSSELHOZBANK". Natsional'Nyi Hirnychyi Universytet.Naukovyi Visnyk, (4), 156-162. Retrieved from https://search.proquest.com/docview/1566540866?accountid=188056
Yusof, M. R., Musa, M. F., Samsudin, N. S., Mohammad, M. F., & Baharuddin, M. N. (2016). Industrialised building system (IBS) plan of work. International Review of Management and Marketing, 6(7) Retrieved from https://search.proquest.com/docview/1836591247?accountid=188056
Appendices
Appendix 1: Profit share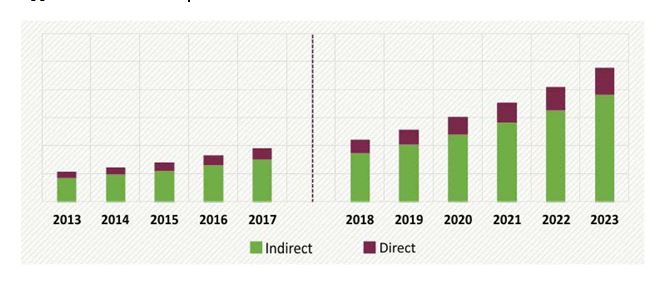 Figure 1: Profit share
(Source: psmarketresearch.com, 2018)