Strategic Management Assignment: Macro and Industry Analysis of Bunnings
Question
Task: Bunnings is wholly owned by Wesfarmers, an ASX listed company. While they are not listed themselves they fall under the reporting requirements of Wesfarmers and therefore significant amount of the detailed information is available on the company. Remember the objective of this strategic management assignment is to demonstrate your understanding of the 'tools' of strategic management.
Your report should be written in a clear and concise manner, presenting a summary of the key points of your analysis and findings. Your report will be assessed on how well it demonstrates a clear understanding and application of strategy concepts and models to the external environment of the organization.
Answer
Introduction
Bunnings Warehouse is a leading retailer of home improvement and outdoor living products in Australia and New Zealand. It is a wholly owned subsidiary of Wesfarmers Limited and operates in the purview of retail hardware, home development, plumbing and HVAC equipment (Bunnings Warehouse, 2020). Bunnings Warehouse primarily serves commercial business owners, individual builders, trade persons, small and medium sized companies and builders. The first warehouse style store was opened in Melbourne with subsequent stores open up later in Sydney and Brisbane. Bunnings Warehouse has currently 375trading locations and over 48,000 employees with a market share of 50 percent in the Australian hardware market. The annual revenue of Bunnings Group stands to $14.9 billion(Bunnings Warehouse, 2020a). Currently, Bunnings Group operates in a competitive market with major competitors like Mitre 10, Wickes DIY, Home Hardware Stores and The Home Depot Canada. However, recent changes in the Australian property growth, lack of demand from consumers and customer preference changing to DIY projects can significantly impact the operations of Bunnings Warehouse.
Macro Environment of Bunnings Warehouse
The externalenvironment analysis for Bunnings Warehouse has been given by utilizing the PESTLE framework. As opined by Mihailova (2020), a PESTLE analysis or framework is used to analyze the macro-environmental factors that can significantly impact the business operations of an organization. The acronym for PESTLE stand for Political, Economic, Social, Technology, Environment and Legal factors. The following tool will summarize the consequences of different aspects in the external environment of the organization. Bunnings Warehouse operates in the hardware business industry and is in its growth stage. The current lifecycle of Bunnings Warehouse depicts that the organization has high expectations of growth in future. Being one of the most lucrative industries, Bunnings Warehouse continues to yield high annual value for the organization.
Figure 1: PESTLE Framework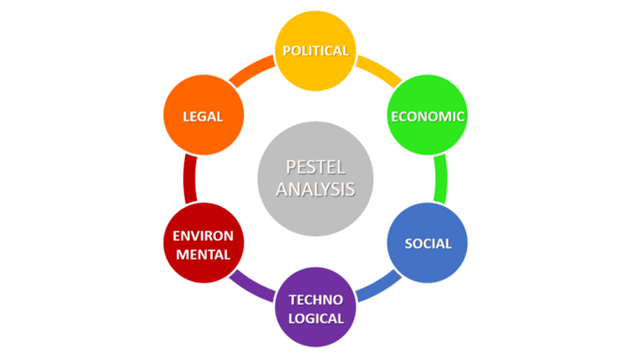 Source: Mihailova (2020)
Political factors
According to BBC News (2018), Australian political environment has been significantly unstable in the few years. The frequent changes in the current business environment and government regulations has existed in Australian politics. Contrarily, the Australian government also supports the small hardware companies operating in the industry in order to provide employment opportunities and boost technological improvement. In a nutshell, the political environment of Australia has been overall stable in comparison to other nations. The government provides a strong regulatory framework that allows small and medium enterprises to sustain the competition. The country also has trained and skilled technicians that adds benefit to the overall business environment. Unpredicted tariffs can be an issue at the time of economic downturns.
Economic Factors
The most important economic attributes in the external environment is price volatility, changes in the market crunch. These factors can have unfavorableeffects on the daily businesses of Bunnings Warehouse. The world-wide crisis is one of the reasons that created a situation of economic instability in many countries thereby impacting the operations of Bunnings Warehouse (Reserve Bank of Australia, 2020). The disposable income of people of Australia was reduced due to which there has been a formidable impact on the hardware industry and overall home improvement retail sector. The economic downturn has brough significant changes in the consumer behavior where consumers refrain from purchasing hardware products and home improvement products. However, as Australia shows a wide scope of economic development in different parts of the country, it also shows positive signs of property investment. The prime focus of consumers has become purchasing of only items for survival. Contradictorily, Australia has a mixed-market economy with a strong GDP (GlobeTrenders.com, 2020). Also, the hardware market in Australia has considerably grown over the last decade with billions of dollars earned per annum.
Social Factors
Australia provides one of the most lucrative business environments for hardware companies to grow. Australia has the highest per capital hardware utilizationattributable to suitable weather conditions, sizeable industry, and elevated levels of home ownership. The Australian society is classified into upper class, middle class and working class. However, majority of people belong to the middle-class category. The standardof living condition of people in Australia is quite high which shows that people can spend on home improvement and hardware products (Degree Plus Australia, 2020). The rise in demand has been an important factor for considering Bunnings Warehouse products and services. The tailormade kitchen setups, garden products and construction products are among the highest sold items of the company. These social determinants have been in favor for the growth of
Bunnings Warehouse.
Technological Factors
Technology is one of the detrimental factors for the success of hardware industries. Australia has evolved and adapted to technological changes. It is evident from the number of admissions of students that they prefer making their careers in Australia. Bunnings Warehouse clearly anticipates the approaches for design innovations and creating better and sustainable products for its customers (Thomson, 2020).
Substantial changes can be made in improving the quality of building products by incorporatingtechnological advancements. This is expected to substantially reduce the expenses on maintenance for the utilization of hardware and other new products. The Australian government financially supports various innovative research projects and encourages hardware companies to manufacture new home improvement products.
Environmental Factors
Environmental factors have significant impact on the operations of the entire hardware industry which includes Bunnings Warehouse. Environmental concerns in Australia has forced the Australian government to take stricter actions to reduce the pollution levels. The necessary actions and regulations were formulated because Australia faced shortage of water, increase of salt in water bodies, decrease in soil quality due todeforestation. Therefore, the government advises hardware and home improvement companies to identify alternative ways to manufacture their products and recycle them. This will help in reducing the carbon footprint of the hardware companies. In 2008, Bunnings announced a major change of not utilizing plastic bags and rather encourage customers and community to use alternative options (Bunnings Warehouse, 2020b).
Legal Factors
The legal factors primarily concern with the regulations pertaining to management of forest operations. Overall, the basic wages of workers have been increased and has obligated hardware companies to utilize alternative solutions and recycling of products. The companies within the hardware industry are required to comply with the laws of licensing and compliance pertaining to trading of hardware products. Bunnings announced its commitment to comply with the legal and environmental laws of Australia in 2015 thereby validating its status as a socially responsible organization. Bunnings Warehouse accomplished carbon neutrality standards in order to conserve the environment and reduce their carbon footprint. Also, in the year 2003, Bunnings formed a timber and wood products purchasing policy (Bunnings Warehouse, 2020c). This requires the procurement and manufacturing of all wood products from legal and well managed forest operations.
Industry Analysis of Bunnings Warehouse
The industry analysis of Bunnings Warehouse would be highlighted by conducting a Porter's Five Forces framework analysis. A Porter's Five Forces model allows an organization to identify and investigate the five competitive forces that influences it and determine its strengths and weaknesses. It helps organizations understand the level of competition within the industry and boost its long-term profitability (Isabelle, et.al., 2020).
Bargaining power of suppliers
The bargaining power of suppliers is a strong influence that impacts an organization. In the case of hardware retail and home improvement companies like Bunnings Warehouse, the bargaining power of suppliers is high because of the presence of competitors in the hardware industry. There are abundant suppliers in the market and Bunnings maintains a smooth delivery system that reflects from its capability in distribution (Bunnings Warehouse, 2020d). Contradictorily, Bunnings competitors purchase their product supplies from local manufacturers as well as from oversea suppliers. However, Bunnings only associates itself with suppliers that comply and agree with the terms and conditions of Bunnings. This reduces the bargaining power of suppliers.
Threat of New Entrants
The threat of new entrants in the hardware and home improvement market stands low because companies like Bunnings and Mitre 10 have already created a niche within the industry. Bunnings is a prominentseller of home improvement, garden and building goods with more than 20% market share in the home improvement market. Bunnings Warehouse has the ability to efficiently utilize its resources and reduce costs from suppliers which might not be possible for new entrants in its initial years. However, as the market is evolving and demand for home improvement products are increasing, more and more competitors are entering into market. Existing competition is also gearing up to give a tough competition to Bunnings. Even though Bunnings holds a strong position in the hardware business, the threat of new entrants will eventually rise.
Bargaining power of buyers
The bargaining power of customers tend to remain on the higher side. The presence of competitors in the hardware industry has made it considerably difficult for Bunnings to sustain the competition. The hardware and home improvement retail industry are driven by customer demands and preferences and there are plenty of existing and new companies shifting the focus of customers. Customers get easily attracted to innovative home improvement products and DIY concepts that make their life easier at affordable prices (Herman, Hady and Arafah,2018). There are many companies providing cheap yet durable products. However, Bunnings is relatively a new company in the hardware industry that has kept its the price of its products at a lower rate than competitors. Even after this, the bargaining power of buyers will remain moderate to high.
Rivalry among existing competitors
Bunnings operates in a highly competitive market in Australia but the rivalry among existing competitors will impact Bunnings from low to moderate levels. The degree of competitiveness also depends on how well Bunnings identifies the market strategies used by its competitors and then comes up with better strategies. The cost leadership strategies of Bunnings give certain amount of leverage in the market which has allowed the company to sustain the competition (Murphy, 2015). The company engages in healthy competition which determines its future profitability in the Australian hardware industry.
Threat of substitute products
Bunnings operates in a competitive market where there are several competitors selling homogeneous products but in the era of innovation, there can be noticeable difference in the products. Bunnings has a strong presence in the digital platforms where it provides information about home improvement products, DIY techniques and inspires people to give a makeover to their home spaces. This eventually reduces the threat of substitute of products to a certain extent. However, it can be difficult to assess whether Bunnings can keep up with the customer preferences and innovate new products.
Conclusion
The following Bunnings Warehouse case study shows that its has remained one of the prominent providers of home enhancement and hardware goods in Australia. In conclusion, it can be stated that Bunnings has a successful image in the home improvement products industry in the domestic as well as in the international market. Bunnings Warehouse has potential to grow within the industry by analyzing its strengths and weaknesses and identifying the opportunities and threats for the company. Bunnings Warehouse operates as a huge manufacturer and manages its marketing operations in an efficient manner. However, it is also important for the company to consider analyzing its external or macro environment in order to sustain in the market. At present, Bunnings Warehouse has an impressive financial condition which facilitates the company to invest in different operations. This will allow the company to evolve, grow and identify new opportunities to cater to the needs of customers.
Reference List
BBC News, 2018. Four reasons why Australian politics is so crazy. [online]Available at: [Accessed 7 December 2020]
Bunnings Warehouse, 2020a. About Us. [online] Available at: [Accessed 7 December 2020] Bunnings Warehouse, 2020b. Sustainability. [online] Available at: [Accessed 7 December 2020]
Bunnings Warehouse, 2020c. Bunnings and Timber. [online] Available at: [Accessed 7 December 2020]
Bunnings Warehouse, 2020d. For Our Suppliers. [online] Available at: [Accessed 7 December 2020]
Degree Plus Australia, 2020. Standard of Living. [online] Available at: [Accessed 7 December 2020]
GlobeTrenders.com, 2020. Economy and Business Opportunities from Australia. [online] Available at: [Accessed 7 December 2020]
Herman, H., Hady, H. and Arafah, W., 2018. The influence of market orientation and product innovation on the competitive advantage and its implication toward Small and Medium Enterprises (UKM) performance. International Journal of Science and Engineering Invention, 4(08), pp.08-to.
Isabelle, D., Horak, K., McKinnon, S. and Palumbo, C., 2020. Is Porter's Five Forces Framework Still Relevant? A study of the capital/labour intensity continuum via mining and IT industries. Technology Innovation Management Review, 10(6).
Murphy, J., 2015. How Bunnings' prices are designed to nail customers. [online] Available at: [Accessed 7 December 2020]
ÖNEREN, M., ARAR, T. and YURDAKUL, G., 2017. Developing competitive strategies based on SWOT analysis in Porter's five forces model by DANP. Journal Of Business Research-Turk, 9(2), pp.511-528.
Mihailova, M., 2020. The state of agriculture in Bulgaria–PESTLE analysis. Bulgarian Journal of Agricultural Science, 26(5), pp.935-943.
Reserve Bank of Australia, 2020. The Global Financial Crisis. [online] Available at: [Accessed 7 December 2020]
Thomson, J., 2020. How Bunnings built a path through COVID-19. [online] Available at: [Accessed 7 December 2020] ?
Appendix
Bunnings Warehouse Overview
Figure 2: Bunnings Warehouse Logo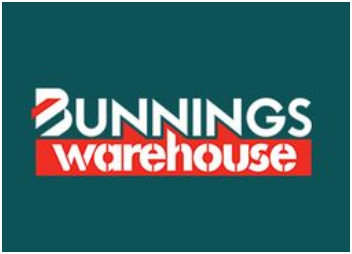 Source: (Bunnings Warehouse, 2020a)
Bunnings warehouse is one of the top retailer companies which provide homebased improvements as well as outdoor living products to its customers. It is located in Australia and New Zealand, and is wholly owned by Wesfarmers Ltd. Most of their customers include project builders, tradespeople, commercial businesses and do-it-yourself enthusiasts. According to the recent calculations Bunnings Warehouse employees more than 40,000 workforce and they also believe that their workers are the soul and heart of their business. The businessworks from 253 warehouses,33 trade centers, 77 small Centre stores and three frame and trust sites across Australia and New Zealand. The Bunnings Warehouse has expanded into the United Kingdom and Ireland between 2016-2018 and owns 15 BUKI stores and 324 Homebase stores with propositions to rebranding.
The popularity of the company can be easily understood by the market share it holds which estimates at 35.2% within the hardware and building supply industry. The company takes pride in having staff members with special skills with which they can complete their work in a perfect way like leadership, teamwork, integrity and innovation. They always follow their culture and reach the goals they always desire. They are identified as a brand that is driven by community participation and relationship structure and their leaders help the brand to positively create resonance through identity.
Macro Environment Analysis
Figure 3: PESTLE Analysis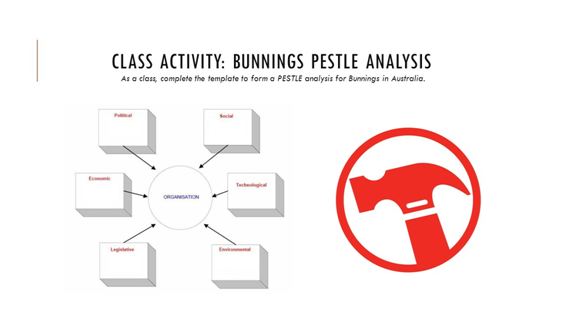 Source: Mihailova (2020)
| | |
| --- | --- |
| Political Factors | Political barriers exist essentially in the hardware industry which can be observed in the profound instability of Australian politics and in changes seen in government regulations. It can also be seen that the Australian government also supports the fostering of Australian hardware companies to improve the employability opportunities as well as the technology improvements. However, it is also known that if there is any economic crisis the government can impose unwarranted tariffs on imports which most possibly would include building and home improvement products. This impacts the Bunnings Warehouse by imposing restrictive trading hours and ad hoc regulations.    |
| Economic Factors | The economic factors mainly include the unstable price increase, market crisis and instability of income which has a detrimental impact on the operations of Bunnings. The global financial crisis that usually has a huge impact on the economy of a country is one of the examples that states the influence of economic uncertainty on commerce. This kind of catastrophe has caused the decrease of disposable income of families around world and has a forbidding effect on the hardware and home improvement segment. The impacts are widely visible in the consumer behavior as it does not purchase home improvement and hardware products and rather lean on buying necessary goods.   |
| Social Factors | It is clearly visible that per capita hardware ingesting in Australia is chief among the entireworldowing to the huge garden size, high level of home improvement and dry weather condition. It has also been stated that the change in the way of living of Australian people is responsible for the improvement in the demand for products of Bunning Warehouse like installing air conditioners and setting kitchen equipment.  |
| Technological Factors | Technology is considered as one of the key aspects of the hardware industry and Bunning Warehouse is no exception as the technological factors were used to approach for design innovations and methods that were used to install their products. As technological advancement is needed for developing new materials the quality of any product can also be improved substantially. It also helps the company to reduce its expenses of maintenance and utilization of new products.  |
| Environmental Factors | Environmental factors are taken as one of the important issues in the external environment for Bunning Warehouse in the present picture. The Australian government's increasing concern for environmental protection could lead to initiating of strict schemes and regulations. This has made all the hardware and home improvement retailing sectors take reusing initiatives and they have also reduced the carbon discharges as well as energy consumptions.   |
| Legal Factors | The lawful factors in hardware and home improvement companies primarily are connected through regulation which pertains with administration of forest processes. They are also essential to obey the framework of licensing and agreement to the trading laws that have been recognized in Australia. One of the examples is Bunning's announcement for committing to accomplishing carbon neutrality by 2015. This shows the validation an organization needs to comply with legal and environmental concerns. |
Industry Analysis
Figure 4: Porter's Five force framework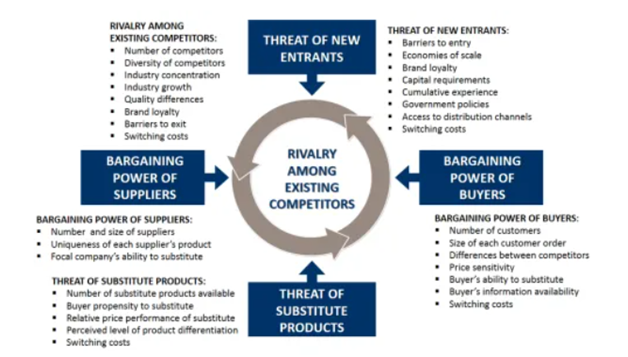 Source: (ÖNEREN,ARAR and YURDAKUL, 2017)
| | | | | |
| --- | --- | --- | --- | --- |
| Bargaining Power of Suppliers | Threat of New Entrants | Bargaining Power of Buyers | Rivalry among Existing Competitors | Threat of Substitute Products |
| Bunning's capability in distribution is clearly seen in their main freight delivery system in which the company makes sure that there is a smooth delivery as there is an abundance supplier present in the market. The business strategy of cost leadership and corporate level strategy are the two key features that can identify the strategies of the company.  The company usually depends on the functional strategy that comprises marketing finance, distribution and HRM.  | The company faces a lot of pressure from its competitors like Mitre 10 and True Value Hardware and Home Timer. The new entrances are also putting the company under huge competitive threat because it is opening more options for the customers. | The customers always possess higher power to bargain as they have the option of buying from some other place so they bargain for discounts. The fact that Bunnings has newly arrived at the market they have set their price lower than the market price which in turn is attracting larger number of customers. | Some of Bunnings' cost leadership strategies involve giving products at lower price, matching the price of their competitors and if their competitors provide cheaper products, they also provide 10% less in their price. Their main aim is to achieve the number one spot in the market.It also has competitive benefit with the help of anwide-ranging products at a lower price.  | Bunnings bear a strong digital presence accompanied by DIY advice, product information and inspiration. This, thereby, reduces exposure to threat of presence of substitute products on its end. |