Strategic Marketing Assignment: Business Expansion of Amazon in China
Question
Task: Strategic Marketing AssignmentTask Requirements:
A group-based task to plan and deploy an effective strategic marketing plan in response to a 'live brief' from a client or a case study. Full details of the requirements for the live brief will be in a supporting document with the key deliverable required in the report outlined below.
You should include as a minimum:
Market Analysis (please back up your analysis with well-documented research)
a) Market Size
b) Competitors analysis
c) Macro & Microeconomic forces affecting the organisation (using relevant models) market size and trend data,
d) Customer analysis/personas
e) Stakeholder analysis
Identification of the organisation key strategic marketing objectives for the campaign.
Campaign strategy – How your market research leads to your recommendations
f) The reason for the campaign and/or strategic goal of the campaign
g) Market opportunity
h) Target audience
i) General campaign messaging
2) Strategy implementation (tactics) covering key areas of the marketing and the communications mix.A need to demonstrate knowledge of the RACE model as a framework for digital campaign planning and its relevance to your campaign plan specifically.
Marketing roll-out plan (a GANTT CHART is preferred)
a) Channels to be used
b) When/timing
c) Text/copy to be used (if relevant)
Budget – document all budget assumptions
Key Performance Indicators (KPIs)/Metrics
Recommendations of how the organisation could continue to engage with their audience in an always-on digital environment
Answer
Introduction
In this report, the case study has been subjected to the Amazon Company which is currently suffering price sensitivity inside China. For considering Amazon, it is required to acknowledge the background of this retail organization. Amazon has been owned by Jeff Bezos and the main headquarter of this organization is located in the United States (EU Day One Blog. 2021). This retail brand has expanded globally and has received Green Cards in several multicultural countries such as the United Kingdom, China, India, and many more.
Market Audit
1. Market size and trend
Around the whole world, Amazon is considered to be the leading retailer. Currently, the market share of 49.1 % has only been acquired by Amazon in the financial year 2021. Recently the market share of 38.7 percent Amazon has been rated as one of the top E-Commerce companies. Additionally, it can be stated that recently in the year FY2020 Amazon has experienced a 35% increment in its revenue generation (Baboolal-Frank, 2021, p. 10). In the year 2020 Amazon has earned around $1.49 billion in its revenue. Also, the company has experienced a 15% downfall in its global sales.
2. Competitors analysis
With the application of Porter's five forces, it can become easy for the report to deliver a competitor's analysis for Amazon to enter the Chinese competitive retail market.
Factor 

Degree (Low/ Moderate/ High)

Impact 

Bargaining power of the supplier 

Amazon, being a leading retailer around the globe, experiences a quite lower growth rate that has accounted for 35% only (Arnett et al., 2018, p. 10). Suppliers in China have been considered very powerful and this is why they put a high range of demands on the retail brand. 

 The impact is severe and has caused the organization to suffer at its marginal budget. Currently, Amazon is learning to deal with Chinese suppliers with very strong bargaining power. 




Bargaining power of the buyers 

It has been expected that the huge customer base can provide an elevated level to Amazon in the Chinese Market (de Souza Sampaio et al., 2019, p. 100). Therefore it can be said that the bargaining power of the customers is quite low in the competitive market. 

Due to customers' bargaining power, Amazon has been forced into changing its pricing factor. Now Amazon must evolve with the cheaper rate for customer satisfaction and also add revenue stability to gain some value in the competitive market.

 

 

Threats of new entrants 

There are certain emerging retailers such as Sunning and VIP.com who are new entrants and might cause a threat to Amazon's business operation in China (Vieira et al., 2018, p. 45). The threat has been observed to be moderate. 

Amazon has suffered the threat of new entrants because it offers quality products that are only possible at higher rates. New entrants offer those products at a cheaper rate to maintain customer satisfaction as well as to earn a place in the competitive market.

Threats of substitution 

Sustainability laws have led to poor management at Amazon China which has been reported by many employees. This has caused hindrance to the employees' work experience. It can be said that lack of autonomous activities causes negative trading as well as poor outcomes (Huang et al., 2021, p. 40). The threat level has been high in this category. 

The substitutional threat has cost Amazon to activate employee retention which has been a serious factor in China. It must be acknowledged that the 15% reduction in the sales was only due to motivation lack in the sales area.

Competitive rivalry 

The competitive rivalries are giving tough competition to Amazon in the aspect of pricing as well as brand status. At the leading position, the competitor is Alibaba which is more relevant in China than Amazon (Bouakel and Zerbout, 2021, p. 200). The competitive degree has been observed to be very high.

The rivalry impact has aimed at both sustainability as well as pricing factors at Amazon China.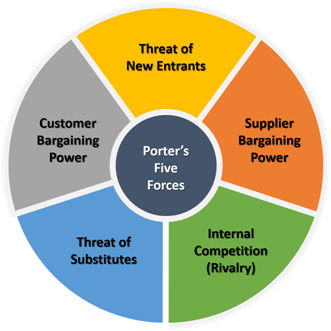 Figure 1: Porter's Five Forces
(Source: Huang et al., 2021, p. 40)
3. Micro Analysis
The inflation rate has caused a micro impact on Amazon China. The inflation rate must be considered as it is a relevant factor in China's economy. The Chinese inflation rate in 2020 was 2.42 percent. It must be considered that the inflation rate is calculated by evaluating the average income rate of the Chinese citizens to their buying potential. Presently Chinese GDP is around 2.34 percent in the FY2021 (Hattulaet al., 2020). Further, the employment rate between 2020 and 2021 has been 65% in China.
4. Macro analysis - PESTLE
Political
There has been a recent dispute between China, India as well as the US on political terms. This has been a trade disturbance between nations causing an enormous impact on Amazon's business model.
Economic
With the emergence of online business, the E-Commerce model can enhance Amazon's work opportunities in China. There has been a loss of economic value due to this agreement between China and the US.
Social
Socially, Chinese people prefer to contact as well as communicate directly with the sellers. People are more familiar with transparent marketing in China. This Chinese trend has to be acknowledged by Amazon to retain more customers (Hahn et al., 2018, p. 18). It must be noted that Chinese customer behavior relies more on languages that are customized for producing services.
Technological
To drive a successful business in China, Amazon must implement technological aspects that are relevant in the said nation. Customers in China are active in placing their orders through the WeChat app. Chinese people use this messaging app to connect with their preferable sellers.
Legal
After the covid-19 Global pandemic, it has been accepted on legal grounds to practice preventive structure for business purposes. Amazon is now required to enhance its marketing strategy with government recognition in China (Mansur et al., 2018). Moreover, digital transformation can help the company to induce nominal rates in trade services.
Environmental
Major factor appearing as environmental concern post-covid-19 pandemic is what is required by Amazon to consider in China. Amazon must elevate its business operations into environment-friendly modes and practice avoiding vestige of tools and resources that might lead to an environmental hazard. Like Alibaba, Amazon can also practice the 3Rs of green building.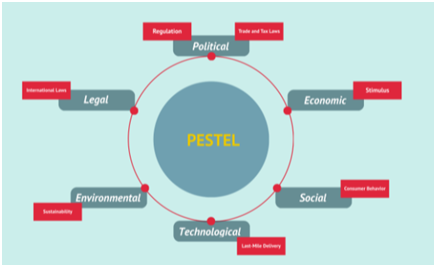 Figure 2: Pestle Analysis
(Source: Mansur et al., 2018)
5. BCG Matrix
Cash cows: Amazon has its elevating sale of e-books that provides the retail brand to evaluate good revenue generation. The company has learned the demand for electronic books among the consumers and hence, has generated an idea to offer a low cost for the maximum supply of these e-books. One of the greatest cash cows for Amazon is Kindle (Toscano-Hernandez et al., 2021, p. 190).
Stars: In the BCG matrix, the rising star for Amazon has been the electronic items that are found to be in high demand in China. The market share of Amazon is growing with the sale of electronic goods. Moreover, the cloud computing segment has offered good revenue addition to Amazon and has created more opportunities in the future.
Question marks: The video segment has been a critical area where the query has occurred in terms of poor quality presentation for the consumers to put their preferences to cover certain products. Recently Amazon acquired Zappos and videos on demand, this has led the company to address issues regarding the low market share (Bidkar, 2019, p. 450).
Dogs: In China, Amazon has got many products subjected to cash traps. Such products are offering lower sales and consuming more company investment. It has been marked that Amazon audios are not able to offer expected revenue.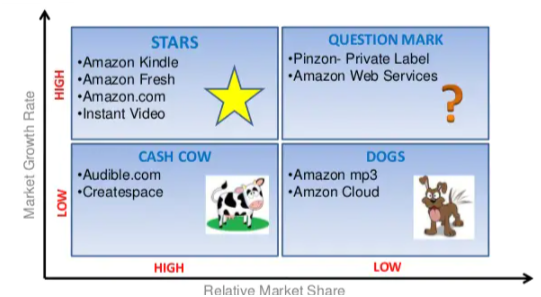 Figure 3: BCG Matrix
(Source: Bidkar, 2019, p. 450)
6. SWOT Analysis
Strength: For Amazon, the brand has been the strong frame that elevates the company in the market. As per the brand value, the retail company is in 2nd position with a value of around $200 billion. The strength of the brand lies more in retaining and interacting with employees by offering the highest hourly pay of $15 (Song, 2021, p. 70).
Weaknesses: One of the weaknesses of Amazon is that it has been subjected to loss of margin in certain areas such as the UK, India, and China. Moreover, certain offerings of Amazon flop such as the launch of Fire Phones in China became a failure. Moreover, the taxation segment that has been avoided by the firm in China, Japan as well as in the UK has caused the firm to experience a lowering of publicity among the consumers (D'Arbelleset al., 2020, p. 70). Opportunity: Amazon has been reported to have very few stores and more online presence. Now is the time for Amazon to offer more stores in the Chinese market for their customers. This can offer customers direct interaction with their sellers. Acquiring more e-commerce firms can help Amazon to earn a market share in China. Threats: The government's involvement in the native firms, has caused hindrance to Amazon in regulating its business in China. Amazon has been reported having exploited human rights as well as legal matters in many areas. Hence, the threat might cause the company to face disruption.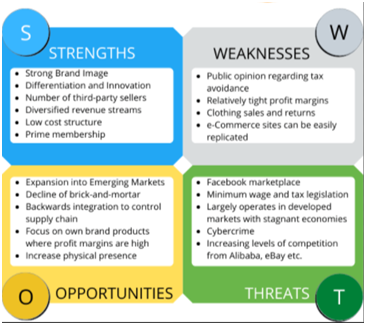 Figure 4: SWOT Analysis
(Source: D'Arbelleset al., 2020, p. 70)
7. Customer Analysis
Most of the customers are from middle-class families in China ranging in age from 16-65. The highest customers are from the US only. Most purchased items are ebooks, electronic devices, and clothing materials. Chinese customers have changed their usage behavior after the Covid19. Recycling is found to be more relevant here.
8. Stakeholder Analysis
Stakeholder analysis is possible through the Grid Model application. Keep satisfied: Stakeholders needs to be satisfied along with customers in the company. The primary objective of Amazon should be to interact with more stakeholders in China.
Manage closely: To attain sustainability with proper management is very important. Through social media, Amazon officials must establish accurate communication within the management as well as with the company's external associates (Bidkar, 2019, p. 450).
Monitoring: Proper monitoring of the activities in private and Govt areas must be done with a complete analysis of the stakeholder's performance. Informed: Useful information must be distributed and transparency should be maintained among the firm associates. With the proper information, the implementation of the resources can get their right utility.
Strategic marketing objectives
| | | |
| --- | --- | --- |
| Applicable channel names  | Timeframe  | Effectiveness  |
| Direct marketing  | 2 months | This can assist Amazon to face its customers directly to better understand the market situation. |
| Social media  | 3 months | Shareholders can put their faith in Amazon through transparency and visualization (Bidkar, 2019, p. 450). |
| Content-based  | 2 months | This influences customer retention rate and enables more customer interactions in the future. |
| Personal agent  | 1 month | Many agents can advertise their organizational interests and can also offer door-to-door services. |
Campaign strategy for Amazon
Research undertaken
This particular domain can help Amazon to understand the very market where the very organization concentrated on its pricing strategy especially so that they can serve a fair fight to their competitors in respect of expanding their businesses in China.
Ansoff matrix
This domain specifically helps Amazon to concentrate their Market Penetration and Market Development strategies where they can expand their businesses into a new place. Market Penetration Amazon needs to upgrade its current products' market share and also their marketing strategy and can set nominal pricing for their products as well. This very matrix can even help Amazon to get a researched view of the customer profiles, market size, profitability, and many more (Vieira et al., 2018, p. 45).
Campaign objectives
Amazon needs to be focused on their very secondary research objectives where they not only need to monitor instant problems properly but also need to focus on their customers' profits as there is a presence of Alibaba in China's market.
Rationale
Where Alibaba is introducing its products to its customers by following a low pricing strategy through listing some of its organizational fees, Amazon needs to be focused on its customer-centricity policy in order to achieve its organizational goal.
Figure 5: Marketing Strategy for Amazon
(Source: Vieira et al., 2018, p. 45)
Market opportunity
Amazon can not only make but also can meet their opportunities by receiving customer feedback in China by running a survey on their daily customers. Besides this Amazon can even adapt Alibaba's strategies where they can serve the exact same policies and also, they can be better by improvising strategies in order to sustain in this competitive market (Toscano-Hernandez et al., 2021, p. 190).
Target audience
In China, it can be seen that there is an increasing number of market consumers in the retail sector where many people from different age groups are purchasing goods from them. These people are mainly ethnic groups where Amazon needs to make direct communication with these people to expand their businesses.
Campaign message
Amazon can be more focused where they can connect to their target customers and simultaneously they can leave a certain kind of impression so that they can convert them into repeat customers (Song, 2021, p. 70).
Campaign plan: application of Race model
Amazon is trying to follow the 'Reach' strategy in this particular model where they are mainly focusing on their regional customers, in China. This can affect Amazon for a long-term basis where they can generate more revenue in order to sustain in this competitive market.
Marketing roll-out plan
| | | |
| --- | --- | --- |
| Applicable channel names  | Timeframe  | Effectiveness  |
| Direct marketing  | 2 months | This can assist Amazon to face its customers directly to better understand the market situation. |
| Social media  | 3 months | Shareholders can put their faith in Amazon through transparency and visualization (Bidkar, 2019, p. 450). |
| Content-based  | 2 months | This influences customer retention rate and enables more customer interactions in the future. |
| Personal agent  | 1 month | Many agents can advertise their organizational interests and can also offer door-to-door services. |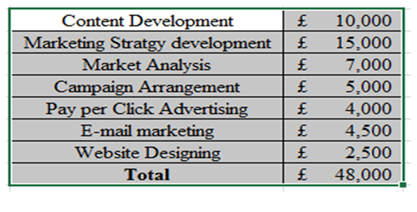 Figure 6: Marketing Campaign Budget
(Source: Developed by Author)
Performance indicators (KPIs)/metrics
The very organization is mainly concentrating on their client retention rate in performance indicators where they can achieve their long-term planned goal in order to maintain their organizational sustainability.
Conclusion and recommendations
The report is completely based on the very structure which has been established by some of the concrete strategic materials. As Alibaba is in business in China for so long, Amazon needs to plan accordingly to grab the customers in their grasp. In order to do so, they can adapt some of Alibaba's strategies where customers can feel they are in profit and also safe. Apart from this, they can follow content-based and direct marketing which can benefit Amazon for their long-term and short-term goal.
References
Arnett, J., Goldfinch, B. and Chinta, R., 2018. Multi-dimensional nature of innovation at Amazon. International Journal of Business Innovation and Research, 15(1), pp.1-13.
Baboolal-Frank, R., 2021. Analysis of amazon: Customer centric approach. Academy of Strategic Management Journal, 20, pp.1-16. Bidkar, S.V., 2019. Paradigm shift in e-commerce-a case study of amazon. Sumedha Journal of Management, 8(3), pp.445-452.
Bouakel, M. and Zerbout, A., 2021. Perspectives of Big Data Analytics' Integration in the Business Strategy of Amazon, Inc. In Big Data Analytics (pp. 201-220). Apple Academic Press.
D'Arbelles, K., Berry, P. and Theyyil, A., 2020. Electronic Word-of-Mouth marketing on Amazon: Exploring how and to what extent Amazon reviews affect sales. The McMaster Journal of Communication, 12(1), pp.50-79. de Souza Sampaio, D., Tagliaro, C.H., Schneider, H. and Beasley, C.R., 2019. Oyster culture on the Amazon mangrove coast: asymmetries and advances in an emerging sector.
Reviews in Aquaculture, 11(1), pp.88-104. EU Day One Blog. 2021. EU Day One Blog Homepage. [online] Available at: [Accessed 22 December 2021].
Hahn, Y., Kim, D. and Youn, M.K., 2018. A Brief Analysis of Amazon and Distribution Strategy. The Journal of Distribution Science, 16(4), pp.17-20.
Hattula, C., Buchmann, M. and Moura, F.T., 2020. The Acceptance of Amazon Go: An Analysis based on the Technology Acceptance Model and Cultural Dimensions. Dimensions, 49, p.62915.
Huang, M.H. and Rust, R.T., 2021. A strategic framework for artificial intelligence in marketing. Strategic marketing assignmentJournal of the Academy of Marketing Science, 49(1), pp.30-50.
Mansur, A.V., Brondizio, E.S., Roy, S., Soares, P.P.D.M.A. and Newton, A., 2018. Adapting to urban challenges in the Amazon: flood risk and infrastructure deficiencies in Belém, Brazil. Regional Environmental Change, 18(5), pp.1411-1426. SieweWadeu, D.J. and NdjutaBidzoh, C., 2021. Strategic diversification through acquisition: The move of Amazon to acquire Metro-Goldwyn-Mayer (MGM). Strategic diversification through acquisition: The move of Amazon to acquire Metro-Goldwyn-Mayer (MGM)(May 27, 2021).
Song, M., 2021. A Comparative Study on Over-The-Tops, Netflix & Amazon Prime Video: Based on the Success Factors of Innovation. International journal of advanced smart convergence, 10(1), pp.62-74. Toscano-Hernandez, A.E., Alvarez-Gonzalez, L.I. and Sanzo-Perez, M.J., 2021. Cause-Related Marketing in Retail e-Commerce as Support for the Sustainability of the University: The Case of Amazon and University of the Andes (Colombia). In Cause-Related Marketing (pp. 189-200). Springer, Cham.
Vieira, N.M.C., Silva, M.J.P.G.D., de São Pedro Filho, F., Madeira, M.J.A. and de Almeida, F.M., 2018. Managing the technology for selectively collecting solid waste in the western Amazon sub region. The Journal of Solid Waste Technology and Management, 44(1), pp.43-50.