Strategic Marketing Assignment: Case Analysis on Costa do Sol
Question
Task: Strategic Marketing AssignmentTask: The company is now convinced that the suggested country's market is the best market to do business and has commissioned you again to produce a report on their behalf advising them on how they can gain successful entry with the new product/service you suggested in your initial report.
Task 1:To what extent should the different elements of the marketing mix be standardized or adapted for your chosen country. Give a full justification for your ideas (30%)
- In case of a product the 4ps of the Marketing Mix are sufficient
- In case of a service, 7ps of Marketing Mix are required
- The present marketing mix of the chosen company has to be analysed and a recommendation has been made based on:
- Can this Marketing Mix be used as it is in the new country (standardisation)
- Does this Marketing Mix need to be adapted to the new country
- Justify your recommendation based on your market research and academic knowledge combined.
Task 2: Applying the Customer Based Brand Equity model, critically analyse how your client could build and manage a strong brand in this new market (20%)
- Who are you Brand Salience (Identity)
- What are you Brand Performance and Brand Imagery (Meaning)
- What about you Consumer reactions (Responses)
- What about you and me Consumer Brand Resonance (Relationships)
- The above points have to be related and associated with the company you have chosen and their current branding
- Support your case with visual aids of branding from the company
Task 3: Applying the concept of integrated marketing communications (IMC) critically evaluate three effective marketing communication methods your client could incorporate within this market. (20%)
- Define the concept and benefits of IMC
- What current practices does the company of your choice use
- Marketing Communications methods have to make sense in accordance with the type of product and target market you have chosen.
- Think and consider promotional marketing such as TV, Radio, Magazines, non-promotional methods such as sponsorships, celebrity endorsements etc., as well as social media and online communications
Task 4: Critically assess how your client could measure its marketing success in this market and how it could improve in the future (20%). Explain some of the ways of measuring success such as:
- Sales targets
- Market share
- Profitability
- Returns on Investment
- Recommendations for future
Answer
Task 1
Introduction
The paper focuses on the services that would be provided by Costa do Sol as a franchise in Portugal. The areas that are covered in the paper focus on 7 P's marketing mix of the Takeaway service. The paper also concentrates on standardization of the approach recommending taking the best alternative approach to gain market share. It further focuses on the customer-based brand equity model; integrated marketing communications with their benefits of using the model, the client could measure its marketing success with recommendations for long-term benefits for the organization.
Marketing Mix
7P's of Marketing Mix
Product
A product is a marketing effort that includes everything that is supplied to suit a client's needs. Product type, durability, appearance, authenticity, brand name, packaging, dimension, product care, insurance, and replacement are all part of the product mix (Anjani et al. 2018). Costa do Sol should make an innovative approach towards the service as customers demand more innovative products.
Price
The marketing mix aspect of price refers to how much funds clients invest to purchase a service that meets their requirements and preferences. The price of the service should be reasonable as this would be the basic component for the organization to sell its services to the targeted market (Lim 2021). This would help the organization to acquire new and potential customers.
Place
The marketplace place and region where the entrepreneur retails and distributes their items so that they are accessible to consumers is known as the place. The place of distribution would depend on how the customers are getting to avail the services provided by Costa do Sol (Thabit and Raewf 2018.). The place should be safe and easily transportable, which would allow increased footfall of customers in the long run.
Promotion
Promotion is an endeavor to engage and express knowledge between entrepreneurs and clients to circulate data. Costa do Sol should promote their presence by using social media platforms (Jasmani and Sunarsi 2020). This approach is more effective than spreading over newspapers and leaflets.
People
The role of individuals in the administration of commodities and operations that might influence client impressions is known as the human aspect. Costa do Sol should focus on customer-oriented services (Ravangard et al. 2020). Taking feedbacks from the customer would allow them to focus on the unseen areas and develop their business effectively and efficiently
Physical Evidence
The tangible characteristics in the workplace, as well as the environmental elements, are the subject of physical proof. Costa do Sol should also focus on creating a good and healthy environment for customers (Eti 2020). Having a sustainable and hygienic environment is very critical as this also falls under customer satisfaction.
Process
By meeting every client's requirement, the practice outlines the manner and sequencing of the operation and provides a specified value for the client. Costa do Sol should be actively participating in giving back responses to the customers (Abedi and Abedini 2017). This approach would attract a greater number of customers. This approach would make the customers satisfied, because of the fast services provided by the organization.
Standardization of the approach
The standardization of this approach would create a good impact on the organization Costa do Sol. As they have already chosen the strategy of differentiation to focus on a niche market (Farhana and Swietlicki 2020). This would attract a greater number of clients to the organization. This approach would further increase customer satisfaction based on their fast services (Liu and Tse 2018). Costa do Sol would be accountable for economies of scale which would determine their production rate. By this approach, the firm would have to lower production units by increasing quantity using economies of scale.
Marketing Mix need to be adapted to the new country
Yes, the marketing mix needed to be adapted in respect of this new Take Away servicesin Portugal, where it would be highly competitive in respect of innovation through virtual; platforms.
Recommendation
A conventional commodity enables rapid marketing response times, a globally standardized image, and superior marketing strategy management. Costa do Sol might take the approach to other niche market customers by using social media platforms. This is the most eco-friendly tool for the expansion of business. The organization might also offer a competitively priced service which would increase the competition in the market.
Task 2
Approach to customer-based brand equity model
The customer-based brand equity model is only the variable that brand information has on client engagement to a brand's promotion is characterized as brand equity. People reacts more favorably to a commodity and the way it is retailed when the brand is identifiable than one that is not, the organization is said to have favorable customer-based brand equity (Kim et al. 2021). Customers might be more supportive of a promotional strategy, less vulnerable to price hikes and promotional assistance, and better motivated to explore the company in niche merchandise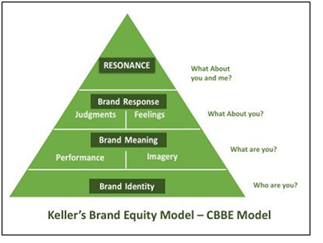 Figure: 1 Approach to customer-based brand equity model
(Source: Simon and Tossan 2018)
This is how clients see the company brand and how they differentiate it from others. It investigates the phrases and emotions that purchasers conjure up when they hear a registered trademark. It's the most crucial stage, and it needs to be sturdy to sustain the balance of the structure. The comprehensiveness of consumer perception of a brand is measured by brand recognition (Simon and Tossan 2018). Commence by acquiring clients who are ignorant of company services and beliefs through television commercials and targeted advertising. Costa do Sol is a restaurant in Mozambique. The restaurant would be opening its franchise in Portugal (Ramkumar et al. 2021). The restaurant would focus on providing services to the customers in Portugal. Their strategy is to enter the niche market in Portugal.
Brand Resonance
It is not easy to establish an entire product and service in a new country's market. This entails a variety of rules, norms, long documentation, and legalities, all of which might cause delays in the core functional procedure (Kautishet al.2021). This includes client assistance and fulfillments, as well as goods efficiency, performance, sturdiness, and affordability. Costa do Sol focuses on giving the best quality services to the customers and also would create a reputation based on the services they would provide to the niche market.
Brand Imagery
The brand Costa do Sol would focus on the niche market. The organization would also advertise itself on billboards, social media platforms like Facebook, Instagram, and other social media sites (Li et al.2021). These approaches would make Costa do Sol well known in the niche market and customers would also be interested in dining with Costa do Sol.
Consumer reactions (Responses)
The following steps would have been considered by Costa do Sol as they would have to take serious note on how to improve the perceived value of the service. This approach would further give details about the brand's credibility and would help to increase strategic decisions to connect the brand's needs to the customers (Martín-Consuegra et al. 2018). This might forecast the issues with the service that is provided to the customers. Factors like late payment service are affecting customers' fulfilments or packing is not up to the mark. Customers respond to any brand depending on how they are made to experience. Costa do Sol brand might elicit feelings directly, but people would additionally engage intuitively to how they perceive themselves when they engage Costa do Sol takeaways services
Consumer brand resonance (Relationship)
Brand loyalty is best demonstrated through active participation. Even if customers wouldn't buy and consume the product, clients are continuously connected with it (Coelho et al. 2019). Establishing a brand-related group, engaging in online conversations, promotional parades, and conferences, following the brand through social media, and participating in other extracurricular events are all forms of active engagement. The areas Costa do Sol might focus on are communities where they are retailing their desired services, the attitude of the customers, the loyalty of the customers on their franchise. All these require detailed market research and evaluation of other variable factors like social networking involvement (Kizgin et al. 2019). Costa do Sol might involve themselves in various campaigns which would forecast the existence of the business and customers' perception and loyalty towards the organization.
TASK 3
Integrated Marketing Communications (IMC)
Concept
Integrated Marketing Communications (IMC) is considered to be a marketing approach that provides a unified as well seamless experience to the consumers while interacting with a brand. It involves all types of marketing communication methods including advertising, sales promotion, public relations, direct as well as indirect marketing, social media marketing by using different marketing tactics, methods, channels and associated activities (Adebiyi and Bello, 2018). The primary aim of IMC is to build a customer-centric environment in order to form a channel of communication. It helps the hosting organization directly connect with the potential audiences in order for gathering feedback as well as promoting the products.
Benefits
The primary benefits of the IMC are being discussed in the following part of this report.
Greater Brand Visibility: The targeted brand will be able to bring under the notice of the potential audiences with the help of IMC. In the contemporary period, SEO marketing as well as PPC marketing have become two of the most common IMCs that are being used by the global organizations (Gordon-Isasi et al., 2021). Thus, it becomes easier for the host organization to build rapport with its consumers.
Increased Media Coverage: Data driven public relations have become a trend among the organizations operating globally. The online reporter and editors will thus cover the brand allowing it to have greater media coverage.
Clear product message: IMC is very useful for delivering the product messages clearly. Companies use this method by highlighting competitive features in order to entice the potential audiences globally.
Improving Search Results on the internet: SEO helps a brand to come in front of more potential consumers from the global market space.
Current practices of the company
Contemporarily Costa do Sol Restaurant is focusing on consumer loyalty programs and offering attractive discounts in order to promote its provided services. Furthermore, it also hosts special events such as cooking workshops for the enthusiasts, arranging music, hosting famous bartenders as well as hiring stand-up comedians to attract more potential consumers from the local market space.
Marketing Communication Methods
Promotional Marketing
There are several promotional marketing methods that Costa do Sol Restaurant can use to promote their services to a greater number of populations. In the following part of this report, these communication methodsare being demonstrated in brief.
Television:The company can highlight their speciality through displaying ads on the local TV channels. This will certainly generate brand awareness within the target Portuguese market.
Referral: Study finds around 92% people trust their friends and relatives and thus, such initiatives can be undertaken by the organization that promises the consumers willing to refer more people, will be given extra discounts on products on their next visit. This will certainly help in generating brand awareness as well.
Social Media Marketing: It is now being used by global organizations to promote their brands by reaching a larger number of potential audiences using the social media platforms. Powerful channels such as Facebook, Instagram, Twitterare used as the primary medium for product promotion (Soedarsono et al., 2020). The company can also launch social media marketing campaigns in order to highlight their competitive features for enticing a larger number of potential consumers from both the local and global market space.
TASK 4
Marketing Success
There are certain ways that help measure the achieved success by an organization in its target market. In the following part of this report these are being illustrated in detail.
Sales Target: It is helpful for measuring the current sales revenue by comparing the organization's past and current sales performances. It also demonstrates the new number of consumers that the company had interacted with over a particular time period. Costa do Sol Restaurant can adopt different methods such as sales metrics and marketing metrics to analyze its sales improvements over time.
Market Share: It demonstrates a percentage value of the total sales generated by an organization. It is calculated by identifying the number of sales over a particular time span and dividing it by the total number of sales of the company. Market share provides a general idea of the company size and compares it to a competitor brand. Costa do Sol Restaurantcanadopt to effective market share monitoring tools in order for keeping a close watch on its contemporary market share to identify any room for improvement.
Profitability: It is measured by analysing an organization's overall income as well as expenses. A company can measure its past and current profitability and forecast the future profitability by analysing the values closely. Costa do Sol Restaurant can properly use the Break-Even Analysis in order to measure its profitability over a particular period of time.
Returns on Investment (ROI): It is considered to be a performance measurement formula of an organization in order to identify its efficiency in the contemporary market. It is calculated by taking the return value or profit value cultivated from the market and dividing it by the total cost that company had invested initially. Costa do Sol Restaurant can use this ROI calculating formula to measure its service efficiency in the current market.
Recommendations
This part of this report will provide some of the recommendations that Costa do Sol Restaurant can take under consideration in order to get satisfactory results regarding its success in the target Portuguese market.
Developing Sales Strategies: Costa do Sol Restaurant can improve its sales objectivesby adopting and implementing different effective sales strategies. Moreover, effective budget allocation, developing sales action plans as well as marketing plans can also help the company improve its sales target (Falahat et al., 2020). Costa do Sol Restaurant also can use different methods to find more customers as well as train its sales staff up to the mark in order for achieving a desired result in its sales.
Developing product values: There are multiple ways that can be well taken care of by Costa do Sol Restaurant to increase its overall product values. Building referral programs, increasing its engagement with the consumers, outpacing the market competitors as well as developing a unique brand position in the competitive market will definitely enable the company to increase its product values by a satisfactory margin.
Implementing Innovative ways: Managing processing costs, concentrating on the sales efforts, expanding the market, boosting productivity are some of the effective ways to improve the company's profitability (Ivannikova, 2020).
Planning effective business functions: It is mostly helpful for making a long-term investment plan as well as by applying the right marketing tactics. Reaching out to the right audiences, using the right methods according to the current market scenario, building the right tools and utilizing the workforce in a proper manner can fetch the company a satisfactory Return on Investment value.
Conclusion
This report has focused on Costa do Sol Restaurant and its business expansion in the Portuguese market. Through the first part of this report, a marketing mix has been demonstrated in order to shed light on the macro business environment of the company's target market. A brief recommendation has also been displayed on how the company can cope with several challenges found within its target market. A Customer Based Equity Model has been elaborated along with some recommendations on how the company can utilize this model to form an effective brand image in the brand-new target market. The IMC concept has also been illustrated along with three effective marketing communication methods that the company can use for promotional purposes. The final part of this report displayed several ways to measure its overall success in the market and how possible measures can be taken to improve these in the future.
Reference
Adebiyi, R.A. and Bello, S., 2018. Perception and practice of Integrated Marketing Communication (IMC) among selected marketing communication agencies in Nigeria. ActaUniversitatisDanubius.Communicatio, 12(1).http://www.journals.univ-danubius.ro/index.php/communicatio/article/download/4865/4505
Gordon-Isasi, J., Narvaiza, L. and Gibaja, J.J., 2021. Revisiting integrated marketing communication (IMC): a scale to assess IMC in higher education (HE). Journal of Marketing for Higher Education, 31(1), pp.58-90.https://www.researchgate.net/profile/Janire-Gordon-Isasi/publication/341612828_Revisiting_integrated_marketing_communication_IMC_a_scale_to_ assess_IMC_in_higher_education_HE/links/5ecba552a6fdcc90d6975070/Revisiting-integrated- marketing-communication-IMC-a-scale-to-assess-IMC-in-higher-education-HE.pdf
Soedarsono, D.K., Mohamad, B., Adamu, A.A. and Pradita, K.A., 2020. Managing Digital Marketing Communication of Coffee Shop Using Instagram.International Journal of Interactive Mobile Technologies, 14(5).https://www.researchgate.net/profile/Bahtiar-Mohamad/publication/340496577_Managing_Digital_Marketing_Communication_of_Coffee_Shop_Using_ Instagram/links/5e8d4fc792851c2f5288735b/Managing-Digital-Marketing-Communication-of- Coffee-Shop-Using-Instagram.pdf
Rklaitis, K. and Pilelien, L., 2019. Principle differences between B2B and B2C marketing communication processes. Organizacijvadyba: sisteminiaityrimai= Management of organizations: systematic research. Kaunas: VytautoDidžiojouniversitetas; Sciendo, 2019, T. 81. https://www.vdu.lt/cris/bitstream/20.500.12259/101336/1/ISSN2335-8750_2019_N_81.PG_73-86.pdf Falahat, M., Ramayah, T., Soto-Acosta, P. and Lee, Y.Y., 2020. SMEs internationalization: The role of product innovation, market intelligence, pricing and marketing communication capabilities as drivers of SMEs' international performance. Technological Forecasting and Social Change, 152, p.119908.https://www.researchgate.net/profile/Mohammad-Falahat/publication/338710554_SMEs_internationalization_The_role_of_product_innovation_market_ intelligence_pricing_and_marketing_communication_capabilities_as_drivers_of_SMEs%27_ international_performance/links/601d2fc6a6fdcc37a802f1e5/SMEs-internationalization-The-role- of-product-innovation-market-intelligence-pricing-and-marketing-communication-capabilities- as-drivers-of-SMEs-international-performance.pdf
Ivannikova, M.M., 2020. COMPONENTS OF COMMUNICATION STRATEGY FOR CONSUMER'S DECISION MAKING PROCESS.MARKETING OF INNOVATIONS. INNOVATIONS IN MARKETING, p.36. http://dspace.puet.edu.ua/bitstream/123456789/10012/1/Marketing_innovations_2020_WSEH__%20%281%29.pdf#page=37
Abedi, G. and Abedini, E., 2017. Prioritizing of marketing mix elements effects on patients' tendency to the hospital using analytic hierarchy process. International Journal of Healthcare Management, 10(1), pp.34-41.https://doi.org/10.1080/20479700.2016.1231435
Anjani, H.D., Irham, I. and Waluyati, L.R., 2018. Relationship of 7P Marketing Mix and Consumers' Loyalty in Traditional Markets.Strategic marketing assignmentAgro Ekonomi, 29(2), pp.261-273.DOI:http://doi.org/10.22146/ae.36400 Coelho, A., Bairrada, C. and Peres, F., 2019. Brand communities' relational outcomes, through brand love. Journal of Product & Brand Management.https://doi.org/10.1108/JPBM-09-2017-1593 Eti, I.A., 2020. Theoretical Inspection And Rethink of Marketing Mix. Available at SSRN 3685642.
Farhana, M. and Swietlicki, D., 2020. Dynamic Capabilities Impact on Innovation: Niche Market and Startups. Journal of technology management & innovation, 15(3), pp.83-96.http://dx.doi.org/10.4067/S0718-27242020000300083 Jasmani, J. and Sunarsi, D., 2020. The Influence of Product Mix, Promotion Mix and Brand Image on Consumer Purchasing Decisions of Sari Roti Products in South Tangerang.PINISI Discretion Review, 1(1), pp.165-174.
Kautish, P., Paul, J. and Sharma, R., 2021. The effect of assortment and fulfillment on shopping assistance and efficiency: An e-tail servicescape perspective. Journal of Retailing and Consumer Services, 59, p.102393.https://doi.org/10.1016/j.jretconser.2020.102393 Kim, E.J., Baloglu, S. and Henthorne, T.L., 2021.Signaling effects of branded amenities on customer-based brand equity.Journal of Hospitality Marketing & Management, 30(4), pp.508-527. https://doi.org/10.1080/19368623.2021.1846651 Kizgin, H., Jamal, A., Rana, N., Dwivedi, Y. and Weerakkody, V., 2019. The impact of social networking sites on socialization and political engagement: Role of acculturation. Technological Forecasting and Social Change, 145, pp.503-512.https://doi.org/10.1016/j.techfore.2018.09.010
Li, F., Larimo, J. and Leonidou, L.C., 2021. Social media marketing strategy: definition, conceptualization, taxonomy, validation, and future agenda. Journal of the Academy of Marketing Science, 49(1), pp.51-70.DOIhttps://doi.org/10.1007/s11747-020-00733-3
Lim, W.M., 2021. A marketing mix typology for integrated care: the 10 Ps. Journal of Strategic Marketing, 29(5), pp.453-469.https://doi.org/10.1080/0965254X.2020.1775683
Liu, P. and Tse, E.C.Y., 2018. Exploring factors on customers' restaurant choice: an analysis of restaurant attributes. British Food Journal.https://doi.org/10.1108/BFJ-10-2017-0561
Martín-Consuegra, D., Faraoni, M., Díaz, E. and Ranfagni, S., 2018. Exploring relationships among brand credibility, purchase intention and social media for fashion brands: A conditional mediation model.Journal of Global Fashion Marketing, 9(3), pp.237-251.
Ramkumar, B., Woo, H. and Kim, N., 2021. The crosscultural effects of brand status and social facilitation on enhancing consumer perception toward circular fashion services.Corporate Social Responsibility and Environmental Management, 28(4), pp.1254-1269.https://doi.org/10.1002/csr.2166 Ravangard, R., Khodadad, A. and Bastani, P., 2020. How marketing mix (7Ps) affect the patients' selection of a hospital: experience of a low-income country. Journal of the Egyptian Public Health Association, 95(1), pp.1-8.https://doi.org/10.1186/s42506-020-00052-z
Simon, F. and Tossan, V., 2018. Does brand-consumer social sharing matter A relational framework of customer engagement to brand-hosted social media.Journal of Business Research, 85, pp.175-184.
Thabit, T. and Raewf, M., 2018. The evaluation of marketing mix elements: A case study. International Journal of Social Sciences & Educational Studies, 4(4). DOI: 10.23918/ijsses.v4i4p100