Community Service Assignment: Application of Tuckman's Model Of Groups On Ruah Agency
Question
Task: Using one community service agency from your state in Australia as an example, write a detailed community service assignmentdescribing the application of Tuckman's model of Groups.
Answer
Introduction
This report on community service assignment is mainly focused on Tuckman's model of team development. Ruah community services agency has been chosen for this particular report. Ruah community services have been a group of successful team members that provide overwhelming services among the members of society and empower each of them. The team members of Ruah are concentrating mainly on the vulnerabilities faced by different people and helping them stride from poverty and adverse disabilities. This report explicitly follows the five stages of Tuckman's team development model.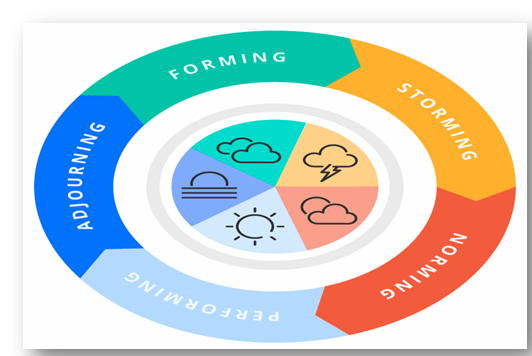 Figure 1: Tuckman's Model of Team Development
Source: (Natvig, & Stark, 2016)
Forming
The first stage of Tuckman's model of development groups is that of form. In this initial stage, the team members come together to decide their roles and decide upon the restrictions that each member has to follow (Natvig & Stark, 2016). In Ruah community services, the team members attempt to help the people dealing with their adversities in the most traumatic situations and life crises. The Ruah team consists of more than 200 staff altogether that come together to form a group and work as a team. Moreover, the team of Ruah also comes consists of a team leader who leads the team forward and helps people come out of their traumatic situations.
Storming
The second stage of Tuckman's model of development groups is that of storming. This particular stage deals with assessing the roles and actions of the individuals in the team. These team members help form and strengthen individual roles and assist the people in need. In Ruah's community service, the team members comprise the largest peer workers in Western Australia. These team members mainly concentrate on understanding the particular problem and thereby develop solutions to the leader, who leads the team with utmost positivity and aspirations (Robb, 2022).
Norming
The third stage of Tuckman's model of development groups is norming. Norming helps build the basic foundation of the group and strengthens the trust and cooperation among the team members. The team members mainly focus on building trust, openness, cooperation, and shared values among the team members to come together and work as the best team (Guttenberg, 2020). In Ruah's community services, the team member has successfully established trust and openness through the help of various inside activities that help them trust each other and freely communicate with each other (Scherrer et al., 2016). Further, what is also important here is that Ruah's community services AHS also established that bonding where they are free to share their ideas and opinions among each other and communicate them to the leader of the team so that they can execute the ideas and help the people who are in utmost need of the same.
Performing
The next stage of Tuckman's model of development groups is performing. This particular stage of performing mainly concentrates on the functionality of the team members. This particular stage focuses on the organization of the team members. In Ruah's community services, the team members strongly support empathy for one another so that it helps them to compassionately build trust among the team and work with utmost cooperation.
Another essential feature of Ruah's community services isteam flexibility (Purwanto et al., 2018). The team members of Ruah ardently abide by the principle of team flexibility to freely perform their actions and seek guidance from the senior members of the team to establish a perfect team.
Adjourning
The final stage of Tuckman's group of development is Adjourning. In this stage, the main team needs to evaluate the team members' efforts and performance (Raes et al., 2015). In Ruah's community services, they mainly recognize the efforts of the team members and provide them with rewards so that they can work hard and gain more enthusiasm for their work. This activity helps build team reflection and collaboration among the group's team members. It helps them establish and strengthen a more interesting activity of the team members and move forwards with more positivity and enthusiasm (Zoltan & Vancea,2016). This final stage is mainly concentrated on recognizing the team members' participation and developing more opportunities for the team members. Ruah community services help generate more potential among the team members through such activities and help establish more trust and cooperation among the team members.
Conclusion
Applying Tuckman's model has revealed the working of teams in different roles. Applying the model to the specific organizations enables understanding ways an organization functions effectively with these different roles and responsibilities. The success of the organization is mainly dependent on the performance of different team members, who work in a cohesive manner to attain organizational objectives.
References
Guttenberg, J. L. (2020). Group development model and Lean Six Sigma project team outcomes. International Journal of Lean Six Sigma. Natvig, D., & Stark, N. L. (2016). A project team analysis using Tuckman's model of small-group development. Journal of Nursing Education, 55(12), 675-681.
Purwanto, A., Zuiderwijk, A., & Janssen, M. (2018, September). Group development stages in open government data engagement initiatives: a comparative case studies analysis. In International Conference on Electronic Government (pp. 48-59). Springer, Cham.
Raes, E., Kyndt, E., Decuyper, S., Van den Bossche, P., & Dochy, F. (2015). An exploratory study of group development and team learning. Human Resource Development Quarterly, 26(1), 5-30.
Robb, M. A. (2022). Stages of Group Development and Group Preparation. Community service assignment Group Art Therapy, 107-115.
Scherrer, J. L., Olco?, K., Butterfield, A. K., & Kebede, W. (2016). Bringing experiential educational groups to the United States: an analysis of group development in an international travel and study program. Social Work Education, 35(6), 693-705. Zoltan, R., & Vancea, R. (2016). Workgroup development models–the evolution from simple group to effective team. Eco forum Journal, 5(1).