Project Management Plan Assignment Analysing ERP System at CHEP
Question
Assignment Description: The major group project assignment should include various phases of a project life cycle, such as initiating, planning, executing and closing a project. Project Management Plan helps the management team to maintain a constant focus towards delivering the major project in accordance with the customers' needs, wants, and expectations. The development of such a plan is comprised of the business case (refined from the Charter), project objectives and goals, success criteria, scope, high level schedule, stakeholder accountabilities, the communication plan, benefits and costs, governance and resourcing, the management approaches and a high level risk plan. These documents ensure a consistent understanding of the project, help to set expectations, and identify resources necessary to move the project to the next level of detailed planning. Major project must be delivered in a manner that captures the user's trust and confidence in the chosen projects ability to effectively and efficiently deliver quality services/products. In order to insure major project success, it is imperative that good project management principles are used early in the planning stage of a project. As the major project becomes more defined, the Project Management Plan will become the tool by which the project will be effectively managed.
Students should include all aspects of the project as if they were the Project Manager and it is a requirement of the subject that they include the use of software (Microsoft Project). Students are expected to show evidence of reading and research using credible resources including, but not confined to their prescribed text. The assignment will be marked on the basis of depth of analysis, research, properly referenced and synthesized of a suitable and well argued response. Failure to complete and submit the assessment by the due time and date without prior approval will result in a fail for the subject.
Assessment will be on the basis of the realistic nature of the project and how well it is presented. You should present the final document in a form that would be consistent with the details of your chosen project, and written in Business English in a report format. Make sure that the timeline, the budget and the quality of the work is realistic, justifiable and sufficiently attractive to win a tender for a real project.
Answer
Executive summary
The below project management plan assignment is executed for developing a project management plan for implementing ERP system in CHEP organization. The business entity is making installation of this contemporary system for advancing and strengthening the business operations. The project management plan assignment is a structural format that will be aiding this implementation process. The plan is segmented in various sections under which analysis on distinct approaches and mechanisms is done for ensuring successful implementation of the new system in the organizational structure. The assignment on project management plan is focused on various matrix used for offering efficiency to the task allocated and also increasing effectiveness of the work done.
Introduction
ERP represents, venture asset arranging and there is distinctive sort of exercises are incorporated under this framework, for example, deals, stock, buying, advertising and arranging identified with every one of these exercises. It spares so much time and arrange the entire capacities and exercises of the business association in a very systemized way. ERP is utilized to improve such huge numbers of complex procedures of the association. It will assist the association with increasing the profitability rate, decline cost and make the exercises progressively effective including the streamline forms. The prime objective of the project management plan assignment is to enable CHEP in making implementation of ERP system.
Project scope
The scope/ objective of the project is to install ERP system in the CHEP business organisation. The main function of this assignment on project management plan will be managing the business activities of commonwealth handling equipment tool (Cadle, Paul and Turner, 2014). The project management plan assignment will help the organisation to increase the productivity rate, decrease cost and make the activities more efficient including the streamline processes. ERP stands for, enterprise resource planning and there are different kind of activities are included under this system such as, sales, inventory, purchasing, marketing and planning related to all these activities. It saves so much time and organise the whole functions and activities of the business organisation in a very systemized manner. ERP is used to simplify so many complex processes of the organisation. It comes with so many different kinds of functions, which makes the whole process easier. It would be a major step for CHEP. The below presented is the WBS (work breakdown structure) for the employees of the organization:
WBS (Work Breakdown Structure)
| | | | | |
| --- | --- | --- | --- | --- |
| S. No. | Activities of the Project | Total Duration | Starting Date | Ending Date |
| 1.        | Introducing ERP system in CHEP | 46 | 01/05/2019 | 15/06/2019 |
| 2.        | Identify new system (ERP) | 6 | 01/05/2019 | 06/05/2019 |
| 3.        | Collect information of system | 6 | 07/05/2019 | 12/05/2019 |
| 4.        | Finalizing the system | 4 | 13/05/2019 | 16/05/2019 |
| 5.    | Develop operating room | 3 | 17/05/2019 | 19/05/2019 |
| 6.    | Develop Shifting plan | 7 | 20/05/2019 | 26/05/2019 |
| 7.    | Installing of hardware objects | 5 | 27/05/2019 | 31/05/2019 |
| 8.    | Relocation of all hardware objects | 4 | 01/06/2019 | 04/06/2019 |
| 9.    | Shifting of staff members | 5 | 05/06/2019 | 09/06/2019 |
| 10.  | Implementation of ERP system | 6 | 10/06/2019 | 15/06/2019 |
Timeline
In order to implant the ERP system, around 6-9 months are required. There are four major steps/ processes that are required for the installations, such as, technical training, go live support, data migration and installation support. But according to tech professionals, it might take around 12- 18 months in reality. After the project management plan assignment is initiated it requires proper execution and ends with closing the project by finishing it. In selecting the project, the first step is culture under which overall needs of the organisation are considered and determined, it may take around 1-2 months (Cameron, Sankaran and Scales, 2015). Then comes the next stem which requires deciding the ERP type needed. It may take around 5-6 weeks. Them the last process is of selection. The ERP project is selected only after all others requirements are met and decided by the organisation.
START DATE

END DATE

DURATION* (WORK DAYS)

 
 
 
 
 
 

01/05/2019

15/06/2019

46

 

01/05/2019

06/05/2019

6

 

07/05/2019

12/05/2019

6

 

13/05/2019

16/05/2019

4

 

17/05/2019

19/05/2019

3

 

20/05/2019

26/05/2019

7

 

27/05/2019

31/05/2019

5

 

01/06/2019

04/06/2019

4

 

05/06/2019

09/06/2019

5

 

10/06/2019

15/06/2019

6

 
Resources needs
Resources needed- while implanting the ERP software, different resources or tools are required. The major requirement identified of human resources identified on this project management plan assignment that include, labor, employees, technician, and workers etcetera. And other tools that are required are tools, equipments, and other materials. Human resource management are of the utmost importance during this project because the whole project will be handled and managed by them. The whole team and it's members including, managers, directors, employees, labours etcetera will be handled by human resource management. While installing the software different kind of metallic and industrial tools will be required, such as hardware, software, equipments etcetera. Without these tools it will become nearly impossible to implant the software. These tools are of secondary needed but important.
Gantt chart
Gantt chart is one of the efficient tool for project managing and scheduling. It monitors the whole project in a much more efficient way possible. Along with the whole schedule, it also helps to design different approaches which are useful for the project. ERP management and it's implantation require Gantt chart because, it makes it more easier (Eyers and Naim, 2019). Gantt chart includes very basic details of the project such as, ending date and the starting date of the project. Gantt chart uses bars to display all different details present in it. One can observe the level of progress by entering the data of the activities. It also allows one to check that if the project is making any progress or not. This project management plan assignment is very efficient and helpful in project and is presented below: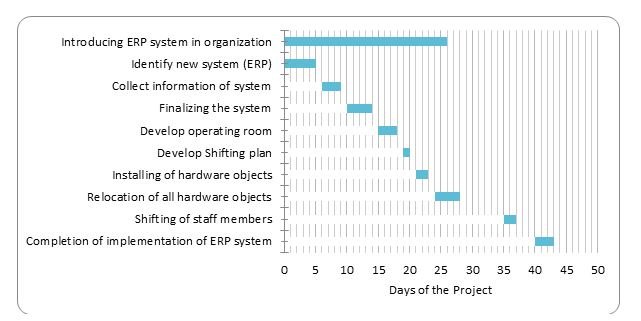 Budget
Installing ERP is a very complicated process and might require a very high budget according to the needs of the business organisation. Before deciding the budget, the organisation is required to carefully analyse the whole situation and then decide the type of ERP software that is needed to be installed. Because this way, the industry will be able to decide a proper budget and make the adjustments that are possible (Harrison and Lock, 2017). A team of professionals can be formed by HR department so that they can decide the budget allocation by carefully observing and considering all the factors of the business environment. Since there are some risks associated with the ERP system because it requires so many changes in the business environment. Therefore before deciding the budget on this project management plan assignment, it should be kept in mind that there might be few risk factors and they can affect the company in so many ways possible.
| | |
| --- | --- |
| Activities | Cost |
| Implementation | 15000 |
| Procuring tools and equipments  | 25000 |
| Resource management | 20000 |
| Salary | 60000 |
| Out-put management | 30000 |
| Other Miscellaneous expenses | 15000 |
| Total | 165000 |
Quality of project
Quality of project based on all the steps that are being taken in the process and how they are executed after formulation. If the project is monitored carefully then also it can be executed more efficiently. Quality of project determines the efficiency of the project and how productive it can be. Since ERP system is very much trending nowadays therefore it can be very useful for the company to install it (Chen and Reyes, 2017). It can also be used to manage and overcome competition available out there in the market. ERP is one of the top management software; it helps the organisation to manage their business in much more efficient way possible. Installing ERP will give the business entity more advantage over rival teams because then the business organisation will be able to work more progressively. On the assignment on project management plan outlined the importance of the project and if there will be any advantages of installing it.
Stakeholder analysis
There are two different kinds of stakeholders available in the market. One is external stakeholders and those are, customers, suppliers' and many others (Bourne, 2016). Other type of stakeholders is, internal stakeholders that include employees, managers, team members and many others. External stakeholders are the one who affect the organisation by the outer factors and internal stakeholders affects the organisation from internal environment. Both the kind of stakeholders are important for the organisation and its business. There is very high need of communication between both the kind of stakeholders and the company because that way both company and stakeholders can manage the project directly and resolve any kind of issue present between them. This project management plan assignment also identifies Stakeholders as being very important part of the business organisation and all the activities occurring in it.
Communication plan
Communication plan creates a loop between the company and the both kind of stakeholders. Communication plan also allows one to keep check on the project from both the environment, that is internal and external. There are so many ways for the communication between both the parties. Such communication plans are, email, board meetings, conferences, calls, meetings, surveys, to- do list, etcetera. All these ways allow one to maintain the contact. For instance, surveys are given to the customers by the companies so that the customers can tell them where they are lacking and what is needed to be improved. On the other hands meeting are conducted between company and both kind of stakeholders. These meetings give an opportunity to both the parties to present their views and all kind of improvement that can be done. It also allows them to focus on all kind of problems.
| | | | | |
| --- | --- | --- | --- | --- |
| Medium | Activity | Responsibility | Frequency | Comment |
|   SharePoint | Document Management System | PO | After creation, updating as required | For Steering committee working team Reference group Document sharing. |
|  Project Kick-off Meetings | Discussion on development of plan | Project management office (Fleming, Q.W. and Koppelman, 2016) | Initial stage of project | Team and client meetings recommended |
|  Email | Announcement of PMO | PMO manager | PMO announcement | Educating on provisions made by PMO |
|  Staff meeting | Discussions over deliverables | PMO manager | PMO announcement | Educating on provisions made by PMO |
Risk plan: There are so many risks associated with the ERP installation. such as, management failing to change the pre-existing functions before installing the ERP system. And if there is failure in changing the previous system then the ERP system will not work efficiently and it might cause several issues. Other concerns identified on this project management plan assignment are lack of technology development which might put a damper on new system and its functions (Hillson and Webster, 2017). Lack of training in employees can also be risky. Since ERP system is very advanced so it requires professional to operate it properly. Therefore, if employees are not trained then it might be risky to operate the system. ERP is safe software but there are chances of data theft and leakage. So it needs to be protected from hackers and viruses that can cause damage to the system. The below presented assignment on project management plan that can be adopted by CHEP so as to deal with the up-coming threats or risks:
Title of Risks

Explanation

Responsible of risk

Probability

Preventative Actions

Status

 

Failing in coping up with the changing operations as per ERP (new system)

New systems and operations are required to be implemented in the organizational structure.

Project lead

High

Advancements and modifications as per the new system requirement

 

 
 

Untrained employees

Regular and proper  training sessions and development programs should be offered to the employees for coping up with the new operations of ERP system

Project manager & HR team

High

Training sessions for the workforce associated with the project

 

 
 
 
 
 
 

Lack of technology

Up gradations of new technological advancements and amendments' in the old systems should be done (Talman, 2018)

Management, Project manager & HR team

Medium

The business enmity should make some new modifications for upgrading the mechanisms and systems and technology used.

 

 
Project deployment
There are few steps involved in order to completely finish the project that includes installing the ERP system and gets it running (Radujkovi? and Sjekavica, 2017). It requires few factors that needs to be implemented as well such as, all the old practices should be replaced by the new ones which ae compatible with the ERP system. It will allow the user to work more efficiently. There are different modules that can be helpful in ERP implantation and used accordingly. The success of ERP implantation also depends on the employees and how well they get adapted to new changes. The project management plan assignment also outlined how big organisation has large budget so it is very easy for them to implant the system and they can also choose from different options available so that is also a plus point and leads to success. Training the users, implementing the software and go live approach is the reason behind successfully deploying the project and its implementation in the business organisation.
Conclusion
In the limelight raised on the assignment on project management plan the above executed analysis it is inferred that for advancing and establishing the business to new levels of success the entity is attempting to implement new system. ERP is the new system that will be implemented by CHEP for the betterment and advancement of the operational activities. It is also concluded on this project management plan assignment that this system will be proven very much advantageous for the entity on different organizational levels. Project management plan assignments are being prepared by our online project management assignment help experts from top universities which let us to provide you a reliable best assignment help service.
References
Bourne, L. (2016) Stakeholder relationship management: a maturity model for organisational implementation. UK: Routledge.
Cadle, J., Paul, D. and Turner, P. (2014) Business analysis techniques. UK: Chartered Institute for IT.
Cameron, R., Sankaran, S. and Scales, J. (2015) Mixed methods use in project management research. Project Management Journal, 46(2), pp.90-104.
Chen, C.K. and Reyes, L. (2017) A quality management approach to guide the executive management team through the product/service innovation process. Total Quality Management & Business Excellence, 28(9-10), pp.1003-1022.
Eyers, D. and Naim, M. (2019) Project Management for Effective Operations Management. In Contemporary Operations and Logistics (pp. 11-27). Palgrave Macmillan, Cham.
Fleming, Q.W. and Koppelman, J.M. (2016) Earned value project management. US: Project Management Institute.
Harrison, F. and Lock, D. (2017) Advanced project management: a structured approach. UK: Routledge.
Hillson, D. and Murray-Webster, R. (2017) Understanding and managing risk attitude. UK: Routledge.
Radujkovi?, M. and Sjekavica, M. (2017) Project management success factors. Procedia engineering, 196, pp.607-615.
Talman, J. (2018) Enhancing Teamwork in Group Projects by Applying Principles of Project Management. In Innovations in Teaching & Learning Conference Proceedings(Vol. 10).