Business Ethics Assignment Analysing Business Case Of Cheery Mart
Question
Task: Individual Case Study
Cheery Mart (CM) is a discount department store employing 65 people (mostly on a part-time or casual basis), located in Sydney, New South Wales. CM, which is part of the retail sector, is usually open more than 12 hours per day, nearly every day of the year. Feedback on service is mostly good. CM has generated a reasonably healthy profit for many years. However, in the last financial year, the store ran at a small loss for the first time.
Recently, CM's CEO (Kent Worth) has become increasingly aware of some worrying trends amongst the store's employees. The most significant is data indicating that absenteeism in the last couple of years was around 40% higher than the average usage for the previous five years.
Furthermore, the number of employees who are union members seems to have grown and both the delegates and union officials — from the Shop, Distributive & Allied Employees' Association (SDA) — have been knocking at Kent's door more frequently over recent months wanting to talk about workplace issues.
Kent discusses three matters with you.
• 'Can you provide the research to establish the possible causes of our absenteeism problem' Kent asks you.
• 'We need the first draft of your report within two weeks from now', he adds.
• He then tells you, 'We also want to know how our competitors are faring. Can you include some information about their approaches to absenteeism in the draft report based on research you have done or are doing for them, if any'
Prepare abusiness ethics assignment report addressing the following contents:
1. For each of the matters discussed by Kent with you (see the three dot points above):
a. Identify the ethical issues that you need to consider in your response
b. Use the concepts introduced in the course to explain these issues and why they are important.
In answering this question, you need to draw on the ethical issues introduced in Topic 4. These concepts were introduced, but you'll need to do some further research to explain and apply them. Make sure you find credible support for these ethical issues. Don't use the course slides as support/references.
2. a. Identify at least three (3) credible secondary data sources that you can use to help you describe the current state of the department store market in Australia. You need to provide data sources, rather than specific articles/reports.
b. Describe what data you can gather from each of these sources.
3. Online or at the library, search for information about recent trends (i.e., most recent years, 2014-2021) in department store sales in Australia.
• Make sure you begin by describing the department store industry in Australia (define the industry, how big it is, etc).
• Then identify and discuss any trends happening between 2014-2021. The focus of this question is on trends during 2014-2021.
Answer
Background Of Business Ethics Assignment
In the world of business, it is necessary to conduct research in order to gather facts and data regarding a company's clients, staff, and rivals. As opined by Andjelic and Vesic(2017, p. 20), the companies could make improved management decisions based on these figures. The gathered facts are organised into findings, which are used by the management team taking action. Moreover, research enables businesses to create more knowledgeable decisions about how to charge their goods and services, how to ideally market it to targeted buyers, and even when to create a public declaration. Thus, the present study highlights the case study of Cherry Mart, a departmental store in Australia employing 65 individuals and located in New South Wales and Sydney. The company holds good feedback on their services but in the last financial year, as evidenced by CEO Kent Worth the company went through a monetary loss and statistics indicated one of the significant issues of absenteeism.
Therefore, the study below identifies the ethical issues that are needed to be considered along with describing the current status of the departmental store market within Australia. Moreover, it provides the information regarding the current trends within the sales of the departmental store in Australia through describing the overall industry and providing the trends that have happened between 2014 to 2021.
1. Identification of the ethical issues that needs to be considered in the response for the discussed matters of Kent
The ethical issues that need to be considered in response to the matter of Kent is employee absenteeism. As stated by Buckley and Casson(2019, p. 1425), Absenteeism is defined as failing to inform for or persist at task on time, irrespective of the purpose. In Cherry Mart, Australia, absenteeism done by the workers are completely spontaneous, including when someone becomes sick, but it could also be scheduled, such as during a protest or intentional absence. The core issue in this description is that the individual was supposed to be at work. This implies that holiday, personal leave, judicial obligation leave, and other purposes are not considered absenteeism. An absenteeism frequency is the most frequently used approach for measuring absenteeism in the worksite of Cherry Mart. This frequency is calculated by dividing the amount of absent times by the amount of possible working days in a given time period. This absence frequency is an important HR metric. As evidenced by de Andrade and Sadaoui(2017, p. 1281), inordinate absenteeism that raised up to 40 %, for instance, have created complications within the working population or organisational culture of Cherry Mart for which the company has also suffered from a marginal loss in the last financial year.
Impact of absenteeism on Cherry Mart, Australia
Absenteeism has a severe impact upon the Cherry Mart that mainly cost the employers $225.8 billion in the productivity losses in Australia and the absenteeism cost can reach up to 2.5% GDP. Moreover, the expense of absence includes more than just the cost to replace the absent employee. It also contains productivity harm as a result of the replacement, productivity failure among co-workers, and reduced productivity among supervisors.
On an individual basis, high absenteeism could result in a reduction of income, absence of work ethic, accidents occurring when the person gets back to a less acquainted working environment, and job preconceptions changing as the worker develops an explanation or rationalisation for their non-attendance. As stated by Delenet al., (2018, p. 50), aside from the individual, colleagues, workgroups, organisations, families, and even civilization may be influenced.
Hence, there are certain ways through absenteeism could be mitigated within the Cherry Mart are as follows,
• Crafting and distributing the official attendance policies with defining the differences among unscheduled and scheduled absences.
• Tracking the employee attendance and time to ensure that they are following the attendance policy.
• Conducting the return-to-work interviews would help the company to experience the significant reduction within the unscheduled absences.
• Enforcing the attending policies consistently that would help in avoiding conflict and ensuring fairness along with immediately addressing the prevalent issues and taking progressive disciplinary actions.
• Adopting wellness programs that ensures work life balance and minimises the health-related absenteeism and reduction of stress.
• Offering flexibility and rewarding good behaviour would encourage the employees to attend the workplace more than absenting (Haddad and Sanders, 2020, p. 190).
• Creating and maintaining a balanced working environment through ergonomic seating, natural lighting and clean air that improves the social and mental health of the employees in Cherry mart.
2. Description of the current state of the department store market in Australia
Importance of departmental stores
Department stores have a broader selection of commodities than most shops, but they also have these. The expansion of department shops in the Australia was related to the emergence of large urban areas, public transit, and the leveraging of power generation for electricity and illumination.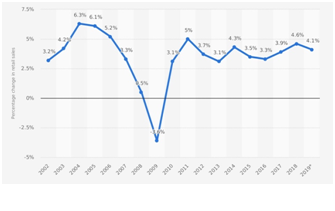 Figure 1: Total retail sales in Australia
Source: (Yurtolu, 2018, pp. 260)
Growth of departmental stores in Australia
The retail sector has faced massive transformations, particularly during the global epidemic, since it has quickened digital capabilities and rapidly adapted to changing customer requirements. Since 2014, retail revenues have increased by nearly 4% per year. As humans recover from the worldwide epidemic, the retail and departmental store market is expanding at rates never seen in more than 15 years. Retail purchases are expected to grow at a rate of 6.7 percent in 2020, far above 5 years average of 4.4 percent. According to the NRF, sales would then increase by 10.5 percent to 13.5% to more than $4.44 trillion in 2021 (Levine et al., 2017, p. 210).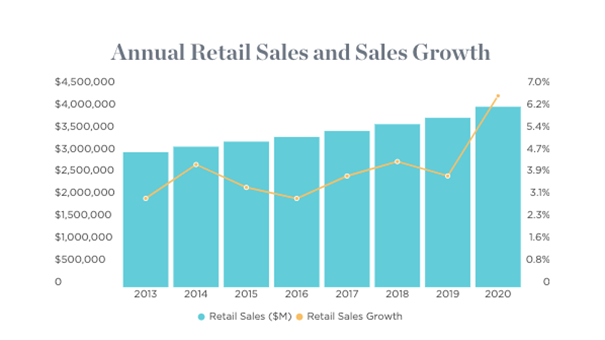 Figure 2: Annual Sales and growth of departmental store market in Australia
Source: (NRF. 2021)
The total number of retail and departmental store establishments continues to grow in the Australian regions which has helped in increasing the e-commerce sales that has even grown by 70% in the past few years. Moreover, physical destinations are still significant, particularly now that shops satisfy a substantial portion of ecommerce commands.
The influence of retail industry on department stores and shopping
Retail businesses are reinventing their services to fulfil customers' needs both online and also in store, resulting in a coherent experience that spans multiple streams. Retail stores are cruising this transition with innovative thought processes and wise investments that enhance customer satisfaction no matter how people buy stuff. The e-commerce market is not distinct from department stores. It's all about shopping (en, 2017, p. 110).
9 of the top 10 online stores are operated by retail outlets who also have physical stores. Ecommerce thresholds reached its peak in April 2020, accounting for nearly 19% of retail and departmental stores like Cherry Mart's trade in Australia. Since then, levels dropped to 15%, which is greater than pre-pandemic standards but lesser than that of the peak in initial 2020.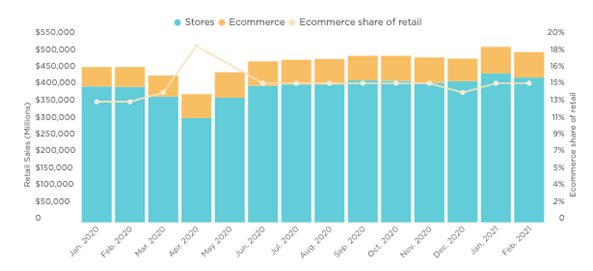 Figure 3: Consumption patterns returning to new normal
Source: (NRF. 2021)
Ecommerce seems to be not the sole growth engine: as by the end of 2020, ecommerce's proportion of overall retail trade had increased by only 3 percentage coordinates over the previous year. Digital shopping still contributes only 10% of total retail revenues in the industry. Online stores, especially for small and medium retailers like Cherry Mart in Australia, are assisting the industry's growth. Hence, the role of the departmental stores is still evolving and critical for the customer experiences as 80% of the overall shopping still encompasses from the departmental stores that has helped in rising the growth share of the retail industry market within Australia.
3. Information about recent trends (i.e., most recent years, 2014-2021) in department store sales in Australia
Description of the department store industry in Australia (define the industry, how big it is, etc) As stated by Lin et al., (2019, p. 1895), textiles, household items, garments, plate ware, glassware, kitchenware, fragrance, beauty products, hygiene products, furniture, and home appliances are all sold in department stores. Typically, products are sold through different in-store divisions. Department stores buy from suppliers and manufacturers and resell them to customers. They furthermore perform customer care, product merchandise sales, marketing, stock control, and cash management. Between 2015 and 2020, earnings for the Department stores Trade Sector fell -0.0 % a year on an average to $407.6 billion, ranking this as the 10th quickest developing sectors within Australia over the previous five years.
In the meantime, between 2015 and 2020, the number of companies in Australia's Retail Trade Sector has increased by -1.1 % for each year on average, reaching 107,814 companies. Over the last 5 years, the AU Department stores Trade Sector has listed 15th in terms of business expansion. Moreover, as witnessed by Metcalf et al., (2019, p. 90), the employment in Australia's Department stores Trade Sector fell -0.2 a year on an average, to 1,268,819 overall workers, ranking it ninth in terms of recruitment growth over the previous 5 years. Therefore, the average salary in Australia's Department stores Trade Sector in 2020 is $48.2 billion, up from $47.3 billion in 2015. In 2020, the AU Department stores Trade would have the seventh highest median earnings of any AU sector.
Identify and discuss any trends happening between 2014-2021. The focus of this question is on trends during 2014-2021
Many established trends within the retail industry, such as fulfilment and logistic support, buying behaviour and reimbursements, and shopping mainstream press, were accelerated by the disease outbreak. Therein, in the face of unparalleled demand and interruption, departmental stores were allowed to influence years of commitment to provide safe, comfortable shopping perspectives to their workers and clients.
Specialists are rethinking how to evaluate progress.
As witnessed by Moh'd Ali et al., (2020, p. 675), as the retail and departmental sector evolves, many specialists are debating the merits of traditional metrics such as same-store revenues and beginning to wonder how the emerging store sector could be evaluated more precisely.
Data on department stores employment must be updated.
Retail is the nation's biggest industry private employer, employing 42 million people — roughly one-quarter of the working population. However, the Department of Labour Statistics' job figures are now out of date and should be reconsidered. The BLS does not include retail jobs beyond the stores, like those in corporate headquarters, storage facilities, allocation and fulfilment centres, call centres, and other locations.
Therefore, considering the increasing contribution of ecommerce, counts of retail outlets and departmental stores like Cherry Mart, in Australia continue to grow in tandem with the industry and the wider economy. In reality, as evidenced by Pugliese and Senna(2018, p. 15), the store's position is progressing to endorse purchasing across all streams.
Conclusion
To conclude, the present study focuses on research in business decision making that emphasizes on the operations and functioning of departmental stores like Cherry Mart, in Australia. The study incorporates the ethical issues of absenteeism that is prevalent in the department stores and the ways it impacts on the business along with recommendations for reducing it. Moreover, the current state of the departmental stores in Australia is described along with identifying the information about the current trends in Australia and defining the industry of departmental stores.
References
Andjelic, S. and Vesic, T., 2017.The importance of financial analysis for business decision making.In Book of proceedings from Sixth International Scientific Conference Employment, Education and Entrepreneurship (pp. 9-25). Buckley, P. and Casson, M., 2019.Decision-making in international business. Journal of International Business Studies, 50(8), pp.1424-1439.
de Andrade, P.R.M. and Sadaoui, S., 2017, October. Improving business decision making based on KPI management system. In 2017 IEEE International Conference on Systems, Man, and Cybernetics (SMC) (pp. 1280-1285).IEEE. Delen, D., Moscato, G. and Toma, I.L., 2018, January.The impact of real-time business intelligence and advanced analytics on the behaviour of business decision makers.In 2018 International Conference on Information Management and Processing (ICIMP) (pp. 49-53).IEEE.
Haddad, M. and Sanders, D., 2020. Artificial Neural Network approach for business decision making applied to a corporate relocation problem. Archives of Business Research, 8(6), pp.180-195.
Levine, D.S., Chen, K.Y. and AlQaudi, B., 2017, May. Neural network modeling of business decision making.In 2017 International joint conference on neural networks (IJCNN) (pp. 206-213).IEEE.
Lin, S.J., Chang, T.M. and Hsu, M.F., 2019. An emerging online business decision making architecture in a dynamic economic environment. Business ethics assignmentJournal of Intelligent & Fuzzy Systems, 37(2), pp.1893-1903.
Metcalf, L., Askay, D.A. and Rosenberg, L.B., 2019. Keeping humans in the loop: pooling knowledge through artificial swarm intelligence to improve business decision making. California Management Review, 61(4), pp.84-109.
Moh'd Ali, M.A., Basahr, A., Rabbani, M.R. and Abdulla, Y., 2020, November. Transforming business decision making with internet of things (IoT) and machine learning (ML).In 2020 International Conference on Decision Aid Sciences and Application (DASA) (pp. 674-679).IEEE.
NRF. 2021. State of Retail. Available at: [Accessed 5 October 2021]. Pugliese, D. and Senna, H., 2018. Business decision making: Studying the competence of leaders. Revista de Gestão e Projetos, 9(2), pp.01-19.
en, Z., 2017.Intelligent business decision-making research with innovative fuzzy logic system. International Journal of Research, Innovation and Commercialisation, 1(1), pp.93-111.
Yurtolu, N., 2018. http://www.historystudies.net/dergi//birinci-dunya-savasinda-bir-asayis-sorunu-sebinkarahisar-ermeni-isyani20181092a4a8f.pdf. History Studies International Journal of History, 10(7), pp.241–264.