Project Management Assignment Proposing Business Strategy For Cibo Espresso
Question
Task: Your task
Individually, you are required to prepare an eight-page project management plan for a company based on the assessment instructions below.
Project Management Assignment Description
The purpose of this individual assessment is to give students an opportunity to create an integrated project management plan that meets industry standards and objectives. In analysing the organisational factors that promote effective project management, students will also consider factors that may give rise to ethical compromises.
Assessment Instructions
Presume that you have just been employed by one of the companies listed below to manage an opening of a new setup in Perth. Cibo Espresso
Aquabliss
Maggie's Farm Shop
For the purposes of this assessment, you are to assume the setup in Perth will be an identical model and operations, with the location being entirely sustainable (without goods/services being shared between the two locations). Within your research consider the size, location, and requirements of the new setup in Perth and make sure you identify the unique operational, management and procurement needs of the company you select. When considering your plan, think about the various operational and logistical needs of your chosen company to begin operations in Perth.
Answer
Introduction
While engaging in setting up of Cibo Espresso's business newly in Perth, adherence with a proper project management plan is unavoidably essential. Susilowati et al. (2021) stated that the project management plan would outline goals, scope, deliveries, and timeline of overall project. Project planning will provide structure as well as foresightedness for execution stage for helping in elimination of wasteful patterns and activities. For Cibo Espresso, this is necessary to keep the overall project on right track. In addition, this will opportune in proper risk assessment followed by its management plan. The overall project plan for setting up an outlet of Cibo Espresso at Perth will be presented to stakeholders.
Overview of Cibo Espresso
Cibo Espresso is a coffee and café shop franchise based at Adelaide in South Australia. The Company offers unique Italy styled blend, which is crafted from 100% premium level of Arabica beans that are grown at sustainable farms of Rainforest Alliance and is extremely exclusive to Cibo Espresso (ciboespresso.com.au, 2022). The Company's product line is focused on candid Italian street and authentic food with inclusion of locally sourced ingredients from South Australia, all handmade, fresh and traditional recipes. The pillars of Cibo experience originated from four founders. An Italian chef for gourmet culinary adventure, a handicraft pasticciere for scrumptious and light pastries, a restaurant manager for delivering an artistry ambience and a handsome barista for impeccablyserving extracted coffee while customers sit back as well as soak in charming atmosphere at the Cibo Espresso outlets (ciboespresso.com.au, 2022).Starting from delectable salads, variety of Panino's and debauched treats inclusive of an Italian preferred Zeppole, there is a lot of more offerings from Cibo Espresso for entice everyone each day (ciboespresso.com.au, 2022). So far product line of Cibo Espresso comprises of savoury which spicy and salty rather than sweet along with a wide range of sweets, which is drawing customers' attention aggressively.
Business Operations of Cibo Espresso
The store locations of Cibo Espresso are at South Australia, Western Australia, New South Wales, Queensland and Victoria. The business operations of Cibo Espresso mainly comprises of franchising, marketing, product development, market expansion etc. The Cibo Espresso business concept has been created from extreme passion as well as yearn for bringing little slice of Italy to Australian shores (franchisebusiness.com.au, 2022). This is earnest to notify that being already a powerful brand at Adelaide as its home market thanks to the talent and passion of four original owners who realised the fact that a perfectly articulated brand identify could be enhanced for high success through interstate Cibo Espresso franchising. Moreover, the directors proficiently enforced brand document for perfectly communicating the brand values to all existing as well as new franchisees in order to empower them for protecting and living their long-term investment on the brand. The directors furthermoreconscientiously applied all brand documentsineach strategic decision irrespective of its size.
With offering outstanding business operations, Cibo Espresso has captured the attention of targeted business customers. Targeting such huge number of prospective population has been an effective business operation alongside increasing marketing and hence improving their market share strategy at concurrent time (Powell, 2018). In present time, Lucy Duvnjak is the marketing manager of Cibo Espresso, who uses effective advertisements strategy to upsurge marketing campaign of the brand that noticeably influences customer behaviours. Renowned for being first premium level Italian cafe chain in Australia, the Cibo Espresso has proficiently continued to echo their passion as well as style of Italian life.
In 2012, this passion has fascinated Retail Zoo Pty Ltd for acquiring CIBO Espresso. Markedly, Retail Zoo has competently built the processes and systems, which has witnessed brands such as Salsas and Boost Juice rise to be successful.CIBO Espresso and Retail Zoo have presently opened nearly 35 outlets across New South Wales and South Australia along with huge expansion strategiesin progress (franchisebusiness.com.au, 2022). In 2016, Cibo Espresso has engaged one of the world's most renowned professional chefs since its inception for implementing its most aspiring menu change. With esteemed andsophisticated focus in terms of handmade and artisan products along with locally sourced ingredients, Cibo Espresso'srecent menu is now featuringabove 60 innovative dishes. Cibo Espresso is enjoying proven growth structures, systems and platforms, which have witnessed Boost Juice,open around 500 outlets in almost 20 nations.
Identification of Essential Requirements for setup in Perth
While engaging in identification of essential requirements to setup in Perth, application of SWOT analysis will opportune in properly identifying the strengths and opportunities and hence mitigate weaknesses and threats.
Strengths- Cibo Espresso offers excellent quality of drinks and food for maintaining reputation among customers. The Company is having cafes in assessable location across South Australia wherein customers get easy accessibility to café such that they do not have to spend long time for travelling to access café (Rahardjo, Hasbullah and Taqi, 2019). Cibo Espresso have excellent supplierfor coffee products from various markets. The cafes enforced innovative featured technologies to improve their products and provide excellent services to customers. All these will provide efficient working as well as help in increasing profit of the new setup outlet at Perth.
Weaknesses-Difficulty to embrace product in customers eyes due to various kinds of issues that arise due to product changes. This is highly essential for Cibo Espresso to introduce new product line only based on Pizza, which is also Italian based. Retention of skilled human resources for development of café is another weakness for which Cibo Espresso needs to recruit experts. For business expansion, there is substantial lack of investment for which the brand must attempt for acquiring government subsidies, bank loans or angel investors (Jang and Lee, 2019). Being in highly competitive café industry there is always an issue of losing customer base. For such, Cibo Espresso must be introducing innovative Pizza products such as chocolate pizza etc. Opportunities-Because of rapid increment in customer demand the café necessitates seeking opportunity of opening a new outlet at Perth in Western Australia. With enhancing such opportunity, the Company would capable of supplying more products across Australian marketplaces and hence competently upsurge their business rate (Marsiwi et al., 2019). With opening outlet in Perth, the Company would have beneficial aspects of location to attract customers with achieving opportunity of enhancing brand image in Australia. Threats-The ultimate threat is intense competition of café business in Perth. Hence, introduction of Pizza product line will opportune product diversification and hence acquire new market share. Another threat is such that Government in Perth suddenly changes rules and regulations, which might hamper business continuation. Furthermore, there is lack of productive manpower. For this, Cibo Espresso must implement training and development programs to making the workforce competent in Pizza making, customer service and marketing.
Porter's Five Forces modelwould opportune in properlyrecognising most critical threats in the industry. The more complicated the threats are, the leaststriking that market becomes for operating in.
New Entrants Threat-Initiating a cafeteria or coffee business is easy. However, this market in Perth is highly saturated and considerable amount of monetary resources alongside buildings is required for new entrants for high economies of scale (Boaventura et al., 2018). This actually offers medium threat to Cibo Espresso from new entrants. Hence, introducing a new product line that is Pizza would be a perfect market expansion strategy for Cibo Espresso to thrive competently.
Competitive Rivalry- There is intenselevel of competition in cafeteria sector in Perth. Cibo Espresso is having many competitors such as Starbucks, Dunkin Donuts, McDonalds and others. In addition, there are many small coffee shops and local cafes. Hence, threat because of this factor is exceptionally high for the cafeteriafor thriving successfully in the Perth marketplaces (Lee, Moon and Song, 2018). However, introducing a new make line with Pizza will offer significant competitive edge.
Purchaser's Bargaining Power- Customers have many substitutes that they can effortlesslypick. In addition, cost for switching is noticeably low. Therefore, threat of this factor is enormously high in Perth. Cibo Espresso necessitates integrating competitive pricing strategy such that customers from mid to high income level can afford Cibo's Pizza.
Substitution Threat- Consequences of substitution threat is substantial as there are many substitute products such as water, energy drinks, smoothies, soft drinks, fruit juices, tea etc (Sudiartini et al., 2020). Moreover, there is choice of going to pubs for customers rather than entering cafeteria. Hence, introduction of Pizza product make line will opportune Cibo Espresso to stay away from threat of substitution in Perth.
Supplier Power- Across the world, there has been high demand for coffee beans. However, this is manufactured in a small number of geographical locations. Yet, to have accessibility to large number of coffee beans suppliers, supplier power threat is seemingly low for cafeteria businesses (Ge et al., 2021). However, the ingredients for making Pizza can easily be resourced from local vendors whether that is Italian herbs or various toppings such as black olives, red paprika, Jalapeno, chocolateand others.
Presentation of VRIO assessment has been a brilliant technique to evaluate Cibo Espresso's capabilities and resources for understanding competitive edge.
| | | | | | |
| --- | --- | --- | --- | --- | --- |
| Resources and Capabilities | Valuable | Rarity | Imitability | Organization | Outcomes |
| Prime and Strategic Position | Yes | Yes | No | Yes | Temporary Competitive Advantage |
| Brand Image | Yes | No | No | Yes | Competitive Parity |
| Store Concept and Aesthetic Appeal | Yes | Yes | Yes | Yes | Sustainable Competitive Advantage |
| Human Resource Management and Organisational Culture | Yes | Yes | Yes | Yes | Sustainable Competitive Advantage |
| Technology Leverage | Yes | Yes | No | No | Competitive Parity |
| Customer Loyalty and Cult Status | Yes | Yes | Yes | Yes | Sustainable Competitive Advantage |
| Upright Image of Corporate Social Responsibility | Yes | Yes | No | Yes | Temporary Competitive Advantage |
Table 1: Cibo Espresso' VRIO Analysis
(Source: Created by Learner)
One of the best advantages of marketing Pizza is its widespread appeal. This essential fact has to be exploited as well as accredited by Cibo Espresso. Yet, perfect market segmentation could inform the vital role in traditional context where Pizza is extremely consumed in Perth.
Geographic Segmentation

Coffee is extremely preferred as well as consumed in UK.

Demographic Segmentation

Age- 20 to 40 years

Gender- Both males and females

Economic Status- People from Middle and Upper class

Income Level- $200,000 to $500,000 annually

Behavioural Segmentation

Cibo Espresso must be focused on perfectly targeting most healthy food lovers who not really do experimentation as well as easily switch in case they can sense their perfect toppings.

Psychographic Segmentation

Rational

Price Sensitive
Table 2: Cibo Espresso' Market Segmentation
(Source: Created by Learner)
Target Market- The prime customer segment for Cibo Espresso should always be students. However, the secondary customer base must be office workers. The tertiary target customer base comprises of homemakers. Positioning- The CIbo Espresso must provide its Pizza product lines at competitive price, such that starting from low earning to high earning, all people can pay for it. The point of parity to thrive competently must be excellent quality. However, the brand has to be focused to achieve some point of difference with opening up more new outlets across Perth.
Area, Location and Requirements
The outlet will be selected in the busiest places in Perth. The exact location can be in any shopping mall or office area or near a university for getting most crowds' attention. For setting up the business, an area of around 2500 to 300 sq. ft. would be perfect with providing space for kitchen, hanging place for customers and other essentials. For making Pizzas, Cibo Espresso needs to purchase a big pizza oven, which will produce 10 pizzas at a time. Apart from this, a small over must also be maintained at times of low orders. In addition, other requirements are refrigerator, water purifier, pizza pans, utensils, packaging materials etc.
Work Breakdown Structure
The work breakdown structure will provide a step-by-step approach of completing the overall project of setting up a new outlet of Cibo Espresso in Perth.
| | | |
| --- | --- | --- |
| WBS Code | Tasks | Processor |
| A | Market Analysis | 1 |
| B | Outlet Designing inclusive of interior and product line | 2 |
| C | Project Development | 3 |
| D | Project Implementation | 4 |
| E | Project Closing | 5 |
Table 3: WBS of Cibo Espresso
(Source: Created by Learner)
Gantt chart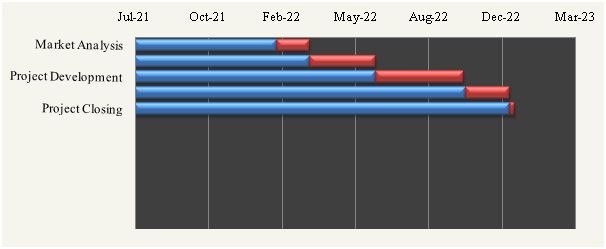 Figure 1: Overall Project Gantt chart
(Source: Created by Learner)
Work Scheduling
| | | | | |
| --- | --- | --- | --- | --- |
| Tasks | Duration | Predecessor | Start date | Finish Date |
| Market Analysis | 45 days | 1 | 01/02/2022 | 17/03/2022 |
| Outlet Designing inclusive of interior and product line | 90 days | 2 | 18/03/2022 | 15/06/2022 |
| Project Development | 120 days | 3 | 16/06/2022 | 15/10/2022 |
| Project Implementation | 60 days | 4 | 16/10/2022 | 14/12/2022 |
| Project Closing | 07 days | 5 | 15/12/2022 | 21/12/2022 |
Table 4: Overall Project Scheduling Flowchart
(Source: Created by Learner)
Risk Assessment Matrix
The most concerning risks in this project might come from people, assets, community and environment. The exact severity in overall outlet setup project has been reflected through risk assessment matrix in this picture attached below: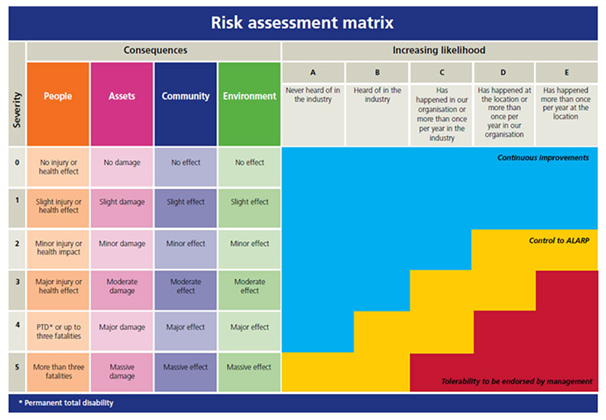 Figure 2: Cibo Espresso's Risk Assessment Matrix
(Source: Google Images)
Conclusion
While drawing the inferences this is earnest to notify that Cibo Espresso is having the competency of setting up new outlets in Perth. However, this is essential for the management to have a thorough look at the propositions in this article for having a deep understanding about the essentialities prior to start up the project. This is highly expected that all the strategic choices that have been mentioned in this report will opportune Cibo Espresso in setting up their outlet at Perth successfully, which will also thrive with competitive edge.
References
Boaventura, P.S.M., Abdalla, C.C., Araujo, C.L. and Arakelian, J.S., 2018. Value co-creation in the specialty coffee value chain: the third-wave coffee movement. Revista de Administração de Empresas, 58, pp.254-266. https://www.scielo.br/j/rae/a/DbDJVh6VGQYY4KkNKhpLtgh/lang=en&format=html
ciboespresso.com.au, 2022. CIBO Espresso. [online] Ciboespresso.com.au. Available at: [Accessed 27 January 2022].
ciboespresso.com.au, 2022. CIBO Espresso. [online] Ciboespresso.com.au. Available at: [Accessed 27 January 2022].
ciboespresso.com.au, 2022. CIBO Espresso. [online] Ciboespresso.com.au. Available at: [Accessed 27 January 2022].
franchisebusiness.com.au, 2022. CIBO Espresso Coffee franchise for sale | Franchise Business. [online] Inside Franchise Business. Available at: [Accessed 27 January 2022].
Ge, C., Xue, Y., Ma, L., Harsányi, J.R. and Tick, A., 2021. Research on Internal Control of Small and Medium-sized Enterprises–Luckin Coffee Inc., a Case Study. Management, Enterprise and Benchmarking in the 21st Century, pp.16-32.http://kgk.uni-obuda.hu/sites/default/files/MEB2021_Proceedings.pdf#page=20
Jang, H.W. and Lee, S.B., 2019. Applying effective sensory marketing to sustainable coffee shop business management. Sustainability, 11(22), p.6430. https://www.mdpi.com/2071-1050/11/22/6430/pdf
Lee, W.S., Moon, J. and Song, M., 2018. Attributes of the coffee shop business related to customer satisfaction. Project management assignmentJournal of Foodservice Business Research, 21(6), pp.628-641. https://www.researchgate.net/profile/Joonho-Moon/publication/328082694_Attributes_of_the_coffee_shop_business_related_to_ customer_satisfaction/links/5bc6e7c1458515f7d9bfd7c2/Attributes-of-the-coffee- shop-business-related-to-customer-satisfaction.pdf
Marsiwi, C.K.K., Syah, T.Y.R., Pusaka, S. and Indradewa, R., 2019. Investment Feasibility Analysis in Financial Aspects of Startup Business In Lifestyle Combining Barbershop And Coffee shop Over PT. Jeeva Work Corporation. Journal of Multidisciplinary Academic, 3(4), pp.97-100.https://www.kemalapublisher.com/index.php/JoMA/article/download/398/397
Powell, R., 2018. Retail Zoo full of beans about Cibo Espresso franchise rollout - SmartCompany. [online] SmartCompany. Available at: [Accessed 27 January 2022].
Rahardjo, B., Hasbullah, R. and Taqi, F.M., 2019. Coffee shop business model analysis. Integrated Journal of Business and Economics, 3(2), pp.140-152.https://ijbe-research.com/wp-content/uploads/2019/07/IJBE-2019.2-rev.pdf#page=6
Sudiartini, N.W.A., Astari, A.A.E., Kardini, N.L. and Dhani, Y.R., 2020. The feasibility study of coffee house business opportunity in COVID-19 pandemic: a case study at kulo coffee shop pemogan. International Research Journal of Management, IT and Social Sciences, 7(5), pp.38-45.https://core.ac.uk/download/pdf/328143508.pdf
Susilowati, M., Kurniawan, Y., Prasetiya, H.P., Beatrix, R., Dewa, W.A. and Ahsan, M., 2021, March. How to manage scope, time and cost of project management plan to develop manufacture information system. In IOP Conference Series: Materials Science and Engineering (Vol. 1098, No. 6, p. 062006). IOP Publishing.https://iopscience.iop.org/article/10.1088/1757-899X/1098/6/062006/pdf