Operations Management Assignment: Business Case Analysis Of Holmart & Wersa
Question
Task: Three
The manufacturing of both products and services are under severe pressure to survive and thrive in markets that have been irrevocably changed after the Covid -19 pandemic. Find four relevant, peer reviewed articles that CLOSELY match your current place of work, that is, whether your business sectors are in the private sector, public sector, parastatal or not-for-profit spheres. List your proper reference list only after the table below but ensure your reference sources are restricted to the years 2020 and 2021. Summarise each of the four articles separately by tabling the headings as follows: Title, Authors and Year Context Content Advise the way forward for your own strategic operations Each article can potentially be allocated a maximum total of ten marks each.
Answer
Introduction
As seen in the present context of operations management assignment, Holmart had been a mid-tier UK retailer that was dedicated to adopting an honourable position on a number of ecological concerns, notably baggage minimization and food scraps. Holmart's first aim is to minimise the amount of excess foodstuff produced, and subsequently to give any remaining food to food organizations, soup kitchens, and orphanages. When foodstuff might no longer be eaten, nevertheless, landfills or incinerator were no more viable options. Similarly, Wersa was a prominent waste handling firm situated in the southern of the United Kingdom, with operations that encompassed garbage gathering, composting, purification, and power generation. The UK parliament had enacted a disposal fee to promote recyclable materials. They did not impose an extremely large tax percentage all at once. Rather, the tax became £5 per tonne in the initial decade, £8 in the following, and so forth. Additionally, there is an entrance charge. This would be the true changeable price of transporting the garbage and burying it.
Analysis
Question 1:
Understanding of the qualitative dynamics of the supply chain between HOLMART and WERSA:
Given the proximity of the Holmart shop and the Wersa AD plant, the two firms thought that further might be achieved to illustrate the partnership's effectiveness. It was decided to run a specialized 1.5-kilometer cable from the energy source to the supermarket. This ensured a continuous flow of sustainable power generated by the AD procedure. It was a watershed moment for the cooperation, since it meant that the nearby Holmart shop would meet most of its electricity demands using its possess sustainable electricity generated from food waste. Despite the fact that it required a large expenditure in terms of power cable, switchgears, and legal expenses.According to Slack& Lewis (2019), Holmart's food disposal plan included looking into transforming food wastage into electricity utilizing anaerobic digestion (AD), which would be the method of breaking apart biological materials including animals or food scraps to create biogas and bio fertiliser. AD was viewed as a realistic option since it not simply helped to meet food wastage minimization goals, but it also provided clean power. Wersa was identified as an ideal collaborator for the AD System's food scrap control.Holmart organises food scraps and commodities and delivers them to the Wersa DC closest to them. Wersa then transports the item to the closest AD station. Produces power from sustainable sources. Holmart employed energy produced in the nearby AD once more.
Analyse the gaps that exist currently:
Despite this successful partnership, certain issues persisted. Wersa's growing plant count was a major concern. Wersa, as according Crowley, believed they were the only ones who had to bear all of the risks and obligations. Because, for Holmart, management of waste was a last resort. The following are the possible gaps between Holmart and Wersa:
• The quantity of foodstuff sent to AD has been lowered as accordance of Holmart's broader aim to minimize food scraps. It had to be a good tendency for Holmart, since it reduced food waste, but it was a source of practical worry for Wersa, as it needed source assurance to sustain its large-scale AD plant (Ling, Khaligh, &Ching, 2020).
• One concern is odour. It could be decreased by the use of closed doors, compartmentalization, and biofilter procedures, but leakage is always a possibility. Water pollution, loudness, and vermin are all significant dangers. Because of these, Wersa is concerned about the possibility of image harm.
• Wersa has difficulties in retaining and training skilled AD controllers. The future location of the plats was also a potential concern for Wersa. People concerns will be raised for the odour and pollution of the AD plants, if they plant it near people engaged places.
Question 2
MBA knowledge to introduce a new product/service to electrify commercial vehicle:
I'd recommend a service that would provide automotive and shipping organisations with an environment of electrified
first-to-last-mile devices, technology, and applications to help them transport items more effectively. These solutions would be created to assist organisations in lowering costs, increasing efficiency, improving personnel protection and shipping protection, and promoting total sustainable development (Okorieet al. 2021).
A propulsion-assisted, electrical bucket might be the answer, designed to transport items across short areas – such as between the distribution van to the user's home entrance. This can assist transport personnel save time, money, and effort by reducing product encounters, expenses, and physical exertion. The following are some of the It's advantages and functions:
• Built-in electrical axle engines that can be adjusted to a velocity of up to three mph based on the driver's speed.
• In narrow places, it's manoeuvrable.
• Roughly 23 cubic feet of goods is carried and secured.
• Materials are organised using movable shelf.
• Cupboard doors that lock enable for safe, wireless connectivity to the goods.
On the basis of the opinion of Owusuet al. (2021),I would present clients with transparency and accessibility to their items via online and smartphone platforms using a comprehensive, cloud-based application solution. Built-in connection gives companies access to specific information and analytics that may help them enhance their entire processes, such as routing effectiveness, asset usage, and goods improvements. The mobile software may be used by truckers and courier for a range of jobs.
• Users will get real-time capabilities such as geolocation tracking, charging system, wireless locking and release instructions, and over-the-air upgrades of linked capabilities by the mobile asset management device.
• Wireless access breakdown, real-time geolocation, energy and recharging control, operator health education and accident documentation, virtual inspections, safety alarms, and preventative repair insights, as well as over-the-air upgrades, would be provided by this system to fleet managers.
SANDCONE Model of Improvement:
Although this is feasible to balance off capacities one versus another in the shorter sense, the Sand Cone paradigm implies that there exists a border between the 4 skills.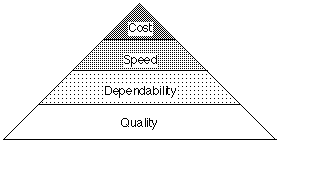 Figure 1: Sandcone Model
(Source: ifm.eng.cam.ac.uk)
In accordance with Nardo, Forino, &Murino, (2020), to develop accumulated and long-term fabrication functionality, managerial awareness and funds must first be focused on improving performance, then - while initiatives to strengthen reliability are being extends - focus must be compensated to improving the consistence of the fabrication framework, then - again while initiatives on the prior 2 are being spread - fabrication versatility (or activation time) need to be transformed. Ultimately, when each of these initiatives are being expanded, expense optimization could be given special focus. The application of this concept necessitates a long-term strategy, as well as perseverance and forbearance. It necessitates the belief that expenses would ultimately decrease (Vilkas, Stankevice, &Rauleckas, 2020). The traditional depiction is displayed before, is a more realistic depiction of the concept, which shows that every bottom level should be expanded to accommodate any growth in any upper layer.
Question 3
Markets that have been irrevocably changed after the Covid -19 pandemic:
According to Williams(2021), Energy is necessary for financial development, particularly in developing nations. Ensure that everyone has accessibility to inexpensive, dependable, healthy, and modern energy—is a prerequisite for advancement on several other SDGs, particularly those related to healthcare, education, commerce, greener communities, and far more. Emerging nations are particularly susceptible to these changes. While having more accessibility to electricity in emerging nations, over 789 million individuals around the world are still without electricity. COVID-19 has produced an influence on the industry, resulting in a decrease in consumption, economic hardship, and power distribution network problems.
Organizations are dealing with ways to maintain supporting their consumers and regions across the globe as the coronavirus global catastrophe evolves on a regular scale. The challenge is particularly difficult for businesses that depend largely on in-person engagement, such as finance and insurers, as well as tourism, telecommunications, and manufacturing activities. Bodily separation, the elimination of non-essential activities, and restricted interaction are all important aspects of safeguarding public wellbeing but they also pose significant issues for how such companies can remain to communicate to consumers and achieve their demands.
The primary and most pressing necessity is to look after staff and the clients they assist by ensuring their protection and wellbeing. The company is currently establishing impersonal procedures, boosting bodily separation, introducing heat monitoring, and providing personal protective equipment (PPE) whenever practicable, as recommended by national health officials. Although advancement is uneven, the procedure appears to be working: businesses' vigorous physical distancing and PPE techniques are progressively implying that if a worker checks pleasant for the coronavirus, instantly clean-up instead of weeks or months of closure could be adequate to guarantee worksite safeness (Ilchenko, 2020).
Many companies are rethinking their processes, casting doubt on long-held beliefs regarding which in-person actions genuinely provide benefit above distant alternatives. For instance, the energy production institutions no longer demand assessors to tour their property, instead opting for virtual fieldwork via images and live stream. When in-person meetings are necessary, the most important duty for company managers is to comprehend all important contacts, whether internally, external, or between consumers. Firms would be able to detect hazards at every stage of the route and define explicit concepts and practises, allowing them to quickly rethink procedures and convey and execute desired outcomes.
Security of delivery, a common subject in the power and materials business, now has a far broader meaning in a planet affected by COVID-19. Businesses had to react rapidly to protect distribution networks and control components inventories as the situation spread. Several businesses will re-evaluate their logistic network resiliency when the virus is controlled and commercial growth resumes.
COVID-19 has informed the globe of its vulnerabilities and raised public and societal understanding of worldwide threats. As a result, talks concerning other risks, including changing climate, may be influenced. Firms would need to look at their hazard management strategies with refreshed perspective and assess what steps they ought to take to derisk existing corporate strategies. For instance, in the chemical and energy industry, high-cost suppliers who have been challenged by the drop in energy prices might need to move to cooperative alliances or mergers to reduce expenses (Lu, Ma, & Ma, 2020).Officials and the general public will consider the influence of curfews on traffic, congestion, and Carbon intensity on a larger scale. They would have witnessed how sustainable energy supplies were capable to provide 100 percent of consumption in numerous areas. In others, it might be obvious that specific energy facilities' finances are no longer feasible.
Future Of the energy sector after Covid-19:
As a consequence of the decreases in vehicle transportation and airline travel caused by Covid-19, consumption for fuel has fallen. This would take a long time, if ever, to return to where it was prior to the epidemic. Nevertheless, certain clear patterns may already be seen. Government are exerting greater supervision over corporations and the general public; foreign movement has been limited; and the usage of technology including videoconferencing to adapt to existence during lockdown has exploded. The forecast for energy is lower in another possibility, which anticipate a bigger influence from the coronavirus and/or government measures. The 'Go it Alone' model depicts a pullback from internationalization, which would result in a longer distress and weaker trending development. Fuel consumption in 2030 is expected to be lesser than it might have been in 2023 if the epidemic had not occurred.
According to the opinion of Klemeš, Van Fan, & Jiang (2020), The 'Greener growth' forecast, based on Wood Mackenzie's 'Accelerated energy transition' report from last year, also predicts lower oil use. Inside this rendition, initiatives like the European Green Deal and the Green New Deal favoured by several Progressives in the United States employ higher energy economy requirements and transportation electrified to reduce the increase in fuel demand. Oil costs peaks in the 2020s, then begins to decline sharply in the 2030s.
Conclusion
Higher officials of the company must evaluate, determine, and react in times of crisis. To rebuild and emerge as a larger, more durable organisation, it would be necessary to strike a balance between immediate economic and functional restrictions and the requirement to think further than the catastrophe to the future standard. The evolving long-term picture for power corporations poses a significant operational dilemma. They are currently quite danger averse, and their assets are facing a lot of stress. Several companies are reducing their maintenance expenditures. However, when the current emergency will be passed, they would need to continue to brace for the chances and challenges that await them in the future reality that awaits forward.
References
Slack, N., & Lewis, M. 2019. Operations strategy. Pearson UK. Retrieved on 6th November, 2021. Retrieved from: https://www.academia.edu/download/63364818/Operations_Strategy_3rd_edition20200519-86304-6oap7p.pdf Ling, O. C., Khaligh, N. G., & Ching, J. J. 2020. Recent catalytic advances in the synthesis of organic symmetric disulfides. Current Organic Chemistry, 24(5), 550-581. Retrieved on 6th November, 2021. Retrieved from: https://www.ingentaconnect.com/content/ben/coc/2020/00000024/00000005/art00006
Okorie, O., Charnley, F., Russell, J., Tiwari, A., & Moreno, M. 2021. Circular business models in high value manufacturing: Five industry cases to bridge theory and practice. Business Strategy and the Environment, 30(4), 1780-1802. Retrieved on 6th November, 2021. Retrieved from: https://onlinelibrary.wiley.com/doi/pdf/10.1002/bse.2715 Owusu, R. A., Hinson, R. E., Adeola, O., &Oguji, N. 2021. Business-to-Business Marketing: How to Understand and Succeed in Business Marketing in an Emerging Africa. Productivity Press. Retrieved on 6th November, 2021. Retrieved from: https://www.taylorfrancis.com/books/mono/10.4324/9780429259777/business-business-marketing-richard-afriyie-owusu-robert-ebo-hinson-ogechi-adeola-nnamdi-oguji Nardo, M., Forino, D., &Murino, T. 2020. The evolution of man–machine interaction: The role of human in Industry 4.0 paradigm. Production & Manufacturing Research, 8(1), 20-34. Retrieved on 6th November, 2021. Retrieved from: https://www.tandfonline.com/doi/pdf/10.1080/21693277.2020.1737592
Vilkas, M., Stankevice, I., &Rauleckas, R. 2020. Extending cumulative capability models: the role of innovation in the accumulation of competitive performance. Operations management assignmentInternational Journal of Quality & Reliability Management. Retrieved on 6th November, 2021. Retrieved from: https://www.emerald.com/insight/content/doi/10.1108/IJQRM-04-2020-0119/full/html
Williams, B. (2021). The changing South African corporate legal market, transformation and the pandemic. Without Prejudice, 21(2), 59-60. Retrieved on 6th November, 2021. Retrieved from: https://journals.co.za/doi/abs/10.10520/ejc-jb_prej_v21_n2_a32
Ilchenko, N. (2020). REFORMATTING THE ACTIVITIES OF UKRAINIAN LOGISTICS COMPANIES IN CONDITIONS PANDEMIC. O, 30-32. Retrieved on 6th November, 2021. Retrieved from: https://ojs.ukrlogos.in.ua/index.php/logos/article/download/2649/2536 Lu, H., Ma, X., & Ma, M. (2020). What happened and will happen in the energy sector under the impact of COVID-19 A review.
Retrieved on 6th November, 2021. Retrieved from: https://www.enerarxiv.org/thesis/1590191976.pdf Klemeš, J. J., Van Fan, Y., & Jiang, P. (2020). COVID19 pandemic facilitating energy transition opportunities. International Journal of Energy Research. Retrieved on 6th November, 2021. Retrieved from: https://www.ncbi.nlm.nih.gov/pmc/articles/pmc7537069/