Operations Management Assignment: Comprehensive Operation Plan for BC Edible Health
Question
Task: Select a case scenario and prepare a report on operations management assignment addressing the following:
1. Customer(s) – who are the customers who would make use of your business You must identify at least four different types of customers. Provide a profile for each customer.
• Main issues they are facing in life that would cause them to want to use your firm – what are important things happening in their lives
• Age, income levels and professions
• Relationship status – single, married, partners, children, extended family, etc.
• Do they own their own homes and cars
• Location where there live – urban, suburban, rural
• Are they health conscious, environmentally responsible
• Any other life challenges they may be facing
2. For each customer type – fully explain the VALUE your operation provides to them, and why this matters to them VALUE is NOT the products and services you offer, but what intrinsic things are provided to the customer by using your business. How will customers feel using your products and/or services
Competitive Strategies – identify which category or categories your firm operates within and the rationale for choosing each. Fully explain how these strategies will guide the way you operate your business.
Choose minimum two strategies and explain why each strategy was chosen.
Answer
Introduction
In this operations management assignment, as a consultant, a comprehensive operation plan has been created for the company 'BC Edible Health'. With the increasing concern of people about processed foods has inspired Heather Anderson, the owner of the company, to offer healthful living to the people with their products including live edible plants as well as its seeds. To gain significant market concentration and awareness among people around the global world, the company needs to comprehend customer profiles and integrate appropriate competitive strategies for growth and value creation. Based on such context, this report highlights the customer profiles concerning the need of the company along with competitive strategies for the smooth functioning of the company as well as to attract potential customers globally.
Discussion
As put forward by (1), comprehending customer profile is highly essential for firms to gain a competitive advantage as well as to attract potential customers from the market. Based on such context, the company 'BC Edible Health' can certainly benefit by concentrating primarily on the following customer profiles, (Refer to Fig: 1).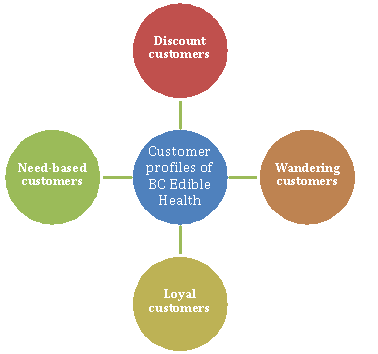 Fig: 1 (Customer Profiles of BC Edible Health)
Customer Profiles and value creation
Loyal customers
As stated by (2), these types of customers are minimal but assist to promote the brand as compared to other customers because they tend to be completely satisfied with the products and services. Thus, it can be highlighted that BC Edible Health must provide individual attention to these customer base by keeping in touch with them regularly. Based on loyal customers, the age varies from 30-50 years as their income level is low and middle. On the other hand, their professions are primarily managers, accountants, and engineers who are highly focused on ensuring a healthy lifestyle. It is expected that their relationship status is married or single parents. They reside in urban and suburban which also reveals that the company can benefit from such customers as they are highly conscious and environmentally responsible. Hence, it is significant to market the information of the product to gain their attention and interest in the brand.
It has been also identified that 85% of loyal customers own their homes and cars which can act as a potential benefit for the company to gain profit and growth, (4). The main issues they are facing include the availability of environment-friendly and healthy products for their family as they are highly concern about such cause and tend to use products that enhance lifestyle. Therefore, they are highly inclined to the potential benefits offered by the company. Besides, promoting the product to this customer profile can assist to gain huge customer base as they act as a referral as well, generating new customers for the company.
Value creation for customers
Based on these types of customers, the company BC Edible Health can offer participative experiences as well as deliver social responsibility by analysing the concerns and needs of customers. This can deliver intrinsic motivation to the customers, (7). Also, the customers would feel interested and accept the new product in the market as their need for attaining a healthy lifestyle can be addressed through the company's products and services. Besides, the company would interact and gain feedback from these customers, these can certainly add value to the customers as they would gain significant knowledge about the brand leading to customer satisfaction and retention.
Discount customers
It has been well suggested by (10), these types of customers are frequent visitors but are highly inclined to the products or services that are discounted or cheaper. Based on such context, it can be stated that this particular segment can assist to promote distinguished part of profit into the business as they focus on marginal investment on products. These types of customers fall under the age of 21-31 and they are mostly students and bachelor by profession. Besides, their income level is relatively low but the amount of money they gain makes them invest in cheaper products or the products that offer them a healthy lifestyle. Their concern towards fitness is relatively high which acts as a potential advantage for the company. They primarily live in suburban or rural areas and around 90% of the customers do not own a home or car, (11). However, their investment towards attaining a quality lifestyle is essential to consider by the company to generate profits. The main issue in their life is they are not concerned about environment-friendly activities. However, their focus towards a healthy lifestyle is significant that certainly acts as a potential advantage for the company.
Value creation for customers
To satisfy this kind of customers, the company can market its product at an online platform where promotional discounts can be offered. The company can also offer in-store discounts during seasonal times that can assist to lure these customers towards the brand. Push notifications, messages, and online advertising can be used to aware these customers base about discounts and offers which can increase their interest in the brand, (12). This would certainly make these customers feel appreciated as well as valued resulting in repeat purchases as well as increase brand loyalty.
Need-based customers
As stated by (13), these types of customers tend to purchase products that can fulfil their specific need or they are habituated with. Based on such context, it can be stated that their expectation and satisfaction is based on their fulfilment of needs which is a significant issue for these kinds of customers. These types of customers come under the age between 28-40 and are mostly married. However, their income level is relatively high which is a significant advantage for the company to pursue these customers. They generally choose to be in the profession of managers, professors, or government officials. Also, they do own home and car as satisfaction and luxury lifestyle is their major concern. They reside in an urban area but highly concerned about environment-friendly and health-conscious lifestyles. The main issue of these types of customers is they feel attached to their general purchasing behaviour and switching behaviour is very limited, (14). This can be a significant issue for the company as well; however, creating awareness about the benefits offered by the products can influence the switching behaviour of these customers. Other than that, they are inclined towards consuming quality food at a reasonable price which is also a significant issue for these types of customers towards the business of BC Edible Health. Hence, the company has to create value for attracting this potential customer base.
Value creation for customers
To create value for this particular customer base, the company can handle them positively by highlighting the ways and reasons to switch to a particular brand. Additionally, positive interaction and detailed information about the benefits associated with the products along with environmentally sustainable measures have to be communicated with them as they are highly conscious of such cause, (15). On the other hand, the pricing strategy of the brand would be affordable for every customer base ensuring customer satisfaction and experience. This can make these customer base feels the need for this product to develop a healthy lifestyle and also increase their interest in the brand, resulting in growth and profits.
Wandering customers
As stated by (17), these kinds of customers are confused and not much sure what to buy. However, they are very specific about their needs for products which makes them the prime customer for the company. The major issue they face in their lifestyle is to gain healthy products at a reasonable price which can certainly interest the customers towards the brand. The relationship status of this type of customer is a mostly unmarried or extended family and within the age group of 18-28. They are mostly students by profession which also offers the company to lure these customers towards the product.
They reside in suburban and rural areas whereas around 70% of these kinds of customers do own homes and cars, (16). Besides, their income level is relatively low; however, they can be easily attracted to healthy products. This type of customer is very cautious about their fitness and least concerned about environment-friendly products. Also, they are dependent mostly on their parents which offers companies like BC Edible Health to attract them at ease that can turn their parents into this specific brand as well.
Value creation for customers
To generate value for these types of customers, the company BC Edible Health can communicate and inform relevant features of the products in the market which can increase their interest in purchasing. Also, these customers are highly inclined towards fitness products; hence, communicating the benefits and positive outcomes of the products can assist to develop a sense of interest. This, in turn, can create long term brand loyalty as well as customer satisfaction, resulting in growth and customer retention, (1). Furthermore, these customers would certainly feel valued and comprehend that they are being appreciated which can ensure greater customer experience as well.
Competitive strategies
It has been well indicated (3) that business in this present market requires to integrate competitive strategies to enhance business performance and operations for gaining profits and potential customer base. For the company BC Edible Health, the following are the two strategies that can enhance growth and develop a competitive edge, (Refer to Fig: 2).
Fig: 2 (Competitive strategies for BC Edible Health)
Stocking Strategy- Make to Order (MTO)
This strategy assists companies to store and stock raw materials in the warehouse and the customized end product would be delivered only after the customer places the order, (5). The rationale behind choosing this strategy for the company BC Edible Health is its products are live-plants, seeds, and dry seeds which require significant attention to maintain its quality and sustainability. Hence, only a certain amount of stock would be kept which would be processed after the confirmation of the customers. This can offer customers to customize the product based on the amount, need, or mixture.
Also, this strategy would assist in bringing efficiency and quality for the business operations as this particular stocking strategy offers consistencies based on the need and demands of customers. The operational cost would be minimum offering growth and profits to the business. The raw materials would be stocked in the warehouses and processed according to the need of the clients. This, in turn, can assist the company to experience more efficient operations at minimum costs offering a competitive edge over others, (6).
Tactical strategy- Quality-based
Based on the customer profiles, the quality-based tactical strategy would be beneficial for the company BC Edible Health as it can assist to offer quality products and reasonable cost. It has been well suggested by (8) that customers are highly inclined towards new and better products and services that can act as a competitive edge for companies. Based on such context, the quality-based strategy can assist to focus on enhancing the quality of products offered by BC Edible Health that is the major rationale behind choosing this competitive strategy. Besides, this strategy ensures that the customers are highly satisfied and interested in the products, resulting in profits and a huge customer base.
On the other hand, this strategy would certainly guide the way to operate the business of BC Edible Health due to its focus on customer's needs and expectations. Besides, it has been identified that the customer profiles reflect the tendency towards attaining a healthy lifestyle but at a reasonable price, (9). This operational strategy can offer the company to not only fulfil such need but also offers a competitive edge over other companies as customers would certainly feel valued and satisfied through its products. Hence, this strategy is significant for the company.
Conclusion
Therefore, it can be stated that the company BC Edible Health has to market its product and brand based on the identified customer profiles. This can act as a significant way to gain a potential customer base as well as to offer a healthy lifestyle to others. Also, these customers can comprehend the benefits offered by the company through its product and services creating value for the business as well as customers. Other than that, the competitive strategies have to be integrated as well for attaining growth, success, and competitive edge while fulfilling the needs and demands of the customers explicitly.
References
1. Aggrawal D, Bansal G, Anand A, Papic L. Types of customers surrounding a brand: A classification based on correspondence analysis. Communications in Dependability and Quality Management-An International Journal, Serbia. 2016;19(1):5-17.
2. Brewer JL, Dittman KC. Methods of IT project management. Purdue University Press; 2018 Sep 15.
3. Cusumano MA, Kahl SJ, Suarez FF. Services, industry evolution, and the competitive strategies of product firms. Strategic management journal. 2015 Apr;36(4):559-75.
4. Heldman K. PMP: project management professional exam study guide. John Wiley & Sons; 2018 Jan 30. Huemann M, Keegan A, Turner R. Human resource management in the project-oriented organization. Project Management Institute.
5. Herzallah A, Gutierrez-Gutierrez LJ, Rosas JF. Quality ambidexterity, competitive strategies, and financial performance. International Journal of Operations & Production Management. 2017 Oct 2.
6. Kaliappen N, Hilman H. Competitive strategies, market orientation types and innovation strategies: finding the strategic fit. World Journal of Entrepreneurship, Management and Sustainable Development. 2017 Jul 10.
7. Kerzner H. Project management best practices: Achieving global excellence. John Wiley & Sons; 2018 Mar 20.
8. Laari S, Töyli J, Ojala L. Supply chain perspective on competitive strategies and green supply chain management strategies. Journal of Cleaner Production. 2017 Jan 10;141:1303-15.
9. Loeser F, Recker J, Brocke JV, Molla A, Zarnekow R. How IT executives create organizational benefits by translating environmental strategies into Green IS initiatives. Information Systems Journal. 2017 Jul;27(4):503-53.
10. Mavi RK, Standing C. Critical success factors of sustainable project management in construction: A fuzzy DEMATEL-ANP approach.Operations management assignment Journal of cleaner production. 2018 Sep 1;194:751-65.
11. Nguyen TD, Paswan A, Dubinsky AJ. Allocation of Salespeople's resources for generating new sales opportunities across four types of customers. Industrial Marketing Management. 2018 Jan 1;68:114-31.
12. Robson K, Plangger K, Kietzmann JH, McCarthy I, Pitt L. Game on: Engaging customers and employees through gamification. Business horizons. 2016 Jan 1;59(1):29-36.
13. Saneva D, Chortoseva S. Service quality in restaurants: Customers' expectation and customers' perception. Age. 2018;36:12.
14. Sun L, You S, Hu J, Wen F. Optimal allocation of smart substations in a distribution system considering interruption costs of customers. IEEE Transactions on Smart Grid. 2016 Dec 20;9(4):3773-82.
15. Tonchia S, Tonchia, Mahagaonkar. Industrial project management. Springer; 2018.
16. Walsh PR, Dodds R. Measuring the choice of environmental sustainability strategies in creating a competitive advantage. Business Strategy and the Environment. 2017 Jul;26(5):672-87.
17. Yuen KF, Thai VV, Wong YD. Corporate social responsibility and classical competitive strategies of maritime transport firms: A contingency-fit perspective. Transportation Research Part A: Policy and Practice. 2017 Apr 1;98:1-3.