Artificial Intelligence Assignment on Legal & Human Rights Issues of AI: Case of Facebook
Question
Task: Task Summary
Identify and discuss the ethical and human rights issues raised in the case study in relation to the application of Artificial Intelligence. Propose possible corrections to solve the human rights in applying the AI technology used in the case study. Please refer to the Task Instructions for details on how to complete this task.
Context
Big data, artificial intelligence, and automation have led to advances in society and many new tools, businesses, and ways of us being able to interact with the world. However, with any new technology there can be ethical and human rights issues that arise. In this assessment you will examine a case study and discuss these issues.
Artificial Intelligence AssignmentTask Instructions
In January 2020 Facebook was ordered to pay $USD550 million to settle a class-action lawsuit regarding its use of facial recognition technology (https://www.nytimes.com/2020/01/29/technology/facebook-privacy-lawsuit-earnings.html).
Facial recognition is a popular technology used by social media companies to tag faces in photos. Refer to the New York Times article (via the link or the PDF article in the Assessment area of Blackboard) and your own research to write a report including:
• Identify the ethical and human rights issues that are presented in the article.
• What is the technology involved and how can its misuse create ethical and human rights issues more broadly (beyond the case study)
• What is the action taken by Facebook to correct the violation
• Suggest any other approaches that could be taken to address the issues identified more broadly with this technology.
Facebook to Pay $550 Million to Settle
Facial Recognition Suit
It was another black mark on the privacy record of the social network, which also reported its quarterly earnings.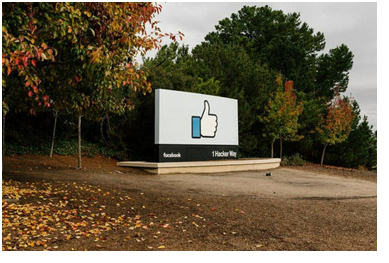 Facebook said on Wednesday that it had agreed to pay $550 million to settle a class action lawsuit over its use of facial recognition technology in Illinois, giving privacy groups a major victory that again, raised questions about the social network's datamining practices.
The case stemmed from Facebook's photolabelling service, Tag Suggestions, which uses facematching software to suggest the names of people in users' photos. The suit said the Silicon Valley company violated an Illinois biometric privacy law by harvesting facial data for Tag Suggestions from the photos of millions of users in the state without their permission and without telling them how long the data would be kept.
Facebook has said the allegations have no merit.
Under the agreement, Facebook will pay $550 million to eligible Illinois users and for the plaintiffs' legal fees. The sum dwarfs the $380.5 million that the Equifax credit reporting agency agreed this month to pay to settle a class action case over a 2017 consumer data breach.
Facebook disclosed the settlement as part of its quarterly financial results, in which it took a charge on the case. The sum amounted to a rounding error for Facebook, which reported that revenue rose 25 percent to $21 billion in the fourth quarter, compared with a year earlier, while profit increased 7 percent to $7.3 billion.
David Wehner, Facebook's chief financial officer, noted in an earnings call with investors that the settlement added to the social network's rising general and administrative costs, which increased 87 percent from a year ago.
"We decided to pursue a settlement as it was in the best interest of our community and our shareholders to move past this matter," a Facebook spokesman said in a statement. Jay Edelson, a lawyer whose firm represented Facebook users in the facial recognition suit, said the settlement underscored the importance of strong privacy legislation. "From people who are passionate about gun rights to those who care about women's reproductive issues, the right to participate in society anonymously is something that we cannot afford to lose," Mr. Edelson said.
The privacy settlement coincides with heightened public concern over the spread of powerful surveillance technology like facial recognition. Companies like Amazon and Clearview AI are marketing facematching software to law enforcement agencies to help them identify unknown suspects. The American Civil Liberties Union and other groups have warned that the spread of such services could end people's ability to remain anonymous in public.
The case also illustrates the protections that strong state laws may offer consumers. Of the three states that have stand alone biometric privacy laws, Illinois has the most comprehensive one. It requires companies to obtain written permission before collecting a person's fingerprints, facial scans or other identifying biological characteristics. The law also gives residents the right to sue companies for up to $5,000 per violation, which could add up to billions of dollars in payouts for tech giants that lose such class action suits.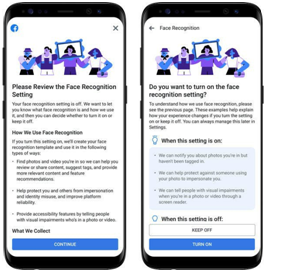 Facebook's facial recognition notices and settings. via Facebook
"The Illinois law has real teeth. It pretty much stopped Facebook in its tracks," said Marc Rotenberg, the executive director of the Electronic Privacy Information centre, a non-profit group that filed a brief in the Facebook case. "Tech firms and other companies that collect biometric data must be very nervous right now." Since the Illinois law was enacted in 2008, it has vexed companies that market voice assistants, doorbell cameras, photo labeling and other technology that may collect biometric details from people without their knowledge or consent.
Many of the companies have argued that people should not be able to sue over violations of a consumer privacy law if they cannot prove they suffered concrete harms like financial losses. Facebook made similar claims in the facial recognition lawsuit, including in a petition in December asking the United States Supreme Court to review the case. The Supreme Court last week denied Facebook's appeal.
But last January, in a case against an amusement park that had collected and stored a child's fingerprints, the Illinois Supreme Court ruled that violating a person's biometric privacy could constitute a harm in and of itself, enabling consumers to pursue privacy claims. An appeals court judge later issued a similar ruling in the Facebook case, denying the company's bid to have the lawsuit dismissed.
"Courts have recognized that the very loss of control over this highly sensitive, highly personal information itself causes harm to people," said Nathan Wessler, a staff attorney at the American Civil Liberties Union, which also filed a brief in the Facebook case.
Facebook has been dogged by complaints over its use of facial recognition since 2010, when it rolled out Tag Suggestions as the default option for users. People could turn it off, but privacy experts said the company had neither obtained users' optin consent for the technology nor explicitly informed them that it could benefit by, for instance, using scans of their photos to improve its face matching technology.
In 2012, Facebook deactivated the technology in Europe after regulators there raised questions about its consent system. Last year, as part of a $5 billion settlement with the Federal Trade Commission over privacy violations, Facebook agreed to provide "clear and conspicuous notice" about its facematching software and obtain additional permission from people before using it for new purposes they had not agreed to.
In 2018, Facebook reintroduced facial recognition as an option for users in Europe. Last year, Facebook updated its facial recognition notices and settings for certain users, providing more details on how it uses the technology.
Answer
Introduction
As per the research conducted on this artificial intelligence assignment, it is stated that the technology is becoming more and more advanced, which has led to a complete change in the Lifestyle of humanity. It has given birth to many conveniences and benefits that have influenced people's lives in many ways. Various applications backed by AI have seen a huge boost in recent years(Gunning & Aha, 2019). However, the situation is not all roses. There have been a significant concern and open conversation regarding how improper use of such technologies can negatively impact humankind. Especially problems regarding privacy and surveillance of individuals that have not consented is a huge issue. This report will identify such issues and malpractices and offer a solution regarding these negative elements of technology utilisation.
Ethical and human rights issues arose concerning the case study.
Facebook is a usually popular social media site that is used by citizens of countries all over the world, averaging over 2.5 billion monthly active users (Shleina et al. 2020). The company has always tried to implement technological updates to make the site more attractive and more convenient to use. However, many researchers and experts suspect that the company has an ulterior motive of implementing Artificial Intelligence and other technological equipment. Recently the company introduced a feature named tag suggestions. This feature tries to match Facebook users to the photos uploaded to the social networking platform by utilising sophisticated Artificial Intelligence that scans and harvests facial information of their users and the photos uploaded to the social networking medium.
The involved technology that created the ethical and human rights issue
Facial recognition is the main technology that has come under heavy fire from privacy rights activists and governmental authorities. The judiciary of Illinois has recently found the social networking giant for over 550 million US Dollars (Singer & Isaac,2020). The company has tried to implement this feature since 2010. It was forced to shut down the feature in Europe after gaining negative attention from the authorities of the European Union in 2012. The company has made some major changes and reintroduced the future to Europe in 2018. However, the company is still being heavily criticised for its usage of the personal information of users without consent and without disclosing how long it is storing such information.However, the terms of service that every user has to agree to use facebook'sservices do not reflect its operations regarding the collection and analysis of facial information. The company is also becoming more and more transparent regarding how it uses the data that it has acquired from the users of the website. Recently the company has decided to drop facial recognition altogether, as reported by reputed news sources(Johnson, 2021).The company has complied with the federal trade commission regulations and claims to request permission regarding using their facial, biometric, and personal information. The company has agreed to notify users and authorities before using acquired data for novel objectives.
The taken actions by Facebook
The major and vital step taken by Facebook authorities is shutting down the facial recognition protocol of the company. Jerome Pesenti, the vice president of Facebook, announced that the company is stopping its facial recognition system that helps a person to locate others within a video or picture (VOA, 2021). Facebook has tackled various criticism regarding the issue, due to which the company also focus on enhancing its privacy system. Facebook promised that the company would improve its privacy norms in order to anticipate fraudulent activities of people. Lastly, the company rebuild its facial recognition notices and settings for some specific users in order to anticipate the criticism.
Suggestive approaches for resolving the issue Response to the conflicts frequently
As Facebook has become one of the most used social network platforms, there have been a humongous amount of data created every second by its users. The company has chosen to sort and analyse this huge information pool and acquire personal information without its users' consent. Facebook users are not opposed to uploading photos that include faces of themselves and other individuals, which have been crucial for the company to develop an Artificial Intelligence-backed mechanism that can provide a service such as tag suggestions. The social networking platform has almost a trillion unique images which have been used to train Artificial Intelligence. This humongous amount of data is being used by Facebook to identify someone and build their digital profiles digitally. Thus, Facebook needs to implement some system by using the approach and mechanism of AI in order to respond to the workplace conflicts of people within the company for ensuring the people can feel a sense of belongingness. With the help of this strategy, the company can easily promote human rights within the workplace. Although, the organisation need to assess the concern of people ethically in order to manage the ethical practices within the company properly. The authorities need to provide equal opportunity to people for seeking their concern and also need to execute some surveys for gathering the concern of people regarding the company's compliance management approach.
Fair trading and ethical gifts for people
The company has been criticised all over the world for its lax use of artificial intelligence and detection and surveillance mechanism. The company has responded to the concerns by shutting down the entire feature in the European Union in 2012. The company claims that by 2018 it has dealt with the issues that the feature had and has reactivated the feature as an option that the users can consent to and turn on and off easily. It can be argued that Facebook needs to follow ethical trading and also prepare and deliver some gifts for its people in order to encourage them as well as to promote human rights within the company.
Tracking individual's behaviour
The breakthrough technology used by Facebook to implement facial recognition and tag suggestions is Artificial Intelligence. Artificial Intelligence is an information system that can intelligently solve problems, enhance its capabilities, and operate in a human-like way. Even though created to help humanity and offer well-intentioned problem solving and task performing mechanisms, the misuse of Artificial Intelligence can be hugely and negatively impactful. In human lives, artificial intelligence can handle and evaluate a huge amount of information that can be easy to misuse. The excellent capacity of these technical tools to evaluate datasets makes the technology extremely useful in establishing a mechanism that monitors and observes mass activities. This can create an easy way to surveil every action of a collective that is a violation of human rights. It can be used to track and favour certain individuals based on their attributes and characteristics as well as regional ethical backgrounds. The technology is being used more and more in legal systems, which are concerning as Artificial Intelligence is not able to deal with complex situations. This can lead to extreme victimisation end discrimination of certain individuals (Andersen, 2018). Misused ai can also encroach on private spaces and can be used to acquire and analyse big data so that it violates data protection laws of regions and human rights. AI has brought about huge revolutions in many fields (Wu & Dai, 2021). Companies implementing AI-backed solutions for certain problems must be completely transparent in their implementation and reflect their stakeholders' interests (Akhtar, 2021).
Conclusion
In conclusion, it can be said that proper actions can severely decrease the risk of ethical and human rights violations posed by Artificial Intelligence. Facebook has taken steps to ensure that its features do not violate users' privacy, even though more can be done in this regard. The regulatory bodies around the world, especially in Illinois, have done a commendable job of holding the company accountable. Artificial Intelligence is a technological gift that can heavily aid humanity. However, continuous monitoring and review of its activities are necessary to ensure that this gift is not misused.
References
Akhtar, A. (2021). How to make AI more ethical. VentureBeat. Retrieved 30 November 2021, from https://venturebeat.com/2021/08/29/how-to-make-ai-more-ethical/.
Andersen, L. (2018). Human rights in the age of artificial intelligence. Access Now, 29.
Gunning, D., & Aha, D. (2019). DARPA's explainable artificial intelligence (XAI) program. AI Magazine, 40(2), 44-58.
Johnson, K. (2021). Facebook Drops Facial Recognition to Tag People in Photos. Wired. Retrieved 30 November 2021, from https://www.wired.com/story/facebook-drops-facial-recognition-tag-people-photos/.
Shleina, V., Fahey, E., Klonick, K., Menéndez, N., Murray, A. D., & Tzanou, M. (2020). The law of Facebook: borders, regulation and global social media.Artificial intelligence assignment Regulation and Global Social Media (May 16, 2020).
Singer, N., & Isaac, M. (2020). Facebook to Pay $550 Million to Settle Facial Recognition Suit (Published 2020). Nytimes.com. Retrieved 30 November 2021, from https://www.nytimes.com/2020/01/29/technology/facebook-privacy-lawsuit-earnings.html.
VOA. (2021). Facebook Shuts Down Facial Recognition System. Retrieved 1 December 2021, from https://learningenglish.voanews.com/a/facebook-shuts-down-facial-recognition-system/6298424.html.
Wu, H., & Dai, Q. (2021). Artificial intelligence accelerated by light.