IT Governance Assignment: Impact Of Information Technology On Samsung Electronics
Question
Task:
Select an organisation and prepare a report on IT governance assignment illustrating the importance of information technology on enterprise governance and management in the selected case.
Answer
Introduction
According to Dehkordi et al., 2017, it is stated in this IT governance assignment that "technology can keep the employee engaged". Standing in today's business scenario, a massive effect of technology can be evident in every facet of business operation. No matter the size of the enterprise, information technology has both the intangible and tangible impact, which may help the organisation to run business activities in a better way and yield competitive advantages. In the current time, an organisation must have the proper technological infrastructure, which in turn can shape the organisational culture, relationship and efficacy of business. An appropriate and sound technical support is also needs to maintain the confidentiality of data and information to ensure trade advantages.
To emphasise upon the concept and importance of IT on enterprise governance and management, the case scenario of Samsung Electronics can be taken into consideration. Samsung Electronics Co. Ltd is a South Korea based multinational company which deals with production and selling of Electronics goods and home appliances. According to the report of FY 2018-19, the market capitalisation of Samsung Electronics stood at US$325.9 billion. Since last two decades, Samsung Electronics has made a substantial growth in profitability and proper collaboration between strategic information management and business can be considered as the resultant of this success.
Discussion
Information system management can be defined as the combination of computer abased and human resources, which results in the collection, storage, retrieval, communication and the use of data to ensure successful management of business operation and business planning process. In Samsung, an information management system can depend upon the followings:
Information pertaining to end-users
Availability and reliability of the source of information
Evaluation and assessment of the current information system
A consequence of the absence of information
The concept of IT-enabled value:
In any enterprise governance, value comes from IT investment is considered as one of the crucial components. IT governance in any business practice ensures that the technological infrastructure and IT investment of the company are proper enough to provide benefits over the strategy at any risk exposure (Ayabakan et al., 2017). It also prioritises the optimise utilisation of resources within a business scenario, throughout the economic life-cycle, which includes initial investment, resulting in the IT assets and IT services.

(Fig: IT-enabled value)
(Source:Piccoli et al., 2017)
With the context of Samsung Electronics, it can be said that being a globally recognised MNC company, it becomes difficult for the managers to manage the entire business operation, globally. The reason is that the information is enormous, and it seems to be challenging to assess and interpret information in a proper way (Piccoli et al., 2017). Here comes the importance of MIS or Management information system which provides scope to the managers of MNCs like Samsung Electronics to assess the information and make the decision from a global perspective.
It also helps the organisation to decentralise the authority. In essence, MIS can help the organisation to transmit information from one department to the concerned department of the organisation, located at a global platform. As a whole, the organisation like Samsung uses proper information infrastructure to manage and to maintain the link between every department of the business and to maintain the relationship between planning and the controlling procedure of the company in a proper way.
By taking the context of Samsung Electronics into account, it can be stated that the organisational mission is to provide the next generation network infrastructure and solution with the amalgamation of proper technological support and experiences. The organisation has undertaken a Greenfield project to develop the world's most extensive LTE network system. Apart from that, 4X4 Multiple Input Multiple Output technologies, use of NB-IoT or narrowband IoT are some example of IT investment of Samsung Electronics (Ahujaand Chan, 2017). These IT investments should have the long term impact on business carried out by Samsung, including the expansion of the reach to consumers, increased in productivity and profitability. The new IT infrastructure like FD-MMO is another technological investment, by Samsung, which might be helpful for the business to promote and commercialise the next generation telecommunication technologies in a better way.
Concerning the Business Value Diagram, it can be said that, in multinational corporations, like Samsung Electronics, which deals with database and mainframe systems, IT plays one of the vital roles. In the modern era, the Internet has given an inexpensive and straightforward means of communication when it comes to interacting between suppliers, employees and consumers within a business. VOIP or voice over internet protocol can be considered as one of the high-tech ways to develop communication within a company set up.
While it comes to manage inventory, an organisation like Samsung Electronics needs to manage huge stocks to fulfil the demand without investing more than it requires. The inventory management system is an integral part of IT governance, by using which an MNC can track and manage the stocks at a pre-determined amount. It works better when the system is connected to POS or point –of-scale system, which is used to maintain a proper information loop within the organisation regarding production and selling of goods and services.
To highlight the IT-enabled value for the organisation like Samsung Electronics Co. Ltd, priority can be given upon the customer relationship management process. The Customer Relationship Management System or CRM is a process to track and to organise every bit of interaction that a company performed with current and their potential consumers (Althuizen, and Reichel, 2016). Use of Information Technology in CRM can improve the way an organisation communicates with their customers. This system can keep track of every individual from the point of sales pipelines and can aggregate every information so that the company can offer better experiences to the users.
Difference between the enterprise governance and enterprise management of IT
Enterprise governance can be defined as the" set of responsibilities and practices being performed by the executive management and hierarchy of an organisation with a defined goal which can provide strategic direction. It can also ensure that the objectives of the business are being acquired and ascertain that the risk is also managed and verify that the organisational resources are being used optimally" (De Haes et al., 2020). The balance between "performance" and "conformance" are the foundation of enterprise governance.IT governance is considered as one of the essential responsibilities being played by the board of directors and executive management of an organisation like Samsung Electronics. It is also contemplated that, IT governance is an integral part of enterprise governance and includes organisational structure and leadership and the procedures which can ensure the sustainability of technological infrastructure.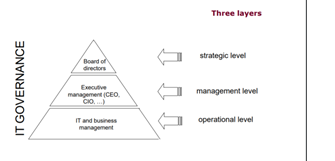 (Fig: IT governance)
(Source: McDonnell, 2019)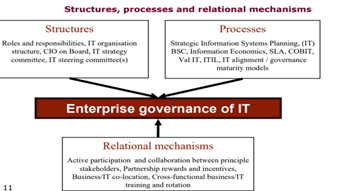 (Fig: Component of Enterprise Governance of IT)
(Source: De Haeset al., 2020)
So, simply, EGIT or Enterprise governance of IT is an integral part of corporate governance. It addresses the implementation of structures, rational mechanisms and procedures within an organisational setup, which can enable both IT people and the business to perform their responsibilities in support of IT alignment and create business value from the IT-enabled investment.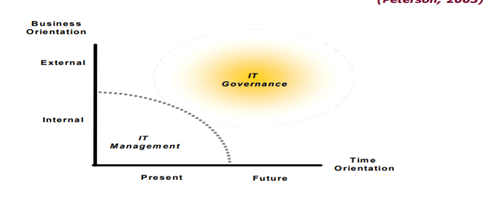 (Fig: the difference between IT governance and IT management)
(Source: Hoogervorst, 2018)
On the other hand, Enterprise IT management can be defined as a strategy which involves crafting IT management for boosting the value of a business. The principle of EITM or Enterprise IT management is to emphasise upon and to support the IT activities which can provide value to the business. In an organisation like Samsung Electronics, Enterprise IT management is considered as one of the unified service models, which helps the IT manager of the organisation to integrate technology within business activities. Though, despite offering a scope of designing and tracking of business services in IT, EITM also offers the security management and governance to the respective organisation (Hoogervorst, 2018).

(Fig: Enterprise IT management)
(Source: McDonnell, 2019)
So, in comparison to Enterprise IT management, Enterprise governance of IT is the process of implementing a structure, the mechanism in an organisation which can make an organisation and its hierarchy enable to perform their responsibilities in term of creating business value in alignment with IT. On contradiction, Enterprise IT management or EITM ids the strategy of how an organisation can transform its infrastructure to increase the business value. EITMis essential for an organisation like Samsung Electronics to increase the value comes from IT capabilities, resources and support (Hui, 2019). IT governance focuses mainly on facilitating the strategic decision-making process of an organisation, whereas IT management is concerned to enhance the operational excellence of IT function within an organisation. IT management is more focused on the internal supply of the IT services and the products and to manage IT operations within the organisation. In the case of Samsung Electronics, ITIL or Information Technology Infrastructure Library is used to assist the IT service management (Carcary et al., 2016).
On the other hand, IT governance concentrates on transforming the IT to meet the present and the future needs of the business (internal focus) and the expectation of consumers (external focus).
Conclusion
To conclude this report, it can be stated that, in the modern business scenario, IT has become a buzz word. To cater a business adequately, the importance of appropriate technological infrastructure within an organisation can never be denied. In this report, the IT-enabled value has been discussed with the context of Samsung Electronics- an organisation which strongly relies on innovation. IT governance and IT management are two essential components related to It enabled value within the organisation. The difference between these two components has also discussed in regards to Samsung Electronics Co. Ltd.
Reference
Ahuja, S. and Chan, Y.E., 2017. Resource orchestration for IT-enabled innovation. Kindai management review, 5(1), pp.78-96.
Althuizen, N. and Reichel, A., 2016. The effects of IT-enabled cognitive stimulation tools on creative problem solving: A dual pathway to creativity. Journal of Management Information Systems, 33(1), pp.11-44.
Ayabakan, S., Bardhan, I.R. and Zheng, Z., 2017. A data envelopment analysis approach to estimate it-enabled production capability. Mis Quarterly, 41(1).
Carcary, M., Renaud, K., McLaughlin, S. and O'Brien, C., 2016. A framework for information security governance and management. IT governance assignment It Professional, 18(2), pp.22-30.
De Haes, S., Van Grembergen, W., Joshi, A. and Huygh, T., 2020. Enterprise Governance of IT, Alignment, and Value. In Enterprise Governance of Information Technology (pp. 1-13). Springer, Cham.
De Haes, S., Van Grembergen, W., Joshi, A. and Huygh, T., 2020. Enterprise Governance of IT. In Enterprise Governance of Information Technology (pp. 15-74). Springer, Cham.
Dehkordi, A.M., Kazemi, R.M. and Baghestani, B., 2017, November. IT-enabled value co-creation process for product design. In 2017 Internet of Things Business Models, Users, and Networks (pp. 1-8). IEEE.
Hoogervorst, J.A., 2018. Practicing Enterprise Governance and Enterprise Engineering: Applying the Employee-Centric Theory of Organization. Springer.
Hui, D., 2019. Corporate Governance, Enterprise Management and Accounting Information System.
McDonnell, B., 2019. Corporate Governance and Enterprise Governance. In Oxford Research Encyclopedia of Economics and Finance.
Piccoli, G., Lui, T.W. and Grün, B., 2017. The impact of IT-enabled customer service systems on service personalization, customer service perceptions, and hotel performance. Tourism Management, 59, pp.349-362.